There are two aspects to content writing over the web.
One is that your web content has to be user-friendly.
Second, you need to write SEO friendly content.
You actually need to pay attention to both these aspects of web content writing if you really want to be successful in the online world.
Moreover, both these aspects are complementary to each other. They work in tandem and help in bringing new visitors to your site.
They further help to build a large set of loyal and repeat visitors for your site or blog.
So if, you are only writing user-friendly content on your site with no focus on SEO tasks, you would not be able to get preference in the search results. Ultimately you will miss-out on the search traffic.
On the other side, if you put too much effort on SEO work and ignore the user-friendly aspect of your web content, you can be ranked higher in the search results, but the visitors would not like your content and just switch to other sites. Your site will not become popular with the users and would ultimately diminish in its value.
Thus, if you want to gain and retain a large number of visitors to your website or blog, want to make your online business a success, you require writing user-friendly content and would need to follow it up with effective SEO efforts so as to make it SEO friendly and searchable over the web (in particular through search engine). By doing this, you are giving value to the users and using the search engine as a channel to bring in new and regular visitors to your site.
So you need to learn and master the skills of writing SEO Friendly Content.
You need to know how to write SEO Friendly Content.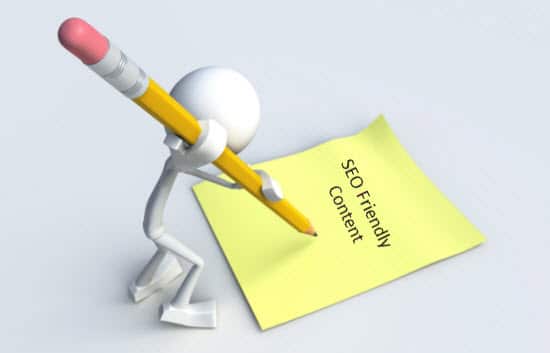 Here, we list down certain essential and important points which you can follow to make your content SEO-Friendly.
SEO Friendly Content
Write Unique, Useful and Engaging Content
Remember the most important truth for web success. That is, "Quality always triumphs over Quantity". So focus your energies on creating unique and fresh content that is useful for your visitors. Write relevant content that tend to engage your readers.
Always keep in mind that if you value your visitors then they too value your efforts by popularizing and patronizing your site. Dishing out content that is already amply available over the web serves no good for your readers. Instead make efforts and write original, fresh and engaging content for your visitors or readers. By doing so, you would also increase your prominence and visibility in search results, and your visitors will love to share your content on social media site which can bring more visitors.
Research Before You Write
If quality matters you the most and you wish to create valuable content for your readers, make a point to do research well before writing your content. Research helps to bring out unique, fresh and engaging content that your visitors would love to read and share it with their friends. Moreover, Search Engines give more preference to fresh and unique content on SERPs rather than the content which has been rewritten, duplicated or spun. So if, you wish to create SEO friendly content research before you write your content so that you make sure you are not writing same content what others are writing.
Focus on Creating Effective Title for your Content
Title of your Content holds an important place in your overall SEO efforts. An effective title delivers a great impact on the readers and also helps to get good ranking in the search engine results page. You should make efforts to come up with effective title for your post. You can include keywords or keyphrases.
On the whole, your title should be different from other results and should help you to get clicks on the search engine results page. Effective Content Title helps to defeat the competition and get the additional traffic to your blog post or website. There is no set formula for creating effective title. It depends on the niche for which you write, your target audience, on the subject which you have chosen, as well as your creativity and involvement.
Keyword Research
Another important task that would help you in creating SEO-Friendly content is by doing Keyword Research. Through Keyword Research, you find out what people are searching on a topic you want to write. You can then include these Keywords in your content so that it becomes more searchable and visible on the search engines.
For carrying out Keyword Research, you can use tools like Google's Keyword Tool, Ubersuggest, or even Google Insight. So if, you plan to write on "SEO Friendly Content", Keyword Research can give you suggestions as to what people are searching for this topic such as SEO Copywriting, How to Write SEO friendly content, SEO Content, etc.
Keyword Density
Apart from choosing the right keywords for your article or web content, you have to make sure that you use them at the right places and for the right number of times. That is to say you have to pay attention on the Keyword Density. This helps to improve your search positioning. Ideally Keyword Density should not exceed more than 4% of the total word count of your article. You should use the Keywords in the title, in the sub-headings, in the content body, and include them in meta-tags. Having said this you should avoid keyword stuffing at all costs as it spoils your content, and adversely affects the search rankings, as well.
Use LSI Keywords
LSI Keywords or Latent Semantic Indexing Keywords is another key aspect that you should consider in order to make your content SEO friendly. LSI Keywords are nothing but related or synonym keywords, which you can use within your content instead of repeating the same keywords or doing keyword stuffing.
So, in addition of using main, or primary keyword(s), you can also use LSI Keywords in your content to make it SEO friendly. LSI Keywords help the search engines to have a better idea about your post or content. They support to rank your content in SERPs. So if, your main keywords are Savings for Your Retirement, you can use LSI keywords such as Retirement Savings Plans, Average Retirement Savings, Ways to Save for Your Retirement, How to start Saving for Retirement, etc.
Use Sub-Headings
Use of Sub-Headings is an effective technique of making your content SEO friendly. Moreover, your content is better organized and becomes more readable if you include sub-headings in it. Just imagine a lengthy text or content, say of 1000 words with a single headline.
Would you read such text?
Probably not!
And even if you read such text, you would soon tire out and would not like to revisit such site or blog. Visitors prefer reading posts with sub-headings. Search engines counts sub-heading and give weightage to posts which include sub-headings rather than to posts which have no sub-headings. So use sub-headings in your post and if possible include keyphrases in it. Your effort would help to make your content SEO friendly.
Use Related Images
Images tend to have a greater impact than words. Using related or relevant images in your post helps to arouse and grasp visitors' attention. Content with related images is more interesting to the readers than just plain text. In fact, images are an essential part of any type of content. Using (related) images you make your content SEO friendly.
You can include images in your post such as photographs, slidedecks, charts, graphs, infographics, or even videos. Always properly name your image file so as to include relevant keywords in it. You should not forget to optimize the image size as the load time affects your SEO. Use unique or original visuals in your content instead of using stock images, as you can get more likes from your visitors and more backlinks too.
Use of Numbers
Using Numbers in your posts particularly in the headings or sub-headings greatly assists in making your content user-friendly as well as proves beneficial from the SEO point of view. A numbered post has better click through rate than a post which is not numbered at all. It receives better user attention as people always like to get options for doing a task. A numbered post or list is more comprehendible, and people like to go through such content. As an example, you can have a numbered post such as, "10 ways of making your content SEO friendly".
Use of Bold, Italic, and Quotes
Your content usually includes several important points that can be very useful for your readers. You can make those points more prominent and attractive by highlighting them. You can make such points bold or italic. This is not only good from the user point of view, but also can prove to be a helpful technique to make your content SEO friendly.
Your visitors derive more value from your content if you emphasize the important points through bold and use of italic. Likewise, by using quotes you can put a new and different perspective to the readers. Quotes help you to emphasize your ideas more clearly and emphatically to your readers or visitors.
Besides the above considerations for making your Content SEO friendly, you can also follow these points which help you further on your SEO efforts. Always do proofreading before publishing your content. This would help you to avoid grammar and spelling mistakes (if any) and as well as help you to include SEO elements in your post, which you have missed out. Then you should focus on providing benefits to the users rather than just merely mentioning the features of products or services. Always avoid small or incomplete information and use Power Words (such as free instead try, maybe, etc) in your content.
So now you should not face the problem about How to Write SEO Friendly Content. Using the above techniques you can easily make your Content SEO friendly which ultimately becomes useful for your visitors thereby increasing the flow of visitors to your site or blog.