There is a thin line separating your success or failure in the online business model.
I particularly call this "Thin-Line" because the only medium you have with you is your website through which you market your products or services.
The visitors can like your website and can make your online business a success or can become indifferent to your website and can make your online business a flop venture.
So the key to online business success lies in attracting and holding visitors to your website so that they ultimately do the Call-To-Action put forward by you.
You have to gauge whether you are falling short of targets which you have set for yourself in relation to online business.
If such is the situation faced by you, then probably it's high time to take up some really effective corrective measures.
In fact, there are a lot of things you need to do in order to streamline your online business model.
One of the first steps you have to take is to redesign your website so that visitors remain to your site and perform the Call-To-Action.
But once you know that you are not getting enough leads and conversions and decide to better your website, one should be well aware that this is a very critical and important step in your online business model.
You cannot just start without some solid reasoning behind every step that you take.
In this context, Website Eye Tracking Studies can prove to be of valuable help to you.
In fact, Website Eye Tracking Technique can provide you with the much needed information about how people interact with websites. Website Eye Tracking Results can reveal to you what people read, what their areas of focus are, and how they scan a website. With Website Eye Tracking Results, you get to know the common browsing patterns of visitors and other useful elements of human behavior online. You get to know what elements of a website attract users' eyes and produces mouse clicks (or movements).
Knowing this valuable information can help you a lot. You get to have useful instructive nuggets which you can use in your website too.
Then you can focus exactly on those elements of website which ought to be corrected and can easily ignore those elements which are not important from the users' point of view. All this works out to enhance the overall user experience, thereby increasing the conversion rate. Users spend more time on your website, perform call-to-action, and so you get better results.
Now, let's have a look how Website Eye Tracking Studies can benefit you in promoting your online business or website, and how it can help you generating more leads and sales.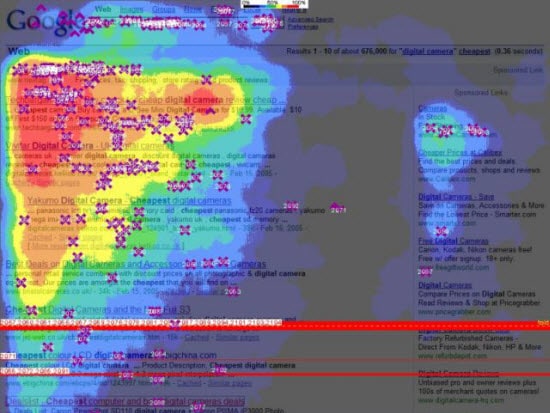 Let's see the startling insights of Eye Tracking Studies:
1. Headlines are better eye catcher than pictures
This can come up as a surprise for most of us, but the fact is that Headlines are better eye catcher than pictures. Eye Tracking Studies have revealed that people first look at Headlines even before they look at photos when they land on a website page. Moreover, headlines, which are positioned at the upper left of the page, gained more attention than any other section, images or videos in a web page. So if you putting up images or videos in your web page (above the fold) to lure the users' eyes, then it will serve no good. Instead, you should focus on having attractive Headlines in the upper left of your website page and then you can have images or videos.
2. Visuals with no Call-To-Action are Distracters
Website Eye Tracking Studies have revealed that placing visuals upfront which have no supportive call-to-action serve no good for user's retention. Rather than they come out as distracters as visitors just see these visuals and leave your website without performing any CTA. So when you are designing a landing page, carefully utilize the space available to you and put elements which actually matter the most to your visitors. Have CTA buttons, information and visuals that lead your visitors to take up the decisive step of subscribing or applying to your products and services. Placing links and buttons, which bring about, CTA supports your cause of eliciting response from your visitors. That's how you can increase your conversion rate.
3. The F-Shaped Pattern of Reading Website Content
Website visitors generally follow a predictable pattern of reading content showcased on a webpage. They follow F-Shaped pattern of reading website content and scan content in a matter of few seconds. They start scanning a webpage from left to right. They go back to the left side of the page and begin to scan the page in downwards direction. Then, they perform a second horizontal movement, and return to the left side to continue scrolling down making an F-Shaped Pattern of reading content posted on a website.
The take away from this pattern is that your headline and the starting paragraph are the most important elements in your webpage. So your headline and the starting paragraph should come out as attention grabbers and should make your visitors interested on the topic, product, or service that you have presented in your website.
4. The first few words of a headline are important
Online readers are quite fast and nibble when it comes to reading or rather scanning content on a website. They decide instantly whether to continue reading or just close a website. So the first few seconds are really important for you when the user lands on your website. In this context, Website Eye Tracking Studies have revealed that people scan the first few words of a headline and decide whether to continue reading or not. This means that first few words of a headline are extremely important for you. The first few words of a headline should be proactive and interesting. You should stuff the starting words of a headline with most relevant keywords that instantly draws and catches the attention of your visitors.
5. Top Navigation Works Best
This is a web design take away that comes out from Website Eye Tracking Studies. The point is simple to understand and follow.
Anything which is positioned, at the top of a webpage, is likely to be seen immediately by your visitors. You utilize this outcome of Eye Tracking Studies and place the navigation buttons at the top of the page. So, your visitors do not have to spend time looking for navigation buttons to open other web-pages of your site. They can instantly do this from the Top Navigation Buttons. Navigating from the top Navigation buttons is simple, quick, and easy.
6. Short Paragraphs elicit more readership of website content
Well, this outcome of Website Eye Tracking Studies is pretty obvious to understand. In online content development, as also in Print Ads, you have to move away from the normal style of paragraph development if you truly want to hook visitors to your site. Big or even normal paragraphs should be forgotten while writing online content. Big blocks of content are imposing and make reading difficult. Break your paragraphs into short blocks so as to make your point clear and interesting. Short paragraphs help to bring in more readerships to your website content than big paragraphs.
7. Videos command more attention on Search Results
Search Engine Results Page (SERP) heat maps have revealed that visuals (like videos) do play an important role in grabbing and holding visitor attention. Heat Map Studies or Eye Tracking Studies have revealed that videos are successful in grabbing the eyeballs of visitors. Here, it should be noted that both direct video results (like hosted You Tube Videos) and embedded video results (like videos embedded in a webpage) were able to grab more attention than regular search listing. More so, when they were shown near the top of the search results. The take away is pretty clear, and that is if you want to stay ahead in competitive search results you should use an embedded video.
8. "Above The Fold" is not that much important
Website Eye Tracking Studies have revealed "Above the Fold" is not that important as you might have considered. It has turned out to be a complete myth "Above the Fold" is the only place where the web users like to browse. As a matter of fact (as revealed in these studies), users had no problem in scrolling down below the fold when the web page is long. The studies have further showed that if you place the CTA below the fold it does not affect the conversion rate. On the contrary, it boosted conversion by several percentages.
9. Texts Ads are read more than Graphic Ads
This is an important finding revealed in the Website Eye Tracking Studies which points the fact that Information is mostly read in the form of text. So when people look for information, they really look for textual form of information rather than pictures. However, graphics prove useful when it is difficult to put information in textual form such as mathematical information, how something looks, etc.
10. For Conceptual Information Multimedia Works Best
Actually reading is only appreciated by people who understand the subject showcased before them. If they know nothing about the subject, textual information is of no use to them. So if, you want to convey conceptual information, a video or a pictographic illustration would prove a better technique than conveying it in the form of text.
Conclusion
So you see that Website Eye Tracking Studies reveals many useful points as far as a website user browsing pattern is concerned. A number of interesting points come forth which you can use to better design your website and can shape up the website content in such a fashion so that it elicit proper response and most importantly CTA from your visitors.
Ultimately, it is leads and conversion that matters and that you can get when you properly understand what your visitor wants in your website and how he likes to browse your website. As pointed above, there are numerous Website Eye Tracking Benefits, and it is upto you how you use them in your website so as to take a decisive edge over your competitors.