Today, online advertising has become a multi-billion dollar industry.
However, it will be interesting to know how this multi-billion dollar industry actually evolved.
Much has changed and changed for good for online advertising which is sometimes also referred as internet advertising, web advertising or online marketing.
Online advertising has successfully carved out its place in the world of advertising which was earlier dominated by print, radio, and television advertising.
Here, we glance back to the times when it all started in the world of online advertising. We present you online advertising history. You will come to know how online advertising has grown and flourished over the years.
However, we would like to assure you that online advertising has a colorful past. It would really be a worthwhile experience to know online advertising history.
It all started with a SPAM Email
The first Spam email was sent on 3rd May 1978.
There were as much as 400 users who received the Spam email, and they were taken from the ARPAnet directory.
In fact, the ARPAnet (Advanced Research Projects Agency Network) was the "first internet" and is considered to be the precursor of the Internet.
It was a highly secure medium which was used for information flow between universities and research centers spread across the world.
Initially, there were four nodes that were connected to the ARPAnet, and these were located at UC Santa Barbara, University of Utah, UCLA, and Stanford Research Institute.
Gary Thuerk is credited to have created the first spam email advertisement. Interestingly, he is also known as the father of spam. He was the marketing manager at the DEC, Digital Equipment Corporation.
DEC was an East Coast based corporation, and the email was meant to reach the West Coast technological enthusiasts. It was an invitation for West Coast users to a product demonstration by Digital.
Notably, the majority of users were immensely angry at Thuerk for sending out the notification and of course for the unsolicited contact.
The recipient list was a huge one, so much so that many email id's got into the body of the message. The outrage against the email was so strong that the Defense Communication Agency (DCA) made sure that no other spam hit any inbox for almost a decade.
In the year 1980, Usenet was created.
It was an online discussion forum allowing people to post messages on newsgroups. It got immensely popular and was flooded with new posts.
However, with the introduction of mass messaging, people were seen sending out a large number of emails.
In came Banner Ads and CPM
It was in 1993 when the first clickable ad appeared.
They were later termed as "banner ads."
Global Network Navigator (GNN) is recognized as the first commercial website to sell a clickable ad. It acted as an online information portal with a news center and a product catalog.
The ad was sold to the law firm Heller Ehrman White & McAuliffe.
GNN quickly made its mark in the world of online advertising.
By April 1995, GNN was getting $110 to $11000 per week for ad spots from advertisers like MasterCard and Zima.
However, in June 1995, AOL acquired GNN for an estimated $11 million. Later, it got closed in 1996, and the subscribers were moved to dial-up service of AOL.
In fact, it was Hotwired – the first commercial online magazine – who took the lead in "banner advertising." They started selling ad spaces in large quantities. They created special sections on their website for displaying banner ads.
As Hotwired was a digital publication, it was looking for ways for paying its writers. Credit goes to Hotwired for introducing banner ads to the online world.
It all began on 27th October 1994 with Hotwired displaying banner ad titled, "Have you ever clicked your mouse right HERE? YOU WILL". It was set in a kitschy rainbow font.

With this, the age of banner ads finally began.
The publication created special sections on their website for displaying banner ads. It charged advertisers an upfront cost for occupying the ad space on its website for a set period of time.
AT&T was one of the top companies to place ads on Hotwired. In fact, AT&T paid Hotwired as much as $30,000 for having banner ads on their website for three months.
The ad had an astonishing CTR of 44% which is simply huge when compared to click-through rate on display ads today which averages only close to 0.06%.
The mysterious banner ad transported users to the landing page for AT&T where they could click links for viewing information relating to landmarks and museums situated across the world.
Craig Kanarick and Joe McCambley were the leading digital consultants who worked on the campaign. The idea was not to sell somebody something but to offer valuable content to users.
It was not long when Time Inc. and CMP's Tech web jumped into banner advertising and were looking for advertisers to whom they can lease banner space for scaling their sites.
1995: The year when Display Ads got Prominence
The year 1995 has a special place in the evolution of online advertising. It was the year when Yahoo opened up their commercial business and went on to do their first keyword based advertisement.
It was also the year when AT&T and Saturn did banner advertising on Pathfinder for $30,000. In fact, the online ad spending reached $37 million in 1995, according to a report submitted by Forrester Research.
It the same year, Netscape and Infoseek adopted CPM (Cost per Thousand Impressions) advertising pricing model. August 1995 saw the launch of MSN online by Microsoft.
WebConnect, the advertising agency, placed banner ads for Britannica – the well known Encyclopedia. They used ICS tracking system to gauge impressions along with click-through rates.
It happened to be the year when ESPNET found eight advertising sponsors that ushered in contracts worth well over $1 million. As the year closed, it saw more than 24 million North Americans going online.
1995 was the year when banner ads are gaining widespread popularity. It saw advertisers getting interested in targeting specific consumer demographics.
So, display ads became increasingly targeted, and it was instrumental in the start of targeted ad placement. The focus had clearly shifted from placing ads wherever space was offered and just hoping that right people will eventually see it.
WebConnect took the lead in targeted ad placement by helping its clients identify websites with the ideal consumer base. They popularized the CustomView tool that allowed capping the number of times a particular ad is served to a user.
If users had already seen the ad a certain number of times, they would be served with a new ad. It prevented "banner fatigue" when users stop noticing a banner ad if they had seen it before.
The trend picked up quickly as more and more advertisers channelized their efforts towards targeted ad placement. This was seen as nothing less than a revolution in the digital advertising space.
It helped companies reach more relevant audiences. Not only this, the publishers – the websites hosting the ads – were able to display banners that were more useful to their visitors.
1996: The year for ROI Tracking Tools
Until 1996, advertisers were not able to ascertain whether the banner ads they were using actually brought tangible results for their businesses or not.
So, they desperately required tools to effectively manage their ad campaigns and to know the response of users with their banner ads.
DoubleClick – an agency dedicated to online ad-related-services – rose to the challenge by providing the first ever ROI tools for banner ad campaigns.
They came with a new service known as D.A.R.T (Dynamic Advertising Reporting and Targeting), which allowed companies to figure out how many times an ad was viewed and clicked across multiple websites.
D.A.R.T made it possible for advertisers to track their ad performance and implement necessary changes to a live campaign.
Earlier, advertisers used to wait until a campaign got over before they could know the results and make the required changes for enhanced performance. If an ad was performing badly, they could do nothing but wait it out.
So, D.A.R.T was welcomed by advertisers big and small all across the globe. The success that DoubleClick had with D.A.R.T was also instrumental in giving rise to Cost per Impression (CPM) pricing model for online advertising.
Earlier, websites used to get a flat fee for hosting banner ads for a fixed time period. D.A.R.T. opened doors for enhanced ad tracking. It led to a transition towards an ROI-based model.
The Advent of Standard Banner Ad Sizes
The increased popularity of e-stores and websites saw thousands of businesses getting online. This lead to an increase in banner ads. It paved the way for standard banner ad sizes.
468×60 px became the most popular banner standard size. However, other banner ad sizes were also used predominantly such as 120×600 skyscrapers, 125×125 cubes, and 728×90 leaderboards.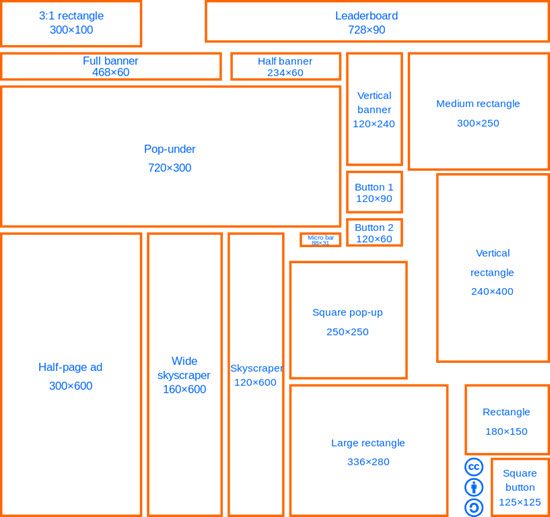 1997: The Rise and fall of Pop-up Ads
Although the pop-up ads have been dubbed as the internet's original sin and sometimes as the most hated advertising technique, they still hold an important and undeniable place in the online advertising history.
In fact, Ethan Zuckerman (who was a developer for Tripod.com) holds the credit for creating the code that unleashes pop-up ads to open in a new browser window. Pop-up ads were an attempt to associate an ad with a user's page without necessarily having an ad directly on the page.
They were used to counter decreasing banner ad clickthrough rates that became major concerns for most marketers in the late 1990s. It was hoped that by using pop-up ads, advertisers will be able to capture the attention of ad-blind users.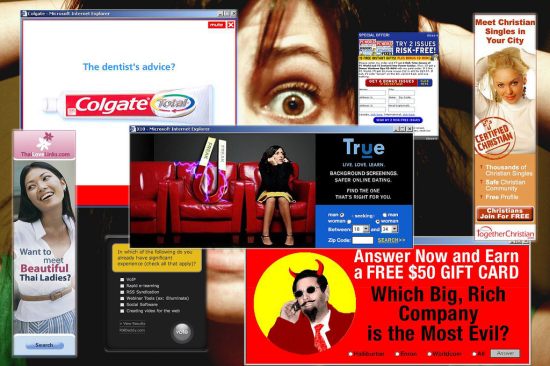 However, pop-up ads failed to live up to their expectation.
Although they did succeed in capturing the attention of users, however no real ROI gain happened by using them. Moreover, by early 2000s, web browsers began to use pop-up blocking features.
The Dot Com Bust
Mid 90's to 2000 witnessed what is known as the dot-com bubble. It finally busted in the year 2000. The Silicon Valley was the most affected area. Dotcom bubble saw the emergence of thousands of new websites together with tech startups.
However, most of these companies sustained huge losses. It gave rise to a small recession at the beginning of 2001.
Banner ads lost its edge and resulted in low click-through rates. However, ad spending still reached millions of dollars although ROI was not at all impressive.
Most of the start-ups assumed that increasing their consumer base would help them to increase their profits. So, they increased their advertising spending.
Unfortunately for them, this strategy didn't pay off. It resulted in the closure of many companies within the first few months of their starting.
Technological stocks lost their value up to almost 60%. Online advertising revenue dipped by almost 32%. NASDAQ composite dropped to 1114.11, a decrease of 78%.
1999-2002: Advent of Paid Search and Pay per Click
By this time, the online advertising industry had matured and reached $1 billion. As the number of websites increased, it resulted in search engines becoming more predominant. This period witnessed the emergence of sponsored search.
In 1999, GoTo.com – a leading search engine company – came with the first pay-for-placement search engine service. It gave advertisers the opportunity to bid for top search engine results for particular keywords. This model helped GoTo.com to monetize their search engine.
Pay-for-placement eventually transformed into Pay per Click.
Companies began to bid on Pay per Click model for getting search engine placement. The highest bidders got the opportunity to be listed first in search engine results.
To cash in the benefits of this model, Google came with AdWords in 2000 which opened the Pay per Click ad model.
However, Google made sure that the quality and relevance of search results remained intact while it also provided the opportunity to generate revenues.
AdWords eventually used a Quality Score Model which considered an ad's click-through rate when putting it on search results page. It meant that an ad having a lower bid could appear above others if it has high click-through rate. The Quality Score model is still popular even to this day.
The mid-2000s: The Beginning of Social Media Advertising
Online advertising reached new heights with the advent of social media platforms picking up steam in the mid-2000s.
Online advertising had gone beyond banner ads and was looking for ways for integrating ad content that was both effective and non-intrusive. Now, most of the internet users were spending the bulk of their time on social networks.
It all began when Facebook started to work with advertisers in 2006. They started using sponsored links and small display ads. They eventually focused on ads targeted towards users' demographics and interests.
Facebook's intent was more on the quality of the targeting and the quality of the content, so that right content is served to the right people.
With Facebook taking the lead, other social networks soon joined the league. Primary among them were Twitter, YouTube, and Google+ who endeavored to deliver advertising experience to users that weren't aggressive or impersonal.
The crux being to target consumers with relevant ads. Social media platforms realized the importance of hyper-targeted digital ads. They understood that there was no point in simply bombarding users with a large volume of ad content.
2010 & Present:
Emergence of Native Ads & Mobile Advertising
This period witnessed the emergence of websites such as BuzzFeed and Mashable that offered new opportunities to advertisers in the form of sponsored content and native ads.
Advertisers choose to pay for articles, videos, and other forms of content that though promotional looked less like an ad and more of a regular piece of content when they were up on host's website.
Native advertising does not rely on ads that actually disturb the overall online experience of the target audience. Instead, it helps marketers to come up with promotional content that augments the online experience of users.
Native ads are designed in such a way that they go on to target ads to specific consumers in an unobtrusive fashion. Native ads go on to create a better user experience without hampering on ad revenue.
Apart from native ads, video ads, as well as editorials, gained much prominence in this period. It was largely due to the fact that they focused on educating the target audience rather solely putting efforts to sell to them directly.
It brought the "need centered" advertising where the idea was to gain the attention of users. When users were willing to give their time for viewing video ads and reading editorials, it meant they perceived value in what was being served to them.
It gave online advertising a new dimension where users' needs and aspirations were taken care in a much better way.
Mobile advertising also gained widespread support from marketers. It was used to deliver ad copy through wireless mobile devices like Smartphones, tablet computers, or feature phones.
Marketers began to focus on mobile advertising as they served rich media display ads, SMS, MMS Ads, mobile search ads, ads within mobile applications or games, and advertising within mobile websites.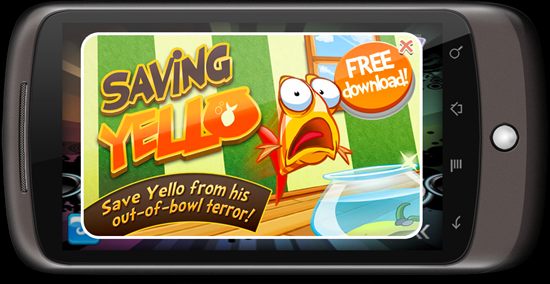 Mobile advertising registered a rapid growth as the use of mobile devices increased extensively, connectivity speed improved, and screen resolutions advanced.
More and more mobile publishers incorporated ads and made use of location-based targeting and technological features that were absent on personal computers.
In fact, mobile advertising revenue is registering fantastic year on year growth ever since its inception. For instance, for Facebook, mobile advertising revenue accounted 62 percent of its total advertising revenue during 2014.
Going Ahead
That was a look at the online advertising history.
However, it's also important to know about the future of online advertising.
Recent data from HubSpot Research suggests where online advertising is headed in the future. As much as 91% of respondents say that ads have become more intrusive today as compared to two to three years ago.
It clearly means that going ahead online advertising will be heavily focused on delivering a targeted ad experience so that consumers get relevant content without feeling invasive in any way.
So, with this, we come to the end of this presentation on Online advertising history. We hope that the post has helped you to gain insights about how online advertising evolved over the years.
We have included most of the details relating to the history of online advertising making it a comprehensive presentation where you come to know each phase of online advertising as it evolved over the years.
Do share your valuable thoughts with us in the comment section below. If you liked the post on Online advertising history, don't forget to share it with your friends and colleagues.