Cost per Impression or CPM advertisements are another good way of making money with your website or blog. In fact, CPM Ad Networks can prove an excellent way to earn money with your blog or website.
Nowadays, most webmasters and bloggers depend on CPM Ad Networks to generate revenue.
They are using CPM Ad Networks along with the application of Google Adsense.
If you, too, are interested in using CPM Ad Networks with your blog or website to increase your revenue, let me tell you that you are in the perfect place.
Herein, we have featured 18 Best CPM Ad Networks with high eCPM.
There are different types of advertisement programs like Pay per Click, Cost per Sale, Cost per Action, etc.
Google AdSense pays you when someone clicks on Ads.
The CPA program pays you when some action is done like filling out a form, etc. but to earn with a CPM ad, and nothing needs to be done.
Yes, it's like that with CPM Ads.
Let me brief you.
What is CPM Advertising?
CPM stands for Cost per Mile or Cost per 1000 Impressions.
With Cost per Impression Ads, you can earn money from your blog by the total amount of Ad Impressions received in an advertisement.
The Ad impression rate is generally fixed and even can be different depending on an advertiser, country, publisher's website niche, etc.
The CPM formula for earnings is given as:
Total Impression / 1000 x Cost
For example, say your blog receives 10000 visitors per day and gets 20000 page views, and the CPM rate is $2.
Then, your total earnings per day = 20000/1000 x $2 = $40.
However, it is essential for you to choose reliable ad networks when you are using CPM ads.
Hence, we have featured some of the top CPM Ad Networks for Ad Publishers.
When you sign up for a CPM program and put an ad code on your website, ads start displaying, and you earn on the basis of CPM cost per thousand impressions.
You will be paid when that ad is displayed 1000 times. You don't have to worry about how many clicks that ad is getting or how many leads is generating.
CPM ads can make you good money if you get good website traffic.
In fact, CPM is the most common method that is used for pricing web ads. Although in CPM Method, the ads are not clicked but viewed, they still successfully impact the targeted audience.
Other than CPM, the other popular pricing models include cost per click (CPC) and Cost per Acquisition (CPA).
In CPC Method, the advertiser pays when a website visitor clicks on the ad.
With CPA advertising, the advertiser pays when a website visitor purchases by clicking on the ad.
In fact, CPM turns out to be the most popular advertising method with website publishers, as they get paid for displaying the ads. That said, CPM rates tend to be quite low. Moreover, the $2.00 CPM rate mentioned above is a standard one.
So, a website needs to get robust traffic if one hopes to make good money with CPM Ads.
From an advertiser's point of view, CPM campaigns are best for branding. CPM campaigns are all about impressions.
The advertisers are interested in getting the ads across to the audience to make an impact. And they can achieve this through CPM campaigns.
However, CPM Ads are best for publishers if they get a lot of traffic to their site.
With CPM Ads, they do not have to worry about the quality of the banner. The impressions are all that matters to them, and they have them displayed to their website visitors.
You may like: Best Native Ad Networks
How much money can you make with CPM Ads
Let me come straight to the point.
You can earn anywhere from 20 cents to as much as 15 Dollars per 1000 (thousand) impressions by running CPM campaigns.
So, you see, it's a broad range.
It is the portion that goes to the site owner.
However, the good thing about CPM campaigns is that you can tell your agency that you only want ads that pay more than $10.
Yes, it's possible and in your best interest to maximize every impression.
However, it doesn't mean that you get your entire inventory filled at $10.
Moreover, the lower-end spectrum is more targeted to less-trafficked blogs.
Now, after knowing the different aspects of CPM Ads, it's time to move on and cover the core topic of this post – The Best CPM Ad Networks.
Using one of these CPM Networks for your ads can prove to be the best solution for monetizing your blog or site.
You can try different options and figure out the best combination that works for you.
We have showcased some of the leading CPM networks that have low entry requirements making them a good choice for new blogs.
We hope that the article can be helpful to you in generating more revenue.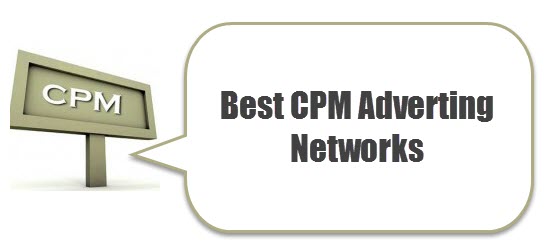 18 Top Paying CPM Ad Networks
Here's the list for you:
1. Adsterra Top CPM Ad Network
Adsterra is one of the fastest-growing CPM Ad Networks that offers the publisher various monetization options. Not just desktop, Adsterra also offers mobile monetization too. They offer a display banner, pop-under, slider ads, mobile display banner, and many more options than publishers can use.
Adsterra is also a very good option for advertisers as they can do targeted advertisement and ROI-based campaigns and has many more features for advertisers.
Adsterra has been bringing together advertisers and publishers since 2013. It provides versatile tools to grow business online and monetize 100% of traffic. A Partner Care approach and 30 billion monthly ad impressions worldwide have gained it a high reputation and trust of over 12K+ direct publishers.
Adsterra pays on Net15 payment terms. Exclusive conditions for long-term partners and publishers with high revenue
Ad Formats: Popunders, Push, Banners, Direct Link, Native Ads, Vast (video), Social Bar, Interstitials
Minimum payouts:
Webmoney, Paxum: $5
PayPal, Bitcoin: $100
Wire: $1000
Payment methods are:
Bitcoin
Wire Transfers
Paxum
PayPal
WebMoney
Unlimited referral program. Those partners who have joined Adsterra via your referral link will continually add 5% of their profit to your income.
More benefits for publishers:
The Anti-Adblock solution helps bypass ad blockers and increase revenues.
Security algorithms and tools that protect partners from inappropriate ads.
The AI-powered tool analyzes your traffic and picks the most promising offers relevant to your website audience.
Quality is a top priority. Adsterra strives to provide relevant traffic to relevant offers regardless of the website traffic volume. Since you have high-quality traffic, you can monetize it!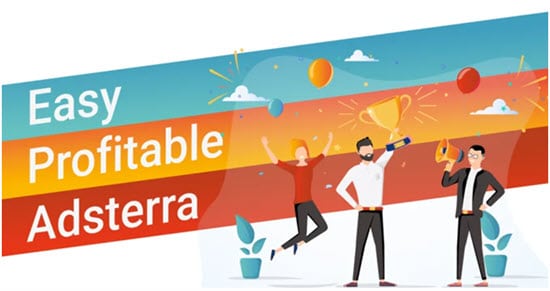 Propeller Ads has become a very popular ad network. The Propeller Ads offers various adverting options for publishers and advertisers like Pop-Under ads, Banner ads, Mobile Adverting, etc. They offer some of the best CPM rates in the industry.
I have seen publishers making good money with Propeller Ads; go ahead and join them to improve your website earnings.
It is a great CPM Ad network offering varied ad formats such as PopUnder ads and Popup Ads, as well as mobile ads such as interstitials and dialog boxes. It is easy to join and implement. Plus, there is instant approval.
Its CPM rates can range depending upon the visitor's origin. You can benefit much from Propeller Ads if you get high traffic from the US. Propeller Ads are quite popular with download sites, music, as well as video streaming websites.
They use a Net30 payment policy. The minimum payment threshold is $100. Payment methods include PayPal, Wire Transfer, and Payoneer. They give publishers an 80:20 benefits ratio.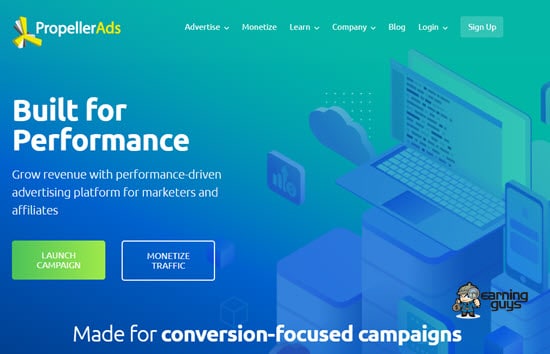 3. AdMaven High Paying CPM Ad Network
AdMaven is a popular and one of the biggest ad networks for Full-Page advertising and Push Notifications, with over 5 billion daily impressions and over 250 million users worldwide.
They offer plenty of monetization options like Push Notifications, Pop Ads, Interstitials ads, Banner ads, etc. The pricing model is on a CPM basis, which is the best in the industry. AdMaven works with publishers and advertisers directly; they have over 10,000 publishers and over 100,000 advertisers (direct and non-direct). Direct connection with advertisers helps them to pay publishers higher rates.
AdMaven's push notifications are the best way to monetize your website traffic. Once your user subscribes to push notifications, you will be paid for the long run, and CPM rates for push notification ads are also very high and the best in the industry.
They have advertisers from around the world, so if your site doesn't get traffic from the USA or any Tier 1 countries, don't worry; you will still get good rates for ads on your website.
Starting with AdMaven is very simple; you just need to signup on their site and add your website. After approval of your website (which is very quick), start placing ads on your website and start earning.
AdMaven Ad Options:
Push notification
Pop-ups
Banners
Lightbox
Interstitial
VPN banner
Payout: $50
Payout Method: PayPal, Payoneer, Paxum, Wire Transfer, Bitcoin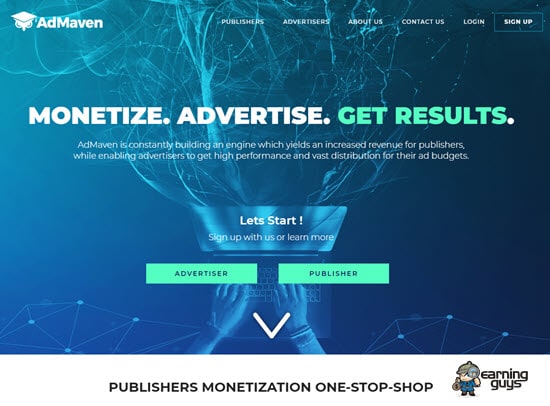 HillTopAds is one of the leading and widely acclaimed CPM Ad networks. In fact, it is recognized as one of the best ad networks in terms of traffic monetization. They receive almost 12 Billion impressions every month around the globe.
One of the best things about this ad network is that it approves websites quickly. Plus, they pay their publishers on a NET 7 basis. So you can receive your payments fast.
They have a variety of ad types on offer, such as Mobile and Desktop pop-ups, In Video, as well as Display Ads.
They have no minimum traffic requirements. The minimum payment threshold is $50. They pay via PayPal, Bank Wire, WebMoney, Paxum, EPayments, Bitcoin, etc.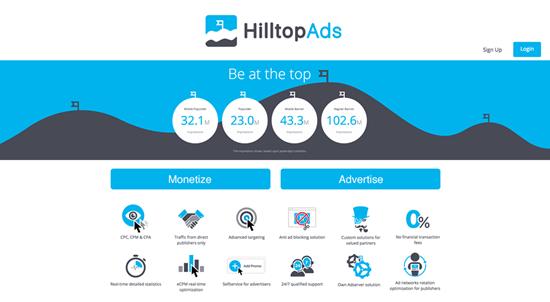 5. Media.net Popular CPM Ad Network
Media.net is a leading CPM Advertising Network. It runs one of the largest contextual Ads Programs in the world. Media.net has been functioning as a trusted advisor to top management across various large publishers. Some of its publisher clients include Forbes, MSN, Yahoo, Kiplinger, NY Daily News, and many others.
Media.net requires publishers to have a good amount of original content besides not infringing any third party intellectual property rights.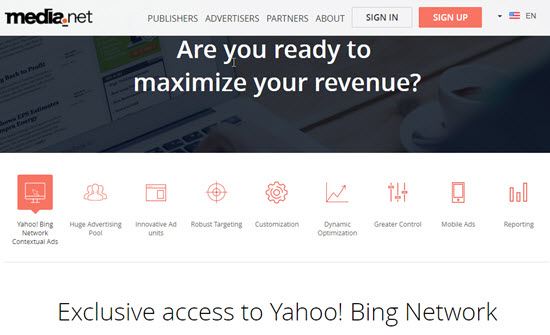 6. AdPushup CPM Ad Network
For publishers who are looking for higher CPM rates and ad optimization platforms, AdPushup is for them. AdPushup is an ad optimizer and ad network backed by Microsoft Ventures.
AdPushup is partnered with top ad exchanges like Google, Rubicon, AppNexus, and Criteo to offer higher CPM rates to its publishers. They offer ad optimization tools by which your ad revenue will increase on average by 33% by serving high CPM ads.
Their optimization tools are powered with automated A/B testing, layout optimization, Adblock recovery, header bidding, AMP converter, and much more, which helps to boost ad revenue for the website or mobile web/app.
AdPushup offers managed service, so publishers don't need to worry about optimization and a lot of setups. Publishers need to focus on their website growth, not on ads optimization.
At present, AdPushup is working with 300+ big publishers like Reddit, Newsweek, CNET, Elle, NDTV, Naukri.com, Network 18, GSM Arena, etc.
AdPushup Benefits
Easy setup
Revenue optimization tools
Partnered with top ad networks and exchanges
Dedicated account manager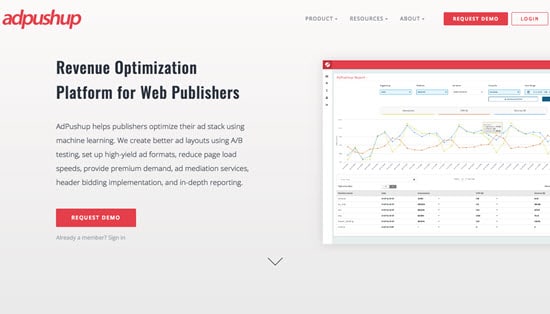 RevenueHits is another top CPM Ad Network for publishers. It provides self-service for publishers where they can earn money by placing tags on their sites. They serve as a powerful ad platform for advertisers where they can buy quality traffic.
RevenueHits serves Ad Formats such as Display Ads, Text Ads, and Pop-up/under. The minimum payout threshold is $50, and the supported payment method is PayPal.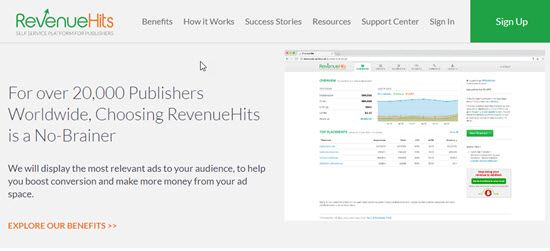 Google Adsense is the largest and best advertising network in the world. It is hugely popular for its high CPM rates. However, Adsense account approval is quite tough. You have to strictly follow Adsense policy and Webmaster Quality Guidelines to get approval as a publisher. It serves various ad formats, including display ads, mobile ads, search result ads, and mobile ads.
Google Adsense's minimum payout threshold is quite high, with the figure touching the mark of $100. There is no publisher traffic requirement as such.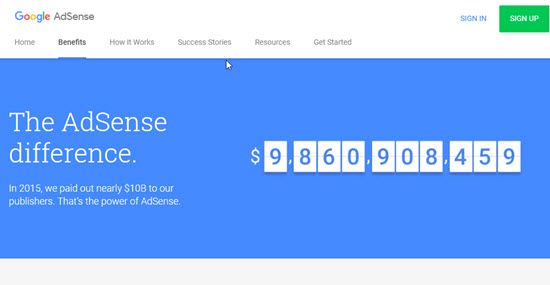 SmartyAds is a top-of-the-list advertising network that helps media partners both buy and sell global traffic via a real-time bidding system on a CPM basis. With 8+ years of experience and expertise, SmartyAds has built an open and direct collaboration marketplace that serves 60 billion targeted impressions per month (1,5-2b daily).
Advertisers can buy premium inventory placements on the SmartyAds ad network, collaborating with publishers directly. Publishers, in their turn, can sell their most valuable inventory for the highest self-established price. They have traffic partners connected all around the world (AdColony, Pubnative, InMobi), 25K + premium publishers, and 9K+ advertisers, which guarantees the best achievable fill rate across all verticals, ad formats, and Geos (United States, India, Israel, UK, Germany, Russia, and other top tiers countries).
Additional benefits of SmartyAds ad network: cost-effectiveness achieved through 100% automation, budget controls, frequency capping, and brand-safe traffic; premium demand; premium supply; advertisers and publishers from all Geos; fill rates close to 100%; >90% viewable impressions; total pricing clarity and transparency; safest traffic (protected Media Forensiq, (in-app ads.txt authorized as reseller) and large traffic volumes for all environments – especially mobile and in-app – dedicated account managers.
Formerly known as Tribal Fusion, Exponential is one of the most popular CPM ad networks. They are popular for high CPM rates. If you get more than 500,000 unique users per month, then you can apply to the Exponential for the Publisher program.
Exponential is known for its high-quality CPM Ads. They are easily one of the best networks for online advertising. Exponential has a huge number of premium advertisers. They also offer high CPM rates. It offers a wide range of advertising formats.
It offers high-impact ads like Rising Star ad formats as well as pre-roll ads. They offer as much as 55% of revenue to publishers. The only downside is the high requirement of unique visitors per month. It also needs highly targeted, relevant, and regularly updated content.
It processes payments using the Net45 payment program. The minimum threshold is just $50. The payment options include PayPal and Check.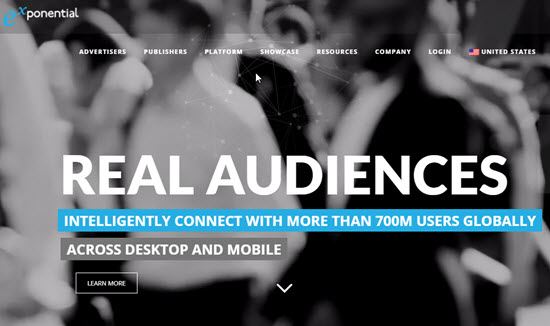 Amazon is one of those few groups offering publishers almost all the possible monetization solutions. For example, there's the well-known Amazon Associates Program.
Well, that's not all.
Amazon has come up with another monetization option for your blog.
It's known as Amazon CPM Ads.
Presently, Amazon CPM Ads are available only for selected Amazon affiliates on the Amazon Associate Program. One needs to have an Amazon Associates Account. You can log in to check whether you have the Amazon CPM option or not; after that, you have to create your site list.
You can list one site. Moreover, you can even list multiple sites.
They have a "passback" feature.
In case the ads don't match your minimum CPM guarantee, your fallback ads are displayed.
They support various ad sizes: 728×90, 300×250, 160×600, and 300×600.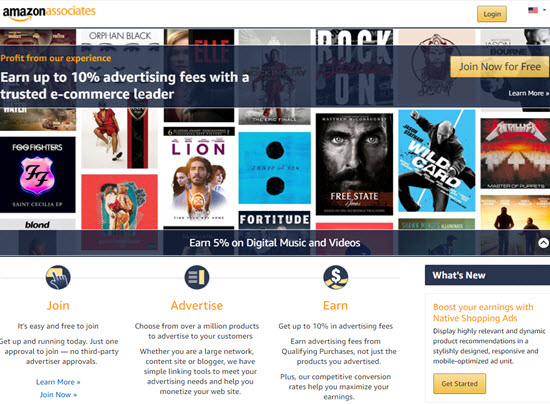 Conversant Media is another very popular CPM Advertising Network.
It was previously known as Value Click Media. Conversant Media has a huge number of premium advertisers.
One of the highlights of Conversant Media is that it only approves quality websites with a Top Level Domain name such as .com, .net, and .org.
With the Conversant Private Exchange, you can achieve your monetization goals. They connect users with relevant and quality advertisers. In fact, Conversant Media has been in online advertising for almost 20 years.
Conversant Media puts the minimum traffic requirement of 3000 visitors per month. The minimum payout threshold is $25; they pay by check, PayPal, or Direct Deposit.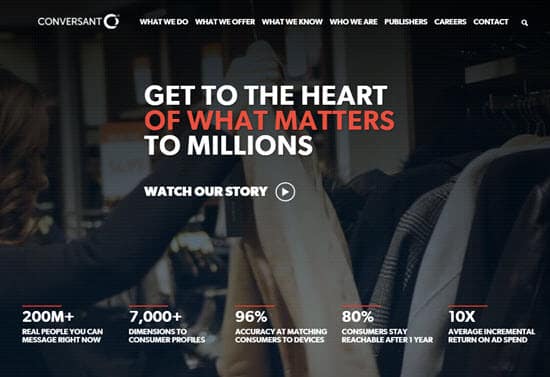 RhythmOne is a leading and popular digital advertising network headquartered in San Francisco and has five more branches in the country.
The RhythmOne network offers CPM Ads to publishers and is good at it.
They have helped numerous website owners and mobile developers to monetize their websites.
They have laid a strict approval process and only approve website that gets high traffic. Plus, the website should have unique content.
Plus, they have some other factors that need to be compulsorily fulfilled to get approved.
For example, the website must have 5000 visitors per month. It must get 25000 page views per month. The website must run a privacy policy.
They have adopted Net 60 for making payments, and they pay via E-Payments. The minimum payout threshold is $50.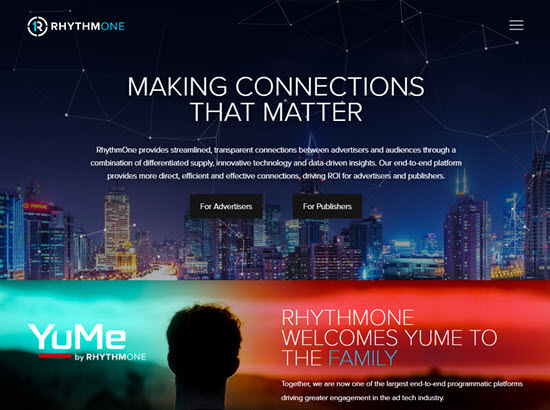 ExoClick offers unparalleled monetization opportunities. It is an ad network for both advertisers and publishers.
It offers the opportunity to tap into more than 182 billion impressions. ExoClick has advanced targeting features (such as geo, language, OS, device, and sites) for reaching your audiences and meeting your advertising goals.
It offers unique and multiple ad formats to increase your reach. Its ad-serving platform automatically filters and rejects bot traffic, malware, and viruses. It even generates HTTPS ad tags.
For publishers, ExoClick offers a global solution and the opportunity to monetize traffic from every country. It has a track record of on-time payments.
The payments are executed through PayPal, Payoneer, WebMoney, Paxum, or Wire Transfer. Plus, they offer detailed real-time statistics on your ad zones. They even run a Referral Program.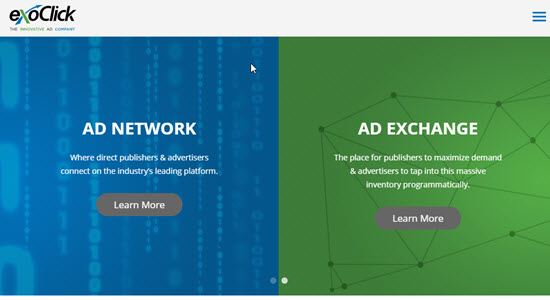 One (Formerly Advertising.com) is part of AOL. Advertising is also among the top CPM ads network and also one of the high-paying CPM rates.
To join One by AOL, you must have a high visitor base. It offers CPM as well as revenue share ads. Its CPM Ad rates are pretty impressive.
However, if your website has a high CTR, then its RevShare ads can prove the best way to monetize your blog and earn a lot of money. The only drawback is that getting approved is slightly tough. It has a minimum traffic requirement of 500,000 or more.
The minimum payment threshold is just $25. Its payment method includes PayPal, Check, or Wire Transfer.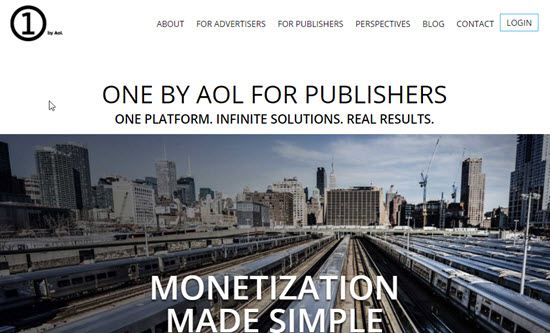 BuySellAds is a great choice for newbie bloggers and webmasters as it has no minimum traffic requirements. So, if you have a few hundred visits, you can make it count by partnering with BuySellAds CPM Ad Network. Plus, BuySellAds offers a high revenue share of 75% they get from advertisers.
BuySellAds has a generous minimum payout threshold of just $20. The payments are done over PayPal and also through checks and online wire transfers. It offers Ads in various sizes, which can be customized according to your needs. It can also be used along with Google Adsense. BuySellAds is a perfect way to generate extra income.
Criteo is one of the fastest-growing CPM Ad Networks. Over the years, it has become the leader in digital performance advertising. It serves more than 740 billion ads and has an impressive list of advertisers across the globe.
Criteo offers website owners ads with high CPM and great conversions. It is generating more revenues for its clients, which means high earnings for publishers as well as for advertisers.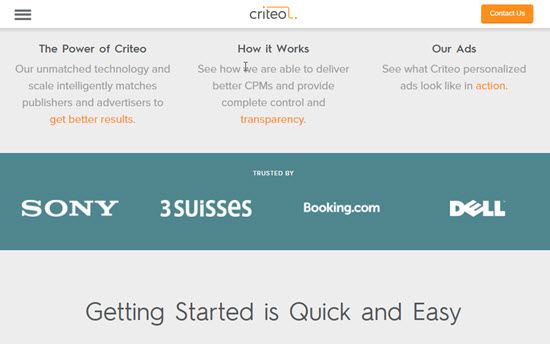 Adbuff is a CPM and CPC ad network that is connected to the largest ad exchanges. Their technology allows large publishers to maximize their revenue by getting multiple advertisers to bid for your inventory. Adbuff.com is the ultimate Adsense alternative network, offering rates that compete with or even exceed AdSense for some publishers.
They offer payment options by PayPal, Payoneer, and Bank Wire on a NET 45 basis. Approval typically takes 24-48 business hours, and only the highest quality publishers are accepted.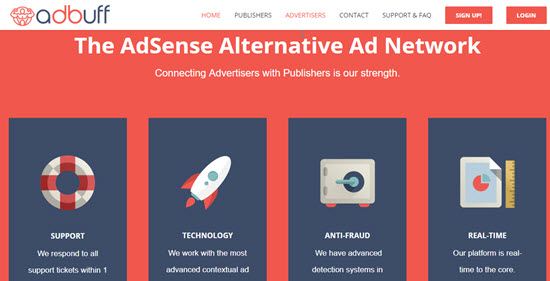 We hope you liked this list on High Paying CPM Ad Networks. Please share which CPM Ad Network you use on your website.