So, you want to spy on your Competitor's Facebook Ads.
Well, it's a good idea to know about your competitor's Facebook Ad Strategy. It helps you to see what your competitors are up to. Moreover, you can then replicate their success on your Facebook Ads.
Perhaps the easiest way to go about spying on your competitor's Facebook Ads is to use Facebook Ads Spy Tools.
In this article, we have listed the 12 Best Facebook Ads Spy Tools that will help you to spy on the Facebook Ads your competitors are running.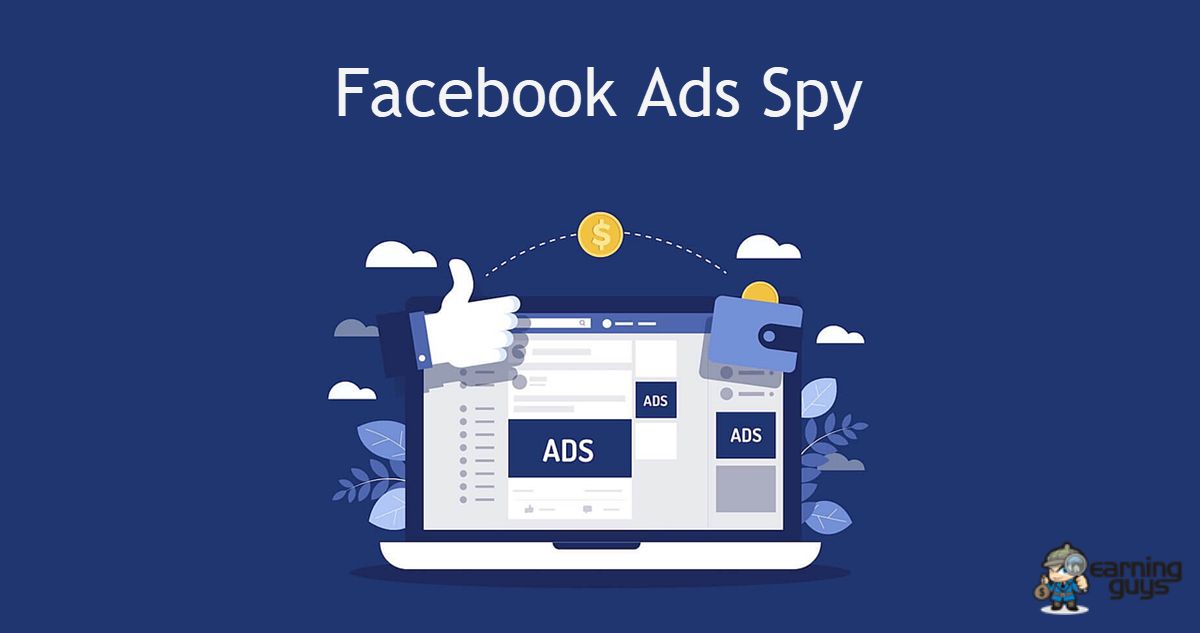 The best way to outdo your competitors is to know what your competitors are doing. It holds good even in the case of Competitor' Facebook Ads. When you come to know their every move, you can then out-perform them easily.
What has worked for your competitors can even work for you. You just have to know what they are doing.
This is where spying on your competitor's Facebook Ads comes into the picture.
Facebook Ads Spy Tools reveal a lot of information about Ads running on Facebook.
By using these tools, you come to know which Facebook Ads your competitors are running. You will learn to whom they are targeting based on demographics, geography, or interests.
You come to know about your competitors' audiences and what they're offering – what deals they are posting when they are posting, and how often they are posting deals.
You come to know what kind of content they are posting – are they posting videos, product images, or links to blogs. Most importantly, you come to know whether the audiences are engaging with their content or not.
All this information helps you to refine your Facebook target audience. You get more insights into potential shoppers that you can eye upon and target.
For example, your competitors could have marked their ads to an area you haven't been marketing up to now. So, in a way, you identify an opportunity to market your Facebook ads and find new potential shoppers.
So, it's worth investing in Facebook Ads Spy Tools.
However, before I go on to show the list to you, I would like to make a small but important point.
Although Facebook Ads Spy Tools give you the much-needed information and insight about your competitors, you should continue doing the hard work.
Only the time and effort you put into your campaigns will make you stand out from the rest of the competition.
You should learn from your competition, but you should not imitate them. There's no guarantee that what has worked for them will also work for you.
With this, I go on to present the list of best Facebook Ads Spy Tools.
Let's have a look at them.
12 Top Facebook Ads Spy Tools
Social Ad Scout is one of the best tools that you can have to spy on social ads. Social Ad Scout provides you the opportunity to discover and access thousands of social ad examples from all across the globe. Get access to thousands of social ads from as many as 21 countries, including the United States, United Kingdom, Canada, Australia, Norway, Sweden, Italy, New Zealand, Austria, Brazil, Russia, and many others.
Social Ad Scout comes loaded with unparalleled features. It provides detailed search filters so that you can search by text, URLs, type of ad, demographic information, the type of device, geographic location, and more. You get extensive breakdowns, including timelines, how often an ad was seen, who saw it, how it ranked, the devices it was seen on, etc.
With Social Ad Scout, you get to have the actual ad's screenshot. It makes it easy to download landing pages. Social Ad Scout covers both desktop and mobile ads. Moreover, it covers every ad format. You get a high-speed interface. All your search requests are processed within a fraction of a second.
All in all, Social Ad Scout helps you to launch successful social ad campaigns quickly and easily.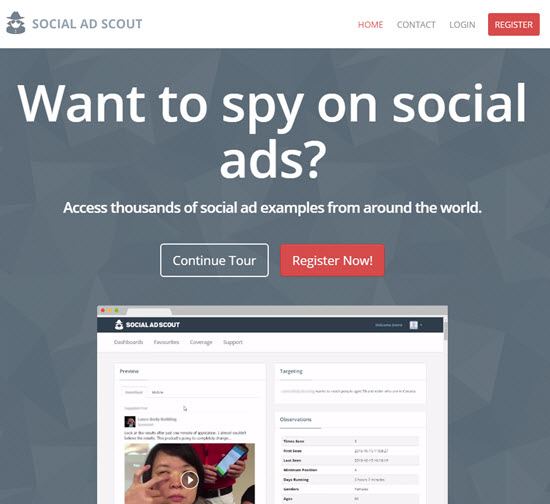 AdPlexity is a competent Facebook Ads Spy tool that helps you analyze competitor campaigns. It offers all the primary sources like eCommerce, Desktop, Native, Push Ads, and Mobile. So, AdPlexity is a tool for all serious internet marketers out there.
AdPlexity is studded with powerful filters. It helps you to see which campaigns other affiliates are running right now. Moreover, AdPlexity works out as an all-in-one tool for multiple traffic sources. In fact, AdPlexity has become a leading player in the field of Facebook Ads Spy Tools.
AdPlexity helps you to know and analyze competitor campaigns down to network and tracking. You can even find out all other campaigns that are being run from the advertiser side.
It works out to be a great time-saver as it comes with many advanced features that help you download competitors' landing pages in just a single click.
The biggest highlight of AdPlexity is that it focuses on eCommerce ads for Facebook. It helps you to spy on competitor product ads.
Moreover, it can gauge user engagement statistics such as likes, comments, shares, and even links to the Facebook page.
Plus, AdPlexity eCommerce has the ability to spy on 100,000+ stores and 70M+ products. It can even check the historical pricing changes. You can also find out the APPs.
All-in-all, AdPlexity eCommerce helps you to stay ahead of the competition. It's a feature-packed tool with an extensive database of creatives that covers all traffic sources. AdPlexity allows affiliates to create winning campaigns in record time.
Pricing: There is no free version of the software. It's priced at $149/month per user.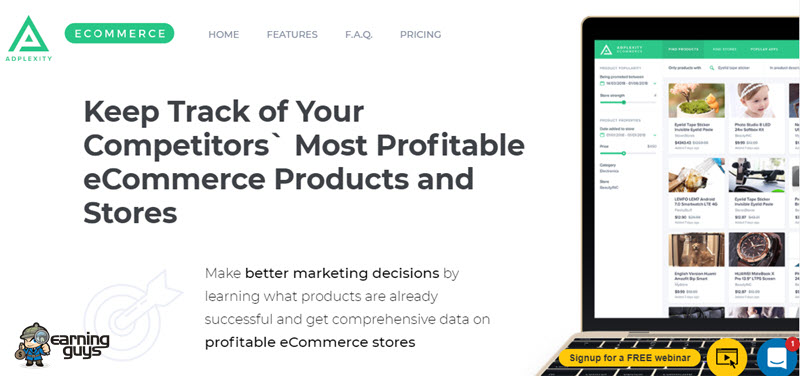 PowerAdspy is one of the leading Facebook Ad-Intelligence tools for social advertising. It lets you discover the ads your competitors are running on Facebook. With PowerAdspy, you can uncover your competitor's advertising secrets and replicate winning campaigns.
PowerAdspy provides one of the largest indexes of ads on the market, as much as 5,000,000+ Ads Indexed. So, you can easily find new winning ad variants in just a few clicks. Moreover, PowerAdspy is the ads spy platform that provides Shopify Ads search.
With PowerAdspy, you are able to create a fully-fledged social ads campaign with multiple sources. PowerAdspy comes with an intuitive layout so that even a beginner can discover winning ads for social campaigns.
PowerAdspy allows you to follow any number of competitors. You get to see every ad that is working as well as the landing pages that are attached to those ads.
It reveals all the social interactions so that you make out which ads are really a winner. You can even view the ads live on Facebook. PowerAdspy also provides users with targeting and location data. You can even bookmark ads.
With PowerAdspy you can spy on Facebook ads for more than 15 countries, search ads by keyword and provides you in-depth analytics.
At present PowerAdspy Basic plan cost $49 per month, Slandered plan costs $99 per month and the Premium plan costs $249 per month. Each plan comes with an advanced filter option.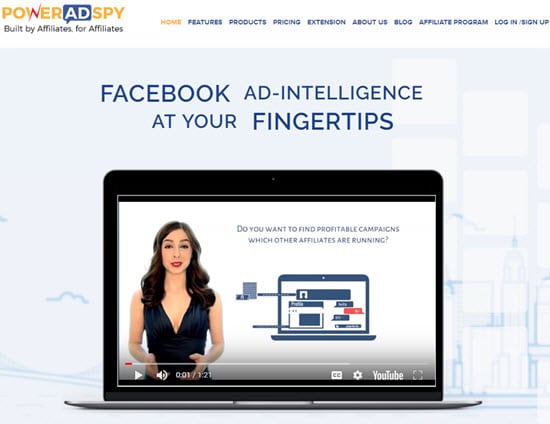 Facebook spying takes a whole new dimension with Connect Explore. It's one of the best Facebook ads spy tool. Connect Explore has been developed by Wilco de Kreij. It lets you uncover Facebook interest like you never imagined before.
Connect Explore is all about having phenomenal ROI, like 300% or even 600% return on investment. Connect Explore is like having a real competitive edge on your side.
It allows you to take on the competition with confidence. It allows you to find the best interests and most engaged audiences, and find out which interests are working the best.
Connect Explore is loaded with Automated & SMART Research Tool uncovering interests that your competition will never find. It comes with built-in "Layering" that allows you to hyper-target the hottest fans in any niche. Moreover, you can optimize ad results with detailed interest performance stats without any split testing. Plus, Connect Explore offers much more.
Normally, it takes multiple hours to find those laser-targeted interests in a new niche. However, Connect Explore automates it for us thus saving us hours of time. It's the broadest Facebook interest targeting offering stats to the minutest detail.
Connect Explore allows you to make more money with your Facebook advertising by helping you to pick winning campaigns. Moreover, you can add those interests straight to your ad set. Plus, you can have a breakdown of how each interest is performing within that ad set.
Connect Explore is a tool that saves your time, helps you escape from tedious research, and maximizes your ROI. It's easy to use and offers fast and professional customer support.
Connect Explore works its magic in four simple steps.
Discovery: Find interests to target.
Filter: Find the best interests and most engaged audiences.
Target: Apply results to specific interests for the best possible ROI.
Analyze and Scale: Measure out which interests are working best.
Simply put, Connect Explore is one of the best Facebook Ads Spy Tool out there.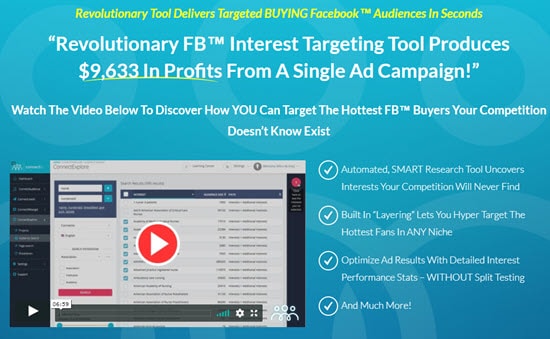 AdSpy is one of the most competent social media Competitive Intelligence Tool. It is the best Facebook Ads Spy Software that brings your Facebook Marketing to the next level.
With AdSpy, you can search for every type of ad on Desktop and Mobile. It has a huge database of ads covering almost every niche and country. AdSpy has over 35,135,000+ ads from 180 Countries in its database, and it is growing daily.
It's the easiest way to find the best social media Ads and Funnels in a matter of seconds. AdSpy is web-based, so you do not have to deal with incompatible software. Simply log in and search. AdSpy provides an intuitive layout so that both beginners, as well as pros, can find their way around easily.
It's a tool that has been designed specifically for social media ad spying. You get to know your competitors' angles, images, copy, engagement levels, and target audiences. With AdSpy, you get all the data you need to design a winning social media Campaign.
With this amazing social ad spy tool, you can search ads according to your keyword, search by an affiliate network, affiliate ID, landing page and much more which help you find the right ads.
AdSpy provides a competitive edge to your Facebook campaigns. It helps the user to study winning ads so that you can go ahead and design your Facebook campaigns with confidence.
AdSpy comes with simple pricing and only have one plan with unlimited usage at just $149 per month.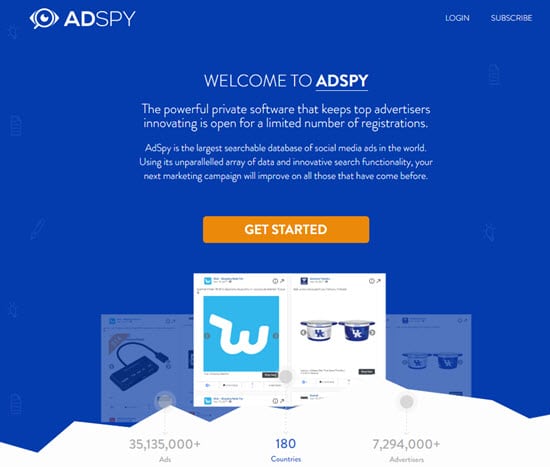 AdSpyHub is a very competent, popular and powerful Free Facebook Ads Spy Tool. With AdSpyHub, there is no need for you to spend tons of money on creating Facebook Ads from scratch.
AdSpyHub helps you with the most profitable and engaging ad copies which can be replicated easily. You can spy on Facebook mobile ads.
You can easily find the ads that are doing well in your niche. It helps you to run more profitable and cheaper ads.
You can figure out the exact audience that your competitors are targeting. Get to know the offers, audience, landing pages, and even the ad content that are being used by your competitors to dominate your niche.
With AdSpyHub, you can make Facebook a money-making machine for you. It's a complete Facebook Ads Spy Tool for you. AdSpyHub is the No. #1 free tool for Facebook Ad Transparency. It keeps you updated on Facebook Ads with all the details.
Simply make a sign up on Adspyhub.com, and they take care the rest. AdSpyHub is the best tool when you want to build engagement and post impressions. AdSpyHub allows you to search the top performing Facebook Ads. You can filter the results by keyword or package name, date range, and country.
One can even select "call to action" types. You can see image, video, carousel, and other types of Facebook ads based on last seen, first seen, or interaction.
However, you need to be logged in to see results based on top advertisers or top target countries. That said the best part is that AdSpyHub is easy to use and free.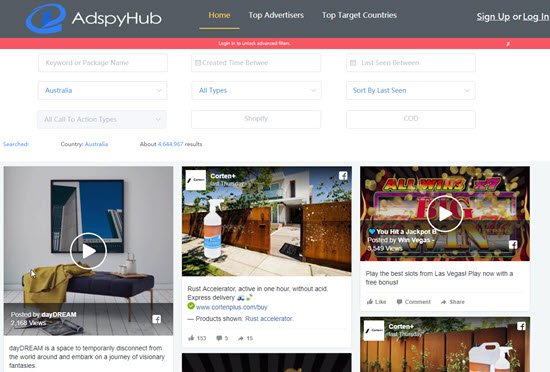 Social Ads Tool is a Facebook Ads management and optimization service that is successfully operating for top agencies and enterprises worldwide. If you are looking to drive advertising success on Facebook, then Social Ads Tool can be your perfect Facebook Ads Partner. You simply need to configure your targets and switch on its optimization engine.
With Social Ads Tool, you are in for powerful and unique insights that really matter. It provides the opportunity for easy campaign setup with its slick ad generation tool. You get world-class support. It's much more than just technical support. You will be guided to optimize your campaigns from e-commerce, game installs to mobile app download campaigns in every geography and sector. All in all, Social Ads Tool proves to be the right partner for managing your Facebook Ads.
SocialPeta is a leading marketing data analysis tool. It covers almost all the main channels of the world including Facebook, Twitter, YouTube, AdMob, Yahoo, Unity, and many others.
It presents an in-depth analysis of marketing data from different angles and captures materials in global mobile advertisements. So, SocialPeta helps you in gaining deep marketing insights so that you can make wiser decisions.
SocialPeta offers big data for a decision on advertising and marketing strategies. SocialPeta goes on to track ad creative, targeting, and performance of 500,000 apps across global ads and China ads. It even offers 100 millions of creative including video, image, carousel, playable, search ads.
SocialPeta goes on to capture trending apps, new releases, new marketing cases, their ads and performance by country, and game genre. SocialPeta can also update new features at a very quick speed. Moreover, SocialPeta covers more than 50 countries including America, Canada, Japan, Korea, China, India, Thailand, etc. It is a must-have tool for your social marketing and ads planning.
BigSpy is a powerful ad spy tool. It helps to start your marketing campaigns. It has a big database helping you to access a huge number of ad creatives for your ad inspirations.
It even provides ad analysis, thereby allowing you to check the performance of the ads.
BigSpy consists of millions of ad creatives. It tends to function as a great ad spy tool helping you to compete with your rivals in digital marketing.
So, it helps you to know how many ads your competitors have run. You can even come to know the performance of their ads.
BigSpy has included a new function that allows you to track the ad. It can present the daily trend of the performance of the ads.
BigSpy comes with an intuitive and user-friendly interface. It's one of the most powerful free ads spy tool that helps you to spy on those winning ads. It can track competitors' ads, thereby helping you see what's working for them and test to find out what will work for you.
We need to point out that BigSpy is not only a Facebook ads spy tool. In fact, it works as an all-inclusive social media ads spy tool for lots of social media networks such as:
Facebook Ads
YouTube
Instagram Ads
Twitter
Pinterest
Yahoo
Admob
It picks winning or trending ads on a daily basis so that you can drive down ad expenses and maximize profitability. The good thing is that it covers every ad type, niche, and also any country. BigSpy has more than 2 million ads from over 40 countries and regions.
Here, we list out some advantages of BigSpy:
Completely free
Direct online use
Simple registration
Over 400 million advertising data inventory
Six platform advertising monitoring
Multi-type screening function
The extremely filter-rich search panel
Tracking feature
Detailed ad insights
Ads from Six Social Networks + Yahoo
Many different ad ideas offered for free
Moreover, much more
Pricing:
Free
Basic: $9/mo
Pro: $99/mo
Elite: $399/mo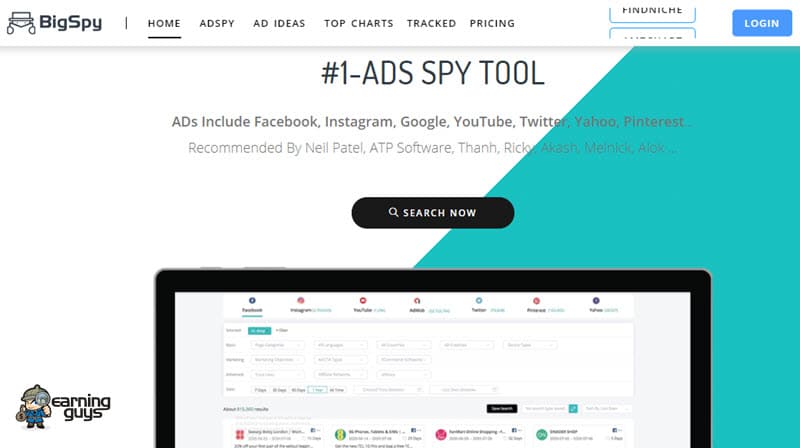 AdEspresso is another top-notch tool that makes digital advertising easy, fast, and useful. It allows you to create your advertising campaigns across multiple channels in minutes.
Moreover, AdEspresso can manage all your advertising campaigns in one place. It can analyze your campaigns and offer you actionable insights.
AdEspresso makes collaboration easy and effective with your teams and clients.
AdEspresso supports Ads campaign creation for Facebook, Instagram, and Google. It allows you to manage your ad campaigns all from one place.
It is studded with a bunch of useful features, thereby helping marketers with their ad campaigns right from testing creatives to budget management.
AdEspresso features Ad Gallery with which you can come to know how the pros are creating their campaigns. It's a free list of curated ads from different niches.
So, you get insights about what's good about the ad. You can come to know why this particular campaign is working for the advertiser.
AdEspresso makes creating and managing all your ads simple and easy. Moreover, it allows you to create all your advertising campaigns in one single place.
AdEspresso offers you top-notch analytics tools that help you to optimize your Facebook, Instagram, and Google Ads campaigns after publishing. It offers you all the metrics you need for tracking and improving your campaigns.
AdEspresso comes studded with an automated PDF reporting tool. It helps you create stunning PDF reports for your Facebook ads in minutes.
Moreover, the AdEspresso University provides you with all the resources you need for improving your skills through the Facebook Ads training.
Pricing:
Starter: $49/mo
Plus: $99/mo
Enterprise: $259/mo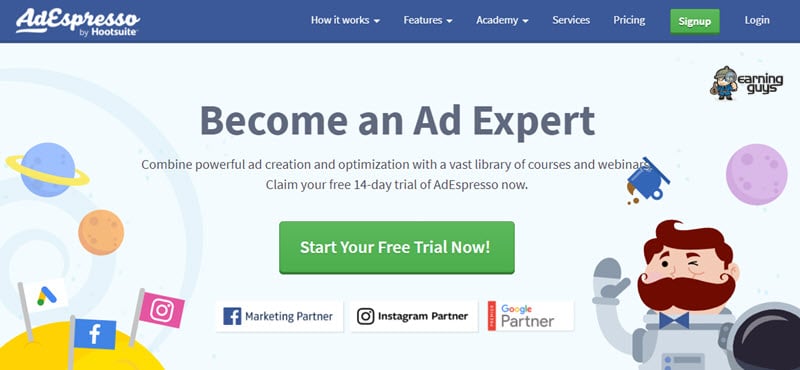 Swipe-Worthy is another valuable free ad spy tool on this list. It allows you to collect your competitor ads as well as find inspiration for creating your own campaigns.
You can break down the dynamic elements of an ad and access why it's working. With Swipe-Worthy, you can analyze successful promotions.
Moreover, Swipe-Worthy allows you to know the value of good ad copy. It offers valuable insights as to why a particular ad set is working in that niche.
In short, Swipe-Worthy allows you to:
Write effective ad copy
Do split testing
You can break down a campaign and analyze the message & intent behind the ad
Swipe-Worthy focuses specifically on buyer psychology and campaign strategy rather than showing you cool designs and catchy slogans. Thereby helping you to create your own winning campaigns.
So, Swipe-Worthy helps you to understand why a particular ad campaign works. It develops your marketing mindset and proves a quick source of inspiration when you need it.
Price: Free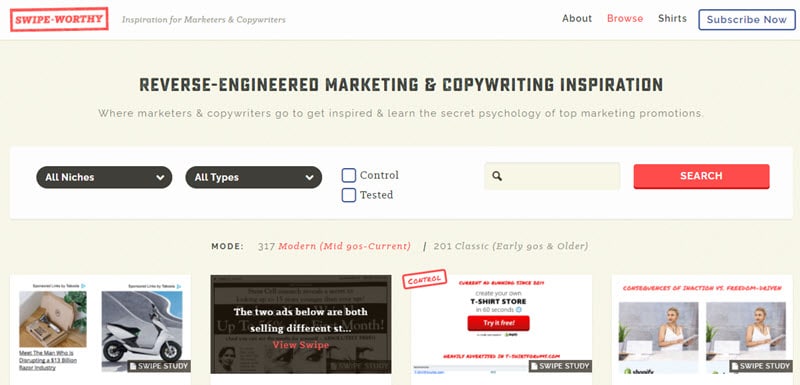 Rather than functioning as a mere Facebook Ads Spy Tool, Anstrex works out more as a comprehensive ad intelligence program.
It's specifically built to spy on Push and Native Ads. With Anstrex, you are able to unlock the secrets of Native advertising and go on to build winning campaigns. It allows you to spy over best working native ads.
With Anstrex, you can get all of the ad's competitive intelligence data. So, Anstrex allows you to stay ahead of the competition.
Plus, Anstrex allows you to spy on affiliate ads. It comes with some excellent in-build filters that allow you to discover your competitors' winning strategies. It also has a built-in landing page editor to download and edit any landing page in just a few minutes.
The best thing about Anstrex is that it has the largest database with over 10 million native ads.
It proves an all-in-one tool that allows you to spy on all aspects of your competitors' campaigns.
It is rich in features making it easy for CPA marketers and affiliates to find new traffic sources. It enables you to find top-performing creatives as well as analyze industry trends easily.
All-in-all, Anstrex proves a worthy ads spy tool when you need to run multiple campaigns.
Pricing:
Anstrex Push: $79.99
Anstrex Native: $59.99
Push + Native: $124.99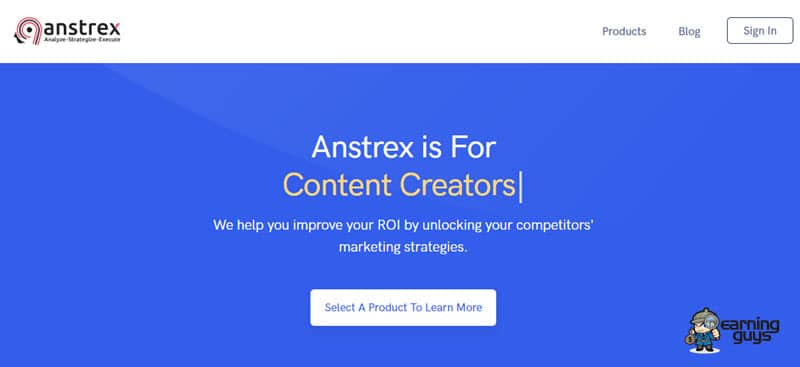 AdSector is another powerful tool to find competitor Facebook ads. It allows you to create the most effective ads.
With AdSector, you can find thousands of effective landing pages in seconds. It allows you to discover the most effective ads on Facebook and find out what makes them work. You can use those strategies for building your own effective ads.
AdSector is a reliable and easy to use ads spy tool allowing you to create the most effective ads.
AdSector allows you to find what's working on the internet so that you can create effective messages for grabbing the interest of the potential prospects.
The tool offers a straightforward interface. They have real-time status checker allowing you to watch their database grow in real time. They go on to add thousands of ads per day.
It allows you to search the relevant ads.
You can search or filter the ads by keywords, interest, or even by seeing what is happening on the landing pages itself. One can find hundreds of landing pages (along with ads) that is relevant to your business. You can bookmark and organize the most productive ads right to your personal collection.
AdSector allows you to learn from your competitors. You can eliminate the guesswork and create successful advertisements.
AdSector offers advanced search & filtering. You can bookmark and organize ads. It offers in-depth analytics. It allows you to view target market interests instantly.
AdSector comes with a clean interface. It allows you to filter by any interest.
It streamlines your research and saves tons of time by helping you to find just the right ads. The information is stored and organized for easy retrieval.
It offers a competitive advantage by providing the information you need so that you can use it. You can download winning ads and landing pages in seconds.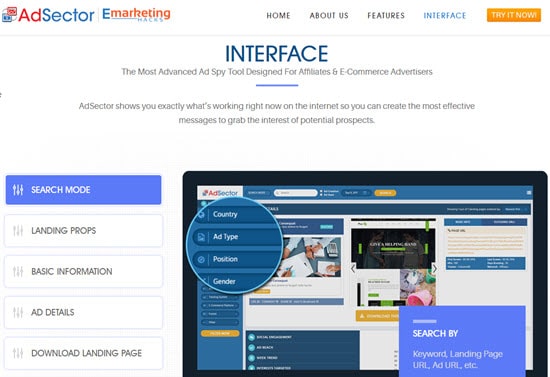 We hope that the post, 12 Best Facebook Ads Spy Tools, proves an immensely useful resource for you spying on your competitors' Facebook Ads.
So, which of these tools you plan to use to uncover the most profitable and popular Facebook Ads of your competitors?
It's an endeavor to make Facebook Ads Spying easy for you. We hope that the post serves your purpose well. If you liked the post, don't forget to share it with your friends and colleagues. We welcome your comments and suggestions.