Looking to monetize your website or blog? Here you will find 21 Best Ad Networks for Publishers or Bloggers, which can double or triple your website earnings. The Ad Networks we have listed are the world's Top Online Ad Networks that offer various advertising formats.
Blog monetization is the key objective for every blogger. However, you have first to figure out the methods for blog monetization.
Having said that, you have quite a few methods by which you can monetize your blog.
One of the best methods is to become a publisher.
For this, you have to run ads on your blog. Ad Networks serve these ads, so you have to join an Ad Network or Ad Networks.
There are plenty of Ad Networks out there. So the big decision for you is to choose a powerful Ad Network(s) which can generate the highest revenue for you.
I perfectly understand that choosing the Top Ad Networks is not an easy task. Especially for newbie bloggers who are making their first attempt at online publishing.
That's the reason which prompted me to come up with this post, where I list out Best Ad Networks for Publishers.
Here, you have to understand that Publishers are bloggers or website owners who want to run Ads on their blogs or websites for revenue generation.
Then, there are various types of Ad Networks. Some cater to a particular type of Ad, and others give you the option of having different types of Ads on your blog or website.
In general, Ad Networks serve In-text Ads, Contextual Ads, CPM Ads, CPC Ads, Banner Ads, Pop-Under Ads, CPA Ads, CPS Ads, Affiliate Networks, CPA Affiliate Networks, and Native Ads. Some specialize in a particular type of Ads; others serve the combination of Ads.
There's no foolproof method of judging which Ad Network works best for you. You have to experiment with Ad Networks to determine which ones generate the highest revenue for your blog or website.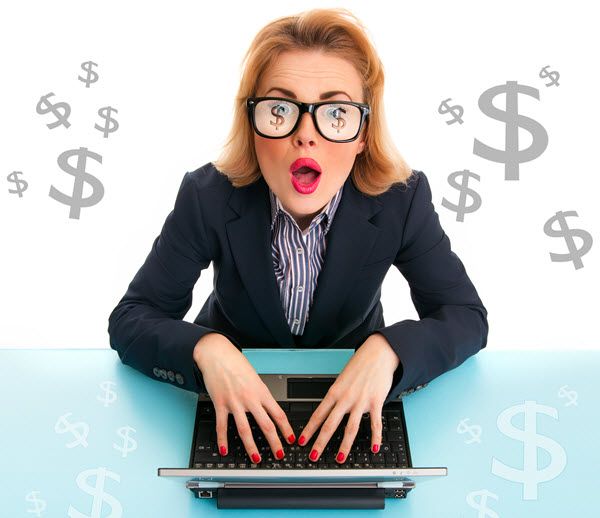 Here, we have selected some of the Best Ad Networks for Bloggers that are secure, trustworthy, and give you the best opportunity to monetize your blog or website. They serve millions of Ad impressions daily, have a large network of advertisers and publishers, and provide decent money to publishers.
So, to monetize your blog, you must pick out the best online Advertising Networks. The list will give you a good lot of options and make it easy for you to pick the most suitable Ad Network for your blog or website.
These networks are not of specific ad types; we have listed top ad networks of various advertising options. We have listed traditional Contextual or CPC networks, CPM networks, POP-UP/POP-Under Networks, and affiliate networks that will help you monetize your website or blog in various ways.
Now, let us move on and see some of the Best Ad Networks for Publishers.
21 Top Ad Networks for Publishers / Bloggers
1. Google Adsense – Best Ad Network for Bloggers
Google Adsense is recognized as the world's largest and best advertising network for publishers. Most importantly, it's free and provides you the opportunity to earn money by placing ads on your website. It also happens to be the oldest online advertising network still in existence.
It is much more popular with publishers and advertisers alike. Its performance and eCPMs are tough to beat.
However, getting approved by Google Adsense is not easy. You have to follow Adsense quality guidelines to get approved.
It is particularly known for serving CPC Ads and CPM Ads. It shows mobile ads, video ads, search result ads, display ads, and banner ads. The ads are relevant to your content.
You can choose the type of ads that best fit your website. It has the largest network of online advertisers. It makes sure that only the highest paying ads go live on your website, so you get the most for your ads.
Its control panel is pretty basic but highly functional. Reporting is the major advantage of Google Adsense. It delivers results in real time. It even offers several advanced features.
There is a "no" traffic minimum with Google Adsense.
Display Ad Unit Sizes Available: 728×90, 468×60, 234×60, 125×125, 120×600, 160×600, 180×150, 120×240, 200×200, 250×250, 300×250, 336×280, 300×600, 320×50, 970×90.
Payment Methods: Check and Direct Deposit
Payment Terms: Net-30.
Minimum Payout Threshold: $100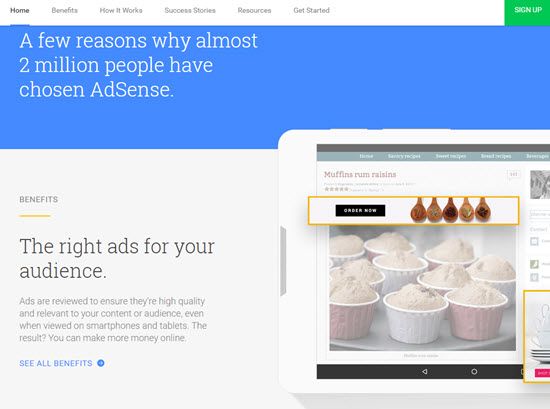 Adsterra is a highly reputed advertising network that offers a powerful toolset both to Advertisers and Publishers. It is known for its Partner Care approach and impressive performance of over 30 billion ad impressions worldwide per month.
12K+ direct publishers and over 8K brands, affiliates, agencies, and ad networks are relying on Adsterra while growing their business.
Both self-service and fully-managed services are available. Advertisers can launch, monitor, and tune their campaigns autonomously or start promoting their offers with the help of Adsterra's managers. Adsterra's client support team is multilingual and friendly, ready to assist seven days a week.
Adsterra supports publishers from all verticals and assures monetization of their ad inventory. It provides various ad formats for the web and mobile platforms, including display banners, interstitials, popunders, direct links, sliders, and Pushup. It guarantees the highest possible ad quality and security. Publishers get on-time payments.
Adsterra was established in 2013 in Scotland.
Its unique and unparalleled approach to ad formats has led this ad network to become a leading & premium ad network in the world with the highest priority on quality service.
They offer both website advertising as well as mobile advertising for advertisers and publishers. They offer ad types such as CPM, CPC, and CPA.
Adsterra offers unique and innovative advertising displays, thereby providing monetization options both on the web and mobile.
They provide lots of effective ad formats such as display banners, pop-unders, interstitials, direct links, and video banners. They specialize in pop-under ads.
Top benefits for publishers:
CPM rates are among the highest.
Solid portfolio of advertisers and relevant offers.
Traffic quality is a big deal. So, no restrictions on the website traffic volume.
A lucrative referral program is lifelong, so you will get a +5% to your income from your partners' profit if they join Adsterra via your referral link.
No traffic wasted! The in-house BackURL tool allows returning all the traffic that hasn't been accepted by Adsterra, according to the network's Terms and Conditions (iFrame, proxy, and others).
Payment transparency and privileged conditions for the long-term partners and publishers that continue to increase their revenues.
Agile settings control and tune your ad volumes, frequency, verticals, and formats.
The proprietary anti-Adblock solution helps avoid over 80% of blockers.
Multi-stage protection from inappropriate ads.
The AI-driven tool analyzes your traffic and chooses the most beneficial offers that match your website audience.
Detailed and reliable statistics to track your achievements.
API for integrations.
Fastest start with a user-friendly interface. You will get a code to add to your website in minutes.
Adjustable ad feed. You can exclude verticals that you don't want to be advertised on your website.
Payment methods for publishers are:
Bitcoin
Wire Transfers
Paxum
PayPal
WebMoney
Minimum Payout: $5
3. Propeller Ads – Top Display Ad Network
Propeller Ads is one of the fastest-growing CPM Ads networks. It provides multiple Ad Formats. Propeller Ads makes it easy for you to select the best-performing ad campaign. It serves various Ad Models such as CPM, CPC, CPA, and CPL.
Propeller Ads ensures high ad quality by performing manual checks on advertisers. It provides publishers with on-time payouts, detailed real-time reporting, and a personal account manager. It endeavors to provide the highest revenue per visitor. Propeller Ads has a multitude of display advertising solutions.
Propeller Ads offers multi-channel monetization solutions and exclusive offers. You can look up to 100% traffic monetization. It's a primary characteristic of Propeller Ads. You can easily monetize global web and mobile traffic across devices and platforms with the highest eCPM rates.
Another hallmark of Propeller Ads is its comprehensive list of direct advertisers. Its advanced optimization technology gets you the best offers from around the world.
All this sums up to the highest revenue delivered with the most relevant ads for all your online content. Its publisher's dashboard lets you monetize your traffic in no time whatsoever. You get to have in-depth reports and lots of ad channel management tools.
Propeller Ads is always striving for excellence in delivering better performance for publishers and advertisers. They offer support as and when you need help to achieve your goals more.
It's one of the best Propeller Ads self-service Advertising Networks out there. It is designed to deliver peak performance.
It's a multi-channel advertising solution for display, desktop, video, mobile, and in-app. It employs the latest technologies and smartest algorithms, ensuring that its publishers and advertisers are always one step ahead of their competition.
With Propeller Ads, publishers can look forward to receiving maximum earnings from their site. It offers the most value out of an advertising network. They pay on a Net15 basis. They have multiple payment options, such as PayPal, eCheck, and Wire.
Payment Method: PayPal, Bank Wire, Payoneer, Webmoney, ePayments, EPESE
Minimum Payout Threshold: $100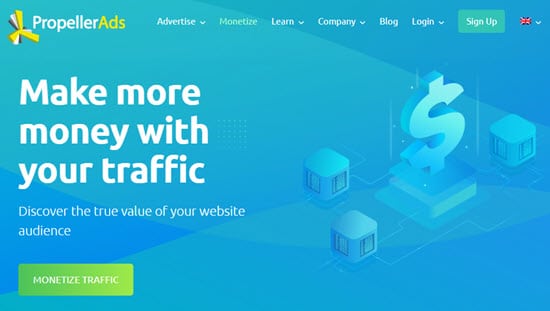 4. Revcontent – Best Native Ad network
Revcontent is regarded as the fastest-growing content recommendation network in the world. John Lemp founded it in 2013.
It powers over 250 billion content recommendations each month. It has earned the status of being the largest ad network globally. Revcontent serves some of the top content marketers, such as Forbes, CBS, and NBC News, among others.
Revcontent is recognized as one of the world's most selective and premium native ad networks. It has grown to be one of the biggest content recommendation platforms on the internet.
Revcontent currently serves 100 billion content recommendations a month across the globe. It supports transparent reporting and easy customization options for publishers.
Revcontent offers excellent performance and high-quality service. Revcontent uses highly responsive widgets, infinite scroll, gallery implementations, and unlimited API customizations. The ad formats are suitable for publishers and advertisers alike.
However, Revcontent is very strict as per acceptance is concerned. It rejects as many as 94% of applicants. Well, those who join benefit from the highest eCPM.
They have a minimum traffic requirement of 50,000 visits per month. They want that you have high-quality content providing value to visitors. Your website should not contain objectionable content such as pornography, malware, and involvement in hacking activities.
Revcontent offers a wide range of widgets, such as media, entertainment, and technology. It is highly transparent with accurate reporting. The interface is very well intuitive and has highly transparent reporting in the industry. You get real-time statistics about your website's performance.
They offer one of the best supports in the industry.
Revcontent pays on the Net30 basis
The minimum payout is $50 via PayPal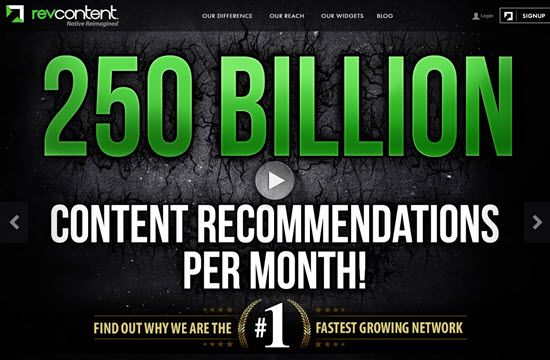 5. Infolinks – Best InText Ad Network
Infolinks is one of the best In-Text Ad Networks that enables publishers to monetize their websites to the optimum level. It mainly provides In-Text CPM Ads. So, if you have a text-based site or a blog, Infolinks might be a great option for generating revenue by advertising on your website.
They don't cover spaces, so you can use other banner ads from other Ad networks to earn revenue for site content. Infolinks Ads are targeted for any relevant keyword from your content. They have no minimum traffic requirements for publishers. Infolinks works with the biggest advertisers in the world, such as Facebook, Amazon, eBay, Microsoft, etc.
They offer a great CPM rate anywhere from $7 to $17. Infolinks have come to be the best In-text advertising network. It is helping publishers as well as advertisers in an amazing fashion. It is one of the best alternatives to Google Adsense.
Infolinks is a very promising ads network with:
Easy sign-up process.
It allows you to generate more revenue from your blog.
You can easily integrate code into your blog.
The minimum payout is $50
Multiple sources for getting payments, such as PayPal.
New technology for getting more clicks.
It uses In3 Technology to increase the revenue of a blog or website.
A large number of advertisers and publishers.
Mobile Ads Optimization for mobile traffic.
Superb Customer Support from their team.
Learn more about Infolinks – Infolinks Review
Payment Method: PayPal, Wire Transfer, eChecks, Payoneer
Minimum Payout Threshold: $50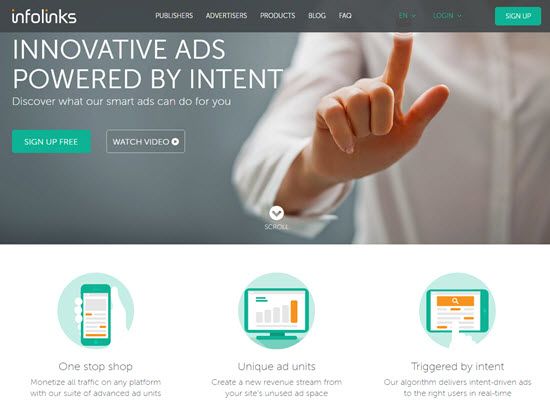 6. Media.net – Best Ads Network
Media.net is one of the top Ad networks for Publishers. It provides a great opportunity for publishers to maximize revenue from their online content. It has one of the largest pools of advertisers in the world.
Media.net serves contextual ads. It also supports desktop interstitial, in-content native, and mobile docked ads. It ensures a 100% fill rate across all verticals and ad formats. Some of its publishers include Reuters, Esquire, Elle, Forbes, Cosmopolitan, etc.
Media.net offers amazingly higher earnings and has earned great feedback from scores of publishers. Its core focus is on developing innovative monetization products for digital publishers.
In fact, Media.net has grown to become one of the largest contextual ads program globally. They have a global footprint with offices in New York, Los Angeles, Dubai, Bangalore, Zurich, and Mumbai. They have clients that include "Big" names such as Forbes, Hearst, Yahoo, MSN, Kiplinger, Reuters, The Street, NY Daily News, and many more.
Its implementation technology is HTML and JavaScript. Creating a new ad unit with Media.net is a simple enough process. You have to choose an ad size, design layout, and customize colors. Implement coding on your site with a simple copy and paste of a few lines of HTML code into your webpage's source code.
It is compatible with Google Adsense.
Payment Terms: Net-30
Minimum Payout Threshold: $100
Payment Methods Available: Wire transfer or PayPal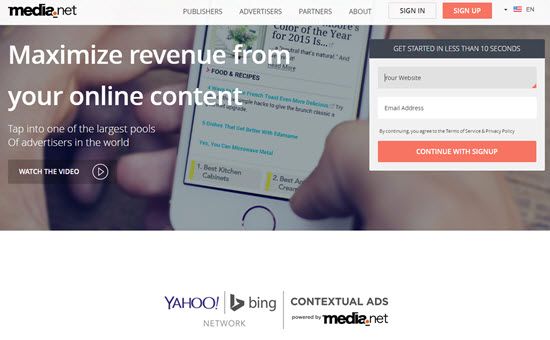 7. ClickAdu – Best Ad Networks for Websites
ClickAdu is a leading premium ad network. It specializes in both web and mobile channels.
It is well known for its excellent expertise, advanced capabilities, and vast experience in revenue maximization. ClickAdu is an ad network for both publishers and advertisers.
Over the years, ClickAdu has evolved as a Pop-under advertising network. Its statistics are simply incredible, with 240M+ daily Popunders and over 210K daily conversions.
ClickAdu offers fully managed and self-service with campaign optimization. You can look forward to advancing geo, site, device type, and more targeting. Most importantly, there's quality traffic to have together with fraud and bot filtering.
Its active publisher's strength is well beyond 4500. As a publisher with ClickAdu, you have lots of advantages.
ClickAdu has a number of highlights:
High eCPMs on 240+ countries
Minimum payment hold
Detailed statistics for your site
100% fill rate
Partnering with ClickAdu opens the doors for maximizing your revenue. You get tons of quality traffic. It serves 150+ million impressions daily. Lots of premium sites to choose from. Plus, great conversion ratios.
With ClickAdu, you don't have to worry a bit. It offers dedicated account managers. It offers multilingual customer service and the 24/7 support team.
ClickAdu is studded with top-notch technology. It's a convenient self-service platform. You have an easy set-up and launch. ClickAdu offers multiple payment methods. Payments are always on time – twice a month.
Minimum payout: $10
Payment Method: Crypto-wallets, ePayments, Epese, PayPal, Webmoney, and Wire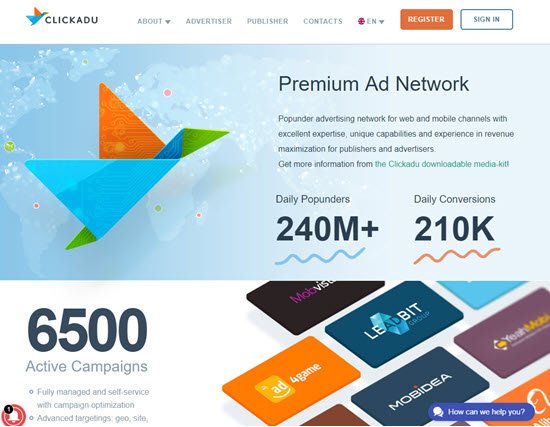 If you are a publisher and looking to grow your ad revenue, AdPushup is an ad network backed by Microsoft Ventures that offers revenue optimization for your website, which includes ad layout optimization, A/B testing (automated), Adblock recovery, header bidding completion, AMP converter, and much more.
AdPushup is a managed and automated service; because of that, publishers don't need to do any big changes in their ad layout—the ad ops team at AdPushup will take care of that. Dedicated account managers are also assigned to help partners with their daily ad ops challenges.
In addition, their demand partnerships with top-tier ad networks and exchanges such as Google, AppNexus, Rubicon, and Criteo help publishers gain access to top-paying campaigns. AdPushup's optimization tools help publishers to increase their ad revenue without compromising user experience. Publishers can expect increased CPM rates, high CTR, and an average of 33% revenue growth.
It is very easy to get started with AdPushup. It is constantly evolving as an ad tech platform to drive revenue growth for its 300+ publishing partners, including brands like Reddit, Elle, Newsweek, CNET, NDTV, Network 18, Naukri.com, and GSM Arena.
Benefits:
Quick setup and easy onboarding
The comprehensive suite of revenue optimization tools
Partnership with top ad networks and exchanges
Dedicated account manager and after-sales support
Unified billing for publishers
Payment terms: Net-45
Minimum payout: $50
Payment methods: Wire, PayPal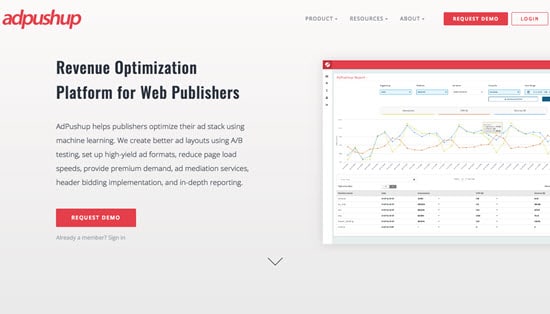 If one thing that can describe RevenueHits in the best way, it's this one. It's an ad network for publishers that generate maximum profit for your site with minimum effort.
It's the easiest and the smartest way to convert your digital assets into an income property. With RevenueHits, you get the industry's best-performing offers. Use its intuitive platform to optimize earnings easily.
If you are still confused, here's an amazing caveat for you. RevenueHits has over 20,000 publishers worldwide. And why these large numbers? It's a no-brainer.
RevenueHits delivers the most relevant ads to your audience. It boosts the conversion rate and enables you to make more money from your ad space. RevenueHits delivers the best offers in the industry, leveraging its large, cutting-edge digital platform with unrivaled optimization technology.
It's easy to join & simple to use. Sign up in just one simple step and get going with its intuitive dashboard. With RevenueHits, you can generate profit from your website's ad space irrespective of your traffic.
There's a variety of ad types with RevenueHits. You can benefit from display banners, Interstitial, Pop Ads, Slider, Notifier, Top Banner, and more.
You get the best rates in the industry. It has a big range of in-house online advertisers that acquire your traffic without commission.
RevenueHits has flexible pricing models such as CPA, CPI, CPL, and CPM. And that's not all. It has 5000+ advertisers in different verticals such as Dating, Mobile, Shopping, Coupons, Travel, Gaming, Software, Entertainment, and Lead Generation.
It serves over 2 billion ad impressions across all GEOs. RevenueHits ensures a 100% fill rate. Your visitors get to have the most relevant offers based on your website's content. It employs smart algorithms helping you to improve your performance in real time.
The platform uses reliable multilevel tracking & reporting systems. It offers responsive ads to fully monetize each visitor to your site. The icing on the cake is its world-class support.
Minimum Payout: $20 for PayPal & Payoneer and $500 for Wire
Payment Methods: PayPal, Payoneer, and Wire.
Bidvertiser Ad Network for Publishers provides an interesting monetization model. Apart from providing the PPC Ad Model, a publisher earns money when an ad is clicked; the publisher also earns additional revenue when the click leads to a conversion (sale).
Bidvertiser supports many ad formats such as banners, rectangles, skyscrapers, mobile, etc. Its reporting interface makes monitoring ads performance easy. You come to know the click-through rate, the amount you have earned, and other information.
Bidvertisers is one of those networks focusing on banners, pop-under, and slider advertising for both desktop and mobile. In fact, Bidvertiser is one of the best alternatives to Google Adsense. Its ads are comparable with that of Adsense in terms of working and generating revenue for publishers.
Bidvertiser was started way back in 2003, along with the launch of Adsense.
They don't follow strict regulations like many of the other ad networks. They have invested a lot in mobile traffic. It offers more than one way to earn ad revenue. Bidvertiser has a 100% fill rate. So, you don't have to worry a bit about ads not propagating on your site. It is the longest-running PPC Ad Network.
The sign-up process is quick, and there's automatic approval for the network. Once you get approval, you can place the ads throughout your site. They accept almost any website as long as it does not promote any adult or illegal material. They offer many different pre-made ad types and sizes. So you can easily find the perfect-sized ads for your site. You need to place the ad code simply, and the ads will begin to propagate on your site.
Once the ads begin to display, you will start to accumulate ad points. It is the method of measuring the earning potential of your site. The ad points will drive advertisers to spend (per click) for ad space on your website.
Bidvertiser focuses on the highest bidder. It will display the ad which gives the highest CPC. In addition, Bidvertiser generates mobile traffic to your site.
Minimum Payout Threshold: $10
Payment Methods Available: Wire transfer, PayPal, Check, Payza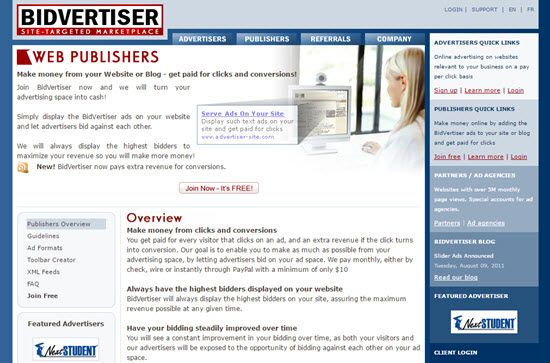 11. MGID – Popular Native Advertising Network
MGID is one of the top ad networks for native monetization for publishers. It also functions for native acquisition for advertisers by delivering the right message to the right audience, thereby creating meaningful engagement with your brand.
MGID brings forth native monetization at its front. What it does is very simple and effective. It integrates sponsored content or recommended products into the user's natural activity system. There are no unwanted disruptive ads.
You can look forward to an engaging solution that's consistent with your (publisher) platform behavior. You have the option to either monetize traffic or re-circulate audiences.
With Native Ads, MGID offers the following advantages:
Easy turn-key implementation. You just need to copy and paste the code.
Relevant content that gets seamlessly integrated into users' natural activity system.
Widgets are entirely cohesive with website design.
There's increased engagement with the best stories from top websites.
Clear and prominent disclosure
It works across multiple devices, platforms, and websites
It is compatible with your third-party DFP.
Payment Methods: PayPal, Payoneer, Bank Transfers
Minimum Payout Threshold: $100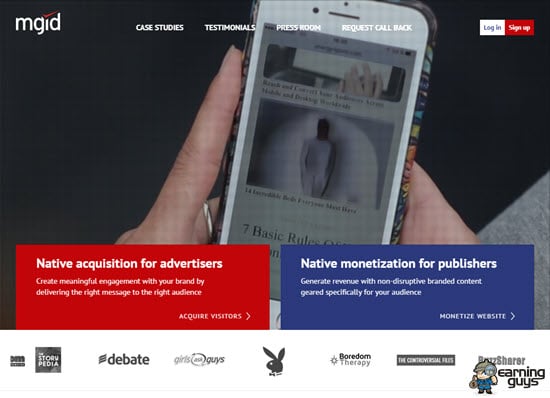 12. SmartyAds SSP – Best Ad Network for Monetization
SmartyAds SSP is a global media-selling network for publishers – and one of the best alternatives to Google Adsense – that magnifies yield-growing opportunities via omnichannel monetization, header bidding, and SDK mediation.
The platform belongs to a proprietary, full-stack, programmatic ecosystem that SmartyAds has been building for over 8+ years. It connects publishers to top-tier advertisers all across the world, including North America, South America, Asia, Europe, Australia, and Africa. Billions of daily served impressions, the highest in industry fill rates, and CPMs are the result of intelligent monetization aimed to fully meet every publisher's need.
Omnichannel monetization opportunity and the widest range of traffic monetization tools are two major features of SmartyAds SSP that help publishers fully manage and control monetization. By tapping into direct and PMP auctions, publishers can sell their most valuable inventory for the highest price they determine themselves. All the remnants are easily sold at RTB auctions, which also feature convenient publisher controls and the most advantageous dynamic floor prices.
The third specific feature of SmartyAds SSP is that it works across verticals, formats, and platforms.
Their highly-professional team can assist each campaign setting and management so that publishers can get the highest revenue per impression. Configuring monetization campaigns according to inventory specifics on SmartyAds SSP, publishers can get a significant boost in CPM, user engagement, revenue enhancement by at least 40%, and a fill rate close to 100%.
Benefits of SmartyAds SSP:
Header-bidding for desktop, mobile or in-app (via latency-free SDK)
Mediation with GDPR and CCPA-compliant SDK
Flexible payouts
High-volume private marketplace deals
Real-time campaign analysis with reports
Highest eCPMs and fill rates
Convenient controls: dynamic floor prices, filtering ad types, categories, ad formats, and more.
Dedicated account manager and support team
CPM rates: 10 to 25 USD and above for tier 1 traffic
Minimum traffic requirement: 300 000 monthly views
Payment cycle: 60 days (NET 60 basis)
Payment method: Wire Transfer, PayPal

13. PopAds – Pop Ads Network
PopAds is mainly a pop-under ad network. The network mainly deals with Pop traffic. It is a fast, efficient and secure advertising network.
Publishers can monetize their website traffic through high-quality pop-under ads. It offers competent rates to publishers who depend on website traffic and website content. It also provides perfect support as well.
It's an ad network wherein you pay for each pop displayed to the final user. So, it uses the pay-per-view or pays-per-impression model.
PopAds has now grown to become one of the most well-known ad networks in the world of affiliate marketing. In fact, PopAds is one of the oldest ad networks around. It has been running successfully since 2010.
It functions as a premium & specialized pop-under network. PopAds has a wide inventory list and many available payment methods.
It has a high Alexa ranking (#61 position), including websites from all over the world. PopAds offers ads for Adults as well as Mainstream content websites.
Ad types include PopUnder, Popup, Tab under, and Tabup.
PopAds is one of the highest-paying ad networks. It has an easy and super quick website approval process. PopAds has a lot of traffic and options for setting up campaigns.
PopAds has very liberal terms and is not hyper after high-traffic websites from publishers. It supports all niches, including adults and dating. It has no minimum traffic requirements. The registration process with PopAds hardly takes a few minutes. The platform will ask you to fill out ten standard fields as a Publisher or Advertiser type.
After registration, it offers all the features for both Publishers and Advertisers on one account only. PopAds has a simple, functional, and user-friendly interface.
The interface has three main sections:
Advertiser's Panel
Publisher's Panel
Account Manager
There's a section with active campaigns. A separate section for creating a new campaign. There's even a report section for tracking your campaign's performance live. You also get an inventory section with inventory variety.
PopAds offers traffic for more than 100 different countries.
Payment Methods: PayPal, AlertPay, and Wire Transfer
Minimum Payout Threshold: $5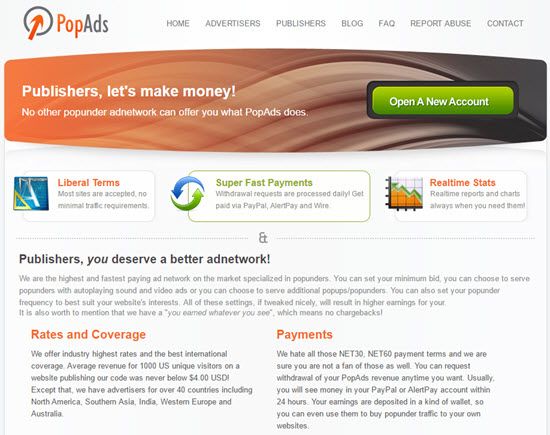 AdCash is a leading advertising network providing high-quality ads from leading brands at effective pricing models designed to increase your website's revenue. It supports Ad Models such as CPC, CPM, and CPA. It has a big ad inventory. Display formats include slide-in, background, interstitial, site under, footer, and more. There is no minimum traffic requirement for publishers.
AdCash has been around since 2007, serving ads to monetize websites. They are based in Estonia and function around the world. They mainly cater to entertainment and gaming content.
AdCash utilizes a dynamic CPM optimization to keep ad inventory relevant to your likely traffic. It also can manually control the ads served on your site.
All these endeavors give publishers control for better conversion traffic. It even has options to control offers displayed manually.
AdCash has a wide variety of ad types. It offers superb customer support with an account manager and site support in multiple languages. AdCash has no minimum traffic requirements.
Plus, putting an ad unit online is relatively simple. Its control panel is highly intuitive and easy to work with. You can easily create new ad units and get reports and other information easily. It offers real-time statistics.
Payment Terms: Net-30
Payment Methods: PayPal, Skrill, Web Money, Payoneer, Wire transfer
Minimum Payout Threshold: $25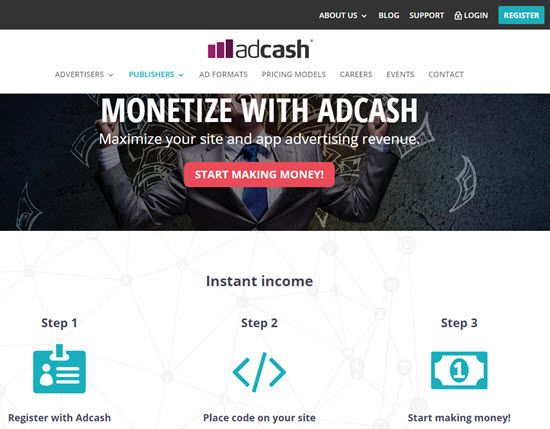 15. Max Bounty Best CPA Network
Witness an industry-leading performance marketing network in the form of MaxBounty. It connects skilled affiliate marketers with high-paying advertisers on a cost-per-action basis.
The biggest advantage of MaxBounty is the fact that it offers the highest rates. That's why they call themselves MaxBounty. It offers campaigns with the best rates in the performance marketing industry. MaxBounty delivers the best on the network. It has the perfect mix of high-paying and high-converting offers for maximizing your affiliate earnings.
It has been built specifically with affiliates in mind. With MaxBounty, you can look forward to robust tracking, rapid payments, and cost savings passed through to the affiliates.
It aims to make you succeed in the world of online marketing. The diversity of campaigns is one of its core strengths.
It has a wide range of verticals, such as market research, diet, finance, real estate, dating, social games, and more. They have options for both domestic and foreign traffic.
MaxBounty pays weekly. It offers timely payments. Get paid on time via PayPal, Check, InterCash, ACH, eCheck, Wire, or Bitcoin.
MaxBounty is a leading CPA network in the world. It has redefined the trust between advertisers and affiliates. It is the best CPA Ad Network for publishers who want to earn with affiliate marketing.
Payment Method: PayPal, Check, InterCash, ACH, eCheck, Wire, or Bitcoin
Minimum Payout Threshold: $100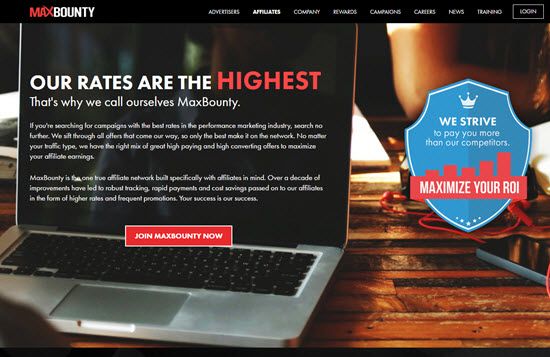 AdsKeeper is one of those networks that adjust native advertising to the needs of affiliate marketers. It comes with huge experience in native advertising. Its approach is to make native advertising the most effective strategy for affiliate marketing.
Native advertising has become the most sorts after the promotion method for websites and offers.
AdsKeeper brings you the advantage of native advertising. Now the most exciting part. It offers a monetization option of keeping your existing ones intact. AdsKeeper comes as an additional source of revenue.
As a publisher, you have the opportunity to monetize traffic and earn money. You get to display native ads on your website at places for generating revenue.
The native ad units are delivered with the view of engaging visitors and based on the behavioral pattern they follow on other websites.
And there's more with AdsKeeper:
Monetize all countries and devices
Benefit from spectacular revenue share rates
Optimize your campaign
Analyze your campaign
Enjoy scheduled payouts each month
The advantage with AdsKeeper – it acquires the audience that matches your offer perfectly well, thereby opening doors for more than positive ROI.
You can set up your effective bids per click & manage the traffic flow. You get effective EPC rates in any vertical you go. AdsKeeper is known to deliver traffic that performs.
It offers wide targeting options and effective optimization tools. Traffic monetization is at its best with AdsKeeper for your offers. With AdsKeeper, you can generate more revenue than you can imagine.
Payment Method: PayPal, Wire transfer, Epayments
Minimum Payout Threshold: $100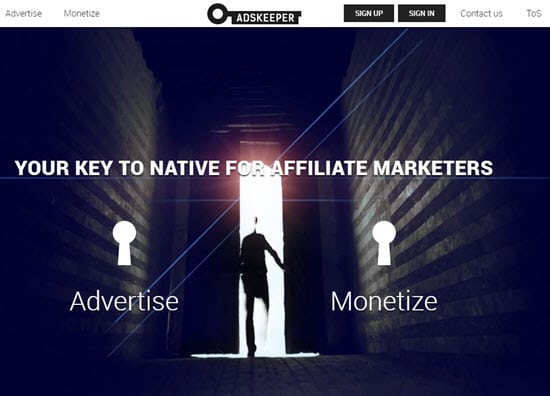 17. ShareASale – Best Affiliate Network
ShareASale is a popular Cost per Sale Affiliate Network. It has an ethical and transparent business model, efficient technology, and a reliable network platform.
ShareASale has been operating successfully for more than ten years. It runs an Advanced Affiliate Marketing Platform with a strong network of advertisers and affiliates.
ShareASale was founded in 2000 and happened to be one of the first affiliate programs ever to launch. Even now, ShareASale is consistently improving its program. It is an extremely user-friendly and customizable affiliate program.
They offer a simple process for newbie publishers.
Signing up as a publisher is superbly easy with ShareASale. It is a five-step process that requires a username and ID, keying the website information, email address, contact information, and account/payment information.
You have to pay $5 fees toward a background check. However, it is refundable once the check is completed. ShareASale offers a huge range of product categories.
Almost any type of business can work with them. As of now, ShareASale has more than 1000 exclusive partners. It's best suited for mid to large-sized publishers.
In fact, ShareASale is one of the easiest programs to use. You can easily locate anything within site.
It is also one of the most flexible affiliate programs out there. It allows both regular and video publishing models.
ShareASale offers many ad types, such as text, images, banners, widgets, dynamic, and pop-ups. They are simply "superb" as far as ad creation and usability are concerned.
They focus on cost-per-sale models to be used. It offers a customizable ad feature. However, the process of building ads is up to you. That said, they still give you all the necessary tools to build whatever ad you want. They don't help you to build them.
Reporting and tracking are quite formidable. They offer real-time reporting. You can view sales as they happen. ShareASale does have a "help desk" feature.
Payments Method: Direct Deposit, Personal Check
Minimum Payout Threshold: $50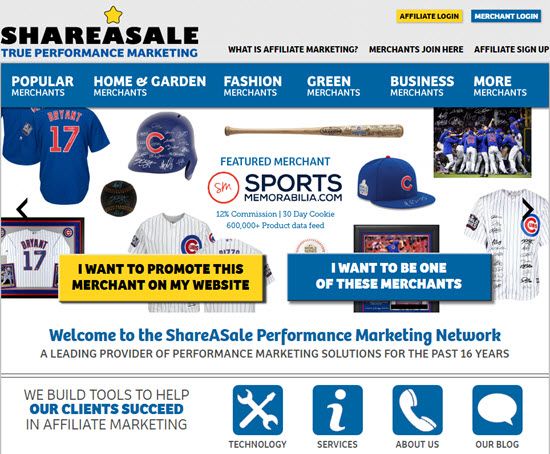 18. Adshares Blockchain Ad Network
You may have heard of Blockchain and Bitcoin, and now ad networks are using this technology for online advertising. Adshares is a such Ad Network that uses Blockchain technology for advertising.
Adshares is a programmatic advertising network that uses a decentralized marketplace to connect advertisers and publishers through blockchain technology. Advertisers pay with cryptocurrency for advertising, and publishers receive payment in ADS cryptocurrency. Adshares charge a flat fee of 0.1% for all transactions; thus, they offer a cost-effective solution. As Adshares connect advertisers and publishers, and by this, both benefit.
Adshares uses ADS cryptocurrency, which can be bought from exchanges like Bitker and Graviex to advertise on Adshares. The Publishers are also paid in ADS cryptocurrency, which is life-earning. Publishers can withdraw their earnings in ADS anytime, which is paid instantly.
Publishers can exchange their ADS with Bitcoin or in USD or can store their coins in their wallets. The Publishers get the option to approve or reject the ads from displaying on their website, which gives great power in the hands of the publisher. Adshares advertising model works on CPM and CPC basis, so advertisers have the freedom to choose any of the ways. Publishers get higher CPM or CPC rates on Adshares.
The only disadvantage of Adshares is for people who don't want to get paid by cryptocurrency else; you can't complain about this latest advertising system.
Some Key Highlights:
Significantly lower fees as there are no middlemen and works on the open ecosystem by which advertisers and publishers connect directly
Decentralized Ad Servers with an innovative ad delivery system to reduce the possibility of ad blocking
With innovative ad delivery system reduce the possibility of ad blocking
Publishers have the power over what ads can be displayed on their websites – no intermediary is needed
Advertisers can start with a very low budget – good for small advertisers
Almost instant payments for publishers and transfers from advertisers through a fully automated system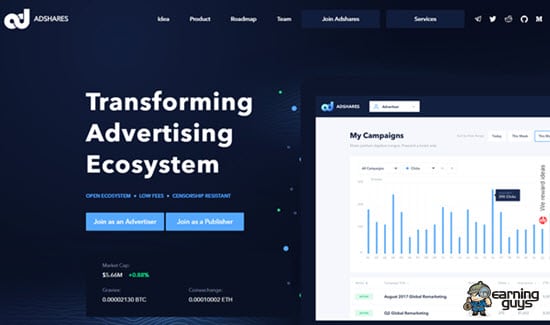 19. ExoClick – Biggest Ad Networks
ExoClick comes out as another innovative ad company. It is one of the top ad networks around. It's the world's fourth-largest ads network.
This ad network has some outstanding features that you should check out. ExoClick is a well-known name in Affiliate Marketing.
Other than the mainstream traffic in entertainment and lifestyle, it's the go-to place when you think about adult traffic.
ExoClick has been running successfully since 2006. It reaches close to 5 billion daily impressions. That makes it a huge inventory to work upon.
ExoClick is largely a self-service platform. It's super user-friendly. It has an intuitive interface and offers detailed reports. These reports are one of those features that everyone loves about ExoClick.
It has several dynamic tags you need for the optimization process inside your tracking system. And when it comes to integration – it's quick and easy.
ExoClick is a great platform for beginners in online advertising. It offers more than 20 ad formats. You can select CPM, CPC, or SmartCPM.
They have one of the highest CPM rates in the industry for countries like the USA, Canada, the UK, and Australia. It's up to $2 per 1000 impressions. (CPC is over $0.10 per click.)
ExoClick mainly focuses on adult advertising. However, they are legit and paying ad networks around. So, no sort of worry for you!
ExoClick also run Affiliate / Referral Program. You can earn 5% lifetime revenue when you refer to your friends.
Pros:
It's one of the highest-paying ad networks.
Very Clean Ads
Payment based on Net7
Superb Support
Immense publisher and advertiser inventory for the adult niche.
Cons:
Very low CPM rates for Asian countries.
It is largely focused on adult websites.
Some ads redirect the site to the ad page.
Payment Methods: Cryptocurrency: (Minimum 500 EUR/USD), PayPal, Paxum (Minimum 20 EUR/USD), E-Wallet (Minimum 500 EUR/USD), WebMoney (Minimum 200 EUR/USD), Wire Transfer (Minimum 500 EUR/USD)
Payment Terms: Net20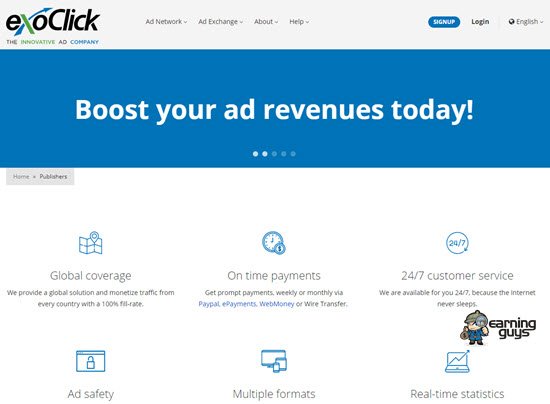 Digital Marketing takes a new leap with Oath's multiple advertising technologies. Oath is a simple, open, and intelligent solution for your digital marketing needs. It's one of the top ad networks for publishers.
Oath simplifies the entire digital media process. Its end-to-end process increases efficiency and improves performance. Publishers and advertisers get full control of their data, tools, media, and business.
Oath is studded with a powerful analytics engine driving actionable results and achieving cross-channel insights. It's integrated with 76000 mobile apps.
Best of all, Oath makes monetization simple for publishers. In fact, Oath maximizes the opportunity for monetization across every format and channel.
It offers the best monetization opportunity for publishers in the age of mobile and video. Oath offers many ways to target (Wi-Fi targeting, mobile app inventory). It has transparent and brand-safe environments that help increase publishers' earnings.
The ad network offers high-impact ads optimizing real-time interaction and helping publishers a lot to monetize their inventory. Oath has an enhanced ad server that allows publishers to effectively represent mobile, video and rich media ads.
Monetization Platforms: Websites, Video, Apps
AdNetwork Type: CPA, CPM, CPC
Available Ad Formats: Videos, Mobile, Display, Native
Payment Frequency: Net 45
Minimum Payout: $25
Payment Methods: PayPal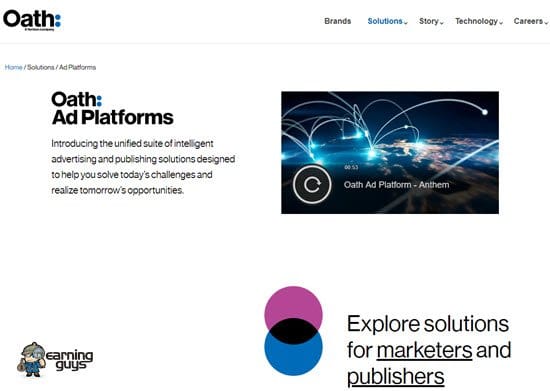 BuySellAds is another rewarding Ad Network that connects publishers and advertisers. It allows publishers to set prices for the Ad space on their website or blog. Advertisers can directly access the publishers on BuySellAds.
Moreover, BuySellAds can better be described as a marketplace connecting publishers and advertisers. Publishers go on to list their available inventory and CPM for each ad zone.
They go on to receive placement requests from interested advertisers. Once approved, the advertisements begin running immediately.
As soon as the ads are up, they monetize well and are easy to manage. Publishers can sell mobile website display ads, RSS feed text ads, mobile app display ads, desktop app ads, and email newsletter sponsorship. This is done through price control and creative approval.
BuySellAds offers a great level of control over ad placements as well as creative approval. It offers an intuitive user interface and thus is easy to navigate and use.
For publishers, BuySellAds serves as a great alternative to Google Adsense.
The Ads are usually served on CPM Model. It functions as a marketplace for publishers and advertisers to buy and sell ads. However, its approval process is quite hard. The minimum traffic requirement is 15k visitors per month. BuySellAds is the best advertising network for bloggers and publishers who want to sell their ads for a fixed monthly price.
Payment Method: PayPal
Minimum Payout Threshold: $20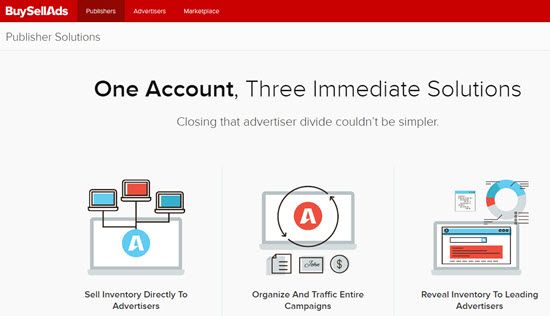 We hope that the presentation, Best Ad Networks for Publishers, proves immensely helpful for you in selecting the right Ad Network. Do share your comments with us.