The Internet has opened up a lot of avenues for marketing of products and services. An 'Advertorial' is one of the effective marketing techniques that can be used to promote a product or service.
Today, we have come up with a detailed description of Advertorial. So, if you haven't used Advertorials as one of your marketing arsenals, its time when you fully acquaint yourself with this powerful marketing tool.
To start things off, let us get to know the definition of Advertorial.
Advertorial Definition – What is an Advertorial?
An Advertorial is a type of paid editorial content. It is a form of advertisement that gives information about the product in the way of an article. They appear in the media, including newspapers, magazines, or websites.
In usual circumstances, a brand pays the publisher for such an article.
Typically, Advertorials are used by marketers for educating prospective consumers about the features of a product. It is used to target a specific set of people by using the right medium for publishing the advertorial.
So, an advertorial can be understood as an advertisement which is disguised to look and work as a regular piece of content.
Thus,
Advertorial = Advertisement + Editorial Content
So, an Advertorial is an amalgam of advertisement and editorial.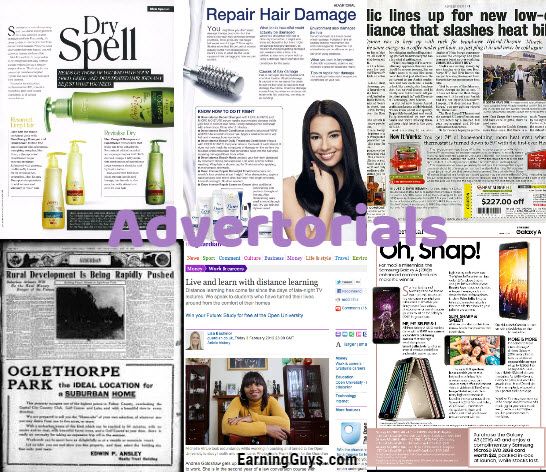 Getting to Know Advertorials
In an Advertorial a brand pays to have their content in a publication. A distinct characteristic of an Advertorial is that it looks like a regular article. However, it is paid content that is used to promote a product or service.
It is a form of an advertisement that appears in a magazine, newspaper, or a website and renders information about the product in the way of an article.
Nowadays, Advertorials are increasingly being used by companies for advertising their products on sites that go on to generate income through "click-through." Advertorials are intended to sell something. However, the majority of readers can't make out that they are a paid promotion.
Marketers are increasingly using advertorials to educate prospective consumers about their products.
For example, when an advertorial is used in a business newspaper, it involves educating targeted set of people about the economy, markets, or financial products.
So, an advertorial proves an effective medium whereby a company can connect with its consumers through a story. It is more detailed than an advertisement and helps consumers in understanding the product.
Usually, the ad agency or the client writes advertorials itself. They go on to purchase the ad space on the website or in a newspaper or a magazine.
Another vital aspect of Advertorials is that they are closely related to native advertising. As with native advertising, Advertorials are also informational but go on to sell something.
In native advertising, there are sponsored articles and promoted stories that can be seen on social networks and ads in search engine results. They can contain images, videos, text, and graphics.
On the other hand, Advertorials are product commercials that appear as a single piece of content. Both Advertorials and Native Advertising go on to show the importance of content marketing in sales and marketing efforts.
Advertorials have become an essential constituent of the overall marketing strategy adopted by various companies. It creates white papers, videos, and other content which are distributed by companies through newsletters, social media, company websites, and other means.
They are meant to be downloaded by audiences in exchange for company information that can be used to create targeted sales campaigns.
Advertorials are used for getting a specific action from the reader.
A successful Advertorial is made up of 70% Good Content and is mixed with 30% Promotion of the Product.
For example, an Advertorial featured in a business newspaper would show up content that educates a set of people about the economy, markets, or financial products.
It provides an opportunity to a company to connect with its consumers through a story which is not seen in a traditional print ad in a newspaper, magazine, and neither on a website as a banner ad.
So, an Advertorial is much more elaborate than an advertisement and goes on to provide detailed information to consumers about the product. In most of the cases, Advertorials are written by the ad agency and even by the client itself.
They go on to purchase the ad space in a newspaper, a magazine, or on the website. It should be noted that in most publications, the word "advertisement" can be seen printed in small letters at the top or bottom of an advertorial.
Types of Advertorials
Advertorials are generally classified into three types.
Image advertorials: In this type of advertorial, the organizations intend to spread the image of its products which can be remembered by readers.
Advocacy advertorials: Here the organizations explain their view on a controversial subject.
Journalism advertorials: These advertorials are intended to attract media attention to a subject or the organization itself.
Advertorial vs. Advertisement
Both Advertorials, as well as display Advertisements, are employed by companies and advertisers for selling products and services.
While Advertorials take the form of an article which is designed to sell a product to the reader, display advertisements show up as a simple message or image. Companies use advertisements or advertorials depending upon their business model and objectives.
Let's take a look at some of the significant differences between Advertorials and Advertisements.
Advertorials run into the entire content of a page. It may happen that readers can go through a whole advertorial where they end up reading most of the article and still can't make out that advertiser is trying to sell them a product.
In an advertorial, an advertiser gets more opportunities to convince a reader for buying a product, whereas a display advertisement has an immediate effect on the reader.
Typically, display advertising is used to brand a product or logo. A company runs an advertising campaign to expose a consumer to its image. It usually carries a single picture of the flagship product of the companies' with or without any words.
However, an advertorial is not used for branding purposes essentially because it carries a long block of text which is not easy to remember as an image or message in a display advertisement.
Usually, advertorials and advertisements come at the same price if they take up the same space. However, at times companies may go for a professional for writing up the sales copy for the advertorial in which case the advertorial can cost much more than an image or simple message that is showcased in an advertisement.
Typically, display advertisements are used by advertisers for conveying a simple and clear message.
For instance, a display advertisement can be used to show a 25 percent off a clearance sale, or an ad can be used showing a picture of a person drinking a specific type of soft drink.
However, an advertorial is typically used for convincing a reader for buying a recurring service or an expensive item.
Advertorials differ from the traditional form of advertisements in the sense that they look more like the articles that appear in the publication.
Moreover, publications do not accept advertisements that look like stories from the newspaper or magazine they appear in.
The difference is subtle and the word "advertisement" – may or may not appear. However, with advertorials terms such as "special promotional feature" or "special advertising section" are often used.
The tone of an advertorial usually resembles that of a press release than of an objective news story.
Advertorials are often presented in an entire newspaper section. They are inserted within a newspaper as store fliers, comics sections, and other non-editorial content.
Usually, advertorials are written by freelancers without a byline credit.
Another big difference between regular editorial and advertorial is the fact that clients give content approval of advertorials which is a luxury and is not available with regular editorial.
Advertorials significantly include more information about a product or a service than a traditional advertisement which is generally heavy on images and light on text.
As advertorials are sponsored by a brand, they run the danger of loss of trust among the consumer audience. They are often labeled "sponsored" or "special advertising section." Moreover, some publications do not print advertorials at all.
How to come up with a Powerful Advertorial that Sells
Advertorials are used by marketers to build authentic connections with their target audiences.
However, writing great pieces of advertorials is an art that needs to be mastered with time. It is a delicate balancing act between informative and sales content.
In fact, a powerful advertorial has six essential characteristics.
Here, you get to know how to write an effective advertorial that can help you to reach your marketing goal.
You should write like the publisher
Each publication has its own unique voice.
For example, The Economist is perspective; The New Yorker is high-brow, the Rolling Stone is bold, and Vice is gritty.
So, before you write an advertorial, you should get yourself attuned to the publication's content and learn how it speaks to its readers.
So, an advertorial should have a similar tone to that of a publication's content.
It will allow readers to have a seamless transition from the publisher's content to the advertorial. It will make them more receptive to a sponsored message.
Overall, the advertorial should offer information about a product rather than be a straight-up sales pitch.
Picking up the right format
A powerful and successful advertorial mirror the publisher's preferred story structure. So, before you go on to write an advertorial, you should check out the publisher's website and find out what types of content are most common.
The successful advertorials are framed in a format that audiences go on to enjoy and expect from a publisher. Moreover, it is not necessary that an advertorial should consist of tons of paragraphs. It could also be brief and consist of only a photo, headline, and paragraph.
An advertorial should communicate value to the target audience.
Advertorial Should Tell a Story
Advertorials are not about making a hard sell. Rather great advertorials are all about strong copywriting and storytelling.
So, one should focus on telling a story through advertorials.
You should tap into the emotions of your readers like amusement, frustration, anger, or surprise throughout the advertorial copy. Your readers will love to read the advertorial if it is successful in inciting emotions and feels relatable.
You can also take inspiration from the storytelling formula of your publishers. It allows you to make your brand more authentic and human to targeted customers.
Moving beyond a sales pitch
Advertorials fulfill a twofold purpose. They not only promote a product or service, but they also provide valuable content to your audience.
Successful advertorials make it a point to focus on benefits rather than features.
So, when you write an advertorial, focus on the human impact of the product instead of reciting an elaborate sales pitch.
You should make the advertorial more helpful and relevant to the target audience. You can even use the formula of 70% content and 30% sales.
The advertorial content should be used to provide the context. The sales information should be used to communicate the benefits.
Come up with a Great Headline
Once you finish with the body content of the advertorial, you should turn your attention to the headline.
Greatest advertorials incorporate a headline that speaks directly to a publisher's audience and begs to be clicked.
You can research and find out what kinds of titles the publisher usually writes.
For example, you can use unexpected or emotional words in your headline. Sometimes headlines that are factual and straightforward also work great with audiences.
Moreover, the headline should be a perfect balance of length, keywords, and sentiment.
Close with a "Call to Action."
While an impressive headline is essential to get clicks, the call to action makes sure that readers take action.
So, an effective advertorial should end up with a "call to action." It informs them what next they need to do to learn more about a product.
Strong calls to action go on to reinforce a product or service's value to undecided users.
You can also include an incentive or an exclusive offer for making users signup through the advertorial. Moreover, a call to action should always be specific to the brand or product that is featured in the advertorial.
Advertorial Examples
So, Advertorials are paid content that can appear in newspapers, magazines, or websites and are intended to get a specific action from the reader. It could propel readers to donate to a cause, download a PDF, visit a store, and can even lead readers to subscribe to an email newsletter or to buy a product.
Every effective advertorial has a call to action and leads the reader to what to do next. Advertorials come in the form of lists or guides; they could be videos or print articles and could be one page or six. Most Advertorials are framed in the form of a story.
When companies use advertorials for promoting their product or service, they must ensure that it has the right tone and content to the consumer audience.
For example, an advertorial in a literary magazine which is primarily intended towards college graduates should have a different tone than an advertorial that appears in a celebrity gossip magazine that is intended toward mass readership.
Moreover, an advertorial content should match a publication's editorial content in both style, and the way headlines and fonts are used.
Advertorials should focus on the reader's problems and fears. It should describe how the product or service being sold can solve their problem. Advertorial should support the assertions with statistics, test results, or relevant facts.
It should conclude with a call to action informing the readers how and where they can purchase the product or service.
Sponsored eBooks are an excellent example of advertorials. In 2013, Hochwert had come out with an eBook named The Ultimate Craft Guide: 25 Free Craft Projects for Every Crafter that was sponsored by as much as 18 different companies. One of the main sponsors was Michaels craft store who had their name on the cover and also in other places within the book.
Likewise, Virgin Mobile worked with BuzzFeed to create many funny, quick articles that made them buzz-worthy in social media. These posts were successful in generating millions of "engagements." Studies showed that people who saw these advertorials were more likely to get their next smartphone from Virgin Mobile.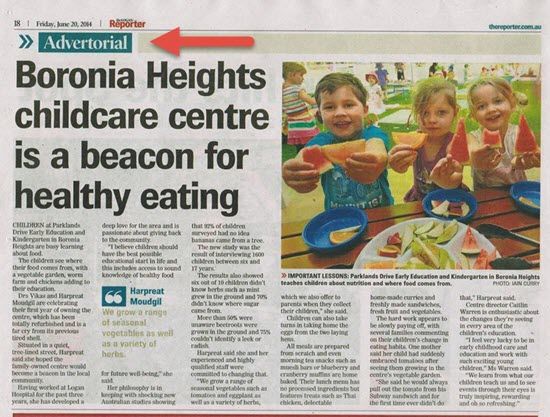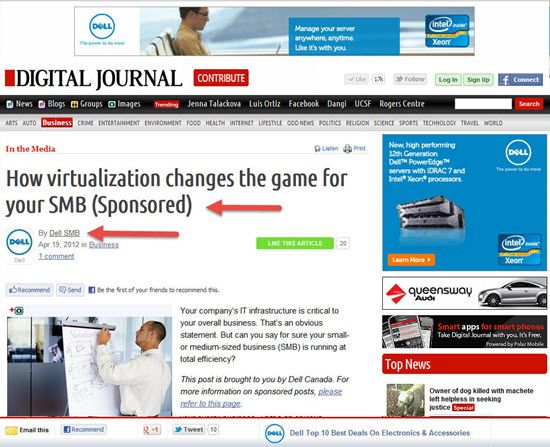 Concluding
So, we see that Advertorials play a vital role in promoting products and services.
The best thing about Advertorials is that they look like regular articles and still are successful in getting the desired response from readers.
In fact, they are the best way to market your products and services to your prospective customers. Advertorials are not a new phenomenon but are increasingly playing an essential role in the marketing of products and services.