In this post, we will share some of the Best Google AdSense Alternatives for Website and blog owners. Let's get started…
Blog monetization is one of the key goals for bloggers and webmasters. If you want to make your blog a commercial success, you invariably have to turn to blog monetization.
For monetization of your blog, you have to use a viable and high paying blog monetization program.
And Google Adsense is perhaps the best blog monetization program that you can use for your blog or website. Google Adsense is the biggest advertising network in the world.
If you see the earnings report of some of the top bloggers, you will find that Google Adsense is one of the top grosser for them. So, it is natural for you to get inclined towards Google Adsense for monetization of your blogs.
However, for newbie bloggers or website owners, Google Adsense has not been able to work wonders. Particularly because creating a Google Adsense Account is not easy.
Then its approval process is quite tedious. And many times Google is seen banning your Adsense Account. Sometimes they judge that your site would not be suitable for their advertisers.
They might also reject your site for not having enough content. It has incorporated a lot of rules, and if they find you breaking any one of them, they go on to ban your site instantly and won't allow you to open a new Adsense account.
Moreover, if you happen to click any Google Adsense Ad on your site, they would ban you for life. You might have to redesign your site just to use Google Adsense Ads. Conforming to strict Google Adsense rules is certainly not easy for many bloggers and especially for newbie bloggers.
So, you see that partnering with Google Adsense Ad Network is not at all easy for newbie bloggers as well as for seasoned bloggers and webmasters.
A good solution would be to look for Best Google Adsense Alternatives so that if there is any problem with your Google Adsense Account your earnings don't take a hit.
The good news is that there are many alternatives to Google Adsense. So, you need not be disheartened if Google Adsense is not working for you or if there are unexpected account troubles.
Here, we have listed out Best Google Adsense Alternatives.
These Adsense alternative ad networks give you an opportunity to monetize your blog traffic easily. They might not be necessarily better than Google Adsense but still, goes on to giving you better earnings and results than Google Adsense.
One more thing all these alternative ad networks are not Pay Per Click networks we have listed different type of advertisement options like PPC Ad Network, POP Ads, Affiliate Networks, etc. so that you can earn more with different ad models.
So, let's take a look at these Best Google Adsense Alternatives for Bloggers and website owners.
15 Top Google AdSense Alternatives
1. Media.net – Best Google AdSense Alternative
Media.net is one of the best alternatives to Google Adsense particularly in terms of ad types. It gives you exclusive access to the Yahoo! Bing Network and offers high-paying ads. It has the status of being one of the largest contextual ad networks with many top publishers like Forbes, Reuters, Good Housekeeping and ELLE.
Media.net provides several ad styles to its publishers such as a content ad, search targeting ad, web bar, and mobile ads. However, it allows only one ad type to appear on one page. They are also a little strict on what sites they approve of. So, read all their rules and regulations and carefully follow them for getting instant approvals and maintaining your account.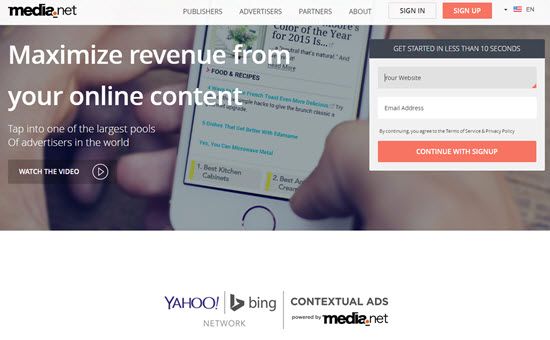 2. Adsterra Google Adsense Alternative
Adsterra is a high-performing ad network that delivers over 30 billion ad impressions monthly and covers 250+ GEOs. 12K+ direct publishers and 8K+ brands have chosen Adsterra as a platform for growing their business.
Adsterra's all-star ad formats work both for web and mobile: Native Ads, Display Banners, Popunders, Direct Link, Vast (video), Social Bar, Interstitials.
It is considered to be a premium platform due to its security and anti-fraud algorithms, dedicated managers, and reliable RTB.
Publishers can join Adsterra regardless of their websites' traffic volume. What truly matters is your website traffic quality.
A lifetime partnership allows you to grow income steadily. With your referral link, you can engage more partners to join Adsterra, and each newcomer will add +5% of their profit to your income.
There are both Self-Service Platform and Fully-Managed Services available. Advertisers can launch and adjust campaigns autonomously, or rely on Adsterra managers. The networks' partners have often praised this dedicated multilingual team that is ready to assist seven days a week.
Payment methods for publishers are:
Bitcoin
Wire Transfers
Paxum
PayPal
WebMoney
Minimum payouts are:
Webmoney, Paxum: $5
PayPal, Bitcoin: $100
Wire: $1000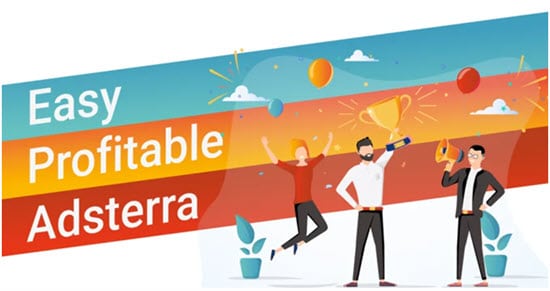 PropellerAds is one of the largest CPM Ad Network and a good alternative to Google Adsense. It means that PropellerAds pays for every 1000 ad impressions that you generate on your website. So, it is not necessary for users to click on the ads. You get paid for generating ad impressions on your website.
If you have the decent and stable quality of website traffic, then PropellerAds Ad CPM Ads can generate guaranteed income for you a month on month.
It provides one of the highest eCPM rates and effectively monetizes global web and mobile traffic across all devices and platforms. PropellerAds Media provides a variety of ad products for your blog or website including OnClick PopUnder Ads, Mobile Ads, Classic Banner Ads, Slider Ads, Direct Ads, and Video Ads.
It is easy to get started. Account approval is high. PropellerAds share as much as 80% of their ad revenue with publishers. Payment is based on Net30 terms and includes various payment methods such as Payoneer, Wire Transfer, Webmoney, etc. Moreover, Propeller Ads accepts all types of websites as long as it fulfills its terms and conditions. There is no minimum traffic requirement. It is compatible with other Ad Networks.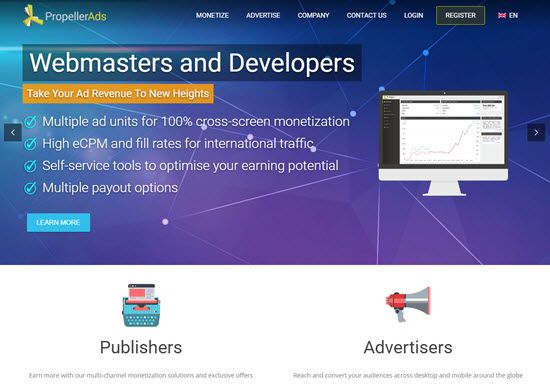 HilltopAds is another very popular Ad Network. Launched in 2014, HilltopAds is best for new bloggers and for experienced webmasters! This network works with almost all verticals and provides CPM, CPA, CPC, CPS, PPI and CPL ad campaigns with ad formats such as popunders, in-video banners, display banners, and direct links.
One of the top perks of HilltopAds is a very generous payment threshold: only Net7. The minimum balance of $50 needs to be reached before the payment and can be paid via PayPal, Paxum, Bitcoin, WebMoney, Wire Transfer, ePayments, and ePayService. Another feature is the anti-ad blocking solution that is great for Publishers with mobile carrier traffic who want to reach every impression.
HilltopAds popular verticals include Dating, Video Streaming, Gaming, File Hosting, Pin Submits, Downloads, Sweepstakes, and Entertainment.
Advertisers benefit from the Self-Service platform with a minimum $200 deposit.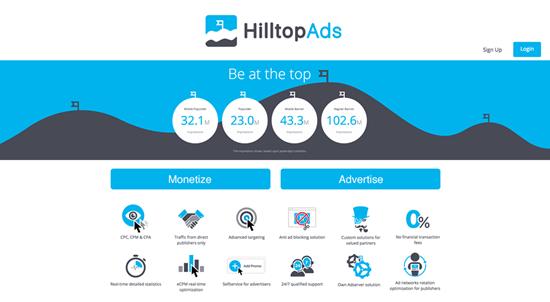 Revenue Hits is another very popular Ad Network and a good choice for Google Adsense Alternative. It has been in the industry for many years. Revenue Hits functions as a Performance Ad Network and serves CPA Ads which can be useful for many niches. It is not a CPC or CPM Network. So, you get paid when a visitor performs specific actions.
Revenue Hits offers various Ad Types including banner, sliders, pop-under, buttons, interstitials, and much more. With Revenue Hits, you get contextual as well as geo-targeted ads. They do not display ads on pages that have no content at all. Revenue Hits issues payment on the Net30 basis, and payment options include Paypal, Payoneer, and Wire Transfer. The minimum payout threshold is $50 USD.
AdBuff can be best described as an ultimate Adsense Alternative Ad Network. It serves innovative ad units and gives you an opportunity to double your page RPM. The biggest benefit of AdBuff is the fact that you can run Adsense and AdBuff Ads together on your website. It offers a Real-Time Bidding (RTB) platform which helps you to monetize your website easily. However, AdBuff has strict approval guidelines for advertisers and publishers.
They usually accept publishers who have the majority of traffic coming from countries such as the USA, UK, Canada, and Australia. Plus, it also has a minimum traffic requirement of 2000 unique visitors per day. It has a long drawn approval process which can take at least seven days. It offers a welcome bonus of $25 to each approved site. AdBuff should be among your top considerations when you look out for the best Adsense Alternative Ad Network.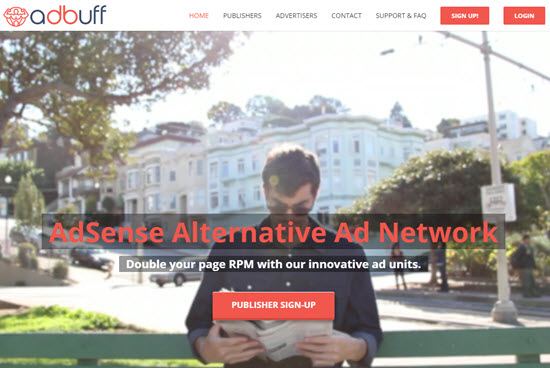 7. Infolinks InText Ads Network
Although Infolinks, unlike Google Adsense, does not offer contextual ads, it still comes as a highly recommended alternative to Adsense. In fact, Infolinks is one of the most popular in-text link ad networks. It provides various Ad formats including in-text ad unit and in-frame ad unit. Its signup process is easy, and it has put up a low minimum payment threshold.
Infolinks is helping more than 200,000 online publishers to earn money from their unused ad space. It has no setup fees, no minimum traffic requirements, and no hidden commitments. Infolinks can be easily integrated into your site. It is equally suitable for publishers big or small. It's highly customizable products make sure that you make the most out of your website traffic. However, it does not approve a site if it is thin on content.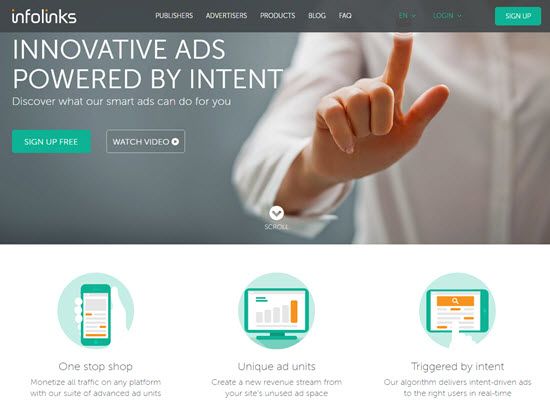 8. Bidvertiser Google Adsense Alternative
Bidvertiser is a leading PPC or CPC Advertising Network. It proves a great alternative to Google Adsense if you do not get Adsense approval or get banned or blocked by Adsense. It employs a bidding system for advertising on your site. The highest bidder is able to advertise on your site. So, it takes some time before you can profit from this ad platform.
Bidvertiser offers various ad formats including Banner Ads, Text Ads, Slider Ads, and Mobile Ads. You can even customize the ads so that they fit the look and feel of your website. They use a Net30 payment process and pay monthly via Paypal, cheque or wire transfer. The minimum payment amount for Paypal is $10 USD while for cheque it is $50 USD.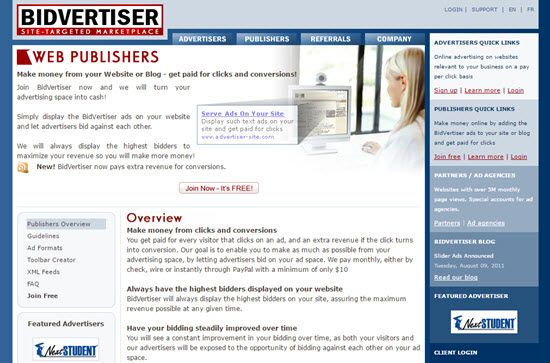 PopAds is largely a pop-under ad network and a popular alternative to Google Adsense. It is one of the highest paying advertising networks on the internet. You can look up to fast payment processing as withdrawal requests are handled on a daily basis.
Moreover, payment requests can be made anytime you want. Plus, the signup process and site approval are easy with PopAds. It goes on to serve high-quality pop-under ads for monetizing your website traffic. It even allows you to set pop-under ad frequency for your site visitors. If you are stuck up with any issue or problem, then it's fast, and a quality support system sails you through any difficult situation.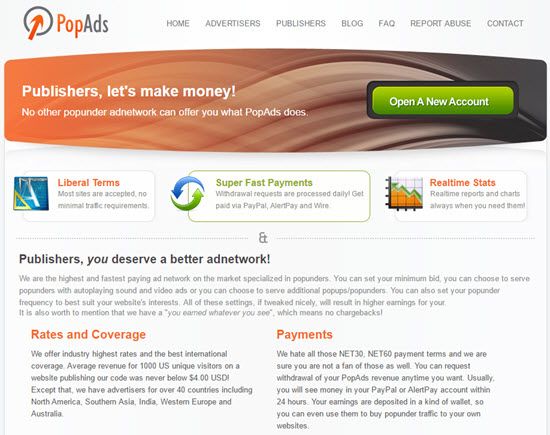 Clicksor is one of the most popular contextual advertising networks for publishers and advertisers. If you are on the lookout for an alternative to Google Adsense, then Clicksor is surely worth a look. Clicksor supports every possible way of boosting your advertising earning.
The Clicksor Ad Network works by placing ads on a website that is most relevant to the website content. These ads encourage users to click through. Advertisers register and pay Clicksor for displaying their ads on relevant websites. On the other hand, Publishers earn a sizable commission whenever any of the advertisements are being clicked on their website.
Clicksor has no minimum traffic requirement for publishers. Offer types include CPV, CPI, CPM, and CPC. It is compatible with Google Adsense. It provides lots of advertising options that include in-page banners, in-line text ads, pop-under ads, interstitial ads, and layer banners.
Mobile Ad Units are available, and it even supports WordPress Plugins. Publisher's share of revenue is somewhere between 60% up to 85%. It operates on Net-15 payment terms. Available payment methods include Paypal, Wire Transfer, and Cheque while the minimum payout threshold is $50. Moreover, it supports a quick sign-up and approval process.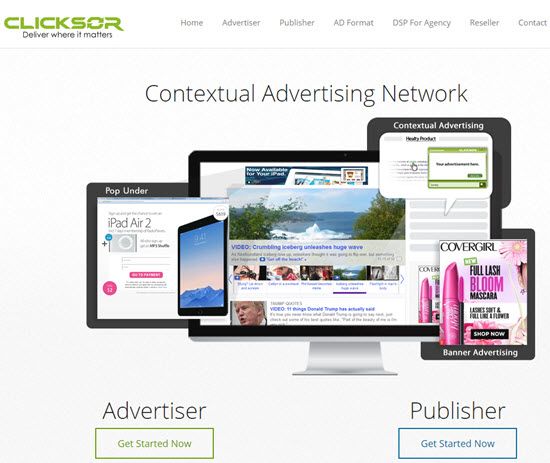 Well, if you are selling a product on your website that is available on Amazon, then you can profit from the Amazon Associates program run by Amazon, the biggest online shopping store in the world. The working of Amazon Associates is easy to understand. Actually, Amazon provides you dynamic image ads that you can place on your blog. You can promote these ads, and when a sale is made from your link, you earn a commission. However, it's not a PPC or CPM Program.
Publishers get access to a huge range of ads which include mobile popovers, banners, widgets, text and image links. Native Shopping Ads are also available. So, if you have a blog about Apple products and you put an ad driving your visitors to buy an iPod. When you make a sale worth $1500, you might receive $100 as commission. The good thing is that whenever a sale is made, you earn a commission even if it is not a product that you recommended at first. Another plus, you can use Amazon Associates with Google Adsense at the same time. However, you receive a commission through cheque if you live outside the United States of America.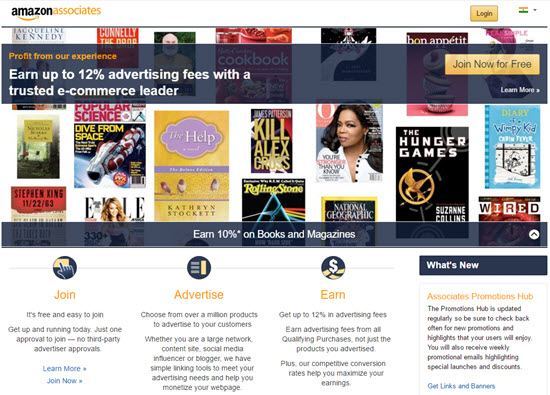 ExoClick is one of the largest Advertising Network in the world. They are serving more than 100 billion geo-targeted monthly ad impressions. It provides CPC as well as CPM-based Ad Types for publishers and advertisers. They have one of the highest CPM rates in the industry. Their CPM rate can go up to $2 per 1000 impressions while the CPC rate is more than $0.10 per click.
The payment options include Paypal, Payoneer, and Wire Transfer. Their minimum payout threshold is $20. It uses the Net-7 payment option, so payments are made fast. ExoClick has a huge advertiser and publisher inventory for various niches. It serves clean, high quality and geo-targeted ads. Its support is quick and reliable.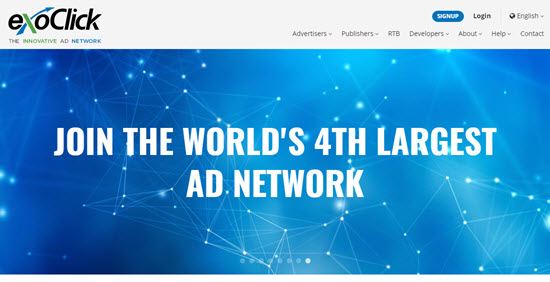 Clickadu is one of the fastest-growing ad networks generating tens of thousands of impressions on a daily basis. Its prime focus is pop-under ads, and it specializes in this specific type of advertising. They serve advertisers and publishers across the globe. They have no minimum traffic requirements, and so newbie publishers can use the ad network immediately.
It is easy to install and runs a quick approval process which makes it one of the most sort-after ad networks in the world. It is a good option for those who are just starting with online advertising. The supported payment methods include Paypal, Web Money, Payoneer, and Wire Transfer. They follow a Net-30 schedule. Their minimum payment threshold is $100.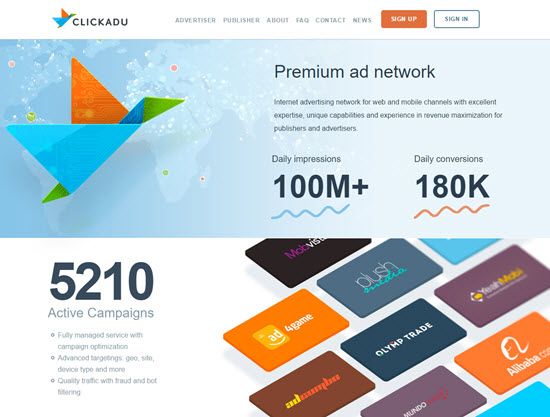 14. PopCash Google Adsense Alternatives
PopCash is one of the most popular PopUnder networks with worldwide coverage. It allows you to start a campaign with just a $5 deposit and fast approval. It offers detailed statistics as well as targeting features helping you to constantly improve the performance of your ads.
The best thing with PopCash is the fact that it can be implemented alongside AdSense as well as other advertising options enabling you to maximize your website income stream.
PopCash is known for making fast payments. It processes publishers' payment requests daily. PopCash comes with a self-serve platform, which is very easy to use. It offers a wide range of targeting features. There's 24/7 dedicated support through email and Skype. It supports more than eight payment processors such as PayPal, Paxum, Skrill, Wire, and many others.
PopCash makes it easy for advertisers to start a campaign. All they need to do is register, make a minimum deposit of USD 5, and submit the campaign. All pending campaigns get approved in one hour or less. It serves hourly updates and detailed reports.
PopCash enables publishers to make extra revenue in less than 10 minutes. They need to register, submit the website, and place the PopUnder code on the WebPages. Once the domain gets approved, all your visitors are shown a PopUnder advertisement every 24 hours.
PopCash delivers PopUnder Ads with a high CPM rate for both mobiles as well as desktop traffic. Payment requests can be made inside the dashboard. They pay through PayPal, Payza, and Paxum. You get full control over your campaigns. PopCash is fast, reliable, and secure. The withdrawal threshold has been kept at $10.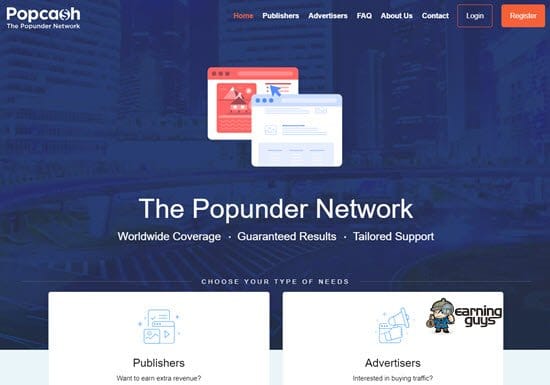 ShareASale is a leading affiliate marketing network that pays you for promoting the products registered with them. It is a great alternative to Google Adsense if you want to earn from your blog quickly. It provides a huge range of affiliate offers, so you get a good choice of products and can pick and promote those that suit your blog audience.
ShareASale allows you to sign up for almost any product you want. It provides pay per sale as well as pay per lead programs. ShareASale is suitable for a wide range of blogs in varied niches such as clothing and fashion, food and fitness, technology, blogging, books publishing, dating, weddings, etc. It runs an easy signup process, and approval is pretty quick. The minimum payment threshold is just $50 which can be easily attained. It makes the payment on the 20th of each month.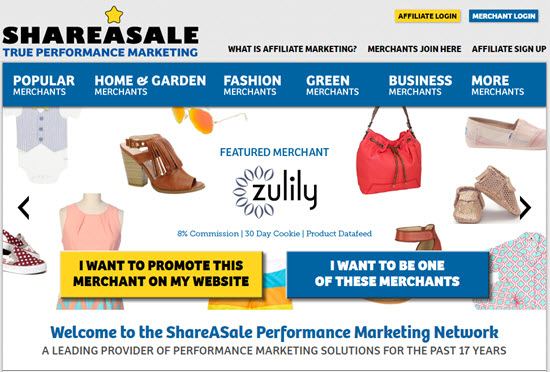 We hope that the presentation on Best Google Adsense Alternatives proves highly useful to you and helps you in choosing the best alternative to Adsense.