You cannot ignore Search Engine Optimization (SEO) if you want to flourish online. In this respect, one of the most basic and important tasks concerned with SEO is creating and checking backlinks. Here, I have come up with a unique and comprehensive list of the Best Backlink Checker Tools. This will help you to determine the backlinks linking to your website or website pages.
However, at this point, you must be wondering why you would need to check backlinks for your site. I appreciate your query and understand that it needs a proper answer.
First and foremost, you need to understand that backlinks are an important part of your overall SEO Strategy. Backlinks are created when a website links to any of your website's pages. As a matter of fact, quality backlinks help you gain better rankings on SERPs and improve your website or web page's PR (Page Rank).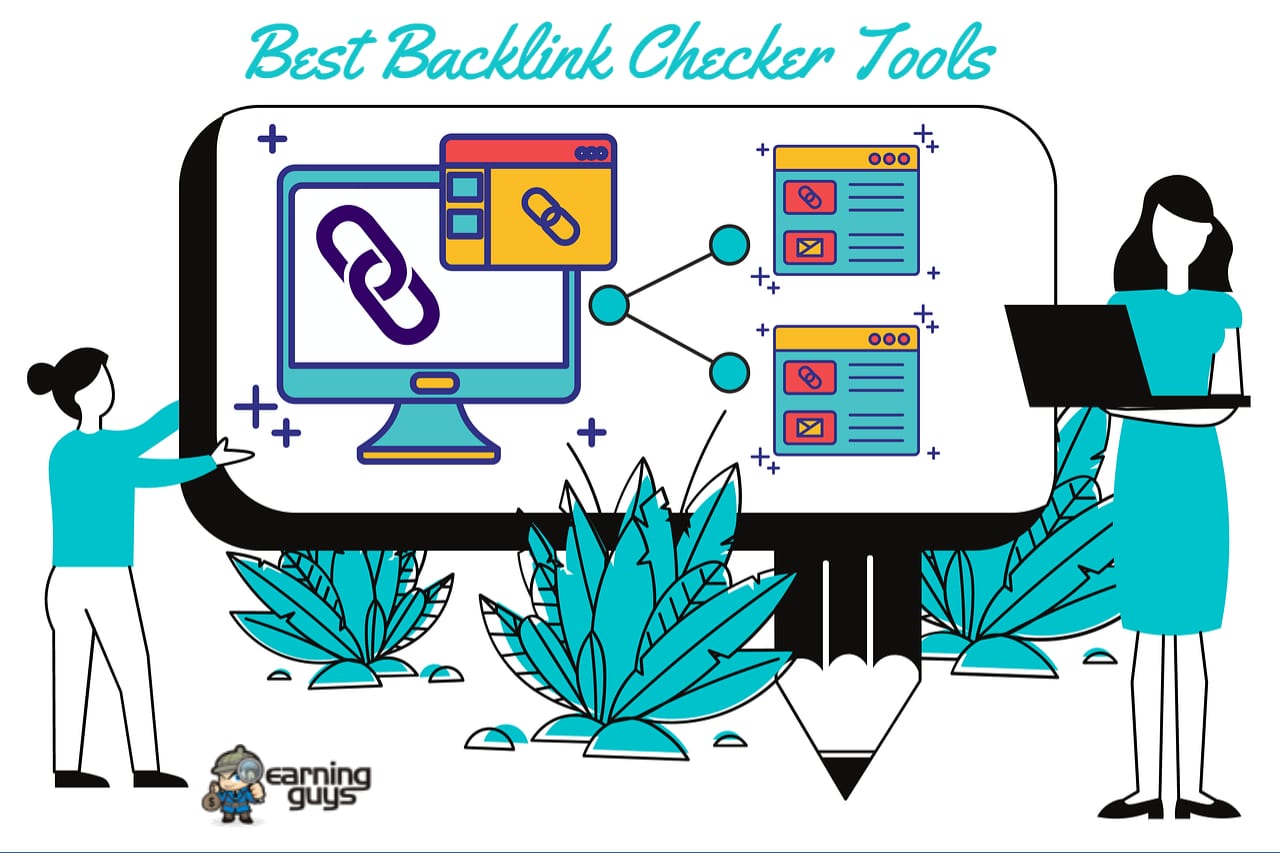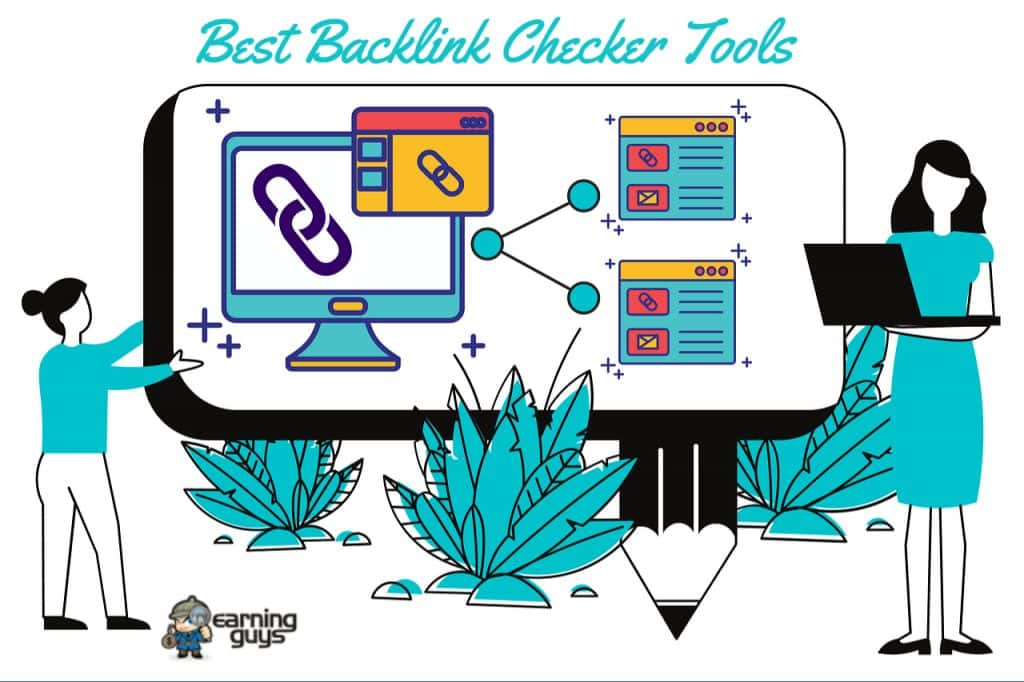 This is why you need to use Backlink Checker Software or Best Backlink Checker Software. Moreover, backlinks are considered one of the most important criteria for high page ranking and better keyword ranking.
Further up, Backlinks are of two types.
They are Dofollow Backlinks and Nofollow Backlinks.
We usually concentrate on creating or gaining Dofollow Backlinks.
You may also like: Best Keyword Rank Tracker Tool
Thus, we see how important it is to create and check backlinks for our websites. There are lots of Link Checker Tools; however, with Best Backlink Auditor Tools, you can quickly and easily have a detailed review of the backlinks linking to your site.
Hereunder, I present some of the Best Backlink Reviewer Software to help you access your website's incoming backlinks. All of these Backlink Monitor Tools make the process of checking the count of backlinks (coming to your website) easy and quick.
18 Top Backlink Checker Tools
So, let's have an overview of these Best Backlink Checker Tools.
1. Semrush Backlink Checker
Semrush is a potent SEO Tool. However, Semrush is not a free tool, but you can use its trial version for free. In addition, it has an extensive database that allows you to accurately check your website's backlinks' status in a matter of just a few seconds.
This Link Checker Software lets you compare your site's links with your competitors'. Plus, this tool has been a favorite Backlink Checker Tool of many top bloggers for years.
SEMrush provides valuable data and insights that are so crucial for tracking your SEO strategy.
The tool offers insights on:
Whether you are rising or falling in the rankings
How much traffic are your competitors getting
How many people are searching for a topic
What sites are backlinking to similar sites
Technical issues on your site that are hurting SEO
Which topics are best to create content around
It's a web-based software that helps you to plan and track your efforts in SEO.
SEMrush can help you with:
Keyword Research
Backlink analysis
Competitive analysis
Site Audit
Position tracking
On-page optimization
Organic traffic statistics
Content planning
PPC and other ad data
And all this data is presented to you in novel and interesting ways. As a result, you get valuable information to improve your rankings on SERPs.
It's a killer planning tool that helps you to know what content you should create. Plus, you come to understand how to make existing content more SEO-friendly. It's best at competitive analysis.
SEMrush is helpful for entrepreneurs, marketers, enterprise companies, SEO agencies, and consultants.
Price: Paid Plans
Pro: $119.95/month
Guru: $229.95/month
Business: $499.95/month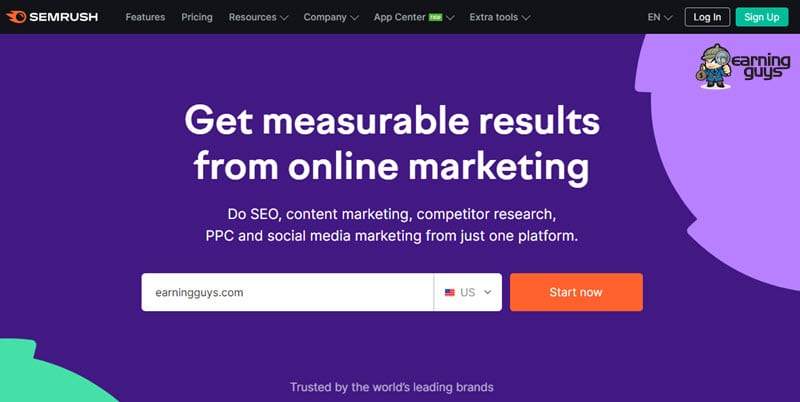 2. SEO Spyglass – Desktop-Based Backlink Checker Software
SEO Spyglass by Link-Assistant is a desktop-based backlink checker tool.
One of those tools provides users with the best link intelligence on the Web to triumph in the battle of the SERPs.
SEO Spyglass helps you to discover:
Backlink Pages
Link Anchor Text
Toolbar Page Rank
Alexa Rank
SEO Link Value
Link Research
White Label Reporting
Historical Link Tracking
And this is only the tip of the iceberg. SEO Spyglass offers you a ton of additional analysis info, including Domain Age, IP Block Data, outgoing and incoming link-to-link targets, trusted directory presence, and more.
Using its powerful tool, you can easily find, monitor, analyze, and compare backlinks. You can even spy on your competitors' link-building. The reporting is good. You get a lot of options for customizing specific link data parameters for your reports. It has a decent database.
SEO Spyglass is a part of the SEO Power Suite (one of the four tools) by Link-Assistant.
Price: Free and Paid
Professional: $149 one-time
Enterprise: $349 one-time
Algorithm updates: Starts at $12.95/mo need after one year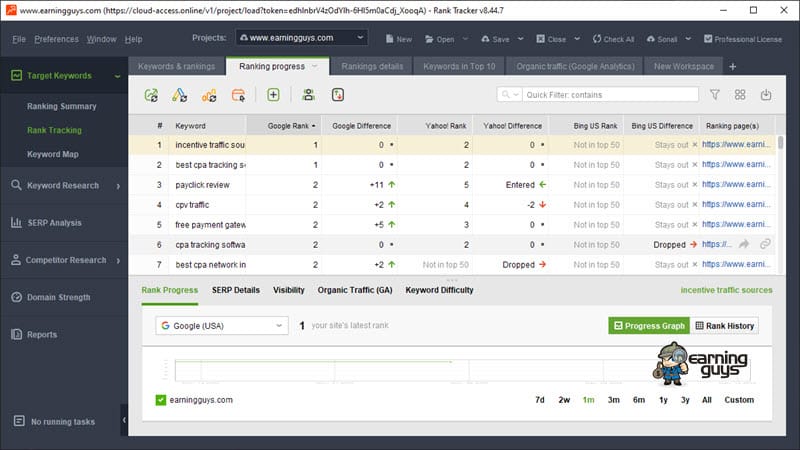 3. AHrefs Backlink Checker
AHrefs is undoubtedly one of the Best Backlink Checker Tools. It is available as a paid Backlink Auditor tool. However, it also allows you to register for a free account wherein you get a complete Backlink analysis report and anchor text analysis of your website.
It provides a detailed account of the backlinks coming to your site. You can also see whether your site's links are increasing or decreasing. Many famous online marketers use it.
So, Ahrefs proves to be one of the best SEO tools for in-depth backlink analysis.
It has a blazing-fast crawler. Ahrefs can even crawl Javascript pages besides traditional HTML. You get first-hand info about new, broken, and lost backlinks. You come to know why a backlink suddenly disappeared. It allows you to filter backlinks by type, such as Dofollow, nofollow, redirect, educational, and much more.
Ahrefs works as a secret agent and helps you to know your competitors' backlink profiles. It will inform you about their new and lost links by email. You come to know from where they get Dofollow links.
So, Ahrefs proves a goldmine for link opportunities. You can try Ahrefs for seven days for $7 only.
Price: Paid Plans
Lite: $99/month
Standard: $199/month
Advanced: $399/month
Enterprise: $999/month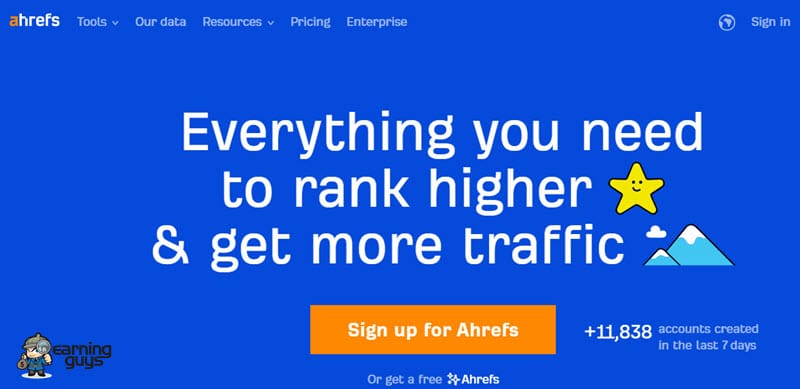 4. SE Ranking Backlinks Checker
SE Ranking comes with a comprehensive Backlinks checker tool with which you can have a complete list of any domain's backlinks. The backlinks are evaluated using as many as 15 SEO parameters. These include the following:
Backlink URL: The URL of a page that has the link to your website
Backlinks Status: Found/Not found
Google Index Status: Indexed/Not indexed
External links: The number of other links found on the linking page
Moz DA: Moz gives domain Authority
Country: It provides the location of the server where the inbound links are hosted
Referring Domain Link Popularity: The number of total inbound backlinks
Alexa Rank: Linking page importance as given by Alexa
Destination URL: The exact page where the link directs to
Social Popularity: Backlink page shares with Facebook & Google+
Anchor Text: Its the anchor text of the link
IP: The IP address of the server at which the linking website is hosted
Added on: The date on which the backlink was discovered
Domain Trust: Domain trust by Majestic
Last Check: It gave the date when the previous backlink check was made
So, the tool is indispensable for SEO professionals, website owners, and digital agencies. It's best for backlinks monitoring. It's a simple yet powerful SEO tool.
Price: Paid Plans
Essential: Starts at $18.72/month
Pro: $42.72/month
Business: $90.72/month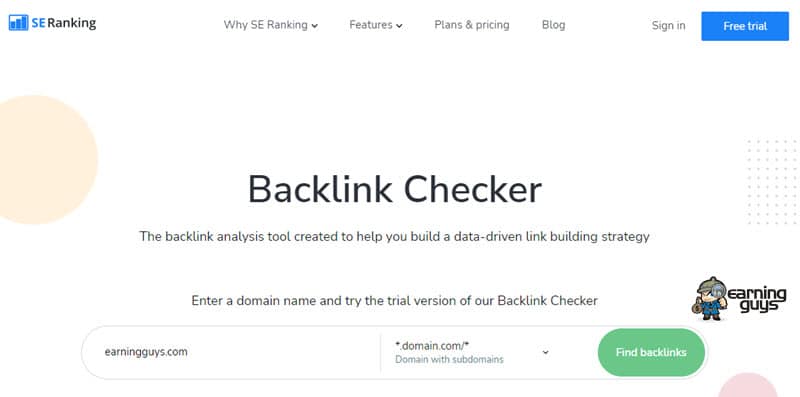 Here, we share with you a completely free backlink checker tool. Google Search Console is one of the free and easy-to-use backlink tools.
It's a Google tool.
However, Google Search Console offers limited opportunities for backlink analysis.
Google Search Console helps webmasters to improve their websites. It can be used for analyzing websites that you own. It verifies your website ownership and offers you access to various site-quality dashboards.
It draws a list of backlinks directly from Google's index. You get to view only the top 1000 results. You can also export the data and analyze it by using other tools.
Here, we share with you a peculiar thing about Google Search Console. Its backlink lists are generally much shorter than those offered by other backlink checkers.
This is because Google Search Console removes low-quality backlinks from the list. Instead, it offers you with backlinks list that matters.
So, it does not offer you spammy backlinks. Moreover, it removes them from your profile.
You get a list of backlinks that are very different from other tools.
Google Search Console is often used as a source of natural backlink data, which can be exported to SEO SpyGlass for analysis and additional insights.
The only limitation of Google Search Console is that it can only check your own sites.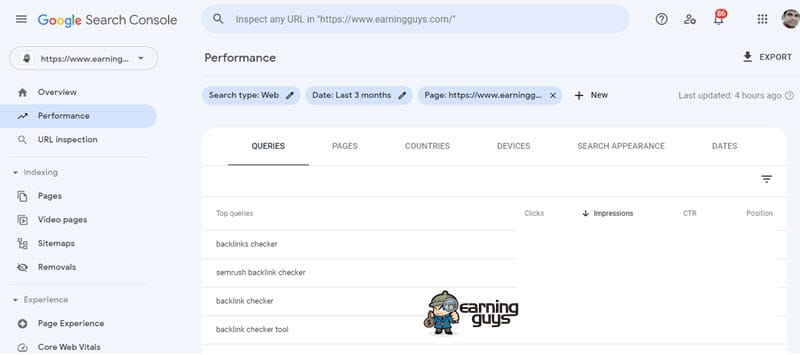 6. Majestic – Best Backlink Checker
Majestic SEO provides all the data you need regarding the Backlink Analysis.
It is a paid Backlink Checker Tool, although it also provides the facility to have a free account for accessing Backlinks information.
Majestic is equally suitable for SEO Professionals, Media Analysts, Entrepreneurs, and even Developers.
It can rightly be called a comprehensive SEO Software as it comes loaded with powerful SEO Tools such as Backlink History Checker, Site Explorer, Search Explorer, etc.
Its link Checker Software is probably the best in business. Its sophisticated web robots accurately detect the number of backlinks for given domains, subdomains, or URLs.
So, Majestic proves to be a great SEO Backlink Checker. Its interface offers everything you need to know about backlinks. Majestic shows more backlinks than most other backlink checker tools.
The excellent part about Majestic is that it allows you to check backlinks for free. You have to create a free account and verify your domains. Majestic has a huge database of backlinks. It also allows you to see the deleted backlinks.
Getting started with Majestic SEO is very easy. First, you have to enter your URL into the search box. Then, the tool does the rest for you.
It offers vital details such as external backlinks, referring domains, IPs, subnets, etc. So, you can clearly make out where your link profile stands.
Majestic SEO also shows the backlink history chart, which helps you know whether you are gaining or losing steam regarding your link-building efforts.
There's also the anchor text chart. With Majestic SEO, you get in-depth information about backlink analysis.
Price: Paid Plans
Lite: $49.99 per month
PRO: $99.99 per month
API: $399.99 per month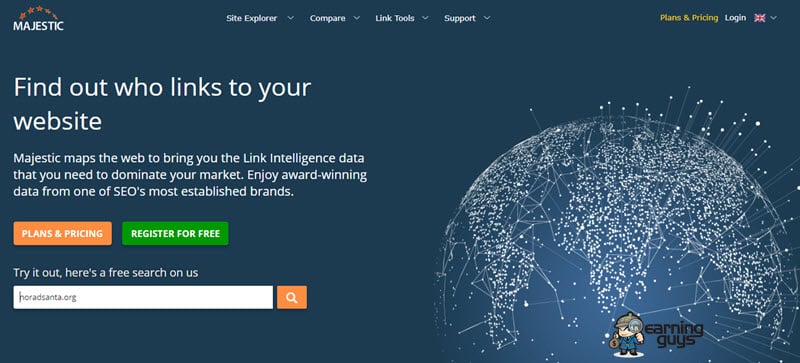 Raven Tools is one of the most powerful online marketing platforms that provide you with numerous SEO Tools. In addition, it has a powerful Backlink Checker Tool with which you can do a comprehensive Backlink analysis.
It enables you to automatically detect the increase or decrease in the number of backlinks directed to your website. The best part is they provide a detailed report about your website's Backlink analysis.
Moreover, Raven Tools is an all-in-one tool for conducting research and analysis, tracking search engine trends, managing link building, monitoring social networks, creating and managing ad campaigns, and producing sophisticated campaign reports.
All these features can be accessed from one central location. With Raven Tools, you can make the best campaign decisions.
It's best at competitors, links, keywords, and social intelligence. It also offers excellent marketing reports.
Raven works out to be a time-saving ally to your team. It crawls any website and gets data about technical SEO areas.
Raven Tools features:
Social Media Tools
Backlink Checker Tool
Advertising Tools
SEO Tools
And much more
Price: Paid Plans
Small Biz: $39/mo
Start: $79/mo
Grow: 139/mo
Thrive: $249/mo
Lead: $399/mo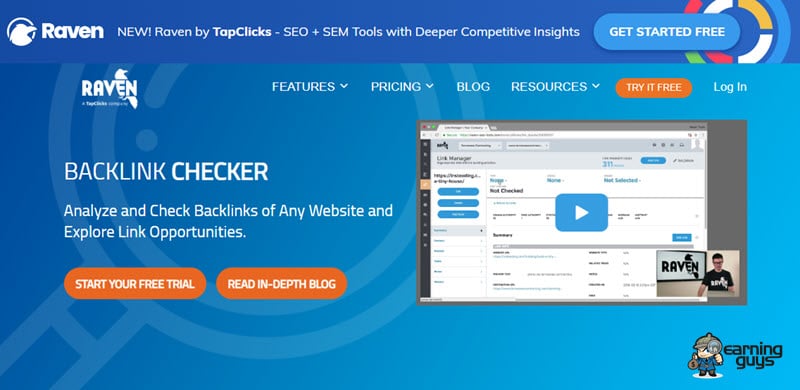 Moz Link Explorer allows you to uncover valuable prospects, create a solid strategy, and track your progress regarding backlinks, inbound links, or simply links.
Moz Link Explorer is regarded as one of the best backlink checker software. It's an all-in-one link-building tool. In addition, it includes a new set of link analysis and competitive research tools.
It enables you to build a high-quality Inbound Link Profile easily. In addition, you can do accurate Backlink Research, find link-building opportunities, and discover harmful links through its Live Link Index Tool.
It shows your website's Domain Authority, as well as Page Authority. Further up, Search Engines is trusted, which means that it shows you only those Backlinks that are active and getting clicks.
Moz Link Explorer provides you with the most comprehensive, quality link data.
Link Explorer is best at:
Constant DA and PA Tracking
Discovered and Lost Links
Top Pages Report
Link Comparison
So, Moz Link Explorer is the best link-building research tool out there.
Price: Free and Paid
Free: Limited Data
Standard: $99/mo
Medium: $179/mo
Large: $299/mo
Premium: $599/mo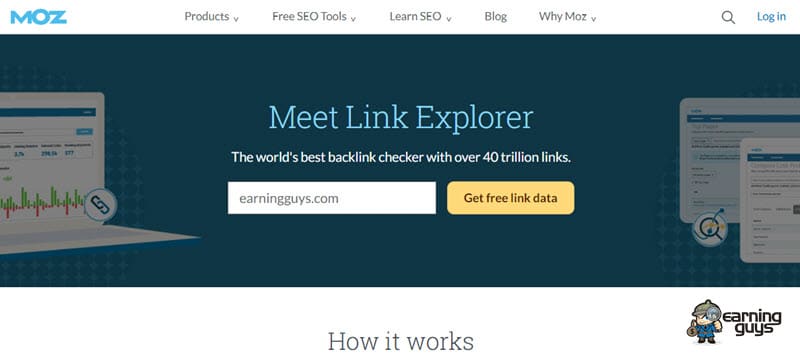 Serpstat is a perfect utility for SEO beginners. It is one of the best backlink analysis tools out there. The best thing about this tool is that it performs backlink analysis, keyword research, and competitor research.
Plus, it is easy to use. It helps you to build strategies more clearly. Serpstat offers a lot many features at an affordable price. In addition, it is competent in competitor keyword research.
When you enter the URL of the domain, the tool will list all the keywords that the blog/site is ranking for. In addition, it will show you the keywords that the site/blog is ranking for on Google.
Serpstat also shows you the search traffic of the sites. In addition, it also displays the number of backlinks and referring pages a domain has. And that's not all.
Serpstat also displays the organic traffic trend graph and the site's top competitors in SERPs.
Along with the keywords, Serpstat also lists down the keyword volume, position, CPC, and other data. In addition, it offers keywords from Google US, UK, CA, AU, and more.
Serpstat also shows the backlink data of a domain. It even has its metrics known as Serpstat page rank and trust rank. Serpstat scores the web pages based on the quality of their backlinks. It also comes with a rank tracker.
Price: Paid Plan
Plan Starts from $69/mo (30% OFF on yearly plan)

10. Rank Watch Free Backlink Checker
Rank Watch is all about making SEO easy. It delivers actionable data on website rankings, backlinks, and SERP competitors, thereby multiplying your organic traffic.
Rank Watch transforms the way you do your SEO. Its single dashboard offers website analytics, SEO data, rank tracking, etc.
Rank Watch is made to give you a crucial competitive edge.
It analyses your website's SEO performance. It helps you with your SEO management. Its SERP tracker drives actionable data. Plus, you get a user-friendly GUI and reports with insightful information.
Price: Paid Plans
M: $29/mo
L: $99/mo
XL: $449/mo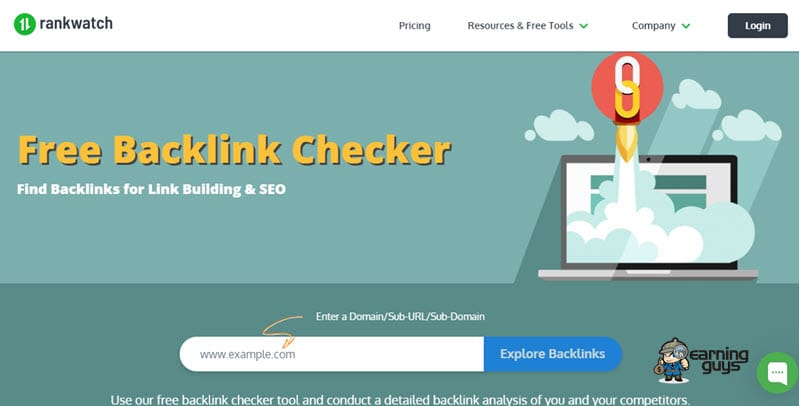 Monitor Backlinks is one of the best monitoring tools for backlinks and keywords. It is a must-have tool for SEO, marketers, and entrepreneurs. It allows you to monitor sound and bad backlinks for yourself and the competition.
The best thing about Monitor Backlinks is that it is super user-friendly. Its UI is simply excellent and intuitive. In addition, its dashboard offers you all the information you seek in one place.
Monitor Backlinks offers you the opportunity to build excellent links. In addition, you come to know the relevant and high-quality sites that you can contact for outreach and link building.
It even allows you to monitor your brand and create relationships with influencers. In addition, you can reach out and develop relationships with high-authority sites.
Monitor Backlinks allows you to recover valuable lost links. You come to know how you're ranking on Google for valuable keywords. In addition, you can gauge the changes over time and see how they get affected by your backlink changes.
With Monitor Backlinks, you can even monitor your competitors' keywords and backlinks and use them to reverse engineer their strategies.
Monitor Backlinks allows you to fight SEO (when competitors attack your site's SEO and send spammy backlinks) and defend against it by us its efficient Disavow tool.
Plus, you can manage all your backlink data in one place. All in all, Monitor Backlinks is a great web-based app that offers a simple way to monitor your backlinks.
Price: Paid Plans
Startup: $25/mo
Plus: $47.40/mo
Professional: $89.91/mo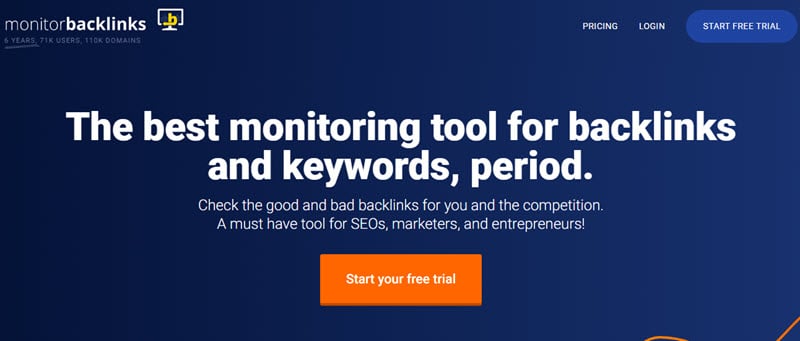 12. LinkMiner Backlink Checker
LinkMiner is another very potent tool for checking backlinks. It's a tool that has been designed explicitly for checking backlinks. It's a backlink checker tool from Mangools. It requires a Mangools account to use it.
Like other backlink checker tools, LinkMiner also allows you to filter links by nofollow, deleted, new, and lost.
One helpful feature of LinkMiner is that it allows you to mark 'favorite' backlinks so that you can easily access them when you want. So, you can make a shortlist of competitors' backlinks to target.
This feature can also be used to track any of your backlinks that you want to fix. For example, you can create a list of lost backlinks.
Although LinkMiner is not a very advanced backlink checker tool, it is a good option when you're on a tight budget. It can also be used with Mangools' SiteProfiler to view a site's total backlinks and top referring domains.
Price: Starts at $29.90/mo and goes up to $89.90 (This covers all Mangools' tools such as LinkMiner, KWFinder, SERPWatcher, SiteProfiler, and SERPChecker.) You can even take a completely free ten-day trial.

Ubersuggest is a very potent backlink checker tool by world-famous blogger and SEO expert Neil Patel. This tool also has a keyword research feature. In addition, it's a Backlink tool to view details of your site's backlinks.
Ubersuggest comes with all the features you need in a backlink checker tool. For example, you can view new backlinks, backlinks that you've lost, backlinks that have been marked as nofollow, and more.
The tool has a free version that can be used to view all this information. However, you only get details of a limited number of backlinks for each domain. So, you have to upgrade to its paid version if you want everything.
Price: Free version is available. However, if you want some severe backlink analysis, you need to upgrade to its Pro version, which starts at $12/mo. There's even a 7 and 30-day "no questions asked" money-back guarantee.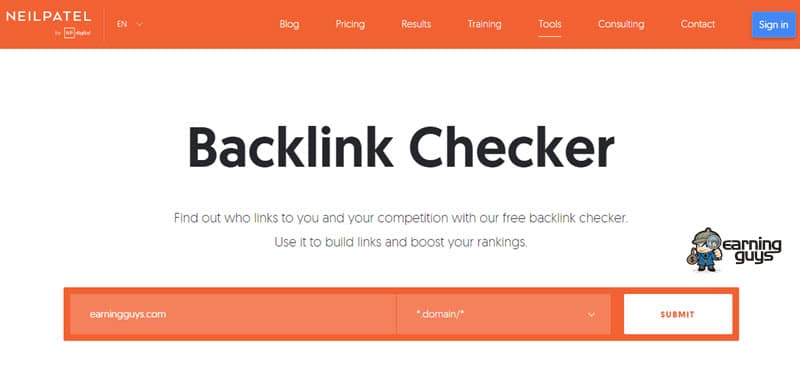 CognitiveSEO offers a variety of internet marketing tools. However, here we focus on its backlink analysis tool.
CognitiveSEO Backlink Analysis tool is as powerful as any other backlink checker tool on this list.
The tool allows you to create triggers and notifications for your website or competitors. When you enable this feature, the information is directly delivered to your inbox.
Moreover, this backlink checker tool offers you an inside view of your link profile. It provides a simple way to view your backlinks. You get real-time data, historical information, growth trends, and much more.
The most striking feature of this backlink analysis tool is how all the information is presented. The top of the report page shows you the following information:
Referring Domains
Links
Page Influence
Domain Influence
Moreover, more
So, you get to examine information based on:
Link velocity
Nofollow vs. Dofollow
Breakdown of each link
Another good thing is that the tool allows you to perform a free search for your website to check what it offers. It offers an excellent presentation with an accuracy of data, which you'll certainly like.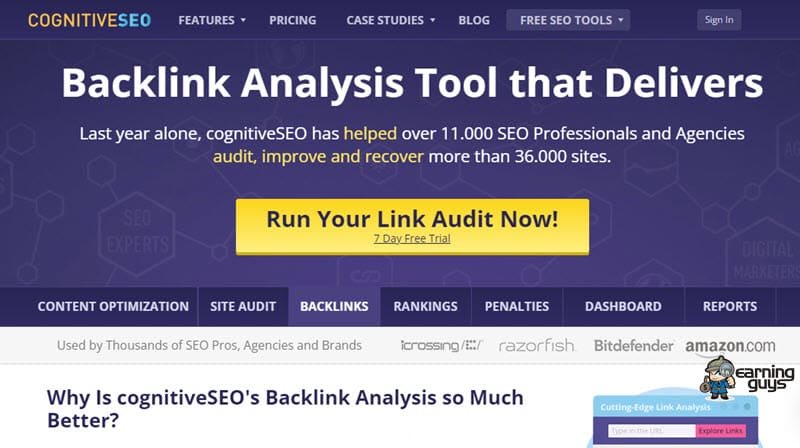 BuzzSumo is among the best tools for content marketing and SEO campaigns. They offer a free version as well as a pro version. With the pro version, you can check backlinks to your domain or any individual page. You can even export existing links into CSV or Excel format.
BuzzSumo offers comprehensive information about who is linking to your competitors. You learn how well the content performs as a result of those links. It allows you to know what pages are being shared most often. You identify opportunities for connections and come to know what type of content attracts the most links.
BuzzSumo is an excellent tool for analyzing content and finding influencers. It can also be used to check any URL or domain backlinks. These features are available in the BuzzSumo Pro version. It comes with a 14-day free trial.
BuzzSumo functions as a comprehensive social media analytics tool. It has a powerful social media search engine that can be used to find and analyze the best-performing content related to a specific niche. As a result, you come to know the factors that make the content successful. So, it becomes easy for you to plan and create compelling and promising content for your target market.
Price: Paid Plans
Pro: $99/mo
Plus: $179/mo
Large: $299/mo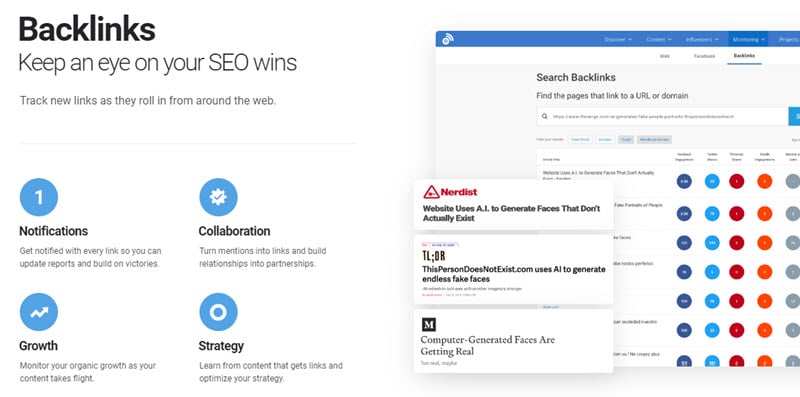 Linkody is one of the best backlink checker tools for tracking your link-building campaigns. It can be used to track the link-building campaigns for your clients or your domains. Linkody functions as a reliable backlink monitoring tool.
Linkody goes on to automate the whole process of backlink tracking. It allows you to know when you lose or gain links. You gain insights into competitors' link-building strategies. You can analyze your link profile with tons of metrics. With Linkody, you can also identify and disavow the wrong links.
Overall, Linkody allows you to monitor your valuable backlinks and gain an advantage over your competitors.
Key Features
Google Analytics: You can connect your Google Analytics account to Linkody and get more backlink data
Moz data: You get Moz Rank, Domain Authority, Page Authority, and Spam Score
Disavow tool: You can find "bad" backlinks and disavow them.
PDF White label Reports
So, Linkody comes out as one of the best backlink checker tools.
Price: Paid Plans
Webmaster: $14.90/mo
Advanced: $24.90/mo
Pro: $49.90/mo
Agency: $99.90/mo
Agency XL: $153.90/mo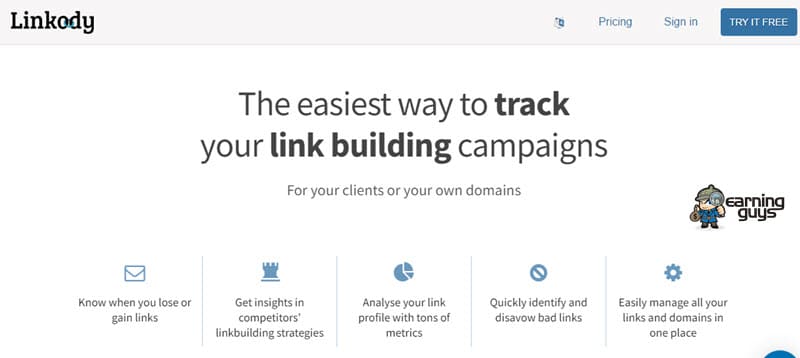 Suppose you want to have got quick, easy, and comprehensive backlink analysis for your websites or blogs. In that case, OpenLinkprofiler is the best solution as it comes empowered with a truly powerful and advanced Backlink Monitor Tool.
OpenLinkprofiler is the favorite SEO tool for many bloggers, marketers, entrepreneurs, and developers.
It has one of the largest databases of the freshest backlinks to a site. Moreover, they display only the active links (in the last 90 days) so that you don't have to deal with outdated stuff.
With their free version, you can download up to 100 links in CSV format. This feature is unique to OpenLinkprofiler and is not offered by other primary SEO Tools such as Majestic, Ahrefs, or Moz Link Explorer.
You need to put in a URL and get the link profile.
It offers extensive information that breaks down links by age, industry, context, country, and more. The tool also lets you know the connections that need to be removed to improve your page rank. It also offers numerous filters to sort out the data the way you want.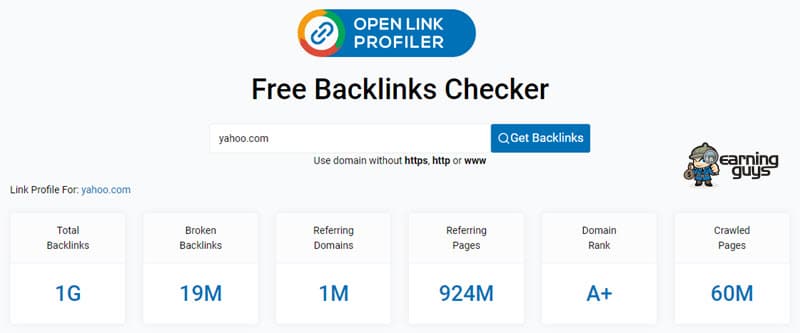 18. Backlink Watch – Best Free Backlink Checker Tools
Backlink Watch is a free Backlink Checker Tool. You can surely use this powerful tool if you prefer quick and easy backlink analysis. It makes backlink checking easy, and that's why it's my pick in this list of best Backlink Monitor Tools.
Backlink Watch comes out as one of the most accessible tools for analyzing the backlink portfolio of any website (including yours). Furthermore, it uses the Ahrefs API, so the results are pretty trustable.
You get ample information such as the total number of links, the anchor text used, the page rank, and more. You can even sort by links that are set to nofollow or Dofollow.
Moreover, Backlink Watch is free and can be used as often.

You must check our tools if you are looking for essential and Free Backlink Tools. EarningGuy's SEO Tools will help you find total backlinks pointing to your site.
It provides comprehensive Backlink Analysis, which is equally suitable for new and old websites and blogs. The best thing about EarningGuys SEO Tools is that it is free, easy, and quick.
The backlink Checker Tool will provide the total incoming link count.
EarningGuys Link Analyzer offers various results such as link type (nofollow, Dofollow) and internal and external links.
These fundamental tools will help you track your backlink progress for free without logging into your account.

In this list of Best Backlink Checker, I have ensured that you get only the top and the best link Checker Software that are preferred and used by the world's most popular and successful bloggers, web admins, SEO professionals, and online marketers.
Be assured that you have the list of the Best Backlink Checker Tools. Having said this, the final call still lies on your shoulders.