Native Ads are the future of online advertisements. One can use native ads on the website, mobile and even on smartwatches. In this post, we are listing some of the Best Native Ad Networks to monetize your website or app.
Online advertising has evolved over the years.
Gone are the days when classic banner ads used to dominate the online advertising scene. Nowadays, people prefer ad formats that are informative, non-intrusive, and attractive.
Native Ads have all these ingredients and have become a hit with the audience at large. It is the form of advertising which connects and blends in with the content so beautifully that they do not appear as ads at all. This is the prime reason which has led to the rise of native ads.
In this article, we have come up with a list featuring 10 Best Native Ad Networks which can be helpful for both big and small publishers. They are also known as Content Discovery Network.
So, if you are on the lookout for a highly rewarding Native Ad Network for monetizing your website, then this post showcasing Best Native Advertising Networks is for you.
It will help you in choosing an ad network which is most suitable for you.
However, if you are anyway confused about Native Ads or Native Advertising, here is a brief overview of Native Advertisements that will help you get going and profit from this advertising model.
What is Native Advertising?
Native Advertising or Native Ads come as a form of paid media which is often used by content marketers.
More precisely, Native Advertisements is any paid content that is mostly displayed "in-feed" and inherently non-disruptive.
It includes promoted tweets on Twitter, suggested posts on Facebook, and also editorial-based content recommendations.
Native advertising is increasingly being used for building trust and engagement with prospective customers. It is synonymous with sponsored content which is a popular native advertising format.
Most of the time, Native Advertisements are shown on websites as related stories, related posts, around the web. They carry images with article heading. Typically, Native Ads are sponsored and are related to the site you are visiting.
Whenever a visitor clicks on a Native Ad, he or she is directed to another website, and the publisher earns in the process. They usually function as Pay per Click Ads, much like Google Adsense and often look like part of the website.
They are primarily used for content marketing. It is increasingly becoming a popular method for earning from your website.
Moreover, Native Ad Networks function just like another Advertising Network and connect publishers and advertisers together. It is a powerful method for making extra money using your website.
Native Advertisements can be displayed under your blog post, in the sidebar, etc. The best thing about Native Ads is the fact that they do not look like ads and tend to get high CTR.
11 Top Native Ad Networks
So, now let's explore the Best Native Advertising Networks. We are sure that you will find a suitable one for matching your requirements.
1. Revcontent Best Native Ad Network
Revcontent is the fastest-growing native ad network currently serving over 250 Billion native ads in a month. The ad network is consistently delivering results to both publishers and advertisers. It reportedly has more users reach than Amazon. Probably one of the reasons which have made Revcontent a promising ad network is the fact that it operates on a 20% revenue share model which has made it a more profit-oriented for advertisers as well as publishers.
Revcontent is presently serving big names in the publishing arena such as Forbes, NBC News, CBS, and so on. Some of its core features include a highly responsive widget, unlimited customization of the API, infinite scroll options, gallery implementations, and much more. It has proved its worth in various niches such as health, auto insurance, finance, and politics.
That said, Revcontent is good for any niche you are working with. It has no signup fee, and you can look forward round the clock support. Revcontent provides the ability to control the optimization of your ads fully. It offers powerful targeting abilities. You can choose the publisher, operating system, country, and more. It provides fully responsive widgets, and you get multiple placement options inside the publisher's website.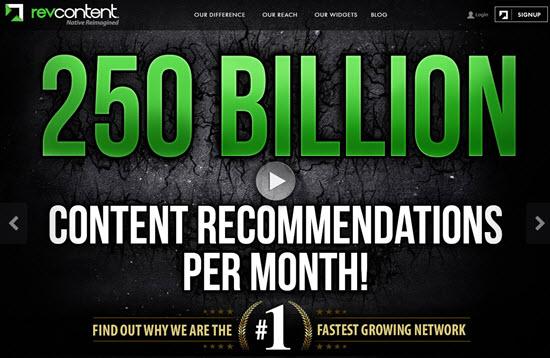 Taboola is another very hugely popular native advertising network. It is helping advertisers drive traffic and publishers for monetizing their web property. Taboola has a huge pool of quality publishers; however, it can be accessed through higher CPC bids. It provides the "Taboola Choice" feature on its widgets which enable users to decide which of the ads they don't want to see anymore. So, it constantly improves from user feedback.
Using the ad network, publishers can display promoted content including articles, slideshows, and videos. Taboola has some of the big publishers in its network with names such as USA Today, BBC, Mail Online, NBC News, TMZ, Boston Globe, and Chicago Tribune.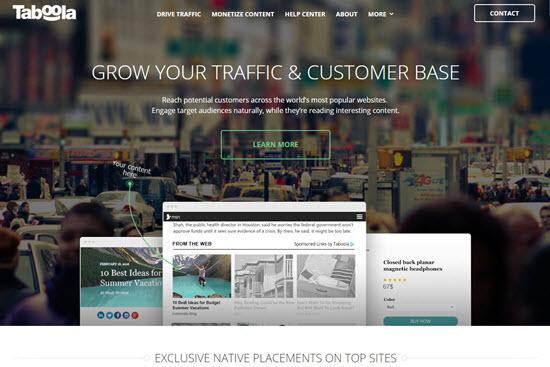 MGID is a highly adored and hugely popular Native Ad Network. It is one of the oldest native networks operating successfully since 2008. MGID is credited with a huge web of brand managers, affiliates, media buyers, online retailers, and publishers. With MGID, you get an opportunity to serve your ads on over 3000 lifestyle and entertainment websites. MGID provides as much as 52 categories such as sports, finance, and parenting. So, you can target your audience quite nicely.
Not only this, but MGID also provides other targeting options such as a location, device, and a type of a browser. They provide widgets that are highly cohesive with website design. MGID constantly endeavor to provide the best stories from top websites around the globe. Moreover, MGID served native ads work across all devices, platforms, and websites. It has clear guidelines and disclosures so you would not face any issue partnering with them. Typically, MGID furnishes product-based ads. Signing up is free of charge.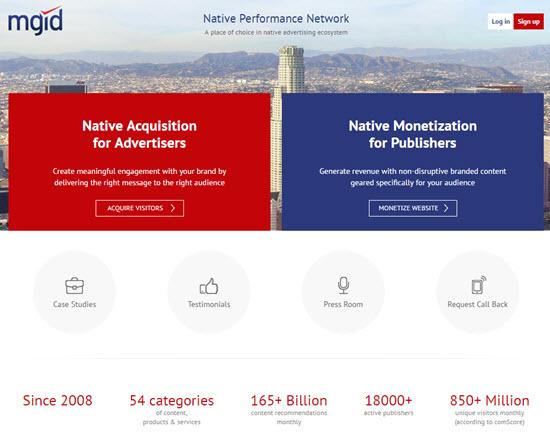 Outbrain has the status of being one of the first native ad networks in the world. It is successfully serving thousands of publishers and advertisers around the globe since 2006. It essentially functions as a content discovery platform and is helping brands reach a wider audience by distributing their content across big media sites such as Fortune, CNN, The Daily Telegraph, Atlantic Media, ESPN, New York Post, Slate, and more. It also has a large network of small publishers.
Outbrain maintains a high standard for ad quality and focuses on delivering the excellent user experience. It accepts content with "informational and entertainment value, " and there is no direct linking to products or offers. However, it does accept affiliates. Outbrain functions on a CPC model and requires a minimum of $10 daily spend. It employs behavioral targeting and offers recommendations for different media types such as video, mobile, as well as online.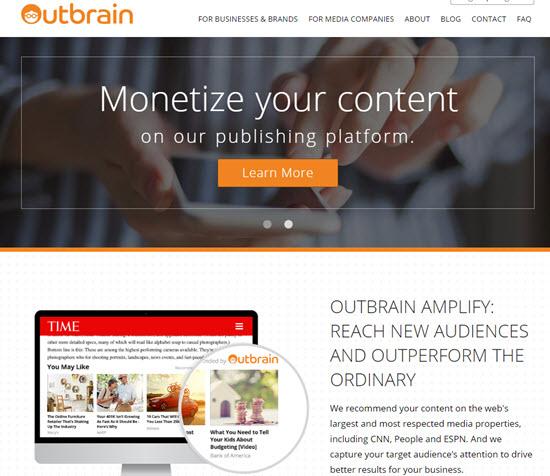 Triplelift is a leading Native Ad Network for advertisers and publishers. Triplelift works on a CPM basis. It offers the opportunity to turn your content into beautiful in-feed native ads. The Triplelift native exchange allows you to access in-feed ad inventory across most premium publishers throughout the world, directly through your DSP.
Triplelift offers the best opportunity for website monetization by adding a new, incremental revenue stream. Its in-feed ads go on to match with the unique look and feel of your website thereby adding to the consumer's experience through seamlessly integrated ads.
Triplelift goes on to offer great looking ads. Its proprietary computer vision technology can understand the critical elements like faces, objects, text areas, and more, for formatting the images perfectly – on any site on any device – every time.
Triplelift offers native advertising that aligns itself with the look and feel of its environment. Triplelift has created an RTB-enabled native ad exchange for allowing advertisers to leverage their existing buying platforms for accessing premium, in-feed native ads. Triplelift provides the opportunity to work with top brands and have full creative control for a seamless, uninterrupted browsing experience. Publishers can implement the single-line code on their page. Plus, Triplelift offers full tech support all the way.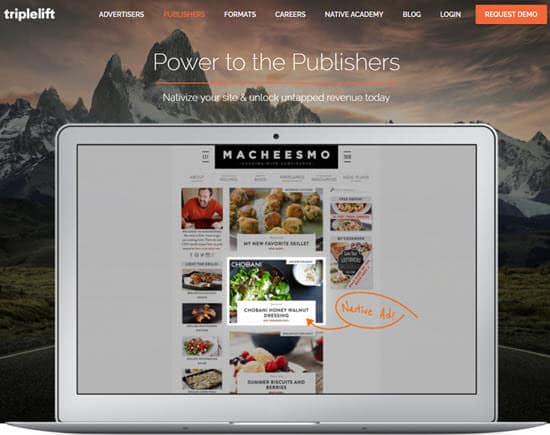 6. Yahoo Gemini Top Native Ad Network
Yahoo is one of the biggest names in the online world. Now, it offers an opportunity for generating revenue with native ads from its Yahoo Gemini Native Advertising Network. It's a quality ad network and quite strict on approvals of your campaigns. Its ads appear on websites, Yahoo Search, in an email app, as well as on several partners' websites such as TV Guide, GameSpot, and SB Nation.
With Yahoo Gemini, you get several targeting options such as location, search terms, language, interests, and a few less important filters. Yahoo Gemini provides great options for easily integrating native ads on your website without having to make any changes in your website layout. It has an easy signup process. Once your ad is live, you can easily monitor its performance through the ad platform. Support is also available via email and phone.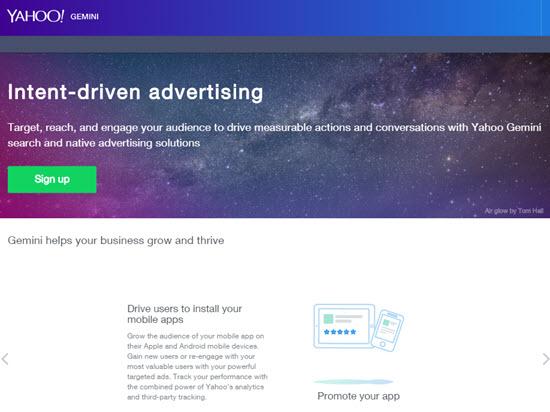 Native Ads is one of the most popular premium advertising networks. The best thing about Native Ads is the fact that it is compatible with Google AdSense. They run a moderated approval process, and you can expect a response to your approval status within 24 hours. Native ads do not offer high rates per click. So, if you are looking for a high paying native ad network, Native ads might be quite disappointing for you.
Rates typically revolve around 1 cent to 3 cents a click. However, it is a stable and secured native advertising network with clear terms and guidelines. Thus, you can expect a long-lasting healthy relationship with them.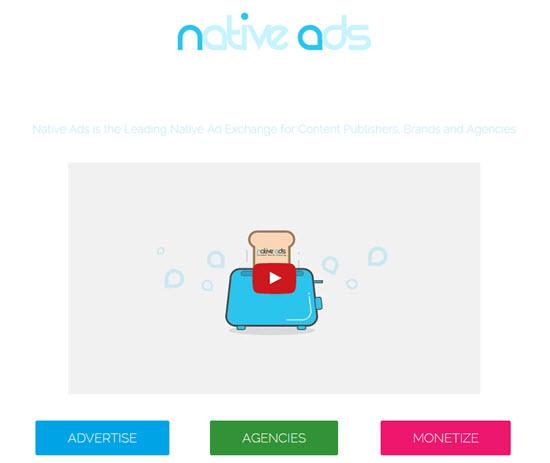 AdNow is a relatively new native advertisement network. This premium ad network is offering widget-based native ads for use by publishers on their website. The ad network has more than 150,000 publishers as of now. It has flexible terms and conditions and even accepts publishers who have been rejected by Outbrain, Taboola, or Revcontent.
Its RPM rates are comparable with the big players in the ad network market. AdNow can certainly be a good option for monetizing your site with Native Ads. It enables you to put an ad widget anywhere on your content. It is suitable for mid-sized publishers and bloggers.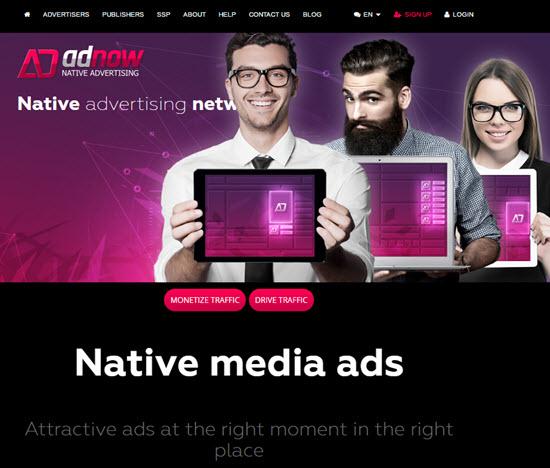 Content.ad is another very popular native advertisement network and can be compared with the leaders in the ad market such as Outbrain, Taboola, and Revcontent. They have a large network of quality publishers and advertisers.
It runs an easy approval process. So, Content.ad comes as a good choice if your website is not approved by Taboola, Revcontent, or Outbrain. Moreover, you can look for 100% fill rate. It is currently serving over 20 Billion page views a month.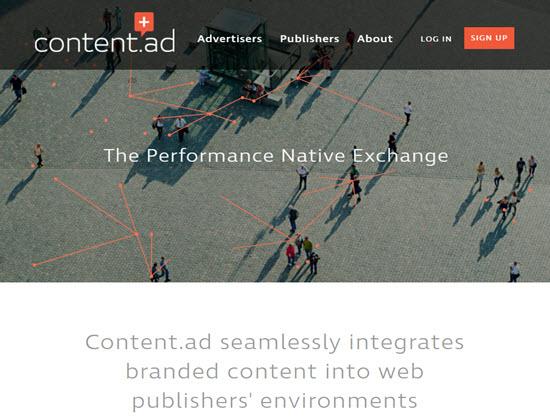 10. Earnify Native Ad Network
Earnify is another immensely popular native advertising company. Publishers can look up to unbeatable revenue shares together with lightning-fast payment process and full control on ads. On the other hand, Advertisers get superior targeting and exceptional traffic quality.
Earnify employs a CPA revenue model and reviews sites before approving them. It provides a real-time reporting system. The payment is made using a Net 21 basis. The payment option is Payoneer, and the minimum payout threshold is $20. It is suitable for high traffic sites.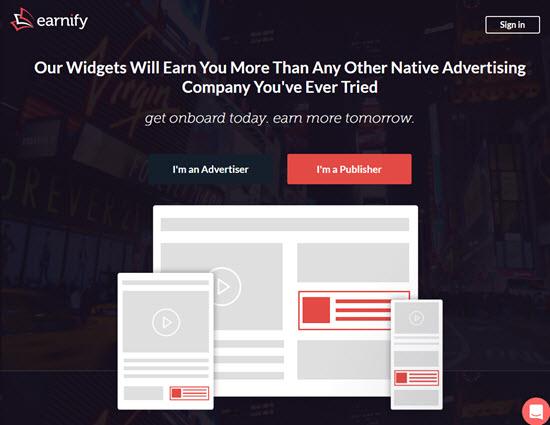 SmartyAds is a large, open marketplace that serves 60 billion targeted impressions monthly. This network is hard to beat in terms of viewability and quality for all campaigns, including native. It gathers reputable websites and reaches niche blogs to distribute native advertising according to the target audience and desired KPI.
SmartyAds ad network has teamed up with numerous leading traffic partners, publishers, and markets to deliver world-class traffic across Geos, platforms, and verticals.
A full-stack programmatic infrastructure connects the largest scope of demand and supply partners, including PubMatic, Mobfox, AdColony, etc., which maximizes capacities of media-trading across all business verticals. Innovative ad formats organically fit into the publisher's website or app and easily find the most responsive and conventing audiences on the web. SmartyAds ad network makes an excellent choice for all types of traffic across the United States, India, Israel, UK, Germany, and another tier 1 countries. All these lead to 3x higher user engagement and increased advertising ROI.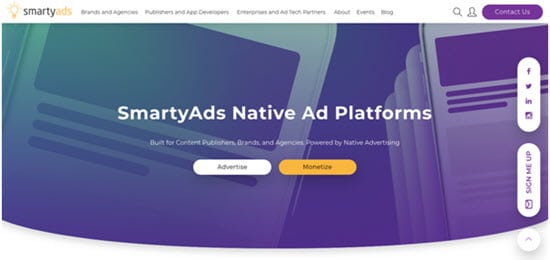 The post has provided a comprehensive list of Best Native Ad Networks. We certainly hope that it serves your purpose in the highest possible way. Do share your comments with us.