Do you want to get the best WordPress Hosting service for your website? Well, you're perfectly at the right place as we have listed out the 10 Best WordPress Hosting Service Providers below. It's a comprehensive guide that makes it easy for you to choose the best WordPress Hosting Company based on your particular goals, preferences, and resources.
There are several hosting companies out there that claim to be the best. We have come out with this post to simplify your search for the best WordPress Hosting Service.
The post helps you to make the right decision based on your specific requirements such as type of website, budget, time, etc. The post makes it easy for you to compare and evaluate the different hosting plans before you commit to any one of them.
We must tell you that it's a detailed post that has been compiled after in-depth study and thorough research. We have considered various factors for compiling this list to determine the quality of hosting companies such as speed, storage space, customer support, ease of use, etc.
So, the post features the top WordPress hosting companies. It means you get the best ones out there and can select the best out of best. In short, we have made it simple for you.
As far as WP Hosting is concerned, you must keep in mind these important factors while selecting a one for yourself:
Uptime: It is the most important factor when selecting a web host. The hosting uptime should not be below 99.95%.
Speed: The general rule of thumb is "faster, the better." Specifically, your WordPress website should not take more than 1 second to load.
Server Requirements: It should satisfy WordPress's latest server requirements such as HTTPS Support, MySQL 5.6+, PHP 7.3+, and others.
Customer Support: You should preferably get 24/7 support and help with WordPress related questions.
Pricing: The cheaper, the better. However, performance (uptime and speed) should not suffer. It should be transparent, fair, and upfront.
To sum it up, web hosting should be one of your key components for running a successful website. Best Web Hosting for WordPress improves your SEO and increases sales. There are plenty of web hosting options available with WordPress, such as:
Free WordPress Hosting: WordPress comes in two flavors, such as WordPress.com and WordPress.org.
While WordPress.com is a free hosted platform, WordPress.org is a self-hosted platform. WordPress.com allows you to create a WordPress website completely "Free." However, there are limitations.
For example, you get limited control and customization possibilities. It even displays advertisements on your site.
It is a good platform for beginners and seasonal bloggers that want to run a personal blog or website for free with ease.
Here, we have shared with you paid hosting services with WordPress.org.
Shared Hosting: It's one of the most popular options available with WordPress hosting, and it's the cheapest one too. In shared hosting, multiple websites can share the same IP address as well as the resources of the server, such as memory, bandwidth, and hard disk space.
The low cost with a shared hosting plan makes it an ideal choice for beginners as well as low-budget projects. However, you also face some disadvantages like limited memory space, slow site speed, SEO, and security issues because multiple sites are hosted on the same server and share the same IP address.
You may like: Best Web Hosting Providers
VPS (Virtual Private Server): In VPS (Virtual Private Server) hosting, you get a certain portion of resources on a server. Server resources get allocated to the VPS users as per their needs. So, with VPS hosting, you can get more resources (space and memory) as and when you need at an additional cost. It works out to be a good solution when you want more secure hosting.
Dedicated Hosting: In dedicated hosting, all the server resources are allocated to a single client. So, unlike shared and VPS hosting, dedicated hosting is meant for a single user.
It offers full hard disk space, memory, bandwidth, and you get full control over security, speed, as well as SEO aspects.
Dedicated hosting is mainly used by large online enterprises that get a large number of the audience every day. However, it is expensive when compared to Shared or VPS Hosting.
Managed WordPress Hosting: It is a relatively new technology that has been developed to offer excellent hosting services to WordPress users. To make it clear to you, it's a WordPress specific hosting service that goes on to host only WordPress based websites.
Managed WordPress Hosting caters to almost all the technical tasks of your WordPress websites to give you optimized hosting services. For example, it takes care of the CMS updates, website performance, and security. Plus, you get dedicated customer support, as well. They offer ease of use and save time. However, Managed Hosting Services tend to be costlier than Shared Hosting Plans.
This guide is meant to ease your effort in choosing the Best Web Hosting for WordPress website. As we have discussed above, it's of utmost importance for you to choose the best WordPress Hosting Company.
Here, we have shared insights that will help you to choose the best hosting company for your business.
These are top WordPress hosting companies in the industry in terms of quality and service. We hope that this guide proves a quality resource for you and helps you in choosing the best WP hosting for your website.
10 Top Web Hosting for WordPress
Now, let us begin and explore the best WordPress hosting. Here's the listing for you:
1. Bluehost WordPress Hosting
Bluehost was started in 1996 and is regarded as one of the oldest web hosts in the website hosting industry. Now, Bluehost has risen and become the largest brand name in the realm of WP hosting. In fact, Bluehost is recognized as the "official" WordPress hosting provider.
With Bluehost, you don't need to worry about your website being slow even when you face a lot of traffic. They offer 24/7 expert support whenever you need it through phone, email, or live chat. They have bagged the top spot in web hosting for small businesses. Moreover, their hosting packages have been pre-installed with WordPress by default.
Some of the key highlights with Bluehost WordPress Hosting include:
Average Uptime: >99.98%
Average Speed: 375ms
Support: 24/7 live chat with fast response
Perks: Beginner friendly, reliable performance, SSL included
Bluehost has come up with cheap introductory prices ($2.75/mo+) for WordPress users. It's simple to use and doesn't turn out performance issues. In fact, Bluehost has one of the best cost/value ratios. They offer free SSL, WordPress staging environment, and have easy WordPress install features.
That's not all, as Bluehost has a large WordPress knowledgebase (over 80 tutorials on WordPress) and a 24/7 live chat making them a good option. Their pricing starts at $2.75/mo for 36 months. Their renewal price is $7.95/mo.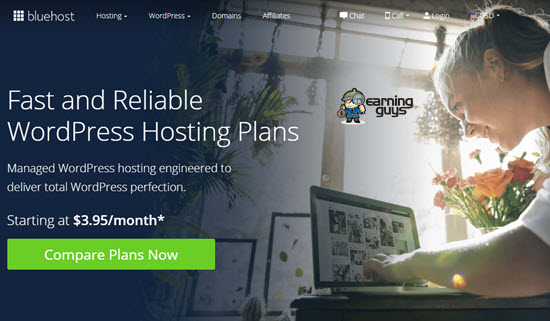 2. GoDaddy WordPress Hosting
GoDaddy offers one of the most simple and blazing fast WordPress hosting plans. Its plans have been optimized for speed with effortless updates and offer total reliability. It has developed and floated hosting options that have been specifically designed for WordPress.
GoDaddy has hosting plans for everybody. In fact, GoDaddy offers as much as four hosting plans such as:
Basic: Its basic plan starts from $1.5/mo (renewal at $6.5/mo). It's a great way to get started.
Deluxe: The deluxe plan starts at $3.5/mo (renewal at $8.5/mo). It's the best option when you get thousands of visitors daily with an integrated SEO wizard.
Ultimate: The Ultimate plan starts at $6.5/mo (renewal at $14/mo). It offers more storage and more security and proves suitable when you have multiple websites to host.
Pro 5+: The Pro plan starts at $13/mo (same price for term renewal). It has been packed with Pro features and proves suitable when you have 5+ sites.
Here, we list out some of the main Web Hosting Benefits that are available with all its plans:
99.9% uptime promise
Security Updates
Automatic WordPress Core Software
Drag and Drop Page Editor
One-click migration tool
CDN Boost
Free 24/7 Support
Thousand of free themes and plugins
SFTP Access
GoDaddy delivers some of the best WordPress hosting features:
Managed & Automated Tasks: Your hosting plan is set up for WordPress installed and ready. They ensure that you're always on the newest version of WordPress and apply all the security updates. They also back up your site nightly.
Optimized for speed and performance: The platform has been specifically built for WordPress and includes high-performance features such as load-balanced servers. Its clustered server environment makes your site ready for traffic spikes.
Malware scan and removal: It offers website security features detecting and removing malware before it can damage your website.
Daily Backups: They go on to back up your site every night – files, databases, and everything. When you need to restore a file, you can do it with just one click.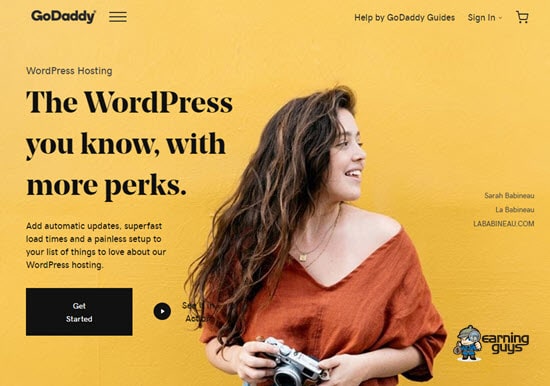 3. Kinsta WP Hosting
Kinsta is largely a boutique hosting provider for WordPress. It is mainly known for optimized managed hosting setups. Being labeled as "boutique," it doesn't mean that they can't handle the load.
In fact, Kinsta comes with the power of the Google Cloud Platform behind it. They make use of Google's infrastructure and make it easy and accessible to use.
Since Kinsta is "managed," it means that it can handle every server-management-related tasks for you. Moreover, Kinsta doesn't come up with the traditional cPanel UI. Instead, it offers users a custom panel that puts focus on every important element and hides everything else.
Kinsta's basic plan, named "Starter," has been priced at $30/mo. It offers bandwidth of 20,000 visits/mo and storage space of 10 GB SSD for one website.
Here, we list out some of the core elements related to Kinsta WordPress Hosting:
WordPress Installation: Kinsta can install WordPress for you
Customer Support: You get 24/7 chat and ticket support. Plus, there's no need to deal with cPanel.
Uptime and Response Times: Kinsta offers great uptime that is close to 99.99%. There are hardly any problems with it. Its response time is also impressive delivering an average of 180ms over three months.
Loading Times: Sits at around the 1-second mark.
So, Kinsta takes care of all your hosting needs regarding your website. They run their services on cutting-edge technology and take support seriously. With Kinsta, you are free to focus on your growing business needs.
It is always running, monitored, and scaling on demand, it has been packed with advanced features, yet it is beginner-friendly. It is quick and simple to install. Kinsta delivers support through pro-active WordPress experts.
Some of its core features include:
Fully managed
Free migrations
Ultimate Speed
Daily backups
Google Cloud Platform
Secure like Fort Knox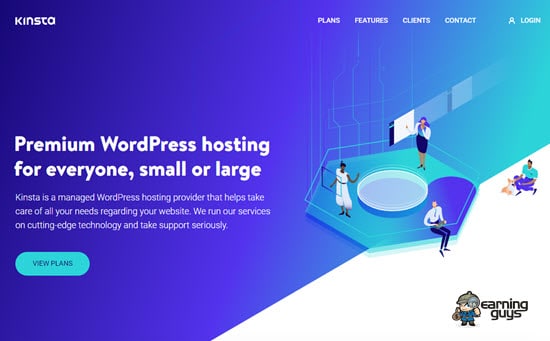 4. HostGator WordPress Hosting
HostGator is a well-known WordPress hosting provider that provides premium hosting that is perfect for bloggers and developers. It is one of the world's best web hosting companies with over 8,000,000 hosted domains. They are known for providing top-notch web hosting solutions in business, personal, or even Fortune 500 hosting.
You can lookout for the following web hosting features with HostGator:
Unmetered disk space and bandwidth
Flexible, easy to use Control Panel
Unlimited Email Accounts, FTP Accounts, and Sub Domains
99.9% Uptime Guarantee
Each HostGator Web Hosting Plan delivers freebies like:
HostGator Website Builder
Free Website Transfer, Domain Transfer, MySQL Transfer, Script Transfer
52 free scripts that you can easily install on your account in just a few clicks
$100 Google AdWords offer
Moreover, you get award-winning support with HostGator hosting solutions through phone, live chat, and ticket system. It offers 24/7/365 server monitoring. It even comes with automatic weekly off-site data backups. Its hosting plans offer many WP hosting options for your website or blog. Let's have a look at them:
Hatchling Plan: Single Domain/One-Click Installs/Unmetered Bandwidth/Email Marketing (new)/Priced at $3.95/mo
Baby Plan: Unlimited Domain/One-Click Installs/Unmetered Bandwidth/Email Marketing Included (new)/ Priced at $5.95/mo
Business Plan: Unlimited Domain/One-Click Installs/ Unmetered Bandwidth/Free Private SSL & IP/Free Dedicated IP/Email Marketing Included (new)/Priced at $5.95/mo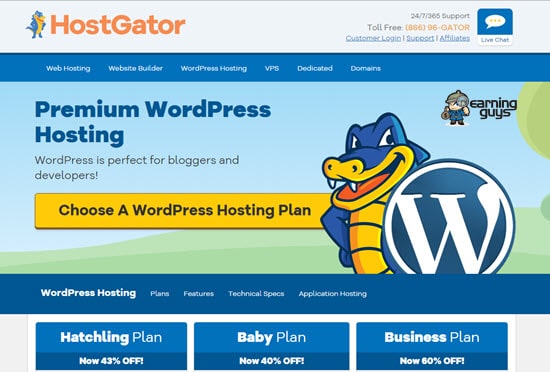 5. SiteGround WordPress Hosting
SiteGround is known for its world-class managed WordPress hosting. It's powerful yet simple to use and even recommended by WordPress.org. It's web hosting solutions have been catered towards all types of sites, thereby making your WordPress site management easier.
With SiteGround, you get automated WordPress installation. So, you can create a real and functional site in minutes. It delivers free WordPress transfer in just a few clicks with the free SiteGround Migrator plugin. Moreover, there's even Professional transfer service that comes free with its GrowBig and GoGeek plans.
SiteGround does manage the security of your sites at its server and application level. They automatically update your instances and their plugins to the latest version.
It delivers unmatched WordPress performance that goes on to speed up your sites dramatically as well as optimize resource usage.
It comes with free CDN, powerful caching, front-end and image optimizations, PHP version control, and more. There's even more to SiteGround WordPress hosting as it offers top-notch hosting support. They offer highest-rated support squads online that are fast, multi-skilled, and helpful. You get top-notch support that is available 24/7 by phone, chat, and ticket.
SiteGround offers some of the best tools for WordPress Webmasters. So, it makes it thoroughly easy for you to build and maintain a WordPress site with its thoughtfully designed tools. All its hosting plans come with "Let's Encrypt Standard and Wildcard" SSL Certificates.
SiteGround backs up your account daily while keeping as much as 30 copies. You can even create instant on-demand backups with just the click of a button. It includes the webmail interface that allows you to create unlimited email accounts.
It even allows you to make a copy of your site. You can push the changes live with its staging tool. Some of its advanced tools include – PHP version control, WP-CLI, SSH access, Git integration, and more. So, there's much to look up to with SiteGround WordPress Hosting.
Talking about its WordPress hosting plans, you get the following choices:
Startup Plan: It's great when you're looking to start a WordPress website. The package is available at $3.95/mo (special price) for 1 website/10 GB Web Space/ 10,000 monthly visits.
GrowBig: The plan is suitable for growing WordPress sites. Its price starts at $5.95/mo (special price) for unlimited websites/20 GB Web Space/ 25000 monthly visits.
GoGeek: It has been crafted for real WordPress geeks. This plan starts at $11.95/mo for unlimited websites/30 GB web space/100,000 visits monthly.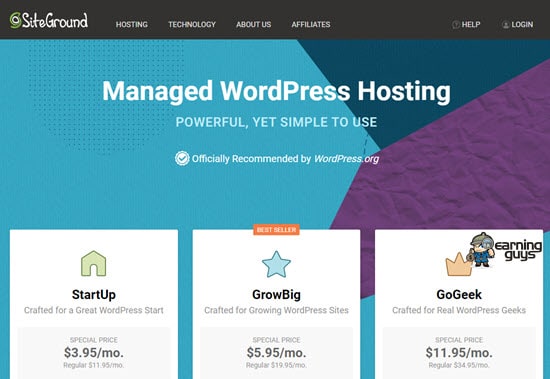 WP Engine is known for delivering the best WordPress hosting experience that has been built on a proven and reliable architecture, thereby offering unparalleled speed, scalability, as well as security for your sites.
It's a platform that has been designed around four pillars of agility, performance, intelligence, and integrations so that you can get simple site setups, effortless maintenance, stressless launches, and easy workflows.
Let's get to know what WP Engine has on offer for you:
Creative Agility: It empowers developers with its Genesis theme framework, Git and SFTP connections, dev/stage/prod environments on every site, automated backups, as well as WordPress core updates
Enterprise Performance: WP Engine comes with an advanced security solution that has been powered by Cloudflare, distributed global CDN, multi-datacenter clustered environments that deliver speed, scalability, and durability.
Actionable Intelligence: WP Engine allows you to further optimize your sites with its application performance monitoring (New Relic), Google Analytics Integration, and a page speed performance tool.
Ecosystem Integration: WP Engine delivers exclusive and integrated WordPress solutions with world-class tech partners such as Cloudflare, Google, Amazon, BigCommerce, and New Relic.
All these features make WP Engine suitable for small business to global enterprise. It has become the leading WordPress digital experience platform. They have the right plan that fits your needs, whether you need a custom enterprise solution or requires managed WordPress hosting.
Startup: $35/mo
Growth: $115/mo
Scale: $290/mo
Custom: for large businesses & mission-critical sites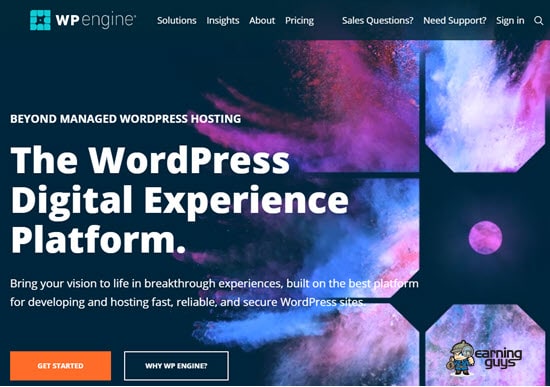 Flywheel has come up with some great offers for all those who want to have managed WordPress hosting without shelling too much on it. Feature-wise, nothing is missing in the Flywheel $25/mo plan (Package Name: Tiny).
Plus, you can expect great performance as well. It allows you to host one WordPress website, and it can handle 25000 visitors monthly. It offers 5GB of disk space and free site migration. Its servers run on Google Cloud Platform.
Talking about the "managed" features specifically, Flywheel gives you daily backups, multisite support, staging (allows you to test new things before you roll out to the public), SFTP, and free SSL Certificate. It also takes care of WordPress updates through the main Flywheel panel. So, you don't need to do things from the wp-admin.
The most impressive thing with this Flywheel platform is its ease of use as well as user panel. All the things are clear, easy to navigate, and it allows you to perform the basic tweaks and configure the essential elements.
Now, let's have some of the essential highlights of Flywheel web hosting:
WordPress Installation: Flywheel allows you to migrate your existing site from your previous host for free. You can create a new site from the Flywheel dashboard. It also offers a tool (Local by Flywheel) with which you can build a site locally and later export it to your live Flywheel setup.
Customer Support: Flywheel offers live chat opportunities 24/7. You can also submit support tickets. It has got extensive knowledgebase with plenty of helpful articles.
Uptime and Response Times: Flywheel offers perfect uptime, which is as high as 99.74%. Response Time is in the range of 900ms that makes your visitors have a good experience browsing your site.
Loading Times: Flywheel has multiple server locations such as New York, San Francisco, Toronto, Frankfurt, London, Singapore, and Amsterdam. You need to choose one which is near your target audience. The load times have been great with a 1-second mark.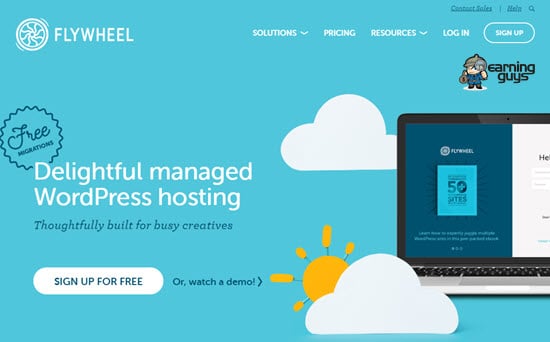 8. Cloudways Hosting for WordPress
Cloudways is known for its managed WordPress hosting solutions. It completes your WordPress experience and allows you to deploy, build, and scale an optimized site.
Cloudways delivers great performance and has earned the Top Tier WordPress Hosting Performance Award.
With Cloudways, you get secure, and performance-focused managed hosting so that you can easily focus on things that matter.
Cloudways focuses on five core areas of hosting:
1. Performance
It offers SSD-Based managed WordPress Hosting. So, you get full control of your hosting for WordPress. All the servers have dedicated resources that come with its SSD-Based managed WordPress hosting.
Its optimized stack is loaded with built-in caches like Memcached, Varnish, and Redis that give expedited responses.
It has advanced WordPress web hosting stack that offers latest PHP versions, Apache and Nginx as web servers, MySQL and MariaDB as databases
You get the benefits of hosting on PHP 7.x that is optimized WordPress hosting stack
Cloudways CDN improves server response times and delivers superior performance
2. Security
Dedicated Firewall
1-Click SSL Installation
Auto-Healing Servers
IP Whitelisting
Automated Backups
Two-Factor Authentication
3. 24/7 Expert Support
Active Community
Knowledge Base
24/7 Ticketing
Managed WordPress Migrations
Troubleshooting
Moreover, plenty of other features, as well.
Cloudways Enterprise WordPress Solution has been built to take care of mission-critical workloads. Its managed WP hosting solutions have been designed to serve the needs of individuals, eCommerce platforms, agencies, and SMBs. You can deploy unlimited apps and enjoy managed web hosting for WordPress.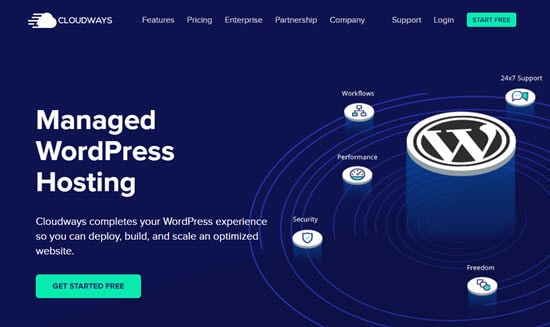 9. KnownHost WordPress Managed Hosting
KnownHost is known for its optimized and secure Fully Managed WordPress Hosting. Its fully managed hosting packages allow you to get your site up and running in no time whatsoever and without facing any technical hassles of traditional shared hosting accounts.
So, it turns out as one of the Best Web Hosting for WordPress that money can buy. Its WordPress hosting servers allow you to run your site blazing fast. It keeps your site updated, the server updated, and even PHP versions.
Let's have a look at its managed hosting plans:
Managed Entry Level WordPress Hosting Package: You can host a personal blog or get started with an enthusiastic website. Pricing starts at $5.97. The plan offers 50GB SSD Storage/Unlimited Email Accounts/1 WordPress Website/Unlimited Premium Bandwidth/Up to 100k visits per month
Managed Business Level WordPress Hosting Package: It offers more storage and can handle more visits. It proves to be a great business WP hosting selection. Pricing starts at $9.97. It offers 100 GB SSD Storage/Unlimited Email Accounts/1 WordPress Website/Unlimited Premium Bandwidth/Up to 200k visits per month
Moreover, it can customize the WordPress configuration to fit your scenario perfectly. It also offers – Reseller Hosting, Managed VPS, Cloud VPS, and Dedicated Hosting. All these hosting options have been backed with expert support that works 24/7/365.
10. DreamHost WordPress Hosting
DreamHost is a very popular hosting service in the market. It offers reliable and lightning-fast hosting solutions optimized for WordPress. Millions of websites trust DreamHost WordPress Hosting. WordPress.org also recommended DreamHost.
Here, we provide you its web hosting plans overview:
Shared Hosting @ $2.59/mo
Managed WP Hosting @ $16.95/mo
VPS Hosting @ $27.50/mo
DreamHost WordPress Hosting makes it easy for you to build and manage a website. It's suitable when you're starting a blog, running a small business, or getting into the eCommerce game.
Moreover, its plans come with gorgeous themes and powerful plugins that allow you to customize your site.
DreamHost ensures that your site is safe with frequent auto-updates. So, you can be sure that your site is in good hands. With DreamHost Hosting Plans, you can find success at every step of your online journey.
DreamHost offers powerful features with its WP hosting plans such as:
Instant WordPress Setup
Auto WordPress Updates
24/7 Award Winning Support
Free Domain
Free SSL Certificate
Advanced and easy-to-use Panel
Free Email Hosting
Free Privacy Protection
Automated Backups
With automatic WordPress updates, easy one-click installs, right configurations, your site is optimized to run at peak performance. DreamHost offers 100% Uptime Guarantee with multiple datacenter locations, redundant cooling, constant monitoring, and emergency generators.
On the whole, DreamHost Hosting is optimized for performance and preconfigured for easy maintenance.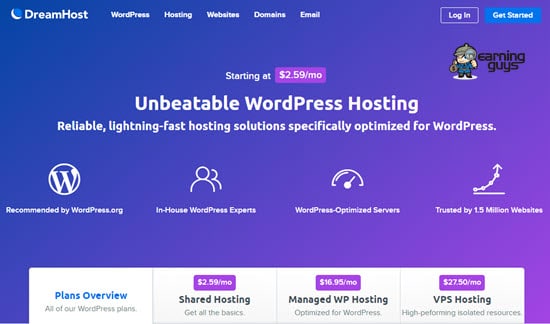 Some Important WordPress Hosting FAQs
Do I need to have WordPress Hosting to begin a website?
When you want to come up with a WordPress website, then you need to have web hosting. Your hosting server is the place where your website files get stored. Every website that comes up online uses a web hosting provider.
Should I go with Free WordPress Hosting Provider?
Although there are many free website hosting companies out there, however, we advise you to stay away from them. In most of the cases, these free WordPress Hosting Providers go on to show advertisements on your site.
Moreover, they may even distribute malware to your users. Lastly, they can even shut down your website at any time without sharing any notification with you. So, if you're serious about your site, then don't go with free WP Hosting.
What is the cost of building a WordPress website?
The cost of building a WordPress website can vary based on your needs. It can come as low as $100 and can be as high as $30,000.
Do I need to get my domain, as well as WordPress, Hosting from the same provider?
It is not necessary to purchase your domain and WordPress hosting from the same provider. You can purchase your domain from one of the registrars (such as Domain.com or GoDaddy) and use any of the hosting providers that have been listed hereunder. However, in case you don't possess a domain already, then you can use the same provider to get a free domain with hosting.
How can I secure my WordPress Hosting Account?
The web hosting account is the place that stores your website files. So, you need to secure it. The most formidable way for securing your hosting account is to use a strong password. Plus, you should not log in from public locations. We also recommend that you should follow the WordPress Security Guide for protecting your site.
Can I use the WordPress Hosting Providers that have been listed in this post for an eCommerce site?
Yes, you can use these WordPress hosting providers for building an eCommerce site. These hosting companies offer SSL Certificate, which is required for running an eCommerce site.
How can I install WordPress to my WordPress account?
The WP hosting providers that are listed above offer 1-click WordPress install.
Is cPanel WordPress hosting required?
CPanel comes as a control panel that is used by a lot of WordPress hosting companies. So, it is not mandatory to use cPanel. However, it can make things easier for installation, managing email accounts, and more.
How much traffic can be handled by these WordPress companies?
These web hosting companies can handle billions of impressions per month. However, it all depends upon the hosting plan that you opt with these hosting companies.
For instance, shared hosting plans can handle up to 20000+ visitors per day when your website is optimized for performance. When your website traffic grows, you can upgrade to VPS, Dedicated, or even managed WordPress hosting plans.
Will I be able to switch my WordPress hosting provider?
Yes, you can switch your WordPress hosting provider if you're not satisfied with your current hosting company. Nowadays, most of the WordPress hosting companies come with free migration services making the process fairly smooth.
What is the importance of WordPress hosting data center location?
Some of the WordPress hosting companies listed above give you the option of choosing your data center. The location of your data center does have an impact on your website performance for a specified geographic location. For example, if the majority of your audience comes from the United States, then you should go to a data center in the U.S.
However, if a large portion of your audience comes from Europe, then you should opt for a data center in Europe. In case you're not sure, then you can go for data center location as U.S. Moreover, you can always use the WordPress CDN for speeding your site for various geographic locations.
Should I go with monthly or long-term hosting plans?
Almost all the hosting companies offer a huge discount on long-term hosting plans. On the other side, monthly WordPress hosting plans cost twice as much. So, we recommend that you should not go with monthly hosting plans.
Do I get a professional branded email address with these WordPress hosting companies?
Yes, nowadays, most of the WordPress hosting companies offer a free business email address. However, you can also use Google Apps as it is more reliable.
Can I do website backups with these WordPress hosting companies?
Yes. Every WordPress hosting company does keep daily backups of your website. However, you can even install a WordPress backup plugin to do your backups.
Are there any other WordPress hosting providers that are not listed above?
Yes. There are plenty of hosting companies out there. So, we can't list them all as it will only cause confusion and choice paralysis for non-techy readers. Here, we have listed the best ones to make your task easy to choose the best WordPress hosting provider.
Now, we have come to the end of this post. We hope that the listing of 10 Best WordPress Hosting proves immensely useful to you. We have included the top ones in WordPress hosting so that you have plenty of choices in your hand, thereby making it super easy for you to choose the best one according to your requirements.