You can come to know whether your website is up or down by using website monitoring tools. These tools notify you when your website goes down so that you can quickly address the issue and get it running again. Here, we have listed the 10 Best Paid & Free Website Monitoring Tools.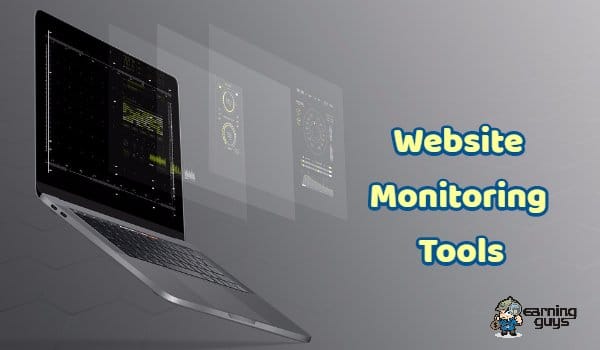 The webmasters should take downtime very seriously. Downtime adversely affects your company or brand in more than one way. It results in loss of sales, deteriorates customer loyalty, and creates a bad impression for new customers affecting your overall reputation.
So, you need to ensure that your website is up and running 24/7 without a hitch.
Let's give you an example to show you how costly website downtime could be. In March 2016, Amazon.com went down for about twenty minutes. This outage cost Amazon about $3.75 million.
So, if a customer is looking to purchase from your website and your website is down, then they will never return. It means that downtime is bad for your business.
Herein lays the utility of website monitoring tools that check and report your website uptime. Here we have listed both paid as well as free website monitoring tools making it easy for you to select the best one that suits your requirements.
You may also like: Best WordPress Hosting Providers
10 Best Website Uptime Monitoring Service
Let's get started. Here's the list of 10 Best Website Monitoring Tools for you:
1. Pingdom Website Performance Monitoring
Pingdom is a comprehensive website monitoring tool that monitors everything from speed to user experience. It is known for its advanced monitoring features. Pingdom was founded in 2007 and is based in Sweden. It has grown fast and offers services to many large brands such as Amazon and Major League Baseball.
Pingdom offers detailed reports that allow developers and managers to make informed decisions and improve their websites. It checks the availability of your website, applications, and servers. It also provides detailed information so that you can quickly fix any of the issues that plague your website.
Moreover, Pingdom solutions have been tailored towards different industries, such as eCommerce, Web Development, and Entertainment. It can track eCommerce transactions as well as measure their end to end performance. So, you get all the data that allows you to know how your visitors experience your website.
Pingdom comes with four different packages that range from $14.95/mo (Starter Plan) to $199/mo (Professional Plan). The basic difference between these plans is the number of websites that you can monitor.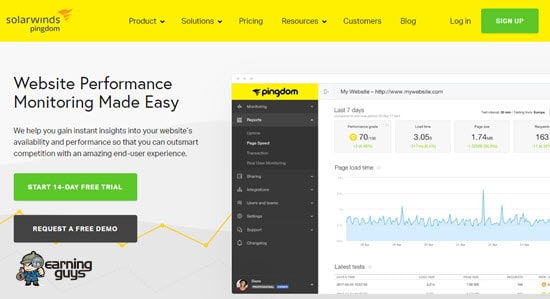 2. StatusCake Website Monitoring
StatusCake is a fast, accurate, and reliable global website monitoring tool that is being used by thousands of customers worldwide. Some of their top clients are the likes of Netflix, Go Daddy, DuckDuckGo, Google, and NASA.
They offer no false positives and function more than just being an uptime monitoring tool. StatusCake has many integrations for notifications with the likes of Zapier, PagerDuty, Slack, and more.
StatusCake has more than 60 different monitoring locations around the globe. All its plans offer unlimited monitors and unlimited alerts.
Plus, its premium plans come loaded with advanced features such as SSL monitoring, virus checking, page speed monitoring, domain expiration monitoring, browsing testing, and more.
StatusCake comes with free as well as paid service for checking your website's uptime.
In Free Plan, you get a 5-minute interval check for unlimited websites. That's not all. You also get detailed monthly reports at the end of each month. However, alerts are not sent during outrages.
For Paid Plans, StatusCake offers as much as three options, such as Basic, Superior, and Business. Some of the key features you get in its Paid Plans include services such as SMS alerts, real browser testing, 30 seconds monitoring interval, content matching checks, as well as several other valuable add-on features.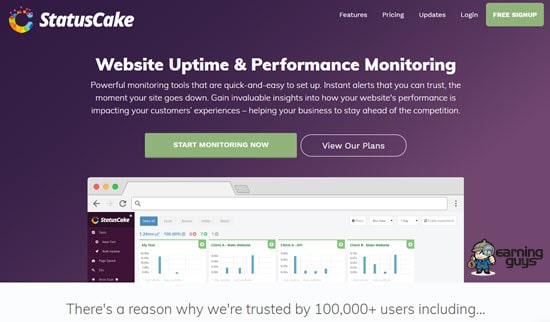 Uptime Robot is another popular website monitoring tools out there. It is a great service for monitoring the uptime of your sites.
With UptimeRobot, you can have your sites checked in every 5 minutes for uptime. Alert methods include Email, SMS, RSS, Twitter, etc. A thorough check is performed, and if still issues persist, they are notified immediately.
Expedia, Nginx, Fandango, as well as many other big names, use Uptime Robot. They are into website monitoring service since 2010, and they are known for providing great uptime monitoring service.
Uptime Robot has 12 different monitoring locations based in Germany, Australia, Brazil, Canada, United States, Singapore, Ireland, the United Kingdom, Japan, and the Netherlands. They monitor your website every five minutes and offer information when your website is down with the response they get from your website's headers.
Uptime Robot offers a free plan in which you get 50 monitors on five-minute intervals and two months of logs. They have also come up with paid plans that start at $5.50/mo and provide advanced notifications, SMS credits, and one-minute monitoring intervals.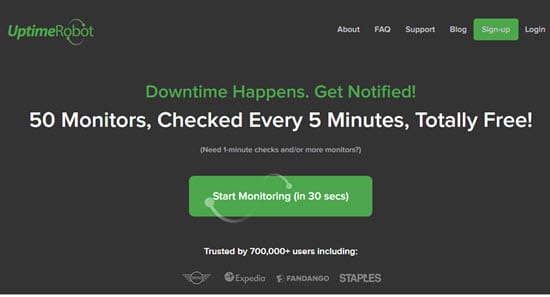 Site 24×7.com offers one of the most powerful tools for website monitoring concerning uptime. Its free basic service offers one website monitoring every hour.
Its method of alerts includes Email in case any disaster strikes. It also offers several other webmaster checking tools for website uptime check, web page load time analysis, and various DNS/IP search tools.
Site24x7 was founded in 2006 and is based in the U.S. The company comes with comprehensive website monitoring solutions that are geared towards companies and IT professionals. Site24x7 can monitor your websites, APIs, Servers, and much more.
Site24x7 delivers comprehensive performance monitoring from as much as 90 global locations. It checks internet services, internal network performance, web page components, and lots more.
Site24x7 also offers real-time tracking to let you know about the user's experience on your site. It offers detailed reports so that you can analyze your visitor's behavior and spot any issues that hog your website.
Its "Public Status Pages" feature enables you to notify your customers of any downtime. Business transparency is appreciated by customers, and this feature will help your business.
They have three basic monthly plans with Starter at $10 per month, Pro at $39/mo, and Classic at $89. They also offer an Enterprise plan that comes at $225/mo.
5. Uptrends Website Monitoring
Uptrends was founded in 2007 and offered free website monitoring services. It has a variety of monitoring services up to its sleeve such as standard website monitoring as well as real user monitoring. Uptrends have an impressive client list that includes Microsoft, Zendesk, Virgin, and HP.
There are several free tools on its website, and the paid plans come with many advanced features. For example, it allows you to monitor your website from locations all over the world.
In its free version, you get an email alert whenever there's a problem. Moreover, it checks your site from two different checkpoints to prevent false alarms. It also provides detailed reports which you can export to PDF or Excel format.
Uptrends come with "real browser monitoring" recreating your users' experience by hitting your website with the three major browsers. It also has the "Full Page Check" feature that hits every page and element on your site. It's a truly global performance monitoring service with 200 worldwide checkpoints.
Uptrends come with three Basic and two Advanced plans starting from $14.59/mo and maxing out at $63.21.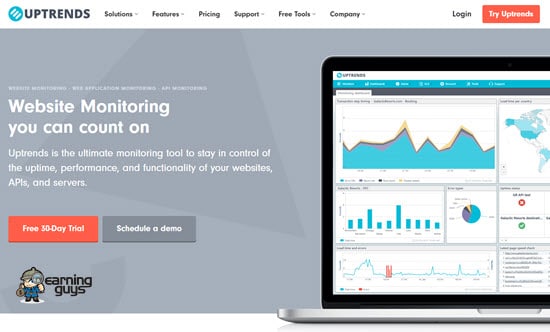 Monitis is a user-friendly website monitoring service based in Florida. Its website monitoring services aimed at business executives, IT specialists, as well as service providers. It has a long list of clients that includes the likes of Visa, Harvard University and Puma. So, you can trust Monitis with all your website monitoring needs.
It monitors multiple protocols and ensures the smooth performance of your websites, servers, networks as well as emails. Monitis can perform load monitoring and website stress tests to anticipate outages. It also carries out "synthetic transaction monitoring" and ascertains the individual user's journey through your website. The performance logs get stored for two years, which is one of the best in monitoring tools sector.
Its minimum plan costs $9.80/mo. Monitis provides excellent chat and phone support in English as well as German.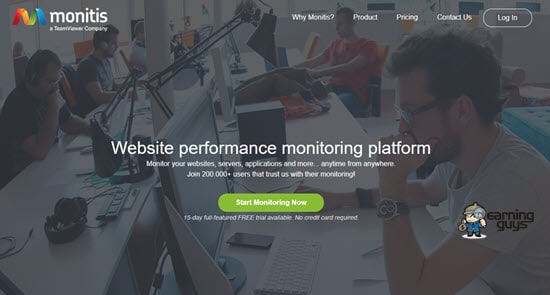 7. Uptime Website Performance Monitoring
Uptime is another very popular website monitoring tool. It focuses on reliability as well as easy setup. It has a long list of clients, including the likes of Cisco, IBM, Kraft, and AARP. Besides website monitoring, Uptime also comes with additional features like page speed analysis, transaction monitoring, real user monitoring, and malware scanning.
The website availability monitors at one-minute intervals across six continents. They notify you through SMS, phone calls, email, and custom integrations when your website goes down. They support various protocols such as HTTP, HTTPS, TCP, DNS, POP, SSH, SMTP, and Ping. However, they don't come with a free plan. Its pricing starts at $8/mo with 20 checks, four months history, US test locations, and more.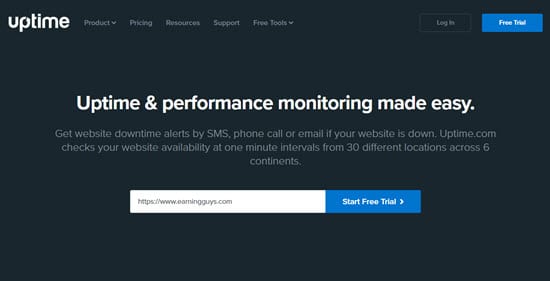 The Service Uptime is a popular and free website monitoring tool. It alerts you instantly (within seconds) via email or SMS in the event when your website becomes inaccessible or returns incorrect data. You need to register for free website monitoring account for detecting website downtime.
Service Uptime offers monitoring frequency at every 1,2,3,5,10,15,30, and 60 minutes. You can set the frequency of checks at your user's control panel when you set up the monitoring service. In case of service outage, you get notified through email and SMS. All services/ports are available with Premium and Free monitoring accounts such as Web Page, POP3 Servers, PING, Web Servers, DNS Servers, MySQL Servers, IMAP Servers, Custom Servers, and more.
Service Uptime offers many advantages for website monitoring, such as:
24×7 website monitoring
Immediate notification of problems
Instant set up
Immediate results
Real-time reports
No software to install
No technical expertise needed
Its website monitoring packages start at $4.95/mo (Standard) and max out at $52.95/mo (Professional).
All in all, Service Uptime proves a great service to determine if your site is down.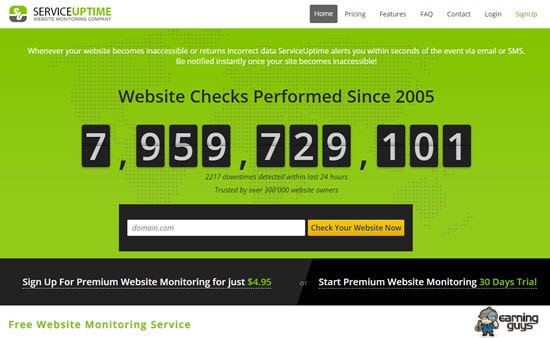 Updown is an affordable online service to check the status of your website. It was created by Adrien Jarthon, a software engineer who was feeling frustrated for not able to get a simple, cheap, and reliable service. It checks the status of your website by periodically sending an "HTTP HEAD" request to the URL that you choose for monitoring.
Updown offers four monitoring nodes, such as:
San Francisco (USA): 159.203.238.12
Montreal (Canada): 198.27.83.55
Gravelines (France): 51.255.166.16
Singapore: 188.166.181.197
Updown is known for offering fast checks down to 30 seconds. Other features include OAuth access, Slack integration, double-checks, and SSL testing. Its pricing is very affordable and starts at $6/mo, which enables you to check ten websites every minute.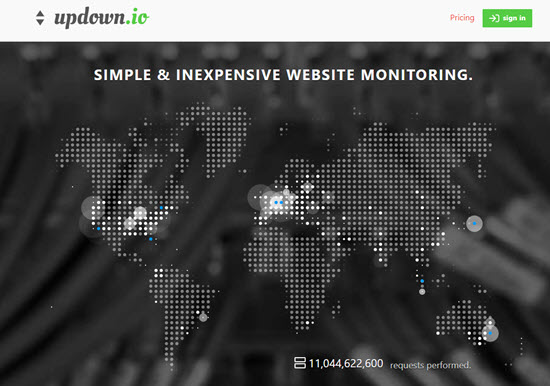 Host Tracker is another reputable website monitoring service provider. It has been around since 2007. It has a long list of clients, including giants like Colgate, Panasonic, and Microsoft. So, you can be sure that you're in good company.
With Host Tracker, you can perform several tests such as uptime, health & security, and page speed from over 140 locations around the world. Further up, you can even check whether your website has been listed on any known blacklists.
Host Tracker offers performance monitoring in various areas such as DNS lookup time, "first-byte" time, download time, and connect time. So, it allows you to identify and spot specific bottlenecks.
Host Tracker has powerful uptime monitoring capability. It allows you to check website and server availability together with applications that are connected to your website and also database connections.
With Host Tracker, you get the choices of highly customizable alerts through email, Skype, SMS, Voice Message, Google Hangouts, and Viber. It allows you to set conditions and assignments for alerts so that each of your team members gets only the appropriate ones.
Plus, Host Tracker can automatically pause your AdWords campaign when your website is unavailable and start it when it gets back again.
Host Tracker has four monthly plans that start at $14 per month. However, if you go for an annual plan, then you can get discounts from 24% to 37%.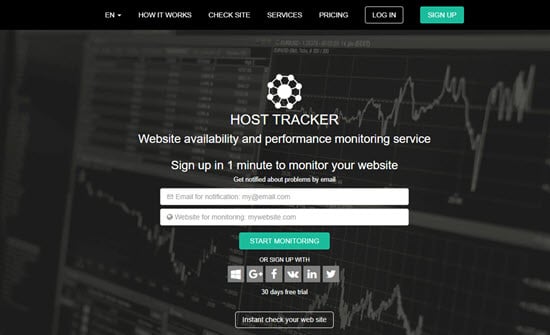 We hope that you liked this presentation on website monitoring tools. Do tell us which website monitoring service you use.