Every CPA affiliate marketer wants to know which traffic source and keywords are converting. For this, they need affiliate tracking software. Today we are going to list some of the Best CPA affiliate tracking software.
Why I am just talking about CPA affiliate marketer, not cost for sale marketing because CPA marketing needs quick action they want to know which offers, landing page, keywords, etc. are converting.
Most of the CPA networks allow affiliates to track conversions instantly. Affiliate networks allow conversion pixel or server to server tracking, but most of the cost for sale networks don't allow an easy and flexible way of conversion tracking.
To know from which traffic source you are getting traffic and which traffic source is converting, which keyword is converting, which landing page is converting for all these you need a tracking software.
CPA tracking software is different than affiliate tracking software. Don't be confused with affiliate tracking software and CPA tracking software. What affiliates network use software to track affiliate activity is also called affiliate tracking software. Affiliate marketers also use tracking software which they normally call affiliate tracking software which is different than what affiliate networks use.
CPA affiliate tracking software tracks and manages affiliate campaigns track traffic from different sources, managing landing pages, managing offers and tracking convergence for affiliate marketers.
Tracking software for affiliates provides reporting by which affiliates can know how much money they are making, which campaigns and traffic sources are working and many more reports which give full details how their affiliate campaigns are going on.
Today we are listing some of the Best CPA Affiliate Tracking Software which can help you to track your affiliate marketing performance and ease your work.
Most of the tools are paid, and some of them are on a subscription base. Go ahead and check out all these affiliate tracking software.
10 Top CPA Affiliate Tracking Software
If you are a big affiliate and have a lot of traffic then Thrive can be for you. Thrive comes as hosted and self-hosted affiliate tracking software. Thrive, tracks web and mobile campaigns. With Thrive, you can track any type of funnel.
Thrive is a powerful self-hosted tracking solution means all your tracking data is with you. For the more advanced affiliate with a lot of traffic they can use Thrive's managed cloud solution for this, you don't need your own hosting.
Thrive is optimized for faster redirects on mobile devices, you can view multi-variable drill-down report; you can view dayparting reports, and much more.
Thrive is subscription-based services means you have to pay the fixed monthly fee for using Thrive.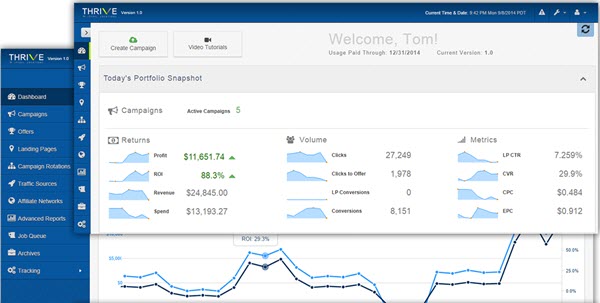 2. RedTrack.io CPA Affiliate Tracking Software
RedTrack.io is a highly effective platform for affiliate campaign tracking. In fact, it's easy to use affiliate campaign tracker. With RedTrack.io, you can easily handle complex performance tracking issues. It functions as an "all-in-one" solution for effective affiliate campaign tracking & analytics.
Using RedTrack.io, you can open doors for higher ROI with your affiliate campaigns.
RedTrack.io leverages machine learning technologies helping you to automate campaigns optimization.
It offers numerous powerful tools such as Affiliate Marketing Tracker. Plus, it supports most of the advanced modes of data deployment such as Cloud, SaaS, Web, etc.
RedTrack.io gives media buyers, agencies, and affiliates access to:
Advanced Analytics & Instant Reports
Smart links optimization
Fast click redirects
Custom dashboard
High-loaded Interface
Automatic offer Integration through CPAPI
Moreover, RedTrack.io functions as a friendly solution for starters.
It is loaded with all the core set of features for affiliates and performance marketers.
For example, it tracks the following attributes for each click: source, offer, network, geo, campaign, OS, device, connection type, IP address, browser type, and version, click date & time, and referrer.
Plus, there's much more with RedTrack.io!!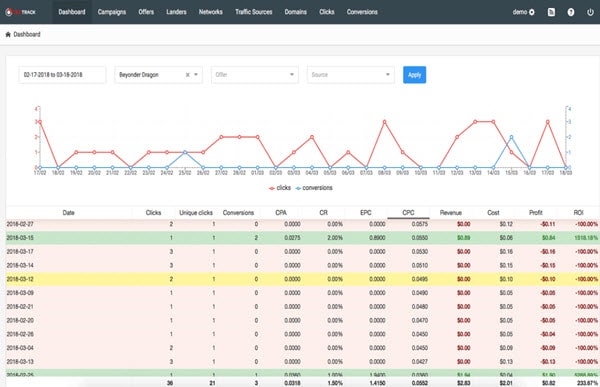 3. AdsBridge Affiliate Tracking Software
AdsBridge leverages groundbreaking tracking technology helping you launch winning ad campaigns. It offers one single platform for managing and optimizing all ad campaigns.
It's an easy to use affiliate tracker which offers you the opportunity to monetize your traffic effectively and allows you to track costs across all channels.
If you are looking to elevate the performance of your marketing campaigns, AdsBridge can be the best solution for you with its secure and flexible SaaS platform.
You can save enormous time and money on massive traffic amounts optimization. With AdsBridge, you can collect vast volumes of rich click-forward data. You can stay in control of your traffic and go on to scale your business.
You get multivariable performance reports in real-time. It shows all key performance indicators letting you determine the best digital outlet.
All in all, AdsBridge functions as the best affiliate campaign tracker allowing you to track, manage, analyze, and optimize your affiliate campaigns. It's one-up on pricing, features, and user-friendliness to function as a "must-have" tool for affiliate marketers.
Key Components of AdsBridge:
Creating Landing Pages
Tracking of Ad Campaigns
Split Testing
Automatic Campaigns Optimization
AdsBridge offers these tools to manage everything related to affiliate marketing.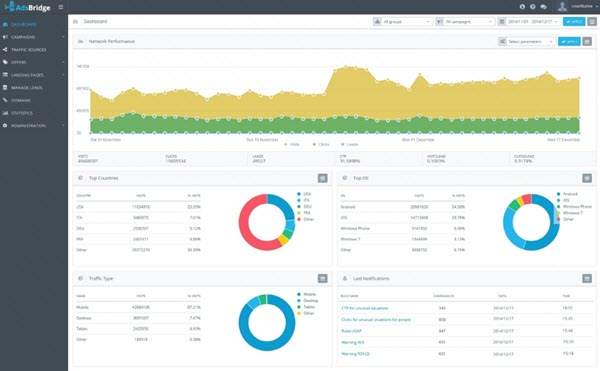 Simply put, Post Affiliate Pro is affiliate software that allows you to sell more. It's affiliate software for growing your affiliate marketing revenue.
It lets you track clicks and signups together with the option of reports and payouts.
Moreover, Post Affiliate Pro is aimed at non-tech professionals and is fairly easy to use. It's easy to set up and operate. It connects with virtually any website or payment gateway.
As of now, more than 30,000 businesses trust Post Affiliate Pro as their #1 choice for affiliate software.
Post Affiliate Pro offers rock-solid tracking, scalability and endless customization. Plus, it grows with your needs. It offers multiple unique tracking features.
It employs new standards of visitors tracking with state of the art tracking methods such as flash cookie tracking or direct link tracking.
Post Affiliate Pro supports all types of affiliate links. It allows you to track sales in multiple currencies. Further up, you can recompute them into one default currency.
You get multiple comprehensive reports with which you can effectively track the performance of your affiliate program. Some of the reports implemented in Post Affiliate Pro include Quick Report, Trends Report, Map Overlay Report, Top Affiliates Report, Top URLs Report, Online Users Report, etc.
And here is the biggest "plus" with Post Affiliate Pro. It is available at an affordable monthly fee. Post Affiliate Pro has much more to offer as an affiliate campaign tracker.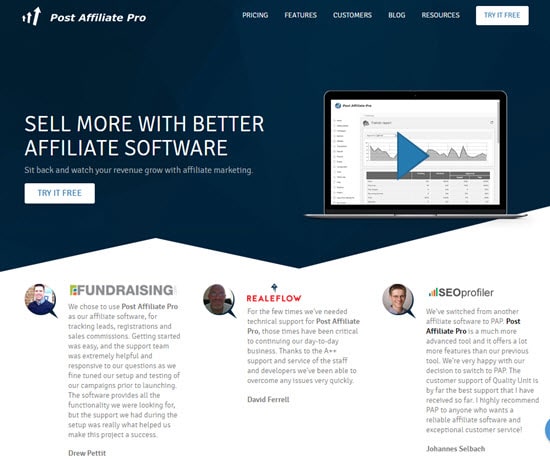 5. Voluum Best CPA Affiliate Tracking Software
If you are an advanced affiliate marketer, then Voluum is for you. Voluum is hosted solution means you don't need any hosting or software installation.
Voluum is all in one affiliate tracking solution it can track web and mobile, mobile app tracking and much more. With easy to use dashboard, excellent reporting, live conversion tracking makes Voluum a great solution.
With Voluum affiliate can easily split test landing pages and offers. Affiliate can manually update cost per click. Voluum comes at subscription option means you have to pay a fixed monthly fee for using Voluum.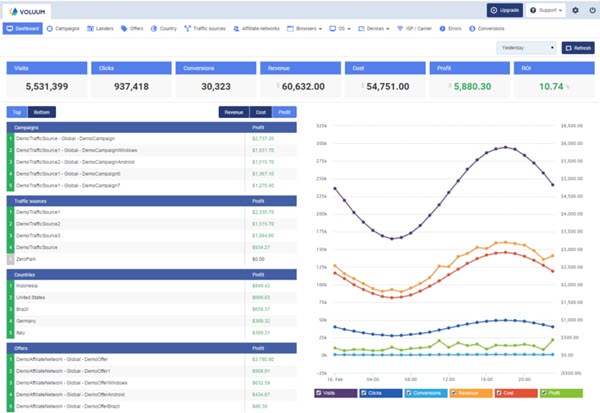 TrackingDesk is a powerful traffic & conversion tracking platform for affiliate marketers & media buyers.
It offers one simple dashboard for managing all your campaigns. It's a single platform for monitoring and comparing your campaigns.
With TrackingDesk, you have an opportunity to improve and scale up your campaigns.
Simply put, TrackingDesk is meant for offering ease and efficiency with affiliate campaign tracking.
It is a tracking platform that saves your time and effort.
With TrackingDesk, you get more out of your resources and can optimize your campaigns faster.
TrackingDesk will allow you to run your business with literally no technical resources. You can manage your clients and traffic sources with ease. It's a thoroughly professional platform for managing and tracking your affiliate campaigns.
With TrackingDesk, affiliates can better monitor their performances across all their affiliate programs. They come to know which offers to promote, in which countries, and from which traffic sources.
Media buyers can easily and quickly set up, run, and optimize campaigns. They can quickly scale up performing campaigns and stop under-performing traffic segments.
TrackingDesk offers lots of features as an affiliate campaign tracker. It offers insightful, actionable analytics. You can track multiple conversion funnels (CPL, CPA, CPS) and A/B test landing pages. You can run global or geo-targeted campaigns.
All in all, TrackingDesk functions as a complete affiliate tracker.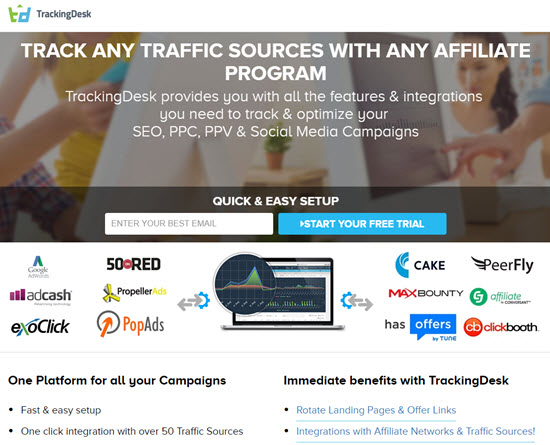 The SYC Tracker was released on June 2018 and replaced its forerunner CPV Lab.
SYC Tracker has many similarities with CPV Lab. Its interface is 90% identical with CPV Lab. It can track and optimize any traffic source. It helps affiliates and media buyers to test, track, and optimize their campaigns.
The SYC Tracker is self-hosted offering total data privacy and security. It allows you to track unlimited keywords, ads, pages, and offers. Plus, it is easy to set up and easy to use. It delivers control and flexibility from a direct link and landing pages.
It allows you to set up simple & complex campaigns. You can run unlimited offers and pages rotation. All this can be done with SYC Tracker without any coding skills.
It can be implemented for multiple business models including affiliate and performance marketing.
The SYC Tracker is best for tracking conversions and sales up to extremely detailed levels. You can test and optimize landing pages, keywords, ads, creatives, and offers.
There's much you can expect with SYC Tracker.
The SYC Tracker is a suitable replacement for CPV Lab.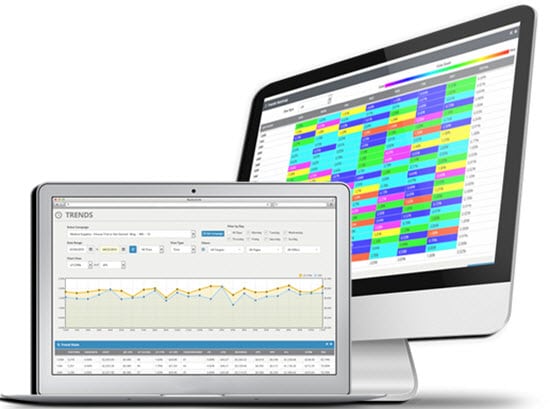 If you have just started in CPA marketing, then Prosper 202 is for you. Prosper 202 is a free affiliate tracking software which tracks CPA convergence. Prosper 202 is self-hosted tracking software which you can be installed on your web server.
The Prosper 202 let you add multiple traffic sources, multiple affiliate campaign, landing pages, etc. Prosper 202 helps you to track conversions, monitor which traffic source is converting and which keywords are performing well.
On Prosper 202 you can add any type of traffic source like pay per click, pay per view or CPM ads. It shows beautiful reports which can help you to get an easy view of your campaign performance.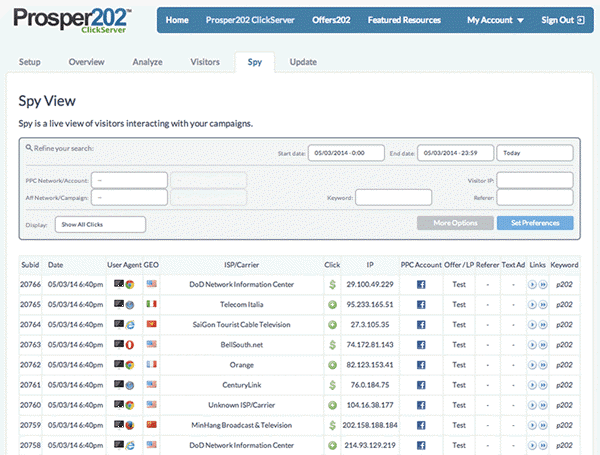 iMobiTrax is another self-hosted affiliate conversion tracking software with the monthly subscription fee. iMobiTrax is an excellent solution for heavy traffic affiliates. With iMobiTrax, your data is safe and secure with you as it is installed on your own server.
iMobiTrax features fast redirect speed, set up campaigns with Landing Page, Direct Link, Path Split Testing, you can set up multiple posts click redirection rules and much more. iMobiTrax cost about $179 per month, but it recovers its cost by fast speed, click fraud, great reporting and much more.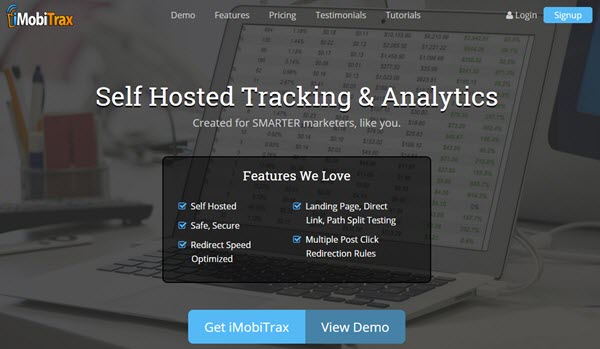 Binom is a self-hosted tracker designed for performance marketing professionals – CPA Affiliates. Binom excels in click processing and reports generation, thereby helping you to increase your earnings.
It's a tool that specifically caters the needs of the affiliate marketing industry. Binom tracks campaign well.
The Binom Tracker manages affiliate marketing paths like CPA Campaigns, clicks, costs, sales, revenue, report building, and more.
With Binom, you can track your CPA Campaigns and come to know from where the main source of revenue is coming. It can track your affiliate operations without any redirects. Plus, you get in-depth reports about conversions and clicks.
It's a fully-featured self-hosted tracking platform having capabilities such as multi-level filter system, superb click processing, advanced traffic distribution, rock-solid API. It's best at tracking your conversions. It makes affiliate marketing easier and more profitable for you.
Moreover, Binom is a low-cost tracking solution. It's a fantastic solution for all those who run high volume campaigns daily. It can handle millions of clicks per day. Its click processing time is 5 ms under any server load.
Binom Tracker is priced at $99/month with a monthly plan. However, it also offers a yearly plan of $69/month. An additional license is available for $49. It offers free support with any plan.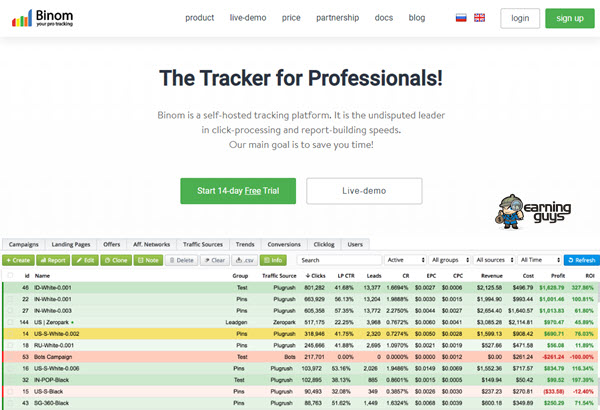 Hope you liked this list of CPA Affiliate Tracking Software. Please do share which affiliate tracking software you are using.