The dating vertical has proved to be immensely profitable one. It is one such niche which is running stable for so many years.
Nowadays, many affiliate marketers are going with the dating niche. However, to succeed in such a competitive space, you need every advantage working for you.
One of the obvious advantages that you can have is by working with a Premium Dating, Nutra, and H&B CPA Affiliate Network. Here, we try to make things easy for you by showcasing Cpamatica.
Cpamatica is an established affiliate network with a heavy focus on dating. As much as 60% of its offers are related to dating. Cpamatica provides an excellent earning opportunity to affiliates. The large affiliates are making as much as $1.8-10k in a day.
Affiliates are getting new landings, offers, and bumps with. Moreover, affiliates are making volumes with the mainstream as well as adult dating offers.
With Cpamatica, you can take your affiliate marketing blog or CPA business to new heights. Cpamatica provides best offers, dedicated account manager, and highest payouts making it easy for you to grow your CPA business or affiliate marketing blog.
Nowadays, everyone is switching to CPA affiliate marketing. The CPA industry is growing at a rapid pace, and more and more marketer prefer CPA affiliate marketing as blog monetization method over traditional banner ads display methods.
About Cpamatica
Cpamatica comes as one of the most renowned CPA networks for growing your affiliate marketing business. Here, we present you a detailed insight about Network for Dating niche & more.
Cpamatica comes as an exclusive CPA (cost per action) affiliate network with a wide variety of offers for dating niche. The global partner network has over 800 offers currently on their affiliate panel.
Launched in 2015, Cpamatica offers the best innovative marketing platform and enables affiliate marketers and companies to grow their business.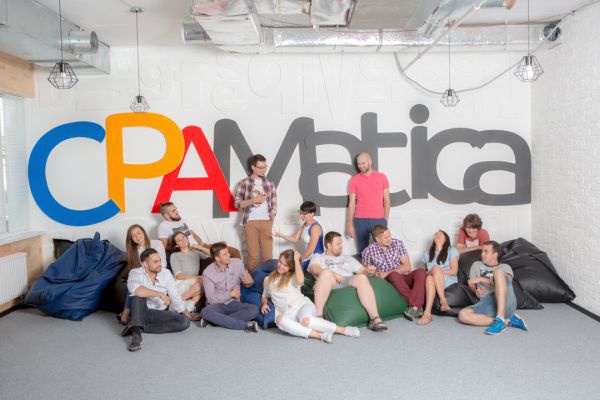 The affiliate partners can look forward to getting exclusive offers, highest payouts in the industry together with dedicated account manager for better support. Moreover, with Cpamatica you get a personal dedicated affiliate manager to help you get the best offers according to your niche.
Cpamatica is loaded with innovative features which make it one of the best dating CPA Affiliate Network. It provides direct offers from its advertisers, and hence you get the highest payouts. Moreover, Cpamatica has some exclusive offers that you will not get in any other dating affiliate program.
Cpamatica Features
Let's have a look at some of the unique features and benefits of Cpamatica.
Global Offers
Cpamatica provides localized offers for both web and mobile traffic for over 100 countries in several languages. It even has numerous creatives for each offer for different countries so that you get better conversion.
In-house affiliate tracking software
Rather than using third party affiliate tracking software for tracking sales and leads, Cpamatica uses its custom build in-house custom tracking software for enhanced tracking with a unique interface.
Personal account manager
Cpamatica provides dedicated account manager to all its affiliates for good monetization opportunity. A message is sent to you from the Cpamatica manager on Skype once your account is approved. Personal account manager helps you in choosing relevant offers for your app or website.
They even help you in getting customized payouts rate for selected offer. You can discuss with them marketing methods and even early payouts if you ever need. They also help you with market trends on offers and its conversions.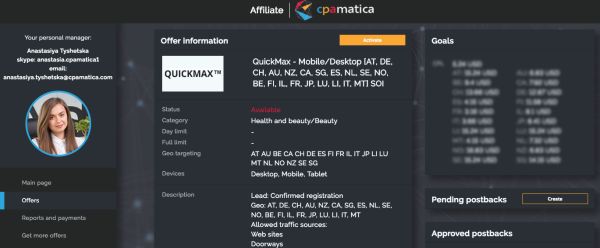 Cpamatica is thoroughly Customizable
Another very useful feature of Cpamatica is that it can be customized according to your need. So, Cpamatica functions much more than a traditional affiliate network. Cpamatica lets you customize offers as well as payment terms according to your needs. Moreover, their personal account managers go on to analyze your traffic and provide best converting CPA offers for your audience.
Weekly Payments
This one is probably the best aspect.
Cpamatica offers weekly payments.
The payments are made every week on Thursday.
So, you do not have to wait for NET-30 or NET-15.
The first payment takes 10 days as they go on to see your marketing methods and account. Once the first payment is done, the weekly payments are automatically triggered without any kind of additional early payment fees.
Cpamatica supports PayPal, WebMoney, Payoneer & Wire Transfer for making payments. Minimum payment threshold for WebMoney is $50, for Payoneer, it is $250, for PayPal it is $500, and for International wire transfer, it is $1000.
You can use your custom domain
Cpamatica has in-house custom software which enables you to park a domain on your Cpamatica account. So, Cpamatica allows you to use your custom domain for redirecting users to offer landing page.
Huge number of offers
Cpamatica has over 800+ live offers on its affiliate panel. Most of the offers are in dating category for various countries. However, Cpamatica also provides high converting offers in other categories as well; including white hat offers for Facebook, health, and beauty, nutrition, dating, 1click subscriptions, etc.
Conclusion
So, if your niche is comfortable with dating, Nutra and white hat offers for Facebook offers then Cpamatica can prove to be the best platform for converting your traffic into money.
Further up, the market trends show that Dating and Adult CPA offers to convert easily on all kind of traffic. With Cpamatica, you get the best converting dating/adult offers on their dashboard, so you get to promote the best one that matches your niche and audience.
Cpamatica comes with the cool user interface and is suitable for all kind of affiliates. Cpamatica provides the best offers in single dating niche with better rates and fastest payouts. Plus, their payment is on time every time without any issues. Overall, Cpamatica proves to be one of the best premium dating CPA affiliate network.
We hope that this Cpamatica Review opens up a huge opportunity for you to promote dating based CPA offers on your audience.+