Pay per Click, also known as Cost per Click or PPC/CPC, is a form of online advertising that employs real-time bidding to direct traffic to websites. Today, we share with you 15 Best PPC Networks for Advertisers and Publishers.
In PPC advertising, advertisers pay when an end-user actually clicks an ad and reaches to the advertiser website. On the other hand, publishers earn when an ad is clicked by an end-user.
In fact, PPC Advertising has become quite popular in the online advertising world.
Nowadays, lots of advertisers and publishers focus on PPC Advertising.
Moreover, PPC Networks or PPC Ad Networks have become a necessity for webmasters who want to profit by publishing ads using them.
PPC Networks function as a bridge between advertisers and publishers. Pay per Click Networks works as a 3rd party between them.
Advertisers join PPC Networks as they want more traffic for their products or services and invest in ads on the basis of the PPC model of advertising.
While publishers join PPC Ad Networks as they want to earn money and go on to place ads on their website or blog which pay them on PPC (pay per click) basis.
So, both Advertisers and Publishers need to join PPC Advertising Networks. When an end-user on Publisher site clicks on advertiser ads, the advertiser needs to pay for each successful valid click to the publisher.
PPC Advertising turns out to be an effective means of earning revenue for content wherein pay per click ads are placed on web pages where huge traffic is coming.
Publishers need to ensure that they can generate huge traffic to their website/blog so that they can earn good money with PPC Ads.
Benefits of PPC Ads for Advertisers
One of the biggest benefits of PPC Advertising for Advertisers is that they have to pay only when the ad gets clicked by the end-user. With PPC Advertising, it becomes easy to manage costs, track conversions, and determine ROI.
So, advertisers don't have to pay just for showing up the ads. PPC Ads prove much useful for getting targeted traffic and qualified leads as users who are actually interested in your products or services go on to click the ads.
Moreover, PPC Ads can be launched quickly and are the fastest way to get leads. PPC Advertising is useful in marketing products and services to people all across the globe. It's a way to get additional traffic to your website thereby expanding your online visibility.
Plus, with PPC Advertising you get an effective reporting system by which you can easily track your campaign results.
Benefits of PPC Ads for Publishers
Publishers look for effective advertising solutions by which they can easily monetize their website traffic. With PPC Ads, publishers get an advertising solution by which they go on to monetize their website traffic effectively and easily.
As far as earning potential is concerned, PPC Ads have much to offer for publishers. In fact, publishers can look to earnings which can be anywhere from $0.05 to $5 per click. So, for every valid click that an end-user makes, the publisher can earn good money. It is much better than CPM rates which can offer as low as $0.1 for every 1000 impressions.
Moreover, PPC Ads dispels the necessity for having huge traffic coming to website or blog. So, even small businesses stand to benefit from PPC Ads where they are paid for every click on their ads. It means that although huge traffic volume does well for earnings, it is certainly not a necessity. Even small publishers can gain much by adopting PPC Advertising.
However, the big question is to find the best PPC/CPC Networks as there are many Pay Per Click networks and some are paying quite low.
You need to join hands with a PPC Ad Network which helps make you the most money.
15 Top PPC Networks for Advertisers & Publishers
So, let's see the best PPC Networks.
1. Google Ads (Best PPC Network for Advertisers)
Google AdWords is the largest PPC Network. It's an advertising service by Google that helps businesses to display ads on Google and its advertising network (Publishers site).
Ads are displayed on the top of Google's search engine results page. It displays text, image, and local search-based ads.
Advertisers can use the AdWords Program to set a budget for advertising and pay when people click the ads. It is largely focused on keywords. The keywords trigger your ad to be shown.
When the AdWords ads are clicked on, Google search users are then directed to the advertiser's website. Each keyword you choose has a cost per click bid amount. It specifies the maximum amount that you are willing to pay when someone goes to click your ad. A high CPC bid enables your ad to be shown at a higher position on the Google search results.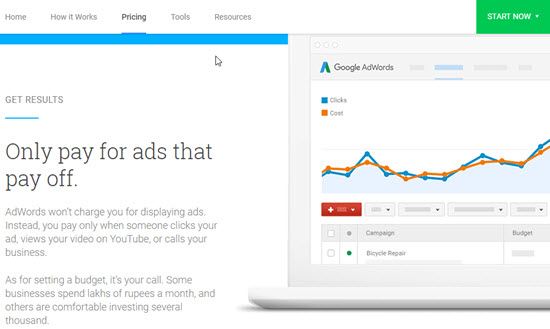 2. Google AdSense (Best PPC Network for Publishers)
Google Adsense is easily the "Undisputed King" of PPC Ad Networks. It is the best Ad Network for publishers. If you are a blogger or a website owner, you should surely have a go at Google Adsense.
One of the big benefits of joining hands with Google Adsense is that it works with millions of advertisers. So, there's a high probability that they deliver relevant and high-quality ads which in turn brings high CTR and more money for you.
Moreover, as a publisher, you control what types of ads appear on your website pages. Plus, you get access to reports and metrics which go on to tell how effective the PPC Advertising with Google Adsense is working for you. There are no signup fees, and it is easy to use too.
With Google Adsense, you get the opportunity to display ads that are aligned with the interests of your visitors. You get paid when a visitor clicks on the ads on your website.
However, getting approved as a publisher from Google Adsense is a big asks. You need to fulfill all the conditions laid out by Google Adsense.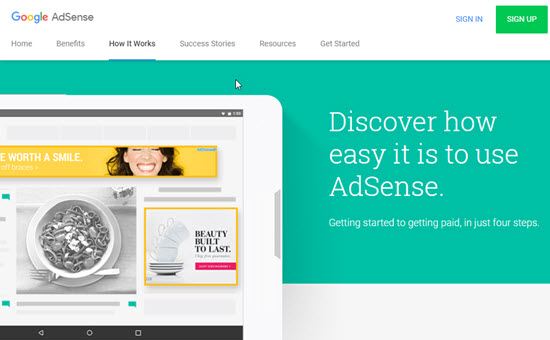 3. Media.net (for Advertisers and Publishers)
Media.net is the Yahoo-Bing PPC Ad Network. It's a result of the combined efforts of Yahoo and Microsoft, and they have succeeded in offering a viable ad network alternative to Google Adsense.
Media.net delivers relevant ads.
Plus, you get powerful tools to track your performance in real-time. You can even control how the ads look so that they match with your color palette. You can go on to filter advertisers and block ad topics.
Media.net requires high-quality traffic and content.
Plus, you should have most of your traffic coming from the US, the UK, or Canada. It also requires you to use English as your site's primary language.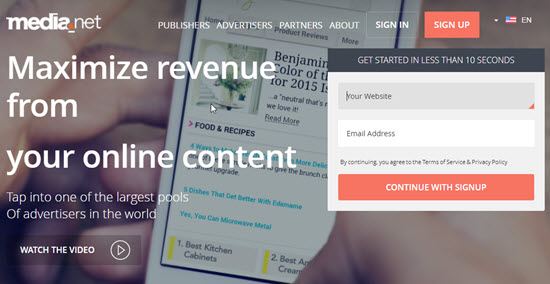 4. Facebook Ads (PPC Network for Advertisers)
Facebook Ads provide an opportunity for advertisers to connect with the people who are most likely to be interested in their products and services.
Most importantly the ads served are useful and relevant for the audience.
Advertisers have full control over the ads as they can define who they want to reach using factors such as interests, age, location, and more.
Advertisers choose a business goal such as selling a product or increasing awareness of their brand name. They go on to identify the audience and decide who they want to reach with their ad. The advertiser creates ads to show on Facebook through their advertising product.
Finally, Facebook shows ads to the advertiser's audience.
Plus, advertisers can use Facebook pixel technology for showing ads to people who have visited their website or used their mobile app.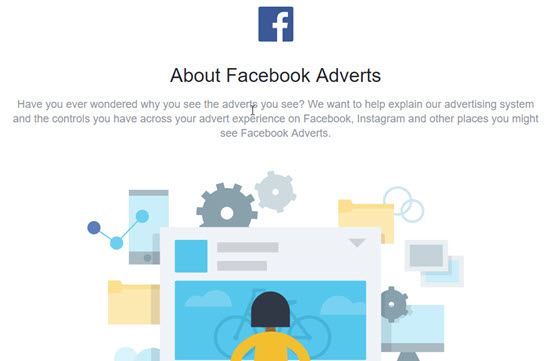 Twitter Advertising helps advertisers to achieve their business goals. It provides an opportunity to reach potential customers by getting your message across to people by promoting your tweets. Twitter ads are useful in growing your community of high-value followers and drive word of mouth by promoting your account.
You can even measure the results of your advertising campaigns all in real-time and find out how people engage with every single tweet. You can choose your target audience by targeting based on gender, geography, interests, or device.
The best thing about Twitter Ads is that you need to pay only when users like, follow your account or retweet, reply, or click on your Promoted Tweet. So, you are in complete control. Plus, there is no minimum spend. You can start and stop ads at any time.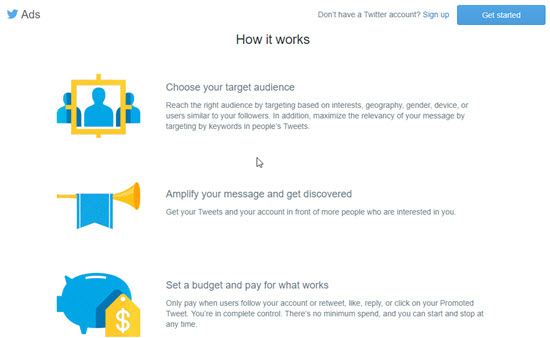 6. Bing Ads (for Advertisers)
Bing Ads provides an opportunity for advertisers to get their website in front of potential customers when they are looking for your type of product or service.
With Bing Ads, there is huge potential to reach your target market. It has over 30% of the search engine market share and nearly five billion monthly searches.
Bing Ads is an advertising platform that provides PPC advertising on both the Bing and Yahoo search engines.
Bing Ads appear at the top, bottom, or side of the page and look almost identical to the regular search results. The ads are based on the search term that a user uses to search on the Bing search engine.
There is an "auction" for determining which ads to show on SERPs. However, advertisers need to pay only when someone clicks on the ad. Moreover, you can also set your advertising budgets such as a maximum daily or monthly budget.
With Bing Ads, you get an advanced tracking system so that you can come to know how many people engaged with your ad. Plus, advertising on Bing leads to better ad positions and lower costs per click.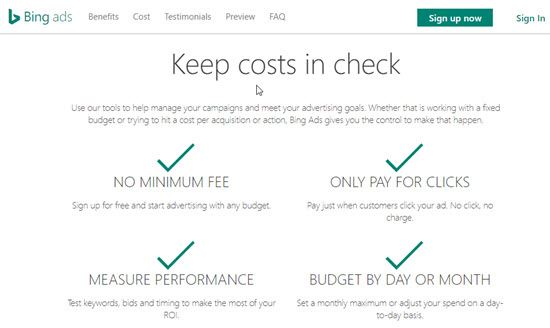 7. Revcontent (for Advertisers and Publishers)
Revcontent is recognized as one of the largest content recommendation platforms on the internet. It presently serves as much as 100 billion content recommendations a month across the globe and has been successful in registering a growth rate of 900% last year.
Revcontent main focus is on the quality of its publisher network rather than the quantity. So, you see Revcontent rejecting almost 98% of websites that apply.
However, it has helped Revcontent in generating higher revenues, loyal audiences, and better engagement rates for their partners.
They have just launched Revcontent v2 that has an intuitive user interface and enables transparent reporting and easy customization of widgets.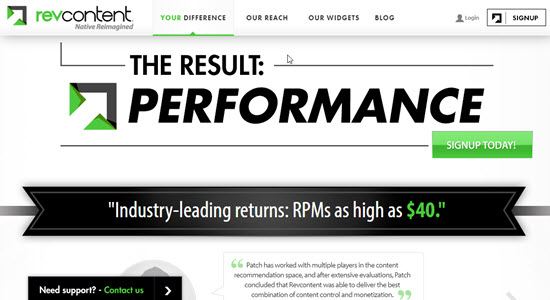 8. Infolinks (for Advertisers and Publishers)
Infolinks is one of the biggest In-Text monetization networks today. It closely competes with giants like Google Adsense and Amazon Associates. Infolinks have made a big name for themselves in the world of Ad Networks. They are helping over 200,000 publishers generate high revenue in over 120 countries.
Infolinks ad units are comparatively unobtrusive as they don't provide standard banner space. Instead, the ads appear minimized or in hyperlinks. Visitors have to hover their mouse pointers over the links for showing up the ads.
The best thing about Infolinks ads is that they don't interfere with the user's experience. They are free to use and work great with all other ad solutions.
Infolinks approval process is quite fast. It is based on the site's content and not on the volume of traffic you generate. Its installation is super easy. You simply have to add code to the body of your website.
You get control over the number of ads and also on the location of ads on your website. Support wise; they are quick and responsive. Infolinks work with some of the top brands in the world such as Amazon, Facebook, eBay, Taboola, Pizza Hut, Trip Advisor, and much more.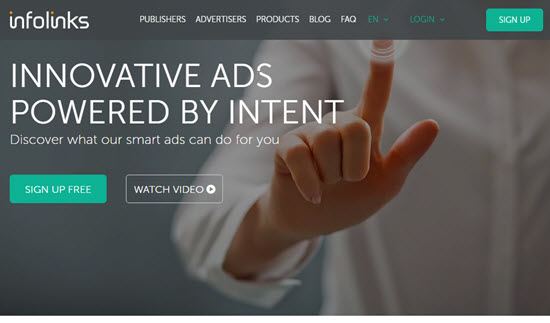 9. Bidvertiser (for Advertisers and Publishers)
Bidvertiser turns out to be a good alternative to Google Adsense. It's easily one of the best PPC Ad Networks for Advertisers and Publishers.
Bidvertiser delivers a quick and easy approval process. It has no such requirement regarding traffic volume and language used. It's easy to install. You simply have to add an HTML code to your web page. You can even change the appearance of the ads.
Bidvertiser may not offer the highest payout per click, but you can earn money on conversions as well. Conversions are said to take place when a visitor clicking on an ad goes to advertiser's website and makes a purchase. It is also studded with a reporting system.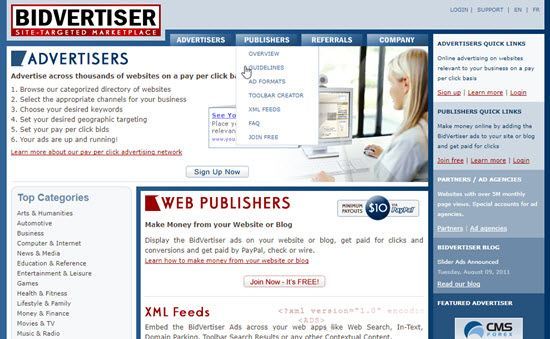 AdRoll is regarded as one of the most popular retargeting networks with online advertisers. It utilizes the power of networks from websites like Facebook, Twitter, Google, and Instagram, thereby turning visitors into buyers.
As AdRoll is based on retargeting, it actively targets visitors who have already visited your site and brings them back to your site. The ads are shown up as they browse other websites, thereby grabbing their attention and bringing them back. So, AdRoll helps convert visitors into purchasers.
AdRoll offers many attribution tools and makes the campaign's adjustments. Moreover, it integrates with most of the popular eCommerce stores, marketing platforms, as well as reporting tools. Some of its popular advertisers include Moz, Red Vines, Salesforce, and GoPro.
The basic version of AdRoll offers content as well as behavioral retargeting. You also get a "fully packed" personal account. Their affiliate networks include the likes of Google, Yahoo, and Microsoft. The users get $10 from every cent that they invest.
You have the facility to exclude certain users and can even create groups that have been based on intentions. Once you do the registration, you have two weeks of free advertising.
Creating a campaign is easy. You can start by making settings, create a retargeting campaign, and load the ad models. It selects the relevant audience at an appropriate price. They also run a great loyalty and bonus program. They work on postpaid billing payment that is accepted through cheque or bank transfer.
Some of its highlights include:
The dashboard is easy to use
Retargeting capabilities include CRM retargeting
It uses more than 34 million signals for making marketing predictions for targeting
It leverages Facebook Exchange, Google, Emails as well as many other marketplaces and exchanges
Retargeting for mobile & across devices
Ad formats include Web Ads, Native Web Ads, Facebook Ads, Instagram Ads, and Dynamic Web Ads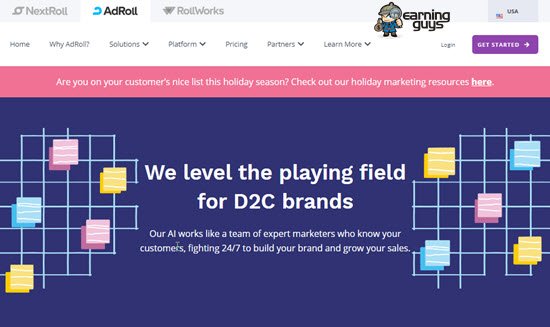 11. Clicksor (for Advertisers and Publishers)
Clicksor is another very useful PPC Ad Network for advertisers and publishers. Moreover, it works as one of the best Google Adsense alternatives. It's another haven of Adsense exiles. Plus, Clicksor Ads don't look quite as the Adsense ads. In fact, Clicksor doesn't emulate Adsense. It offers numerous ad sizes, and you get unique types of ads, as well.
Clicksor is very easy to install, and there's a plugin if you use Joomla, WordPress, Drupal, or Blogger. It offers a quick approval process. You can also include ads on the same web page from other networks. However, you can have only 3 ad units from Clicksor at the most if you want to use ads from other networks on the same page.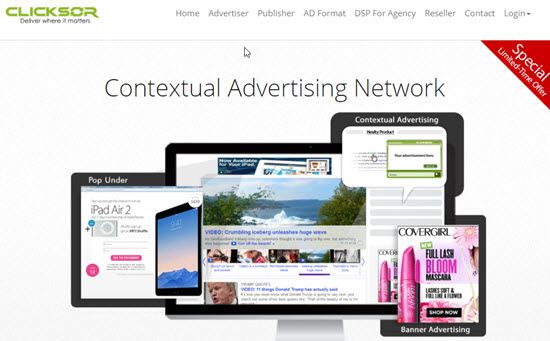 12. Adbuff (for Advertisers and Publishers)
Adbuff is one of the leading PPC Ad Networks. It offers an innovative and highly competitive real-time bidding platform. The best thing about Adbuff is that it offers one of the highest PPC rates available in the industry. Advertisers compete against each other and bid for clicks on publishers' sites.
Adbuff is a premium PPC Network and has strict guidelines for advertisers and publishers as far as approval are concerned.
They presently accept publishers who have English sites. They also require that the majority of traffic should be from USA, UK, Australia, and Canada. Publisher sites should have at least 2000 unique visitors per day.
Approval usually takes 5 to 7 days, and each approved site receives $25 as a welcome bonus for signing up. Adbuff is one of the best advertising networks if you are looking for a high rate PPC Network.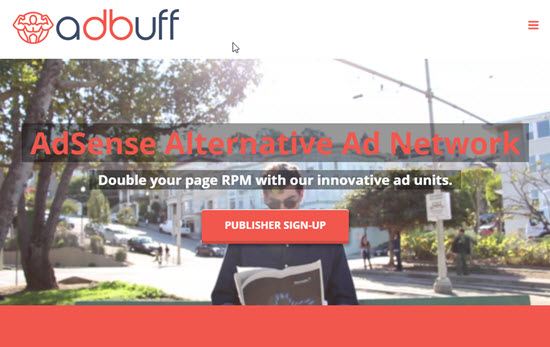 13. LinkedIn Ads (CPC Ad Network for Advertisers)
LinkedIn advertising solutions are powerful tools for marketers. In fact, LinkedIn provides an affordable way to get your message across to a targeted audience with many easy-to-use options. LinkedIn's advertising options give you the flexibility to reach your target audience, whether you look to generate leads, grow your network, recruit new employees, or grow your company page membership.
It provides a PPC Advertising solution wherein you can create and place ads on prominent pages on the LinkedIn.com website. However, LinkedIn also provides other advertising solutions in the form of Content Ads, Social Ads, Sponsored InMail, LinkedIn Group Ads, Spotlight Ads, Featured Company Ads, SlideShare Content Ads, and Follow Company Ads.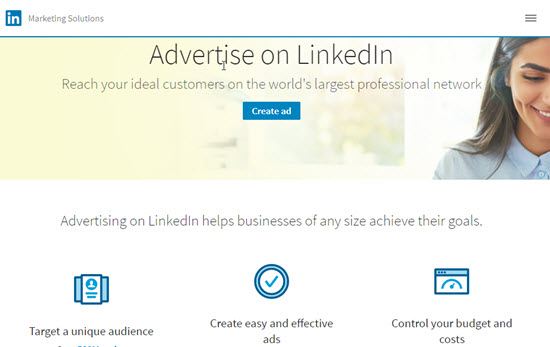 14. ExoClick (for Advertisers and Publishers)
ExoClick is the fourth largest advertising network in the world. It serves +125 billion monthly impressions. ExoClick offers ad solutions for web, mobile, and tablet. Advertising options include Display Banner, In-video Ads, Interstitial, and Pop-under Ads.
ExoClick offers three pricing models such as CPC, CPM, and fixed price ads. Publishers get weekly and monthly payments through various payment gateways. Its customer support is excellent and fast. Moreover, ExoClick is legitimate, transparent, and easy to access.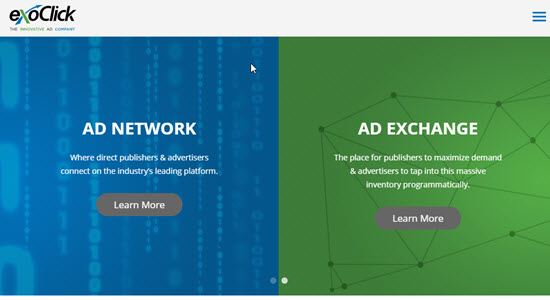 Advertise.com is a leading online advertising network that offers a range of services such as contextual advertising, as well as, social and video to get you high-quality traffic without paying a lot. It helps in improving your paid search results and increasing your profits.
Advertise.com has been in the industry for a very long time and has developed an excellent reputation. So, it means that you can rely on their services and not worry about being scammed.
Moreover, Advertise.com proves at par with other popular PPC Networks as it offers seriously low costs per click. However, its low cost is not the only advantage of Advertise.com.
You can even experiment with other new advertising methods, such as video ads. Its low cost per click allows for testing as well as experimentation (for example, with video ads). Plus, it's legit and works well.
Advertise.com offers targeting options such as geo-targeting, contextual, purchase-based, site-specific, and demographic.
Some of its highlights include:
It's cheaper than other providers in its category
Offers many methods to advertise in the current market
It is commendable to those that have low budget
Payout methods include Wire Transfer, PayPal, and Check
It offers modern solutions (both advertisers and publishers) for generating income from web traffic
Advanced quality control
Fraud and Bot Filtering
Full Account Management
24/7 Support
Publishers can make more revenue through competitive bids, relevant ads, as well as consistent coverage for all ad placement
Advertiser solutions include Interstitial ads, Push Notifications, In-Text Ads, and Video Ads
It helps publishers monetize through positive user experience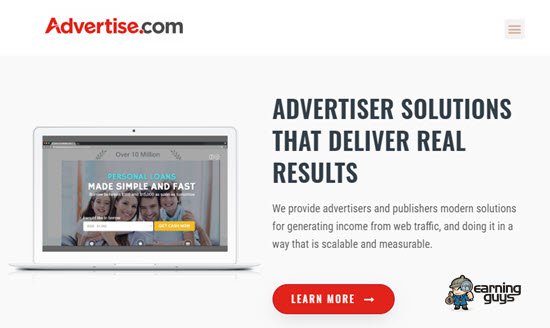 We hope that the presentation, 15 Best PPC Networks for Advertisers and Publishers, proves helpful to you in selecting the best Pay per Click Advertising Network according to your requirements. If you liked the post, don't forget to share it with your friends and colleagues.