If you're reading this, I can bet you're eyeing for the next affiliate marketing jackpot to help you earn thousands.
Spoiler alert: You've come to the right place!
Cloudways newly revamped affiliate program has all the enticing features you will ever need to say. Money is Honey!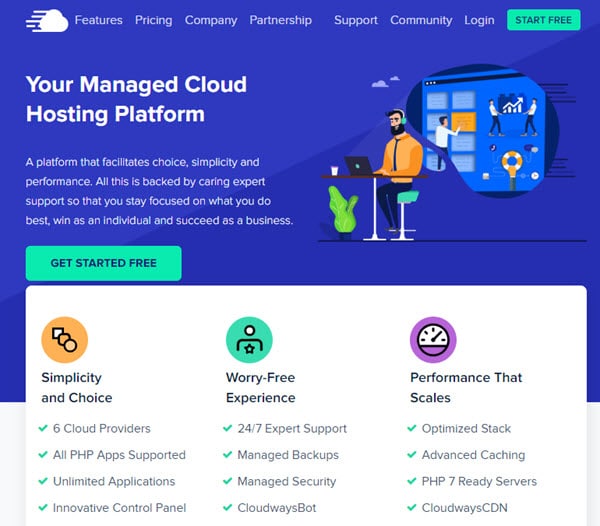 Yes, that's right. It lets you earn more than ever from three different commission models so that you're in charge of how you want to earn.
This is a refreshing addition for every affiliate who simply can't keep on earning in one particular way.
The case is that many affiliate programs out there either offer CPA or residual commissions for every customer you refer.
As hundreds of affiliate programs surface the online world, one thing that we affiliates crave the most is choice and the freedom to switch commission structures as we please.
Although you can be an affiliate of multiple companies, it's a lot easier sticking with one that guarantees hassle-free affiliate marketing.
And Cloudways affiliate program exceeds those expectations head on.
This is why I decided to pen my thoughts on why Cloudways affiliate program is an excellent opportunity for you to get started as an affiliate marketer.
But before I delve into the program's details, let me first give my two cents on why the web hosting industry is still ripe for making passive money.
So here goes.
Becoming a Web Hosting Affiliate: Is it Worth it?
You're probably wondering if there's even a point to becoming a web hosting affiliate. I don't blame you.
Browse through affiliate niches long enough on the internet, and you will eventually come across statements like, 'the web hosting industry is saturated,' 'there is no hope for hosting affiliates,' 'there is just too much competition.'
My advice: ignore the naysayers.
As someone who reviews affiliate programs from multiple industries every week, I can tell you that the web hosting industry is constantly abuzz with new earning opportunities for affiliates (regardless of how competitive it becomes).
Let's take an honest look at the industry.
There are thousands of new websites created every day and hundreds of domain names registered every minute.
Going by these numbers, you'd have to be mad to think the web hosting industry has closed its doors!
Plus, you have a variety of hosting plans, packages, and coupons that change based on different seasonal and discount offers.
But, you may ask, 'What about SEO ranking potential and expansion opportunities?'
Now when it comes to ranking your website, sure the industry is competitive (make no mistake about it). However, it also depends on what search terms you look for.
For example, if you search for 'web hosting' on Google Trends, you will see a downward trend:
But, if you look for terms such as 'AWS' and 'Google Cloud,' you will see the exact opposite: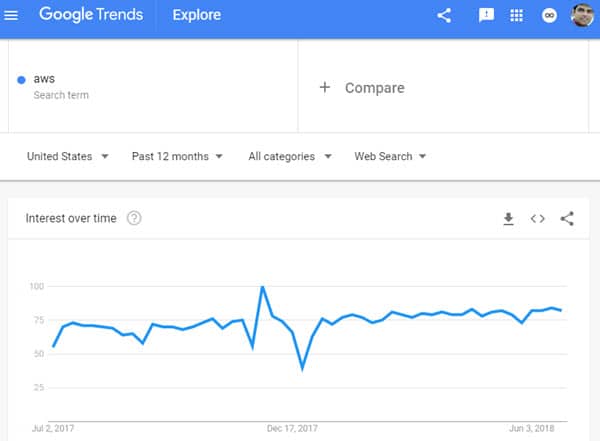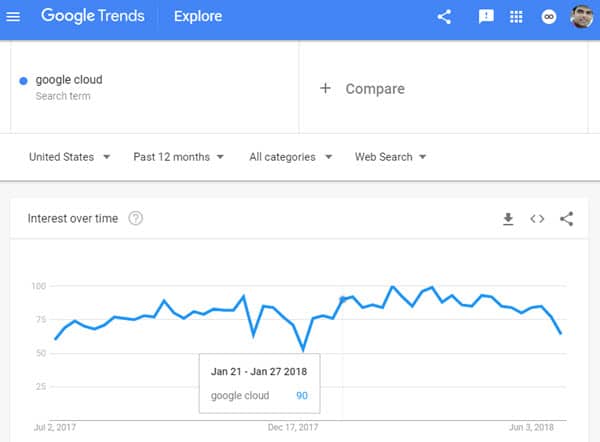 Similarly, when you search for keywords related to 'AWS,' you get the following search volume results: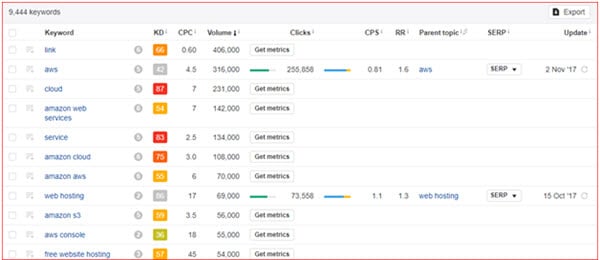 Source: Ahrefs
So, what does this have to do with Cloudways?
Well, Cloudways is a managed cloud hosting platform. And unlike other hosting providers, it offers web hosting across several industry-leading cloud infrastructure providers, including Amazon Web Services, Google Cloud Engine, DigitalOcean, and others.
Plus, it offers web hosting for more than a dozen CMS and web apps. Some of these include WordPress, Laravel, Magento, PHP, and many more.
And it gets better.
Cloudways' managed cloud hosting isn't just for bloggers and developers. It's also for digital agencies, e-commerce store owners, and startups.
In other words, there are plenty of opportunities for you to stack up on your earnings by becoming a Cloudways hosting affiliate.
With Cloudways, you can target large enterprises looking for managed AWS hosting solutions, as well as startups looking for managed DigitalOcean hosting.
Thoughts on Cloudways Affiliate Program
At the very first glance, Cloudways affiliate program shows flexibility. You have three different commission structures, each with its own commission rates and earning potential.
But, drill down a little deeper, and you see the value each offer.
Here is an overview of the program:
Program Details
Choose from Slab, Hybrid, and Custom commission structures
Earn up to $125 per referral on Slab
Earn $30 upfront bonus + 7 percent lifelong recurring commissions on Hybrid
Earn commissions on a Custom tier based on your performance
Obtain monthly payments via PayPal and WireTransfer
Advanced affiliate tracking system for performance results and reporting
Here's a look at each commission structure:
Slab
Consists of 4 slabs with increasing commission rates per referral
Maximize your total monthly earnings based on the number of referrals (and Slab number) that become Cloudways customers
Earn up to $125 per referral for every sale

The slab is the go-to structure for affiliates who want instant rewards for their efforts.
For this reason, it works out best for those who can repeatedly refer multiple customers every month such as entrepreneurs and performance marketers.
Hybrid
Earn $30 upfront bonus + 7 percent lifelong recurring commissions
Maximize passive, recurring income based on referrals that remain Cloudways customers
Opportunity to build income for up to several years

The Hybrid structure is perfect for those who prefer earning through a residual income model rather than a CPA one.
In this, you have the benefit of earning a stable and steady income every month for an extended period of time.
This works out extremely well for those who can't commit to affiliate marketing 24/7, but want a good return based on their efforts such as freelancers, agencies, and developers.
Custom
Earn from a customized commission structure
Commissions are a combination of Slab and Hybrid structures
Earn up to $200 per referral

In the Custom tier, you can create a partnership with Cloudways in which you can earn from a customized earning model.
This will be based on a combination of both Slab and Hybrid structures to give you higher earnings.
Do note: the custom tier is only for those who have shown outstanding affiliate marketing performance with Cloudways.
How Much Can You Earn?
This is the one question on every affiliate marketer's mind.
And let me answer it: it depends entirely on you.
Cloudways affiliate program, like any other, rewards you for your results. If you're not putting in the effort, you won't go far in earning a couple of hundred dollars.
Some earn a few thousand dollars. Others, on the other hand, earn up to $10,000 every month using best practices. See: How to Earn From Blogging Using Web Hosting Affiliate Programs
So, while asking how rewarding an affiliate program is important, it's more important to look at what the brand offers and how it weighs up in the industry.
As mentioned above, you can resell Cloudways hosting solutions to a multitude of customers.
From e-commerce store owners and startups to developers and agencies, you have ample opportunities to earn from several different affiliate links.
Why I Recommend Cloudways
There is no shortage of benefits to joining the Cloudways affiliate program. As a Cloudways affiliate, you have loads of opportunities to refer links and earn.
However, when it comes to the most important reasons, in my view, I rest my case on three:
Greater earning choice
Monthly payouts
Affiliate tracking panel
Greater Earning Choice
As I mentioned earlier, with Cloudways, you have more opportunities to help you climb the affiliate marketing ladder and expand your earnings.
Upon signing up with Cloudways, you start with the Slab structure by default and earn commissions based on the number of referrals you make by the end of every month.
But, let's say you no longer want to earn based on CPA, but on residual income. What's next?
You can easily request the Cloudways team to switch to the Hybrid model and work your way up from there (this works both ways). If you want to earn even higher commissions, the Custom tier is also available for you.
With this freedom and choice, you can opt for the structure that fits best for your lifestyle needs, giving you the reins to your side (or main) hustle.
Monthly Payouts
Ever been worried about what it is like not receiving a paycheck for months? Believe me, I know. With some affiliate programs, you're not sure when exactly you'll receive your payout.
This is why any affiliate program that promises to pay every month is a huge plus point. Cloudways, for example, guarantees to send monthly payouts so long as your earnings reach a total of $250.
So, for those who are concerned about getting a stable income every month, take this as a big sigh of relief.
As a Cloudways affiliate, all you need to keep in check is to get a number of referrals onboard every month, the total earnings of which equal or exceed $250. Then, you can receive the payment through WireTransfer or PayPal.
Affiliate Tracking Panel
Last but not least, Cloudways affiliate program tracking panel is simply fantastic.
It curates an extensive number of detailed reports that you can review and look at anytime. Want to look at the number of clicks your site has received so far or your commissions? The affiliate panel has it all.
Also, you are updated with the latest performance metrics, such as conversions, signups, payments pending, so that you never lose track of your referrals and campaign performance results.
What's more is that you never have to create promotional banners for placing affiliate links. Instead, you get Cloudways' own promotional banners in multiple sizes for the latest seasonal campaigns or special offers.
Concluding Remarks
In comparison with other web hosting affiliate programs, Cloudways definitely comes out on top.
It not only offers higher commissions, but offers the resources, support, and guidance to help you become an affiliate veteran. Click here to join Cloudways affiliate program.
Cloudways Hosting Deal
Amazing offer for EarningGuys.com readers get 20% Discount on your first invoice of Cloudways Hosting using coupon code: EG20