Have you every done Pay Per Call Marketing? If not or never heard about this type of marketing, then this post it for you. Learn about Pay Per Call Marketing and some of the Best Pay Per Call Networks.
The Internet is a "Big" "Big" opportunity regarding making money. And I really mean it.
However, most importantly you have to figure out what are you making enough money through your online marketing efforts.
Because, if you are satisfied with your returns, then perhaps there is no need to go through this post.
But, if you want to explore the options for making money through internet marketing and want to increase your earnings further, then I can safely say just keep glued to this post.
And I am pretty sure that you would definitely like to make full use of Internet marketing for making money.
Well, you must be aware of Affiliate Marketing.
It is a popular form of Internet marketing where you make money by selling other peoples' stuff online.
Although, Affiliate Marketing itself offers various techniques for making money online.
One such technique is Pay per Call.
Today, we share with you what is Pay per Call Marketing.
We also talk about five Best Pay per Call Networks.
Pay per Call Marketing is gaining popularity due to the simple reason that it offers the vast potential of making "Big" money online.
What is Pay per Call Marketing?
In Pay per Call Marketing, you earn commissions by sending referral from your affiliate Phone number to advertisers call center. But, there is something more to be discovered about Pay per Call Marketing.
To make it distinctly clear to you, Pay Per Call is a relatively new form of Affiliate Marketing that's been around since only last three to five years.
However, don't confuse Pay per Call Marketing with the traditional form of Pay per Call Marketing Method which existed through TV, Print Media, and Radio Advertising.
This Affiliate Marketing Technique is so recent that most marketers even don't know that it exists.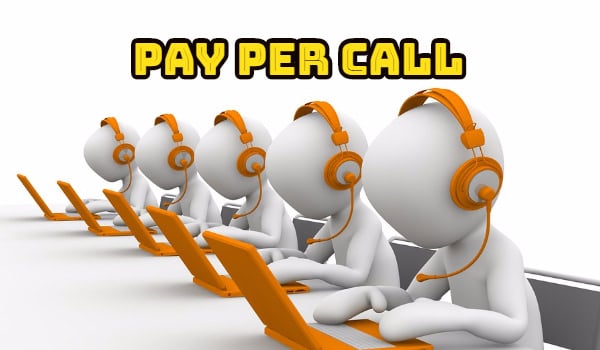 Actually, In Pay per Call Marketing, you connect a business with a customer. It's pretty much like yellow-page ads, but online.
Here, you are given your own set of trackable affiliate phone numbers which callers use to connect to call centers, and you earn commission for referring these customers to advertisers call centers.
However, to get paid, your referrals need to stay on the line for at 30 seconds to 3 minutes depending on offer to offer.
So, it is not necessary that your referrals have to purchase something for you to get paid. They only have to be online or call for specific minutes.
That's the minimum threshold that you have to fulfill to earn commissions.
And that's not all, as commission margins are usually high and they vary from as low as $4 to as high as $100 depending upon the offer and the country from which the referral traffic is directed.
When someone uses your phone number to call that call is diverted to the advertiser call center and is tracked how long caller talked and if it last long above minimum call duration and quality set by the advertiser, the publisher is paid.
Here, it should be noted that call duration and definition of call quality varies from merchant to merchant.
Why there is such a high referral commission in Pay per Call Marketing?
You may wonder why companies are willing to pay such high referral commission.
It is because phone leads have a very high conversion ratio.
So, they do not find it hard to shell big amount for sending them high converting traffic to their way.
Further up, you don't even need to talk to anyone. Your referral traffic needs to do the talking by calling at the companies call centers and need to stay on the line for specific minutes.
These are the basic tips regarding Pay per Call Marketing Technique. It ensures that the merchants get connected to the potential customers over the phone, and it also makes sure that the affiliates get their due commissions for sending referrals and so there are no chances of 'leaked' commissions. Affiliates just need to set up Pay per Call Marketing Campaign.
Benefits of Pay per Call Marketing
Pay per Call Marketing is such an Affiliate Marketing Technique which creates a win-win situation for both advertisers and publishers by setting multi-action, multi-channel pay per call campaigns.
Plus: it also gives freedom to the user to dial right now or else go filling out a lead form. So, publishers looking for enhanced performance through marketing campaign have a good option in Pay per Call.
And it doesn't end here, as it creates a better experience for users by giving them the options of connecting with the service or product provider.
For the advertisers, Pay per Call tends to offer multiple benefits.
It comes as one of the most cost-effective, ROI-focused forms of digital advertising. Moreover, advertisers get a 100% connection rate with customers who have opted for their offer or information.
Plus: Inbound callers received through pay per call show up higher conversion rate than leads contacted with outbound calls.
So, leads close and purchases are made instantaneously through running pay per call campaigns.
For publishers, who are looking for effectively using the mobile & web platform, pay per call serves as an excellent option for monetizing their site traffic.
Customer conversion becomes higher when they opt for pay per call marketing campaigns. It capitalizes on urgent consumer need and connects them with the requisite advertisers right then and there.
So, the captive audience is turned easily into a client for the advertiser.
How Pay per Call marketing works?
There are plenty of Pay per Call Networks which connect publisher and Advertiser.
For Pay per Call marketing, you may not need to have a website to apply and join for a Pay per Call program.
Pay per call networks provides a unique Phone number for a particular offer. Publishers can advertise that number on their website or App, on paid search engine traffic, or any other traffic source.
So, you see that Pay per Call has immense potential in monetizing your traffic. It's the right time for affiliates to get on board and use Pay per Call Marketing for earning "Big" commission through their traffic.
One can promote their Pay Per Call number with search advertisement like Google AdWords, and Bing on the mobile phone it works very well for Pay per Call.
Some of the offers allow you to advertise your pay per call number to offline channels like TV, radio, newspaper, posters, etc. This can help you to earn good amount of money.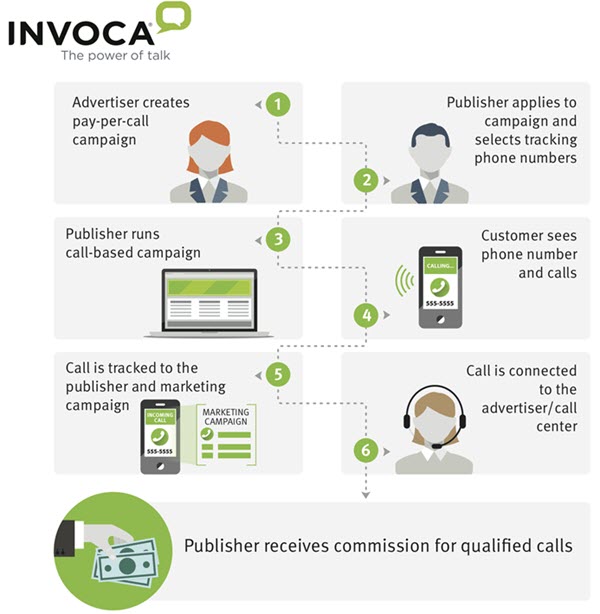 Image Source Invoca
Pay per Call Networks
Although Pay per Call Marketing is a relatively new phenomenon in the online world, it has gained much acclamation among the Affiliates due to its high potential for earning high Conversion Rates.
Affiliates get an opportunity to earn high ROIs for their online marketing efforts by employing Pay per Call Marketing Technique.
However, this requires partnering with some best Pay Per Call Networks. Pay per Call Marketing Networks provides the platform for advertisers and publisher and connects advertisers with publishers.
Here, I showcase some Best Pay per Call Networks which can help you to get started with Pay per Call marketing.
I have taken special care to provide you with top and leading Pay per Call Networks that will surely assist you in earning high Commission Rates.
So, get ready to experience the power of Pay per Call Marketing through this Best Pay per Call Networks.
11 Top Pay Per Call Networks
1. LucraTel Pay Per Call Network
LucraTel is where your calls belong. They are the only Pay Per Call agency I know that help you build creative landing pages. My campaigns convert better here. Some of the verticals they focus on are Credit Repair, Debt, Home Security, Insurance (Auto, Life & Health), Real Estate, Solar, Tax, and several other niches.
Available payment terms include Weekly, Bi-Weekly, Net 15, Net 30, and Prepays. This depends entirely on your call quality and volume.
Right now LucraTel focuses on USA markets. Over (500+) Publishers work with them already, and this number keeps growing. I highly suggest you route your calls to LucraTel as they breed winners.
If you are seeking competitive payouts and buffers, LucraTel is the #1 Pay Per Call Agency to start your Pay Per Call campaign. Buyers trust LucraTel to deliver as budgets continue to open. Scaling is welcome, and loyalty is an absolute requirement.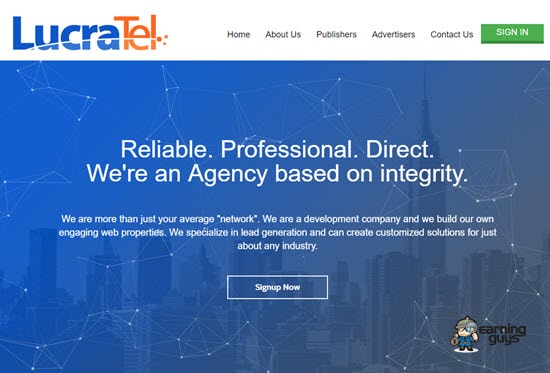 Aragon Advertising has already bagged many honors for their excellent services in the performance marketing industry. It is a well-trusted name by businesses from all over the world. It is helpful in offering qualified leads, reach their perfect customers, and augment conversion rates.
They are running PPC campaigns that can generate hundreds of thousands of calls per month across multiple verticals. Aragon Advertising is helping businesses to achieve their goals.
You can gain access to its direct and owned offers across a variety of verticals. Plus, you can promote your offers to our network of thousands of affiliate marketers.
Aragon Advertising is offering a simple and cost-effective way for generating quality leads through its internal properties and extensive network of partners. Moreover, they are helping businesses to create and manage effective and unique pay per call campaigns thereby allowing them to bring in interested buyers for your business.
Aragon Advertising is proving the best option for PPC Network helping premium publishers utilize content marketing for monetization. So, Aragon Advertising turns out to be the right option for you to race ahead in the field of performance marketing. In fact, Aragon Advertising is a leading performance marketing agency that is connecting high-paying advertisers with experienced publishers and thereby getting you the right customers to convert.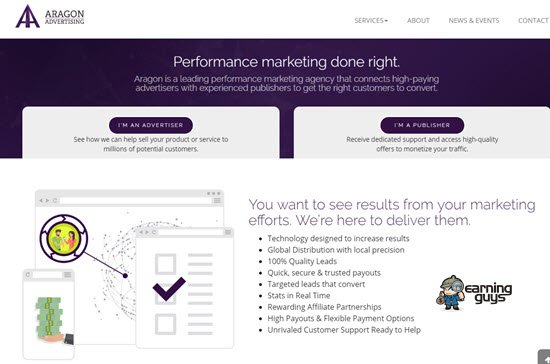 3. MarketCall Top Pay Per Call Network
MarketCall is a leading and well-known Pay per Call Affiliate Network. The network emphasizes on pairing merchants and affiliates so that they can have maximum returns from their marketing resources.
MarketCall runs Real Estate as well as Auto Dealership offers in Eastern Europe and the USA. Besides these verticals, MarketCall even runs offers in Insurance, Travel, Moving, and Tech Support. They have even come up with new verticals such as car sales, home, and apartment sales.
Its top-notch services are helping business owners and marketers in maximizing their targeted calls as well as optimize their advertising costs.
They have come up with good quality landing pages for each offer. Pay per Call offers payments of up to $350 per call.
Affiliate instruments include callback plug-in, call-tracking, lead-to-call services, unique phone numbers, call-center, IVR, etc.
Merchants can look up to a quick start & simple integration. They get promotional material and landing pages. They have detailed statistics and analytics in the account dashboard. Plus, payment only for qualified calls.
The working is simple. Affiliates place ads on platforms such as websites or PPC sites.
When an interested client makes a call through them, they get paid. It's simple as that.
As far as merchants are concerned, they have to quote the price they are willing to pay per call. MarketCall manages the rest.
In fact, MarketCall has built up their own in-house network, call tracking system, call center as well as free unique phone numbers for each affiliate.
Moreover, they are constantly upgrading and improving the network to make it easy for you to work with us. MarketCall pays on a weekly basis. They have come up with an exclusive offer and friendly support.
If you want to earn a lot of money, MarketCall Pay per Call Affiliate Network can be the best choice for you.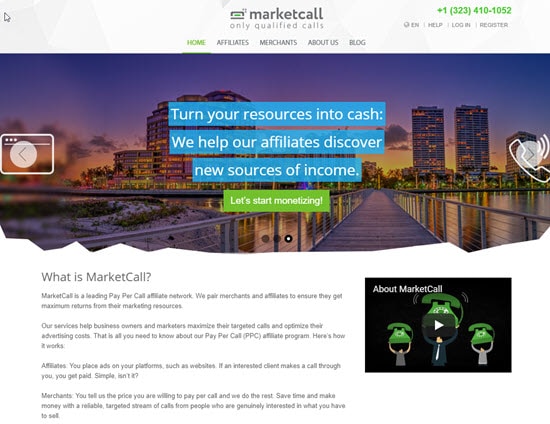 ClickDealer is another formidable and world's leading Pay Per Call Network. Yes! ClickDealer is one of the best CPA networks and they also offer Pay Per Call with plenty of Pay Per Call offers.
So, if you are looking for the best Pay per Call Networks, then ClickDealer provides you with the opportunity to partner with the best in business. The only way to succeed in online marketing is to partner with the best and with ClickDealer you get every opportunity to maximize your returns on your pay per campaigns. They have much to offer for publishers, advertisers, and agencies.
Publishers get the maximum exposure on their campaigns with huge, quality and targeted audiences to fuel their ROIs. They offer publishers lucrative verticals, exclusive offers, competitive payouts, and much more to help take their business to another level.
They help connect the world's leading advertisers with industry's top publishers. With their advanced technology and dedicated online marketing experts, you can surely look at a rewarding time partnering them as a Pay per Call Network.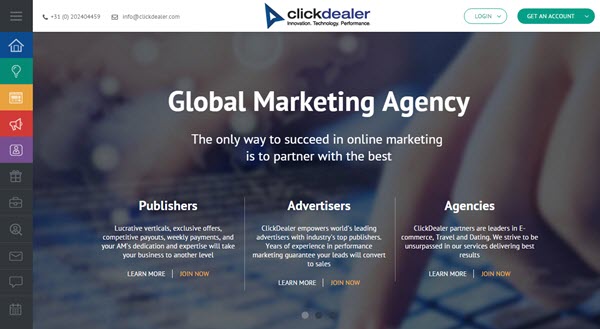 GlobalWide Media (previously known as NeverBlue) is a highly successful Pay per Call Network. Which affiliates don't know Neverblue which is now GlobalWide Media. NeverBlue is known as one of the best CPA networks, but they also offer Pay Per Call offers. This is my other favorite Pay Per Call Networks with plenty of offers on their platform.
They bank on their data-driven approach which tremendously helps you to achieve superior results with their premium media solutions. Today they are the partner to the world's leading brands and agencies helping them to achieve superior results through their formidable and result oriented Pay per Call Campaigns.
Its superior technology and real-time optimization engine are geared to deliver you unequaled results by utilizing data from over 900 million global audience profiles, each with 100+ unique attributes.
GlobalWide Media integrated targeting technology efficiently connects brands with the right audiences thereby paying the way for higher ROIs on your campaigns. It runs efficient and scalable performance campaigns which help you to generate high ROI on pay per call online marketing efforts.
They ensure that you get maximum exposure on your campaigns but in a way that protects your brand reputation. Their team of digital marketing experts is committed to making your online business a real success.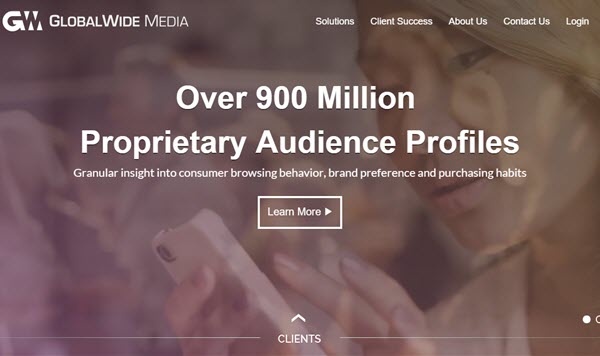 Commission Junction has been rated as one of the top Pay per Call Networks in the world. It makes Pay per Call Marketing easy and thoroughly rewarding for you. Publishers, Advertisers, and Agencies can look forward to making them their preferred partner in monetizing their online marketing efforts by effectively utilizing Pay per Call Campaigns.
Their result oriented Pay per Call Solutions enables publishers to easily promote advertiser products and services through a variety of distribution channels via unique, trackable, toll-free numbers.
CJ is known as the best Cost Per Sale network. CJ employs advanced technology and comprehensive database to deliver the high quantity of high quality targeted traffic that helps to increase conversion rates on Pay per Call Marketing Campaigns. It provides you with the opportunity to generate incremental commissions for your affiliate business.
They set up the perfect platform for getting high commissions for driving phone leads, sales, or a hybrid of both to advertiser call centers. They thoroughly understand their clients' goals and make sure that they get high ROIs through online marketing efforts.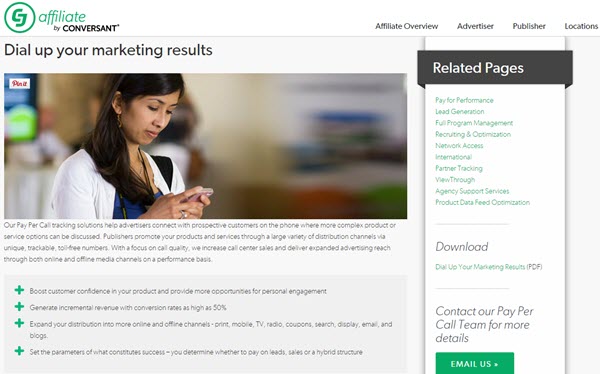 Your Quest for a leading and rewarding Pay per Call Network can surely end up with Ring Partner Pay per Call Network. Ring Partner comes as an Industry leading Pay per Call Networks specifically designed to meet the needs and aspirations of advertisers and publishers. It provides best services which are being used by hundreds of advertisers and distribution partners all around the globe.
Their professionalism is par excellence ensuring that you always stay on track and constantly meet your goals of making your website a truly powerful monetizing channel. They employ the latest technology to deliver the quality that you will surely cherish.
They have a formidable team of online marketing experts who are committed to and focused on making your Pay Per call marketing venture a big success. Ring Partner makes sure that advertisers receive a high quantity of high-quality calls that are targeted towards their business needs.
I am personally working with Ring Partner, you will find plenty of Pay Per Call offers. Ring Partner pays on time by Cheque or PayPal.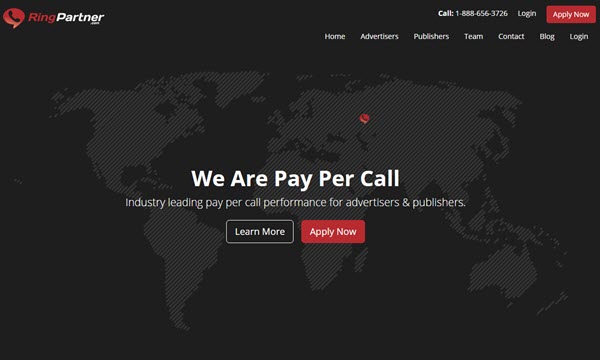 Palo Media is a well-known authority on Pay per Call. Their campaigns are custom tailored for meeting the success needs of publishers as well as advertisers.
Palo was founded in 2007 and right since then has its roots in delivering quality phone calls. It fills the much-needed space in the performance call marketing arena.
In fact, Palo is the industry's most trustworthy and caring places for conducting business as a publisher or as an advertiser.
Palo has the reputation of paying people on time. Palo operates in various industries including solar energy, and health insurance.
It builds a pay per call programs the right way.
It offers real-time reporting to all its clients. Partnering with Palo enhances your brand reputation. It offers fast response times to your inquiries. You get dedicated account managers.
Further up, Palo has become the leading performance call marketplace for publishers. It offers "Ring Pools" and "AdWords Integration" so that you can get the most out of your data. Plus, Palo has on-time payment record. It pays publishers on time, every time. It has one of the highest industry payouts.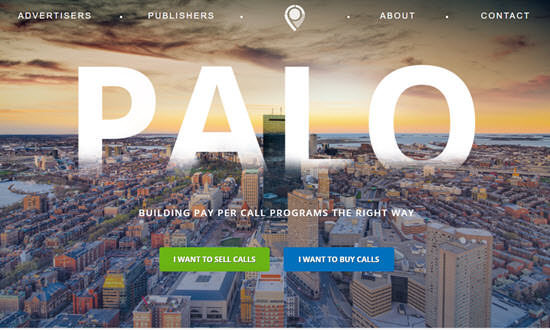 Revimedia is quite an old and yet popular Pay per Call Networks for publishers. It is in the business of pay per call marketing for the last ten years. So, Revimedia comes with the best experience behind making it a totally reliable Pay per Call Network. Their global reach and experience have made them the number one choice of over 2000 affiliates.
Revimedia has now become a well-known name in digital marketing. They are successfully managing click-to-call & transfer campaigns by maintaining direct relationships with advertisers in the United States of America.
They have developed mastery over premium pay per call offers across different spectrums such as insurance, home improvement, debt relief, mortgage verticals and others as well.
So, Revimedia is running a wide variety of performance-based campaigns across a range of verticals. Revimedia has become a leader in the call space which includes the buying and selling of transfer or inbound initiated calls. They are offering the fastest and the most flexible payment terms by using your preferred payment method.
Support is another strong pillar of Revimedia. You can contact them 24/7 via Skype or Email. They are running more than 650 offers worldwide in over 134 countries worldwide. They have a wide range of offers including VOD, sweepstakes, extensions, and many others.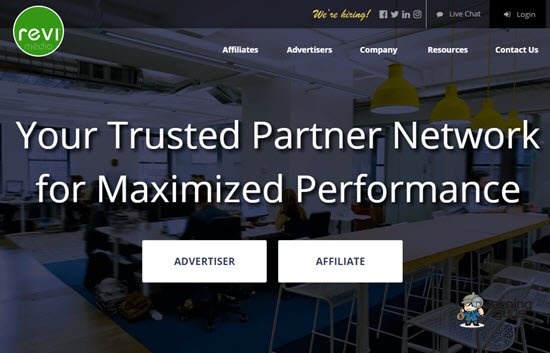 Astoria Company is one of the best Pay-Per-Call Networks out there. It has been ranked in the Inc. 5000. It even operates its lead generation websites in the financial services, educational, and auto verticals. It also offers pay per call services to advertisers. So, Astoria Company has become a leader in performance marketing.
Astoria Company has been formed by industry experts who are engaged in building genuine customers for trusted brands. So, its expert team comes from the heart of the advertising industry. They understand all about quality lead generation and campaigns that scale. They fully know the nature of consumers and advertisers that result in verified and high-quality new customers.
Astoria Company has proven its mettle in a variety of markets. However, they still continuously test new ways bringing out high-quality customers for the brands they promote.
Astoria Company is proficient in Ping & Post, Host & Post, Lead Generation, and Pay per Call, Phone Verified, Live Call Transfers, and Mobile Pay per Call, Social Media Advertising, Traditional Online Advertising, and Display Advertising. With Astoria Company, you can expect 35% in return on investment.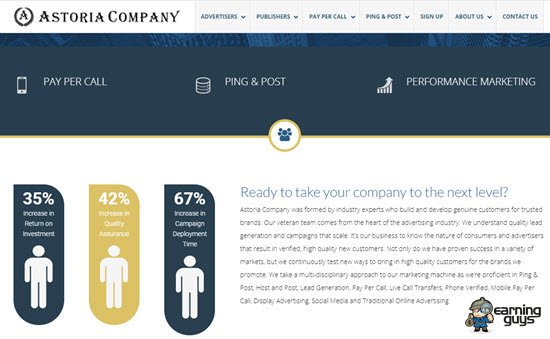 HyperTargetMarketing has a range of pay per call marketing services to its credit such as call center and PR, SEO & mobile optimization. They have proved themselves in proven processes and unique traffic. HyperTargetMarketing have built up a high focus on quality inbound calls for clients. They offer superb support and payments to publishers.
HyperTargetMarketing has made a name in pay per call marketing as they provide a win-win situation for everyone. They offer high conversion rates to publishers. So, their customers are always happy with them. Another plus is the fact that the costs involved are very economically effective.
The advertising content is being delivered to interest-based segments which ensure that people who could become potential conversion would get to see these ads thereby your money is never wasted. Moreover, with HyperTargetMarketing, you spend less and get better leads.
You get valuable inbound calls directly from people who are highly interested in your product or services. They drive calls through paid search, local listings, SEO and blogging, display and banners, email campaigns, social media, as well as TV & Web Video.
They only direct high quality leads sent to you. While they do the heavy lifting, you simply focus on closing more sales. With HyperTargetMarketing, you spend less and get tons of leads.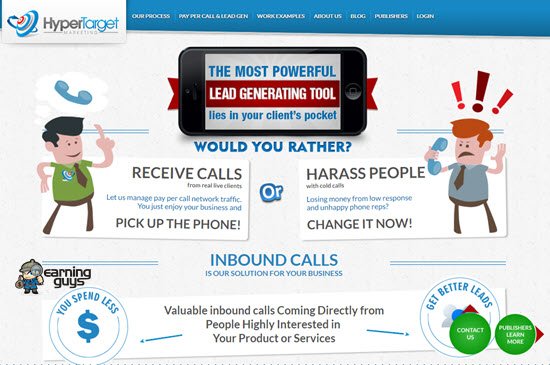 We hope that you now know what Pay per Call Marketing is. We have also listed some of the Best Pay per Call Networks. Please share which pay per call network you use. We also welcome your comments and suggestions.