Are you a webmaster, an affiliate marketer or an app developer? Then, today's post on Golden Goose Mobile Affiliate Network Review is going to help you to increase your earnings.
Before joining any affiliate network, an affiliate wants to be sure how good the network is. So first I want to share some background of Golden Goose (GG).

Golden Goose (GG) is an affiliate network which focuses on mobile traffic and provides VAS services on a global scale.
GG is providing Value Added Services (VAS) in Russia and the CIS countries, themselves, for the last 15 years, having more than 2,000 active traffic sources and monetizing their mobile inventory with GG content and direct connectivity with mobile carriers.
In 2016, GG decided to operate as a local affiliate network, helping other content providers to acquire users themselves, via GG traffic knowledge, becoming the biggest mobile affiliate network in Russia.
In 2018, GG started international expansion and opened an office in Lisbon, Portugal, as the first step of a big process of global consolidation, as a mobile affiliate network.
With over 1,000 offers, affiliates have a lot of options to promote their traffic with Mobile Content Click Flow offers, Pin Submits, Sweeps, Dating, Games, Music, and Videos.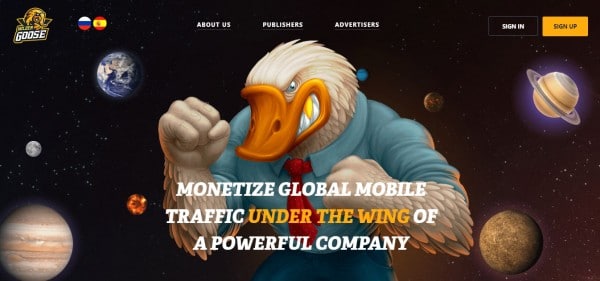 Affiliates can find them on any big industry event like the AWEurope in Barcelona, the ASE in NY, The European Summit in Prague, Dmexco in Cologne or AWAsia in Bangkok.
Golden Goose has set some rules for themselves, to provide the best service possible, to their partners:
1. DON'T BE GREEDY by which they don't try to put maximum profit for themselves and are flexible to cooperate with their partners, with a good "payout increase policy."
2. PAY IN TIME, that's why they have opted for daily payments to their affiliates. Affiliates invest their money to promote campaigns, and they regularly need an incoming flow of funds. With daily payment option, this helps them a lot, and it seems they are the only network in the market, doing it.
3. DON'T FALL BEHIND. By this rule, they focus on providing new solutions so that they don't get behind in the market and provide best solutions to their partners. These guys are tech guys, don't sell bananas!
Now you can understand Golden Goose's philosophy of doing business and how they take care of their partners.
What does Golden Goose offer to Affiliates?
After offering VAS services in Russia and the CIS countries for 15 years, GG becomes a global player in mobile traffic monetization. They offer plenty of campaigns to fill your mobile inventory and cutting edge and super friendly tracking platform, with all market features for their affiliates.
Affiliate Offers
The first concern of affiliates is to find good converting offers. In Golden Goose, they can find over 1,000 offers on multiple verticals which includes Pin Submits, Mobile Content, Dating, Sweeps, Games, Videos, and Music offers. These offers include 1clickflow, PIN submits, Click2SMS and CC offer.
As Golden Goose is a content provider themselves, they understand the needs of other content providers, and they have traffic knowledge, especially regarding LTV (lifetime value) of users and fraud monitoring. This expertise, allows the Goose team to have superior commercial conditions with VAS providers.
GG also has several partnerships with ad networks, allowing pubs to be paid directly in their ad network account, with bonuses for affiliates that choose this option.
Additionally, GG has a unique concept in the market called CPACLUB. Basically, the Goose team is giving money to affiliates, so they can test the offers without spending their own money. It's like a full credit system where the idea is to invite pubs to test GG offers for free. So if an offer doesn't convert, the affiliate is not spending his own money. Wicked! They can provide a test budget of up to $80 for the advertising traffic to each offer.
Free Tracking Platform
Golden Goose offers a free and extremely powerful tracking platform to pubs. The tracking platform comes with deep analytical capabilities, allowing affiliates to optimize their campaigns and maximize their profit while saving a lot of money on renting a 3rd party tracking platform.
External trackers can cost more than 2.000$ per month, depending on the volume of traffic, so the Goose team also thought about this detail, to keep money on affiliate's pocket.

Daily Payout
What if your affiliate network pays daily? Definitely, as a CPA affiliate, with daily payouts, you will never face currency crunch as affiliates may have to buy traffic to promote offers.
Affiliates need to pay for media spent, every day, and if your payment is coming after a month, you can face a problem to scale your campaigns.
To overcome this problem, the Goose team pays on a daily basis, and the minimum payout is about $10 only. They offer plenty of withdrawal methods from Paxum, ePayments, Wire Transfer, Bank Card, WMZ wallet, etc., including partnerships with ad networks, where pubs can have their funds uploaded directly in their ad network, like Exoclick, as an example, with a special bonus.
Other Features
The fact that Golden Goose is a content provider in Russia and the CIS countries allows them to speak the same language of other content providers, which, ultimately, brings a benefit in commercial conditions.
They are regularly improving their platform which includes affiliate analytics, solutions for ad blockers, anti-fraud algorithms, advertising campaigns evaluation, etc.
They pay daily, which is not common in this industry and you can always reach your account manager, every day, including weekends.
Conclusion
These days you can find lots of affiliate networks, and many of them close down their business. Affiliates get confused about which network to join they have a lot of questions about the network like, will they get paid on time, is the offer payout high, compared to other networks, how well is tracking platform working, how reliable is the network, etc.
In all these scenarios Golden Goose can be a great option as they are in the business for a long time, they have direct relations with mobile carriers in some countries, they pay on a daily basis, they are providing VAS services in Russia, so they know how the demands of content providers. They understand traffic. They have a global presence, on the mobile VAS industry, and provide free tracking solution to affiliates. For me, Golden Goose gets the Thumbs up.
With GG, you can increase your earnings and get bonuses, while saving money on your 3rd party tracking platform. So go ahead and join the Goose team, right now.
Useful Links
You can find Golden Goose on all major social sites, find the links below.
GG Website: https://gg.agency
Facebook GG: https://www.facebook.com/GoldenGoose.Network/
LinkedIn GG: https://www.linkedin.com/company/gg-agency/
VK GG: https://vk.com/gg.agency
Instagram GG https://www.instagram.com/goldengooseagency/