The growth of the Internet has provided ample opportunities for bloggers and webmasters to monetize their blogs or websites. Now, various options are available for monetizing blogs or websites.
And that's great news for bloggers and webmasters.
Today, we share with you PayClick Review which is a popular and leading Native Advertising Network and helps publishers to monetize their websites with effective advertising formats.
Well, a lot of effort goes into making your website relevant and engaging. Once you have a thriving website with lots of visitors, you certainly lookout for ways to monetize your website and increase your profits.
One of the methods that are increasingly being used by bloggers and webmasters is placing ads on their websites or blogs. They join an advertising network that serves ads to their websites or blogs.
However, contrary to your expectations, your efforts might not yield the expected results. It is because there are ad formats that distract viewers and make them go away. This is the least you expect by placing ads on your website or blog. You would never want to annoy your visitors.
So, what's the way out for you?
Well, the solution lies in placing Native Ads on your website.
Native Ads resemble your website content. They are content recommendations and do not distract your visitors. They have a high click-through rate and tend to be popular with website visitors. They prove highly effective advertising format for publishers and help advertisers in reaching out to the targeted audience worldwide.
In this context, PayClick proves to be a highly effective Native Advertising Network. The PayClick Review will show how this Native Advertising Network can effectively monetize your website or blog.
PayClick – An Overview
PayClick is the Native Advertising Network which is operating since 2010. Over recent years, PayClick has gained much popularity as the conventional banner advertising is becoming less effective for monetizing website traffic. It generates higher revenue than any other ad format.
The PayClick Advantage
PayClick shows recommended content which generates high Click-through Rate producing high earnings for publishers. PayClick provides services to worldwide publishers and has over 120000 advertisers across 107 countries. It delivers a 100% fill rate together with high paying, content-driven, and interest-based ads.
Another big plus with PayClick is the flexibility that it offers in its pricing models. As a matter of fact, PayClick offers both CPM as well as CPC pricing models. So, you have a good opportunity to make a handsome income through the network.
The PayClick Offering
They come with exclusive terms for premium partners and smaller websites. Moreover, PayClick Ads are fast loading, thoroughly responsive, highly customizable, high paying and content-driven.
It uses browser cookies to serve ads based on users' interests.
Some Interesting Facts about PayClick
Another good thing about PayClick is the fact that its Ads do not conflict with Adsense. It means that you can run Adsense Ads as well as PayClick Ads at the same time on your website. Plus, it has no restriction on the number of Ads that can be shown on a single page.
There are lots of customization options available. So, you can easily customize the ad widget according to your requirements. For example, you can select the background colors, the number of blocks, font styles, font size, the size of images, text alignment, etc.
If you are worried about installation and configuration, we must say that its ad widget is quite easy on installation and configuration. It would hardly take five minutes to set up and install
PayClick.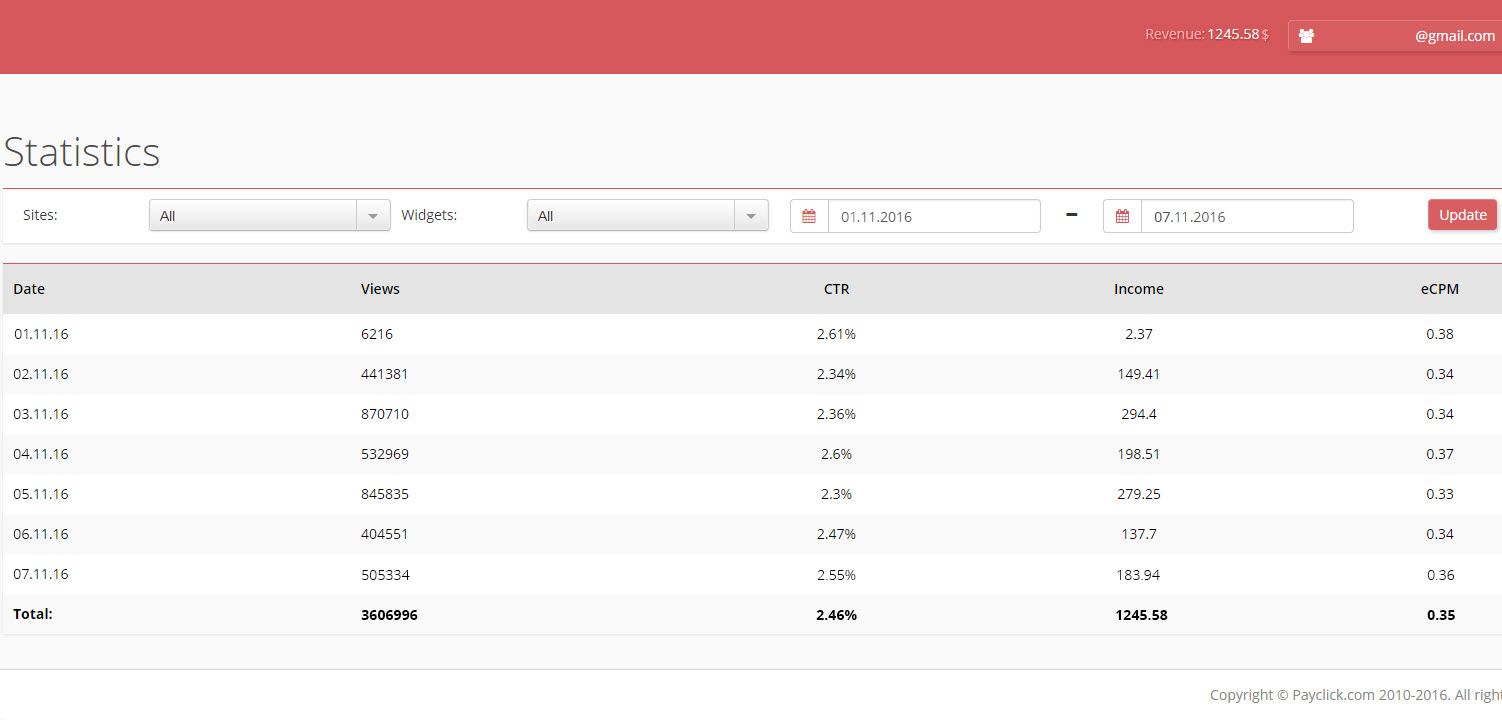 PayClick offers for Advertisers
From the advertisers' perspective, PayClick proves a profitable channel for targeting quality visitors. It enables advertisers to easily start their campaign and reach out to the target audience. It delivers tons of clicks and impressions on a daily basis. They provide great support. So, if you need their assistance, you can always expect a quick resolution from their end.
The Sign-Up and Approval Process
PayClick offers an easy sign-up process. You have to complete a simple registration form and submit it. A verification link is sent to your email address which you need to click for activating your account. Once the account gets activated, you can submit your website for approval. PayClick doesn't take much time to approve or disapprove of any website. PayClick usually accepts website with quality content and real traffic. It allows you to place as many ads as you want.
Advantages of Working as a Publisher with PayClick
The payments are made weekly.
Quick set up, installation and configuration.
Full 100% Ad Moderation.
Access to a native support manager.
Detailed statistics are being provided.
Multiple Payment Options.
Superb Technical Support to every publisher.
Benefits for Advertisers
Option to start from low campaign rates.
The average CTR is nearly 2.3%. It can be as high as 5%.
Detailed Reports for every advertiser.
Facility to choose campaigns according to the users.
A native account manager for every advertiser.
And much more
Top Features of PayClick
Ad Formats: It offers Native Ads and Content Recommendation Ads for Publishers.
Responsive Ads: PayClick serves responsive ads that can easily adapt to any screen size.
Stats Reporting System: PayClick provides a detailed stats reporting system for showing up information related to the ads. You get to see total revenue, views, CTR, income, and eCPM on a daily basis.
Minimum Payout: PayClick has kept the minimum payout as $20.
Payment Frequency: Weekly
Payment Options: Payment Options to publishers include PayPal, Payoneer, Wire Transfer, and Webmoney.
Final Words
PayClick turns out to be an excellent native advertising network that is helping thousands of publishers worldwide earn a decent amount of money. So, if you find that the traditional form of advertising is not working for you, it's time to check out PayClick Ad Network. We hope that this PayClick Review was successful in providing ample information about this advertising network. So, it's time to start using PayClick.