Here, we have come up with Push House Review, a leading Push Notification Ad Network helping website owners make money with Push Ads.
Push House has garnered a great reputation worldwide by providing highly engaging ads to advertisers and publishers.
Let's get started with it straight away.
Push House was founded in 2018 and is based in Slovakia (a country in Europe). It offers Push Notifications Ads to advertisers and publishers as well. So, it's an advertising network for push notifications. Push House helps to monetize your website by using Push notifications.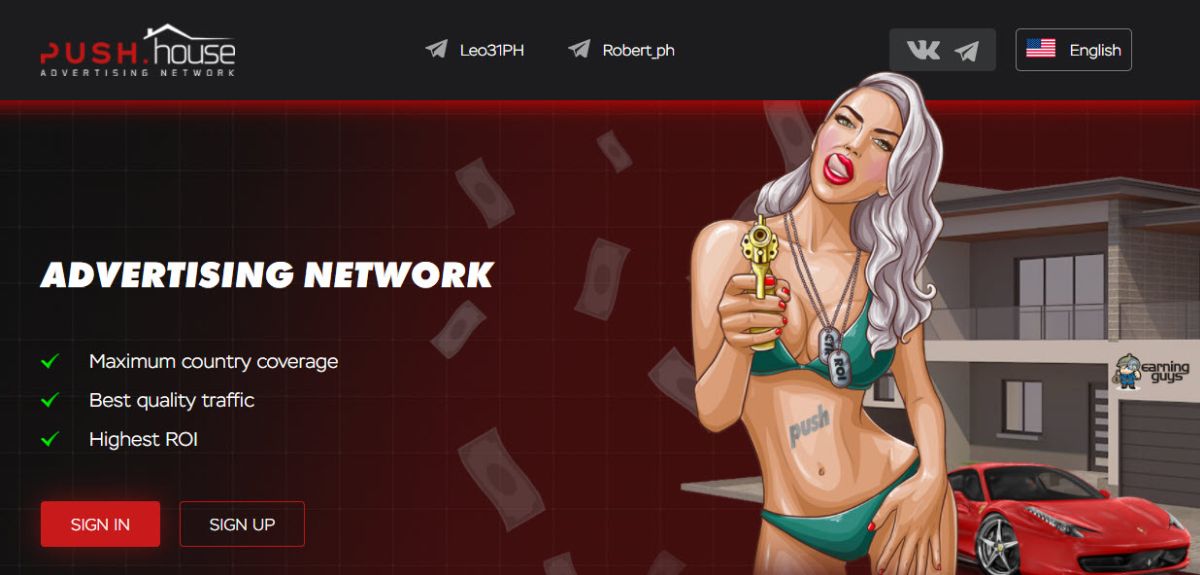 Push House has worldwide coverage to over 180 countries. They have more than 700 million active subscribers and register almost 25 million clicks per day. Moreover, it's growing each day as it provides high quality to its users.
Here's a short overview of features of Push House for you that you surely need to know:
Company name: Push House
It was founded in 2018
Its Push Ads Network
Countries Allowed: Worldwide
Statistics: 700+ million subscribers
Clicks: 25M each day
Minimum Payout: $50
Payments are made weekly
Payment Methods: Bitcoin, WebMoney, Safe Charge, ePayments, VISA/Master Card
Transfers via Interkassa: Bank Cards, Perfect Money, PAYEER, Advcash, Yandex.Money
Convenient Targeting
City Targeting
Device Targeting
OS version Targeting
Browser Language Targeting
Targeting by the age of subscription
IP Targeting
You get the ability to customize the campaign schedule by Days, Hours
Ability to connect traffic from third-party bash subscriptions
Ability to customize the budget of an advertising campaign: general, daily
Customizable click limit
Customizable click limit
Configuring the uniqueness of the campaign by an ad, link, domain
Setting up Black / White lists
Setting post-back parameters with real-time conversion and ROI counting
Telegram chat for communication and help: https://t.me/Leo31PH and https://t.me/Robert_ph
Free to join for Advertisers as well as Publishers
Affiliate Program: 3% Commission
Integration with trackers such as AdsBridge, Keitaro, Cpatracker, PeerClick, Bemob, Octotracker, and Binom
Going by the above overview, it seems obvious that Push House is worth choosing for both advertisers and publishers. Moreover, Push House is one of those networks that has been maintaining its quality as well as improving it each day.
They have built an excellent reputation worldwide by providing quality to their users.
Now, Push House has become a leading Push Ad Network and is dominating other Push Notification Ad Networks with its superb quality and excellent features.
Its hallmark is that it sells unique and quality traffic to the audience. Push House helps you to generate streams of revenue. You simply need to implement the push ads, which are quite easy to set up. Plus, Push House rewards its users by offering various discounts and bonuses.
How can you get started with Push House Ad Network?
To get started with Push House, you need to perform some actions after creating an account. Here, we list down the steps for getting started with Push House Ad Network:
You need to create an account
Firstly, you have to create an account on their website. You have to visit the homepage. Here, you'll see two buttons – SIGN UP and SIGN IN. Now, click on the sign-up button and fill out the required details.
Once you have done this, you need to verify your account and move to the next step. However, if you have got your account created earlier, then you simply need to log in to your account.
Once your account has already been verified and approved, you need to surf the ad creation area. Here, you have to create your first ad. You need to give your ad:
a title name
an image
a description
Lastly, you need to put your website address in the ad. This will redirect the users (who click on your ad) to your website.
Now, you need to select your audience that you want to target. It will enable you to generate high conversions. Once you set up your audience, you can start your advertising campaign.
That's all you need to do from your side.
Now, Push House will do the needful. It will send a unique and quality audience to your website with the highest conversion rates.
You can access your dashboard to monitor your campaign statistics such as Impressions, clicks, and the revenue you have spent for the campaign.
Benefits for Advertisers with Push House
Push House turns out to be a worthy choice to advertise your business. In fact, millions of advertisers are using this platform to promote their businesses.
Advertisers stand to benefit from its Push Ads that are highly engageable. Push House offers push notifications that pop-up in the best possible way, never annoying the users and helping to generate high leads and sales.
The revenue model used by Push House is CPM (Cost per mile) and CPC (Cost per Click). So, you need to pay when some action is being taken from your ad.
Here, we list down the core benefits of Push House for advertisers:
Targeted and high-quality traffic leading to high conversions
24/7 Live Support
Split Landing Testing
High CTR
Anti-Fraud System
They employ a Real-Time Bidding System
Multiple payment methods for depositing money
Feed and Agent Targeting System
Personal manager for each partner
Advanced real-time statistics
Quick Launching of Campaigns
Brand security to the advertisers
Moreover, much more
Benefits for Publishers with Push House
Publishers stand to benefit from Push House. It helps them generate income streams by simply displaying ads on their websites.
Publishers can monetize their websites by using highly targeted Push Ads. They simply need to implement Push Ads on their website. Moreover, it is very easy to get approval on Push Ads.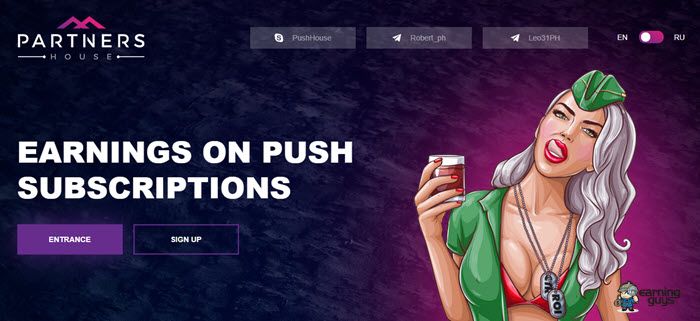 However, you need to follow some rules and regulations such as not clicking on your ads, not using multiple accounts, preventing using fake traffic or using bots, etc.
Here, we have shared with you some of the benefits for publishers with Push House:
It has the highest payout rates
Accepts traffic from worldwide over 180 countries
Minimum payment thresholds
Multiple payment methods
Advanced real-time statistics
24/7 Live Support
As much as 3% commission from referrals
The fast payment processing system
Concluding
Going by the above Push House review, we find that it's one of the best push notification ad network. Push House has become a leading Push Advertising platform. Now, it's time for you to get started with Push House.