In this post, I am listing Adult Ad Networks, which many readers request. When we talk about adults, many people blush, but this is the fact that Adult is the most surfed and search term online.
Adult sites get more traffic than any other popular site. Generating traffic from adult sites can be a great way. You do not generate traffic to adult-related products or services from adult sites, but you can generate traffic for any other product or service. If target right, any site can benefit from adult traffic; I have read a case study of a Food Store that advertised on the adult site and was getting good conversions.
Most of the time adult sites get the advertisement for other adult sites, adult dating, cam site or adult related products. Lots of affiliates use adult traffic to drive traffic for adult dating offers.
Now, most of the adult traffic networks offer Web, Mobile, and Tablet targeting, so you're targeting can be more accurate as you want. These affiliates and webmasters can promote mobile offers from adult traffic.
Here is the list of Best Adult Advertising Networks for Buyers and Publishers. Go ahead and look at these adult ad traffic sources and start advertising or earning.
19 Best Adult Advertising Networks
Here is the list of Top Adult Ad Networks:
1. ExoClick Best Adult Ad Network
ExoClick is the fourth-largest advertising network in the World. The ExoClick Adult Ad Network offers ad solutions for web, mobile, tablet, etc. There are various advertising options for advertisers like display banners, In-video ads, PopUnder, Interstitial ads, etc. ExoClick offers CPC, CPM, and fixed price ads. For the publishers, ExoClick offers weekly and monthly payments by various payment gateways.
ExoClick offers one of the largest entertainment inventories from one single platform. It offers advanced targeting features such as GEO, language, device, browser, sites, and OS for reaching your audience. ExoClick offers a unique set of conversion tracking tools for monitoring your results and ROI in real-time.
It offers multiple ad formats (such as push notifications, Email clicks, billboard banners, interstitial full-page, in-video banners, display banners, native interstitial, and much more) to increase your reach. ExoClick employs a real-time bidding system for accessing billions of daily impressions. ExoClick allows advertisers to set user capping and daily budgets. It offers top-notch security rejecting bot traffic, click farms, malware, and viruses.
Publishers get a 100% fill rate and global coverage. They have access to on-time payments through PayPal, Wire Transfer, WebMoney, and ePayments. Plus, a wide variety of web and mobile formats for monetizing the inventory. They have access to real-time statistics and 24/7 customer service. There's also a 5% Referral Program for increasing your revenues.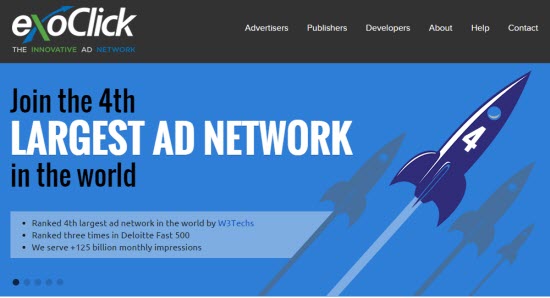 2. Adsterra Top Adult Ad Network
The Adsterra Network has stood out as a reliable digital advertising company offering performance-based solutions for advertisers and media partners worldwide.
Adsterra is a worldwide ad network with a top-notch performance both for advertisers and publishers. It brings together all verticals and 12K+ of direct publishers serving over 30 billion impressions monthly. Since 2013 it delivers top offers, relevant traffic, and bestselling ad formats for mobile and desktop.
Moreover, Adsterra has evolved as one of the fastest-growing adult advertising networks. It offers ad solutions for both desktop and mobile, including:
Display banners
Popunders
Direct links
Pre-roll video
Push notifications
Interstitials
With Adsterra, advertisers can launch, manage, and analyze their advertising campaigns in an easy and cost-efficient way. They can opt from various payment models such as CPM, CPA, CPL, CPO, and CPI.
So, advertisers have the opportunity for more impressions, leads, conversions, and sales. Adsterra offers advanced optimization technology with which advertisers can get the most effective results for each creative and placement.
With Adsterra, publishers are in for many advantages.
Be a part of Adsterra Publisher Network and get the opportunity to monetize easily using its smart & advanced technology. Get 100% fill rates and competitive CPMs. Adsterra offers maximum security through its in-house and third-party fraud detection system.
Publishers can count on their on-time payment policy (NET 15). Plus, Adsterra offers plenty of withdrawal options, including PayPal, Wire Transfer, Web Money, Paxum, and Bitcoin. The minimum payout threshold is $5.
You can even refer your friends to Adsterra Network and have the opportunity to make extra money with its Referral Program. You can earn 5% of the publishers' revenue, which you referred to Adsterra for a lifetime.
Ad Formats: Popunders, Push, Banners, Direct Link, Native Ads, Vast (video), Social Bar, Interstitials
Different cost models: CPM, CPA, CPI (PPI), CPC, CPL, CPO, RTB.
Payment methods are:
Paxum
PayPal
WebMoney
Bitcoin
Wire Transfers
QIWI
UnionPay
Visa
Mastercard
Yandex money
Minimum payouts:
Webmoney, Paxum: $5
PayPal, Bitcoin: $100
Wire: $1000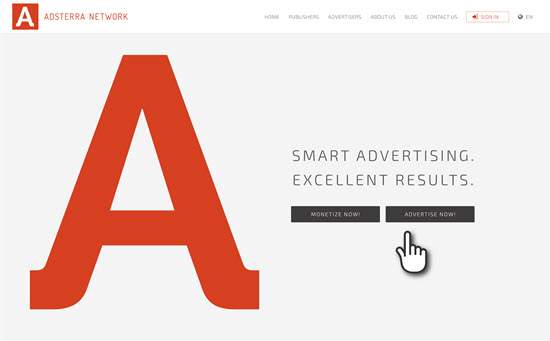 3. EroAdvertising Adult Advertising Network
EroAdvertising is one of the most popular adult advertising networks. It's a self-serve adult traffic network based in The Netherlands. It offers banners, pops, redirect, and native ad formats for both mobile and desktop. It serves billions of daily impressions covering the whole world and offers traffic from over 190 countries for mobile and desktop.
EroAdvertising employs deep targeting methods for advertisers so that they can get the right traffic for their products. It specializes in publisher tools helping publishers to monetize their website traffic. They are helping clients all around the world to improve their business. They specialize in delivering the latest technology for their clients to optimize their campaigns and max out their earnings.
Advertisers get access to a feature-packed dashboard with which they get total access to all aspects of their campaigns. Plus, EroAdvertising offers advanced and reliable real-time analytics with which advertisers get to analyze their campaigns in all aspects. Advertisers also have multiple targeting options.
Publishers get to monetize their mobile and desktop traffic with EroAdvertising. They can offer engaging advertising to their audience that brings profit to them. They have access to reliable and detailed statistics & reports received in real-time. Adult site owners can earn by joining EroAdvertising as a publisher, and they pay on a weekly or monthly basis.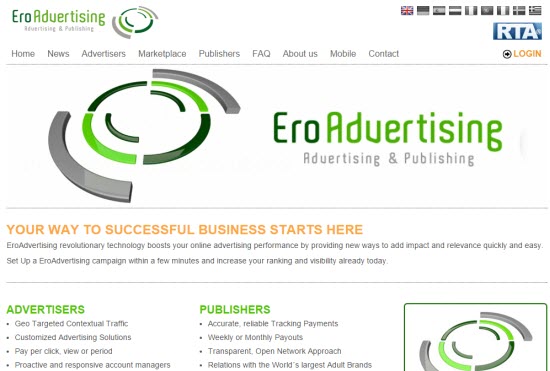 4. JuicyAds Sexy Adult Ad Network
JuicyAds is the leader in the direct ad sales network. Advertisers can buy ads on a particular website with the help of JuicyAds. A Publisher can sell ads at a fixed price with the help of JuicyAds, and the advertiser buys that spot at a fixed price for days or a monthly contract. An Advertiser can also run RON (Run of Network) ads which are CPC or CPM based. With JuicyAds, you can find quality inventory at a low price.
Scores of advertisers trust JuicyAds for delivering quality traffic. Advertisers have the best anti-fraud protection from JuicyAds. They have the most advanced targeting possible such as device type targeting, country geo-targeting, connection targeting, browser targeting, OS targeting, IP targeting, language targeting, and more. The ad formats on offer include banners, native ads, and Popunders.
In fact, JuicyAds has been called the "Sexy Advertising Network." It's a well-trusted name in the online advertising industry. They are rated as one of the best Adult Advertising networks.
JuicyAds is one of the best marketplaces for publishers and advertisers to earn more money with its top-class monetization solutions. They have brought together the tools, targeting, and anti-fraud capabilities in its simple to use self-serve platform. They are providing services to thousands of clients and websites.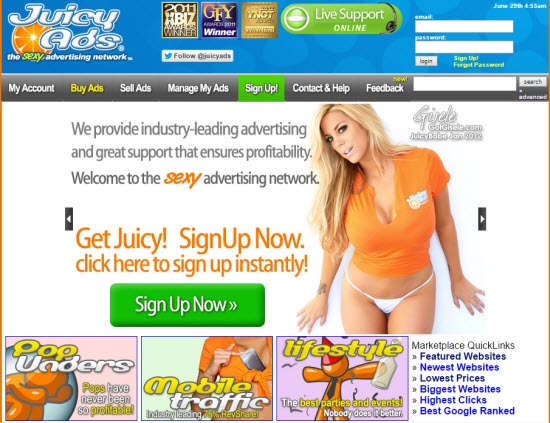 TrafficJunky is a self-serve advertising network which offers CPM based advertising solution for Web, Mobile, and Tablet. They can serve 141+ million daily visitors, which is a very big inventory. TrafficJunky also offers a publisher program; publishers are paid weekly by various payment gateways. They give lots of targeting options to advertisers by which they can target the right audience at a very low price.
TrafficJunky comes with the advanced ad serving and auto-optimization technology, which helps deliver the ads to the right audience. It focuses its efforts on identifying the traffic that gets converted for your business.
TrafficJunky has a large pool of advertisers and works with a powerful traffic distribution algorithm allowing you to grow your business effortlessly. It delivers cost, click, and impression statistics in easy-to-understand reports. Advertisers can target worldwide traffic, specific countries, and even cities. They have access to a high volume of ad impressions that are served daily across their network. TrafficJunky is a fully automated ad-serving platform that helps advertisers reach their goal of growing their eCommerce business.
Publishers can place a variety of ad formats or sizes according to their specific site layout. They have access to tracking and analytical tools by which they can measure their growth instantaneously. Publishers get paid every week with proven and flexible payment solutions. Publishing with TrafficJunky means you can maximize your online inventory revenue.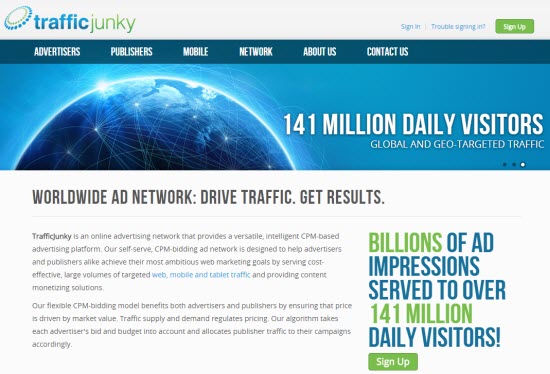 If you want to buy adult traffic or run an adult website and look for an adult ad network, Pushy-Ads can be your best choice. Pushy-Ads is a leading Adult Push Notification Ad Network that allows adult ads for publishers and advertisers. The Pushy-Ads is an adult ad network based in Israel and operating since 2017.
Pushy-Ads is one of the top adult networks to push notification ads. Its prime focus is to help you generate additional revenue for your traffic. Pushy-Ads has been successful in becoming a leading player in the online advertising industry. It is focused on bringing mainstream advertisers to adult publishers.
Pushy-Ads is constantly engaged in bringing adult publishers the highest quality advertisers to generate the highest revenues. It guarantees high CPM with its quality Native Content Recommendation Ads. It's best at push monetization for adult websites.
For Push Notification Ads, you don't need any Ad space on your website, you need to place Ad code, and whenever a new user visits your site, it will prompt a notification to join your website notification. Users need to click allow once, and they will be opted to receive push notifications on their mobile or computer.
Pushy-Ads will occasionally send Push Notifications, and you will earn every time they send Push Notification ads to the users. This is a very beneficial option as a user doesn't need to come to your site, and still, you will earn money.
Advertisers are in for great results with Pushy-Ads. They can target every user everywhere. Pushy-Ads offer global coverage enabling you to promote your offers on adult sites from all GEO. It offers advanced targeting. You can target by GEO, device, browser, ISP, Sub-Id, and more. Pushy-Ads supports self-serve, XML, Open-RTB, and API integration.
Publishers have the opportunity to monetize their websites with a friendly and profitable format. They are in for great revenues and flexible payments. Pushy-Ads works with a "fast approval" policy. It offers real-time stats as well as quick integration.
At present, Pushy-Ads is invite based network; you need an invitation to join. You can fill a simple form, and they will check your website for approval (The approval process is quite fast). Fill in the simple form and get started with Pushy-Ads.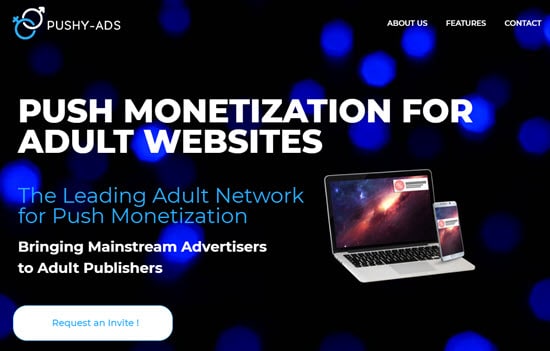 TrafficFactory is another popular adult traffic source with half a Billion daily page views. The TrafficFactory network offers real-time bidding with lots of targeting options. Target by devices, Geo, dayparting, spend limit, and much more. TrafficFactory offers Display, Pop Under, and Contextual traffic.
TrafficFactory has evolved as a global provider of high-quality traffic. It employs the most up-to-date and accurate Geo-targeting technology. TrafficFactory works on the Real-Time Bidding model. It has built an extensive network of traffic.
They have developed a Self-Managing Platform that enables its clients to control their advertising needs and budget. So, advertisers can upload banners, change bids, change targets, and set up when and how long they want to run the ads.
With TrafficFactory, advertisers can increase the commercial potential of their products and services. Advertisers can target users by a device such as iPhone, iPad, Android, or other mobile platform and boost their campaigns through our state-of-the-art mobile targeting technology.
TrafficFactory offers the Bid-for-Performance platform, which allows advertisers to target millions of web, mobile, and tablet users. With real-time bidding, advertisers can control the price they pay for traffic and the total amount of traffic their sites receive. They can add a maximum daily spend and a total maximum spends per campaign.
Advertisers can set the start as well as the end time of their advertising campaigns each day. So, advertisers get the best traffic suited for their needs during the optimal hours they want. TrafficFactory offers real-time statistics for ad campaigns that are available hourly, daily, monthly, and in CSV format.
Slimspots is one of the most popular, innovative, and successful Adult Ads networks. It functioned as a CPA-based Ad Network and was founded in June 2013. It enables advertisers to place their advertising materials on participating websites. Slimspots has a lot in store for advertisers, publishers, and media buyers. Advertisers can maximize their ROI by the usage of performance-based marketing.
It connects them with industry top publishers. On the other hand, publishers can look forward to the best eCPM, lucrative offers, competitive payouts, and weekly payments. With Slimspots Adult Ad Network, you get the best in online marketing needs. You stand to benefit from its huge range of traffic in all countries around the globe. Slimspots Adult Advertising Network offers you an opportunity to connect with new possible clients on various verticals.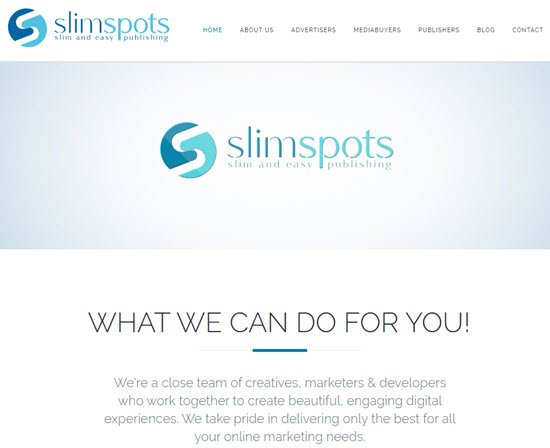 9. PopAds Pop Adult Ad Network
PopAds is one of the best Pop-under Advertising Network. However, it also functions as an Adult Traffic Network. It is a high-paying Ad Network that takes good care of its members. As an advertiser, it offers you an opportunity to bring top-quality visitors to your site. You can set your budget, target your visitors, and control your rates by becoming a PopAds advertiser.
You get the advanced anti-fraud system with PopAds, which filters out all proxy, bot, and mobile traffic. Plus, advertisers have access to many targeting options such as category, keyword, country, and time. PopAds offer lots of payment options to advertisers, including PayPal, AlertPay, and Wire Transfer.
You can even become a publisher and monetize your website with pop-under ads. PopAds offers one of the best rates in the industry and one of the best international coverage. PopAds accepts adult websites (as long as the content is legal).
Publishers can request withdrawals any time they want. The payments are processed using PayPal, AlertPay, and Wire Transfer. The minimum withdrawal limit is $5.00 for PayPal and AlertPay. It is $500.00 for Wire Transfer.
This Pop-under Ad Network is fast, efficient, and secure. It's one of the best paying advertising networks out there. The payment requests are processed daily for publishers. It goes on to offer one of the fastest supports in the industry. It uses advanced SSL technology.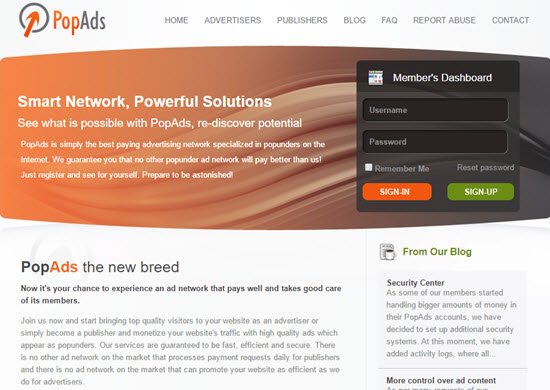 10. AdXXX Popular Adult Ad Network
AdXXX is a leading and one of the most popular Adult Ad Networks out there. It's one of the best Ad networks for advertisers as well as publishers for maximizing revenue.
AdXXX is specially created to satisfy the advertising needs of the adult industry. It's one of the most profitable platforms for advertising and monetization by utilizing the perfect mechanism of real-time bidding and direct contacts with some of the leading advertisers worldwide.
AdXXX leverages its vast experience in the realm of internet marketing. It has a wide range of products for the audience of adult sites. AdXXX excels in native advertising for the adult industry. All this helps it achieve incredible results as far as monetization is concerned with practically any entertaining traffic.
So, collaborating with AdXXX results in maximum profitability and maximum convenience. Plus, AdXXX offers a personal approach to each of its partners, coupled with quick support and technical assistance.
Becoming an AdXXX advertiser brings several advantages for you. It's a Native Ads buying platform. Plus, it has many innovative ad formats under its belt. AdXXX has a huge entertainment inventory. You get perfect traffic targeting through GEO, device, carrier, OS, connection, and more.
You bid for traffic in real-time and have access to millions of impressions. AdXXX offers easy account top-up through PayPal, Paxum, Webmoney, ePayments, and Wire. The minimum payment required for doing a top-up of your balance in the system is just $10 (USD).
Signing up as a publisher gives you an increased eCPM guaranty, worldwide coverage, and best terms of all advertising networks. Payments are made weekly through PayPal, ePayments, Webmoney, Paxum, and Wire. You get dedicated support (personal approach) all through 24/7.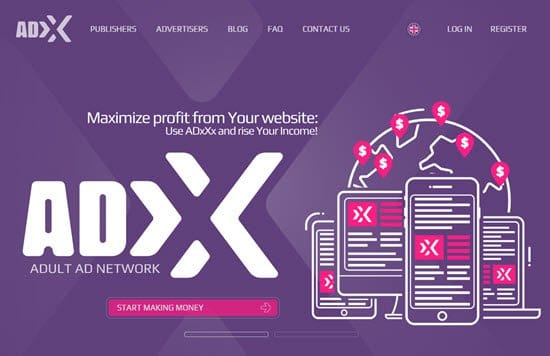 The Traffic Shop Adult Advertising Network offers much value to both advertisers as well as publishers. It's different and simple to work. Traffic Shop is trusted by thousands of clients worldwide.
Publishers and advertisers can make big money here. So, there's an opportunity to advertise and monetize with Traffic Shop. It offers a wide range of ad formats with millions of ad impressions.
The Ad formats include:
Banners: It offers all popular banner sizes certified by IAB
PopUnder: Powerful cross-browser PopUnder script
Skimmed: It's another great way of having ads in front of your targeted audience.
Mobile: Plenty of options for mobile ads such as text and rich media banners, redirects, and pop-unders
Advertisers get the benefit of worldwide coverage and cross-platform advertising, thereby reaching out to the right audience.
They can look forward to flexible and advanced targeting by GEO, language, device, OS, browser, and more. Advertisers get the advantages of real-time conversion tracking to track performance, revenue, and spend.
They can opt for various pricing models: CPM, CPC. Advertisers can schedule the campaigns and maximize ROI and conversions. Plus, there's detailed reporting and stats in real-time.
With Traffic Shop, Publishers can have the best rates for their traffic and maximize revenue for the web and mobile inventory. They have access to all popular ad formats for the monetization of their traffic. With Traffic Shop, you get access to customizable & advanced real-time reports and report templates.
Traffic Shop is known for making fast payouts. They offer various payment methods such as PayPal, WebMoney, Bank Wire, Paxum, ePayments, and Bitcoin. The minimum payout threshold is $50 only. It's a network you can trust. All campaigns go through a security system, ensuring the safety of advertising campaigns.
PlugRush is another very popular adult ad network. It's known for its powerful advertising technologies. PlugRush became functional in late 2007 and has now become a leading advertising network.
It allows webmasters to trade traffic, buy or sell clicked traffic, mobile traffic, and PopUnder traffic easily and quickly. PlugRush is pretty transparent and drives great results for both advertisers and publishers.
PlugRush offers several high-impact ad units that are perfect as an AdSense alternative. Moreover, the ad formats are among the best options to advertise and generate more revenue from your campaigns.
Ad Formats & Ad Sizes with PlugRush:
Medium Rectangle Banner: It performs best when embedded within text content or at the end of articles. They are successful in generating high click-through rates on mobile.
Leaderboard Banner: This web banner format performs well when placed at the top of the page, just before your main content.
Vertical Native Ads: These look and feel like natural content. It's successful in building trust and best for content marketers.
Skyscraper Banner: It's a standard display banner web format. It is usually used at the side, between the content, and at the edge of the page.
Horizontal Native Ads: It's Native Advertising and works on mobile as well as desktop.
Half Page Banner: It's visually impactful ad sizes and one of the fastest ad-units by impressions.
Desktop Pops: The OnClick Pops can be used to reach thousands of engaged customers. You get paid for every visitor.
PlugRush is an advertising platform that allows you to create and run your campaigns in minutes. It's suitable for both beginners as well as experts.
With PlugRush, advertisers get the opportunity to reach high-volume traffic. Get access to this global network and reach millions of potential customers. PlugRush offers real-time statistics. Its anti-fraud technology protects you against online fraud, fake clicks, and bots.
You get direct control over where your traffic comes from. Plus, you get quick ad approval, and there are multiple payment options for advertisers such as PayPal, Paxum, Wire Transfer, or Credit Card.
With PlugRush, publishers get the opportunity to increase profits from their websites. More than 30,000 websites are already using it. You need to register with PlugRush. Place the code on your site and start making money.
PlugRush offers a 99% Fill Rate. They provide real-time statistics. It offers great rates for you. Safety is the topmost priority for PlugRush. They monitor ad inventory manually as well as automatically 24/7. The ad codes support the HTTPS protocol for your protection.
Plus, you get prompt payments (on request). They pay through PayPal, Paxum, Wire Transfer, and Firstchoice Pay. The minimum payout threshold is $25 (USD). The earnings are paid within 24h after you put in the withdrawal request.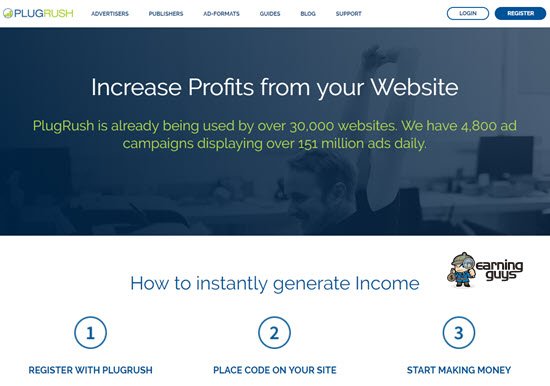 PopCash is a leading Pop-under network offering worldwide coverage and guaranteed results for both advertisers and publishers. PopCash is involved in the online advertising business for more than a decade. It's a performance-focused ad network having a wide range of targeting features. It offers a self-serve platform that is very easy to use. It comes with 24/7 dedicated support through email and Skype.
PopCash makes it easy for advertisers to start their campaigns in less than 10 minutes. You need to register, make a deposit of a minimum of $5 (USD), and submit your campaign. It offers multiple targeting options and full control over your campaigns. Campaign approval is fast and is usually completed in less than 24 hours.
PopCash offers its in-house built ad server to meet your highest requirements. It offers an intuitive interface (available on mobile and desktop), helping to build your campaigns easily. Its robust API allows advertisers to optimize and automate the collaboration with PopCash. It offers detailed reports (updated hourly), allowing advertisers to monitor and analyze their campaign's progress.
Publishers can maximize revenue using PopCash. They get as much as 80% revenue share. PopCash offers fast approval for your website. It serves clean and safe ads.
PopCash has a "fast" payment policy. The payments are processed within a few hours. It processes payments via PayPal, Skrill, Paxum, and Wire Transfer. The minimum payout threshold is $10 (USD).
PopCash also offers a 10% Referral Program to its publishers. Plus, they offer top-notch support and updated hourly reports for monitoring the earnings.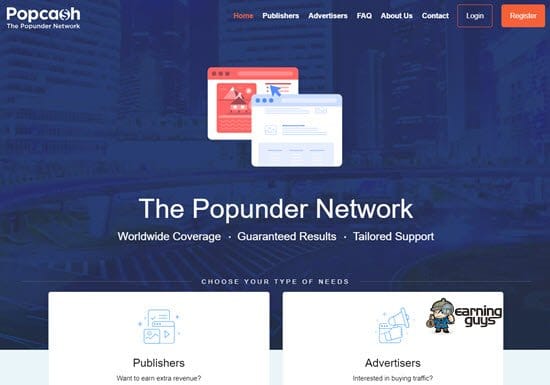 The TrafficStars comes from a team having more than ten years of experience in the online advertising industry. TrafficStars has become a powerful, self-serve Ad Network and Ad Exchange. It's real-time bidding (RTB) Advertising Network. It has pioneered in creating effective and easy solutions for publishers, advertisers, developers, and marketers.
It enables you to buy and sell premium worldwide traffic in merely a few clicks. TrafficStars works with the central objective of user experience. It's powerful, secure, flexible, and easy to use. TrafficStars is suitable for beginners to media buying experts.
Its proprietary ad-serving technology offers programmatic solutions to online advertisers/DSPs/publishers/SSPs worldwide. TrafficStars specializes in the entertainment industry. It offers billions of top-quality ad impressions monthly from direct mobile as well as desktop traffic sources.
With TrafficStars, advertisers get the advantage of worldwide traffic and that too at lower prices. They get access to better targeting options and a simple interface for managing the campaigns. TrafficStars offers the best ad formats allowing you to generate more revenues from your campaigns.
It offers several high-impact ad formats, including desktop ad formats (such as display banner, in-video ad, instant message, pop-under, pop-up, etc.) and mobile ad formats (such as display banner, interstitial ad, and pop-under, pop-up).
Advertisers can target users by country, language, category, OS, device, carrier, browser, and IP Range. TrafficStars offers a user-friendly dashboard allowing advertisers to manage accounts and campaigns easily.
Publishers benefit from TrafficStars as they can maximize the value of their inventory. They get a 100% fill rate. TrafficStars offers high ad quality with precise targeting. There's the advantage of on-time payments through PayPal, Paxum, or Wire Transfer.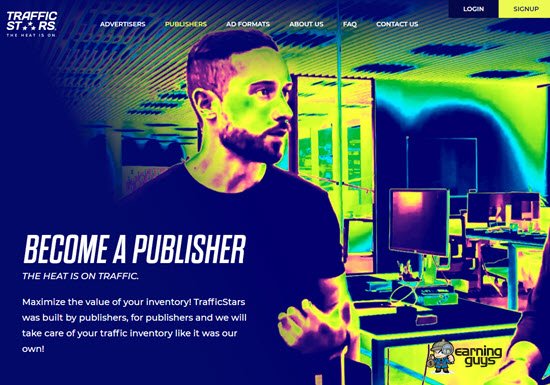 DoublePimp is another top ad network for adult publishers. It offers a single ad format: the pop-under. DoublePimp offers decent eCPM and campaigns on both mobile and desktop. It has a monthly payout system available through PayPal, Paxum, and Wire Transfer. The minimum payout threshold has been put at $50 (USD).
DoublePimp comes with a self-service platform that makes campaign management easier for those who prefer to make changes themselves. Ad types are exclusively Pop-Under for both desktop and mobile. Support is available through email only.
DoublePimp bans articles that promote illegal activity, racism, spam, hate, fraud, and investment opportunities, among other forms. Plus, the ad code needs to be implemented within five business days when it is distributed.
The good thing with DoublePimp is that it offers strong rates of CPM that are among the best in the adult sector. However, there is no active referral program.
All in all, DoublePimp is an ad network whose offering should resonate with adult publishers. They stand to make good money from the traffic they generate.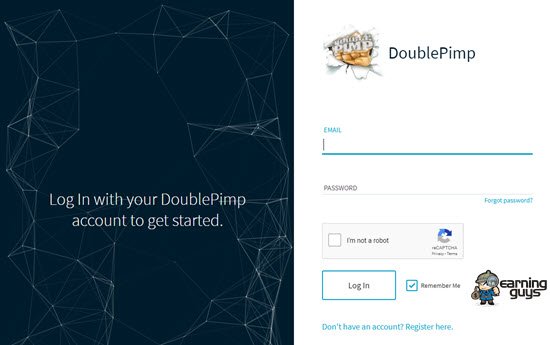 Adamo Ads is one of the best Adult Ad networks for monetizing adult traffic. It's a relatively new ad network being created in early 2014. Adamo Ads offers both web and mobile traffic on pop, redirects, and banners. It's working to transform digital advertising into a personal experience. It offers dynamic real-time ads that work.
Some of its key highlights include:
Unparalleled technology
Unmatched publishing network
Transparent
Cross-device reach
World-class support
Campaign Booster
Adamo offers ad formats for web, mobile, and in-app. These include a sticky banner, display banner, instant messages, interstitials, Pop-Under, In-video ads, as well as mobile redirects.
Adamo offers targeting tools for geo-targeting, device targeting, IP targeting, OS targeting, browser targeting, site targeting, and much more. Advertisers get the advantage of a global ad network.
They get exclusive fraud protection, together with big data statistics and live support. Advertisers have the advantage of its real-time bidding (RTB) platform. They have detailed statistics (including impression information, CTR, Costs, etc.) that are grouped by campaigns and days. Advertisers can transfer payments through PayPal, Paxum, and Bank Wire. The minimum deposit is $100 (USD).
Publishing partners get to monetize all of their traffic on all devices across the globe. Adamo Ads can deliver the right ad, to the right user, across all devices worldwide. They can monetize both web and mobile traffic. They are provided with detailed statistics.
Publishers stand to receive as much as 80% of the amount Adamo collects through its advertisers for both web and mobile. Adamo issues payments in Euro that are offered through PayPal, Paxum, or Bank Wire using NET-7 and NET-20 payout module once your account balance reaches the minimum of $100 (USD).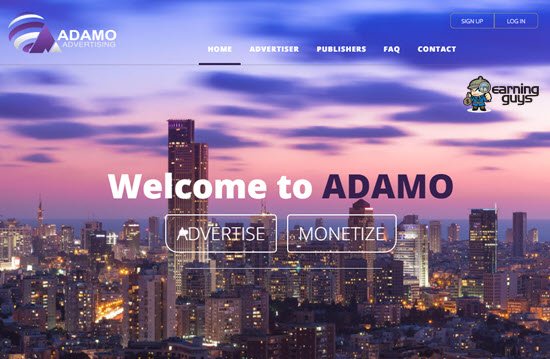 Zeropark is another leading adult ad network that surely deserves your attention. It works with three types of traffic:
Redirect traffic
Popup traffic (Full page PPV traffic)
Keywords (CPC search traffic)
Moreover, Zeropark gets both mainstream and adult traffic. The cost model used is CPV (Cost per View). Zeropark works with ad formats such as Pop, Domain Redirect, In-App, and Push Ads.
Zeropark has some interesting stats to offer:
Currently, they are running over 45000 campaigns.
More than 5000 active advertisers have used the platform.
It offers 150,000,000 ad views per day
Zeropark is fully integrated with Voluum. You can create a campaign in Voluum, choose Zeropark as a traffic source, and you are set. Everything gets tracked correctly, including costs. Moreover, you can even optimize your campaigns directly from Voluum.
Advertisers can advertise via:
Self-Serve: You can set up CPV campaigns and manually optimize them for maximum profits
Smart eCPA: The Zeropark AI algorithms automatically optimize your campaigns for an eCPA goal
Advertisers get worldwide reach, robust targeting, premium campaigns, and seamless Voluum integration.
Publishers can monetize their website and app with Zeropark. It's suitable for website owners, webmasters, mobile app publishers, toolbar and plugin owners, domainers, and ad networks. They get competitive CPMs. Publishers are rewarded for delivering high-quality traffic. Moreover, Zeropark is fully RTB compatible. So, publishers get integration through XML protocol or OpenRTB 2.5.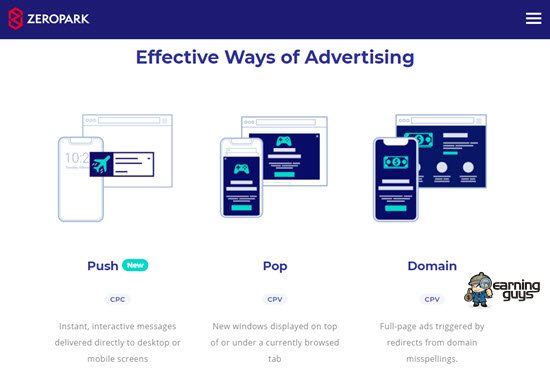 Traffic Force is one of the best Adult Ad networks. It's a secure and high-paying Adult Advertising Network for Advertisers and Publishers serving as much as 15 billion impressions on a monthly basis. The Ad Platform provides a massive amount of quality traffic for a wide range of products and services. It employs proven technologies to give you a competitive advantage in the marketplace. Traffic Force specializes in selling targeted mobile and web traffic on a CPM basis. It allows you to create campaigns as large or small as you like. They can be tracked with guaranteed precision.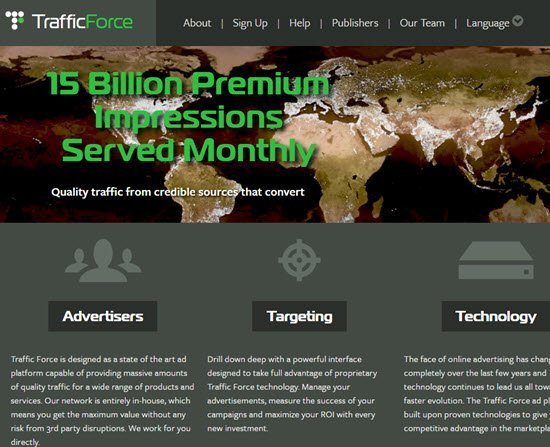 AdWorldMedia is another very popular Adult Ad Network. Publishers looking for guaranteed income can well turn up to AdWorldMedia. It is best for advertisers looking for high-quality websites and targeted online advertising capabilities. AdWorldMedia employs superior ad serving technology and delivers advanced targeting by country, niche, day, and time. It serves multiple ad formats together with CPM and CPC options. Moreover, it provides high payouts, advanced, and tons of advertisers to fill your ad inventory. Plus, it also offers a bonus referral program.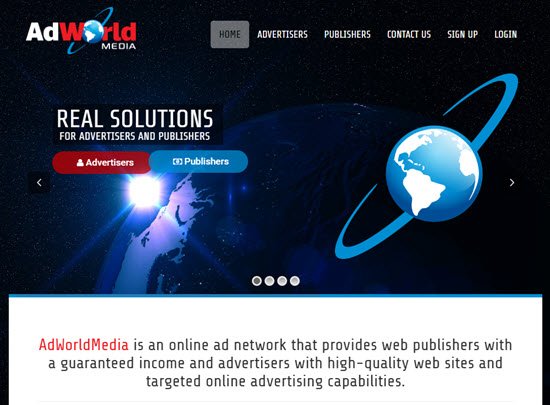 I hope you liked these Adult Traffic Networks. Please share your experience with these networks by commenting below.