Today we share some of the Best WordPress SEO Plugins which will help you boost your site ranking on Search Engine.
These SEO Plugins will help you optimize your entire site for SEO and a better user experience.
WordPress is one of the most popular, used blogging platforms and Content Management System (CMS) for bloggers and developers worldwide.
Millions of businesses today use WordPress to build their website or blog and even recommend it to others.
The reasons are pretty obvious.
WordPress has a user-friendly interface, is extremely easy to use and customize, and most important, is Search Engine Optimization (SEO) friendly.
Moreover, you get to have WordPress SEO Plugins, making the varied SEO tasks easy for you to perform.
There are plenty of WordPress plugins available to optimize your blog to make it more search engine friendly.
Today, we share with you the 16 Best WordPress SEO Plugins.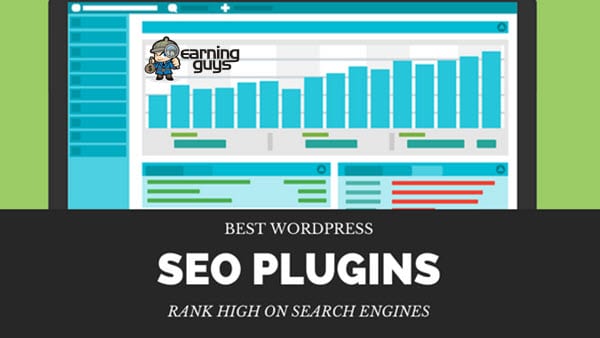 The WordPress SEO Plugins ease out the various essential and required SEO Tasks.
They help to perform technical optimizations that would lead search engines to rank your blog or website up in the search results to get more traffic of visitors.
We have listed some of the Best WordPress SEO Plugins that would help you streamline SEO tasks and thus provide you with an edge over your competitors.
I use some of these plugins on my blog, and believe me, some are so great that you can't blog without them.
If you would like to increase organic traffic, leads, and customers, you must check out this post wherein we have featured the best WordPress SEO Plugins.
Although WordPress is an SEO-friendly platform, you still need to use some of these WordPress Plugins to get your website or blog feature at the top of SERP.
We have made the task easy for you by shortlisting some of the Best WordPress SEO Plugins.
However, before I go on to the list of WordPress SEO Plugins, let's get to know the latest SEO Trends & Ranking Factors.
It will bring out the importance and relevance of these WordPress SEO Plugins listed below.
Keywords in the Title, Description, and Header Tags
The uses of Keywords in title, description, and header tags are powerful relevancy signals for search engines.
They offer accurate descriptions of the content of the pages. It helps to obtain high search rankings, and the user clicks from search result pages.
In-depth, informative, valuable, and authoritative content is preferred by Google when it comes to getting higher rankings in search result pages.
The length of your content should be fairly large to cover various aspects of your topic. So, you must come up with quality content for ranking better on search engines.
Page Speed is one of the important factors in Google's algorithms for ranking high on SERP. Fast "time to the first byte" has positive effects on indexation as well as lower bounce rates.
Mobile usage is getting bigger day by day.
Google's AMP (Accelerated Mobile Pages) Project is geared to deliver optimized content to mobile users at a lightning-fast speed.
AMP relates to a specific HTML file that loads much faster than standard web pages.
With AMP in place, you are successful in delivering a great user experience to your mobile users. You can obtain a higher search result ranking as well as more impressions and clicks.
Besides text, images also need to be optimized to send relevancy signals to search engines (like Google) through alt text, caption, and description.
You need to ensure that the images are in the proper file format and compressed for the web.
Structured data markup goes on to ensure search engine visibility for your website.
It helps Google algorithms in indexing your content in a better way. It also imposes an independent design structure on your site's architecture.
The use of Sitemaps on your website helps search engines in indexing all pages of your website. It's the best way to tell search engines about the pages your site includes.
The use of internal links not only improves your site's metrics but also enhances the user experience, as well. The page with a significant number of internal links pointing at it is judged as more important by Google.
The 404 error (not found pages) is not only a nuisance for your visitors it also has a negative effect on your website ranking. It triggers a high bounce rate. So, you have to take up to 404 error monitoring.
It tells search engines that a web page has been permanently moved to another web address. It's a very important factor.
In this process, the link juice, credibility, etc., that was earlier in possession of the original page is passed on.
As we have listed the current SEO trends and ranking factors, you would now appreciate the need and importance of the WordPress SEO Plugins that are listed below.
You may also like: 12 Best SEO WordPress Themes
Let's head over to the list of 16 Best WordPress SEO Plugins:
16 Top WordPress SEO Plugins
Rank Math is one of the most powerful WordPress SEO Plugins. It is being recommended and used by the best SEOs out there.
Rank Math allows you to optimize your content and offers built-in suggestions by following widely accepted best practices.
You can use Rank Math to easily customize important SEO settings. You can control which pages are indexable. You can even control the way your website appears in search with structured data.
Another good thing with Rank Math is that it integrates with most of your favorite platforms, including Google, Facebook, LinkedIn, Pinterest, Twitter, and Google Search Console.
Rank Math offers 15+ built-in modules for configuration. It can measure and track keyword rankings; it can even run a detailed SEO analysis.
It allows one-click imports for seamless migrations from other SEO Plugins. It is fully compatible with WordPress Gutenberg as well as Classic Editors.
Rank Math can optimize your posts so that your site gets higher rankings on search engines. It makes use of a step-by-step installation and configuration wizard to set up SEO for WordPress perfectly well.
Rank Math comes with a clean and simple user interface. It offers all the important information about your posts; it offers advanced snippet previews.
So, you can preview rich snippets. You can even check how your post appears when you share it on social media.
With Rank Math, you get industry-leading support. Their team helps you round the clock. Rank Math automatically executes as many as 30 extremely helpful SEO tests, thereby helping you make out that your site has been configured correctly.
Overall, Rank Math provides complete control over your entire website's on-page SEO.
Price: Free and Pro Versions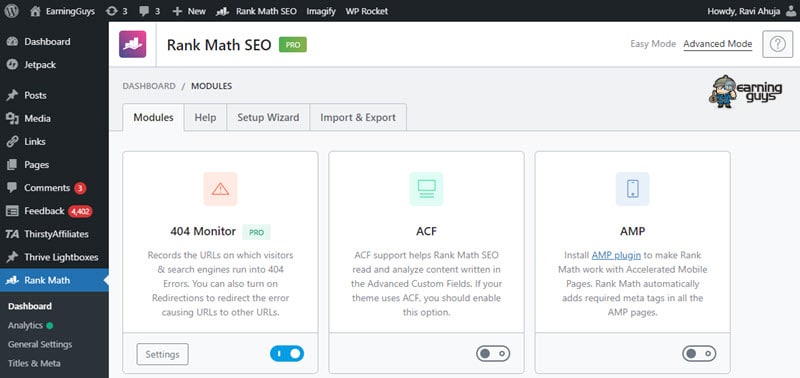 Yoast SEO is undoubtedly the most popular WordPress SEO Plugin out there.
It helps to optimize your website so that it can perform better in search results. Yoast SEO has tons of features to optimize your website.
It offers content analysis, Meta keywords and description management, duplicate content management, XML Sitemaps, Social features, Rich Snippets, and much more.
The Yoast SEO Plugin goes on to add a Yoast SEO Metabox to the post edit screen. With this Metabox in place, you can add a Meta title and description for your blog post. You can even choose a focus keyword for your post.
The plugin analyses the post content against that focus keyword. Yoast SEO assigns it an SEO score. It also gives you suggestions to improve that SEO score.
So, you can check your content for SEO before you hit the publish button.
Yoast SEO has a built-in readability score analysis with which you can check the readability score of your content.
If the readability score is low, you can edit the content to make it easier to read for your users.
Yoast SEO can add no-index to pages when you don't want to get indexed in search. You can even hide author archives on single-author blogs and go on to no-index categories, tags, or archive pages.
Yoast SEO can also add canonical link elements throughout your website. It helps search engines to understand which links they should index.
With Yoast SEO, you don't need to install another plugin for XML Sitemaps. Yoast SEO can automatically generate XML Sitemaps for your site. It submits them to Google and Bing.
Yoast SEO solves the problem of scraper websites.
It can add a link to your article with each RSS feed.
So, the search engines get to know the location of the original article. It effectively beats scrapers in search rankings.
Yoast SEO examines your website's .htaccess or robots.txt files.
You can even edit these files right from your WordPress dashboard.
Yoast SEO comes for free as well as in premium versions.
Currently, Yoast SEO is being used by millions of websites all over the world.
However, the free edition of Yoast SEO does not come with support. That said, there are extensive documentation and tutorials available for the Yoast SEO WordPress Plugin. It offers on-screen instructions for each feature inside its admin area.
Yoast SEO comes as one of the most popular WordPress Plugins.
Price: Free and Pro Version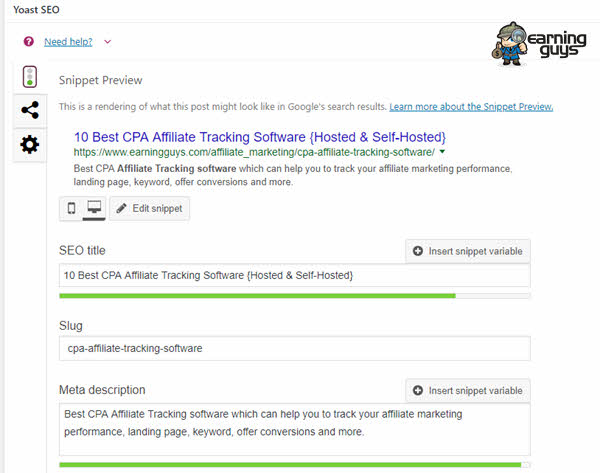 Another most popular WordPress SEO Plugin is All in One SEO Pack. It has 3+ million active installs as compared to Yoast SEO's 5 million-plus installs.
Like Yoast SEO, All in One SEO Pack also comes in a free and premium version. Its free version is plenty good for most web admins. However, those with specific needs will appreciate the Pro version.
Here, we list down some of the main features of the free version of All in One SEO Pack:
XML Sitemaps
Custom titles / Metas for posts, pages, and custom post types
Ping Search Engines
Redirect attachments to the parent post
Social Meta Management
Built-in API for other themes/plugins
.htaccess editor
Robots.txt editor
Bad bot blocker
Basic schema markup
Basic WooCommerce Support
In its Pro version, you get to have these extra features:
Video Sitemaps
SEO for taxonomies
More advanced WooCommerce support
Premium support and screencasts
The good thing with All in One SEO Pack is that many of its features are modular. It allows you to activate/deactivate them as needed without any performance drag on your site.
All in One SEO Pack has a lightweight and notification-free interface.
The plugin is divided into three core parts:
General Settings: It allows you to configure site-wide SEO settings.
Feature Manager: Here, you can enable/disable specific modules such as XML Sitemaps and Social Meta.
Meta Box: It allows you to configure SEO/social settings for individual pieces of content.
In the General Settings area, you can configure a lengthy list of general settings, including:
Title Settings
Custom Post Type Settings
Display Settings
Webmaster Verification
Google Settings
Noindex Settings
Advanced Settings
With the Feature Manager, you can go in and activate the specific modules that you want:
It also includes modules allowing you to:
Edit the robots.txt or .htaccess files right from your WordPress dashboard
Block bad bots
Import/export you're All in One SEO Pack settings.
View SEO performance details
Create a video sitemap (Pro version only)
The Meta Box is where you will spend most of your time daily. Here, the settings need to be done every time you add a fresh piece of content.
With the Main Settings, you can:
Enter a title and meta description
Add a noindex or nofollow tag
Exclude the content from your sitemap
Disable SEO functionality on this page
With the Social Settings, you can set up Facebook and Twitter details.
With All in One SEO Pack, you can activate WooCommerce SEO Functionality if you run a WooCommerce store. However, this comes with the Pro version.
All in all, the All in One SEO Pack has all the primary SEO functionality needed by most webmasters.
It's an excellent choice indeed.
Price: Free and Pro Version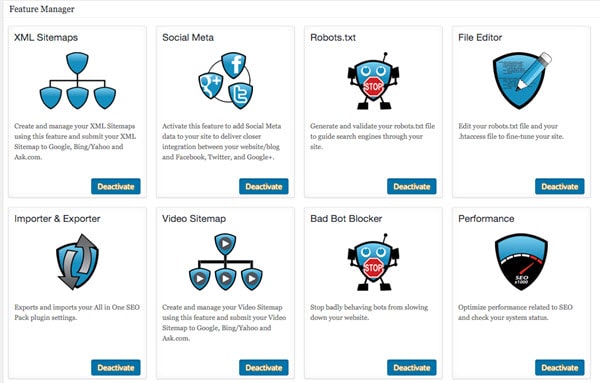 If you are hunting for the most powerful WordPress SEO Plugin for your website, you need to check out SEO SQUIRRLY™ Plugin.
In fact, the Squirrly SEO Plugin is being used by scores and scores of online marketing experts.
It is referred to as the "complete content marketing suite."
SEO SQUIRRLY™ is one of the best WordPress SEO Plugins.
Squirrly is a freemium plugin. However, it also has a Pro plan.
It's built for the non-SEO experts in mind.
They can start using it right away.
SEO SQUIRRLY™ is more than just a basic SEO plugin.
It allows you to write content that is both SEO as well as human-friendly.
Squirrly allows you to optimize content.
Plus, you can measure the success of the content optimized.
Here, we highlight t some of its major features that will make you want to switch from your favorite SEO Plugin.
• Keyword Research
It is one of the most beloved premium features offered by Squirrly.
In fact, SEO is all about creating quality content that answers the questions faced by your audience.
So, it's important to know what users search on Google.
When you know the search queries, you can create content that offers a viable solution for your audience.
The Squirrly Keyword Research feature helps you find the best keywords that your site can rank for.
You would never want to use highly competitive keywords for which your pages don't rank on search engines.
Here's why you would want to use this feature:
It is integrated right into your WordPress site. You can use it right before writing a new post.
It offers as many as 50 suggestions for each searched term.
It allows multiple keyword research.
The results can be exported to a .xls or .pdf file.
You can choose the country for receiving the results.
For each keyword, it gets you the SEO search volume.
You come to know which keywords you should focus on.
• Briefcase
The feature allows you to keep and manage your core strategy keywords for your site.
For example, you can add keywords you want to focus on from your WordPress Dashboard > Squirrly > Briefcase
So, when you optimize a page or a blog post, you can select the keyword from this section.
You even come to know how many times you've used a particular keyword on your site.
• Virtual Live Assistant
This feature guides you through the process of optimizing the content for humans and search engines.
Here's the working:
You go on to add a new post.
One can carry out the keyword research
You start writing your article.
The Virtual Live Assistant helps you to know what to improve in real-time.
It warns you in case you have not used the keyword in the title or the introduction.
When every box is green, your article is 100% optimized and ready for publishing.
• Performance Analytics
The feature lets you analyze the success of your content after you publish it.
There's a Performance Analytics tab.
It offers much information such as:
The Google rank for the country you set.
The social shares.
The total number of inbound links.
The authority of that page.
All this information is provided for every page you optimize with Squirrly.
• Import Data from other SEO Plugins
In case you decide to install a new SEO Plugin, you would instantly lose all the data related to the optimized pages.
However, this would not happen if you switch to SEO Squirrly.
It allows importing the settings and the SEO for any plugin that you were using previously.
You can configure Squirrly without losing any previous settings.
And there's much more to Squirrly, including Site Audit, Snippet Tool, Plugin Updates, and top-notch Customer Service.
SEO Squirrly is undoubtedly one of the most powerful WordPress SEO Plugins on the market for optimizing your website or blog.
Price: Paid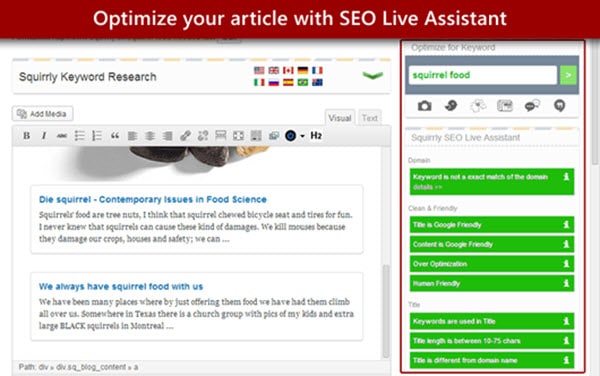 Premium SEO Pack – WordPress Plugin can be rightly called a "complete" WordPress SEO Plugin.
It helps your website to rank better in search engines.
Premium SEO Pack offers a lot of features.
It includes social stats, page analyses, page validations, and much more.
If SEO is important for you and you want to generate lots of traffic and grow your audience (and even sales), then Premium SEO Pack is one of those WordPress SEO Plugins that should come first in your mind.
Here, we share with you one of its unique features.
It's the SEO Mass Optimization option.
It allows you to optimize every page, post, and custom post type on your site and that too with a few clicks.
It's a module that gives the option of optimizing the Meta title and the Meta description. You can even auto-detect and optimize the keyword for your content.
So, Premium SEO Pack offers you the opportunity to improve your rankings in a mere few seconds potentially.
There's one more "great" feature that we must share with you.
It's Google Analytics support and social stats.
It allows you to easily see and track your results when doing SEO tweaking on your site. You can easily see and understand your search stats. The Social Stats module gives you your network reach.
There's even a SERP Tracking Module.
It shows you how your site stacks up against your competition.
So, you come to know where your site stands viz-a-viz your competition.
Premium SEO Pack lets you transform your WordPress website SEO.
Here are some more features of this very powerful WordPress SEO Plugin:
SEO Keyword Rank Tracking
Facebook Planner
Video Sitemap
Rich Snippets
Sitemap Creator (including Video and Image)
Page speed testing/reporting
Local SEO
Page Speed Insight Module
On-Page Optimization
Image Optimization
Link Builder Module
404 Monitor Module
Automatic 301 Redirect Module
Slug Optimizer
Built-in W3C Validators
And More!
Premium SEO Pack is a WordPress SEO Plugin that helps you increase SEO value for all your pages.
If your website is slow, it can impact your site ranking on search results, and W3 Total Cache helps you speed up your website.
W3 Total Cache offers the advantage of scaling the site and allowing you to sustain huge loads of traffic without crashing.
The plugin is used by lots of popular sites such as Mashable, WPBeginner, etc.
It is also recommended by popular hosts such as Hostgator.
W3 Total Cache offers caching abilities such as Page Cache, Database Cache, Object Cache, Browser Cache, CDN Integration, and more.
Before we take up the plugin, we would like to highlight some important points regarding Page Cache and Browser Cache to bring out the utility of this very powerful WordPress SEO Plugin – W3 Total Cache.
Page Cache
Page Cache deals with the creating of static cache pages for each page that is loaded. It is not dynamically loaded on each page load.
Once you go on to enable Page Cache, you tend to reduce your load time and server resources successfully. In short, you improve the performance of your website.
In the normal course, when a user comes to your site, they see a WordPress page. PHP recognizes the call and accesses the MySQL Database to find the page your user is looking for. It finally outputs the result.
All this requires server resources.
When Page Cache is turned on, it allows you to skip all that server load. Instead, it outputs a cached copy.
Browser Cache
When a user visits a website, the browser downloads all the images, CSS files, and JavaScript in a temporary folder to enhance the overall website experience. When the user goes to the next page, the site loads much faster as all the static files are stored in the browser cache.
W3 Total Cache Browser Cache option works by setting a time limit on the Browser Cache.
For example, you do not change your logo every day.
Static files such as these are cached (for 24 Hrs), enhancing the user experience.
So, W3 Total Cache improves the user experience of your site by enhancing website performance. It goes on to reduce download times with features such as CDN (Content Delivery Network) integration.
Benefits of Using W3 Total Cache
It offers improvements in SERP rankings. It is especially for mobile-friendly websites as well as for sites that use SSL.
W3 Total Cache offers 10 x improvements in overall site performance
Improved conversion rates.
Reduced page load time.
"Instant" repeat page views.
It offers improved web server performance.
Up to 80% bandwidth savings.
Main Features
It is compatible with shared hosting, virtual private as well, as dedicated servers.
Excellent CDN Management
Mobile support
AMP (Accelerated Mobile Pages) Support
SSL (Secure Socket Layer) support
Caching of Pages and Posts
Caching of CSS and JavaScript
Allow Caching of search results pages
Caching of database objects
Minification of pages, posts, and feeds
Browser Caching
Various security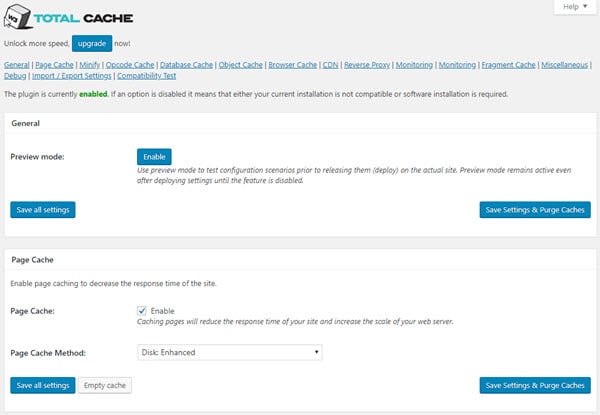 Imagify Image Optimizer is one of the best WordPress Image Compression Plugins. It is also a highly popular WordPress Image Optimization Plugin.
In fact, the average web page's file size is composed of as much as 63% images. So, the best way to speed up your WordPress site is to shrink your images' sizes.
Imagify Image Optimizer Plugin does it most smartly. It offers three different levels of automatic image compression. Plus, it also offers automatic image resizing.
Imagify is much more than just the general automatic image compression. In fact, Imagify offers three different levels of compression.
(Most of the other image compression plugins offer only one compression method.)
Moreover, with Imagify, you get three different levels of image compression in the free version.
It sets a maximum width to which each image will be automatically resized.
So, with Imagify, there's no need for manual resizing of images.
Imagify handles it efficiently!
Imagify is listed at WordPress.org as and is free.
You simply need to install and activate it.
Once it is activated, you get a quick guide to help you get up and running with the Plugin.
You have to enter your email to get the API Key.
The plugin needs to plug that key into the API key box.
You then move on to the "SETTINGS" Page.
Using the Imagify Settings Page, you can set your desired level of compression.
You can go for the Normal lossless optimization, Aggressive (the default one) that offers significant size optimization, and Ultra for maximum file savings.
Imagify also offers the option to Auto-Optimize images on upload. You can even Backup original images.
Further down, Imagify also allows you to choose to resize images to a specific maximum width automatically.
You have to set this maximum width in line with the maximum width displayed by your theme.
Imagify will give you recommendations depending upon your theme's largest thumbnail width.
You can even choose to keep the image EXIF Data.
Plus, which of the WordPress image sizes to compress.
Finally, when you have done with the settings, click on Save Changes.
For example, if you have checked the box to Auto-Optimize images on upload, all of your new images will get optimized automatically.
However, for optimizing the old images, you have to use the Bulk Optimizer, which can be accessed by going to Media > Bulk Optimization. With one click, all of your old images will be optimized as per your desired compression level.
Imagify is 100% free for the first 25MB of images per month.
Plans start at $4.99 per month for 1GB of bandwidth.
Best of all, Imagify runs in the background and goes on to compress and resize your images, thereby speeding up your website.
It offers tremendous compression levels giving you great file size savings. Plus, it's easy to use.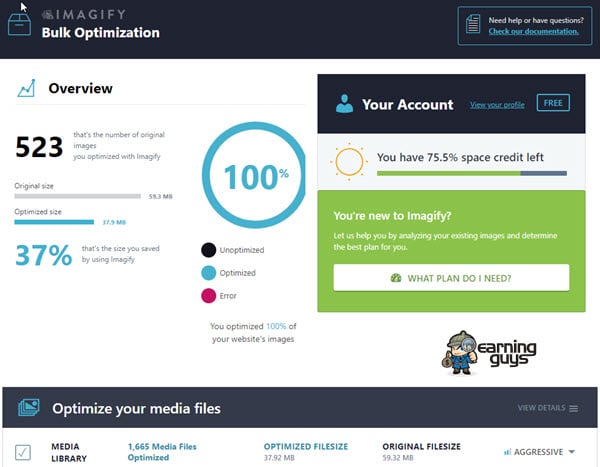 AMP for WP – Accelerated Mobile Pages is one of those powerful WordPress Plugins which make your website faster for Mobile visitors.
It automatically adds Accelerated Mobile Pages (Google AMP Project) functionality to your WordPress site. It accelerates your pages on the mobile.
In fact, a website using AMP loads faster and provides a better UX experience overall.
Moreover, the AMP Project is an open-source initiative that enables publishers to create mobile-optimized content.
AMP is being backed up by many industry leaders such as Google, Pinterest, and for that matter, even WordPress.com
In fact, Google is taking AMP seriously.
The search results on mobile devices already have the AMP sign.
Even many Android apps (like the News and Weather app) carry the AMP sign for pages that support it.
So, AMP can't be ignored anymore.
AMP is for a smoother mobile browsing experience.
It loads the crucial elements first so that the visitor can begin browsing the page right away. After that, the remaining media is loaded.
It focuses on optimization and efficiency.
AMP is surely fast. Missing out on AMP may not be the wisest choice for you.
In fact, Google has recommended AMP for news sites as well as blog posts.
AMP for WP is an amazing WordPress plugin that takes care of the AMP aspect of optimizing your website for mobile devices.
Moreover, AMP for WP is FREE. You can install it on your site, and you become AMP-ready right there and then.
Key Features
GDPR compliance
OneSignal Push Notifications integration
Advanced WooCommerce Support
AMP Plugins Manager
Structured Data Options
Page Break / Next Page (Pagination) Support
Facebook Comments Support
Call to Action boxes and notification bars
9 Advertisement sizes
Custom AMP Editor
Custom Post Type Support
Star Ratings
Drag & Drop Page builder Added
Related posts below the post
Recent Comments list
Google Analytics Support
Supports Posts and Pages
Facebook Instant Articles Support Added
Image Logo Upload
Unlimited Color Scheme
User-Friendly Theme Options Panel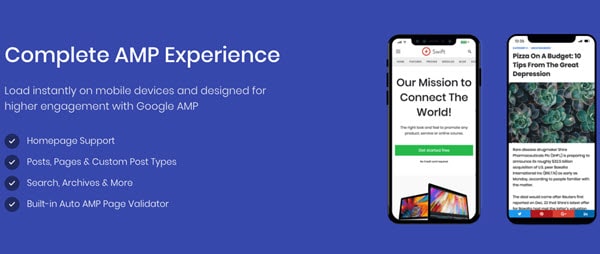 Google XML Sitemaps is a powerful WordPress Plugin to improve SEO and create special XML sitemaps greatly.
It helps search engines such as Google, Yahoo, and Bing to better index your site.
It's open-source software.
When a sitemap is placed, it becomes tremendously easy for crawlers to see the complete structure of your site and retrieve it more efficiently.
The WordPress Plugin comes with support for all kinds of WordPress-generated pages and Custom URLs.
Plus, it also notifies all major search engines when you create a post about the new content.
Google XML Sitemaps is one of the best-rated WordPress Plugins. It is supported for over nine years.
It does what it's supposed to do by providing a complete XML sitemap for search engines.
And it never breaks your site, slows it down, or even annoys you.
Plus, the Google XML Sitemaps plugin is free for everyone.
It has been released under GPL.
It can be used on your personal or commercial site.
Google XML Sitemaps comes with various translations.
You don't need to work with configuration options. Default values are ok for most of the sites.
The latest version of the plugin works with WordPress 3.3 and better.
You can download the Google XML Sitemaps plugin from the WordPress.org repository.

Rich Snippet summarizes your web page in the search results with Google, Yahoo, Bing, and even in the Newsfeed of Facebook.
The summary is displayed in a nice format studded with star ratings, author photo, image, etc.
With All in One Schema Rich Snippets WordPress Plugin, you can display important and precise information in search result snippets.
It's highly interactive with photos, star ratings, price, author, etc. So, you easily stand out from the competition.
It helps you to rank higher in search results. All in One Schema makes a lot of difference in CTR (Click through Rate). It even helps Facebook to display proper information when people share your links on Facebook.
The plugin supports the following Schema Types:
Review
Product
People
Event
Video
Articles
Recipe
Software Application
The All in One Schema Rich Snippets are FREE.
All in One Schema plugin is easy to set up.
The plugin supports the richest snippet types.
(It is limited when it comes to design customization and options.)
All In One Schema Rich Snippets Plugin is the easiest way to mark up pages and posts that include reviews, products, events, and videos.
It integrates rich snippets in a user-friendly way.
It allows Google and other search engines to generate a rich snippet for you. All in One Schema plugin increases visibility and organic traffic as a rich snippet is more attractive than a standard snippet.
The plugin has more than 30,000 active installs.
Most importantly, the plugin works and works fine.
It accurately implements Schema.org data structures.
It's easy to install.
Moreover, using it is dead simple.
You simply need to set the Schema from a drop-down of supported Schemas and fill out the data.
All In One Schema Rich Snippets Plugin is surely one of the best ways for implementing Schema.org snippets on WordPress.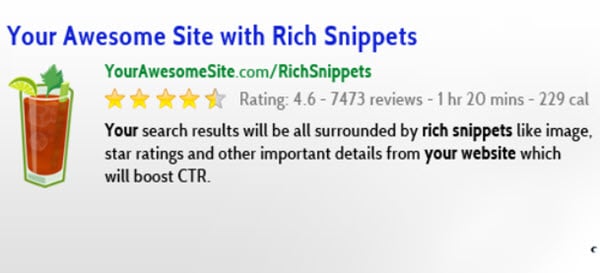 Broken links on your site can harm your search ranking. The Broken Link Checker plugin allows you to scan your website and fix broken links as well as missing images.
The Broken Link Checker will monitor your blog and look for broken links. It will let you know if any are found.
Key Features
It monitors links in your posts, pages, comments, the blogroll, and even the custom fields.
The plugin detects links that don't work
It detects missing images and redirects
Notifies you through the Dashboard or by email
Stops search engines to follow broken links
It allows you to search and filter links by URL, anchor text, etc.
You can update the links right from the plugin's page
It is highly configurable.
Once it is installed, the plugin will go on to parsing your posts as well as other content looking for links. It can take a few minutes (up to an hour or more).
When parsing is finished, the plugin will begin checking each link to see if they work or not. The amount of time taken depends on factors such as website size and the number of links.
The broken links (if found) will be shown up in a new tab of the WP Admin Panel (Tools >> Broken Links). It also displays a notification on the Dashboard.
By default, the "Broken Links" tab will display the list of broken links that have been detected so far.
You can perform several actions associated with each link.
They show up when you move the mouse to one of the listed links.
For example, "Edit URL" will allow you to change the URL of that link. In case the link is presented in more than one place, all occurrences of that URL get changed. "Unlink" removes the link. However, the link text remains intact.
Broken Link Checker is an Open Source Software.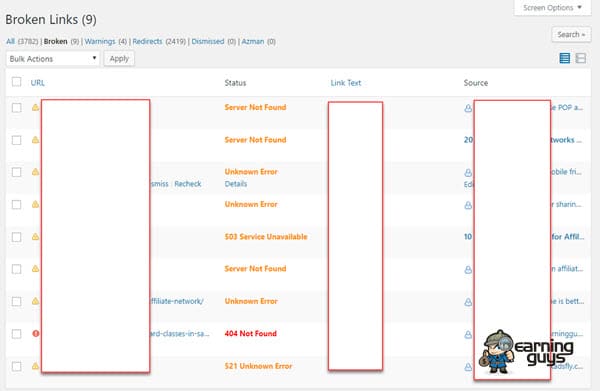 The Redirection WordPress SEO Plugin comes as one of the most popular redirect managers for WordPress. It allows you to manage 301 redirections easily. You can also keep track of 404 errors and go on to tidy up any loose ends with your site.
Redirection helps to reduce errors and improves your overall site ranking.
It can be used on sites with a few redirects or even with thousands of redirects.
Redirection WordPress Plugin is running successfully for the last ten years and has been recommended on countless occasions.
Moreover, it's FREE.
With Redirection WordPress Plugin, you can create and manage redirects quickly and easily. You can even use Redirection to redirect any URL (Your WordPress should support Permalinks).
It supports regular expressions and creates redirect patterns to match any number of URLs.
The plugin can be configured to monitor when a post or page permalinks are changed. It automatically creates a redirect to the new URL.
Redirection can also redirect based on other conditions:
Login status – redirects when the user is logged in or logged out
Browser – redirect when the user is using a certain browser
Cookies – redirect when a particular cookie is set
Referrer – redirect when the user visited the link from another page
Custom filter – redirect based on your WordPress filter
HTTP Headers – redirect based on an HTTP Header.
It offers a configurable login option whereby you can view all redirects occurring on your site.
Redirection keeps track of all 404 errors that happen on your site. So, you can track and fix problems easily.
By default, it manages all redirects using WordPress.
However, it can be configured so that Apache itself handles redirects.
Redirection offers a fully-featured import and export system:
Import and export to Apache .htaccess
Use WP CLI to automate import and export
Import and export to CSV for viewing in a spreadsheet
Copy redirects between sites using JSON
Export to Nginx rewrite rules
Plus, you can import from the following plugins:
Simple 301 Redirects
SEO Redirection
Safe Redirect Manager
WordPress old slug redirects
Redirection is a powerful dedicated redirect management plugin. And it's completely FREE (No Premium version). You don't need to pay any money to get access to its features.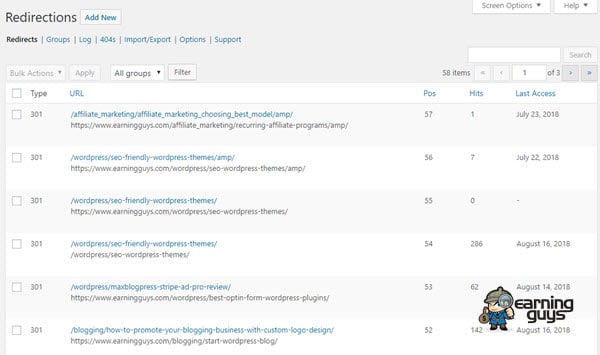 WPtouch is the most popular WordPress mobile solution.
It's running successfully for the last eight years.
It's a mobile plugin for WordPress that automatically adds a simple and elegant mobile theme for mobile visitors to your WordPress website.
Moreover, WPtouch has been recommended by Google.
WPtouch instantly enables a mobile-friendly version of your website to pass the Google Mobile Test. It ensures that there is no drop in your SEO rankings for not having a mobile-friendly website.
Its Administrative Panel allows you to customize many aspects of its appearance. It makes setup faster and easier.
With WPtouch, you can deliver a fast, stylish, and user-friendly version of your website to your mobile visitors. WPtouch is optimized for speed and performance in the theme.
What's even more interesting is that you can do all this without modifying a single bit of code.
Your regular desktop theme is kept intact and is available for your non-mobile visitors.
WPtouch comes with a streamlined approach and serves optimized content to mobile visitors.
It is also available in the Pro version with enhanced themes and features, support, and more control.
The WPtouch Pro offers a variety of enhanced themes for blogs, businesses, and WooCommerce retailers.
It has powerful extensions that can add rich advertising options.
Plus, you get advanced web font controls, caching, and more.
And of course, there is top-notch "one-on-one" support offered through the professional team.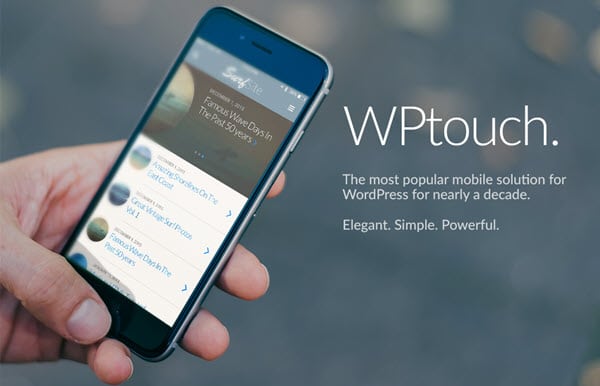 The WooCommerce – All in One SEO Pack is one of the best SEO Plugins for WooCommerce based eCommerce sites. This WordPress Plugin acts as an extension of the All in One SEO Pack Plugin from Michael Torbert.
WooCommerce – All in One SEO Pack is free and open-source software.
The plugin shows the All in One SEO Pack dialog on the Add or Edit Products screen in WooCommerce.
With this plugin, you can edit, add and organize "All in One SEO Pack" Meta information. The plugin offers a disclaimer that explicitly makes it clear that the author is not responsible for any sort of harm that might result to your website when you go on and install the plugin.
That said, the plugin is quite straightforward and easy to install.
It is indispensable for all the users with WooCommerce sites.
Without this plugin, you will not add/edit/manage All in One SEO Pack Meta details.
Key features of WooCommerce – All in One SEO Pack
The plugin displays the All in One SEO Pack dialog on the Add/Edit Products screen with WooCommerce
It helps you to organize, add and edit All in One SEO Pack Meta information
It's a free SEO Plugin that acts as an extension of the All-in-One SEO Pack Plugin from Michael Torbert.
Usage
Open Products and go on to edit a Product
Under All in One SEO Pack, add SEO meta details
Press Update to save changes
That's it!
If you are using affiliate links on your site and not hiding them from Google, your site can get penalize by Google because Google doesn't like affiliate-focused websites.
The ThirstyAffiliates Affiliate Link Manager WordPress Plugin makes it easy for you to manage your affiliate links.
It offers the tools needed to monetize your WordPress site with affiliate marketing.
It comes in the free version as well as the Pro version.
Install and activate the ThirstyAffiliates Plugin
Head over to Affiliate Links >> Add New
Enter the destination URL (Affiliate Link) and a Title
The plugin creates a new short link/link redirect for your long ugly affiliate link. This makes a pretty link
Now, you can use the new "TA" button and add the affiliate link to your content easily.
The plugin is simple to set up.
It's another post type in your admin and another button on your Visual Editor.
It allows you to group your affiliate links into hierarchical categories. For example, you can place all Amazon Links within an "Amazon" category or even all software links in a "Software" category.
Managing your Affiliate Links with ThirstyAffiliates is easy. There is only one place for changing the destination URL instead of going back and replacing the link in potentially hundreds of articles.
It offers safe redirects as well as smart uncloaking.
One can choose from 301 (default), 302, or even 307 redirects.
Link redirects protect your affiliate links from being scraped.
There's even a smart uncloaking feature.
It avoids link clashes or database bloat.
ThirstyAffiliates Plugin allows you to add images and banners to your affiliate links.
You can also add click tracking to your links and track every click.
Key Features
Inbuilt affiliate link shorter/link Cloaker
Affiliate link redirection options (301, 302 & 307)
Click stats tracking & reports
Affiliate link picker tool
Insert standard links, shortcodes, or even images
Allows you to insert affiliate links in posts, pages, and even comments
Full importing and exporting support
Full backup compatibility
Add your graphics, banners, and other images to affiliate links.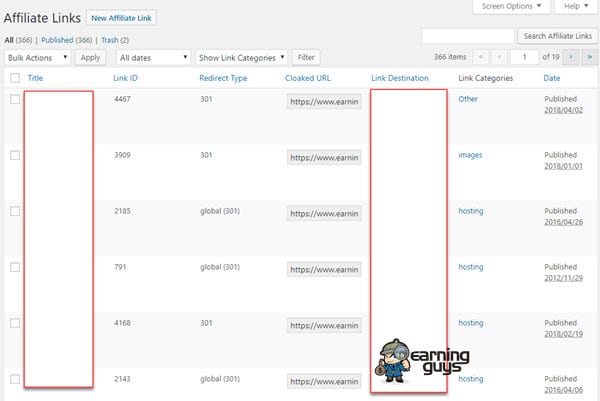 If your site is not secure, any hacker can inject malware on your site. If Google or any other search engine found Malware on your site, they can de-index your site from the search result.
To maintain your site traffic and ranking, you must secure your website, and Wordfence can secure your website.
Wordfence Security is a highly popular WordPress firewall and security scanner. It has an endpoint firewall and malware scanner that has been built from the ground up to protect WordPress.
It has been armed with the newest firewall rules, malware signatures, and malicious IP addresses for keeping your website safe. Wordfence comes out as one of the most comprehensive WordPress security solutions available on the market.
WordPress Firewall
It identifies and blocks malicious traffic.
Real-time firewall rule and malware signature updates
Real-time IP Blacklist blocks all requests from the most malicious IPs
Protects your site at the endpoint
Integrated malware scanner
Protects from brute force attacks
WordPress Security Scanner
Empowered with Malware Scanner
Checks the integrity of your core files, themes, and plugins
Repair files
Checks your site for any security vulnerabilities
And more!
Security Tools
Monitor visits and hack attempts
Stops brute force attacks permanently
It includes an excellent comment spam filter
Block attackers by IP or build advanced rules based on IP Range, Hostname, User-Agent, and Referrer
Wordfence comes as a free and premium version as well.
It's open-source software.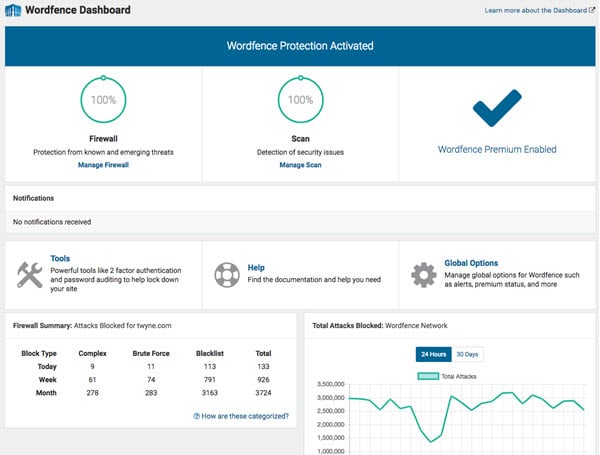 We hope that the post – 16 Best WordPress SEO Plugins – proves a highly indispensable resource for you. It will surely help you in selecting the best SEO Plugin for WordPress.
Please leave your comments with your favorite WordPress SEO Plugin.
We always value and appreciate your feedback.
Lastly, don't forget to share the post with your friends and colleagues.