If you're a blogger or article writer, you might know the importance of adding text to a picture.
Well, it allows you to gain the attention of your readers. It makes them unique and highly communicative.
Here, we have come up with a post that shares with you how to add text to a picture.
We're aware that you want to do it quickly and easily. So, we have included separate sections focusing on ways of adding text to a photo.
Here, you get to know:
How to add text to a picture with MS Paint
How to add text to a photo online in Canva
How to add text to an picture with Mobile App
So, let's get started with it straight away.
Add Text to a Picture with MS Paint
Here, you'll get to know how to place text over a picture using MS Paint for Windows. The MS Paint program on Windows allows you to add text to your preferred image.
The steps are as follows:
Open the Paint program on Windows
Click on the "File" option at the top-left corner of the Paint window
A pop-out menu will appear. You need to click "Open," which will open the File Explorer window
Now, you need to select the photo to which you want to add text. So, search the appropriate folder containing the image on the left side of the File Explorer window
Select that picture to which you want to add text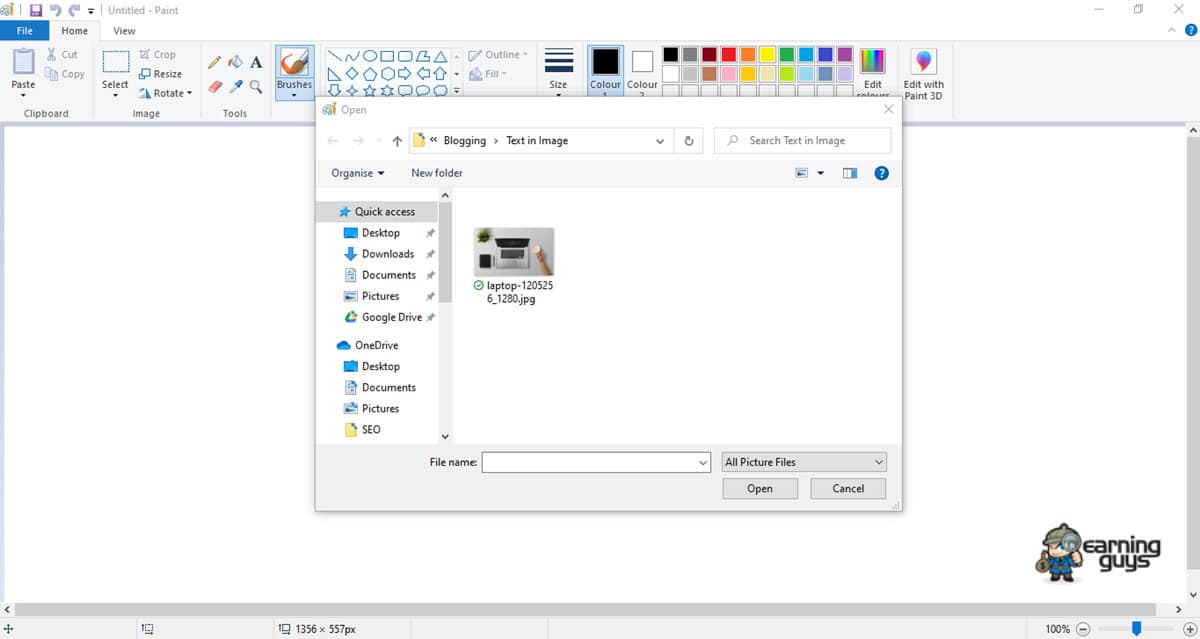 Open the photo in Paint by clicking the "Open" option in the bottom-right corner of the File Explorer window
Now, click "A" in the "Tools" section of the toolbar at the top of the Paint window
Create a text box on the image. You need to click and drag your mouse across the photo section on which you want to add text. Now, release the button
Enter your text that you want to place on your photo. You can edit the text's font size by using the tools in the "Font" section of the toolbar. You can even change the color of the text by using the "Colors" section of the toolbar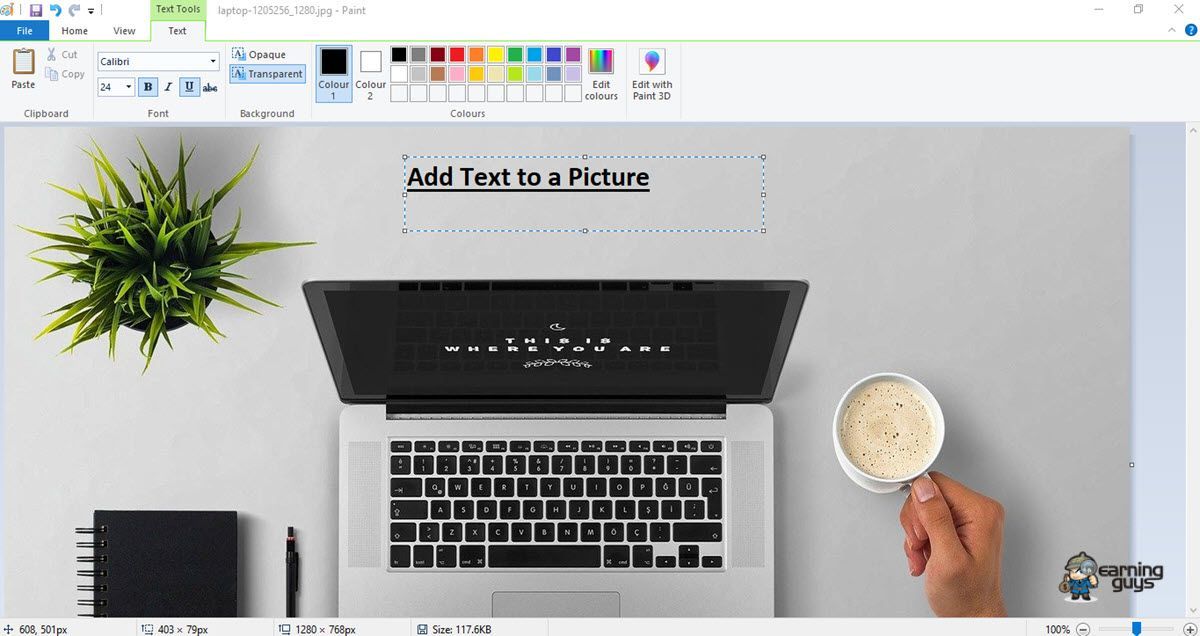 You can resize your text box if you want. Click and drag one of the corners of the text box down and out to do so.
Now, you can save your photo's text. You can do this by clicking the "File" option and then clicking "Save" in the resulting menu. The changes will be saved. However, if you want to save the photo with text as its own file, then you need to click "File" and then click on "Save As" and enter a new name in the "Filename" box before clicking Save.
You see that Paint is very easy to use when adding text to a picture. It allows you to add basic text quickly. You simply need to add a text box, adjust the font properties, and that's it.
Add Text to a Photo Online in Canva
Canva is the go-to online application that allows you to quickly upload an image and add a line of text to a photo.
You need to browse the "Text" pane.
It's super easy to use.
You need to click on "Add text," which will add a little text box to your design. The bottom of the Text pane has been filled with "text holders" with a well-balanced set of typography elements that can be used in your designs.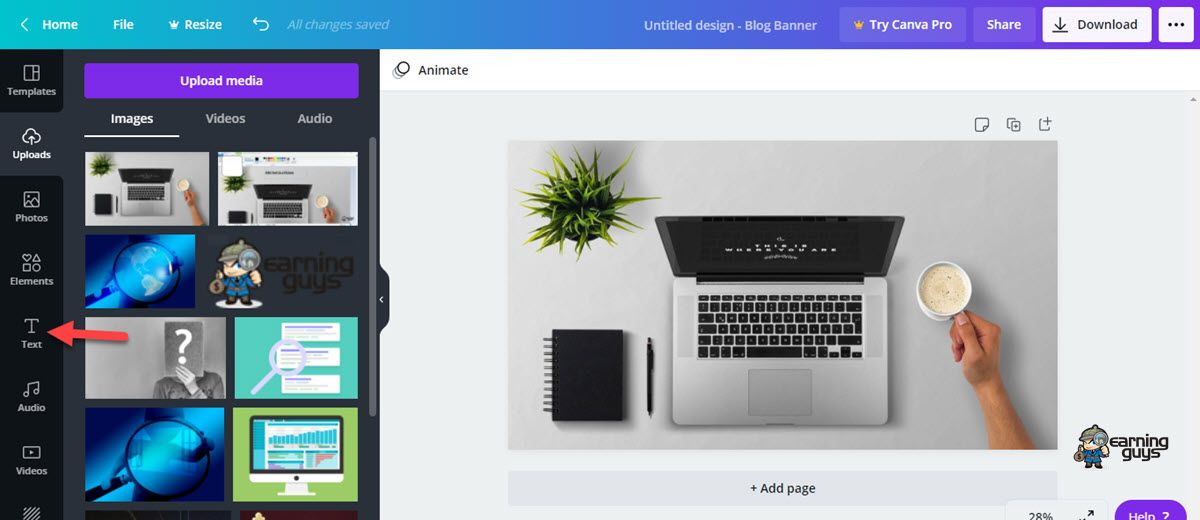 You can select the text holder that's perfect for your photo. You need to click it or drag it into your design.
Now, select the text holder and customize the colors. You can even click on the placeholder text to start typing on your own.
If you don't find anything you like among the text holders, you can preview samples from the font selection window. Moreover, you can customize your text's color, alignment, and spacing, all with just a few clicks.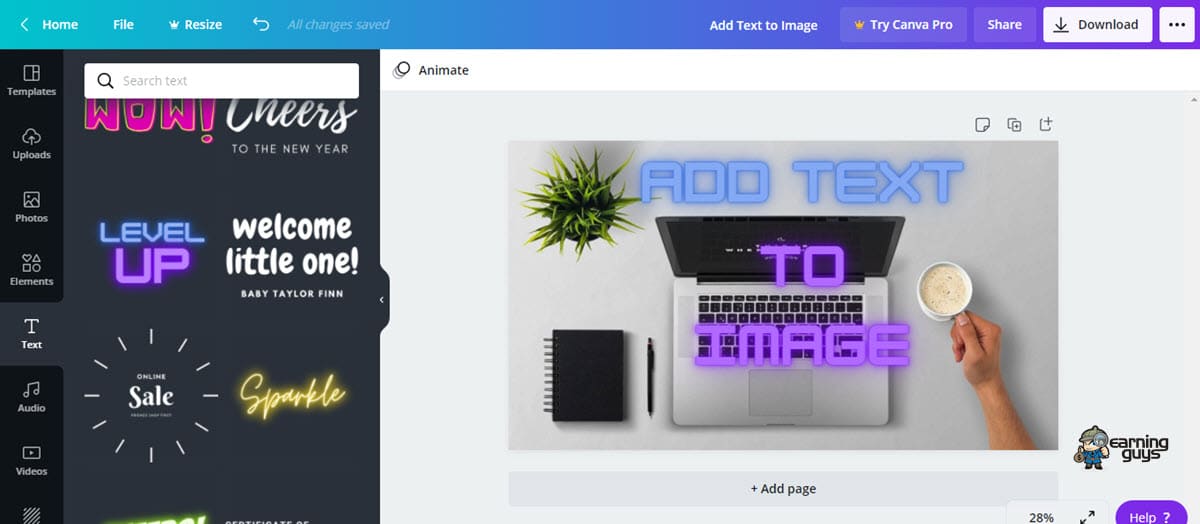 You can choose to make your text stand out with a blurred photo background. You need to select your photo and open the filter window. Now, slowly move the blur slider to the right.
You can even preview your photo becoming blurrier in real-time. You need to stop when your text comes into clear view.
The best way to add text to a photo is to place the text in a photo's negative space. These are places without a lot of detail or variation. Use some creative font choices, along with editing and text alignment.
Lastly, we need to mention that its text editor is easy to use. It offers a vast range of fonts. You need to click "Text" in the sidebar menu. Now, add your text and select your font style.
Canva offers options to format text. You can change font color and size as well as adjust line spacing. Moreover, the text box can be set at your preferred location by drag and drop.
Canva's image and text tool are free to use. Moreover, you don't require any technical skills to have fun with Canva.
Adding Text to Picture with Mobile App
Here, we share how to add text to picture with Mobile apps such as Fotor Photo Editor.
Fotor is easy to use and can satisfy most of your photo editing needs. Fotor comes with full-featured effects, borders, and stickers, thereby allowing you to expand your creativity.
Its Collage Creator allows you to place photos wherever you think they belong. It works as professional editing software, allowing you to create your own charming image.
Moreover, its one-click enhancements help to bring out the best in your photos. On the whole, Fotor helps to unleash your creative spirit.
With Fotor, you can add any text to any image.
You can use its Photo Text Editor for adding text to your photos for free. You get all comprehensive text adjustment settings at Fotor.
The Photo/Image Text Editor comes with a massive library of outstanding font styles. You need to browse Fotor's text editor and add a text box to your image. You can select a font you like, change its color, background, size, and more.
Moreover, Fotor's text editor is completely free. All you have to do is upload your image, get a text pane, and write something inspirational or memorable. You can even use some font and text effects to enhance up your photo.
Fotor makes it fun and straightforward to add text to photos online quickly. It allows you to format the text on an image. You can even add different colors to your text. You can also modify the transparency of your text.
Here's a quick snapshot of Adding Text to Photo using Fotor:
You need to open your collage, design, or photo in Fotor
Using the "Text" button, you can select and drag a text box to the desired location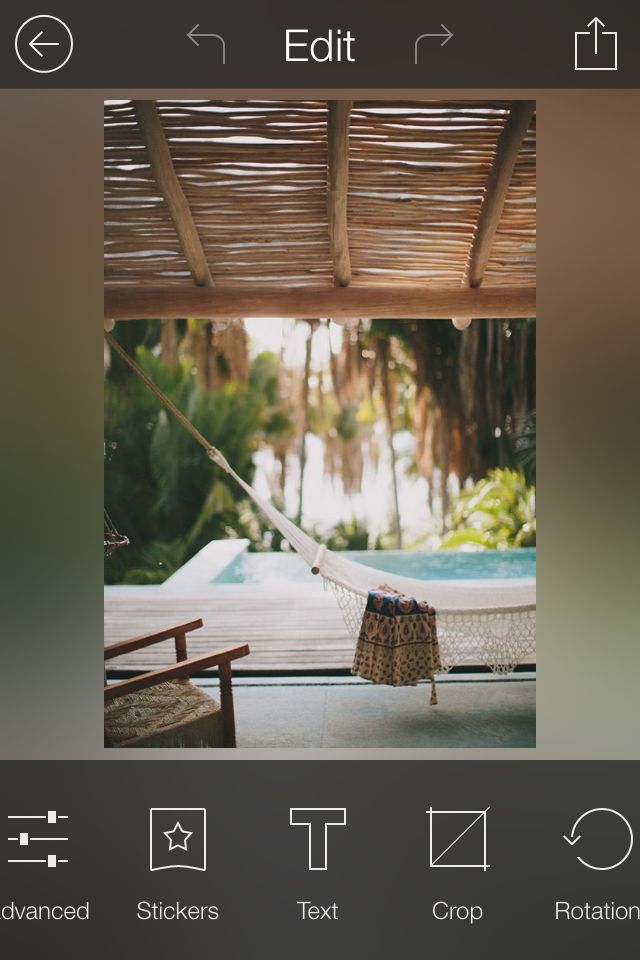 Now, you can modify the text. You can modify the font, as well as color, size, background, or transparency
Lastly, you can preview and save your work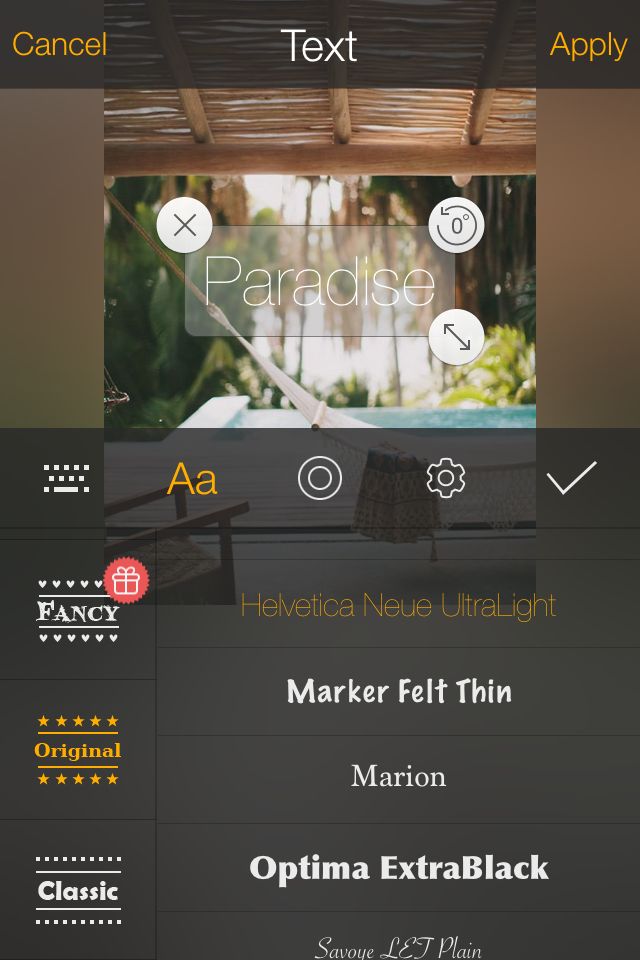 You see that adding text to a photo is super easy with the online photo editor – Fotor.
Now that you have understood how to add text to a picture with MS Paint, Canva, and with Mobile App – Fotor, it's time for you to take the lead and get the job done quickly and easily.
We hope that this post on adding text to an image proved beneficial to you. Thanks for visiting us.