If you're looking for the Best WordPress Ads Plugins, then we must tell you that you're perfectly at the right place.
Here we showcase the best Ads plugins and solutions for WordPress that help you optimize your advertising revenue.
Nowadays, many blogs and websites use advertisements for making money online with their content.
However, as WordPress is concerned, it does not offer an easy mechanism for managing your ads (by default).
Moreover, most WordPress themes don't offer dedicated spots for displaying ads. It means that you have to edit theme files for inserting ad code into your website.
Here comes the role of the WordPress ad management plugin. With a WordPress ads management plugin, you can easily insert ads anywhere on your website.
The WordPress Ads Plugins helps optimize ad placement, thereby allowing you to make optimum use of your advertising real estate.
WordPress ads plugins allow you to display ads in crucial locations easily. They even facilitate ad sales on your WordPress website.
All in all, WordPress advertising plugins help in boosting your ad revenue.
Well, now let's get started and see some of the top ad management WordPress plugins.
You may also like: 16 Best WordPress SEO Plugins to Rank High
Top 10 WordPress Ads Plugins
Here's the listing for you:
AdSanity is regarded as a beginner-friendly WordPress advertising plugin.
AdSanity WordPress ad management plugin allows you to easily insert ads anywhere on your website using widgets and ad inserter buttons in the visual editor.
The good thing with AdSanity is that it supports hosted ads and external ad networks such as Google AdSense.
It also supports features such as ad scheduling, ad groups, monitors views or stats, inserts single ad or ad group, and lots more.
AdSanity allows you to create as many ads as you want. Moreover, you can easily add them using custom widgets, shortcodes, or by utilizing the button on the post editor. Plus, you can insert ad blocks in specific posts in WordPress.
So, with AdSanity, you can optimize ad performance without having to edit your WordPress theme files.
Price: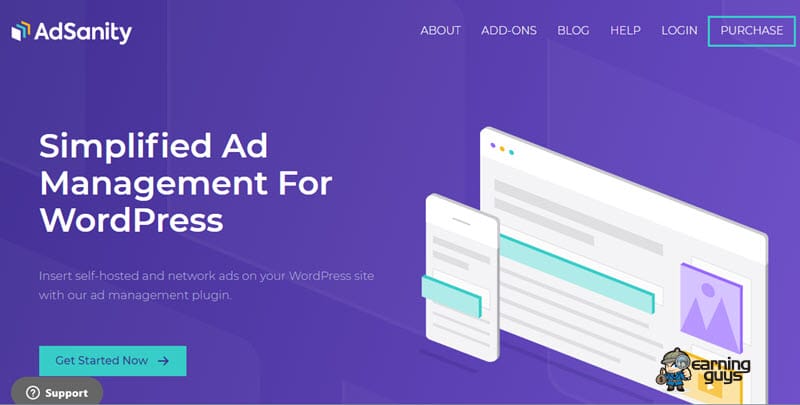 Ad Inserter WordPress advertising plugin is available in free as well as paid versions. The good thing is that its free version can be used as your primary ad management tool. However, if you need advanced features, then you have to upgrade to its paid version.
Using Ad Inserter, you can easily create multiple ad blocks. You can even auto-insert each block.
Moreover, Ad Inserter offers a number of options for inserting your ad. For example, you can add it inside the post content. You can insert ad before and after post content. You can even insert your ads between posts, and before or after post excerpts, and more.
Ad Inserter allows you to disable automatic ad insertion in posts and pages, as well as home, categories, and archive pages.
Ad Inserter is quite easy to use.
Another notable thing about Ad Inserter is that it can be used for hosted as well as third-party ad networks.
Price: Free
Pro Version: €20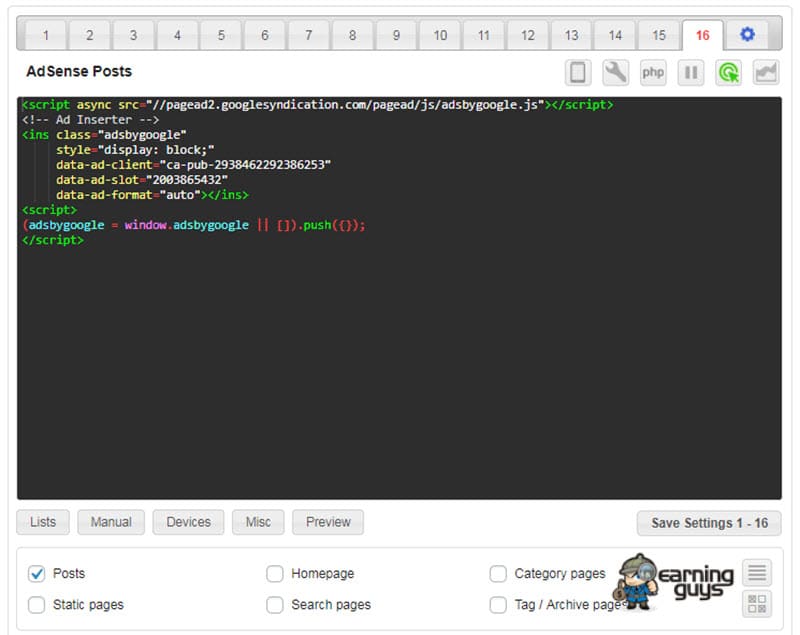 The Ads Pro Plugin is available as a premium plugin on CodeCanyon. It helps you to manage, sell, and display your advertising space. It's pretty superb with over 2400 sales and a 4.4 out of 5-star rating.
This plugin comes with a template and grid system, which allows you to show really matched and user-friendly ads on your website.
Plus, it's 100% free from Adblocker.
It allows you to display your banners (including Google AdSense banners) in more than 20 ways.
Here, we have showcased some of its key features:
It facilitates geographical targeting via countries, states, cities, or zip codes
It can schedule your ads as well as control their delay
It allows you to show ads on specific devices (mobile, tablet, or desktop)
You can set up filters on categories and tags
You can show or close ads after X seconds
It offers a capping option for showing ads only X times per User/Session
The plugin helps you to display your ads in more than 20 different ways
More than 25+ user-friendly and responsive Ad Templates
You can sell ads using three different models: CPC, CPM, CPD
It supports PayPal, Stripe, and WooCommerce
So, you see that Ads Pro Plugin allows you to manage your own ad sales and clients.
Price: $57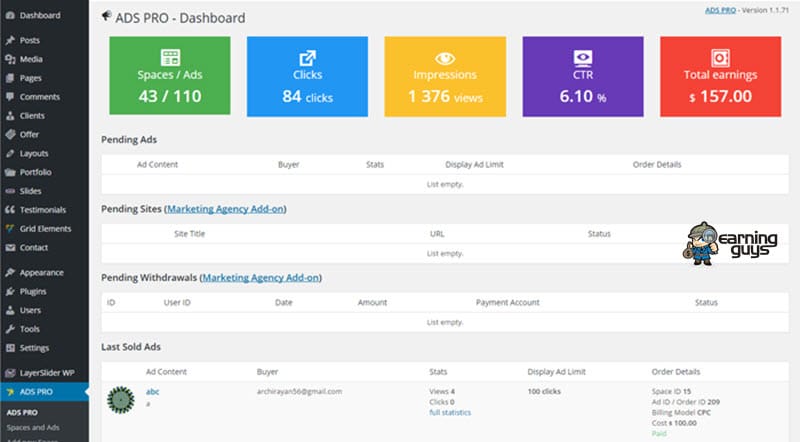 WP In Post Ads comes with plenty of powerful ad management features. However, it does not offer any display options.
WP In Post Ads is focused explicitly on in-post ads. There is no scope for pop-ups and corner peels.
WP In Post Ads ad management features includes built-in split testing. So, this plugin allows you to test different ads and positions to find out which option generates the most money for your website.
WP In Post Ads allows you to display your ads in various positions, including before content and after content, or after X number of paragraphs. It even allows you to insert ads using a shortcode manually.
WP In Post Ads allows you to set up specific rules for which ads display on certain posts. Moreover, suppose you want to indulge in variety. In that case, you can use WP In Post Ads to randomly display your advertisements to figure out which are your top performers.
So, WP In Post Ads gives you a lot of control over where and how your ads display. For instance, the plugin allows you to hide ads until a post gets published and stays for a certain number of days. You can even turn off ads after a set period of time.
Plus, you can hide your ads from logged-in users.
All-in-all, WP In Post Ads comes as a lightweight solution. Although it lacks fancy display options, it still has most of the important display/analytics features.
Price: $29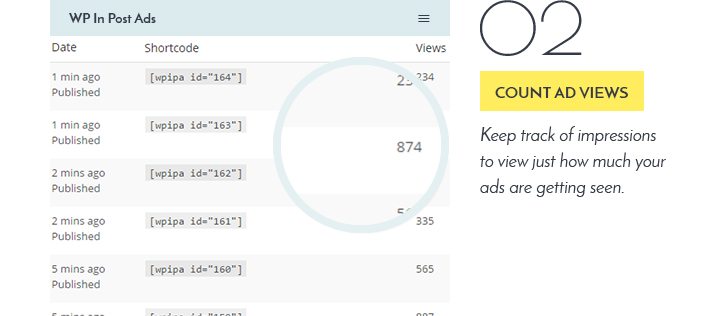 Advanced Ads comes as a free ad management plugin. However, it even comes with premium add-ons. Advanced Ads offers plenty of features even without the add-ons.
It allows you to create unlimited ads, including your own AdSense and other publishers. You can display your ads in various locations of your posts, on the sidebar, footer, header, and lots more.
The plugin even allows you to choose "conditions" for displaying ads. For instance, you can turn off ads on specific categories, tags, pages, posts, etc.
Plus, you can toggle ads on and off for specific authors, which happens to be a handy feature.
There's even the facility to enable/disable ads for specific user roles and devices. For time-sensitive ads, the plugin allows you to set up schedules and expiration dates for ads.
The good thing about the plugin is that all of these features are free.
Now, here's what you get with the paid add-ons:
Advanced Ads Pro – better control over when your ads display
Geo-Targeting – you get a variety of geo-targeting options for your ads
Selling Ads – you can sell ads directly to the advertisers
Tracking – you can have detailed statistics for all of your ads
Plus, plenty of other features as well
Price:
Free
Add-ons can be procured from €9.00 for a single-site license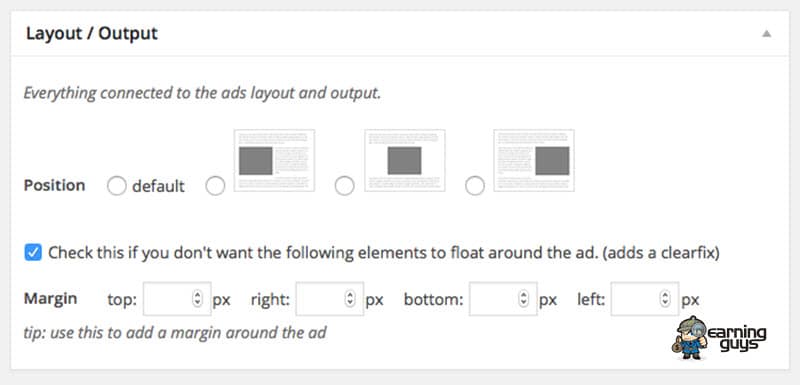 Ads by WPQUADS come as a replacement for the once-popular Quick AdSense plugin.
This plugin supports AdSense integration for WordPress sites. It also features AMP support, improved caching power, as well as more ad layout options.
The plugin gives you enhanced control for displaying your ads.
Moreover, you're not limited to the only AdSense. You can use it for displaying any other ad code.
However, it does not offer a front-end interface for selling ads directly or other advanced features.
This plugin enables you to insert your ads at specific positions. You can even display ads randomly within your content.
The plugin can display up to ten ads per page (however, only three of those can be AdSense). The plugin allows you to use tags for manually enabling or disabling certain ads or placements.
Its premium version offers added features such as adblocker detection, AMP support, and more layout options. You can also use "conditions" for enabling or disabling ads on specific devices as well as for specific post types or user roles.
The good thing with WPQUADS is that it also has a free version.
Some of its main features are as follows:
Multi-device support
Unlimited ads support
It doesn't affect speed and loading times
Ad placement enabling
Continuous updates
Superb customer service
Price:
Free
Its pro version starts at $89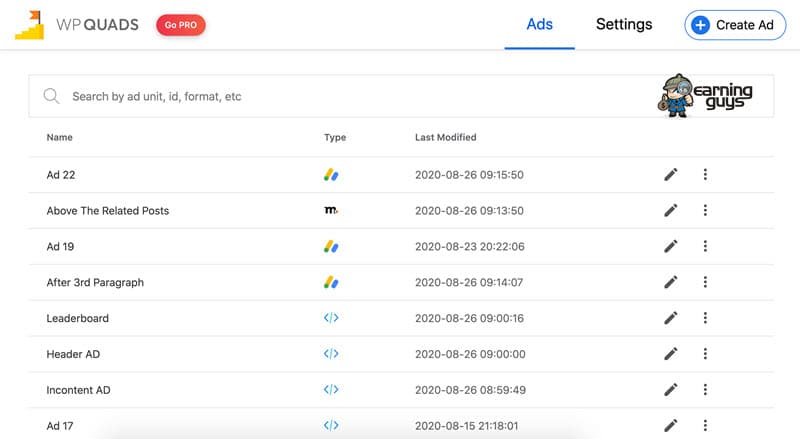 AdRotate is a full-service advertising solution.
Its free version allows you to manage your own ads as well as third-party networks such as AdSense, Chitika, DoubleClick, and more.
The plugin allows you to monitor impressions and clicks that your ads have received. You can even monitor the different ad groups that have been set up for their performance.
This plugin offers you the facility to set up basic schedules for when individual ads should run. You can also gauge click and impression capping.
Its premium version offers you more detailed schedules. You can even geo-target your ads to areas that are as small as individual cities.
This plugin allows you to accept PayPal payments when you want to sell ads directly to individuals. It makes it easy for you to insert ads on your WordPress site.
Other key features include:
Easy installation
Simple ad analytics reporting
Multiple ads can be served in a single grid, column, or row
It's compatible with responsive ads
Geo-targeting facility for every country
It works with multiple ad servers such as DoubleClick, DFP, and Google AdSense
Price: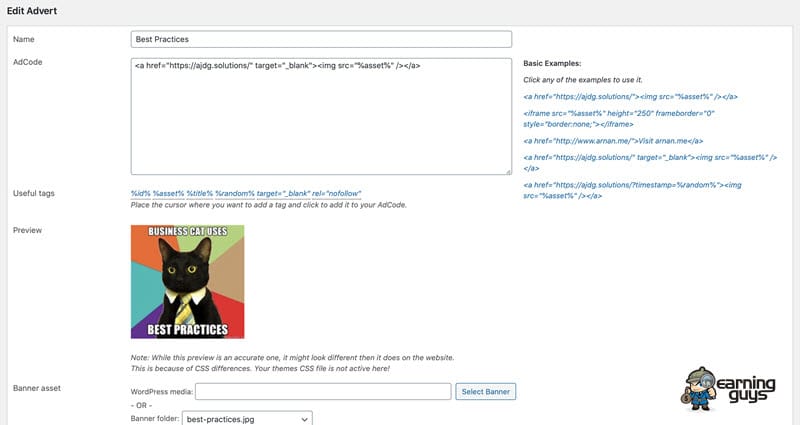 Adning Advertising is a full-service advertising manager.
It offers more than 18 predefined advertising zones. Plus, it offers standards like sidebar banners and in-content ads.
It also got some more creative options such as corner peel ads, background ads, and lots more.
Adning Advertising also allows you to add ads to your MailChimp newsletters.
Its backend makes it easy for you to divvy up ads by advertiser and campaign. It even offers detailed statistics for impressions and clicks.
The unique thing about Adning Advertising is that it has its own banner ad creator with which you can quickly create animated HTML5 banners.
However, the plugin doesn't include a front-end interface for selling your advertisements directly to buyers. That said, you can have this feature if you happen to purchase an add-on.
Price:
$29 with standard Envato licensing
Add-on is an extra $17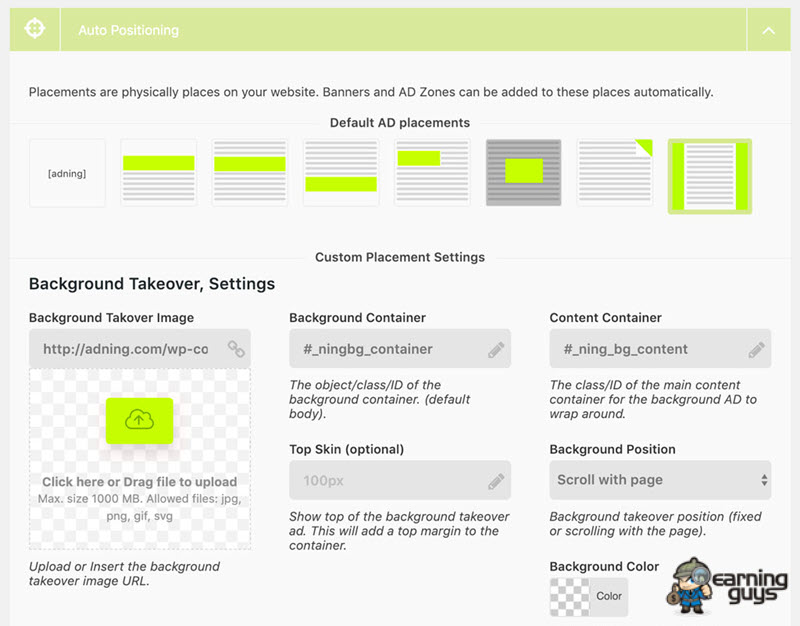 Quick Adsense is another powerful ad management WordPress plugin. It allows you to quickly insert AdSense or any Ads code into a blog post.
It also facilitates random placement of Ads anywhere within a post. It has a rather simple setting page. Moreover, it does not serve you with complicated customizable options.
The plugin allows you to experiment with a variety of ad formats & placements. It even allows you to optimize your AdSense.
Here are some of its key features for you:
Absolutely no revenue sharing from your AdSense
Default Ads positioning
Flexible Ads placement. So, you can insert Ads randomly anywhere within a post
It has a simple configuration interface
It requires no coding knowledge whatsoever
It is not limited to AdSense code only
You can display up to 10 Ads on a page
Insert Ads on the fly
Supports up to a max of 10 Ads code on Sidebar Widgets
Supports up to a maximum of 10 Ads code for specific placement or randomization within a post
Disable Ads on the fly
It's an open-source software
Plus, lots more
Price: Free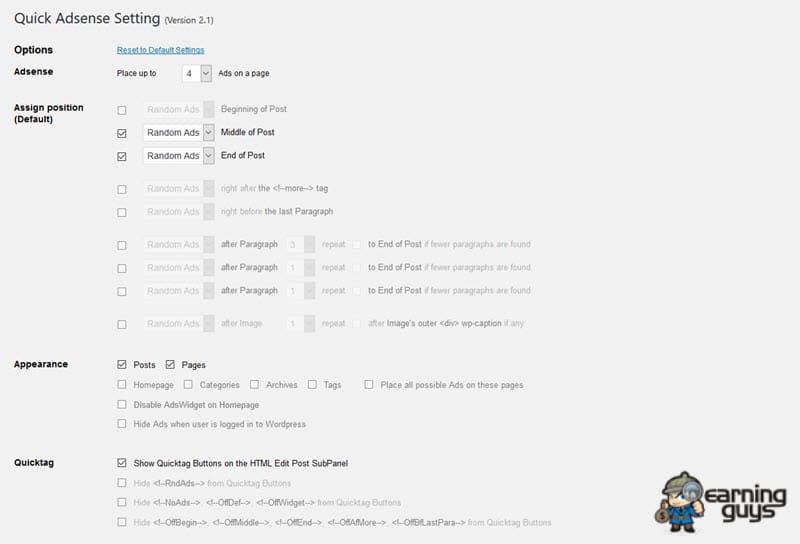 WordPress Ad Widget can best be described as the simplest WordPress Ad Management Plugin on this list. It offers the easiest way to place ads on your website.
So, if you're looking for something free and lightweight, it's worth checking out.
Otherwise, you can opt for other plugins which offer way more functionality.
This plugin offers you a widget that can be placed anywhere in your sidebar. You can make use of that widget for placing your own custom banner ads and Google AdSense Ads as well.
All in all, WordPress Ad Widget is a beginner-friendly WordPress Ads management plugin, and that's about it.
Price: Free

Now we have completed the listing of the 10 Best WordPress Ads Plugins. We hope that you would have found the post beneficial. Thanks for visiting us at EarningGuys.