Analyzing and tracking visitors' behavior is critical to the success of your online venture such as a website.
By analyzing and tracking visitors' behavior, you come to know how they are interacting with your website.
In fact, by using Heat Map Tools, you can accurately judge the behavior of your visitors when they interact with your website.
You come to know where they click, how far they scroll, and how they go on to use your website.
Herein, we have compiled a list of 10 Best Heat Map Tools to Track your visitors' behavior.
Nowadays, heat mapping software or heat mapping tools are increasingly being used by webmasters and bloggers.
It is because each visitor is immensely important and provides an opportunity for conversion or sales.
When you know their browsing behavior, you can have call-to-action at the right places and don't lose out your visitors.
Here, heat map tools become critically important as they offer visual analytics showing up areas where users click, look, and scroll.
With Heat Mapping Tools, you come to know usability issues with your website. So, you can optimize your website for better conversions and user experience.
Heatmap software is different from analytics tools such as Google Analytics.
Traditional analytics tools reveal information such as how users came to your website, how long they stay on your site, which pages they visit on your site, etc.
Website heat map tools tell you about how users use, interact and use your website. So, you can quickly address any flaws in your website design. It's a visual approach to analytics for better design decisions.
It is only when you know the "why" behind the "how " you can do something with the interface for better usability.
Typically, heat map tools offer visual analytics wherein they focus on users' movement within the page. They are used for understanding visitors' behavior and help to optimize a website's usability and conversion.
Moreover, as the analytics data is presented in a visual format, it can be easily interpreted and understood successfully.
Heatmap tools offer click tracking and collect data about your visitors or customers. The clicks are represented in the form of heat maps.
You get to know the areas that receive the most attention. With this information, you come to know what areas of your website have been attractive for your visitors' "mouse."
Heat maps go on to clearly show the areas of interest that attract your user's attention. You come to know which areas of your website are most successful with visitors.
You can then take appropriate and necessary web design decisions.
Benefits of using Heat Mapping Tools
As we have enumerated above, Heat Map Tools provide visual analytics of your visitors' behavior when they land on your website.
Let's have a look at how using Heat Map software can benefit you as a webmaster or blogger.
Know where People Click
Heat Map tools show up the popular areas on your website where visitors click.
So, you come to know what users actually care about. They show where visitors click on your website.
Learn How your Visitors React
In the course of browsing your website, a visitor reads the text showcased on your website. They proceed to take action if they feel that your website fulfills their purpose.
You can come to know what areas were most interesting to your users by checking out the cursor position.
Heats mapping tools come with a "hover maps" feature and let you know where the cursor stopped.
Find Out How Visitors Roll The Scroll
The scroll wheel is an important part of the browsing experience. Heat maps offer scroll maps which show how far down users browse.
So, you get accurate data on users' engagement. If visitors are not clicking on important data below the fold, you can be well up by shortening the scroll or moving the content higher up.
Add Numbers To Analysis
With Heat Map Tools, you can come to know how many clicks were placed per view. A high number of clicks indicate a high user engagement.
If the clicks are landing on prime content areas, you can well deduce that your website design is going well with your visitors.
However, if more clicks land on static areas, then you need to consider revision of your interaction design.
All in all, Heat Maps help you to find holes in your website design so that you can add necessary functionality for your users and customers.
There are lots of useful Heat Map Tools that help you to gather information about your visitors' behavior.
Here, we have listed Best Heat Map Tools for tracking your visitors' behavior.
10 Top Paid & Free Heat Map Tools
Crazy Egg is one of the leading and most popular heat mapping tool available in the market today. It offers various types of heat maps including click heat maps, scroll heat maps and mouse cursor heat maps. Besides these heat maps, Crazy Eggs also offers confetti heat map.
The Crazy Egg's confetti heat map divides the heat map data into traffic sources. It enables you to see how visitors from search, social network, or other sources interact with your website.
Moreover, it is extremely easy to add Crazy Egg into a WordPress website. They even provide a plugin that makes installation fast and easy.
Crazy Egg is a premium Heat Map Tool.
It's pricing starts at $9/month for 10,000 visitors with 10 active pages. However, its most popular plan, Plus, comes at $49/month for 100,000 visits, 50 active pages, and hourly reports. All its plans are available with the one-month free trial.
Interestingly, Crazy Egg does not limit your usage to per site. You can use the same Crazy Egg account on multiple sites.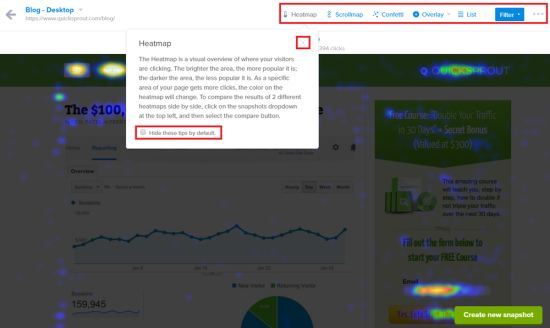 Mouseflow is easy to use heat mapping software for WordPress users. It offers different types of heat maps including click heat maps, movement heat map, scroll heatmap and attention heat map.
Besides offering heat maps, Mouseflow provides a recording of website visitor activity. So, using Mouseflow, you can find out how users interact with your website. Another useful feature of Mouseflow is the form analytics. It helps you to find out why users are abandoning your forms.
Mouseflow can also be used to track funnels. It even allows you to set custom funnels wherein you go on to find how users from different traffic sources behave on your site.
Mouseflow is available in free and paid options.
Its free plan is limited to 100 recorded sessions for a single website. Mouseflow premium plan starts at $19/month limited to 1000 recorded sessions for a single site.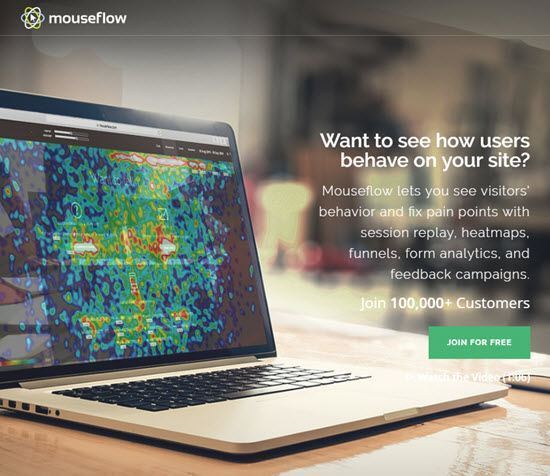 Inspectlet is a very powerful heat mapping tool and session recording service. It offers all three types of heat map tracking including clicks, scrolling, and cursor movement.
Besides heat map tracking, Inspectlet also provides conversion funnel analytics with powerful filtering feature. It has a robust tagging filter for tagging individual users. It enables you to see how users interact on returning visits. Inspectlet also comes up with form analytics which helps in optimizing your lead generation.
Inspectlet comes with free as well as paid plan options.
Its free plan is limited to 100 recorded sessions for a single site.
Its premium plan starts at $39/month with 5000 recorded sessions for a single site.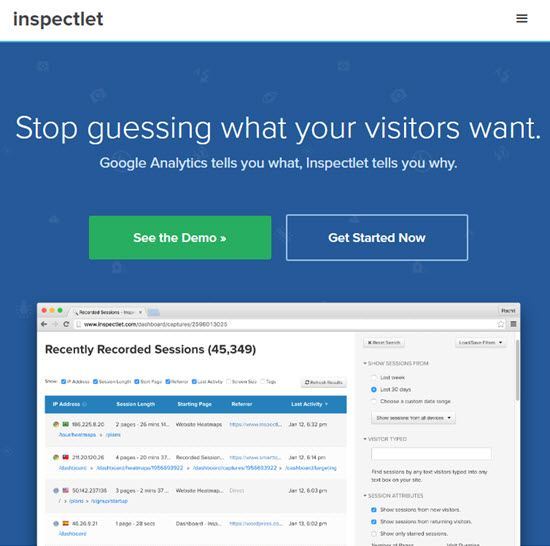 Lucky Orange is another leading and one of the most popular heat mapping software. It provides various types of heat map tracking including clicks, movement, and scrolling. Apart from heat map tracking, Lucky Orange also offers session recording and traffic segmentation.
It also comes with conversion funnels, visitor polls, forms analytics, and live chat software that can be added to your website.
Lucky Orange is a comprehensive heat mapping tool and covers everything that you require from a heat map tool. Lucky Orange is a premium heatmap tool.
Its pricing starts at $10 per month for 25,000 page views on one site.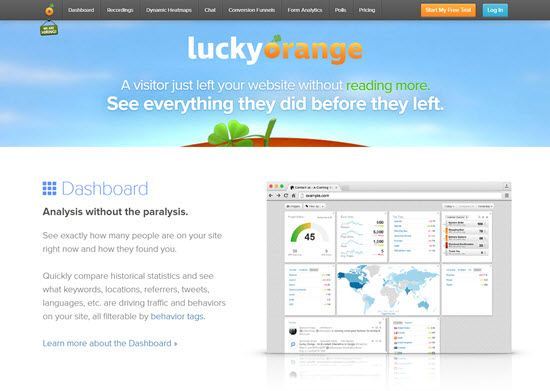 Clicktale is another very popular heat mapping tool.
They are empowered with a very powerful session recording technology and come with in-depth heat map analysis features.
However, their biggest highlight is that they can be integrated with other analytics tools such as Google Analytics, Google Tag Manager, etc.
Clicktale provides heatmaps, conversion analytics, session recording, advanced analytics, and much more.
Clicktale pricing information is not available on their website. So, you need to contact their sales team and discuss the pricing.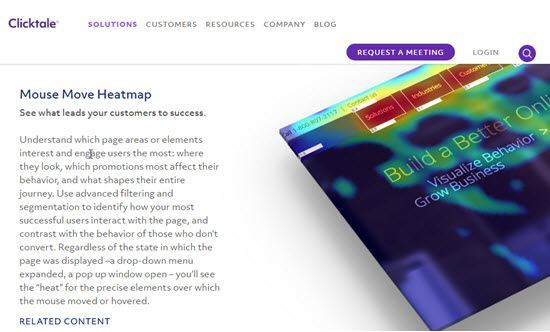 Ptengine functions both as a web analytics tool as well as heatmap tool. Ptengine provides click heat maps, scroll heatmaps, conversion tracking, and attention heat maps.
Besides these heatmaps and analytics tracking, Ptengine offers A/B testing between two heat maps, which turn out to be a useful feature for designers testing different interfaces.
As far as web analytics is concerned, Ptengine provides device segmentation, page analysis, campaign performance, and one-click filters. Ptengine offers both free and paid plans.
Its free plan is limited to a single site for 1000 page views with one heat map. Its premium plan is available at $7 per month for five heat maps, single site, and 25k page views.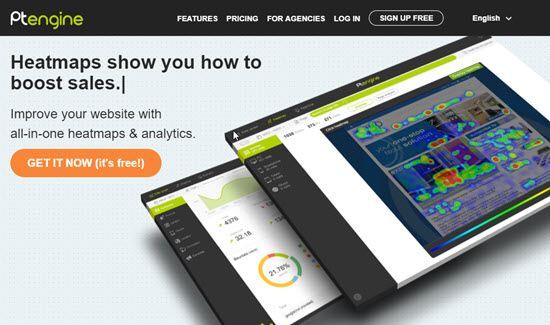 Yandex Metrica is a leading web analytics solution in the world. It provides heat map tracking and forms analytics so that you can come to know which parts of your website drive most attention of your audience.
You come to know where exactly users give up scrolling. You can even know the behavior of segmented audiences. It's an all-around web analytics tool.
You can analyze traffic trends to mouse movements and get a comprehensive understanding of your online audience. With Yandex Metrica, you come to know how people engage with your site.
You can analyze user clicks, scrolling, mouse movements, and keystrokes. It provides comprehensive reporting with the ability to customize reports.
The best part is that Yandex Metrica is a free tool.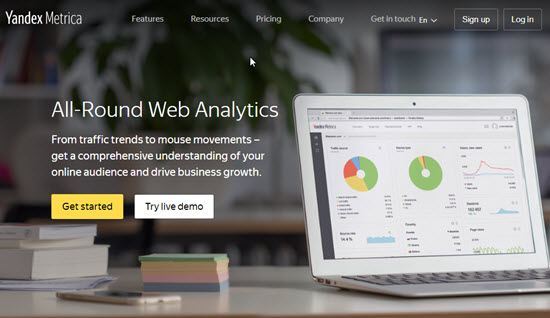 userTrack is a powerful heat mapping tool with full visitor recording. It comes as premium heat map software. userTrack enables you to record visitors on your site.
You can watch replays of their visits. userTrack offers to click heat maps, scroll heatmaps, mouse movement heatmaps, and statistics. You even get full recordings of user activity on your website.
It is well optimized as tracking does not affect site performance. It comes with HTTPS and mobile support. You can track multiple domains on a single server. UserTrack comes with a quick step-by-step installation wizard.
It is available in a one-time purchase with no monthly fee.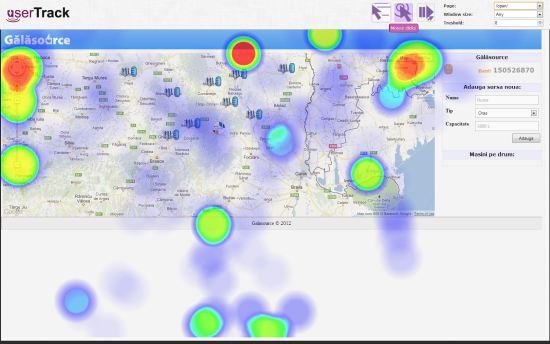 Hotjar is a powerful web analytics and conversion optimization tool. It offers heat maps, funnels, session recordings, form analytics, polls & surveys, and also a recruiter tool to get testers.
Hotjar provides click, scroll, movement, and tap heat maps. Its reporting dashboard is intuitive as well as easy to use.
Hotjar comes with both free and paid plans.
Its premium plan starts at $29 per month.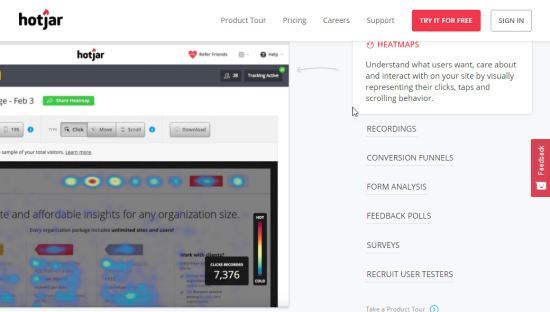 SessionCam is another very powerful heat mapping software. It goes on to analyze customer interaction on your website and automatically identifies potential barriers to conversion. It offers heatmaps, conversion funnels, and form analytics.
With its "Customer Struggle" feature you come to know where customers struggle on your website. Using its "Session Replay" feature, you can watch individual customer recordings.
SessionCam is a must have tool for anyone who wants to improve conversion rates and deliver a great customer experience.
It offers both free as well as paid plans. The paid plan starts at $50 per month.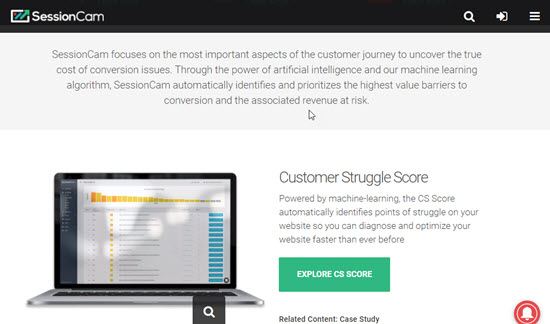 We hope that the post proves a valuable resource for finding the best Heat Map Tools for tracking visitors' behavior. If you liked the post, don't forget to share it with your friends and colleagues. We welcome your comments and suggestions.