Keyword generator tools are vital for finding suitable keywords, and these researched keywords may be used in various write-ups, which will help you rank the page higher in search engine results pages. However, you will be able to rank the page in many circumstances but not in some.
Therefore in these circumstances, these tools are beneficial in many ways. Other than generating keywords, they can help you develop article ideas, title ideas, competitor website analysis, and relevant keywords. They can also show how many people are searching for a particular term and how tough it is to rank that keyword or phrase.
Digital marketers commonly employ keyword tools to help them drive traffic to their websites. These tools' operation is simple for anybody who can use them, has a basic grasp of computers, and works in SEO and Online Paid Marketing. Let's get started with these Keyword Generator Tools.
Some other Unique benefits of Keyword Generator Tools
As if keyword research wasn't difficult enough already, a number of tools are available that can make the process easier and faster. In the next section, we will share some unique benefits you'll find with these keyword-generation tools.
Time-saving: Depending on the tool you use, you can save a lot of time by finding websites that have already been targeted and are generating good volume for specific keywords.
An engaged audience: Depending on your niche and the tool you use, you will be able to discover websites that are not only relevant to your area of interest but also highly engaged with your chosen topic.
Insight into the marketing trend: By examining the links already used by competitors, you can ascertain how the current marketing strategy is being used to gain traffic and rank for certain keywords.
Easier organization: It is easier to organize prospects with tools that give you all the links and site stats in one place, as opposed to having to look up each link separately.
Speed up the whole process: You can speed up your whole process by analyzing hundreds of websites at once.
These are some advantages of keyword-generating tools that they offer in addition to keyword research. The top 10 Keyword Generator Tools will be covered in the next section.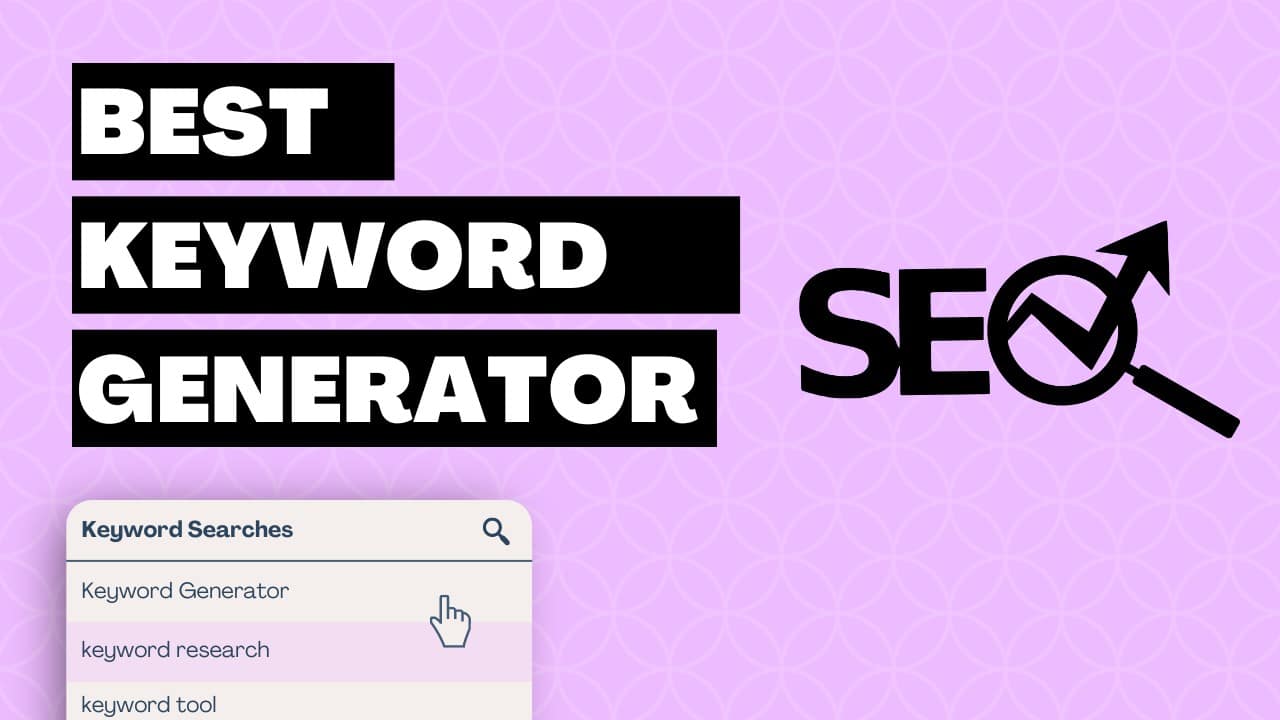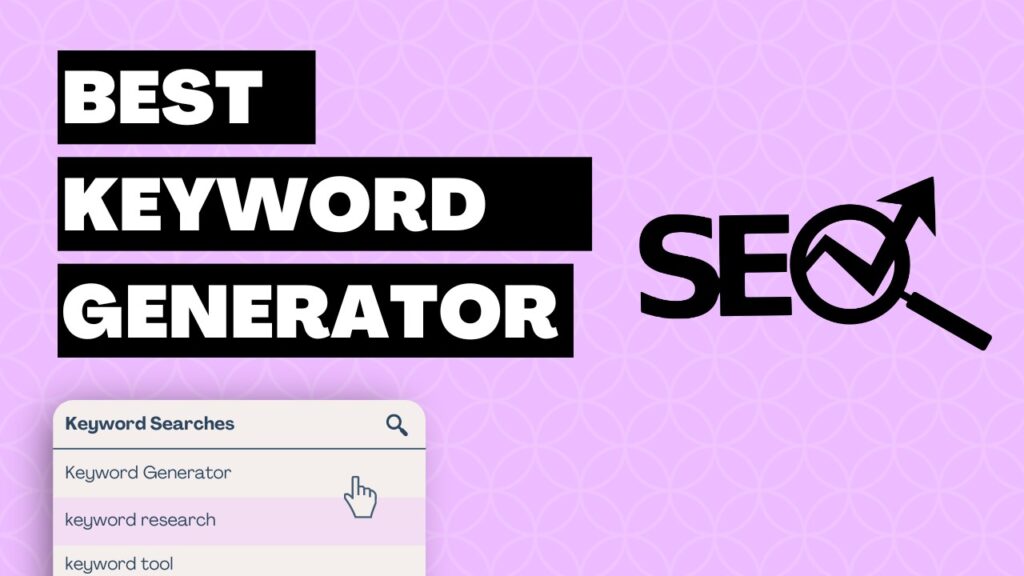 10 Top Keyword Generator Tools
There are multiple amazing free keyword generators in the market that you can use. So, here in this post, we will discuss the ten best SEO Keyword tools that are easy to understand and work on and provide tons of informational data.
Few of the tools on our list are free, while others are partially paid and partially free. These tools offer distinct functionalities regarding keyword research and website analysis. However, most tools give vital statistics, such as the number of keyword searches in a month and the complexity of your searched phrase.
Below is a list of the keyword generator tools that we are going to discuss in our post:
Ahrefs Keyword Generator is a tool that lets you generate keyword suggestions for any website or content.
A feature of the Ahrefs Keyword Generator is that it enables you to automatically find websites with strong search volume in Google and Bing by means of the popularity of their domain and page URLs.
The Ahrefs SEO keyword generator also shows what other keywords each suggested term can be searched for, which gives you an idea about the competitive scope for each keyword suggestion. Keyword research is an essential yet time-consuming part of all SEO and content marketing campaigns.
Ahrefs Keyword Generator makes this relatively easy, as you need to enter any website or page's URL to get a list of its potential keywords.
Besides websites and web pages, Ahrefs Keyword Generator can also help you find keywords for various types of content, including articles, blog posts, and video titles/descriptions.

With Google's keyword planner, you can research keywords for your latest blog post and update or optimize your website or app content and ad campaigns. You can see how many people search for a specific term over time. This free keyword generator allows you to run searches for multiple keywords at once. You can then see how people are searching for different terms, which keywords are most popular, and which ones your competitors are targeting.
Google recently updated its Keyword Planner, which means you can get more accurate results when you're researching search traffic. The new version shows not just long-tail keywords but short-tails as well.
When using this tool, there are many features you can use for your benefit.
You can:
Use the Keyword Planner as a guide to help you find the best keywords to target in your ads.
Analyze the results of your search query and make changes as necessary.
Review the competition for your search terms.
Save and organize your search terms.
Semrush Keyword Magic Tool assists you in your keyword research process. It is primarily known for showing the number of search results, ranking data, and much more than standard keyword tools. The tool can be used to find what keywords are trending now and where users are searching for them on the internet. The data shows all these things so that you can understand which topic people have an interest in.
Keyword Magic Tool has a nice and simple user interface that makes it easy to use, even if you are unfamiliar with this tool. You only need to input a single search query, which will immediately display results.
On the other side, you have a graph that will tell you how many impressions and clicks it has received. The data is broken down into several sections so that you can easily see where it came from. Furthermore, you can easily add more keywords to the section by adding them one at a time via the 'Add Keyword' button.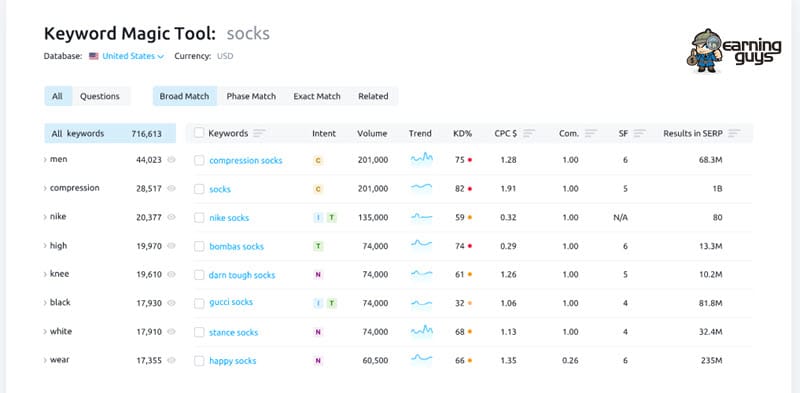 WordTracker is a keyword research tool that helps marketers find the most relevant keywords for their business.
The service provides users with long-tail keyword research, a list of related keywords, and comprehensive volume data.
This online search engine optimization tool helps in doing competitive analysis and website content creation. It also offers users access to domain suggestions, top-performing keywords (bookmarked), trending keywords (all time), global searches, and an alphabetical list of countries and languages. Users are provided with keyword suggestions, analytics, and tracking via the free download.
WordTracker offers a free seven-day trial period. After the trial period, it charges a monthly subscription depending on whether the user is a small business or enterprise customer.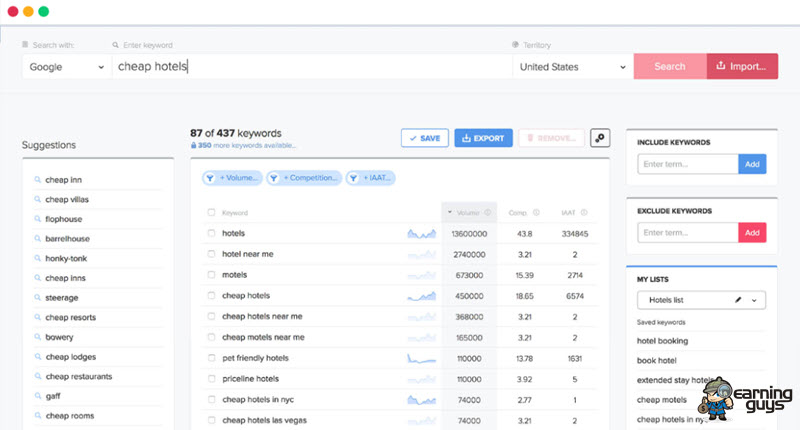 When you want to find the best keywords for your articles, blog posts, or websites, it can take a lot of time. Luckily Ubersuggest is here to help!
Unlike other SEO keyword generator tools that rely on certain criteria to find suggestions, Ubersuggest pulls from a complete database of words and phrases across different platforms and dialects. This means that you can enter any word or phrase and get an immediate list of suggested words that people use in their daily search queries. It's super quick to use and can be extremely helpful for those that have no idea where to start with keyword research.
How It Works
To get started, navigate to the Ubersuggest home page and enter a keyword in the search box.
You'll see an immediate list of available keywords. Select the one that you want, then click "Suggest." You'll be able to add your own keywords or phrases to find, and you'll also be able to filter between different regions around the world. One handy tip is that you can type things like the "Keyword suggestion tool" within Ubersuggest itself.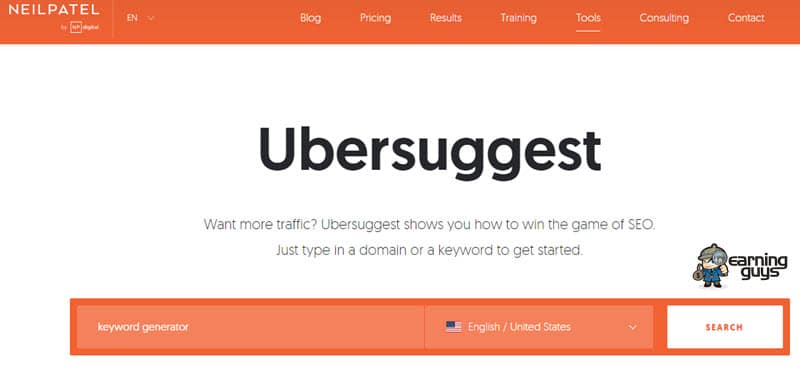 Moz Keyword Explorer has a free but limited usage option that allows you to explore the keywords in any Google SERP. Then you decide if you want to keep it. Moz provides the Keyword Explorer tool and all the keywords found in any of the Google SERPs, with a graph of their importance over time. On top, you see a list of related words. It's easy to understand how much each keyword has been searched for and what other topics might be related to them like "dentist" can be related to "orthodontist."
Benefits of Moz Keyword Explorer:
See all the keywords in any SERP. So you can find and track those most important keywords within minutes. Use any order you want. Just click on the "where to go" button on the right side of your search history. Get information about related keywords and check out how they match your queries. Track how often they're searched, how they are trending, which pages rank for them, and which websites rank for them (even in their own domains).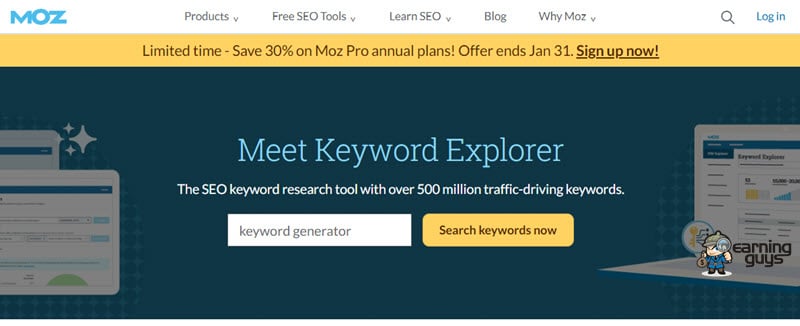 KeywordTool is a tool that can help you find the best keywords for your article. It's perfect if you're tired of getting low traffic from Google searches and want to start ranking higher. It has a number of features, including keyword suggestions for your article and which keywords are your competitors. KeywordTool also has a daily update that gives you the best keywords. Just make sure to enter it in the proper format to get the results you want.
KeywordTool is perfect for those who are looking for quick, easy, and effective results without having to learn any special software or pay hundreds of dollars for monthly subscriptions.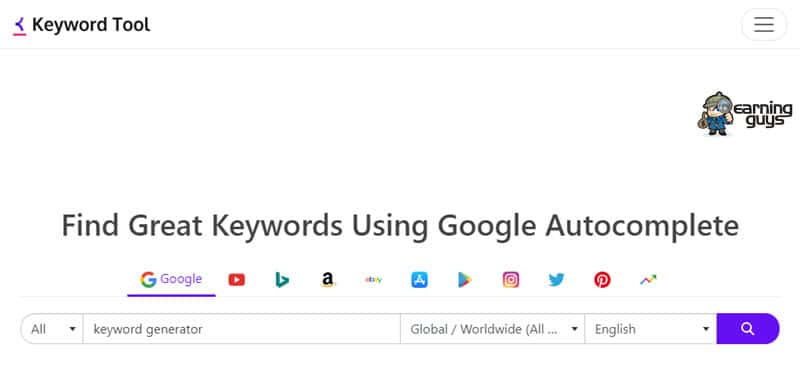 Keyword Surfer is a Google Chrome extension that enables you to find out which search terms are the most popular. It analyses keywords and suggestions given by Chrome's Omnibox as you type and also collects statistics on various websites. It can be used to find trending topics, what people are searching for, and how competitive a keyword is.
It shows the number of total searches per month and how many were in the last 24 hours. It even shows an estimate of the monthly performance that advertisers would get if they purchased that keyword. One can also use this tool to check which keywords one has already used on a blog so that they don't repeat the same words, or at least not in the same article.
It is a simple yet very useful tool, reminiscent of some of the features in Google's Adwords platform.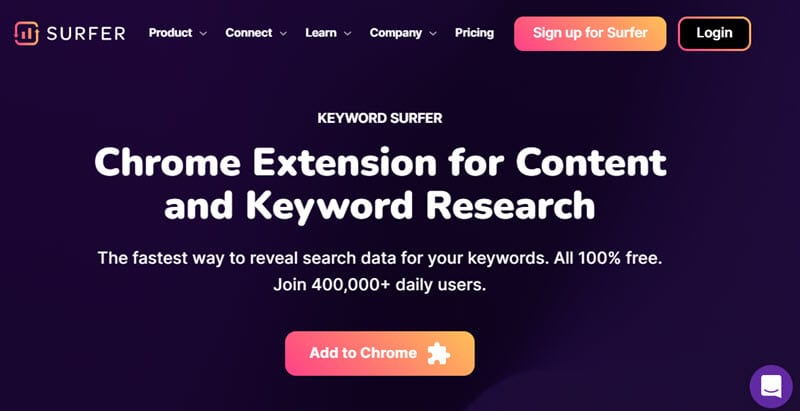 It is an incredibly powerful keywords generator tool with Artificial Intelligence. The Question DB is built to find questions in many big web search engines, like Google and Bing.
It also analyses the questions and ranks them by popularity, relevance, difficulty, etc., which further helps you to select questions for your next poll or survey.
The database of questions contains over 200 million keywords with 330 million answers from the internet's largest search sites like Google, Yahoo, Answers, and Bing.
Questions DB also works great for improving your online marketing strategy. By providing blog post ideas covering questions, you get more traffic to your blog because people are always looking for answers.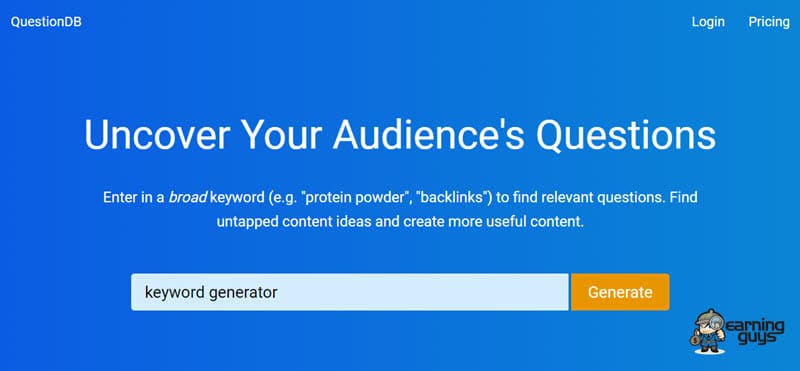 Wordstream Keyword Tool is a free keyword generator, easy-to-use keyword research tool, and competitive analysis tool that provides search volume, CPC, and competition data.
The Keyword Tool is a Google Adwords-powered keyword research tool that provides fast, accurate data on competitive keyword search volume, average monthly bid price, and estimated click-through rate. The Keyword Tool delivers all this data to users in just a few seconds.
By providing instant access to search volume numbers and competition scores, the Keyword Tool makes it easy for users to find relevant keywords for their business and industry.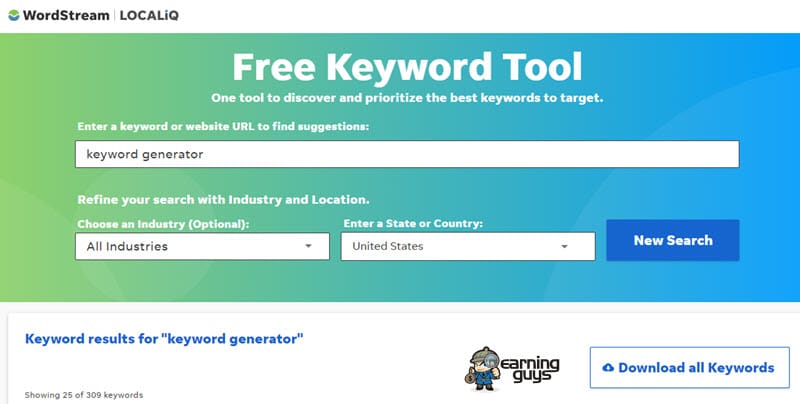 Conclusion
We believe you will sail in the online marketing sector with the above-listed keyword generator tools.
These tools are very convenient to help businesses and marketers plan, execute, optimize and monitor their marketing activities easily.
We hope this article gives you a better understanding of how these tools work and what they do for your business. If you would like to add any other tool to the above list or would like us to review any specific tool, then feel free to share it with us.