If you spend most of the day chatting with friends and checking out the news feed on Facebook, Twitter, Google+ or Linkedin, then Social Stock was created just for you. This is a new campaign initiated by TemplateMonster, which is aimed to help your friends save on purchasing premium themes from their inventory. One of the key terms of the campaign is providing all of the participants with unique promo-codes, which they should further share with their social media followers. We will talk about the terms and conditions a little bit later. Let's put first things first.
Social Stock is a unique program. The thing that makes it different from the rest of TemplateMonster's offers is the period of time through which it will be running. Launched just a while ago, Social Stock will be active till the end of the year. December 31 is the last day when you can get your prize.
By the way, participating in the campaign, you have great chances to win any or even all of the 8 cool prizes. In order to get the reward, all you need to do is to provide your friends with a 10% promo-code (you do not need to generate it on your own, your unique promo-code will be sent to you right after the registration). The promo code can be applied to any theme from TemplateMonster's gallery, including such best-sellers as Monstroid WordPress Theme, Styler Prestashop Template, Wegy Joomla Theme, and many other ready-made solutions for blogs, eCommerce sites, portfolios, and whatsoever. These are only a few suggestions that you can share with your friends. The gallery is truly vast. With over 60,000 templates for various purposes and literally any online platform that you can think of, TemplateMonster's inventory includes a variety of products that can please the most demanding customers.
Social Stock Terms & Conditions
The terms of the campaign were made clear and easy to follow. In order to participate, you need to be at least 18 years old. All the rest doesn't matter. If you have a strong desire to help your friends with the purchase of cool web design stuff at a lower cost and if you are eager to compete for the top prize, then do not hesitate to enroll.
Here is all that you will need to do:
Apply for registration at the official Social Stock page.
Check your email inbox for your unique 10% promo-code.
Share the promo-code with your friends and social media followers.
How to inform the audience about the campaign, you will ask? TemplateMonster has prepared sets of memes, banners, and pre-written texts, all of which will be available to you after the registration. If you wish, you can create your own memes and other visual stuff to captivate the attention of your audience. Your creative approach is always appreciated. Below you can find several examples of memes that you will get.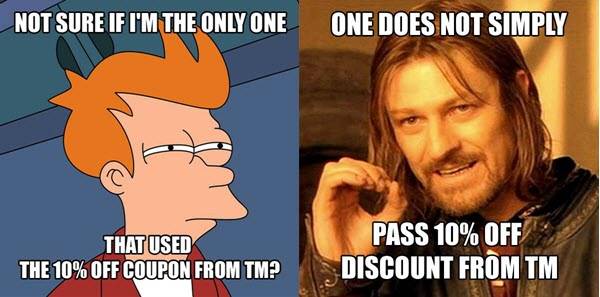 Several variations of email texts will be also available to you. Just replace the default discount with your own promo-code, and you are ready to send the message to everyone around. By the way, your Social Stock account will be integrated with Facebook, Twitter, Google+ and Linkedin buttons (as well as the option to send an email), so you can start spreading the word right from your profile.
Prizes
Here comes the part that is probably of the greatest interest to you. There will be 8 prizes overall. Depending on the number of times that your promo-code is applied, you can get the following:
10 promo-code usages will bring you $100 on your PayPal account
20 sales equal Smartwatch Pebble
For 50 sales you will get iPad Mini
iPhone 6 for 100 sales
Canon EOS 6D for 250 sales
MacBook Pro for 500 sales
Harley-Davidson Street for 1,000 sales
Tesla Model S for 10,000 sales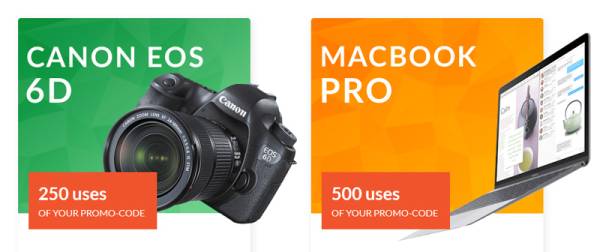 Your Social Stock profile will have an option, allowing you to track the number of sales by entering your promo-code into the corresponding field. On top of that, you will be introduced to the complete list of prized, with an "exchange" button placed right next to each of them. As soon as you have collected enough sales for a certain prize, the button will turn green. If you wish, you can exchange your points right away or keep on collecting your promo-code usages till it's enough for a more valuable reward.
Let's consider the following situation. Your promo-code was used 50 times, which equals 50 points. This means that you can get either $100 on your PayPal account for 10 points plus exchange the rest 40 points for two smartwatches. Or you can exchange the total sum for the iPad Mini. Or… you can do nothing and simply keep on collecting sales. As you could have already guessed, the amount of prizes that you can get is not limited. If you wish, you can complete all the 8 rewards from the list.
Basically, that's all that you need to know about TemplateMonster's Social Stock program in order to participate and win. The good thing about it is that we are dealing with a complete bargain, with no losers. 10 sales are that minimum that each of us can achieve effortlessly for one year. So, you can only imagine how much you can get from a campaign that requires no investment from your side. Just spend a couple of minutes a day while sharing pre-designed memes, banners, and texts with your friends, and see the number of points grow in your Social Stock account.