If you are looking for an in-depth article that explains the business choices you need to make with Facebook ads – here's our take on it "Facebook Advertising: 3 Keys to Getting Started"
Instead, this guide will take you through the nuts and bolts of creating you first Facebook Ad. Let's dive straight into it and we'll handle the details as needed.
Let's Setup Facebook Ad
On the top right corner, you'll find an arrow (the one you use to logout – if you do log out that is ;))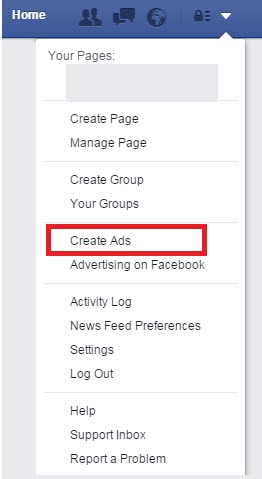 Or, you could visit: http://www.facebook.com/ads/create
Both would direct you to a transient page such as the one below (it should stay only for a few seconds):

You'll finally be directed to the Ads Manager page. The Ads Manager requires you to complete the following steps:
Campaign
a. Objective
Ad Account
a. Create New
Ad Set
a. Audience
b. Budget and Schedule
Ad
a. Media
b. Text and Links
We'll now dive into each one of these – one by one.
Step 1: Choosing the Campaign Objective
Depending on how much you have thought through about advertising on Facebook, your first step might be the easiest or the hardest.
If you have clarity about the end-goal, you'll be able to pick the right one in a matter of minutes. However, if you haven't given it much thought – here's a quick run-down: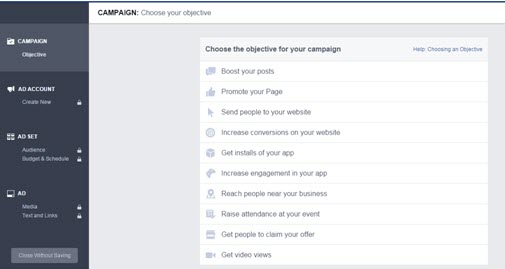 The advertising objectives you can choose from are:
Boost your posts:
Once you click on the "Boost your posts", you will receive a drop-down of all the posts that you have ever created.
This objective is suitable if you want to increase engagement on your post. This will spread your post for people seeing, liking, commenting on and sharing your Fan Page content.
If you're wondering why you shouldn't rely on organically reaching out to the people who have liked your page, it's because Facebook has limited reach to your fan base.
Again, as we said in the previous FB Ads post your KPI should impact your bottom-line. Think creatively, you don't need to pay just for engagement – you can promote a link to your newsletter sign-up while paying for the engagement – this could (or could not) be more cost effective! (You'll have to test it!)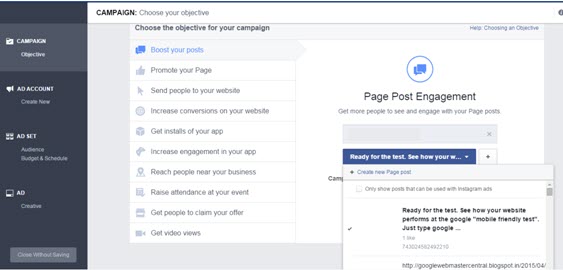 You can also "Boost" your posts by locating them on your web page and clicking on the "Boost Post" button on the right-hand side. You will receive the following pop-up: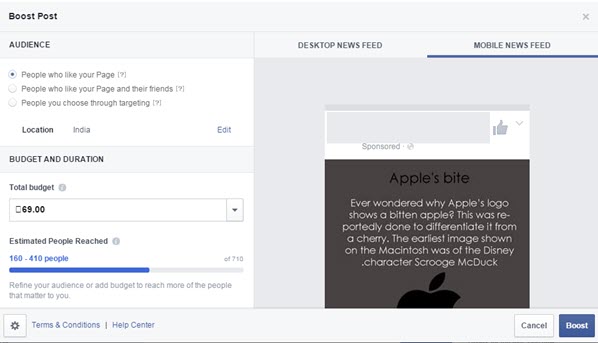 Promote your Page:
This is by far the simplest objective. Getting likes on your Facebook page. However, you have to know what your goal is and have to keep a track of your metrics. Here's an excerpt from a Search Engine Journal Case Study:
"If you are using branding KPI's to measure the effectiveness of your campaign, then it may be cost-effective. If your KPI's are conversion based, perhaps not, but you get a lot of numbers on your new audience. "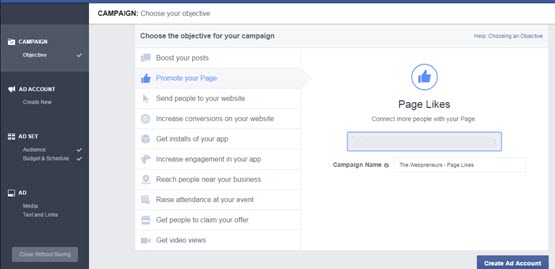 Send people to your website:
One of the key questions that come up when trying to advertise your website is – which of the two should you pick? "Clicks to Website" or "Increase conversions to your website."
The fundamental difference between the two is how Facebook would try to optimize and display your ads. As simple as it may sound, when it's about "clicks" – Facebook tries to get you more clicks and when it's about Conversions, Facebook tries to make sure that you hit your conversion targets.
As discussed in this article, you should definitely test which one works for you! Unless you are looking for exposure to the website, in my opinion, "Increasing conversions" is the better option.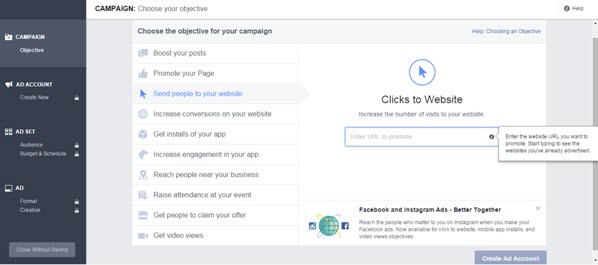 Increase conversions on your website:

This objective would also send traffic to your web page BUT you should have a conversion defined. Now, do not be turned off by conversions and think that they exist for e-commerce or products only.
No, while sales are the best "conversion" because they have a direct $ associated to it, you could have micro-conversions as well. For example, you could have a sign-up page for the newsletter. To calculate the $ value for this lead – you need just one more number – the CVR for the newsletter mailer.
Say, you were about to send out a mail promoting a $20 product and 20 people out of 100 converted. You received $400 for 100 leads, therefore; Av. Lead Value is $4 for you.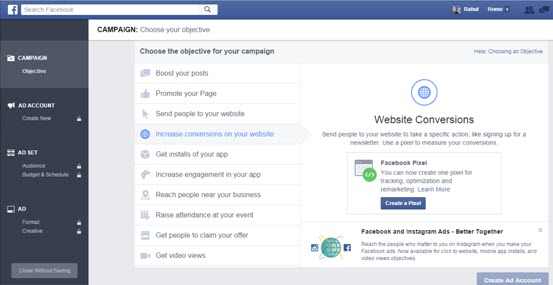 Note that in this case, you would have to create a pixel.
To do so, click on the "Create a Pixel" button. You will receive the following pop-up: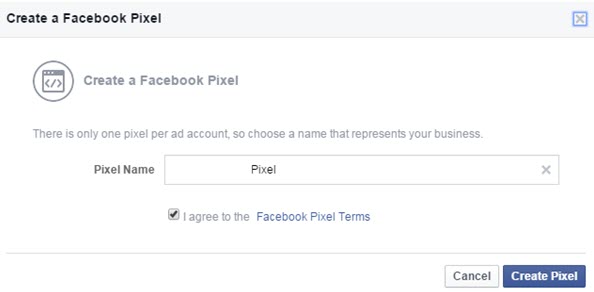 For a step by step implementation guide, please follow the below link from Facebook:
https://www.facebook.com/business/help/952192354843755
The Facebook pixel can be used for 3 main purposes:
Tracking conversions and attributing them back to your ads.
Optimizing ads for conversions.
Building Custom Audiences from your website for remarketing.
Get installs of your app:

If you want to advertise and get more installs for your mobile or desktop app, this is the objective you choose.
Again, lots of newbies spend time and money trying to get X number of installs. Instead, you should focus on understanding "why" you want these numbers of installs and what you are going to do with it!
For instance, if you have In-App Ads as the monetization strategy, you should know what your ARPU (average revenue per user) is. If you have a freemium app, make sure you know what % of users upgrade.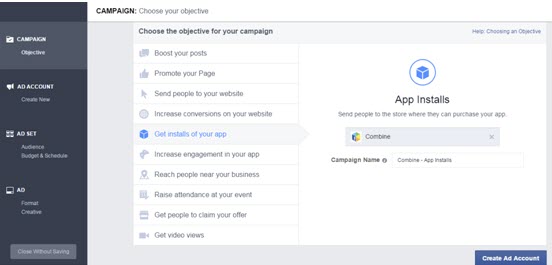 Increase Engagement in your App:
The increase app engagement objective allows users to take specific actions for your desktop/mobile app. Note that the user may or may not have your app installed.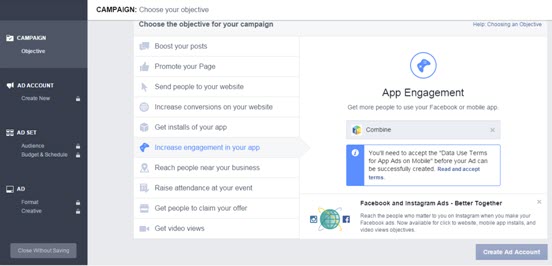 It uses deep linking and removes extra step between clicking the ad and getting to content that interested them. If people have your app installed, they will be taken directly to their point of inspiration. If not, they will be directed to the app store first where they download the app and come back to their point of inspiration through a deep link!
Reach people near your business:

This is Facebook's offering for Hyper-local targeting and works best for local businesses. You will need to have your street address in place on your Facebook Page. (Or enter it into the settings page) The best part of this offering is that you get custom Call-to-Actions that are super relevant for local businesses – Send Message, Call Now and my favorite – Get Directions.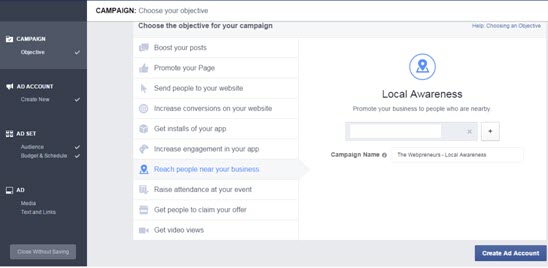 Raise Attendance at your Event:

This is the objective of choice if you have an event on Facebook that you would like to promote. Unlike the boost event, which would actually try and spread the word about your event – by increasing your likes/comments/shares; the raise attendance optimizes on the basis of whether the person would RSVP.
Get People to claim your offer:

This one is a pretty straightforward objective –if you have the offer to promote, use this objective. This is ideal for discounts and deals. Note that you need to have an offer post on your page to promote (or you'll get a note). If you don't have any eligible posts, make one on your page or click the + drop-down as shown below: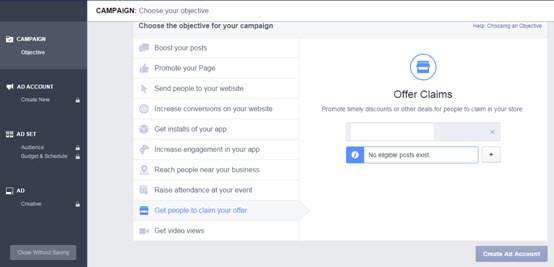 Get Video Views:

This is more of a branding objective although you can have a link in the description of the video. Facebook recommends you use it to promote videos that show behind-the-scenes footage, product launches or customer stories to raise awareness about your brand.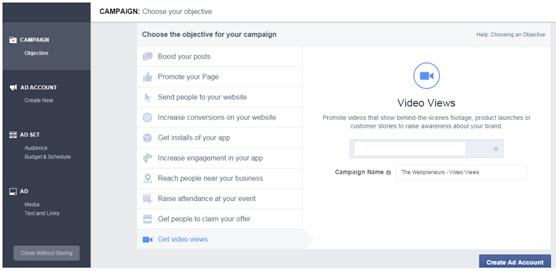 Format requirements for the video are on the right. Choose the thumbnail (the still image that people will see), add a message and see what it will look like.
Step 2: Ad Account
This is a very straight-forward step, all you need to make sure is that the details are filled in correctly. You should be able to breeze past it!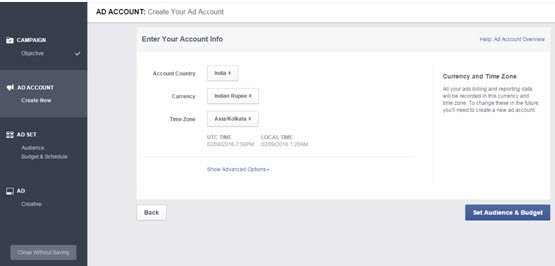 Step 3: Ad Set
Once you have specified the objective and created an ad account, you need to:
Target an Audience
Here's a quick primer on targeting:
Location
Age
Gender
Language
Demographics/Interests/Behaviors: This is gauged from user activity (pages that they like/ posts that they share)
If you already have products for customers, then these parameters sum up the Ideal Client Profile that you might have for your users.
Take note of the Audience Definition which raises a flag if you are too broad/vague or too specific.
The "Connections" option is to promote it to people who like your page at the top of their news feeds. The next option is to reach the friends of the fans alongside. Or, you can exclude the people who like your page if you want to expand your audience. (Similar for Apps)
You can create a custom audience by saving the defined parameters. This will help you target the same audience with ease the next time around. Also, it will help you understand your ideal audience if you test the same ads with different audiences in different campaigns.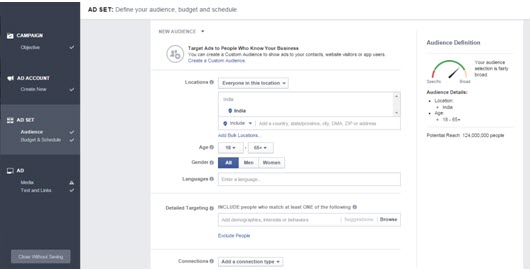 Special Cases:
Objective: App Installs and App Engagement
For the app installs and app engagement objectives, you will notice that you have additional App Based Targeting options available. These are:
1. Platform (OS)
2. OS/Device Targeting: You should definitely not be bidding for devices that your app does not support. You can set up a separate campaign to bid higher for the premium devices (say, Samsung Galaxy or iPhone version 9+) if you find that they give you a better user LTV.
3. Wireless Connection: If your app is not light-weight, it would be best to use only Wi-Fi users as mobile users might not want to download an 80MB+ app.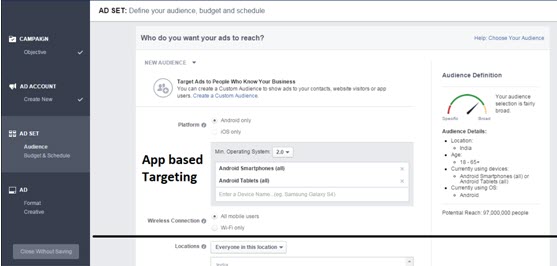 Objective: Local Awareness
The Ad Settings allow you to enter the street address and a radius. Further segmentation is only available by Age and Gender. This is one of the drawbacks with this objective, but could be improved in the future.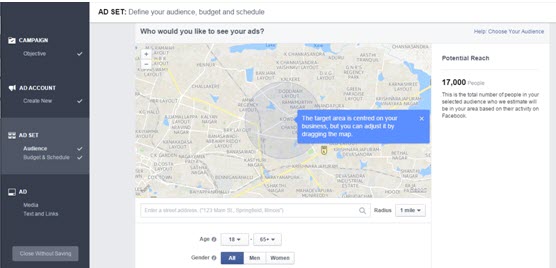 Budget & Schedule:
Once you have the Targeting in place, you need to specify your daily/lifetime budget (for the campaign) and the schedule for which you would want to run your ads.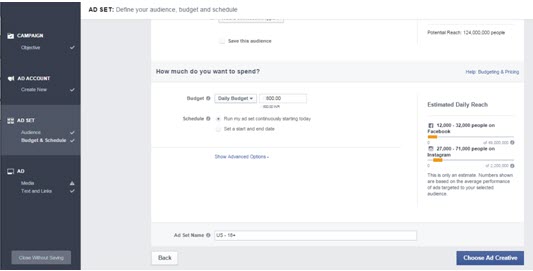 Step 4: Ad
Format


There are 2 creative formats that are available: single image/video and carousel. If you decide to use single image/video, make sure you follow the best practices: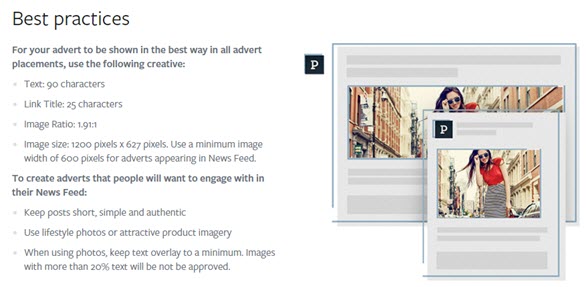 The carousel format lets you show 3-5 images and/or videos, headlines, and links or calls to action in a single ad unit. While the carousel will take more effort to set up, it can genuinely drive better results for your business. For more details, follow the official recommendations here: https://www.facebook.com/business/help/927639917355563
Creative

Upload the photo or the video that you want to use for promotion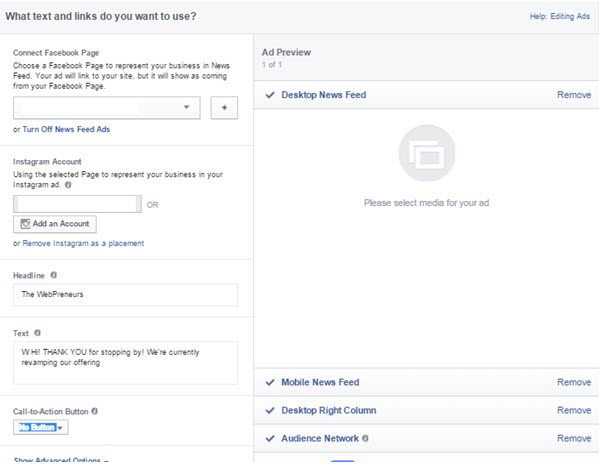 The left-hand side is pretty straight forward; fill in your account details (Instagram details if you want to display ads there as well). Fill in your Headline, Text (Description) and Call to Action – follow the best practices since you're starting off. (Shown in image above)
On the right-hand side, you have to pick the placements you want your ads to run on. Audience Network are Facebook approved partner websites that can start off with once you have some experience and baseline numbers for the KPI on Newsfeed and Column/Sidebar Placements. When measuring performance, you'll notice that the difference in placement-wise performance could be stark –so make sure that you pick only the ones which are the most relevant.
With this, we conclude the Step by Step Guide to creating your first Facebook Ad. Let us know in the comments if you enjoyed it!