Nowadays, it's more of a general phenomenon for social media platforms to have a verification process in place.
Facebook too has joined the league and has set up a verification process. It means that a verified page or account is a celebrity, personality, or brand.
Hereunder, we have detailed the procedure how to verify Facebook Page.
You must have noticed the Blue or Grey Ticks on some Facebook Pages.
Actually, these 'badges' signify to everyone that they have been verified by Facebook to be the authentic Page. It's a quick and rather painless process that goes on to significantly increase your credibility.
The little blue or gray check mark next to your Facebook page name shows that your FB page is the official representation of your business/website.

While it is not necessary for every person or business to have their page verified, there are a whole lot of benefits if you do so. By verifying your Facebook page, you can take advantage of all the new features that Facebook brings in for you. Plus, there are lots of other benefits.
So, Facebook Verification Matters.
Here's why?
It goes on to build trust with your audience – Having the blue or gray checkmark on your Facebook page means a lot to your fans. It shows that you are a legitimate brand that they can fully trust. It adds legitimacy to your name and reputation as a "public figure."
Your customers get to know the "real" you – By verifying your Facebook page, you ensure that your customers know which page belongs to you. Most of the time it happens that successful and famous personalities are bound to have copycats. Someone can steal your content and scam people in the process. By verifying your page, you help your following to find the "real" you. So, they can easily ignore the fakers.
Verification provides credibility to your Facebook page – Facebook is overcrowded and prone to scammers. It's more than a possibility that an unofficial page exists for your company. It can either be a fan page, or there can be a deliberate attempt to impersonate your business. By going through the Facebook verification process, you ensure the much-needed credibility to your page.
Show up higher in search – Being verified means that Facebook has already reviewed your page, so there is every likelihood that your page appears in searches on Facebook. Now, new people can easily find your page.
Increases engagement – Facebook verification brings in more reach and engagement for your brand. Although it may not be a fact, Facebook verification does help to increase the much-needed engagement. There's a positive effect on your credibility, and people begin and like to be associated with your brand.
What Kind of Facebook Verification do you need?
As with Facebook verification, you get either of two types of badges. It can be a gray checkmark or a blue one.
The blue checkmark indicates the authenticity of a global brand, public figure or media company. Some examples of high profile pages that have the blue checkmark against their Facebook page name include Coca-Cola (global brand), Barack Obama (public figure), and Fox News (media outlet).
On the other hand, the gray badge establishes the authenticity of a local business or organization. You need to provide documentation to confirm that you're a legitimate local business when applying for a gray badge.
However, some global brands can have both types of badges. For instance, if they use parent/child pages, the parent page has the blue badge, whereas the individual location pages show the gray local business badge.
How to Verify Facebook Page?
How to get the Gray Badge – being verified as a local business
For becoming verified as a local business, Facebook put some preconditions that you must fulfill. These conditions are:
Your page must be classified as a local business, company, or organization
Your page must have a profile photo
Your page must have a cover photo
Once you have these three elements in place, you can then go ahead with the verification process to get the gray badge.
You get the option to verify in your page's settings option.
So, begin by clicking on the "Settings" option at the top right of your page.

Then click "General" and "Page Verification."
Click on the "Edit" or "Verify this page" listed against the Page Verification option. You then need to provide publicly listed a phone number for your business.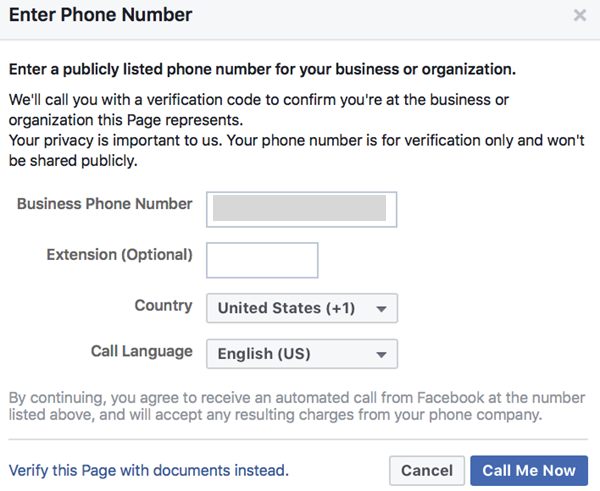 You also need to enter your country and your language. In case, if you do not possess a publicly listed number, you can also verify your page using documentation. Finally, click on "Call me now" to let Facebook send you a 4-digit verification code. You have to enter this code and you are done. Facebook lets you know within a few days when the verification is completed.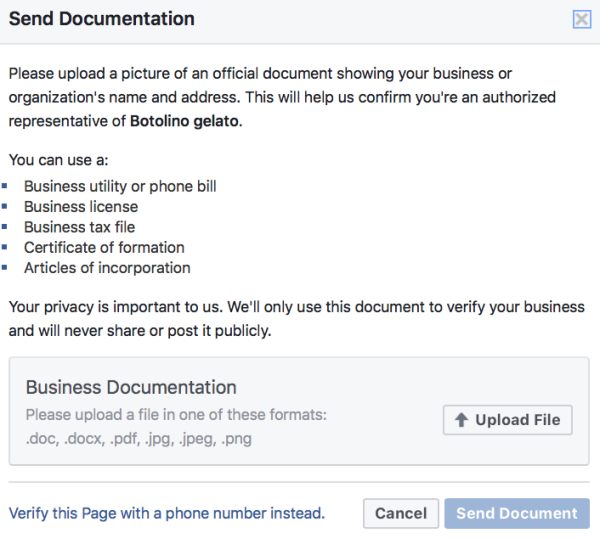 How to get the blue badge – being verified as a public figure, brand or celebrity
When compared with the gray badge, getting the blue badge can be a little trickier. As we have seen above, being verified as a local business is relatively straightforward. However, getting the blue badge involves more steps. Let's see it for ourselves.
Many people are of the impression that Facebook automatically awards the Blue Badge on their own accord. While it is true that they often verify pages for well-known celebrities and brands automatically, there is also a manual way to apply for the blue badge.
Firstly, you have to make sure if Facebook considers your FB page eligible for verification. You need to go and "Request a Verified Badge Form" and check whether you have any eligible pages. Make sure you are logged in with your admin account.
If it shows that you are not eligible, there is no need to worry as you are not out of options yet. You can submit a manual verification request as a public figure, band, or an entertainer. Before you begin this process make sure to set these elements first:
The page category must be set to "Public Figure."
You must include media references in the awards section of your page.
Include your website URL
Fill out all page information in detail
You must regularly share content from your site on your Facebook page
Purchasing some Facebook ads through your page is also recommended
Once you have started this process and continued it for some time, go back to the "verification request form" and check whether your page has been deemed eligible.
If it hasn't deemed eligible, then you have to use the Facebook Mentions App for manual page verification.
You need to download the App, enter your name, and select "My Page or profile isn't verified."
You will then be directed to a form where you need to carry out the following steps:
Indicate that you are trying to verify your profile or page
Select your page name
Upload a photo of a government-issued ID
Enter your site URL
Finally, click "Send, " and you are done.
Conclusion
As we have seen above, you have two options of Facebook verification. If you are running a local business, you can apply for the gray badge verification. Otherwise, the blue badge option is open for a public figure, celebrity, and brands. That said, getting the blue badge is a lot trickier.
However, Facebook does award the blue badge automatically to well-known celebrities and brands. Facebook verification is not an absolute necessity, but it does help to boost your credibility.
Please note: Facebook Page verification is not available to everyone right now if you don't see the Page Verification option on your page setting page don't worry it may be available soon.
Have you had success with Facebook verification? Let us know in the comments section below. What do you think about Facebook verified? We welcome your comments and suggestions.