You must have come across offers such as, "Buy Facebook Likes 10,000 Likes for $50."
Well, it may look tempting to you but what's the blunt truth behind such offers.
Are they worth going for?
The important decision confronts you – Should you buy Facebook Likes?
In fact, most of the bloggers or e-entrepreneur fall prey to such offers of Facebook Likes thinking that going for Facebook Likes might improve their popularity and boost their business venture.
However, the truth is quite contrary to your belief.
The Facebook Likes might look "Big" and "Popular" – the numbers might sway you a bit, but they utterly fail to work for your business and don't maximize your Facebook ROI.
So, if you are thinking of buying Facebook Likes, then our simple and plain advice to you is "Don't buy Facebook Likes."
Believe me – Its waste of money and time, giving you no real benefits that you can count. It's fake and doesn't work in any way to help increase your business.
The article will put across the reasons why I recommend against buying Facebook Likes. Plus, I will also share some good strategies for generating real Facebook Likes that support for growing your business.
However, before we take up the burning issue of Facebook Likes, here are some of the things related to Facebook Likes that I feel you should be aware of anyway.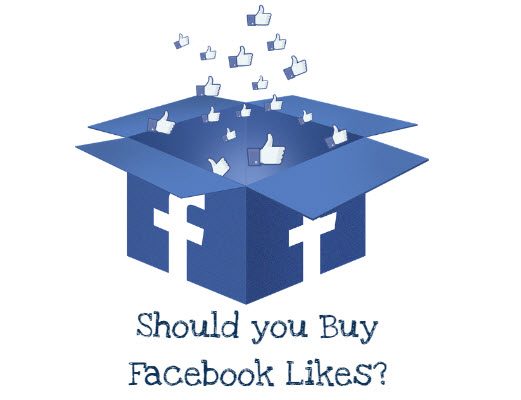 How can you buy Facebook Likes?
There are many sites that offer to sell Facebook Likes. You simply have to search "Buy Facebook Likes" on Google, and you will get a long list from where you can buy Facebook Likes for cheap.
Sites such as Boostlikes.com, Buy-Cheap-Social.com are amongst popular ones into the stuff of offering Facebook Likes. Fiverr also has many providers who offer for Facebook Likes just in as much as $5 bucks.
Basically, the process is very simple. You simply have to pay them a fee, and they go on to add Likes to your Facebook Page or website. In a few days, your Facebook Page's following goes up by thousands.
Although it's an easy way out to increase your Facebook Page following, however, it isn't the best route certainly. We will shortly point out the reasons why you should not go for buying Facebook Likes.
Who are these Users? The "Bought" Facebook Likes
The sites offering to sell Facebook Likes boast of them being "Real" only to the extent that they have the Facebook account. Even though they are real people, these users are no way close to being actually interested in your business or industry. They are just a generic mixed bag. Moreover, there is every likelihood that these users have fake accounts created solely for the purpose of doing Facebook Likes.
In fact, there are two types of people who connect with your business.
These are:
Prospects – ones who are interested in buying your products or services, business contacts, leads, etc.
Everyone else
When you buy cheap Facebook Likes you have "everyone else" coming your way who is least bothered about your business. They don't know anything about your business. They are not going to buy your product. In fact, such users are no use to your Facebook Page.
You only get big numbers under your Facebook Page. These "Likes" do not influence your visitors as they notice that only a few fans have decided to engage. They begin to doubt about your business credentials and so go elsewhere.
However, agencies offering cheap Facebook Likes promise that you will get real human fans who are interested in your content. We advise you to be beware of such false promises as this is not backed by real data.
In fact, there is no way these agencies can provide you with thousands of real human fans who are interested in your business other than by using Facebook Advert Manager. And even if they could, why they would charge you such a low fees of $50 or much less?
For example, there is no use of getting Facebook fans from Asia when you are running a nationwide business focused on Canada. Moreover, you do not know what country they belong or what language they speak.
There is very little possibility that any "real" accounts that Like your FB Page will possess any sort of interest in buying from you in coming days.
So, do you think that buying Facebook Likes is still a good idea?
Why do brands buy Facebook Likes?
It's easy to start a Facebook Page, but it's hard to get it moving.
Getting interactions on your Facebook Fan Page is not easy at all. There's so much competition that it might take months when you get few interactions on your Facebook Fan Page. It takes time to build consumer perception about your brand, more so when you have ventured for the first time in the online world.
It's usual to find that when consumers see no or little engagement on your FB Page, they tend to ignore your content. Moreover, there is a human tendency to follow a thing which is already recognized by others. They tend to believe that such products or service hold "real" value for them.
Brands see an easy solution for this problem as they go for buying Facebook Likes. They think that nobody will like their Facebook Page until there are thousands of Likes already on their FB Fan Page.
It's more of a desperate act that brands go for buying artificial likes. They find that paying for Facebook Likes is an easy solution for building their brand value and customer perception.
So, they opt for tricking consumer perception by buying a thousand Facebook Likes. It looks like a short-cut, but the fact is that buying Facebook Likes never deliver results that brands look for anyway.
Why you should not buy Facebook Likes
Poor Engagement: When the majority of fans are fake, then your published content will be hardly reaching anyone. It will be a waste of time as there will be no true engagement, with no "real" users to reach.
So, even though you may have 10,000 Likes on your Facebook Page, it's of no worth when users aren't engaging with you.
In the first place, these "bought" fans are not real people, and even if they are "real," they are not at all interested in what you have to offer to them. These "bought" fans will never buy or interact with your business. So, getting fake likes will have no positive impact on your social marketing efforts.
It's unethical: Successful Businesses are never built on fake relationships. Those who feel tempted to trick consumer perception by purchasing fake Facebook Likes go on to ruin their very base on which they could have to build a solid business venture. So, you should not shy from following ethical practices. It might take time, but the results are long-lasting.
It's simply unethical to trick users and portray a false image of your business. Respected business is built by developing true and loyal relationships with the customers, not by tricking them to take the desired action.
When the real users see 0% engagement on your Facebook Page, they will begin to doubt your very business credibility and will go on to look for other options.
It will hurt your EdgeRank: EdgeRank is the algorithm used by Facebook to measure your engagement. It shows how many people interact with your post, comment on it, like it, or share it with others. A high EdgeRank shows that you are offering good content that is enjoyed and liked by your followers.
If you purchase Facebook likes, then these fake "likes" will not lead to any interaction with your brand, and your EdgeRank score will be very low. Facebook will mark your page as unimportant. So, "fake" likes will hurt your EdgeRank.
Your business suffers: The very idea of creating Facebook Fan Page is to grow your business and move ahead with your social marketing efforts. However, when the bulk of your fans doesn't engage, every metric gets skewered, and you have no idea where's your business heading.
You will never come to know what's working for you. Moreover, you will ruin Facebook as a marketing platform for your brand. Testing updates, copies, videos, and images would become irrelevant when most of your fans are "fake."
Lead Generation: The whole motive of Facebook marketing is to generate new customers and sales, right? However, buying Facebook likes does absolutely nothing to further this goal. You only get "fake" likes from the ones who are least interested in your business.
So, you are not connecting with potential customers, and there is no exposure or reach for your products or services.
Authenticity & Credibility: Nowadays, customers have a deep look at the authenticity and credibility of a business before they decide to engage with them on any level, leave aside buying the products or services recommended by them.
They can easily spot a fake effort right from a mile. If they notice that your following grows up by 2000 in numbers in a matter of just two days, it would surely raise their doubts for the worst.
They will surely shy away from your brand and look for other options. It would hamper the reputation of your brand for sure.
Alternative strategies other than buying Facebook Likes
Paying an agency for gaining Facebook Likes is against Facebook's guidelines and can put you in trouble. However, thankfully there are alternative methods to jumpstart your Facebook Page.
Promote your Page: This option can be used by businesses that have created a Facebook Page. You can come with an advert for the sole purpose of getting more likes.
Facebook provides many targeting features that enable you to show your Page to the right people. There will be less likelihood of getting 5000 likes instantly, but at least every like would come from a real and genuine person with the inherent possibility of becoming a customer in times to come.
Start a social media contest: Apart from promoting your Page advert, the second most powerful method for receiving bulk targeted likes is to start with a social media contest.
This method involves liking your Page as an entry process. However, the product you propose to give away should be related to your business.
So, you open doors for receiving targeted likes. Plus, you get the opportunity to sell to them in the near future, as well.
Besides following the above methods, you can even ask your friends to like your Facebook business page and can even invite their friends to like it. You can have your Facebook page in your email signature. One of best ways of generating genuine Facebook Likes is to create valuable content so that it encourages people to like it and promote them.
However, you should remember that there are no shortcuts for Facebook marketing. It requires much effort and time to grow your fan base.
However, when you ultimately have the numbers coming in, you feel immensely rewarded for the efforts that you have taken. So, keep doing the good work. It will surely yield rich dividends.
Final Words
As we have seen above, buying Facebook Likes is totally useless, irrelevant, and a waste of money. Thankfully, there are many legitimate ways by which you can generate genuine Facebook Likes and grow your business.
So, it's my opinion that you should not rush for fake customers or sales orders and give to false claims by agencies offering cheap Facebook Likes. Your goal should be to build a solid business foundation on legitimate lines.
Buying Facebook Likes does not fulfill your business objectives in any way. There are no rewards to gain when you twist your customers' perception by showing them "fake" Facebook likes. Moreover, fake likes generate no engagement and can hurt your brand value.