Today, we share with you 10 Best VPS Web Hosting Providers. If you are one of those who prefer power and flexibility and still don't want to pay high cost towards web hosting, then VPS Hosting is the right type of web hosting for you.
Web Hosting is one of the most crucial decisions when building your online business, blog, or website. Most of the time, it's the power, flexibility, and cost that determines your choice for a web host.
However, we are present the list of Best Virtual Private Server Hosting Providers, if you need to know more about VPS Hosting learn about it after the list. You will learn what VPS hosting is and why you need a VPS server.
10 Top VPS Hosting
Now, let's explore the 10 Best VPS Hosting Providers.
KnownHost provides fully managed VPS Hosting Service backed with incredible support. Its VPS hosting plans give you the best performance at affordable pricing. It's a pioneer in fully managed hosting.
With KnownHost Virtual Private Servers, you get the much-needed flexibility, security, and performance for running your website. It offers the best VPS Server Solutions which are suitable for bloggers, graphics designers, software developers, or business webmasters.
Their VPS Hosting Plans come with affordable pricing, superb features and give you complete peace of mind as far as your hosting requirements are concerned. It provides Managed Virtual Private Servers, as well as SSL, Powered Managed VPS Plans. They come powered with DDOS Protection.
Their VPS Solutions provides speed, security, and scalability. Their VPS packages come with a 30-day money-back guarantee. You get one of the best server uptime. It has a 99.996% proven uptime record. Their support is top-notch, and they always respond well within time.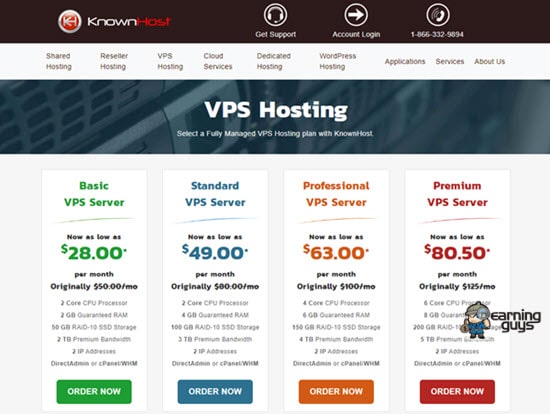 2 – BlueHost Budget VPS Provider
BlueHost is a leading web hosting provider. It offers Next-Gen VPS Hosting. Its Virtual Private Servers offers all SSD storage with increased power, flexibility, and control for your websites.
BlueHost VPS Plans start at $19.99 per month and top at $59.99 per month.
However, its Enhanced VPS Plan is the best which is available at $29.99 per month and offers 60GB SSD Storage, 4GB RAM, unlimited Bandwidth, and 2 Cores. It includes 1 Domain and 2 IP Addresses. It also comes with a 30-day money-back guarantee and 24/7 support assistance.
BlueHost VPS Service is both powerful and easy to use. It employs open source technology, like OpenStack and KVM. Its VPS servers are built using state-of-the-art components and deliver breakthrough speed.
Moreover, its VPS Servers are designed to provision immediately. So get up and running in seconds. It utilizes high-performance components to deliver the optimum level of performance for websites.
You get dynamic resources with server expansions enables without requiring admin assistance. Every VPS configuration provides improved cPanel interface wherein you get special tools for VPS management and WHM control. Plus, its VPS is empowered with 24/7 support.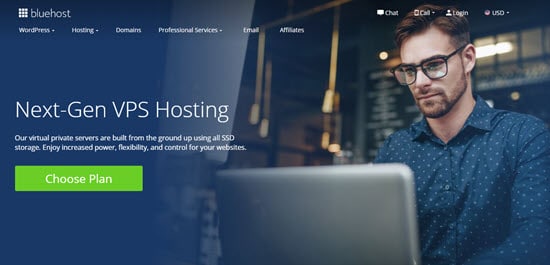 InMotion Hosting is a leading VPS Hosting Provider. With InMotion, you get managed SSD VPS server powered by the cloud. Its state-of-the-art Linux SSD VPS Hosting servers come powered with a bundle of enhanced features.
You get cloud-powered infrastructure, free server management, a free cPanel license, CentOS and LAMP stack, live-state snapshots, and much more.
Its Virtual Private Server Hosting Plans are catered to meet the needs of business owners, designers, and developers. Its VPS Plans start at $24.99 per month and max out at $59.99 per month. However, its VPS-2000HA-S is the best-providing flexibility and value for your business at $39.99 per month.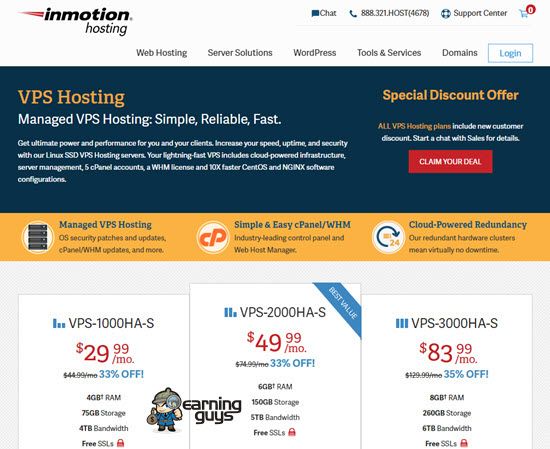 Liquidweb fully managed VPS Hosting solutions are built for reliability and performance. It is one of the leading VPS providers in the world.
Liquidweb VPS solutions are a bundle of power with the ability of a dedicated server and the flexibility of cloud hosting. All its VPS hosting plans provide 24/7/365 support via phone, email, and chat.
Liquidweb Managed VPS is ideal for clients who look for the control of a dedicated server together with the affordable features of a VPS server. Its VPS Plans start at $59/mo and top out at $119/mo.
Liquidweb delivers and manages Cloudflare CDN at no extra charge to speed up your site and boost security. It provides enhanced security to protect your server from unwanted access and ensure that data remains secure. It provides built-in backups and DDoS Attack Protection, as well.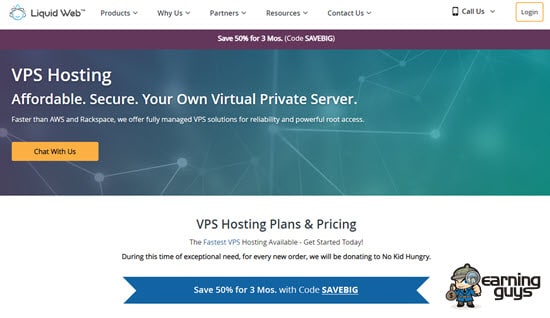 iPage has been a leader in web hosting since 1998. With iPage, you get high-performance VPS Hosting. Its VPS Solutions provide increased control with easy-to-use cPanel, optional root access, and fully managed support. You get cloud-based flexibility, and world-class 24×7 supports through phone, chat, or email.
Its Basic VPS Plan is available at $19.99 per month with 1-core CPU, 1GB RAM, 40GB storage, and 1TB Bandwidth. The Business VPS Plan starts at $47.99 per month with 2-core CPU, 4GB RAM, 90GB storage, and 3TB Bandwidth. The Optimum VPS server Plan comes at $79.99 per month with 4-core CPU, 8GB RAM, 120GB storage, and 4TB Bandwidth.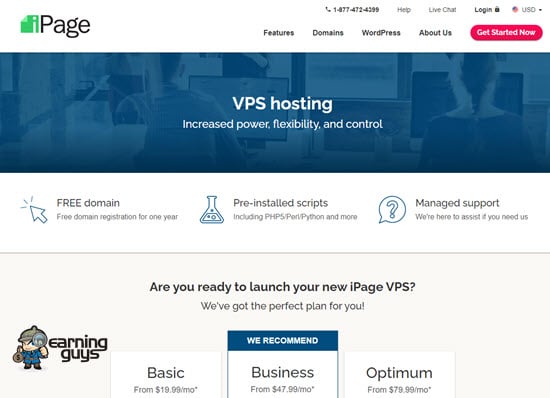 HostGator VPS Hosting Solutions come powered with state-of-the-art technology, enhanced security features, full control, complete customization, and 24/7/365 support. You get full root access to total control over the hosting environment. You get the benefits of dedicated resources at the price of VPS. It's VPS Solutions are fully scalable to grow with you. Start small and grow your hosting as your business grows.
HostGator is backed by powerful hardware to give you optimal performance. The quality support is available for you 24/7/365 via phone, live chat, and email. Its VPS server Plans start at $19.95 per month and max out at $39.95 per month. However, its Snappy 4000 VPS Plan is the most popular one which is available at $29.95 per month with 4 GB RAM, 2 Cores CPU, 165 GB Disk Space, and 2 TB Bandwidth.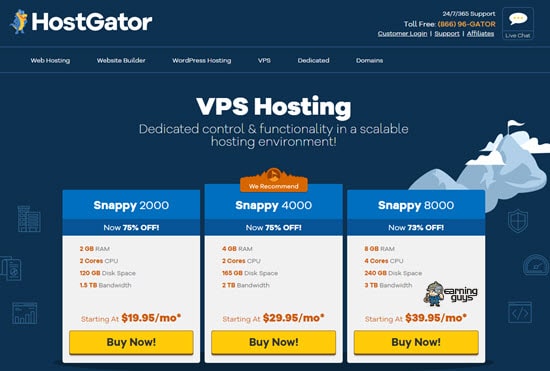 DreamHost is one of the most popular VPS Hosting Providers in the world. It's managed VPS hosting solutions are built for speed and scalability. Its Virtual Private Servers are designed to give businesses, developers, and designers more speed, power, and stability to run successful websites and applications.
With DreamHost, there's uptime guarantee and security with every VPS Solution. It provides you the ability to scale your virtual server up or down. You get unlimited 24/7 support via live chat, Twitter, and email. Its VPS Solutions are designed to give you scalable RAM, unlimited bandwidth, SSD storage, and Unlimited Hosted Domains. DreamHost VPS Plans start at $15/month and peak out at $120/mo.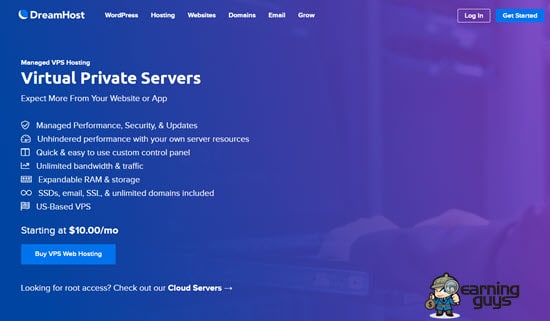 8 – Media Temple Virtual Private Servers
Plan for stability and growth with Media Temple Web Hosting plans. Media Temple VPS gives you total control, unbeatable uptime, and instant scaling for every type and size of the project.
Media Temple delivers high-performance VPS Hosting with fast, reliable SSD servers, 99.999% server uptime guarantee, and award-winning 24×7 support. Its self-managed VPS Plans start from $30 per month. The Managed VPS options start from $55 per month.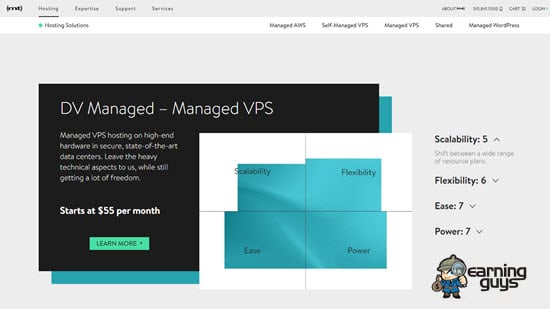 Hostwinds provides Linux SSD VPS Packages. It provides only the latest enterprise hardware on all SSD VPS nodes delivering top-notch speed, security, and stability. Hostwinds follows a strict non-overselling policy to enable users to fully utilizes the resources that they pay for.
Its VPS Packages start at $10.99 per month and top at $247.69 per month. 24/7 quality support is available with all its plans via live chat, email, or support ticket.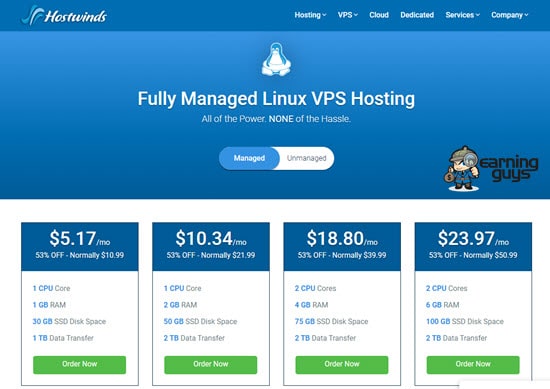 HostDime provides Managed VPS Hosting by its state of the art data center. It offers premium hardware-based DDoS monitoring and mitigation. HostDime is powered to provide top-class security and super-fast speed so that you get complete peace of mind.
You get increased scalability, reliability, and customizability with its VPS Server Solutions. Its Linux-based Virtual Private Server Hosting Plans start at $75 per month and max out at $150 per month studded with powerful RAM, storage, and bandwidth allocations.
Now let's learn more about VPS Hosting.
What is VPS Hosting?
If you want to supercharge your online presence, then VPS Hosting is the way to go forward. It's a relatively new form of web hosting that has grown in popularity over recent years.
VPS stands for Virtual Private Server.
It provides a hosting environment that mimics a dedicated server within a shared hosting environment. Technically speaking, VPS Hosting is both shared hosting and dedicated hosting.
Moreover, VPS contains the best elements of both shared hosting as well as dedicated hosting services.
Virtual Private Server Hosting is similar to Shared Hosting in the sense that it puts your website on a server that also hosts other websites running on it. However, in VPS Hosting there are few accounts per server.
VPS acts like a dedicated server in the sense that you get your own operating system, bandwidth, and disk space. However, the cost of using VPS Hosting is much lower than dedicated hosting.
A VPS can be customized according to your requirements. In VPS Hosting, the cost of running on the server is shared by the websites hosted on the server, so it's relatively cheap web hosting than a dedicated server.
Due to the hybrid nature of VPS, the cost of using VPS is more than Shared Hosting but not high as dedicated hosting fees. So, for procuring VPS Hosting, you need to pay between $20 per month and $100 per month, depending upon the VPS configuration.
Virtual Private Server Hosting offers servers using the Linux-based operating system as well as Windows-based VPS. The important thing for you is that Linux-based VPS usually cost $10 to $20 less than Windows-based VPS.
In a VPS hosting environment, your server resources are not shared with neighboring websites. In fact, your site is allotted a server area that has its own operating system, RAM, storage, and monthly data transfer limits.
So, with VPS Hosting, you can expect smoother, more stable website performance. Moreover, the sites that share the server on VPS are less likely to affect your site's performance.
Here, we list out the common benefits of using VPS Hosting:
Virtual Private Server Hosting is less expensive than a full-fledged Dedicated Server.
VPS Hosting can be customized according to your requirements, and you only pay for what you need.
It provides much-needed control over your hosting environment.
VPS Hosting offers quality customer support.
It can grow with your website as the server needs to increase.
That said, VPS Hosting isn't perfect.
VPS server is expensive than Shared Hosting and requires a lot more knowledge and work on your end. So, if your website is not profitable yet, you should look for cheaper hosting solutions.
Sometimes VPS Service Providers oversell their servers. It leads to problems when you have a peak traffic day. So, you should carefully select a VPS Service Provider.
What to Look in VPS Hosting?
Here are some of the top considerations to look into VPS Hosting. From a web hosting point of view, it's important to choose the best VPS Provider that serves your needs well.
Moreover, there are lots of Virtual Private Server Providers, so you should carefully select and choose the best VPS server that meets your needs.
Reliability – Uptime consideration should be your top priority when you select VPS Provider. So, you should select the one that has a good track record regarding server uptime reliability. It should offer a great uptime guarantee.
Server Security – Be sure that your VPS Provider assures you of stringent security programs and policies for their servers.
Hardware – You should make sure that the VPS Hosting Provider is decked with top-f-the-line hardware. It should provide advanced and powerful CPU, a dedicated RAM, and a sizeable storage area.
Customizability – A good VPS hosting service should be easily customizable so as to fit your needs and requirements.
Affordability – A good VPS plan should be able to deliver the power and freedom of a dedicated server but at a price that can be compared with a shared server.
Freedom and Control – An ideal VPS provider should be able to deliver the much-needed freedom and control in terms of space, usability, operating system, and applications that be installed and run.
Individual Gateway – VPS hosting should offer Individual Web, IMAP, FTP, POP servers, and SMTP gateway.
Quality Technical Support – A VPS Host should be able to provide sound, reliable, and quality technical support when it is needed.
Add-ons – You should consider the extra benefits that a web host is offering. If you are getting extra benefits that will be needed on your website, then you should consider such a web host.
Reputation – Take notice of how customers are reacting to the services offered by the web host. Clients' reviews are important when making your choice of VPS Host.
When you Need Virtual Private Server Hosting?
Is your website getting more traffic?
Is your app growing in popularity?
Is your website sales growing month on month?
These are some of the scenarios when Virtual Private Server Hosting can be the perfect answer for your web hosting requirements.
Virtual Private Server Hosting is a lot more powerful than Shared Hosting and cheaper than Dedicated Server. VPS Hosting can be used when you have outgrown shared hosting and not willing to pay the heavy price of the dedicated server.
Virtual Private Server Hosting is a perfect solution for advanced web developers who need root access to the server to run their software.
VPS Hosting is suitable when you are running multiple high-traffic websites. VPS Hosting offers much-needed control and flexibility without the hefty price tag.
Typically, when your bandwidth usage is high, and your website performance is slow, you need to shift to VPS. So, when your website is growing in traffic, you need more server resources to handle the traffic flow.
Your website performance should not be affected, and in that case, VPS is the perfect answer. In Virtual Private Server Hosting, you define memory and bandwidth allocations within your virtual environment.
With VPS Hosting, you get full root-level access for installing and deleting software, setting permissions, create accounts, and customized server environment.
Another utility of VPS is the fact that you need not be concerned about the physical server maintenance and security issues. There's an increased level of security as each VPS is isolated from other Virtual Private Servers on the same physical server. VPS can also be used for file storage or backup.
So, Virtual Private Server Hosting is perfect when you need more flexibility and power with a limited budget.
VPS vs. Shared Hosting
Shared Hosting is a type of web hosting service in which the same physical server is shared with many other users. The server resources are shared among users such as disk space, bandwidth, RAM, CPU, etc. It means that one physical server and its resources are shared among many users.
Each user on a shared hosting platform has his limit on particular services such as monthly traffic, disk space, FTP, email accounts, databases, etc. Shared web hosting is the most cost-effective web hosting. It is ideal for blogs, portfolio websites, small and mid-sized businesses, online e-commerce storefronts, and developers who host their clients. Shared hosting is the most commonly used hosting method.
Differences
Shared hosting provides access to a limited number of resources while in VPS Hosting you get greater resource availability.
VPS hosting is comparatively more secure than Shared hosting.
Shared hosting is cheaper than VPS web hosting.
You need to move from shared web hosting to VPS hosting when:
When you need more hosting control.
When your website is consuming a lot of CPU and RAM resources.
When you require excellent performance, reliability, and stability.
When you need to customize the appearance and settings.
VPS vs. Dedicated Hosting
Dedicated servers are the fastest and most powerful choices for web hosting. A dedicated server is literally dedicated to your personal use. You have all the resources of the machine at your disposal, and you can configure the hosting environment according to your requirements.
It's a good idea to use dedicated hosting only when you are receiving over 500,000 visitors per month. Plus, you should possess the necessary technical expertise for maintaining and optimizing your server. As the dedicated server is the most expensive hosting, it's good to start with a VPS until you can support the cost of dedicated hosting.
We hope that the list of 10 Best VPS Hosting Providers proves immensely helpful to you. We have prepared a comprehensive presentation that helps you to know everything related to Virtual Private Server Hosting.
In fact, Virtual Private Server Hosting is the way to go if you plan to grow your website. If you need top-notch speed, security, stability, and scalability and still don't want to pay much towards web hosting requirements, then Virtual Private Server Hosting is perfectly suitable for you. So, it's a time when you empower your website with VPS Hosting. Don't forget to share the post with your friends and colleagues.