Google Voice has redefined the way we make calls. It's a free phone service that is increasingly becoming popular day by day. So, if you haven't still heard about Google Voice and want to know how it works, here is a post dedicated exclusively to Google Voice. Here, you get to know everything about Google Voice – the free voice service.
What is Google Voice?
Google Voice is a voicemail service powered by Google that enables users for sending free text messages, customizing their voicemail, reading voicemail text transcript, and much more.
Google Voice primarily aims at unifying communication channels through one single number such that several phones can ring.
It's an Internet-based service that enables you to give everyone one phone number and forward it to multiple phones.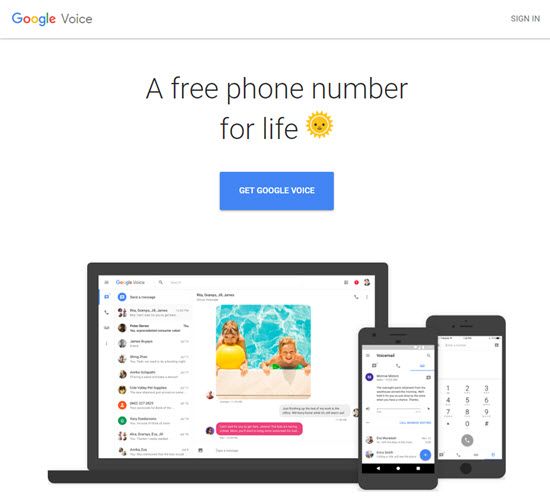 Although Google Voice is not a VoIP service like Skype, however, it does take advantage of VoIP technology over the Internet for routing calls, including free local calls and even international calls at a cheap rate, and for numerous other features, it is known for.
Google Voice provides you a phone number which is known as a Google number. This Google number can be ported to the service. So, you can have your existing number as your Google number. However, it is based on certain conditions. You can hand over the Google number to people so that they can contact you. When you get an incoming call, you have several options to handle the communication.
Initially, Google voicemail service required a Google Voice invite code to setup. However, it is now available for free to all Gmail users.
Once you get the Google Voice number, you can go on to associate your other phone numbers with it. However, you can choose to make calls from those handsets using your regular phone service. The individual numbers get listed on the receiver's caller ID screen. You also get the choice to show up the Google number instead.
So, by using Google Voice, you get one number (Google Voice number) that can reach to all your physical handsets.
What is it?
In addition to this, Google Voice provides you with some intelligent phone features that you do not get in existing handsets and services.
For example, Google Voice can set intelligent call forwarding.
Google Voice can set calls received before 5:00 pm to your office phone, and calls after that to your Smartphone.
With Google Voice, you can screen phone calls, block phone numbers, and set rules based on the caller.
Google Voice also allows you to have customizable ringing. You can set and schedule the ringing rules. So, calls from some callers might ring only at home, while others go straight to voicemail.
Google Voice offers a Web Interface to your phones and service. It means that you can manage voice messages online, filing and archiving them as you do with Gmail.
You can go on to customize greetings by the caller and by the group. You can even dial from any of your associated phones with a Web Interface or helper program.
Google Voice comes with some powerful speed-dialing tools. You can record calls and make cheap international calling together with free SMS.
However, you still need a regular phone number for using Google Voice.
Salient Features of Google Voice
Make International Calls at cheap rates
Call routing
Call recording
Voicemail transcripts
Get notification for voicemail via email or SMS
Call blocking
Free Google Voice SMS
Conference Calling
Customize voicemail greetings
Facility to listen to voicemail before answering a call
Free PC-to-PC voice and video calling throughout the world
Free PC- to-phone calling within North America
Allows to set certain phones to ring based on caller
Allows switching of phone devices during a call

Why you need Google Voice?
1. Routing Options
Google Voice eliminates the need of having multiple numbers for multiple purposes. Once you get the Google Voice number, you can input all of your existing numbers into the control panel, whether it's your work phone, home phone, cell phone, or anything else. When you get a call, all of your phones will ring, and you can answer from the one which is most convenient at the time.
The Google Voice routing options allow you to set your preferences so that you receive certain calls on your selected devices. So, if you want that your mother's call should go straight to your cell phone, you can apply those specifications. You can also set certain callers to be routed directly to your voicemail.
2. Screening facility
When you receive a call, you get a whole new set of options.
When you go on to pick up the call, and while the caller still hears ringing, you get the person's name with four options: answer the call, answer and record the call, send it over voicemail, or send it to voicemail and listen it live.
Google Voice makes use of the information from your address book and tells you who is calling. If the caller does not feature in your contact list, Google Voice will ask their name and play it for you when you pick the call-up.
3. Google Voice Voicemail Power
Google Voice offers voicemail facility that enables you to listen in when someone records a message. If you want to pick mid-message, you simply have to the press star key and begin talking. Plus, the Google Voice voicemail facility can be accessed over the Web.
You can choose to hear voicemail online, forward voice messages, and can even embed voice messages on other websites. It also provides text transcriptions of your voice messages, or you can even receive them by email or text message.
4. SMS Facility
Google Voice comes integrated with SMS facility. When you receive a message on your Google Voice number, the service goes on to route the message on any mobile phone you have connected. You can reply to text messages from any phone, or through Google Voice Web interface.
Google Voice can permanently archive all of your text messages within its Web Interface. So, the text messages can be filed, kept forever, or searched like an email. Similar to Gmail, Google Voice can display back and forth messages as conversations for following dialogues easily.
5. Mid Call power
Google Voice provides you added power when you are in the middle of a call. For example, you can start and stop recording calls by touching a single button, and then go on to hear those recordings online. You can even switch phones without interrupting the call. So, you can go on with the conversation as if nothing has happened.
How to use Google Voice?
Once you sign up for Google Voice, you get one phone number which is connected to devices and locations. It works with mobile phones, work phones, desk phones, and VoIP lines. It enables you to manage all your phones with one number. It even allows you to customize what phone will ring depending upon specific callers.
How to setup Google Voice?
For getting a Google Voice number, you first have to choose which Google voice setup is right for you according to your needs.
Once you have figured the account type, head over to "Google Voice signup page" and follow the instructions.
Here, you will be prompted to set up Google Voice. You have to choose whether you like to have new Google Voice number or wish to use an existing number.
Then, you need to select a PIN for retrieving your messages, and for accessing your Google Voice settings from your phone.
Next, you have to input a forwarding number. This forwarding number will ring the phone someone calls your Google Voice number.
Lastly, you have to verify your phone. A numerical code will be provided to you that you need to enter when Google Voice calls to your forwarding phone. It will verify that the phone number given by you is correct.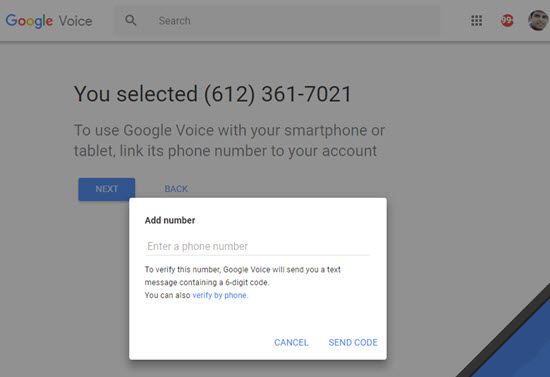 Google Voice Apps
There is Google Voice App for iPhone users that enable them to manage their Google Voice account settings and voicemail from their iPhone.
However, the Google Voice App for iPhone suffers from poor ratings. There is also Google Voice App for Android users that have much better ratings compared with iPhone Google Voice App. In fact, Google Voice is more compatible with Android Operating System.
The iPhone Google Voice App can be downloaded through the iTunes store, while you can download the Android Google Voice App from the Google Play Store. The Google Voice App is available for free download.
However, you can also use Google Voice website for making calls. The Google Voice accounts are free. You are only charged for making international calls or when you switch your Google Voice number after you've created your account.
So, with Google Voice, you get control of your communication most easily.