Here, we have featured the 10 Most Popular and Best SEO Report Software.
In fact, the right SEO reporting tool is a "must" investment for any digital agency, large or small. It can provide all-important key performance indicators (KPIs) to give you an exact picture of your progress.
The data provided by these SEO reporting tools can help you make the correct decision smartly. It can give you the information you need for flagging action items.
You can see the results of your experiments and, most importantly, run a successful SEO campaign.
There are scores of SEO reporting tools on the market.
However, we have made sure that you get the ones that can be most beneficial to you. So, you can choose those based on pricing, features, and ease of use.
To make it easy for you, we have listed some very essential requirements of SEO Report Software. Thereby helping you to choose the right software for your agency.
So, here are the essential requirements of SEO reporting tools that you should consider before choosing one for yourself:
SEO Reporting is essentially about "accurate" data. So, it's important that the software should provide accurate and current data that has been localized to your client's targeted region.
The data should be updated reliably, helping you to make informed decisions about how your client stands against the competition.
A "great" SEO Report Software should offer you:
Position tracking
Competitor data
Backlink Monitoring
Analytics
Further up, it can be a big bonus for you if the tool possesses reporting features for social media, email marketing, and call tracking. Making it full-suite digital marketing software.
Continuously Updating & Improving Features
The world of SEO is ever-evolving. So, SEO reporting tools should have the ability to integrate new features.
The central aspect of any SEO reporting tool is its ability to focus on the client. So, it should provide a simple bird's eye overview of the basics.
Plus, it should allow the client to dig into the data at a deeper level. It means that a good SEO reporting tool should provide automated summary reports or 24/7 client access to the dashboard.
It should customize reports
Each client comes with different KPIs, objectives, and priorities. So, the reporting should reflect this for retaining the client. It means that the reporting software you choose should be able to emphasize the right data at the correct times.
Access to Quality Support Resources
In case you encounter a roadblock, then the quality support resources can be beneficial in finding a solution for you. So, detailed support documentation can prove handy for you. Moreover, a chat feature or responsive customer support can be very helpful for resolving the issues.
It is essential to keep the costs reasonable. So, you should look out for SEO report software that doesn't break the bank. This is very much possible with a proper process, time investment, and by leveraging support resources through a free reporting tool, as well.
Your reporting software should automatically send reports regularly. This will allow you to save time and money. Plus, you can use those resources elsewhere. Lastly, your reporting software should facilitate a more sophisticated analysis.
Based on the above criteria, we have featured 10 Top SEO Report Software. These are the most popular SEO reporting tools out there.
10 Top SEO Report Software
Here is how they stack up:
1. Semrush Best SEO Report Tool
Semrush comes as an all-in-one SEO reporting toolset that is best known for its competitor analysis feature. Its "My Reports" tool allows you to gather any data generated with SEMrush such as SEO, PPC, etc. It allows creating a single dashboard with its drag-and-drop functionality.
You can even add external data with Google Analytics, Google Search Console, and Google My Business. In fact, Semrush is one of the most SEO-focused reporting tools on the list.
It's available at $99 per month per user and comes with a full SEO suite that can be learned at an intermediate level. However, the account comes with only one user login.
Semrush offers both branded as well as white label reports. It makes use of a proprietary data stream and can track more than 800 million keywords. Its "projects" feature covers everything, such as position tracking, backlink monitoring, as well as social media analysis.
So, you get such diverse features under the Semrush umbrella. You can use Semrush for:
Creating reports from scratch and for using customizable templates
You can pull data from all Semrush toolkits including SEO, PPC, Content Marketing, Competitor Research, etc. into a single report
Creating white-label reports with your text, brand logo, and screenshots
Email delivery of the reports to all major stakeholders
Viewing historical performance across all key SEO metrics
Price: Starts from $99.95 per month (A free 30-day trial is available.)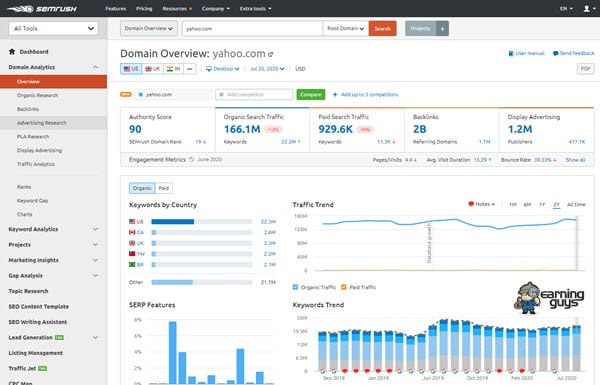 SEO PowerSuite is a simple yet powerful SEO Report Software. In fact, it's an all-in-one SEO Software. It functions as a desktop SEO Software. It offers an array of SEO reporting desktop apps that can be downloaded for free, such as:
SEO Spyglass: allows you to spy on your competitors and any competing content.
Rank Tracker: It allows you to monitor and report on thousands of targeted keywords.
Website auditor: It allows you to conduct SEO website audits and fix technical SEO issues
Link assistant: It helps you to build up and monitor your backlink profile
So, SEO PowerSuite has got everything, including SEO analysis tools, keyword research tools, backlink checkers, content editors, reporting, PPC ads optimization, and much more.
Moreover, it's studded with a wealth of pro-level features and comes with an intuitive UI. SEO PowerSuite functions as a perfect SEO tool for newbie & experts alike.
The best part is that many of its features are available for free. It's feature-rich and infinitely flexible SEO reporting software.
It hardly takes few minutes to automate your SEO jobs, including rank tracking, site audits, and backlink checks as well as reporting. One can schedule tasks at any time and frequency.
It facilitates extreme customization. You can choose search engines and locations, one can sort and filter the data any way you like. You can even customize the way the data is presented.
It offers white-label reports that are customizable and responsive. You can even upload your report to the cloud.
Their automatic report mailer will deliver reports to clients on your schedule. Overall, SEO PowerSuite can prove central to your online business. You can be sure that you're using one of the best SEO software out there.
Price: Professional $299/year, Enterprise $699/year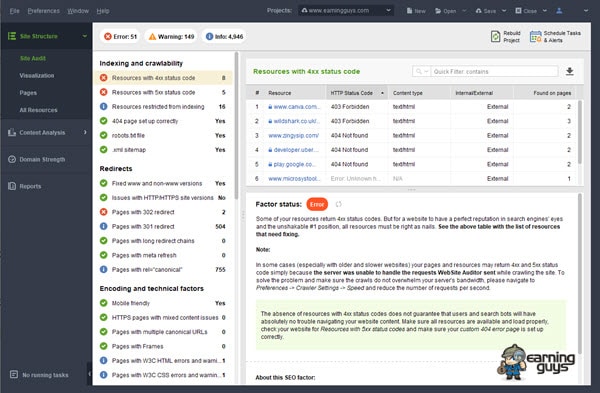 3. SE Ranking Best SEO software
SE Ranking is one of the best SEO software out there that can perform a host of SEO related tasks. It can do backlink analysis, competitor analysis, keyword analysis, On-page & Off-page optimization tasks, as well as site analysis.
So, SE Ranking functions as an all-in-one SEO tool. This SEO Software is made "simple" so that you can all SEO related tasks with ease.
In fact, SE Ranking provides all the SEO analysis & promotion tools you need on-board. For instance, SE Ranking accomplishes 100% accurate keyword position tracking.
So, it can track real-time positions of your website's keywords in major search engines. It allows you to track your rankings on a country/region/city level as frequently as you want.
Moreover, SE Ranking also functions as a Competitor SEO/PPC Research tool allowing you to discover your competitor's keywords & ads for paid and organic traffic.
In fact, SE Ranking offers many more tools for SEO Ranking control, including:
Page Changes Monitoring: Get alerts about any modifications to your competitors' site.
On-page Checker: How optimized your page is for particular keywords
White Label: Your own professional SEO service based on SE Ranking platform
Keyword Suggestion Tool: 3+ bln keywords + Keyword research by Google Autocomplete
Social Media Management: This SEO ranking software allows both analytics and auto-posting
Plus, many more tools, including SEO Reporting Tools, Keyword Grouper, API Access, etc
Price: SE Ranking plans begin at $4.2/month & max out at $189/month. So, it can fit in the budget of every webmaster, blogger, or digital marketer.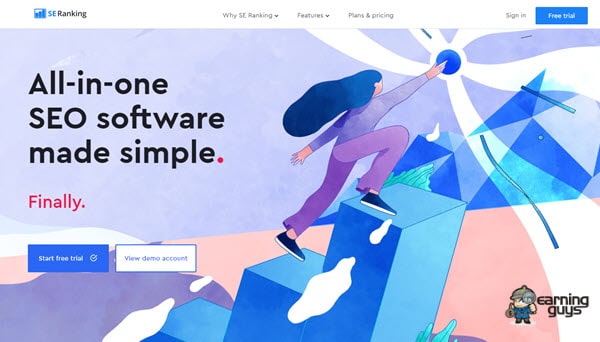 Ahrefs is another top-class SEO Software that comes with comprehensive web crawling capabilities and backlink indexing.
It is particularly known for comprehensive keyword research, ongoing SEO monitoring and position tracking, content-specific research, as well as competitive domain comparison.
Ahrefs is also known for its large indexes of backlinks on the web. It has over 12 trillion historical backlinks & with 6 billion web pages crawled per day.
However, its strongest features lie in website SEO.
The tool allows you to report on areas like:
Backlink profile (It's their biggest strength)
Your referring domains
Your new & lost backlinks
And also your organic keywords, top pages & broken links
It allows you to report on your backlink profile. Moreover, you can even begin to fix issues & build a healthy network of links. So, with Ahrefs, you can improve your overall website performance. It comes studded with crawling capabilities and has improved its interface.
Its dashboard has a navigation bar with tabs for Keywords Explorer, Site Explorer, Content Explorer, and a Tools Drop-Down. However, its ad-hoc keyword research feature is the most used one. Its Site Audit Tool can check sites for 100+ issues. It can even help your pages rank high.
Price: Paid Plans Starting at $99 per month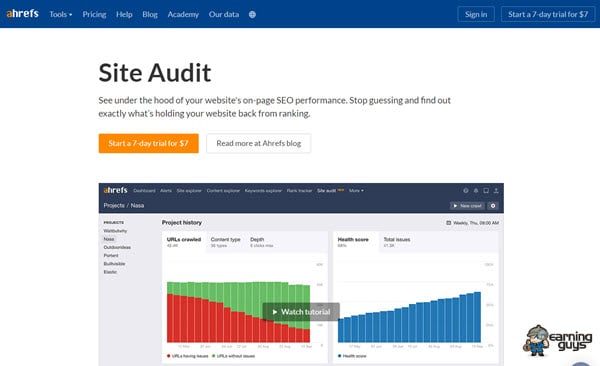 5. Moz Online SEO Tool
Moz is one of the most popular SEO software out there. It offers a "smarter" way to carry out SEO tasks. It's SEO Software that helps you to increase traffic, rankings, and visibility in search results. It's the proven, all-in-one SEO toolset.
Moz comes with a host of SEO tools such as position monitoring, keyword research, crawling, and everything in between. It helps you to accomplish most of the SEO solutions, including:
Site Audits: It can crawl your site on demand and uncover technical SEO issues, recommend improvements and fixes.
Rank tracking: It can track the performance of hundreds of your traffic-driving keywords across as much as 170+ search engines.
Backlink Analysis: The Moz link index is second to none. It allows you to see metrics to any site in seconds, including anchor text and domain authority.
Keyword Research: Uncover thousands of keywords along with Keyword Difficulty Scores, Competitor Research, and SERP analysis.
So, Moz turns out to be best-in-class SEO Software for every situation. It can handle tasks such as keyword research & management, comprehensive reports, crawling, and much more.
The best thing is that it gives action-based recommendations. You get a wealth of data such as Domain Authority Metric, MozRank, and MozTrust Scores.
So, it has been stocked with powerful SEO tools that are contained in its single suite. The SEO tools on offer relate to website rankings & page optimization, site crawling, link tracking & analysis, as well as web explorer tools. It means that with Moz, you can come out with an effective optimization strategy for ranking your pages higher in SERP.
Price: Free & Paid (Plan starts from $99 per month)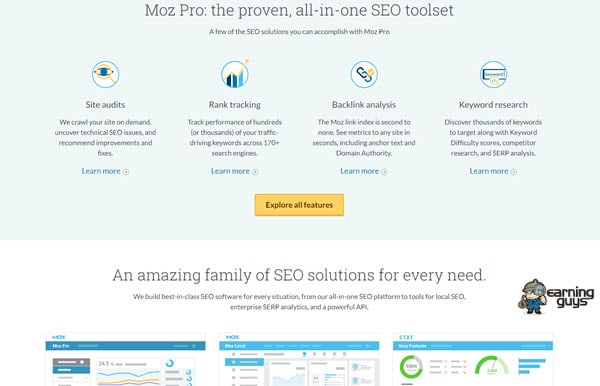 Google Data Studio is a complete SEO reporting tool that can fetch data from multiple sources. It can fetch data from first-party connectors, e.g., Google Analytics, Google Search Console & Google Ads.
Plus, it provides an option for developers to build their own connectors.
Google Data Studio can be used for:
Pulling data from multiple sources into a single report; e.g., combine keywords, links, sales data, and traffic
Filter data that is based on devices, channels, locations, etc
Automate reporting using customized date ranges
You can create different types of data visualizations (Templates are available which can help you to get started quickly)
Price: Free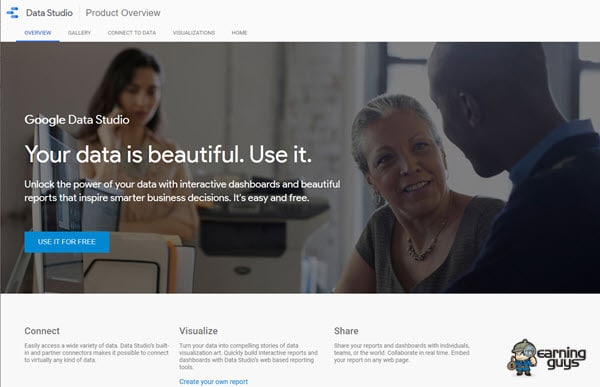 Supermetrics come as a set of data connectors helping marketers get data.
It is being used by over half a million people for moving data from popular marketing platforms (including Facebook, Google Analytics and HubSpot) to their favorite analytics, reporting and data warehouse tools such as Google Sheets, Excel, Google Data Studio, Google BigQuery, and more.
In fact, Supermetrics is being used by over 13000+ companies in over 120 countries. Moreover, about 10% of global online ad spend is being reported through its products. It was started in 2013.
Supermetrics picks up all the marketing data for you and brings it to your favorite analytics, reporting, and storage platform. It can be whether in a spreadsheet, a data visualization tool, or a marketing data warehouse.
So, with Supermetrics, you don't have to face the problem of scattered marketing data.
With Supermetrics, you can quickly bring any metrics and dimensions from your favorite marketing platforms into your go-to reporting, data visualization, data warehousing, and BI tool. There is no sampling and no-nonsense—just clean data.
Once you have the data with you, you can start organizing and filtering it immediately. You can delve into the numbers and figure out what is & what isn't working. So, you can get straight into optimization.
It can eliminate hours of manual work by scheduling data transfers as well as automating your marketing reporting.
Moreover, we need to mention that you can try Supermetrics for free.
Price: Starts from $99 per month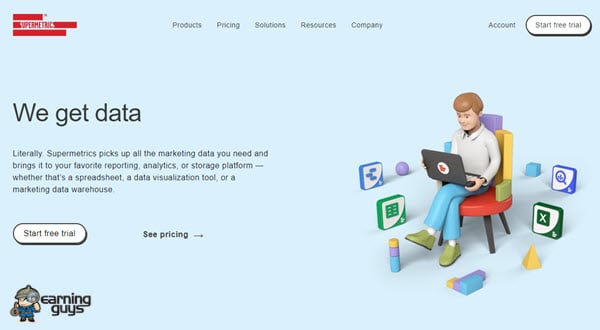 Agency Analytics comes as an all-in-one SEO reporting platform that helps agencies to create custom dashboards & reports for their clients.
The Agency Analytics can be used for:
Integrating more than 30 marketing data sources such as Google Analytics, Search Console, Google Ads, Social Media Channels, Bing Ads, Google My Business, and for adding personalized comments
One can add your agency branding (like logo, color scheme, etc.) to reports and dashboards.
You can provide clients access to custom dashboards with real-time insights
You can Automate reports through daily/weekly/monthly schedules
Pricing starts at $49 per month (You can also get a free 14-day trial)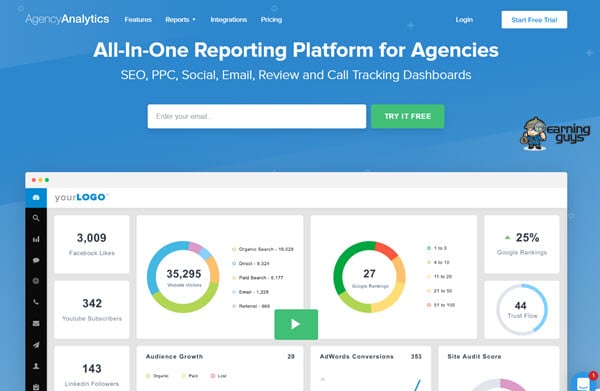 Screaming Frog functions as a powerful Site-Audit tool for any SEO work. This tool can index your entire site. It creates a spreadsheet of all your pages together with their SEO elements. It can also find broken links, bad tags, and more.
So, Screaming Frog gives you a "big" picture of your website. You can find out how many pages your website has. Are there any broken links? What about titles & Meta descriptions?
It crawls your entire website and offers you a list of all your internal pages. Screaming Frog allows you to examine your whole website. You can find out what needs to be updated. For example, it can show you a list of pages that are generating 404 errors. And it also shows 301 redirects.
Screaming Frog works on Linux, Mac, or PC.
You can use it to find duplicate pages with duplicate content. You can even detect Noindex and Nofollow problems. It can also monitor Page Depth level and helps to organize any Inlinks and Outlinks to any given URL. It helps you to track the Follow and No-Follow status of all links.
So, Screaming Frog turns out to be one of the best SEO analysis software.
Price: Free version and Paid Version (£149.00 Per Year)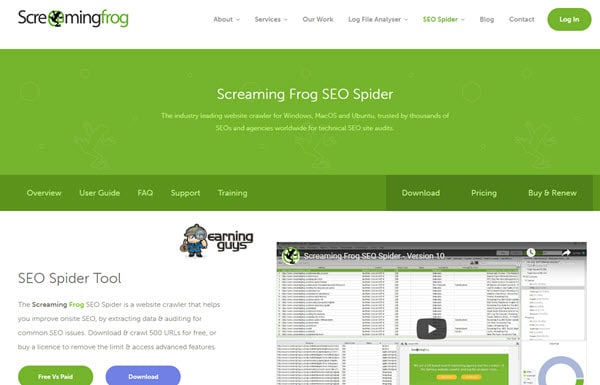 Netpeak Software can rightly be dubbed as the "next" generation of SEO tools. It has developed tools for SEO specialists and webmasters, helping to solve day-to-day SEO tasks in the most effective way.
Netpeak Spider and Netpeak Checker are two of its most popular products. Netpeak Spider is a desktop tool that accomplishes fast & comprehensive technical audits of the entire website. The Netpeak Checker is a desktop tool that accomplishes bulk URL analysis as well as a comparison of websites that are based on a wide range of parameters.
Here, we give you a snapshot of Netpeak Spider in more detail. Netpeak Spider functions as a personal SEO crawler and detects SEO issues that hamper the website's visibility. Netpeak Spider makes sure that your web pages do not have any SEO problems. It also ensures that your site is always accessible to your audiences.
It means that with Netpeak Spider, you can improve your website's search engine rankings.
Some of its salient features are as follows:
Duplicate Content Finder
Website Optimization
SEO Parameters Checking
Data Saving & Export
Custom Crawl Rules
Broken Links & Redirects Finder
Pricing starts at $14 per month.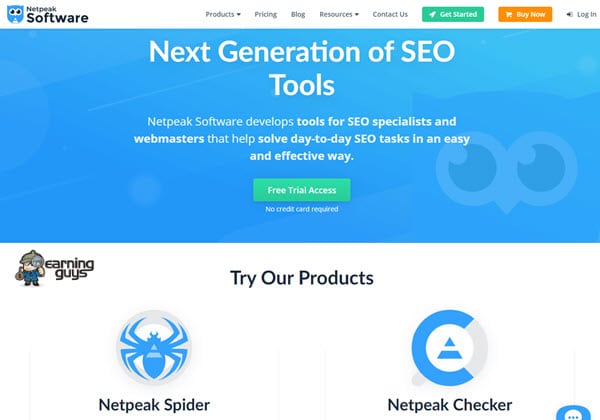 Well, that's all in this post on the best SEO Report Software.
We hope that you would have found the post helpful.
Thanks for visiting!
Please share the post across popular social networking sites such as Facebook, LinkedIn, and Twitter.