Today, we share with you the 12 Best YouTube Alternatives to make money by sharing videos online. These are high-quality video platforms studded with competitive features and specialized markets. We have picked out the eight most popular and best video sharing platforms and given a brief account of what it is and why you should be using them.
YouTube is the web standard for sharing videos. It provides one of the best platforms for uploading videos on the Internet, and it's a place where all viral sensations take place. If you find yourself good at creating awesome videos, then YouTube can be "the place" to earn money online.
However, YouTube is not the only place where you can host your videos and earn money online. There are other platforms as well which are as good (and sometimes much better) as YouTube. So, if you are looking for good and viable YouTube alternatives, here is a post that can help you much.
Since videos can get viral anytime, these video-sharing websites let you make money online. Therefore, they can be a source of passive income stream for you. You just have to create awesome videos and upload them up on these video revenue-sharing websites.
How Do Video Sharing Sites Work?
The video-sharing g sites use the simple model of revenue sharing or PPV. They provide a place wherein you can host your videos, and in return, they run advertisements on it. The revenue is generated by running advertisements on video, and revenue gets shared with the video publisher.
They also employ the PPV model, wherein they pay you depending upon how many views your video generates. So, if you can create unique and engaging videos, you are well on your way to making money with video-sharing websites.
Features to look for in a Video Sharing Website
There are currently more than 50 video-sharing websites on the Internet, and their number is continuously growing. Most of these websites come with free membership options. We have scoured the web and have listed the best video-sharing websites. Below we list out the features that are present in these best YouTube Alternatives.
Content
The best video hosting websites are an invaluable source of good content. It is the most precise reason which makes them the best. They have a large library of good content. The content is regulated and does not include copyrighted, pornographic, racist, or violent movies that are contrary to decency or endanger youth.
Producer Features
The best video share sites come with resources to help those who produce and post videos. They offer video creation tools and educational resources. They provide the ability to add a description. You can also make the video public or private.
Audience Features
The best video-sharing websites make searching and viewing videos enjoyable. They include a search box and allow you to search by category. They empower with features that enhance video viewing experiences, such as user-submitted video ratings, a short description of the content, screenshot previews of the videos, and other items.
Help & Support

The best video-sharing sites provide first-class support via user guides, user forums, FAQs, and customer help through email or phone.
Ease of use
The best video hosting sites are easy to navigate and feature organized categories and a search box. The videos go on to load and play quickly without any buffering delays.
So, now let's explore the 12 Best YouTube Alternatives where online money-making by sharing videos is easy and fun.
12 Top YouTube Alternatives
1. Vimeo – Best YouTube Alternative
Vimeo is one of the best YouTube Alternatives. It is regarded as the classiest video hosting website on the entire Internet. It is the word 'video' with 'me.' Vimeo was launched in 2004. Vimeo focuses more on quality rather than quantity. It was created by creative individuals and filmmakers who wanted to share their "creative work."
Vimeo features a user-friendly and attractive home page. Its layout attracts Even the casual-passers. Everything is well categorized and can be easily found using its "Explore" tab, which is only a click away.
Vimeo mainly showcases classy short films, experimental music videos, snapshots of interesting people's interesting lives, etc. It gives a 500MB upload limit per week, although this can be upgraded to 2GB through upgrading.
2. DailyMotion – Websites Like YouTube
If you want to name a website that's more like YouTube, then it would definitely be DailyMotion. It has the same-looking layout and video categories on YouTube. DailyMotion is a French-owned site and was founded in 2005. It caps uploads at 150MB and offers video uploads of about 20 minutes in length. It's quite popular in Europe, Asia, and Asia.
It fiercely competes with YouTube having a global Alexa rank of 92. DailyMotion offers professional quality clips and goes on to promote the best of the videos in their featured columns. The HD uploads are available for pro users. It gives much importance to the quality of videos, and you can get more coverage for your videos only when you hit the mark regarding quality.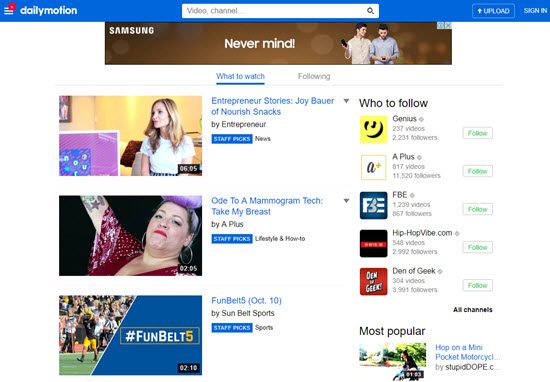 3. Metacafe – Best Alternative to YouTube
Metacafe is another very good YouTube alternative; it specializes in short-length original videos. Metacafe is largely known as a great community-based video-sharing website. It doesn't feature full-length television episodes or movies. On the contrary, the average video length on Metacafe is just over 90 seconds.
Metacafe has a large viewership and attracts over forty million unique viewers per month. It does not entertain unwanted or garbage videos; Metacafe has been functioning since 2003. It is based in Tel Aviv, Israel. To profit from Metacafe, you need to check out their originals, exclusives, and partner channels. It is a short-cut version of YouTube.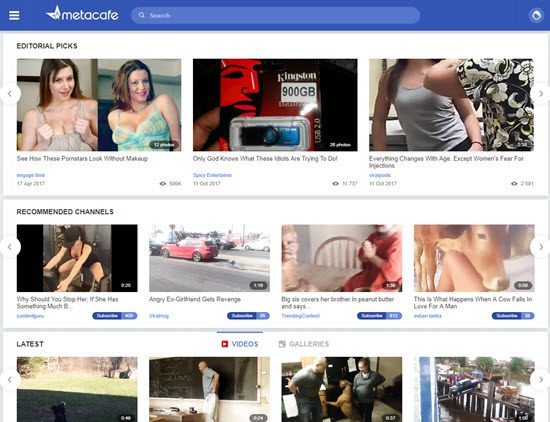 4. IGTV – Best YouTube Mobile Alternative
IGTV, better known as Instagram TV, is a new (stand-alone) app from Instagram that allows you to watch the long-form, vertical video from your favorite Instagram creators. It's a new product from Instagram which aims to take on the domination of YouTube in the video streaming market. It was released in June 2018. IGTV also works within the official Instagram app.
IGTV is just not copying YouTube. Moreover, IGTV is different in a few ways.
Firstly, it's built for mobile users. So, the videos are full-screen and vertical here; videos are not limited to one minute. They can be up to an hour-long.
Secondly, IGTV is made to work simply. It starts to play as soon as you open the app. Plus, you can swipe and discover more with "For you," "Following," "Popular," and "Continue Watching." You can even comment, like, and send videos to friends with Direct.
Thirdly, IGTV has channels. Here, the creators are the channels. When anyone follows a creator on Instagram, their IGTV channel will be available for you to watch. Anybody can be a creator. You can upload your IGTV videos in the app and start your channel.
IGTV is growing very fast. It's available on Android and iOS. It's one of the best places for showcasing your motion content to a large audience. IGTV can be accessed free of cost with an Instagram account. You can use the app to watch the videos. You can upload your own through the desktop. So, IGTV comes out as one of the best alternatives to YouTube for creators.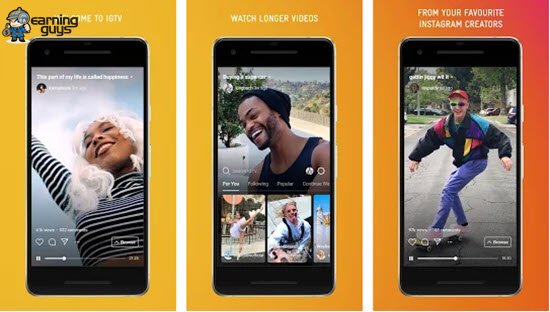 5. Veoh – Watch Free Movies
Veoh is a great YouTube Alternative, particularly for uploading and viewing large videos online. So, if you want to upload longer videos, Veoh is the place to be. It puts no limit on the size of the uploaded video. So, you have the entire freedom to upload and share large videos online on Veoh.
At Veoh, you can find full-length movies and great short movies alike. Moreover, Veoh makes it easy and quick for you to view and upload large videos online. Veoh is definitely the platform for long-form videos.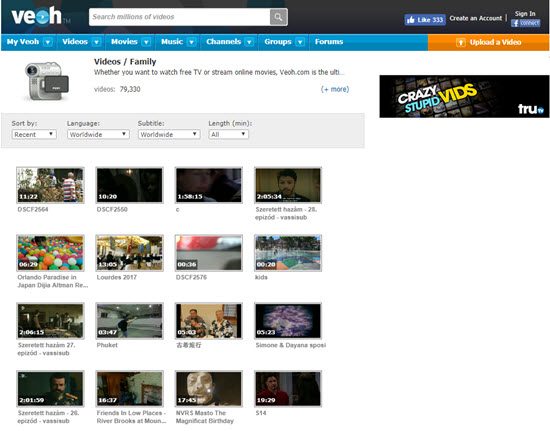 6. Twitch – Videos on Video Games
Twitch offers one of the largest social video platforms and communities for video game culture. More than 10 million visitors come to Twitch each day to watch and talk about video games, music, creative arts, and beyond gaming topics, with over 2 million streamers. There are many content creators who are making a living on Twitch.
Twitch has proved a great platform for influencing video game purchase decisions. It's more than a spectator experience enabling creators and their audiences to interact in real-time related to gaming, pop culture, and life, in general. You will find every game and game genre on Twitch. It's fun to be on Twitch over a shared loved of games and creative projects.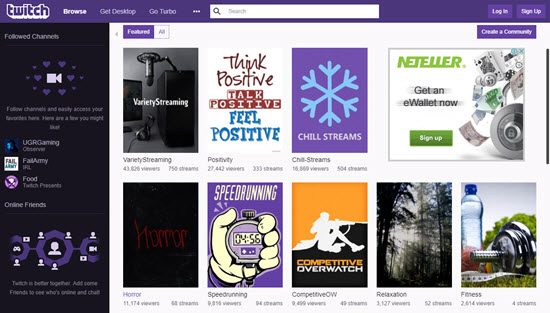 7. Flickr – Best Video Upload Site
Besides being a photo-sharing website, Flickr also features sharing of videos online. Flickr is owned by Yahoo and is pretty established with out-of-the-box features. Flickr keeps its videos interesting with 90 seconds upload limit. They call it "long photos." Flickr allows free users to upload two 90 second videos per month.
However, paid subscribers get unlimited uploads for $25. So, Flickr is for those creative guys who want to experiment with short videos in 90 seconds. Flickr video is still evolving, and you will surely see much improvement in the coming days.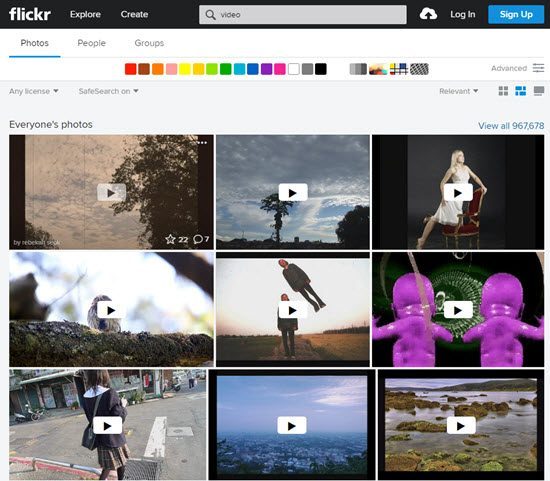 8. Photobucket – Upload and Share Photos and Videos
Just like Flickr, Photobucket is mainly known for its repository of images and pictures. However, Photobucket also hosts an impressive collection of user-generated videos. Moreover, the best part is that Photobucket does not have a 90 second limit on the uploaded videos. Photobucket is a premier destination for sharing, linking, uploading, and downloading photos, videos, and graphics.
It is best for hosting images and videos for free. Photobucket records a daily upload of more than four million images and videos from the web and connected digital devices. Photobucket was founded in 2003 and was later acquired by Fox Interactive Media in 2007. It is being widely used for both personal as well as business purposes.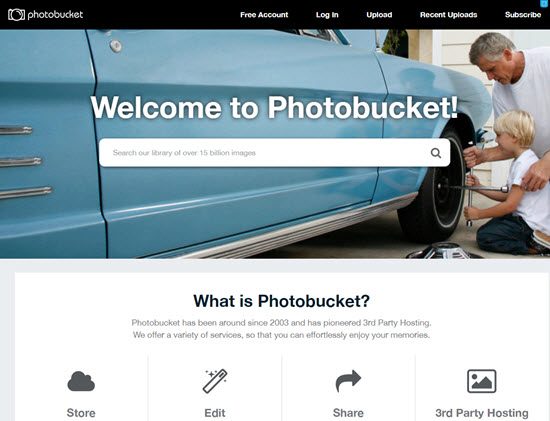 9. 9GagTV – YouTube Substitute Website
9GagTV can well be described as an "aggregator" of videos from various platforms, including YouTube. It mostly promotes content that is funny and has the potential to become viral. It's a video-sharing website that offers your pure entertainment in the form of GIFs, images, and memes. It has a huge collection of movie trailers, funny videos, and engaging content. It has an endless supply of entertaining visual content.
So, 9GagTV is the go-to place for entertainment purposes. It's very popular with Facebook and Twitter users. 9GagTV is ranked among the best video-sharing websites. There are lots of people submitting videos to 9GagTV. It's one of the best YouTube alternatives out there.
If you want to avoid the sea of videos on YouTube, you can simply head over to 9GagTV for trending videos and interesting content. You can explore its 'WOW' and 'WTF' section to surf the most amusing content out there. It offers a pure dose of entertainment once you fire up this channel. 9GagTV has a decent UI. However, NSFW videos are also part of its content.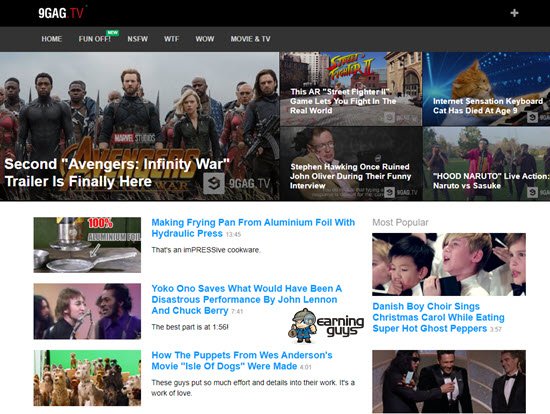 10. TikTok – YouTube Alternative App
TikTok is the best place for short-form mobile videos. It's meant for mobile users and is one of the best YouTube Alternative Apps out there. Here, you can discover awesome videos. Plus, at TikTok, you can make your videos. You can capture funny and memorable moments and go on to share them with the world. You can offer an extra edge to your videos by using its special effects filters, fun stickers, music, and more. So, throw your video in the ring and post without a second thought.
TikTok offers millions of videos selected specifically for you. It offers a personalized video feed that is based on what you like, share, and watch. So, TikTok is the place for all fun, interesting, and head-turning videos. It quickly adapts to your taste and offers you content that you'll always want to watch.
Moreover, TikTok has become a place for millions of creators who exhibit their incredible talents and precious moments on this platform. So, TikTok gives you a platform to showcase your talents. It offers millions of music clips and sounds so that you can edit your videos easily. You can add beauty effects to your videos. There are hundreds of emoji stickers available for free. You get editing tools with which you can trim, cut, merge, and duplicate video clips.
You get featured music playlists that have the hottest tracks in every genre, such as hip-hop, rock, rap, country, and more. Plus, TikTok offers endless categories in videos such as dance, comedy, food, sports, animals, Vlog, and much more. So, with TikTok, there's no limit to your entertainment.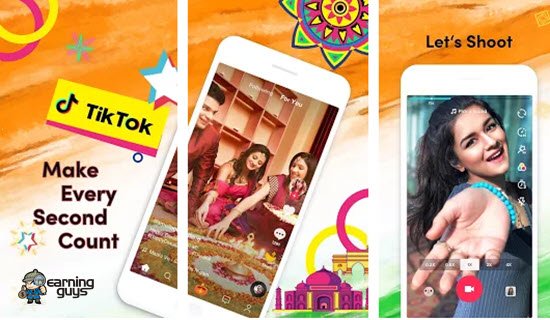 11. DTube Sites Like YouTube
DTube is yet another very popular and respectable video streaming platform. It has been built on blockchain technology. It's relatively new as compared to other YouTube alternatives that we have featured in this list. However, it's one of the best YouTube substitute websites out there. The platform holds much promise for you. It pays creators on the likes and comments that a video receives.
Its user interface is similar to YouTube. It features hot, trending, and watched videos on the homepage. You can save videos to watch later. You get the option of checking out the viral content from a list of trending tags. One of the biggest highlights of DTube is that it's completely ad-free. There's no transaction fee for the users.
When you upload a video on DTube, you have the opportunity to Steem crypto-currency rewards for seven days. Plus, all those who leave comments also have a chance of earning money. So, DTube is an excellent alternative to YouTube. However, because it's a relatively new platform, the video repository out here is on the lower side. There are not many videos on this platform.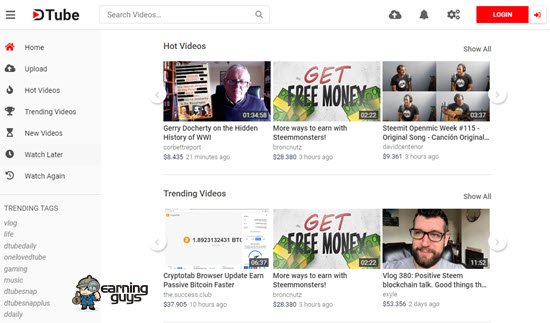 Internet Archive's Video offers a huge collection of old documentaries, TV series, and movies. It's an archive with lots of content stored in it. The Internet Archive is part of the Wayback Machine. It has a surprising variety in its video section.
It offers videos that are hard to get on other platforms. You can use filters such as year, language, topic, and subjects to sort the content on the Internet Archive's Video. You can even contribute and upload content for free. However, there's not a whole lot of new content on the Internet Archive as compared to other streaming & uploading platforms.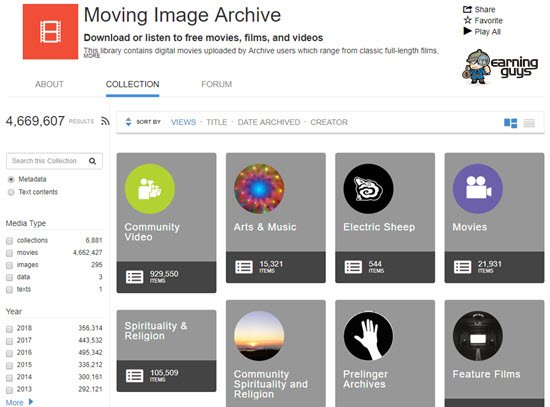 So that's all from us in this presentation of Best YouTube Alternatives. So, which of these YouTube Alternatives have impressed you the most? Do you happen to know any other YouTube alternative? Do let us know your take in the comments below. If you found the post helpful, don't forget to like and share the post with your friends and colleagues.