SSL Certificate Providers help to secure your online business at an affordable cost. Here, we share with you 6 Best & Cheap SSL Certificate Providers.
An SSL Certificate helps in keeping your customer's sensitive information safe and secure. It creates a secure environment for your online business.
The SSL Certificate proves an indispensable solution for websites such as online shopping sites, payment systems, government institutions, banking sectors, and financial sectors where there is a need for high security.
Using the best SSL Certificate Providers, you can have access to a high level of encryption (128-bit to 256-bit) whenever there is information transmission between the web server and a web browser.
Here, you get an opportunity to explore 5 Best & Cheap SSL Certificate Providers allowing you to secure your online business at an affordable cost.
With these SSL Certificate Providers, you can have a maximum level of security for your online business. We have also considered various other important factors while selecting these best & cheap SSL Certificate Providers such as:
Level of Security
Trust Site Seal
Browser Compatibility
Issuance Time
Encryption Certificate
Refund Policy
Warranty Amount
Trial Period
SSL Experts Support
So, you can be sure that these SSL Certificate Providers are the best ones out there. Moreover, here you get to know affordable SSL Certificate Providers that offer the best value in terms of security as well as pricing.
If you are searching for cheap SSL Certificate Provider and it should be a trusted one, then you have reached the right place. Here, you will get a list of best & cheap SSL Certificate Providers.
What is SSL?
SSL or Secure Sockets Layer is a standard security technology that is used for establishing an encrypted connection between a web server and a client. For instance, SSL is used for establishing an encrypted link between a web server and a browser, or between a mail server and a mail client.
So, SSL allows secure transmission of sensitive information (such as social security numbers, credit card numbers, and login credentials) over the Internet.
Without SSL, data over the Internet (between browsers and web servers) is sent in plain text. It means that sensitive information is vulnerable to hackers attack. A hacker can easily intercept the data that is being sent between a browser and a web server. They can access the data and misuse the information for their advantage.
However, by using SSL, you can implement a security protocol and encrypt the data that is being transmitted. So, the browsers can interact with the web servers using the secured SSL protocol. The browser and the server make use of an SSL Certificate for establishing a secure connection.
SSL is the best way to secure your data over the Internet, especially when there are online transactions or when there is the transmission of confidential information. SSL secured website comes with the lock icon and a green address bar, and also begins with https instead of HTTP.
Internet users are assured of their online security with the SSL-secured website. SSL ensures that online transactions remain confidential and protected from attackers.
What is an SSL Certificate?
SSL Certificate establishes secure connections between a web server and a browser. It's essentially the small data files that help to bind a cryptographic key with an organization's details digitally.
When an SSL Certificate is being installed on a web server, it goes on to activate the padlock as well as the https protocol thereby forming secure connections between a browser and the web server.
SSL Certificate is used to secure online transactions, especially transferring of credit card information, data transfer, and logins. Nowadays, SSL Certificates are also used for securing browsing of social media sites.
In a nutshell, SSL Certificates are used for binding together:
A domain name, server name, or hostname
An organization identity with its location
An organization installs an SSL Certificate onto its web server which helps to establish a secure session with browsers. When an SSL Certificate establishes a secure connection, all web traffic between the web server and the browser becomes secured.
The application protocol (known as HTTP) will be converted to HTTPS. Here, the 'S' stands for secure. A browser will exhibit a padlock or a green address bar for any website that has an SSL Certificate installed.
A website that comes with an SSL Certificate installed will look like:
The standard HTTP is converted to HTTPS automatically exhibiting that the connection between the server and browser is secured using SSL.
The padlock is activated and shown revealing that the browser connects to the server is now secured using SSL.
The address bar is changed from white to green. It indicates that the website is using Extended Validation SSL.
The browser address bar displays the legally incorporated company name of the website owner. A website can only display its company name in the browser address bar when it has installed Extended Validation SSL.
So, an SSL Certificate ensures that your website is protected.
Non-encrypted data in plain-text form can be intercepted, compromised and stolen. Online transactions usually require visitors to submit personal information such as username, passwords, social security numbers, and credit card information.
Cybercriminals can easily intercept unencrypted communications, and so gain full access to your sensitive data which can be used for fraudulent purposes and activities. With an SSL Certificate, you can make your website trusted.
Use of SSL Certificate becomes utmost important when you have to accept online payments or require visitors to submit confidential information. SSL Certificate imparts the essential trust and security for your website.
Plus, the use of SSL Certificate gives a boost to your SEO efforts. In fact, Google has incorporated SSL as a ranking factor and gives a ranking boost to pages that are served with HTTPS. Even you are running a blog site it is advised to make it SSL secure as it can improve your blogs ranking on the search result.
6 Cheap SSL Certificate Providers
1. Namecheap Cheap SSL Certificate
The Namecheap is a popular name in the domain and hosting services. Namecheap also offers SSL Certificates for website security. It has come up with cheap Comodo SSL Certificates. You can replace your existing SSL with FREE Comodo SSL.
Some of its top SSL Products include the likes of:
Namecheap – Comodo Positive SSL: It is one of the cheapest and highly popular SSL Certificates in the industry. It's a perfect entry-level solution for websites that don't have to deal with large amounts of user info. So, the solution proves much useful for startups, blogs, and personal pages. Moreover, the Certificate is issued in 15 minutes or less.
Namecheap – Comodo Positive SSL Multi-Domain: The Certificate is meant for large enterprises and web hosts which can secure multiple websites by including up to 100 domains under one single certificate. So, enterprises can secure their multiple domains in a single certificate. For instance: secure.mydomain.co.uk, secure.mydomain.com, secure.mydomain.net. The certificate gets issued in 15 minutes or less.
Namecheap – Comodo Essential SSL: It's an inexpensive domain validation certificate that is meant for small and medium-sized businesses. The Certificate comes with unlimited reissues, mobile browser support, and also with a Free Comodo Site Seal. It is usually issued within 15 minutes.
Namecheap – Comodo Instant SSL: It's an affordable professional-level certificate which offers improved credibility and consumer trust. The Instant SSL Certificate carries the FREE Corner of TrustLogo. It is usually issued within two business days.
Namecheap – Premium SSL: It is primarily meant for large eCommerce websites. It's a full business-validated certificate. It is usually issued within two business days. It not only validates the domain name but also authenticates the company behind the online business.
Namecheap – Comodo EV SSL: This Certificate gets you the green bar. It shows the visible, secure sign with the green browser address bar. It means that your business runs on a highly trusted and secured domain. To get EVL SSL it takes up to 10 business days to issue.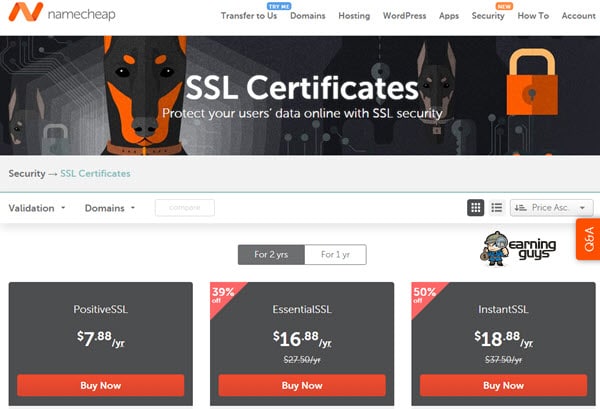 2. GoDaddy Cheap SSL Certificate
GoDaddy is a world-class Certificate Authority offering best & cheap SSL Certificates for your website security needs. They offer SSL Certificates at very cheap rates. GoDaddy is also known for its domain registration and hosting services.
GoDaddy is a trusted SSL Certificate Provider protecting your website with the little green lock. It has a wide range of SSL Certificates on offer that includes the likes of:
Domain Validation (DV) SSL Certificate
Organization Validation (OV) SSL Certificate
Extended Validation (EV) SSL Certificate
Wildcard SSL Certificates
UCC/SAN SSL Certificate
All SSL Certificates offer SHA-2 and 2048-bit encryption which is strongest on the market. You get a Security Seal on your site. It is compatible with all major browsers. Plus, there's top-notch security support for you. The SSL Certificates offer the little green lock in the browser address bar. Your site becomes https secure in every language.
So, with GoDaddy SSL Certificates, you can encrypt the data and protect your customers' sensitive information. You get the best SHA-2 and 2048-bit encryption for protecting sensitive data. The SSL protocol offers the HTTPS encryption for your websites protecting your customers and helping you to find more of them by boosting Google ranking.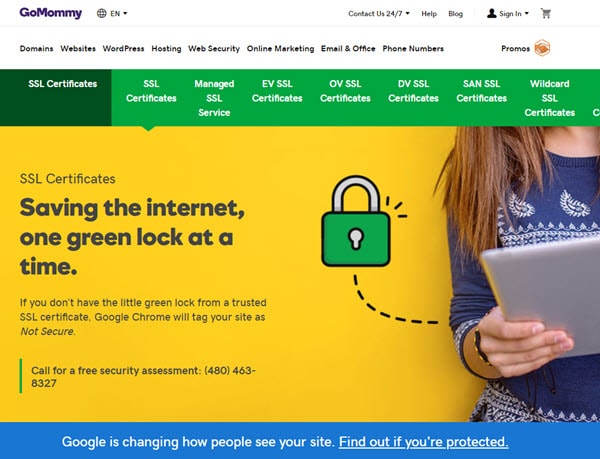 SSL Store is among the cheap SSL Certificate Providers out there on the market. That said the SSL Store Certificates are among the best available on the market. Its SSL solutions cost is as low as $10.95 per annum. SSL Store offers strong 128 to 256-bit encryption for your domain. Moreover, its SSL Certificates have been recognized by all the major web technology and services. Plus, they offer a refund period too.
SSL Store has a fantastic portfolio of low-price SSL Certificate solutions. For example, its SSL Store Certificate is a lightning fast standard domain validated SSL option that offers industry standard encryption. It is a simple solution for getting the basic encryption on your site.
With SSL Store Wildcard Certificate, you can quickly secure an unlimited number of sub-domains for the same base domain name. EV SSL Certificate is another ultimate, low-cost security solution from SSL Store. It enables the green address bar with the internationally recognized Thawte Site Seal.
Moreover, SSL Store offers different SSL types to fulfill your security needs. You have the option of Domain Validation, Extended Validation, Organizational Validation, Multi-Domain/SAN/UCC, Wildcard, Single Domain, etc.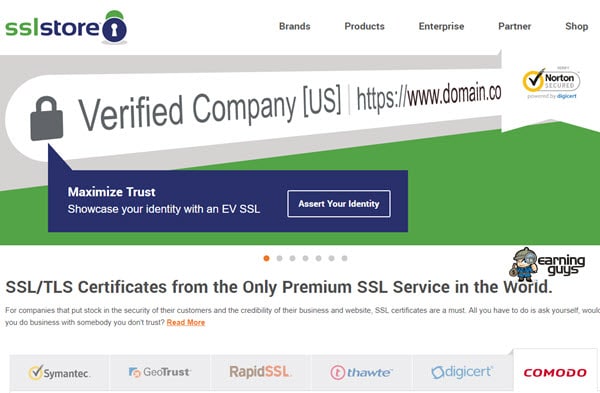 Let's Encrypt comes as a free, automated, and open certificate authority that is being run by the non-profit Internet Security Research Group (ISRG). The Let's Encrypt comes out as one of the best options out there for getting free SSL Certificates for your website. It's fully open source. Plus, it supports virtually every major platform or domain name system available out there.
In fact, Let's Encrypt started as an open SSL/TLS certificate authority. The good thing here is that you get support and native integration for Let's Encrypt with all well-known web hosting providers as well as managed WordPress hosts. Moreover, it works seamlessly on NGINX, Apache, and even on LiteSpeed. Plus, Let's Encrypt SSL Certificates are supported and recognized by almost all popular web browsers out there.
Its SSL Certificates are valid for 90 days. Although it turns out to be a short period, nevertheless you are allowed to set your certificates to auto-renew so that you can have them for the life of your domain.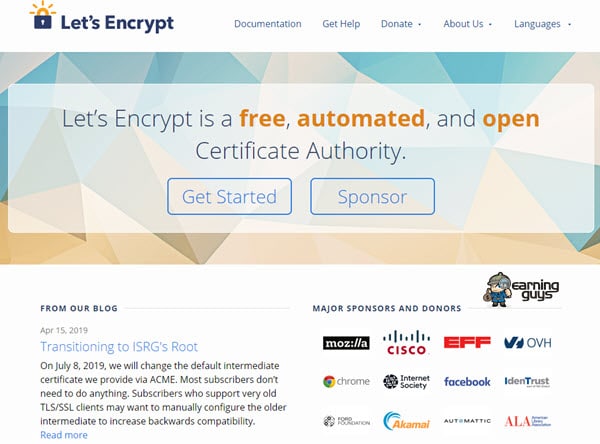 The Cloudflare SSL is one of the best free options to get SSL protection for your website and prevent data theft and other tampering. Cloudflare has the single-click SSL feature which allows you to serve your content via https as against the non-secure HTTP protocol.
You need to route the traffic to your website through Cloudflare and activate the SSL feature therein. That's it. Your website will be able to serve pages over SSL. The Cloudflare SSL module is available on the free plan. So, you need not to spend any money on it.
Cloudflare is already a big name in the world of CDNs. So, its SSL offering is well accepted and recognized by almost all the popular web browsers and server clients out there. Thus, Cloudflare turns out to be one of the best resources for getting free SSL Certificate.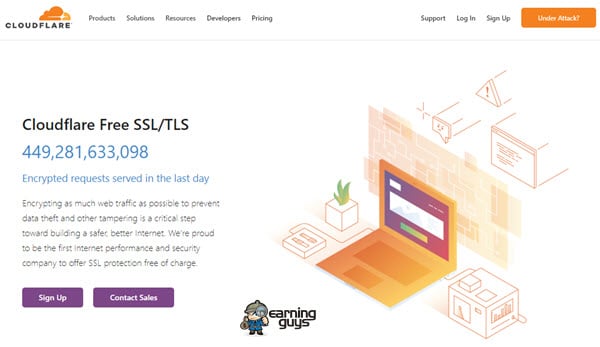 6. SSL2BUY SSL Certificate Provider
SSL2BUY is another popular SSL certificates providers in the industry and authorized to sell SSL certificates of world's top CAs (certificate authorities) including Comodo, Symantec, AlphaSSL, GlobalSign, GeoTrust, Thawte, and RapidSSL.
All SSL certificates from SSL2BUY support strong 256-bit encryption, along with 99% mobile and desktop browser compatibility. SSL2BUY is foremost popular for Cheap SSL certificate as a basic certificate starts only from $9 per annum. Along with the best price, SSL2BUY also stays in front by providing 247365 free technical support.
SSL2BUY has a good portfolio of cheap price SSL certificate Solutions. For example, the Wildcard SSL certificate starts from $42 per Year, EV SSL certificate starts from $70 per year, multi-domain SSL certificate starts from just $45 per year.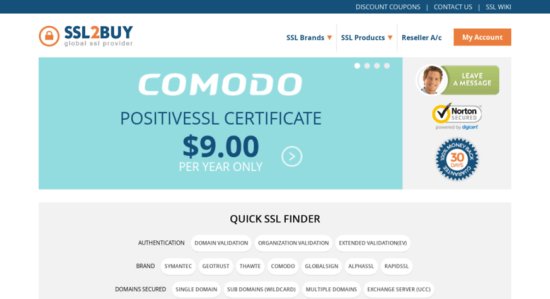 So, with these Best & Cheap SSL Certificate Providers, securing your website will no longer be a costly affair for you. Moreover, you get a wide range of options and so can choose the best and cheap SSL Certificate for your blog or website as per your need. We hope that the presentation proves a helpful resource for you. Please share the post on Facebook, LinkedIn, Google+, Twitter, and Pinterest. We welcome your comments and suggestions.