Do you want to know the difference between a 301 and 302 redirect? Well, you are perfectly at the right place as the post shares with you HTTP 301 vs. 302 redirects & SEO impact.
HTTP 301 and 302 redirects aren't the same. Search engines handle both these redirects differently. However, to a user, they work the same way.
Both 301 and 302 are both HTTP status codes. In most of the scenarios, these codes help an admin to troubleshoot when something goes wrong.
Moreover, there are quite a few status codes that range from 100 up to 404 (Page not found), or 504 in case a server times out.
Let's get to know more about 301 & 302 redirects.
To begin with, you must know that "redirection" is the process of forwarding one URL to a different URL. So, a "redirect" is defined as a process by which both users and search engines are sent to a different URL against the one they originally requested.
Now, let's take up 301 & 302 redirects and explain each of them in detail. These redirects play a key role in the health of your website.
What is a 301 Redirect?
A 301 redirect is as a permanent redirect from one URL to another. In 301 redirects, site visitors and search engines are sent to a different URL than the one they originally requested from their browser or selected using the search engine results page.
A 301 redirect points to the most relevant or similar live page and ensures the best user experience for the visitor. The backlink value is also directed correctly and is not lost with the old page.
A 301 redirect stops anyone landing on the previous page. It also ensures that any link value that was assigned to the old page will be passed on to the new page. Moreover, you don't need to update any backlinks that you have on other sites to point directly to the new page. So, all link value is passed to the new page.
The 301 redirects appear as '301' or '301 Moved permanently.' It is an HTTP response status code showing the response from the server. The "301" status code is one of the HTTP responses that states what is happening with that URL.
It simply clarifies that the requested page is permanently moved to another page. A 301 response means that you keep your site architecture tidy. So, visitors don't land on irrelevant, old, or broken pages. It states that this URL has been moved permanently, and any links connected with the old URL have been redirected to the new URL provided.
A 301 redirect is used when a page has become irrelevant, unuseful, or has been removed. It helps to tidy a site wherein users are directed to cleaner or newer pages. Moreover, it is very important to redirect any old URLs that won't exist on a rebuild of your website.
Here, we list out the use cases when 301 redirects should be used:
Moving to a new domain
When you want to clean up the dynamic URLs and redirect them to shorter or search engine friendly versions
When you want to avoid duplicate content problems
For example, when you are auditing your URLs and want to clean up the one like https://www.example.com/old. Here, you can use 301 redirects to send visitors from that page to a cleaner page, such as -https://www.example.com/new.
Moreover, marketers set up a 301 redirect when they want to:
Associate common web connections (such as Http:// or www) with one URL for maximizing domain authority
Rebrand or renaming a site with a different URL
Directing traffic to a website from other URLs that are owned by the same organization
If we take the second scenario when a brand wants to change its company or website name, a 301 redirect helps to maintain the power of inbound links with the original URL on the migrated new domain.
Mistakes to avoid with 301 Redirect
Making a mistake with 301 redirects could drastically affect your site's SEO. Here, we list out the steps that will help you to avoid mistakes with 301 redirects.
You should set up a 301 redirect between the (Http://) and (http://www) versions of your brand's domain for boosting your search engine results
You should first set up a 301 redirect before moving to a new domain so that your website does not lose traffic in the process
Unless and until you are temporarily migrating your website's content, you should always set up a 301 redirect to maintain the inbound links as well as search rankings when making changes to your domain
You should always set up redirects to older internal links that exist on your website
What is a 302 Redirect?
A 302 Redirect is a name given to an HTTP status code that involves the number 302. With this HTTP status code 302 redirect, the browser gets directed from one URL to another. The 302 redirect comes as a temporary redirect, unlike the 301 redirects, which is characterized as a permanent redirect.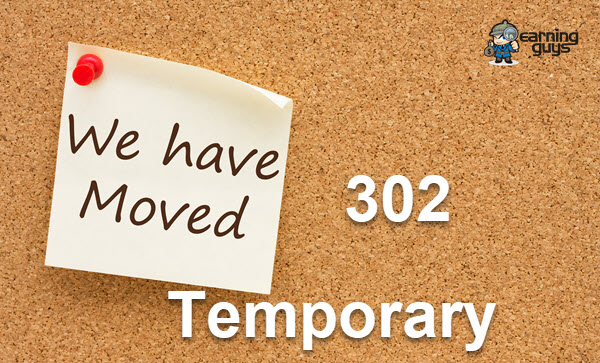 302 redirects are on-domain redirects wherein a URL gets replaced with another from the same domain. It takes the browser from one domain to another. In most of the cases, the 302 redirect returns a simpler as well as cleaner URL for users. However, with 302 redirects, there is the risk of URL hijacking where unauthorized hackers can redirect users.
A 302 redirect allows search engines to know that a website or page has been moved temporarily. So, a 302 redirect is used when you want to send users to a new website or webpage for a short period of time.
It is used when webmasters are redesigning or updating their site. Moreover, the 302 redirects are used when you eventually want to bring the old page back. 302 redirects are also used when you want to test a new page for getting consumer feedback without impacting your rankings from the original page.
301 vs. 302 Redirect
The 301 redirect signifies to the crawlers that your content has been moved permanently. However, the 302 redirect refers to as "temporarily moved." This redirect does not pass the link value to the new location. It does take the user to the appropriate location and does not show them a broken link or an error page.
The 301 redirects are usually used when you have changed domains and also in cases when you have launched your website in a new CMS, and your URL structure gets changed. It directs to the search engines that you have moved your content from A to B for good. So, the search engines direct rankings and value signals to the new URL as they understand this location as the permanent home for that content.
So, 301 redirect is permanent and is not used for temporary changes or instances of A/B testing.
However, a 302 redirect comes handy in an eCommerce setting. Let's give you an example when 302 redirect becomes useful.
Let's suppose that you have a product that's no longer available for sale. It might be that the product is seasonal or out of stock.
Here, 302 redirect comes handy to send the user to the category page so that they can look at similar items. It signals to the search engine crawlers that your content is offline "temporarily."
So, the search engines keep the value of that page intact and do not pass it to another URL.
302 Redirect is also useful when you want to do:
When you want to get client feedback on a new page without hearting site ranking
The A/B testing with a webpage for functionality or design
When you want to offer good user experience in case of broken webpage
When you are updating a webpage and want to offer a consistent experience to your users
So, 302 redirects are temporary redirects and not meant to be a permanent solution. They help to access performance and gather feedback.
301 and 302 Redirects Impact on SEO
In the case of 301 redirects, Google de-indexes the old page, meaning that it removes the old page from their index and replaces it with the new one instead.
Moreover, the link value or link equity is transferred from that page to the new one. It has been proven that the 301 redirects can pass on around 90 percent of link juice from the redirected page.
However, search engines do take some time to notice the change when you move a page from one URL to another.
With 301 redirects, visitors can easily land on and navigate the site. They can engage with the content that could eventually turn them into a follower or customer.
Talking about 302 redirect impact on SEO, you must know that a 302 redirect will not hurt your SEO efforts. With 302 redirects, the original page remains indexed in Google.
Moreover, no link equity or link value is transferred to the new URL as Google is aware that this change is just temporarily. So, you will retain any rankings, authority, and traffic value that the page might have in it.
Thus each of these redirects serves a different purpose.
For a permanent change (that will rank for SEO), a 301 redirect is used, which is then understood by search engines. A 302 redirect is used when you want to make a temporary change.
Which Redirects to use for SEO?
Usually, webmasters, digital marketers, as well as bloggers, redirect one URL to another. However, it is essential to observe best practices to maintain SEO value.
When you want to redirect a URL to another address permanently, then 301 redirects are used, which is preferable for both users as well as search engines.
A 301 redirect indicates both browsers as well as search engine bots that the page has been moved permanently.
So, the search engines come to know about the page change location, and the updated version can be located at the new URL. The link juice is also passed from the original page to the new URL.
However, the search engines do take some time to notice the 301 redirects and pass the link juice and the rankings of its predecessor.
The 302 Redirect will not pass the rankings as well as the search engine value like a 301 redirect. It serves a good alternative when the webmaster purposefully does not want to transfer the link value from the old URL to the new URL.
The Takeaway
So, we see that you need to use the type of redirect (301 or 302), which serves your intended purpose and goals. Now, you know the difference between 301 redirect and 302 redirects.
So, it will become easy for you to use the correct redirect for the correct outcome. For example, if it has become a permanent change, then you need to change the redirect from a 302 to 301.
Finally, you should monitor your rankings and ensure that Google has indexed your new pages. Make sure that you have not committed an error that will cause your rankings to suffer immensely.
We have come to the end of this post on HTTP 301 vs. 302 redirects & SEO impact. We hope that the post proves immensely beneficial for you.
We believe that you now understand the difference between 301 and 302 redirects. Thanks for visiting. Please share the post across popular social network channels.