If you are a blogger or a website promoter, then you must surely be aware of one important fact regarding successful online business.
And what's that?
Well, the fact is that writing quality content isn't enough to have a successful online business or blog. You need to promote your content so that it reaches its target audience in large numbers. More visitors to your site or blog mean more business you will get.
So what you need to do?
As search engine traffic constitutes a large proportion of visitors to websites or blog. Thus as a first and foremost step, you need to optimize your website or blog to generate more traffic from SERPs of Google, Yahoo, Bing or other search engines.
Well, you need to undertake Search Engine Optimization.
And by using SEO Tools you can easily and effectively achieve Search Engine Optimization.
In this post, we bring to you 16 Best Online SEO Tools / Software so that you can promote your web pages in a more organized and effective manner to get more search engine traffic and popularize your site.
The Best SEO Tools showcased hereunder help you to achieve on-page as well as off-page optimization together with competitor analysis, site rank analysis, keyword research and analysis, social media monitoring and management, SEO metrics and much more.
Most of the SEO Tools compiled here are available as paid versions while some come either for free or under limited free trial period offer.
Best SEO Tools presented here are among the most popular and widely used SEO Tools by webmasters or SEO Professionals.
We sincerely hope that you would get to have the SEO Tool(s) according to your requirements from the list of 16 Best SEO Tools that we have presented below.
16 Top Online SEO Tools
1. SEMrush All-in-one SEO Tool
SEMrush is one of the most popular and widely used SEO Tool. It helps you to track your competitors' organic positions in Google and Bing SERPs. It can track your competitors ranking for the 95+ million organic keywords. SEMrush works on the domain and as well as landing page level to give you results showing where a website is positioned in the organic search.
With SEMrush you can even check the value of a specific keyword for a particular domain. Further for a particular keyword you can compare the organic positions of websites, do advertising research, keyword research and have charts showing the comparison of SEO metrics.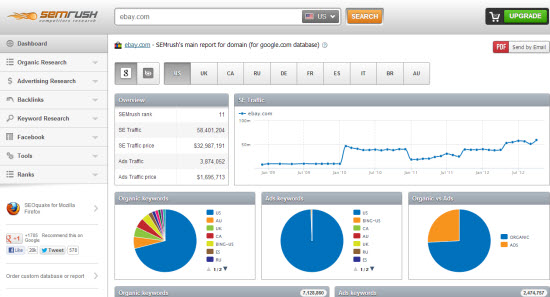 2. Moz SEO Tools
Moz is a powerful web-based SEO Tool for performing SEO tasks and social monitoring. All-the-more you can perform the various SEO tasks through one easy-to-use platform. It is equipped with many SEO Tools, campaign Software, and many useful SEO resources. Moz web app crawls your website each week and alerts you regarding any problem that might affect your performance.
It also does rank tracking for all the important keywords that your audience uses on the search engines. It further comes up with on-page optimization recommendations. It not only points your mistakes but also provides instructions so that you can correct them. Moz web app SEO tool is also capable of performing competitive analysis such as competitor ranking and link metrics so that you get the advantage on the search results page.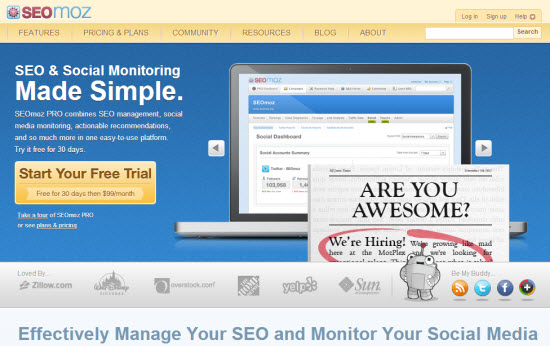 Advanced Web Ranking is a rank tracker used by 20k+ of SEO professionals and has been on the market since 2002. With it, you can monitor your website rankings in over 3.000 search engines and more than 170 countries on both desktop and mobile devices.
It provides integration with Google Analytics and Google Search Console, which gives you a comprehensive image of your SEO efforts.
Besides being able to track as many keywords as you like, with Advanced Web Ranking, you can check your visibility in SERPs, discover your market share percentage and benchmark your CTR values against your specific industry's ones.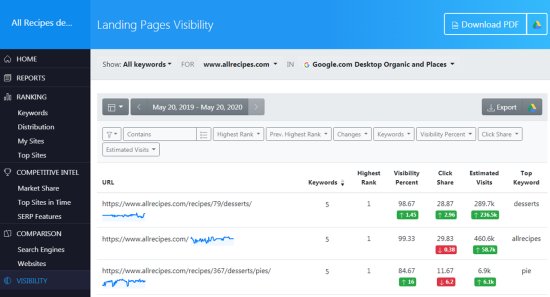 Majestic SEO is a widely popular multipurpose online SEO Tool used by millions of webmasters from across the world. It supports one of the largest link intelligence databases and helps to find out how the websites link to each other on the internet.
Majestic SEO toolkit includes tools such as keyword checker, site explorer, link profile fight, Majestic Million, Clique Hunter, and many others.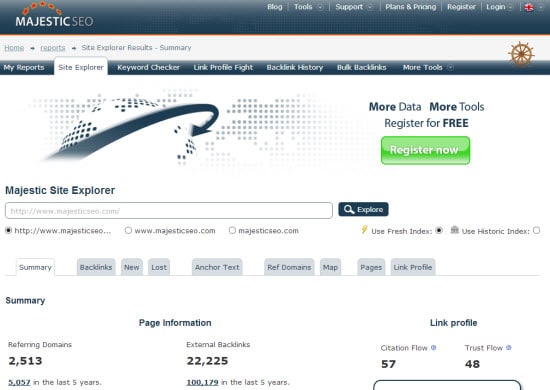 SE Ranking is an all-in-one cloud-based SEO Software. It provides a suite of SEO Analysis and promotion tools thereby helping you to streamline all your SEO tasks.
It offers a premier tool for accurate keyword position tracking. By using this tool, you can gauge real-time positions of your website's keywords in almost all the popular search engines. It enables you to track keyword rankings on a country, region, as well as city level as frequently as you wish.
Its Competitor SEO/PPC research tool helps you to know your competitor's keywords as well as ads for paid and organic search. It also has backlink checking and monitoring tool with which you can discover, control, and monitor all your backlinks. Moreover, with its deep website auditing tool, you can easily find and eliminate on-page vulnerabilities.
And that's not all, there are much more tools for SEO Ranking control, including on-page SEO audit, Keyword suggestion tool, social media auto posting, and much more.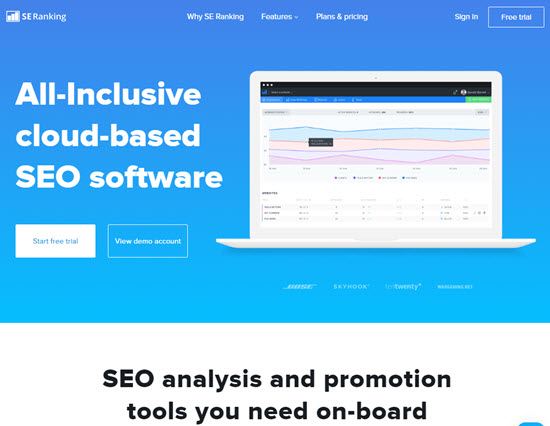 SEOmator comes as a complete SEO audit tool.
It does an analysis of your website together with all on-page and off-page SEO aspects. It includes in-depth reports and analysis which help you in understanding how to improve your SEO efforts.
At times there are many backend issues that plague a website and prevent it from ranking well on the search engines.
SEOmator online tool goes on to monitor such issues and provides solutions that help you to rank better on search engines. It helps in optimizing your website for search engines so that you can grow your business organically.
It offers in-depth technical SEO Analysis and comes as a complete SEO On-Page testing tool for website optimization. It crawls and analyzes your website for in-depth SEO Checks.
It gives full information on your site's SEO health including On-page SEO, analysis of backlinks, and technical SEO. So, you come to know which areas need your attention while doing an SEO Audit.
SEOmator is very easy to use, and the recommendations given are very specific. Best of all, SEOmator is available in convenient pricing.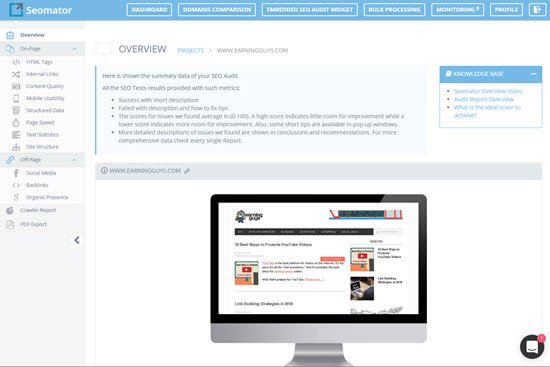 CanIRank is a leading SEO Software that gives you specific action recommendations using AI. It offers detailed DIY instructions. Plus, you can also delegate to an SEO expert with just one click.
You get to know why pages rank where they do, and what it takes to beat them. You come to know what changes will have the biggest impact in the shortest time.
Plus, it notifies you of new content ideas, ranking changes, link opportunities, and more.
So, CanIRank turns out to be the best SEO Software for quickly improving your Google rankings.
In fact, CanIRank is now regarded as one of the SEO industry's most powerful keyword research & competitive analysis tools.
CanIRank offers a number of useful features like rank tracking, On-page SEO suggestions, link building opportunities, and a lot more.
It employs modern data analytics to analyze the web and defines all the variables that can bring you to wanted rankings. Its ranking models together with data and metrics from other services like MOZ, Semrush, Ahrefs, SharedCount, and seo-browser.com go on to create actionable steps that benefit website owners in improving their rankings on SERPs.
With CanIRank detailed SEO analysis, you come to know where your website falls short. It also recommends changes you should make to better your rankings.
In short, CanIRank offers clear and actionable advice, not just plain numbers.
CanIRank has a free version. Pricing plans are monthly based.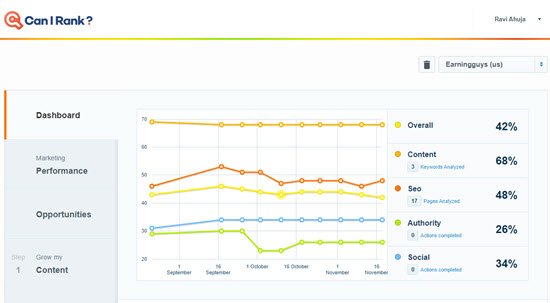 SEOBOOK offers a wide variety of SEO Tools to webmasters and SEO professionals. SEO Tools come for free and are also available as paid. The set of SEO Tools offered by SEOBOOK include tools such as free Firefox extensions, free web-based SEO Tools, Premium SEO Tools, and Premium Firefox Extensions.
You get to have all the tools necessary for performing SEO tasks. With these SEO Tools, you can do keyword research, competitor research, link analysis, PPC research, search analytics, search engine ranking checkers and other tasks as well.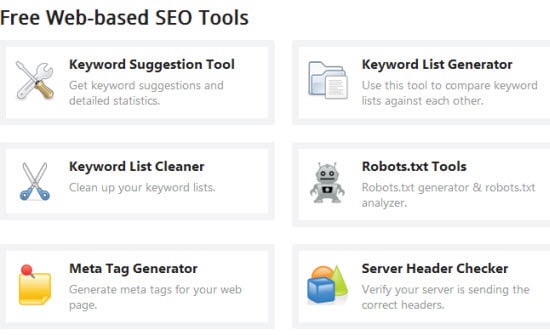 Raven provides highly efficient web-based SEO, Analytics, and Social Media Tools to optimize your website for better search engine traffic to grow your business. Raven comes with wide array of tools for SEO Management, SEO Link Building, Social Media Management, and Monitoring, SEO Competitor Analysis, PPC Research, SEO Rank Checking, Reporting, Metrics and provides various other tools as well.
With Raven powerful SEO Tools you can surely handle the online marketing campaign in a superior and profitable way. Moreover, Raven Tools come with a 30-Day Free Trial offer so you can always feel encouraged to try them out.
10. SEOquake Browser SEO Tool
SEOquake is one of the most popular and highly useful SEO Analytics Tool. It can be installed in Chrome, Firefox and Opera browsers as a toolbar. SEOquake delivers a wide range of information for websites shown on the search engine results page of Google, Bing, Yahoo, Baidu or Yandex. SEOquake Toolbar shows information on many useful parameters such as page rank, Google Index, Alexa.
It also shows Keyword density which depicts the number of times a particular keyword has appeared on a web page. It also has a parameter which shows nofollow links as well. You can even customize the parameters on the SEOquake toolbar. Moreover, the SEOquake toolbar is easy to install and just takes a couple of seconds.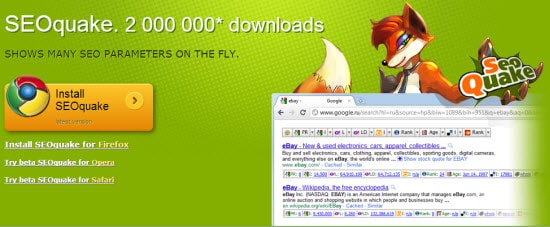 BuzzStream presents a web-based link building software so that you are able to promote your products, services, and content online in an organized and successful way. The main objective of BuzzStream is to reduce the time consumed in the link building process so that you get enough time with you for having quality relationships with link partners. BuzzStream comes with a free trial offer and is easy to handle too.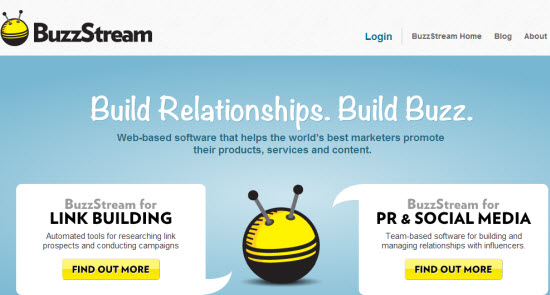 Open Site Explorer is a powerful and useful web-based SEO tool from SEOmoz. As its name suggests, it explores your site to render you vital information such as domain authority, inbound links, page authority, top pages, linking domains, total links, and many other SEO and Social Media related information.
You even get to compare your site with up to 5 other sites. Some of its features are accessible for free while detailed information can be had only in its paid version.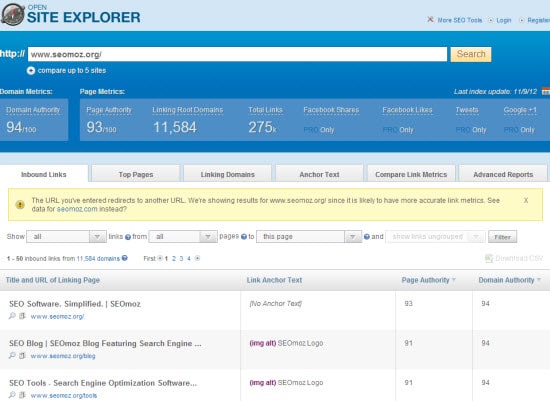 13. Linkio SEO Tool
Linkio is one of the best SEO Management Tools out there.
It allows you to choose exact anchor text for use in link building strategies. Linkio is fully automated, thoroughly flexible, and remarkably easy to use.
It has been studded with some fantastic features such as Anchor Text Profile Planner, Backlink Crawler and Validator, Automated Backlink Importing, Backlink Index Checker, Anchor Text Categorizer, Disavow File Management, and much more.
Linkio is all about getting better and beneficial results easily. With Linkio, you can create backlinks easily and efficiently. Plus, you can also monitor your existing links.
All this requires you to follow a small procedure wherein you need to enter a few details such as a keyword and a URL. The software then offers lots of proper information in front of users.
So, Linkio comes out as a tool for backlink planning. It takes out tedious and repetitive work that is involved in link building campaign setup. It operates using a sophisticated analysis engine. Its anchor text section is free to use.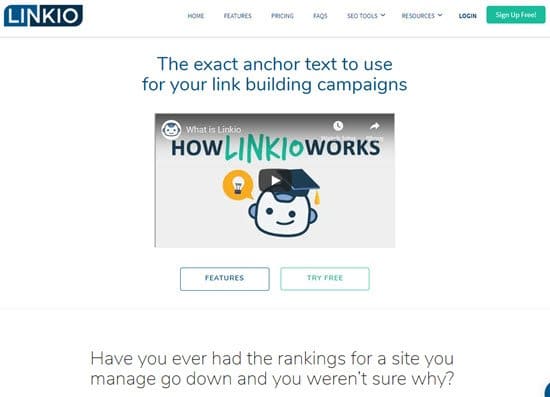 Authority Labs presents web-based SEO Tool which helps you to monitor your sites ranking for keywords searched on search engines like Google, Bing, and Yahoo. Authority Labs is simple to set up, flexible to access and provides web-based reporting. You can add you're your domains or pages. It can track your domains from each and every country and language offered by Yahoo, Bing or Google.
Authority Labs provides keyword tracking for thousands of keywords for each of your domain. You can even do competitor analysis and can group and sync domains as well.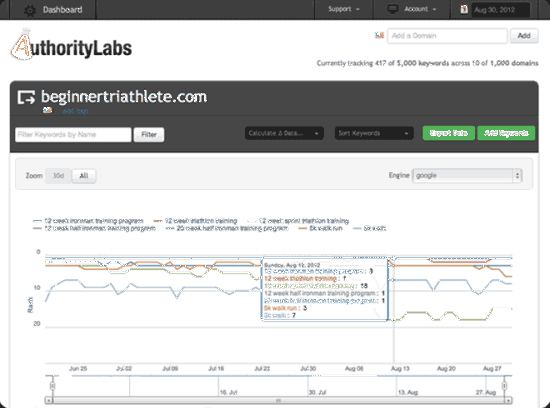 Google Webmaster Tools helps you with detailed information regarding the visibility of your web pages on Google. You get to know which keywords and queries drive traffic to your site. You can also learn how users come to your website or web pages. It gives a detailed review of the problems facing your websites. Using Google Webmaster Tools you can even submit web pages along with the Sitemaps. It also uses link reporting tools to let you know the internal as well as external links to your site.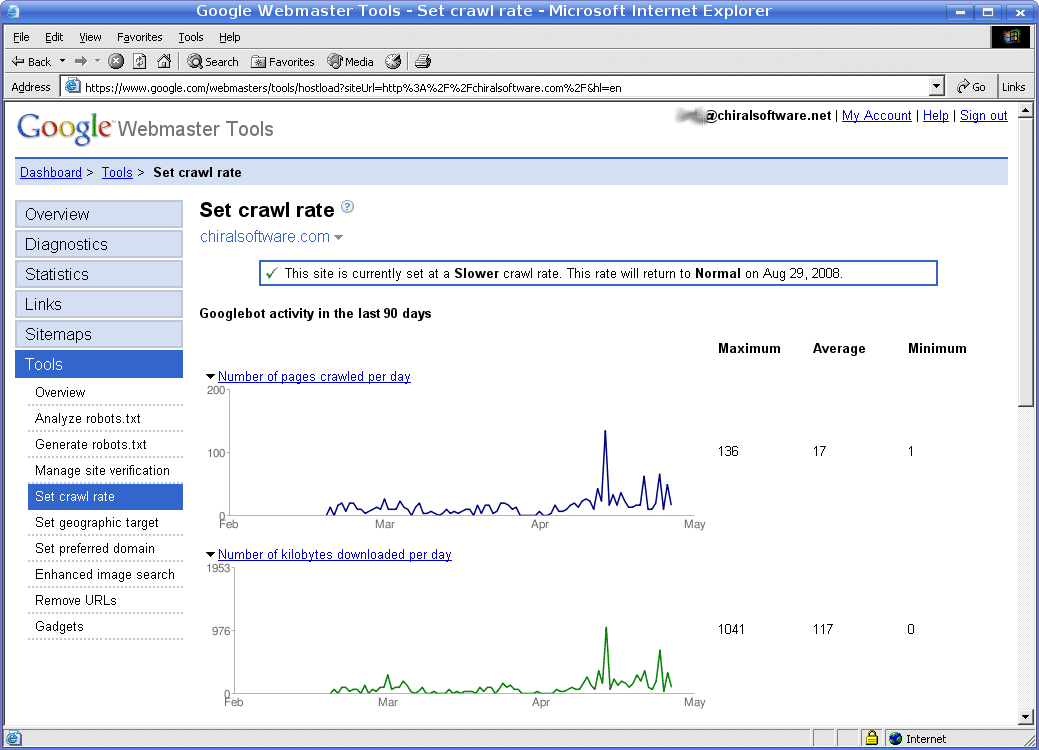 With Google Adwords Keyword Tool you can build an effective keyword list which you can use while creating your campaigns. Using this tool you come to know the effectiveness of keywords in driving search traffic. You get to find keywords with which have either high, medium or low competition. Then you can choose those keywords or phrases which let you appear higher in SERPs of Google or other search engines.
Google Adwords Keyword Tool is an effective tool which allows you to have new ad groups. You can choose broad keywords as well as specific or exact keywords. This tool provides advanced options and filters too for customizing the keyword search according to your requirements.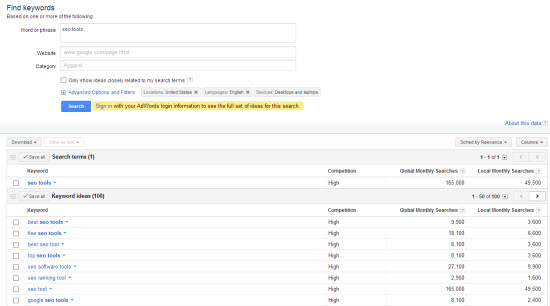 We hope you liked the Best Online SEO Tools/Software, please do share which SEO Software you use.