Keyword density in SEO was an important foundational concept of search engine optimization.
SEOs and bloggers used keyword stuffing to push their web rankings higher.
However, with the Google Panda update, Hummingbird algorithm, and RankBrain, much has changed how search engines work today. It has impacted the importance of keyword density in most search engine ranking algorithms.
The overall content and user experience are critical in determining your web page's search rankings.
The post opens this discussion and shares the ideal keyword density with you.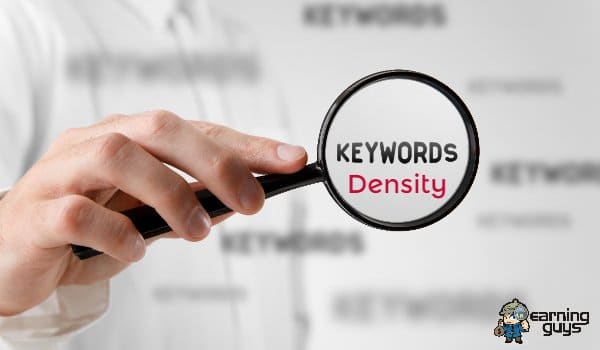 Before talking about Keyword density, look at what a keyword is.
What is a Keyword?
A Keyword is defined as a word or combination of words that bring out the meaning and purpose of your content. Concerning SEO, these are the words and phrases that the users key into search engines to find the most relevant content.
So, if you want to rank for best-selling sports shoes, the article's focused keyword should be "sports shoes." Similarly, if your restaurant business in California has a website, then the keyword for the home page should be "best restaurant in California."
What is Keyword Density?
The Keyword density in SEO is the number of times a searched keyword appears within a web page's content as a ratio or percentage of the overall word count.
It is sometimes also known as keyword frequency. So, it is the frequency of a specific keyword on the content of a webpage.
Keyword Density Formula
Here, we enumerate the steps for finding out the keyword density (for a given keyword) for a piece of content:
Firstly, you need to identify the keyword
Find out the total number of words on the webpage
You need to divide the number of times that keyword appears by the total word count of that page
Multiply the result that you get with 100
For instance, in a blog post of 1000 words, if the keyword appears ten times, then the post has a keyword density of 1%.
What is TF-IDF?
The term TF-IDF stands for "term frequency and inverse document frequency." It is a more advanced way of measuring keyword density.
This statistic is often used for text-mining or information retrieval and determines the importance of a given term in a document. It helps quantify web page content's relevance to a user's search query. However, many other SEO factors also play their roles, as usual.
What is Keyword Stuffing?
Keyword stuffing is a technique used when SEO was still an emerging discipline as many as ten years ago. Cramming many keywords on a webpage is often felt as forced or unnatural.
Usually, lengthy footers were included at the bottom of web pages containing dozens and sometimes hundreds of keyword variants as common search terms. So, the content used to be crowded with the keyword-stuffed footer.
For example, a hotel website would often feature footers consisting of hyperlinked keywords such as "Cheap Hotels Barcelona," "cheap hotels Madrid," "cheap hotels Cairo," and more that would take visitors to another similarly crowded webpage featuring keyword-stuffed footer.
SEO professionals use keyword stuffing to rank on the first page of Google search results for virtually any keyword.
However, nowadays, this practice of keyword stuffing has become obsolete. Google's algorithms have become more sophisticated, interpreting these keyword-stuffed pages like a "cheap" hack to engineer the SERPs.
So, these are not ranked high on Google's result page. Moreover, Google penalized such pages that use keyword stuffing in thin content. It means that you should avoid cramming keywords into your web pages.
What is the Optimal Keyword Density?
Nowadays, there is nothing such as "optimal" keyword density. The concept of optimal keyword density is a myth, as there are no definite rules for keyword density.
Google does not provide guidelines on the number of keywords that should appear in your content.
That said, before Google's Panda update, a keyword density from 2% to 3% was considered optimal, which would optimize your content, increase its visibility, and increase the overall experience of your audience.
However, this scenario was drastically changed in 2019. There is no ideal percentage nor a one size fits all solution. Loading your content with a high volume of keywords is not considered important.
This does not imply that you don't need to insert the keywords in the right places. Here, we outline the general rule for where keywords should appear in your content:
Most important:
The title tag – It is best to place the keyword at the beginning of the title
Body content (It should be higher on the page or article)
Less Important:
Headings such as H1, H2, and so on
URL
Meta Description
Image Alt Tags
Moreover, the seed keyword should appear once in each title and Meta Description, headline, etc. However, the seed keywords could be repeated more than once in the body content.
How many times should keywords be used in the content?
We must clarify that there are no hard and fast rules for keyword density. Moreover, keyword density could change depending on the nature of the content. For instance, a syndicated news article could require fewer keywords than an evergreen blog post.
However, to make matters easy for your keyword targeting strategy, you can use the following pointers:
Many SEOs recommend using one keyword per roughly 200 words of content. So, a webpage containing a 200-word paragraph should not contain more than one time.
You can also use "keyword variants," slight variations on a given keyword. These are closely related search terms.
For example, a user searching for used cars for sale may use search terms other than "used cars for sale" when trying to find a dealer. For instance, they might use "secondhand vehicles for sale," a closely related search term. Here, the keyword intent remains the same.
So, you can target keyword variants that maximize potential visibility in case of strong commercial queries. You can use keyword variants on single web pages as well as the entirety of your site.
However, you should exercise caution and good judgment when including keyword variants in your content, as it can lead to missed opportunities if they are mishandled. It would help to aim for a single keyword variant per 200 content words.
These related keywords are also known as LSI keywords or Latent Semantic Index Keywords. The LSI keywords are phrases that are related to the primary focus keyword.
Learn more about LSI Keywords and Best LSI Keywords Generator Tools
Keyword Density vs. LSI
Before Google came out with the Panda update in 2011, keyword density was one of the most important criteria for ranking web pages on search results. However, it was badly abused by spammers that wanted to appear at the top of Google search results.
So, Google shifted its ranking criteria towards LSI keywords. It removed keyword density as the main ranking factor for a given website.
LSI (Latent Semantic Indexing) Keywords are words closely related to your main keyword phrase. These words are semantically connected.
For example, the Samsung website accommodates keywords closely related to its products like Galaxy S9, S9, Samsung Computers, Samsung LED TV, etc.
Nowadays, Google values your entire content more than keyword density. So, LSI keywords improve your web ranking. It means you need to add related words and phrases in the context of your main keyword. It will also improve the content and content flow.
Moreover, you must ensure that your content provides value to your target consumer. So, besides the seed keyword, you should also use LSI keywords closely related to your main keyword.
You should use every related phrase with your main target keyword. It's thinking from Google's point of view, which values "valuable" and "unique" content. So, use LSI keywords in your copy to skyrocket your rankings to the main Google page.
Here is some example of LSI keywords for the keyword "keyword density":
keyword density example
ideal keyword density
keyword density calculator
ideal keyword Density
keyword density checker extension
Some Guidelines for Your Keyword Research
Use long-tail keywords with a higher click-through rate and prove more profitable.
Use keyword research tools to find opportunities for trending and high-volume keywords. It will also give you suggestions for related keywords.
You should place the keyword in your title tags and body content.
Do keyword repetition a few times on a page (Depending on content length)
Keep the keyword density between 0.5% to 2.5%
Create content from the reader's point of view. So, emphasize natural writing rather than using forced keywords.
Include keywords in the title tag and Meta description that gives positive signals to search crawlers.
Write captivating content that captures the attention.
Most importantly, they have a denser substance of content.
Also, check 22 Best Keyword Research Tools.
So, keyword density is now a myth in SEO when ranking pages in organic search results. One needs to develop engaging content that provides value to your target audience. Creating high-quality content is the key to steadily climbing higher and higher on search engine results pages.
We hope the post has provided much insight into the role of ideal keyword density.