In this article, we have listed some of the Best Ad Servers for Publishers, which help webmasters manage their ad space easily. So, it will help you to decide which one is most suitable for you.
There's one thing about website monetization that you can't simply ignore at any cost.
And that is, managing your ad space.
In fact, there is much more to an online advertisement than just having ads on your website if you want to make it an effective online earning resource.
So, you simply can't be sluggish in managing your ad space for your website. Moreover, Ad management is an ongoing process that requires you to manage, test, and replace ads for constant improvement.
This is where an ad server comes to the rescue of webmasters.
Using an Ad Server, webmasters can easily manage all of their ad space on various sites from one central console.
But, first, let us understand the working of ad servers in a little more detail.
What is an Ad Server?
Basically, an Ad Server's function is to store information about ads delivering them to websites for display to visitors.
Moreover, Ad Serving is the technology that places advertisements on websites.
Ad Servers track ad displays, clicks on ads, and go on to generate statistical reports. They also selectively display ads on websites based on predefined criteria.
They not only choose and serve ads, but they play a vital role in monitoring the progress of different ad campaigns.
So, Ad Server is a technology that stores advertising material and distributes it into appropriate advertising slots online. It delivers ads to users, manages the ad space of a website, and provides a counting and tracking system for webmasters and advertisers.
Ad Servers provides the system for counting clicks or impressions of advertisements so that an advertisement's ROI can be appropriately determined for a particular web page.
It acts as a centralized hub and manages content across multiple Servers with different publishers. Using Ad Servers, one can easily track and manage advertising material.
Ad Servers perform all the functions of running an online advertising campaign. It makes sure that the advertising content is being displayed for the intended users.
It is used to judge the effectiveness of advertising campaigns. Some of its advanced functions include sequencing ads, frequency capping, search engine optimization, and targeting.
Ad Server platforms are usually classified into two types:
Hosted Ad Servers
And
Self-Hosted Ad Servers
Hosted Ad Servers are the ones that are run and maintained on an Ad Server Company's Site, whereas the Self-Hosted Ad Server Platforms are the ones that are installed and maintained on your own server.
Both Hosted as well as Self-Hosted Ad Servers have their pros and cons. Let's take a quick look at them so that you can figure out which one is more suitable for you.
Pros: Hosted Ad Servers
It doesn't require any installation.
All updates are installed for you.
You get quick and superior support services.
Continuous monitoring for better performance, speed, and reliability.
Cons: Hosted Ad Servers
Hosted Ad Servers have a high price tag.
Limited customization facility.
Low data control.
Pros: Self-Hosted Ad Servers
You only require paying for the self-hosted ad server script, and that is a one-time fee.
Full Customization: You can modify the self-hosted script according to your needs.
Data Control: All the data is on your server, and you get absolute control over it.
Cons: Self-Hosted Ad Servers
Installation of ad server script on your server requires a little technical knowledge.
You have to look out for updates and install them yourself.
You have sorted and fix out any technical issues with the script or server yourself.
Now that we are aware of Ad Server Platforms, we can move straight to explore the popular and best Ad Server Platforms.
So, here's the list of Best Ad Servers for Publishers for you.
10 Top Ad Servers Platforms
DoubleClick for Publishers (DFP) is the first ad server to feature in this list of best ad server platforms. It is so because DoubleClick for Publishers (DFP) has some impressive features backing it up. Now that Google owns DoubleClick for Publishers (DFP), it is integrated into its advertising operations.
DFP is currently the most popular ad serving platforms out there. The biggest plus with DFP is the fact that it easily integrates with Google AdSense. It's good if you heavily depend on AdSense revenue. It enables you to have your AdSense Ads displayed in unsold ad spots.
Moreover, DFP is free for publishers who serve less than 90 million ad impressions per month. DFP comes with an intuitive interface and so is immensely easy-to-use and great for beginners.
It has robust and extensive reporting tools that are flexible and easy to configure. It's targeting and segmentation features are simply outstanding. Plus, you get top-notch support. DFP support team is reliable, helpful, and friendly.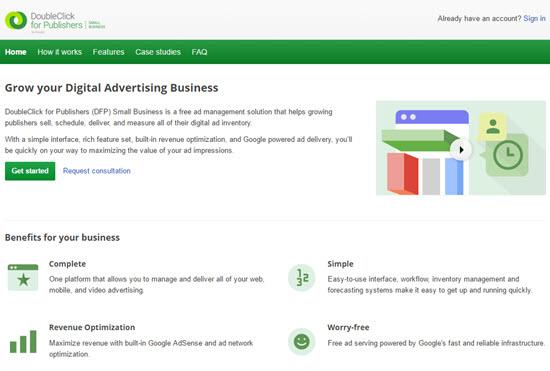 OpenX Ad Server is one of the best Ad Serving Platforms out there. Initially, OpenX Ad Server started as an open-source self-hosted ad serving script. However, later they transformed to become a paid hosted ad serving platform.
Typically, Open X is useful for large publishers who serve a high number of ads per month. OpenX follows a high pricing structure with set up fees being $1000 and minimum monthly fees of $1200. So, OpenX is not an entry-level ad server.
OpenX allows you to use your domain name with their hosted ad serving platform. The OpenX Ad Exchange enables you to sell additional and unsold ad space. It provides extensive targeting. The ad display can be targeted by content, viewing device, geography, audience, and more.
OpenX can be used to forecast traffic and seasonal trends. It even integrates with third-party platforms through its open API. With OpenX, you get 24/7 customer support.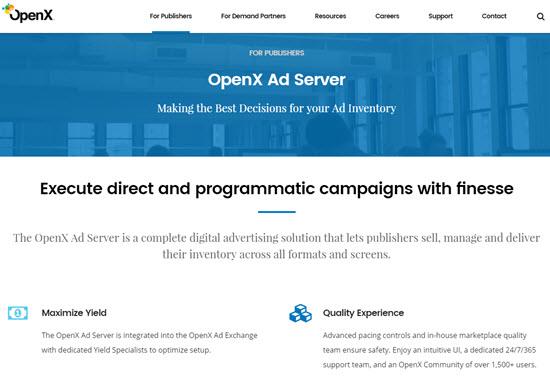 AdButler is one of the oldest and one of the most popular ad serving platform. It has been in the ad serving business for more than 14 years. AdButler has an impressive list of clients using its hosted ad serving, such as Microsoft, Allstate, Hewlett-Packard, and IBM.
With AdButler, you can look forward to easy to use ad serving, which helps you save time and maximize revenue from your ad space.
It provides real-time reporting and goes on to handle custom ads in all formats. They provide extremely fast ad delivery. They support all standard banner sizes, videos, text ads, interstitials, pop-ups, CSS, Flash, and complicated script ads.
AdButler supports an intuitive and easy to use interface. The best part is that this ad serving platform is affordable for small publishers. They have plans starting at $9.95 per month.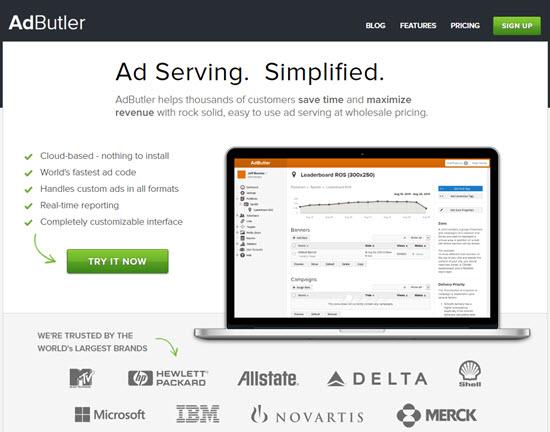 Kevel's APIs allow engineers and PMs to quickly build and launch a fully customized, server-side ad server.
Kevel is an advanced yet easy to use ad serving platform. It has every feature that you look for in a top-class ad serving platform.
Its vast set of infrastructure tools allows you to build, test, and tweak any ad server. What's more, you get flexibility around pricing, look & feel, targeting, pacing, and much more.
It manages all your ad serving and content delivery. Kevel is equally useful for small as well as large publishers. It provides a real-time reporting system, and its intuitive platform handles all your digital campaigns easily. It is also studded with comprehensive targeting capabilities, as well.
Kevel offers a galore of benefits:
Kevel allows you to build an awesome core business while supporting your ad server.
They are the masters in keeping your system running.
You get 99.99% API Uptime.
It's APIs, and flexible server locations enable you to have fast response times with minimal latency.
They have secured SOC 1 and SSAE 16 certifications, VPCs, and more. They have the tools to block EU PII and collect and honor consent. Plus, you'll be teamed with support engineers, software engineers, and account managers.
Kevel has much in store for you.
For example:
You can build a native ad server with high CPMs and a fantastic user experience. Turn sellers, vendors, & users into paying advertisers. Plus, you can add server-side ads & internal promos to apps, sites, and more.
So, with Kevel's APIs, you don't have to build an ad server from scratch.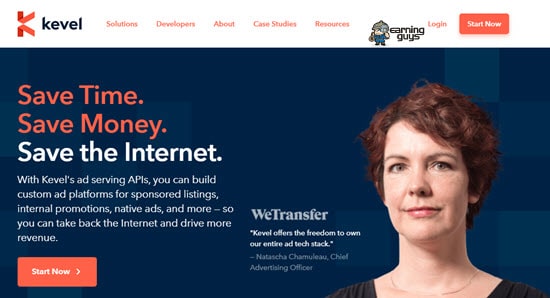 Epom Ad Server is a leading ad serving platform for publishers as well as for advertisers. It is a SaaS ad serving and ad management solution for ad network businesses. It provides fully customizable white-label software that can be used across various formats, channels, and platforms.
Epom Ad Server has been built to get more from your ad operations. It functions as a simple ad serving solution to launch campaigns and track results quickly and easily. Epom Ad Server comes with an intuitive user interface and so is very easy-to-use.
With Epom Ad Server, you can look up to features such as mass uploads, campaign export/import, expensive targeting for managing large ad campaigns.
It goes on to simplify the process of launching, running, and managing ad campaigns. Plus, you get an opportunity to minimize your time spent on ad operations and campaign optimization.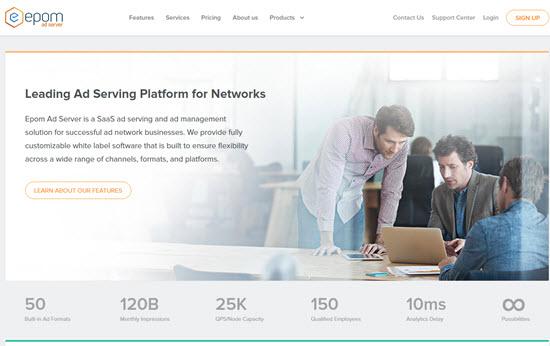 If you are looking for a self-hosted ad serving solution, then Revive Adserver is probably the best one to get your business needs. In fact, Revive Adserver comes as a free and open-source ad serving script.
Earlier it was known as OpenX Source. It has gained huge popularity among publishers and advertisers. With Revive Adserver, you get extensive targeting features that enable you to define rules for ad delivery.
It provides frequency capping, URL targeting, Geo-Targeting, and more. It provides detailed reports for ad campaigns. You get deep insights on conversion rates, click-through rates, revenue, and eCPM.
It even supports the display of AdSense Ads. Plus, Revive Adserver charges no ad serving fees. Revive Adserver is a good solution for technically inclined webmasters and publishers. It's a huge script and uses extensive server resources.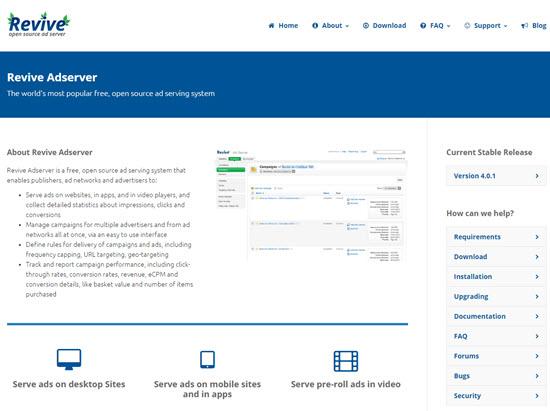 Xandr comes as an advertising and analytics division of WarnerMedia Commercial, which is a unit of AT&T's WarnerMedia. It was launched on September 25, 2018. It is presently led by Kirk McDonald.
Xandr operates an online platform, known as Community, which caters to buying and selling consumer-centric advertising. Xandr makes advertising better for brands and consumers alike.
Xandr is driven by the core purpose of making advertising messages more relevant through the optimum use of data and technology.
Its unique data insights, premium content, powerful technology, and scaled direct-to-consumer distribution give them a competitive edge, thereby improving advertising for brands, publishers, and consumers.
Since its launch, Xandr has come up with numerous flagship products such as the premium video marketplace Community, strategic buying platform Xandr Invest, and its strategic selling platform Xandr Monetize.
Xandr Invest allows advertisers to connect with engaged consumers and drive business results.
Xandr Monetize offers holistic inventory management controls, unique data, and differentiated buyer demand.
It enables media companies to unlock the full value of their inventory and improve the experience of consumers.
Xandr offers an advanced technology platform that enables trusted, streamlined transactions across digital and TV advertising.
It has come up with a large-scale portfolio of ad inventory across a premium content library. It has been combined with industry-leading advanced advertising solutions.
Xandr is engaged in delivering better results for advertisers as well as a meaningful experience for consumers.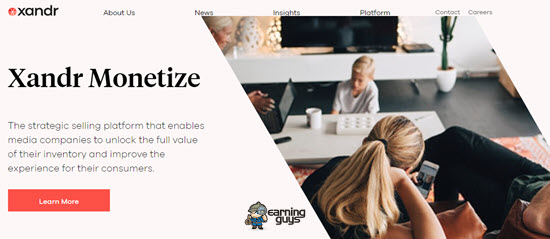 AdGlare is a SaaS hosted ad platform for advertisers, publishers, and agencies. It comes as a free ad server up to 1 million requests per month. AdGlare boasts of a big client portfolio that includes small businesses using AdGlare as a publisher ad server for their websites and advertisers and agencies that use the zone tags on third-party ad servers.
AdGlare goes on to support a variety of ad formats such as mobile-responsive banner ads, HTML5 video ads, interstitials, lightbox ads, floors ads, video VAST 2.0-4.0 tags, traditional pop-ups and pop-under, and sidebar ads. It has reasonable pricing (starting at $199 per month) and also comes with a 15-day free trial offer.
AdGlare provides a clear and intuitive user interface. WordPress users can also integrate the ad server software into their websites. It is easy to use and does not require anything to install on your existing server. It provides an advertisement management platform that puts no strain on your website. AdGlare Ad Server serves advertisements that automatically adjust to various screen sizes.
It provides an amazing dashboard that helps you to keep track of all your advertising campaigns easily. You get real-time statistics for ad campaigns. It even allows you to geo-target your ads. You can use AdGlare Ad Server to target a particular city in a country. It allows you to use various formats of ad creatives and placements. Using AdGlare, you can customize ads based on languages, browsers, and devices.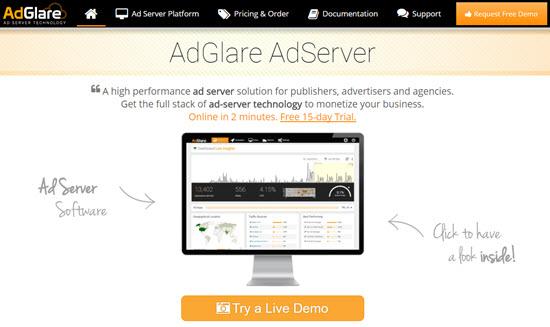 AdNgin is yet another perfect ad server platform for maximizing your ad monetization efforts. It provides one of the best ad optimization platforms that enable you to beat banner blindness, increase CTR, and maximize revenue per visitor.
Typically, AdNgin is used as an AdSense Testing and Optimization service. It helps you to earn more money through rigorous AdSense Testing. Moreover, it's easy to set up and delivers full control over all elements of AdSense testing.
AdNgin is being used by thousands of publishers worldwide, serving millions of daily impressions to online users. It displays more than 10 million daily impressions for small and large AdSense publishers. It has a proven track record of increasing RPMs by over 35% and reduces bounce rates by 17% on average.
AdNgin is safe to use and provides quality support, which lets you focus on growing your business. It's a good ad management platform for all Adsense users who wish to maximize their ad revenue without hampering their visitors' user experience. Its free version is also available.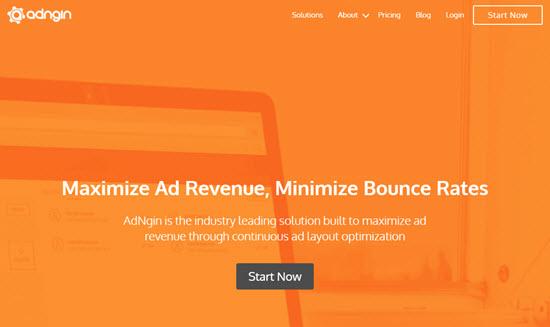 WP PRO Advertising System is one of the best WordPress Plugins for managing advertisements on your WordPress site. It is credited with many powerful features that help you easily put ads on your website, manage advertisers, campaigns, ad zones & banners in just a few seconds.
Using WP PRO Advertising System WordPress Plugin, you can add normal banners, Popup Banners, and Corner Peel Ads to your WordPress site. It even allows you to transform your post's backgrounds into advertisements. It provides clean and detailed statistics with information regarding the tracking of clicks, impressions, and CTR.
Moreover, WP PRO Advertising System is easy and simple to use with powerful and rich features. It is one of the best advertising solutions that enable you to show any advertising with highly customizable options. WP PRO Advertising System WordPress Plugin is perhaps the best option you can get for easily managing advertisements on your website.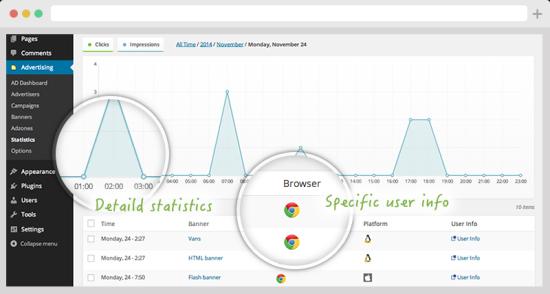 We hope that this presentation on 10 Best Ad Servers for Publishers helps you select the most appropriate ad serving platform to manage advertisements on your website. If you had found this post useful, do like and share it. We also welcome your comments and suggestions.