Today, we feature Propeller Ads Review for all those bloggers and marketers out there who are looking for a trustworthy ad network that shows quality ads and pays well over time.
PropellerAds is one of the most reliable and trustworthy ad networks for advertisers and publishers. It's a "performance-driven" advertising platform for marketers as well as affiliates, and it fulfills the growing needs of performance marketers out there.
Propeller Ads has grown to become the most popular ad network among bloggers. It is known for timely payouts. PropellerAds turns out to be the best solution for bloggers who want to monetize their blog or network of blogs.
Why Propeller Ads?
Before getting into the details, let's know why you should use Propeller Ads.
Propeller Ads is one of the fastest-growing advertisement networks based in Tortola, British Virgin Islands. They focus on publishers' 100% fill rate with maximum CPM rates. Propeller Ads is also popular among advertisers as they focus on maximum ROI for the advertiser.
Propeller Ads auto-optimize campaigns to get the best ROI and CPM rates. Its AI system fine-tunes the settings, thereby ensuring that you get the number of conversions you want.
Its fraud prevention technology allows you to enjoy high-quality traffic and ensures security at all the steps of advertising and monetization. Plus, it's a powerful and easy-to-use Self-Serve Platform which comes with real-time and in-depth reporting for monitoring your success.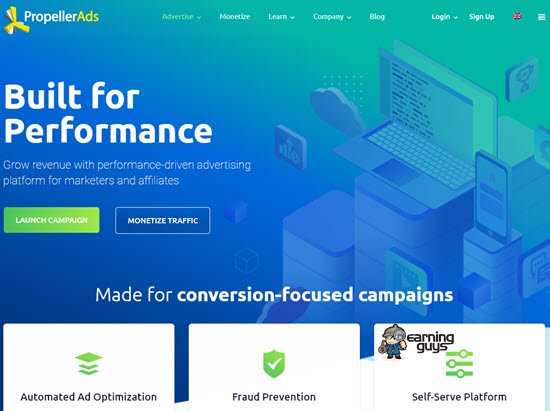 They are one of the highest fill rates with the highest CPM rate providers in the industry. This means the publisher's ad space will get a 100% fill rate and high CPM rates, which will help them to make more money. Propeller Ads eCPM rates can be between $0.25 to $10, depending on the ad type and location.
Publishers place Propeller Ads on their website, and Propeller Ads auto-optimizes the ads and shows high converting ads with high CPM rates. Publishers are paid on a CPM basis which can be calculated like this.
Say you placed pop-under ads on your website. You get 5000 visitors per day, and the average pop-under ads CPM rate is $2 then you will earn:
If only one pop-under ad is served to a visitor, it will be 5000 ads / 1000, which will be 5 x $2 per CPM = $10 earning per day. (Please note CPM rates, how many times ad showed depend on the sites traffic location, etc. So, earning can vary)
Ad Formats with PropellerAds
Propeller Ads is known for Pop-Under Ads. They also serve adult ads. However, they offer various other types of ad formats, thereby allowing you to increase your earnings. Let's take a look at various types of ad formats available with PropellerAds for monetizing your website.
Push Notifications: It's a unique and most popular advertising format with bloggers. It allows you to deliver your brand's message directly to a user's device even when they are not browsing, thereby enabling you to make more money with your traffic.
It's a revolutionary monetizing tool. Push notifications require no space on your website or app. They can be complemented with other ad formats. They offer instant per-subscription revenue (CPS). You earn even when the user is not visiting your website or app.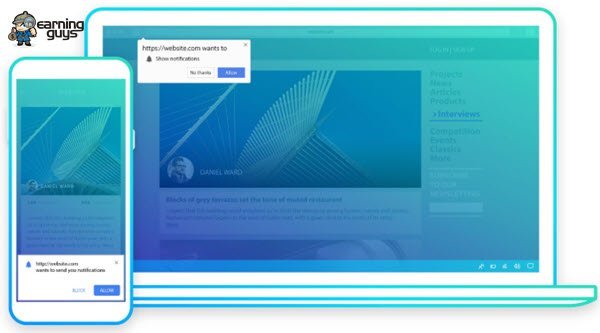 Pop-under (Onclick Ads): Pop-under ads open a browser window behind the main (working) browser window. OnClick Ads is a full-page ad, which means the advertiser's website is opened in this window. So, these are the full-tab ads that are user-initiated and appear in the new browser tab.
Your site visitors don't need to click on any banner or something; this window will open automatically as your site loads.
You can expect very good CPM rates for Pop-under ads that are normally $1+. These are known to bring guaranteed visits and fast conversions at the lowest cost. They provide massive reach together with the exclusive inventory of publishers. It's one of the top-performing ad formats with PropellerAds in terms of revenue. It allows you to monetize every visitor.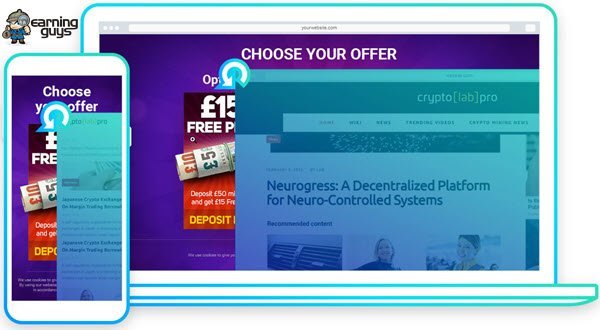 Native Ads: It's an ad format that appears alongside your relevant organic website content. Users can easily find them. Moreover, they do not disturb user experience and resemble much like your website content. It's an easy way to drive users straight to the offer.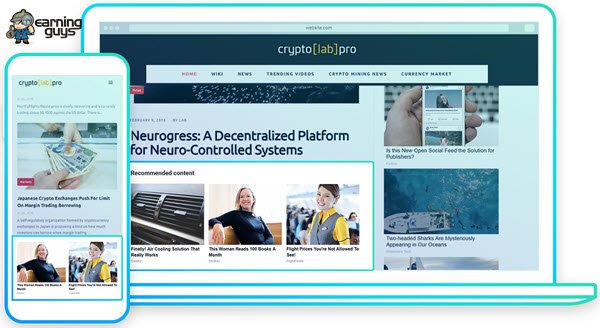 Interstitials: These are highly customizable, fast-loading, and skippable ad units. Interstitials are usually displayed before or after specific website pages. These prove the best avenue for additional monetization. Moreover, PropellerAds offer Interstitials with high CTR.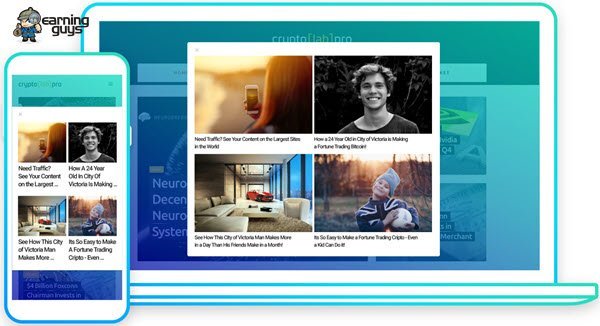 Smart Links: These are special URLs designed to monetize any type of traffic. They automatically take visitors to the most relevant offers. It is the best solution for paid (pop), 404 traffic, and toolbar, redirect, and expired domains, etc.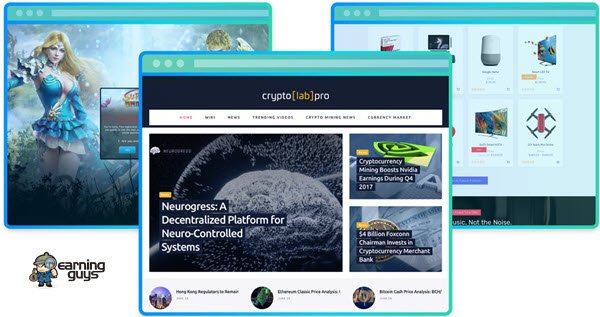 Mobile Advertising: Propeller Ads offer an advertising option for a mobile-friendly website. Publishers can display Dialog Ads/Push Up and Interstitial ads on their mobile-friendly website.
However, picking up the right ad type or the most appropriate ones for monetizing your blog ultimately depends upon the type of blog or website you have to make the most out of this ad network.
Here, we feel the necessity to tell you the most popular and high-performing ad types with Propeller Ads. These include the following:
Pop-under Ads: It pops in another window behind the original website. These are usually common on viral websites and even with people who drive paid traffic to their website. Propeller Ads employs anti-adblocking technology to mitigate the risk of Adblocker. It can be used for Pop-under ad type.
Native Direct Ads: It's another very popular ad type on Propeller Ads. Here, you make money from directing traffic to a link. The eCPM can be as high as $15 depending on factors such as your geo, device, and other factors.
Web Push Notifications: Propeller Ads is one of those few ad networks out there that offer web push notifications as one of its advertising options to serve publishers and advertisers.
Who should use Propeller Ads?
If you are going to compare Propeller Ads with Google AdSense, then Propeller Ads is not for you. AdSense is a totally different platform compared to Propeller Ads. Therefore, you can earn a lot less or a lot high with Propeller Ads compared to AdSense.
If you are in a highly competitive niche, then with AdSense, you can earn a lot more. On the other hand, if you are in a very common niche where AdSense ads get low CTR and low earnings per click, you can earn a lot more with Propeller Ads.
Your site gets very less traffic, say less than 1000 visitors per day, then Propeller Ads may not give you good results. However, propeller Ads are good for high-traffic sites, and those who are ready to run Pop-under and Onclick ads can expect good returns.
If you have lost your Google AdSense account, you can use Propeller Ads as an AdSense alternative. You can also use Propeller Ads along with AdSense ads that will increase your overall earning.
PropellerAds Advantages for Advertisers
PropellerAds offers a unique and unparalleled advertising opportunity to all those advertisers who do not want to waste their marketing budget and still successfully go on to gain quality leads that are tailored to their business needs.
So, Propeller Ads makes advertising easy and rewarding.
It's a full and self-service advertising platform offering comprehensive and industry-leading ad-serving technologies to advertisers and online marketers.
With Propeller Ads, advertisers can design & control smart and effective campaigns easily. Building and managing effective ad campaigns become a reality with PropellerAds.
Its easy-to-use interface allows advertisers to optimize performance and analyze results easily and quickly. The super-easy dashboard allows you to launch campaigns in minutes. It has been loaded with bulk campaign creator and traffic estimator so that you can start quickly and scale up when required.
Propeller Ads is all about optimization at its best. Advertisers can refine the campaign settings, adjust the budget, experiment with targeting, and test creatives – all in just a few clicks.
Plus, PropellerAds offers the tools to measure and analyze your performance. Advertisers have access to real-time statistics for analyzing the results of their campaigns and making data-driven decisions.
With PropellerAds, advertisers have access to a highly-targeted global audience that is most likely to engage. Moreover, you should know that Propeller Ads is serving ads to over 1 billion monthly, non-incentivized users from all over the world. So, there's a big opportunity to optimize performance and ad campaigns, thereby making more money with your advertising efforts.
PropellerAds comes with beginner-friendly as well as pro-level tools helping to optimize your ad campaigns and deliver desktop & mobile ads to the right set of audiences around the globe that matters.
There are a plethora of targeting tools based on browser & language, geographical location, OS, device & connection type, mobile carrier, frequency capping, and more. You have easy-to-read, real-time reports. Measure results; compare clicks, impressions, and other metrics to make out which campaigns were the most effective.
There's an intuitive campaign builder which streamlines the process of target selection, ad placement, scheduling as well as budgeting with a few easy steps. You can come to know how a campaign's bid and targeting settings impact the ad's reach.
You can even set daily and total campaign budgets. Propeller Ads offers S2S Postback and Image pixel tracking tools. You come to know which ad channels prove most effective for your business.
PropellerAds even offers a dedicated personal manager to configure your ad campaigns and creatives to best practices for maximum performance.
Moreover, with PropellerAds, you are protected all through your advertising efforts. It combats ad fraud with real-time detection & prevention systems. It identifies malicious activities and eliminates the threats most effectively, allowing only real people to see and interact with your ads.
Propeller Ads offers complete anti-fraud coverage with:
Each Device: It detects fraud on every device that you are targeting
Every Ad Format: It identifies suspicious activities regardless of the ad format
Every Geo: It is capable of detecting every suspicious activity of fraudsters around the globe
So, with the best anti-fraud protection, PropellerAds makes sure that only real people see your ads. It eliminates bot impressions. It allows you to utilize campaign budgets best and drive action.
All in all, Propeller Ads is all about "Smart," "Secure," and "Profitable" advertising allowing you to get conversions that impact your business.
PropellerAds Advantages for Publishers
PropellerAds proves the best monetization solution for publishers with its most effective ad formats, best payout conditions together with a variety of exclusive and powerful features.
They offer comprehensive control over your monetization, allowing you to make more money with your traffic.
With Propeller Ads, publishers can better monetize their website audience. The platform is suitable for website owners, bloggers, SEO masters, social media marketers, brokers, domainers, and more. With PropellerAds, they can leverage its most advanced monetization solutions.
PropellerAds offers the most profitable cross-platform ad formats allowing you to monetize your web and mobile traffic better. PropellerAds offers you the opportunity to work with various ad formats, including:
Push Notifications
OnClick Ads
Interstitials
Native Ads
Banner Ads
Smart Links
So, with PropellerAds, you have access to the most engaging ads with which you can make more money with your traffic.
Moreover, PropellerAds has one of the best CPM rates on the market. It brings to you seven years of its market expertise, advanced and proprietary technologies together with the big-brand portfolio of solid advertisers.
Propeller Ads offers you the opportunity to monetize 100% of your traffic. It has a huge variety of advertisers in every country and every niche, thereby ensuring that none of your impressions are being wasted.
Moreover, publishers have access to the highest quality ads. All the ads are being manually moderated 24/7, so there's no danger of encountering any virus, malware, or even obscene content.
Propeller Ads offers ad formats that fit into any monetization strategy or ad network, including Google Adsense. So, there's an opportunity for increasing your profits by combining different ad formats.
Publishers gain access to non-intrusive ads that prove relevant to users with high quality. There's even a Referral Program to make extra income when you refer PropellerAds to your friends, colleagues, and followers. Plus, publishers can take advantage of its big online publisher community and nurture innovative ideas for increasing their earnings.
Publishers can utilize its free Push Service and send content updates to all their website subscribers via Push Notifications. So, with PropellerAds, publishers get the benefits of both website monetization as well as website promotion. Moreover, Propeller Ads makes it easy for publishers to get started. They can register a free publisher account, put the ads on their website and start earning money.
Propeller Ads have come out with unrivaled payout terms for publishers that are not easy to find elsewhere. There's no need to make manual requests. Instead, publishers get paid on autopilot every week with their preferred payment method. PropellerAds has set the minimum withdrawal limit to be as low as $5. Publishers can choose from varied payment methods, which include PayPal, WebMoney, ePayments, Skrill, Payoneer, and Wire Transfer.
Publishers have total control of their monetization efforts with Propeller Ads, thereby maximizing revenues with high viewability ads for both desktop and mobile. In addition, publishers have access to flexible and powerful ad optimization technology.
They get detailed revenue reporting by ad format, country, zone, and other criteria. Powerful tools simplify ad management. Plus, PropellerAds offers a multilingual dashboard (nine languages), allowing publishers to fully control their native language.
So, Propeller Ads comes with the most effective ad formats, best payout terms & conditions, and a wide variety of exclusive features so that publishers can unleash the power of their traffic and propel their monetization efforts easily.
How to use Propeller Ads
PropellerAds comes with an intuitive and easy-to-use interface that's equally well suited for newbies and thorough professionals out there. However, simplicity is not the only highlight of the PropellerAds dashboard. It's powerful enough to help you to generate much money from your blog. Moreover, PropellerAds is easy to work with. Here, we list out the necessary steps to get started with Propeller Ads:
You need to sign up as a Publisher and register a free account t on PropellerAds
Once you successfully register and activate your account, log in to the dashboard with Propeller Ads
Click on Sites > Add new site
Now, you have to verify the ownership of the domain that you have just added. It can be done by following one of the two methods listed below:

You can add a verification tag to your website
You can upload the verification file to the root folder through FTP
Once you go on to verify the domain ownership, you can start with Propeller Ads right away

Payment Rules
You can access the PropellerAds Dashboard and track your earnings. It displays charts of your income in real-time. In addition, it offers numerous payment method options. Publishers have the following options: PayPal, WebMoney, Payoneer, Skrill, Wire Transfer, or ePayments.
Plus, publishers have the option to change the payment option at any time they want. For example, propeller Ads offer weekly payouts (every Thursday) that are automatically credited to your preferred payment method once you attain the minimum withdrawal limit, which is now as low as only $5.00. Moreover, the ad network doesn't charge any commissions.
Support Options
There's a help center for both publishers and advertisers where they can find answers to the most common questions. It is available in English. You can even use the "Contact Us" page to get in touch with their support team. They offer prompt responses to your questions. Personal assistance is also available via Skype when required. In addition, PropellerAds has come up with a personal account manager for successful publishers who will provide them with any necessary help.
Terms & Conditions
PropellerAds has set up no minimum traffic requirement to join in. It even accepts those websites that have not yet gained huge traffic rates. The joining process has been made simple for publishers. You need to create a publisher account and add the websites that you want to monetize with Propeller Ads. They will notify you through email once your sites are approved.
However, Propeller Ads does not accept traffic from adult sites, illegal online gambling platforms, Bit-Torrent sites, software piracy, illegal mp3 directories, and any other traffic violating the law. Fraudulent activities are strictly prohibited from publishers, such as fraudulent or automatic clicks or impressions.
Referral Program
Propeller Ads has come up with a great referral program for publishers. There's an additional 5% revenue to be made that comes from the income generated by your referrals. The good thing is the fact that it's not a one-time payment. It's for a lifetime. So, there's money to be made by spreading the word about their service.
Conclusion
As we can make out from this Propeller Ads Review, the ad network offers a great opportunity to monetize your traffic. PropellerAds has earned a great reputation for itself in the industry as a safe, reliable, and trustworthy ad network. It has developed special optimization tools and offers multi-level targeting helping you to get bigger revenue. It offers detailed analytics and reports so that you can monitor and access your results easily.
With PropellerAds, publishers, as well as advertisers, stand to receive multi-fold benefits and profit from their digital marketing efforts. PropellerAds is certainly worth your attention. You can share your feedback with us and let us know your experience with Propeller Ads. Would you please share the post on Facebook and Twitter? We welcome your comments.
This review is based on my own experience with Propeller Ads. I have found some complaints regarding payment from Propeller Ads and publishers getting banned. Regarding this, Propeller Ads says this is because of fraud accounts that create artificial impressions and clicks using bot traffic. I hope you find this review helpful, and this will help you to earn more with your website.