To get started as an affiliate marketer, you have to search for some of the best affiliate programs to promote. With the best affiliate marketing programs, you can't succeed as an affiliate.
So, what is the basic question for the affiliate?
What does it take to do effective affiliate marketing promotion?
Effective affiliate marketing promotion is all about picking the right affiliate programs and products to promote.
It's surely the most important thing you have to set right to make it big as an affiliate.
So, we thought it would make perfect sense to share with you 15+ Best Affiliate Programs that can help you make dozens of dollars online.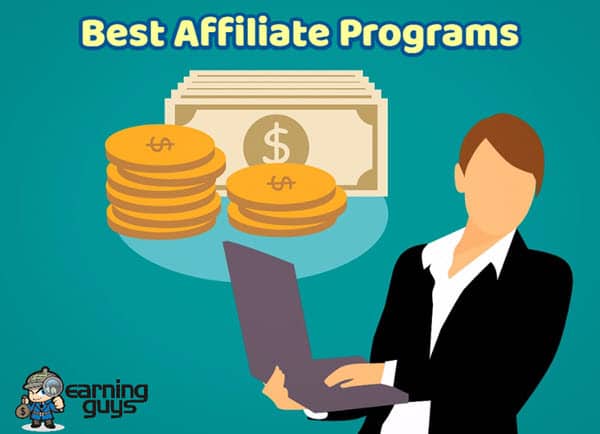 The best affiliate programs are the ones that:
Pay the Most
Are useful and most trusted
Offer lifetime Commissions for ANY purchase that your referral makes
Offer quality MULTIPLE products
Are not too mainstream
The good news for you is that we have featured the BIG ones.
The post lists out 16 of the highest paying and best affiliate programs.
And that's not all.
The post lists some of the best Affiliate Networks (including CPA Affiliate Networks).
So, there's plenty to gain from this post.
Well, the truth is that affiliate marketing can be the most significant source of revenue for you if you promote the right programs to the right audience.
This itself shows the importance of (high ticket) affiliate programs. You can even make as much as $7500 for a single sale using the right affiliate marketing programs.
And no additional tasks whatsoever.
No product creation, no customer support, but higher income.
Here, we have listed over 10+ legit and high-paying affiliate programs that you can trust and use to promote to your audience safely.
The list is certainly not exhaustive in any way but does include some of the highest-paying affiliate niches.
Most importantly, they are proven effective programs.
And they pay.
Plus, we have considered some factors when researching the best affiliate programs.
Let's find out:
Long-term income potential: You sell once and keep collecting the affiliate paycheck on a monthly basis.
Cookie duration: Follow-up products can make you earn additional commissions if the cookie is being tracked.
Refund Rate: Before promoting any offer, confirm what the refund rate is.
One Product vs. all Products: When your referral buys a different product (the one that you are not promoting), do you still get a commission?
Conversion Rate: How well does the traffic convert into buyers?
Immediate Payment: These affiliate marketing programs offer immediate payments for each sale.
Lastly, you need to know that the quality and relevancy of the product itself make you a successful affiliate marketer.
Moreover, if you have a website that gains lots of traffic, it's high time to start with affiliate marketing.
The best thing about affiliate marketing programs is that they don't require your products or services. So, there's no headache with shipping or customer service for the affiliates.
You have to place an advertisement on your sites for other merchants, and you can earn a commission out of every product bought from your site.
Before we take up the Best Affiliate Programs, let's have a look at the basic payment methods offered by the popular affiliate programs:
Pay per Sale (Cost per Sale)
It is the most popular payment method adopted by most popular affiliate programs. Here, the affiliate marketers earn commissions from the merchant when the client makes an actual purchase at the merchant's website.
The affiliate programs offer a specific percentage of the sale as commission, while others pay a fixed rate for every sale.
20 Best Cost Per Sale Affiliate Networks
Pay per Click (Cost per Click)
Under this agreement, the affiliate marketers get fixed rates when clients click on the links placed on the affiliate website leading to the merchant website.
Here a purchase is not necessary for earning commissions.
The client has to click the link and stay on the merchant's website for at least thirty seconds. The affiliate marketer earns a commission regardless of what the visitor does on the merchant's site.
Pay per Lead (Cost per Lead)
Under this agreement, the affiliate marketers are paid depending on the number of visitors sent to the merchant's website and then sign up as leads. The visitor has to fill out the information request form on the merchant site to qualify as a lead.
20 Best CPA Affiliate Networks
Now we start with the list of Best Affiliate Programs and assure you that you will get something on this list that fits you perfectly.
Simply, Read On!
16 Best Affiliate Programs to Get Started
Amazon requires no introduction.
It is an American eCommerce and cloud computing company headquartered in Seattle, Washington. Amazon happens to be the largest Internet-based retailer in the United States.
Its affiliate program, called Amazon Associates, allows you to tap into over a million products for advertising to your customers. It is one of the best e-commerce affiliate programs.
Moreover, it is the best place for beginners to start affiliate marketing. It offers numerous advantages to sellers and affiliates alike.
The site is also good for advanced affiliate marketers who can create custom tools that have APIs and Amazon implementations.
As a beginner, you require a platform to promote your products. The best way is to have a blog or website.
Another good thing about Amazon Affiliate Program is that you have a choice to promote products that interest you.
You can promote the products by writing reviews or articles about the products.
Moreover, the earning potential with the Amazon affiliate program is huge.
Amazon offers you a unique link that can earn you a commission when a customer purchases any product from the site.
It has a user-friendly interface that is easy for both beginners and seasoned marketers. It has a huge list of products. So, you can have many ads that will interest your visitors.
The platform has more than one million merchants that are more than any affiliate program globally. And it is one of the most trusted brands in the world. Amazon happens to be one of the most trusted sites across the world.
The only drawback with the Amazon affiliate program is that it offers low commission rates. The commissions start from 0 percent, and the maximum commission you can earn is 10%.
So, you need to generate a high sales volume to make your business sustainable.
Amazon Affiliate Beginners Guide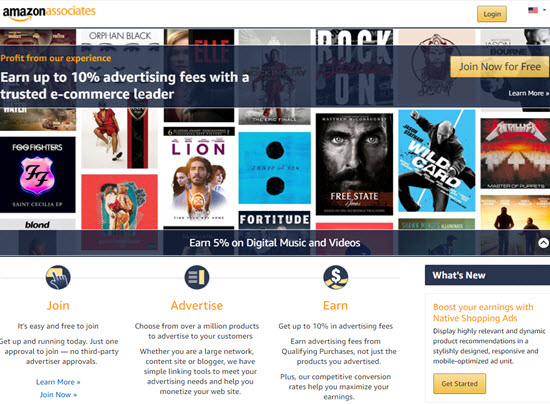 The eBay Partner Network is another great place for earning affiliate commissions. Becoming an affiliate with eBay is just a few mouse clicks away.
One good thing about eBay is that you can sell new products or items, and you can even buy items at a lower price and resell them at a higher price.
The least you have to do is refer people to purchase items on this site.
You need to have a website that contains the product you are promoting. The best thing about this network is that you can earn a handsome commission for each product bought from your site.
You can also earn by persuading people to register with eBay. You can earn up to 35 bucks for every person who registers from your site.
You can place interactive ads on your website or blog and attract visitors to eBay pages.
Success at eBay is as simple as Find, Share, and Earn.
Moreover, eBay has over a billion listings.
So, there's plenty of choice for you.
You can offer links to fashion, electronics, collectables, home goods, and more. There are amazing brands and sellers on eBay having a wide array of products.
It has various listing tools that make sharing the listing with your audience easy. Plus, you get insights (reports and analytics) for measuring and improving performance.
You earn when you refer someone, and they purchase within 24 hours. Partners can earn up to 70% of eBay revenue.
The percentage depends on the category of the item purchased. The minimum needed for getting paid is $10. Your earnings are posted the day after the sale occurs. It can be viewed on your dashboard.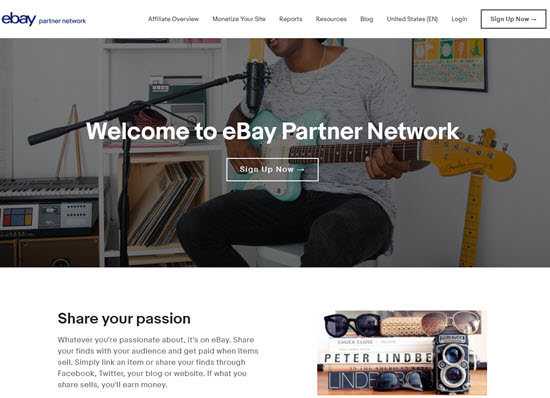 Target Affiliate Program is regarded as one of the best alternatives to the Amazon Associates program.
However, their selection of products isn't as big as Amazon's. That said, they still end up with a huge selection.
They offer a diverse range of products to support your niche topic. Moreover, they operate on a volume-based fee structure.
The commission rates are great for apparel, general home goods, and even general outdoor goods.
Their other big selling point is their 7-day cookie which is pretty long compared to Amazon's cookie that is one day.
Another plus with Target is that their brand trust and identity are comparable to the likes of Amazon. The brick-and-mortar Target stores have been around for decades, and that brand trust gets extended to online sales.
Plus, they have generous cookie expiration.
It lasts for seven days.
So, you get enough time to make your commission leading to higher conversion rates.
However, Target Affiliate Program offers varied commission rates. You can benefit from selling high-commission items such as apparel. Still, you can end up making a lot less money if your website is dedicated to a low-commission item like electronics.
Moreover, the Target Affiliate Program offers a few tools for integrating your affiliate links into your website. Viewers can feel annoyed with the banner advertisements. So, it can result in losing traffic.
Overall, Target Affiliate Program is a respectable and good option to go with.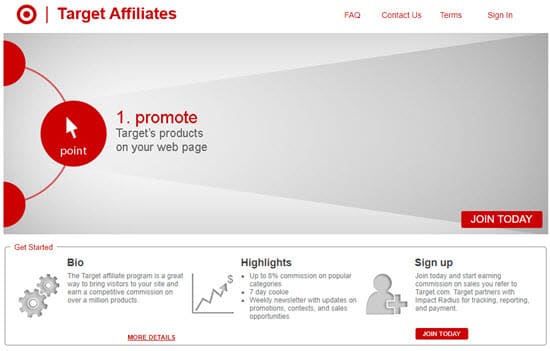 Walmart offers an affiliate program that is very similar to Amazon.
However, Walmart does outsource its operation to Linkshare (now known as Rakuten, one of the largest affiliate marketing networks on the internet).
The Basics
Average Commission Rate: 5% (with an average order sale of $300)
Cookie Length: 3 days
Payout Threshold: $50
Affiliate Program: Linkshare
However, as you can see, the payment threshold of $50 can be your biggest barrier to entry, especially when you are new to the affiliate game.
Moreover, Walmart carries a lot of 'zero commission' products. And they don't ship outside the US.
That said, Walmart uses its fulfilment centres, store distribution centres, 4500 stores, and its world-class transportation fleet for shipping online orders.
You can earn commission by picking up Walmart products' banner ads, links, and text on your website or blog.
Whenever a visitor clicks on the link on your site and makes a qualifying purchase, you become eligible for earning some revenue assigned to that particular product.
Rakuten is the affiliate service provider for Walmart.com. It tracks all the affiliates, purchases, commissions, impressions, and sales.
It offers a huge array of products to the affiliates.
Moreover, it's free to join Walmart Affiliate Program. You need to join Rakuten first. Then you have to sign up as an affiliate member at Walmart.com.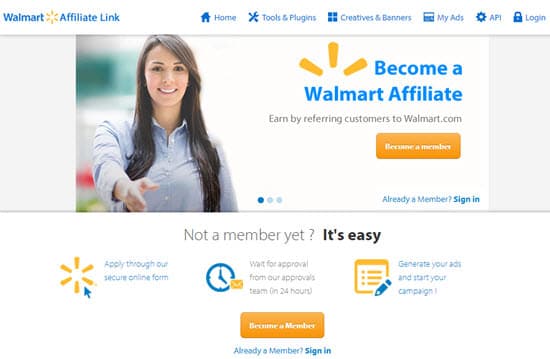 Expedia Affiliate Network (EAN) comes as a B2B partnership brand of Expedia, Inc. It works with businesses to boost revenues and increase customer loyalty.
Some of its salient features include:
Competitive rates.
Availability with accommodations worldwide.
Robust and cutting-edge technology.
Customizable solutions are delivering you conversions, fast.
Enterprise-class B2B support and integration services.
Simply feature its links on your site and give your users the widest choice of travel products.
Expedia happens to be the world's largest online travel agent.
So, it's now your turn to build your business with Expedia. When a referral from your site books any travel products, you get to earn a commission.
Eligible products include:
Holiday packages
Hotel Stays
Flights
When your application gets approved, you will receive an email message that has links that you can place on your site.
The traffic and earnings can be tracked online. You can track all the information 24 hours a day. Plus, cookies are active for 30 days. Commission payments are made monthly.
So, Expedia Affiliate Network provides you with the opportunity to earn money through selling travel.
Moreover, its Affiliate Programme is simple and easy to implement. Plus, you get a wide selection of linking options.
EAN has its focus on its partners and shares its expertise in the travel industry with them. Plus, it supports you in reaching your business goals every step of the way.
Its partners include the world's largest airlines and travel agents and loyalty and corporate travel companies.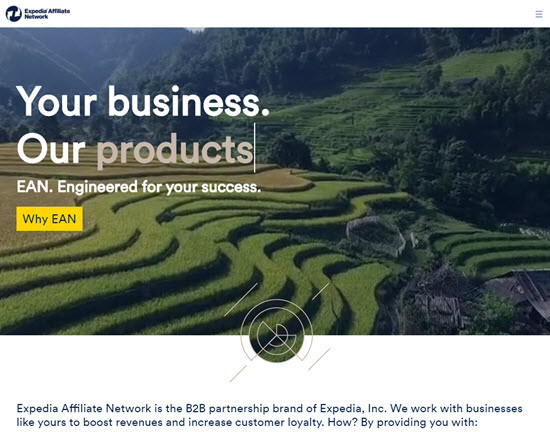 Groupon runs deals and coupons for restaurants, fitness, shopping, beauty, travel, and more.
The Groupon Affiliate Program provides you with a wonderful opportunity of earning a great commission by promoting the best Groupon deals.
Groupon Affiliates stand to benefit from its global network of high-quality merchant brands and attractive promotions. In addition, you get an opportunity to earn money by promoting local deals to your readers, followers, family, and friends.
Groupon runs the Groupon Partner Network (GPN) for managing, driving, and growing the affiliate marketing program, globally.
Enrollment is free, and approval takes less than a week.
Once approved, you access thousands of top-selling products through banner/text links, custom deal widgets, widget building tools, and an API data feed. Plus, you get real-time reporting, as well.
So, the process is quite easy.
Enrol, get approved, set up a profile, set up quick browser links, and go.
Now, coming on to the big question, how much can you make?
Well, you can earn a commission for every transaction that you refer. Plus, you can earn a commission on any transaction that happens within three days of your initial referral.
Moreover, Groupon offers commission on Getaways transactions up to seven days after your initial referral.
You get paid once your balance exceeds USD 25 through ACH direct deposit.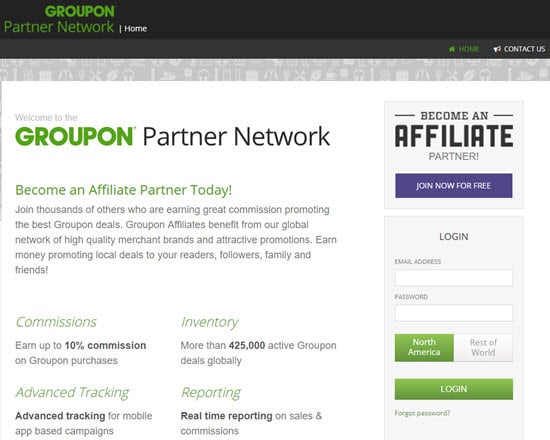 The Uber Affiliate Program is an excellent way to make a high supplemental income. By becoming a Promo Affiliate with Uber, you aren't just creating a new income source.
In essence, you partner with a multi-million dollar company to promote a genuine product to people who need it the most.
As an Uber Affiliate, you get access to a personalized promotional code. When people use your code on their first ride with Uber, you become eligible for a percentage agreed to by all the parties included.
Moreover, you can use your promotional code the way you like. For example, you can use your blog, network with social media influencers, and hand out business cards.
These are all great options for placing the promotional code. But, of course, the more places your promotional codes are seen, the better for you, as it increases your earning potential.
And the best thing is yet to come.
Yes, the earning potential with Uber Affiliate Program is unlimited. Uber is a multi-million dollar company, and there is no cap on your earning potential.
Its affiliate program allows you to earn rewards for referring new US-based Uber users. For example, you can earn $5 for referring every new US-based Uber user. Referrals are tracked using your Client ID.
Moreover, becoming an Uber Affiliate is FREE. You can become a part of the Uber Affiliate Program as a part-time or full-time promoter.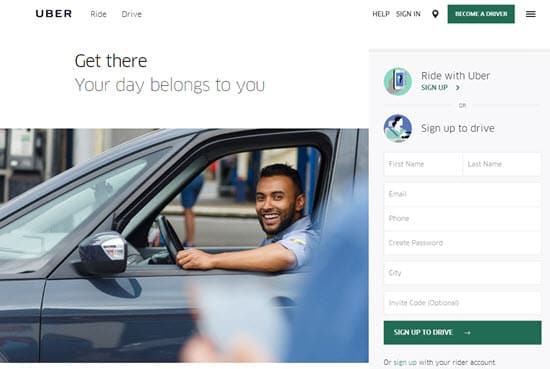 Macy's is America's leading department store having over 800 stores nationwide. Macys.com offers a great shopping experience to customers.
It has products to fit every lifestyle. It's a well-known retailer in men's, women's, and children's fashion and accessories.
It offers a wonderful opportunity to become a Macy's Affiliate and earn a handsome referral commission when someone buys from their site using your promotional link.
Moreover, joining its Affiliate Program is easy and rewarding.
You just have to provide a link from your site to macys.com. They will offer you a choice of styles and graphics to choose from – and you can earn commissions for driving sales to them. It's that simple.
Becoming a Macys.com affiliate is rewarding.
You get generous commissions (on qualified sales). In addition, it offers a 10-day cookie for return visitors, and the average purchase value is $120.
The commission rate depends on the country, and they accept global traffic. Its high-quality customer service makes them a good choice for the affiliate program.
Well, to become a Macys.com affiliate, you can apply to their program through the Rakuten Affiliate Network.
One can join Macy's Affiliate Program on Rakuten.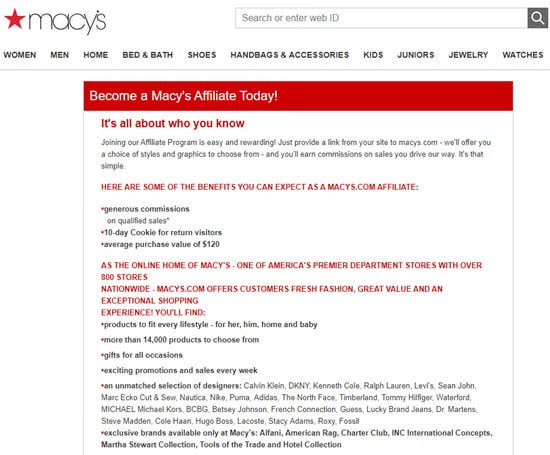 Apple runs an affiliate program for iTunes, the App Store, iBooks, and the Mac App Store.
It's open to everybody, and you can sign up for free.
Usually, it takes about five days to get approval, and to get approved; it is necessary to add your working blog link. Moreover, if you don't have a blog or website, your application will be rejected.
You can then log in to your Apple affiliate dashboard when your application gets approved.
On the affiliate dashboard, you need to add your payment details. For most countries, it should be noted that Apple makes payments through direct bank transfers.
The cookie period is 24 hours.
So, to get a commission, a user clicking on your affiliate link has to purchase within 24 hours. After that, you get a commission of 7% of iTunes products.
You can also link to free stuff with your affiliate links.
You can download the Blink app on your iPhone and use it for generating affiliate links quickly on your iOS device. Payments are available for cash out after 90 days of the sale.
Apple's Affiliate Program is a great way to earn commissions on Apple Music, iTunes, App Store, and iBooks.
It offers many linking tools (such as Link Maker, Widget Builder, and Banner Builder), making it easy for you to link to your stores. In addition, with the Affiliate Resource Site, you can stay up to date and learn more about advanced tools.
Moreover, the affiliate program is available in many countries and regions. It's a unique way to earn commissions on qualifying sales and memberships on Apple Music.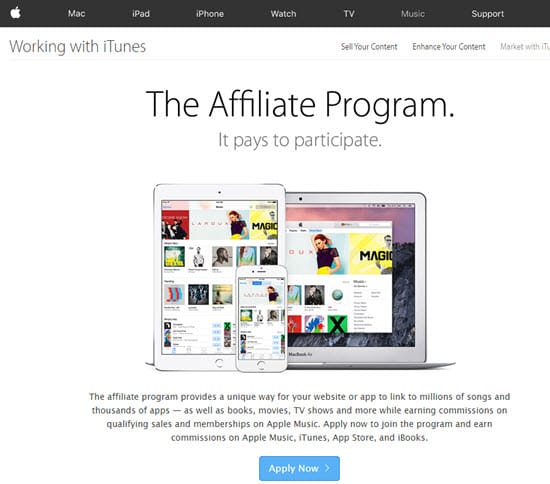 The Shopify Affiliate Program provides you with an opportunity to earn up to $2000 per new merchant referral.
Shopify is a robust eCommerce solution that allows merchants to sell goods online, providing scores of features making selling easy and convenient.
And it's simple to start earning referral income.
Once approved for the Shopify Affiliate Program, you will be provided with a unique affiliate link that can be shared on your website, webinars, social media, video tutorials, educational courses – however you choose.
The more you promote makes, the more you earn.
It's simple as that.
It offers simple linking tools and eye-catching banners.
Simple share Shopify with your audience and monetize your website to earn an industry-leading commission.
It's suitable for bloggers, publishers, educators, media networks, social media mavens, YouTubers, and business leaders.
Whenever a new user signs up for Shopify using your affiliate link, you will start earning.
You can earn as much as 200% of the subscription fee paid by a customer every time you refer someone to Shopify. Shopify pays affiliates by PayPal, and the minimum payment threshold is $25.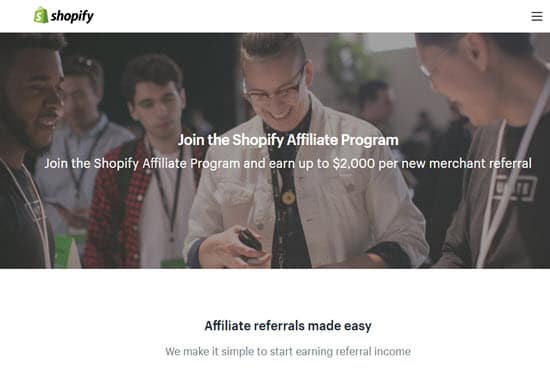 General Affiliate Networks
Affiliate networks are third-party platforms that connect advertisers (even known as merchants or vendors) with publishers.
Most big affiliate networks have tens of thousands of merchants and millions of offers.
The affiliate networks offer reporting, analytics, and payouts, making them a good solution for publishers to manage multiple affiliate relationships at once.
Moreover, some of the biggest eCommerce sites don't run their in-house affiliate programs. For example, Macy's affiliate program is available on Rakuten Marketing.
They connect with popular and big affiliate networks and offer affiliate marketing opportunities to publishers.
So, affiliate networks turn out to be the platforms where you can get affiliate programs for popular and big sites.
Here, we have covered some of the big names of the most popular Affiliate Networks.
So, let's find out the general affiliate networks:
Clickbank is one of the popular and most extensive affiliate networks on the market, making it fairly easy for both sellers as well as affiliate marketers to make money.
Clickbank offers timely payments and great customer service.
Affiliate marketers can look up to a good all-around experience partnering with Clickbank.
It's a massive marketplace and very easy to use.
They are mostly into digital or information products. However, they also offer physical goods, as well.
It offers a "gravity score," which tells how many people are currently making money by promoting a product.
They even help you to generate recurring commissions with recurring commission affiliate programs.
The interface, payments, and user experience are all pretty good.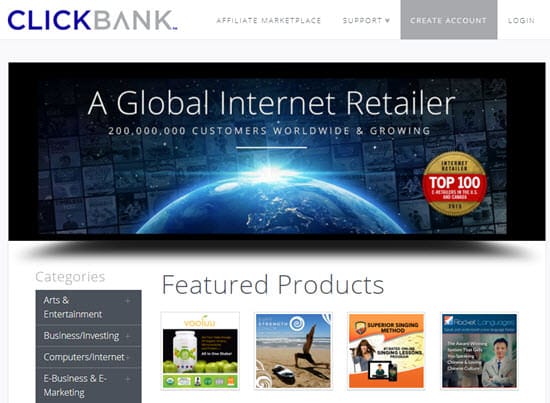 CJ Affiliate (Commission Junction) is one of the oldest and most popular affiliate networks globally.
As it is one of the oldest and most popular, it's home to very serious affiliates and very serious advertisers.
It offers lots of tools for both and has one of the best reporting in the game.
It's a marketplace for both digital and physical products pretty much in every niche, including big brands.
One of the key highlights of CJ is that it has an incredible diversity of digital goods, particularly the info-products and software.
Plus, there are no special website requirements to sign up.
However, still, it isn't a one-stop shop.
You get the Home Depot affiliate program on Cj.com.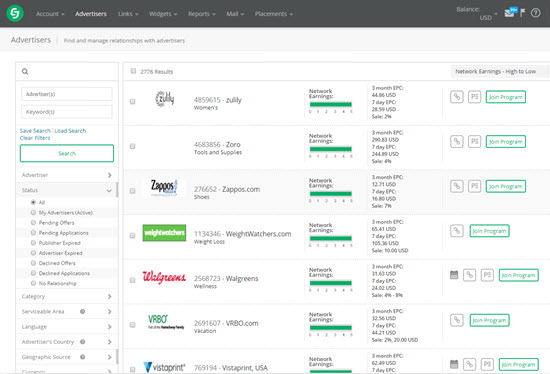 ShareASale is another very popular and one of the biggest affiliate networks out there.
Many of its merchants are exclusive to ShareASale. So, you won't find them anywhere else.
They dabble a lot in physical goods. However, they are also into digital goods.
Their dashboard is old-fashioned, and it's also difficult to deal directly with their advertisers.
There are more than 2500 merchants plugged into the ShareASale Network. All payments are made with one check or direct deposit by ShareASale.
Affiliate Network details:
Number of Offers: 2500+
Commission Type: CPA, CPS, CPL, CPC
Minimum Payment: $50
Payment Frequency: Net 20
Payment Method: Check or ACH (Direct Deposit)
Referral Commission: $1 per referral + 5% earnings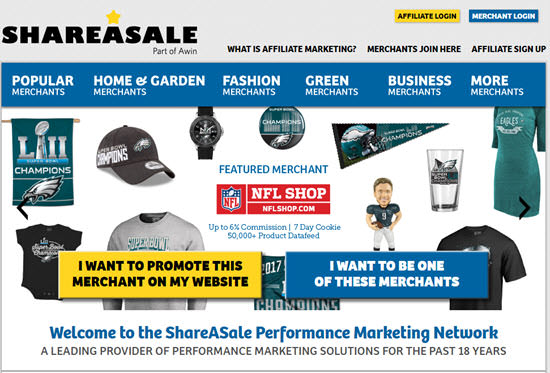 Rakuten Marketing is a global affiliate network that allows marketers to engage consumers throughout their customer journey.
Rakuten is good if you want to start an affiliate program to boost the product's exposure and sales. For example, the macys.com affiliate program is available on Rakuten Marketing.
It brings merchants and publishers together, offering benefits to both parties. As a result, Rakuten Marketing has become a leading affiliate network and has been voted the #1 affiliate marketing network consistently for four.
Rakuten Marketing helps you to kick-start your affiliate program and get quick results. In addition, you have access to thousands of publishers.
Plus, it offers detailed statistics, reliable payment options, and transaction reports. However, the pre-selection process might filter out small businesses and publishers.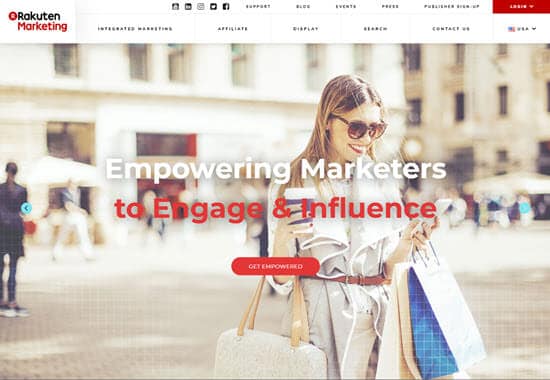 MaxBounty is one of the most popular CPA Affiliate Networks out there. However, it also runs many popular affiliate programs of top eCommerce sites. It has been successfully running since 2004.
It is a well-known name in the affiliate marketing industry. It has thousands of happy affiliates earning a good amount of revenue doing CPA advertising.
It even has one of the highest-paying affiliate programs. So, MaxBounty is a reliable partner for CPA Affiliate Marketing.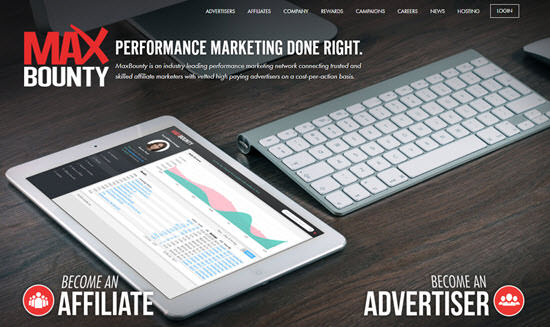 AccuWeb Hosting is one of the leading web hosting providers headquartered in New Jersey, USA.
They have been providing reliable hosting services globally since 2003. With over 19 years of experience in the industry, they have hosted more than a million websites and have a satisfied client base.
AccuWeb Hosting Affiliate Program allows you to promote their web hosting services and earn a high commission in return.
Some of the AccuWeb hosting's services are;
Shared Hosting
VPS Hosting
WordPress Hosting
Cloud Hosting
Forex VPS
Dedicated Servers
So, you will get a variety of services to promote.
They offer a Flat-rate commission per sale, and the commission rates are,
Shared Hosting – Up to $65 per sale
Reseller Hosting – Up to $100 per sale
VPS Hosting – Up to $125 per sale
Dedicated Server – Up to $200 per sale
And the best thing about AccuWeb Affiliate Program is that they pay the affiliates a Pay-Per-Click commission, which no other hosting affiliate program offers.
AccuWeb provides its affiliates with marketing materials, including eye-catchy banners, text ads, text links, and email links.
Additionally, they provide training videos and articles which include all the basics of affiliate marketing and advanced marketing strategies.
Another good thing about their affiliate program is their affiliate support team. Whenever you need any information about their service, marketing tips, or any other help, their team is always there for your back.
So, whether you are a beginner or an advanced affiliate marketer, AccuWeb Affiliate Program is one of the best choices for you. If you are looking to promote quality service and earn high rewards. AccuWeb is one of the best-paying affiliate programs.

That's all from us in this presentation on Best Affiliate Programs. We hope that it proves immensely beneficial to you. Please share it on Facebook, Google Plus, and Twitter if you liked the post. We welcome your comments and suggestions.