Email marketing has grown immensely in recent years. If you are also thinking to start email marketing campaign you will need Email Marketing Services and today I am going to share how to start email marketing and some of the best Email Marketing Services.
Nowadays, email marketing is being used by many of the top businesses including small businesses, E-commerce businesses, and even bloggers.
So, there is every reason to make email marketing a priority for your business.
Email marketing stands out as one of the most profitable kinds of marketing out there.
In fact, by using the best email marketing service, you can make your email marketing campaign a huge success.
In this post, we have delivered comprehensive coverage of 11 Best Email Marketing Services.
So, if you are looking for the email marketing service, then just stick in as we take through this list of best email marketing services.
Email marketing tools and software opens the door for the highest ROI possible by automating your workflows, clicks, and replies, and help you to gain more mailing list subscribers.
However, it is such a daunting task to ascertain which email marketing service is the best.
So, to help you in a big way, we have created a list of ten best email marketing services for your business.
With the right kind of email marketing software, you can make the most of your campaigns easily.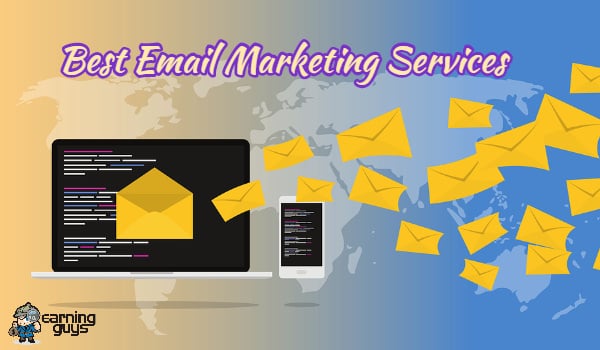 What is Email Marketing?
Email marketing can be best understood as a form of direct marketing that employs electronic mail as a method of communicating commercial messages to an audience.
So, every email that is being sent to a potential or current customer is considered as email marketing.
Email marketing is used for:
It is used for enhancing the relationship with customers.
Email Marketing is used to encourage customer loyalty.
It is used for bringing in repeat business.
Email Marketing is used to acquire new customers.
It is also used to convince current customers to buy something immediately.
Email marketing has some obvious advantages over traditional mail marketing:
Email marketing is the most effective online marketing technique. It offers the opportunity to track the return on investment which is often high.
With email marketing, you can instantly reach your email subscribers (those who have opted in to receive email communications).
In fact, as much as half of the Internet users check or send an email on a typical day.
It allows you to reach out to consumers with personalized, dynamic, and relevant messages.
With transactional emails, businesses can respond automatically to important consumer events such as purchases.
However, email marketing comes with the pitfall of being affected by rejection or spam rate of the emails by the consumers' email program.
That said, this can be avoided by using "Opt-in" emailing wherein the consumer gives the consent to receive the emails and eliminates the possibility of receiving unsolicited emails.
So, email marketing facilitates emails that are relevant and appropriate for each recipient.
Benefits of Email Marketing
Email Marketing is cost-effective. It is CHEAP. In fact, email marketing cost little as compared to other channels of advertising.
The email marketing ROI is high as compared to other direct marketing strategies. It can be targeted specifically to the ideal consumer.
Email marketing can be measured and tracked. You can find out what parts of your campaign are working and what parts aren't. With this knowledge at your sleeve, you can easily modify or reframe your campaign strategy if required.
How to do Email Marketing?
The emails can be set in text or HTML. The overall design of your email can include images and colors. It is good to ask each customer for their preference.
The emails should be personalized and relevant for each recipient.
You can offer an incentive for participating and will like to respond.
Prefer to send out the emails during their working day. You should test and measure to find what timing works best for your customer.
Email marketing is a part of your integrated marketing communication (IMC) or your overall marketing mix. So, your emails should carry the same image and message as your entire operations.
The links should be highlighted as early as possible in your email to grab the attention of the impulsive customer.
Use attributes (email header – subject line) that work best for your business.
Hyperlink your customers to landing pages rather than your home pages. Make it easy for them to complete forms.
So, using email marketing the right way helps you to rocket your company's success. It should be worthwhile to read.
What is Email Marketing Service?
Email Marketing Services allows you to communicate with a large number of customers in an automated fashion.
It helps you to deliver engaging content, personalized messages, deals, and more to your ever-expanding list of customers.
Nowadays, there are a plethora of email marketing services that operate at relatively low prices.
They offer packages fit for every business size and need.
Email Marketing Services are studded with email editors as well as HTML or JavaScript templates and come with a host of other useful features.
They help you to maintain a database full of subscribers segmented by engagement levels and demographic slices.
They help you to create emails, build subscriber lists, and set auto-responders.
Email Marketing Software even integrate with other communication-based tools like web analytics software and social media management.
They enable you to build comprehensive workflows for automating the email marketing process.
Email Marketing Services are excellent for one-off communications. They can be used for sending an automated email response when users join your subscriber list.
They help you to guide a user from a subscriber list to a product purchase. You can send new product promotions, as well.
It's just a matter of how much budget you are willing to allocate towards the tools to have the features you need.
That said we have featured some of the best email marketing services out there.
The services we have reviewed are cheaply priced and are available for about $5 per month to as much as $20 per month with a range of features.
They offer plans that allow you to send unlimited emails each month. Moreover, the billing is based on the number of subscribers.
Even when you have a small list, you can go for a free plan or a low-cost plan for hundreds of subscribers.
They even have high volume plans for 100,000 or more contacts.
Moreover, you also have the leverage to arrange for a custom plan according to your requirements.
A few of the companies do offer discounts when you pay for the year instead of month by month.
These email marketing services come with modern-looking graphics and uncluttered layouts.
So, getting started should not be a problem for you. In fact, they have some of the most user-friendly business software interfaces of yore.
Most of them offer good tech support through phone, live chat, and email help.
Some even offer self-serve help resources in the form of FAQs and articles. If you still feel stuck, there's live support via chat or phone.
Creating Campaigns & Managing Subscribers
Even when you are starting from scratch email marketing services offer much help to you.
These services allow you to add contacts manually using copying & paste, uploading CSV, or through MS Excel files.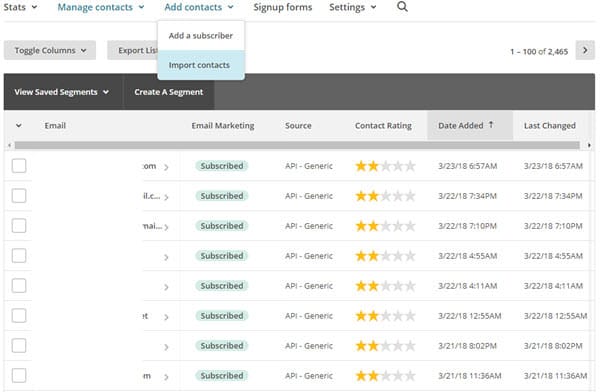 You can even import Gmail, as well as other webmail contacts.
They integrate with third-party software. Plus, you can manage users who have unsubscribed and opted out of your newsletters.
Next up is the building of your campaign.
Well, these services offer several ways of doing it.
For example, you can use a pre-designed template. You can even import your HTML or else start from scratch.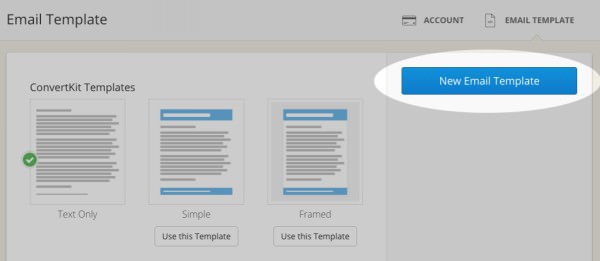 Most of these services come equipped with drag-and-drop UIs giving you the freedom to choose the elements you want to include.
They even have tools that test your emails for spam.
So, you can be sure that all of your hard work is adequately rewarded.
Your emails reach your destined recipients and don't fall into your subscribers' junk folders.
The Email Responders & Campaign Tracking
There's a characteristic of the best email marketing services.
They offer elements beyond sending basic newsletters.
They offer custom auto-responders. It allows you to stay in touch with your contacts through auto-generated emails like welcome emails for new subscribers or even thank-you emails when purchases are made.
Well, that's not all.
You can specify triggers based on actions.
It might be opening an email or even making a purchase.
Plus, you can set up a series of emails for a specific set of users.
You can pause a campaign as and when required. You can even move contacts to new segments.
It does not end here as these email marketing services allow you to track the success and failures of your campaigns.
The good thing for you is the fact that services showed below offer some level of tracking.
They offer color-coded charts, statistics, and even integration with Google Analytics.
All in all, these services help you to manage and communicate with customers.
Why should you use Email Marketing Services?
After knowing what email marketing services are, it's time to move ahead and understand why you should use email marketing service or software.
Hereunder we describe the benefits of email marketing software.
Well, email marketing software is the most cost-effective way to connect with your customer base.
By using email marketing software, you can deliver valuable content. You can promote your product and can even announce new offers or deals.
Below you can find some of the main advantages of email marketing software.
First and foremost, email marketing software automates the whole process of sending emails.
Just imagine if you need to send 1000 emails manually.
It will consume a lot of your valuable time.
However, by using email marketing software, you can automate the entire campaign process including the sorting of recipients into groups, scheduling the emails as well as the generation of feedback of reports.
Moving ahead, email marketing software gives you accurate metrics.
In fact, email marketing software is best at giving you detailed post-campaign analytics.
The metrics provided include open rate, click-through rate, engagement level, and forwarded messages.
Moreover, with the feedback report in place, you can calculate the cost-benefit ratio.
Another very prominent advantage of using email marketing software is that it allows you to reach your targeted market at a very low cost. In fact, the cost per email is drastically low.
Then, email marketing software enables you to remain in touch with your customer base.
You can launch a series of campaigns that matches your recipient's interest.
You can float deals to spur up repeat buys. One can shoot updates for latest offerings or products.
In fact, email marketing software nurtures and promotes customer loyalty thereby eliciting more purchases.
Further up, email marketing software allows for cross-channel promotions.
For instance, you can go on to incentivize your email message with deals when the recipient likes your Facebook page. Plus, you can migrate your subscribers to your social channels.
Factors to consider when buying Email Marketing Software
Other than the price, there are various other factors that you need to consider when buying email marketing software.
Make sure that your email marketing software alerts you to any potential legal breach.
Your email marketing software should be studded with A/B testing tool so that you can optimize each campaign and get the best ROI.
Your email marketing software should offer an email builder, analytics, auto-responder, and mailing list management. Each of these tools enhances the overall potential of your email marketing system.
Your email marketing software should allow unlimited emails for maximizing your customer base.
It should integrate with popular CRM and help desk solutions so that you can easily share with customer data for sales, marketing, and customer service. It should also allow the import/export of CSV, txt, and other file formats.
The email marketing software should display your emails on mobile apps.
Your email marketing software should be intuitive and easy to use.
The latest trends in Email Marketing Software
Nowadays, Email Marketing Software comes with a built-in tool for CRM and help desk.
So, email marketing software functions as an add-on to your existing systems.
Moreover, with HTML5 coming into the picture, you can embed videos in emails.
Moreover, HTML5 videos are lightweight and can even run efficiently on low bandwidth.
AI (Artificial Intelligence) is increasingly being used in email marketing systems.
It offers intuitive triggers, adaptive modeling, and automated processing. It is also being applied to 'iterative content development.'
Email marketing software is becoming more sophisticated with interactive emails.
The elements of carousels, slideshows, hamburger menus, and image galleries will be prevalent in email marketing software.
You may like: Email Marketing with Solo Ads & Best Place to Buy Solo Ads
Now, with this overview in place, we move ahead and present you the list of 11 Best Email Marketing Services.
11 Top Email Marketing Services
ConvertKit is one of the best email marketing platforms for effective email marketing.
Nathan Barry invented ConvertKit.
The platform is specifically meant for bloggers, authors, podcasters, and other businesses who want to build audiences.
ConvertKit helps you to build a successful online business.
It supports advanced features.
It offers attractive forms, trackable data, and powerful automation.
You get easy-to-embed, customizable opt-in forms to turn casual readers to repeat customers.
Reporting is fabulous and helps you to keep track of your growth. It displays subscriber data and opt-in conversions.
Moreover, it is extremely easy to use and very powerful.
Using ConvertKit, you can easily offer content upgrades as well as incentives with email signup forms.
It even offers easy to manage auto-responders for sending drip emails. ConvertKit even allows for segmentation of contacts based on interests and purchase action.
So, ConvertKit is useful in marketing automation.
With powerful automation in place, you can send well-timed and targeted content to your subscribers.
You can also create personalized automated emails for growing your list.
With ConvertKit, you can send the right message to the right person at the right time. It allows you to send highly targeted content tailored towards their interests, location, as well as other data points.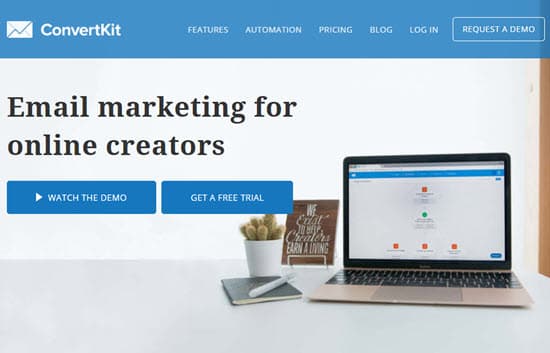 Aweber is another highly recognized email marketing and automation platform.
It enables you to find, connect with your audience, building a fruitful relationship with them, and moreover, allows you to sell your products.
Aweber is helping businesses to build their audience and get more customers.
So, it allows you to build a profitable and successful online business by fostering enhanced and result-oriented customer relationship.
Using Aweber, you can run a successful email marketing campaign, build your email list and generate more sales.
AWeber comes with various sign-up forms, numerous template designs, and autoresponder services. It offers excellent RSS to Email Tools, segmentation, reports, and integrations. It has highly efficient customer support and offers great pricing plans, as well.
So, Aweber offers a robust set of features.
With Aweber, you can set an automated email series and engage your subscribers at the very right moment. It allows you to promote your products through one-time broadcast emails, such as newsletter and promos.
Aweber offers more than 700+ mobile-responsive email templates and signup form templates.
It has all the email tools to grow your business.
You can even run A/B tests to make out if your design choices impact signups so that you can do more of what works.
Most importantly, the emails are optimized and get delivered to the inbox. It allows you to launch email campaigns that help you to sell more.
Aweber also offers much educational content so that you can master email marketing. It offers blog, video library, knowledgebase, educational guides, and more.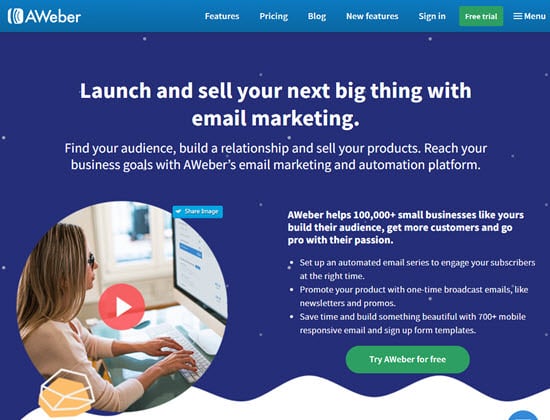 MailChimp is a leading and highly popular email marketing service providers. They have a user-friendly interface with great tools and a fabulous support system.
So, MailChimp makes Email Marketing easy, delightful and affordable experience.
In fact, MailChimp is one of the most widely used email marketing service provider.
It comes with different pricing plans to suit your specific requirements.
MailChimp gives you Forever Free Plan in which you can send up to 12000 emails in a month to 2000 subscribers. However, the emails you send to your subscribers will carry the MailChimp Badge in the footer.
The paid plans start from $10/mo.
The fact that MailChimp integrates with WordPress, Magento, Shopify, and other platforms makes it a highly robust email marketing service.
It offers easy email creator, merge tags, autoresponders, and even allows segmentation of contacts with groups. It offers simple tracking and analytics.
You can set up delivery times on user's time zones.
You can set up segmenting based on geolocation.
MailChimp offers various monthly plans, gives pay-as-you-go option for infrequent senders and has high-volume plans, as well.
It comes with numerous pre-designed templates so that you can personalize and customize your sign up forms or even confirmation emails
MailChimp comes with an efficient support system that is offered through email, live chat, and a vast knowledge base with how-tos, videos, and tutorials.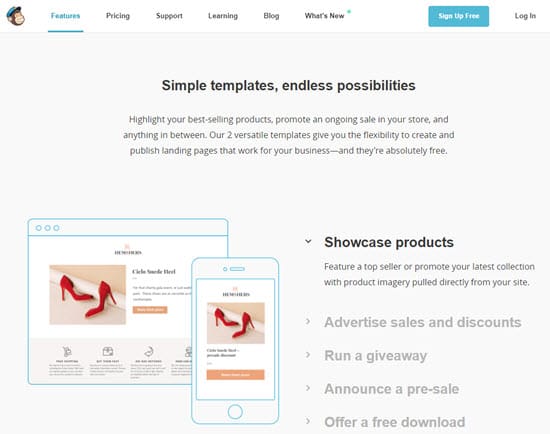 GetResponse is an immensely popular email marketing service.
Moreover, GetResponse works as an all-in-one online marketing platform providing solutions for email marketing, webinars, landing pages, and marketing automation.
It comes with awesome features that are super easy to set up.
Moreover, it is extremely easy to use and goes on to simplify email marketing for absolute beginners.
GetResponse provides the opportunity to grow your lists, increase conversions, and optimize your audience engagement.
It offers beautiful emails and auto-responders, high-converting web forms, laser-sharp segmentation, and unique delivery tools.
Using its drag-and-drop editor, and advanced optimization tools, you can create and publish high-converting squeeze, video, and promo pages.
You get as much as 100 mobile-ready templates.
Its marketing automation tools allow you to create smart automated campaigns.
Its drag-and-drop builder allows you to create campaigns, segment contacts, and send content designed for specific groups.
All in all, you can create effective campaigns and boost your profits.
It even integrates with third-party lead generation software such as OptinMonster, Google Docs, ZenDesk, Salesforce, etc.
Their support is excellent through phone, live chat, and email. They even offer free learning material including how-tos, webinars, videos, and guides.
Their pricing begins at $15/mo.
They also offer a 30-day free trial.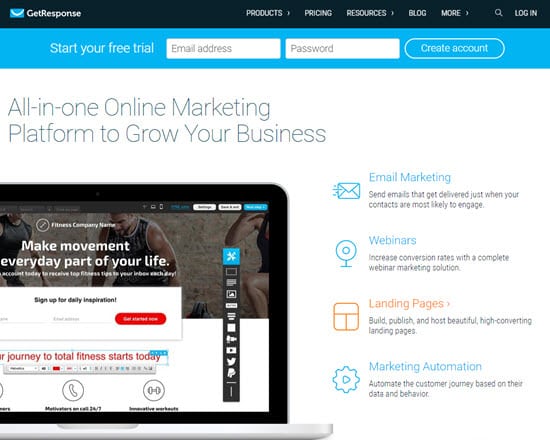 ActiveCampaign is marketing automation at its best that's powerful and easy to use. It offers the opportunity to delight customers and create value for your business.
It enables you to deliver the most effective message and convert your visitors to leads, to customers, to advocates.
In fact, it combines your email marketing, automation, with CRM and sales.
With ActiveCampaign, you end up creating smart email marketing campaigns. ActiveCampaign offers beautiful email template editor and mobile friendly signup forms.
You can segment contacts based on their behavior, actions, location, and social data. It can even fetch additional data from your contacts using their email address.
ActiveCampaign integrates with many third-party software such as WordPress.
You can send SMS messages to the contacts for following up on campaigns. You can send personalized messages to align with your interests so that you can engage contacts and convert more customers.
It supports a drag-and-drop campaign builder that allows you to design eye-catching campaigns. Moreover, it consolidates customer data so that you get a complete picture of your customers.
Their plans start from $9/mo. You can even request a demo (limited features) for a test run.
All in all, ActiveCampaign is best at marketing automation.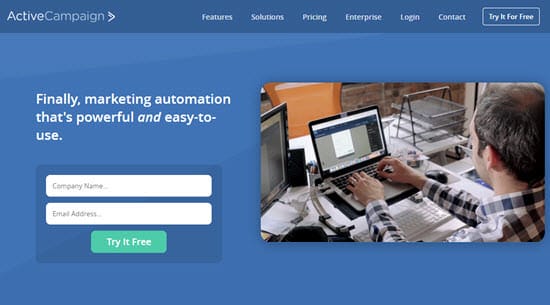 Constant Contact has rightly earned the tag of being the largest and fastest-growing email marketing service in the world.
The Constant Contact Email Marketing Software Solution makes it easy to grow your e-business through highly efficient and better-managed customer relationships.
Constant Contact enables you to carry out Email Marketing in a really easy, effective and affordable way.
It is a beginner-friendly email marketing service.
Constant Contact allows you to manage your email lists, contacts, email templates, and more.
It offers easy tracking and reporting, many built-in social media sharing tools, an image library, plus, 1GB of storage for your files.
Constant Contact makes powerful email marketing really for you.
It offers the industry's best email editor allowing you to create and share fabulous emails in minutes.
Constant Contact offers list-building tools for growing your contact list.
It even allows you to create segmented contact lists so that the right message is delivered to the right customer. In fact, with Constant Contact email marketing becomes effective and has a big effect.
Some of its salient features include numerous customizable templates, excellent email list management.
It facilitates the tracking of the sent emails and reporting too.
It comes with social media links integration for Facebook, and Twitter along with prompt customer support.
Above all, it offers affordable pricing models and includes a 60-day free trial offer.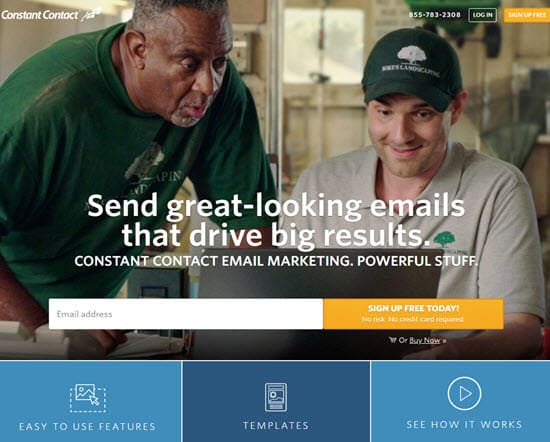 EngageBay is powerful marketing, sales & support platform with robust email marketing features. It was founded in 2018.
The platform is specifically meant for startups, small businesses, bloggers, authors, solopreneurs, and other such businesses that want to build audiences. EngageBay helps the different departments of your business to stay on the same page by a seamless integration in a single platform.
Their Email marketing tool boasts of advanced features. It offers a drag and drop email builder, segmenting/targeting filters, personalization capabilities, rich formatting options, attractive forms, trackable data, and powerful automation.
You get to design beautiful email templates with its rich text formatting. Reporting is great and helps you to keep track of your growth. It has an easy option to track your campaign performance. Based on these metrics, you can rework and reposition your content.
Moreover, it is extremely simple, powerful, and easy to use. Using EngageBay, you can easily capture leads by offering content upgrades as well as incentives with email signup forms.
It even offers easy to manage auto-responders for sending drip emails. EngageBay even allows for segmentation of contacts based on country, created date, source, tag, and lot more.
Email deliverability with the EngageBay is almost at a whopping 90%. EngageBay is a complete marketing automation tool, among other things. Moreover, their pricing is highly competitive and is less expensive than most of its competitors.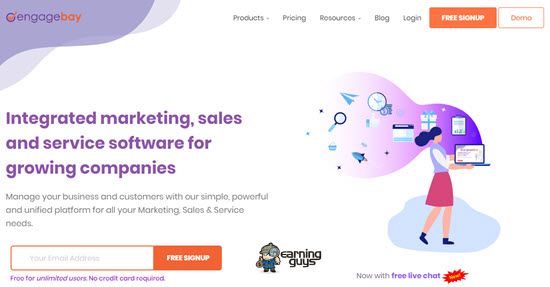 iContact is yet another professional and highly rated Email Marketing Solution.
Using iContact, you get to create effective, efficient and beautiful email campaigns.
iContact comes with amazing message templates, customization options, social media integration, excellent email delivery and tracking facility, and all-around customer support.
It's affordably priced. iContact's plans start at $14/mo for up to 500 subscribers.
Email marketing is at its best with iContact.
It allows you to send personalized emails.
It comes with a sleek drag-and-drop editor.
Its Email Marketing platform is very simple to use.
Its dashboard is simple to navigate.
The dashboard gives you some quick stats like how many of the people opened your email, how many of them clicked through to your website, and the devices they used to open your email.
It even offers advanced features such as list segmentation and workflows. Moreover, you will be helped all the way to set up and sent campaign as far as understanding the results.
It offers robust functionality with outstanding customer service through phone and live chat.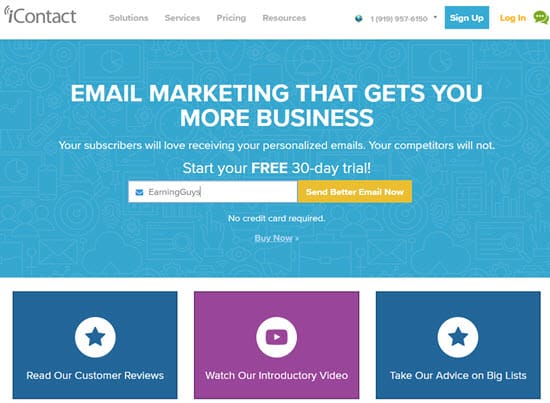 Benchmark is all about powerful and simple email marketing.
It offers one of the most powerful Email Designer that allows you to create winning email campaigns in just a few minutes. It offers customizable email templates for sending beautiful, responsive emails.
With Benchmark marketing automation is at it is very best allowing you to send right email, to the right person, at the right time.
It allows you to place signup forms on your website, blog or social media and expand your audience.
Benchmark offers an easy-to-use metrics platform with user-friendly design interface. You get real-time reports and monitor your results wherever you are.
So, you can create, send, manage, and track email campaigns through one of the simplest yet effective email marketing software solution in the form of Benchmark.
Benchmark offers a free plan wherein you can send email campaigns to as much as 2000 of your subscribers.
Plus, you get affordable pricing plans.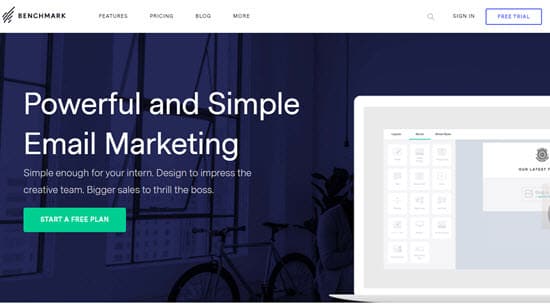 Campaign Monitor is a professional-grade email marketing software catered to meet the needs of today's fast-growing businesses.
It's all about powerful email marketing and automation.
Campaign Monitor offers an attractive UI and a host of generous features.
Moreover, Campaign Monitor is constantly innovating its products and has added a host of new features.
Among its newest developments comes a set of analytics – Campaign Monitor Insights" that offers the opportunity to take a look at the overall performance of your email marketing campaign.
Campaign Monitor offers drag-and-drop email builder so that you can craft big, beautiful, and on-brand emails.
It offers some of the most beautiful email templates to make your brand pop.
Improve your customer base and increase your online business through a beautifully designed email newsletter.
Moreover, Campaign Monitor is studded with powerful tools helping you to track the success of your email marketing campaigns. It even has list management tools and integrations.
Monitor your Email Campaigns, track and get reports to improve your email marketing efforts further. It comes with great social sharing features to popularize your campaigns through social media sites such as Facebook and Twitter.
Campaign Monitor plans begin at $9 per month.
Campaign Monitor includes affordable monthly as well as pay-per-campaign pricing models.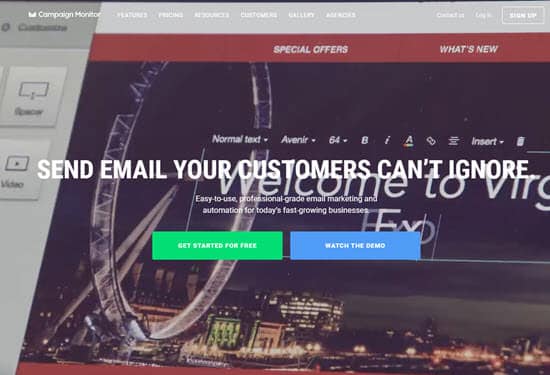 SendinBlue is a useful and user-friendly email marketing tool.
It works best for employing Short Message Service outreach.
It's even great for creating new campaigns from scratch.
SendinBlue provides the opportunity to leverage email and SMS marketing campaigns to inform, engage, and convert.
You can design beautiful, results-driven campaigns.
Plus, you can optimize your campaigns with insightful reporting.
Moreover, its campaign design tools are easy to use.
SendinBlue helps you to create emails that continually improve your sales performance.
SendinBlue offers easy integrations with many platforms such as WordPress.
Plus, you would appreciate the personalized and prompt service of their team. In fact, SendinBlue is always there for you.
Plus, you can get started with their free plan wherein you can send up to 300 emails/day.
All in all, with SendinBlue you can grow a relationship with through marketing campaigns, marketing automation, and transactional messaging. It offers a robust suite of email and SMS messaging services.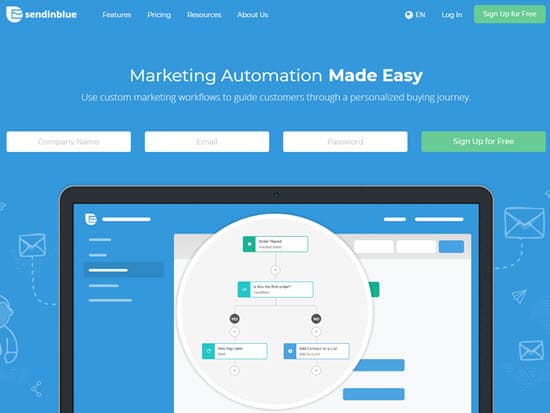 As you would have seen the top 11 email marketing services shown above have almost similar features.
You need to compare them to find which one suits your needs and present requirements.
The important differentiators can be the pricing models, number of email templates, tracking and reporting features, customization options, etc.
We hope that the presentation serves you in the best possible way and makes it easy for you to select the best email marketing software.
Please share the post on Facebook, Twitter, and Google Plus.
We welcome your comments and suggestions.