A Smartlink opens the doors to a perfect affiliate marketing world. It allows you to monetize any or all traffic. A Smartlink is sometimes called a 'Direct Link.'
It's a log that has many offers branching from it. It's specifically a URL that contains many redirect offers in it. Smartlink is a place that allows you to send any traffic and where the network can filter various traffic segments leading to the best performing offers.
This post is centered on Smartlink.
You will come to know:
What is Smartlink?
Benefits of Smartlink for Affiliates
How to use Smartlink?
So, let's get started and explore Smartlink. We must tell you that if used properly, a Smartlink can help you to get more conversions and cut down on your workload.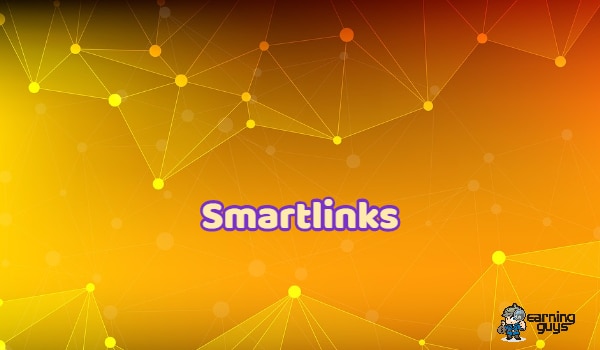 What is Smartlink?
Smartlink is a link that contains various offers in it. It's a URL that allows you to redirect traffic to the correct offer based on the targeting options such as Geo, device, etc. So, a Smartlink helps you to utilize the traffic without wasting it.
Let me elaborate it for you:
When you come up with an advertising campaign, you don't have just one offer. It's a usual scenario when you want to target traffic from all over the world.
However, when you're providing just one offer, you go on to exclude a big number of people.
For example, if your offer is focused on people in the US, you would miss out on the people in the UK, France, and Germany that are highly lucrative Geos. Moreover, if you're just targeting iOS users, then you would miss out on the huge Android traffic.
Here lies the utility of a Smartlink. It detects several things about the person that goes on to click on the link, including their location, device, operating system, and more, and diverts them to the right kind of offer.
So, when you direct traffic to a Smartlink, the users will be redirected to the offers that are rotating in the background. In practice, a user gets only one link to be clicked. However, it can take the user to a few different destinations (offers).
Smartlink makes use of an "automatic optimization" mechanism and redirects the user to the "best offer." It is defined by the selected optimization type – the offer with the highest conversion rate, maximum revenue, and maximum profit, etc.
In a typical affiliate offer URL:
All the visitors are directed to the same offer page
The affiliate network might re-route the visitors to different offers based on someone's IP address
However, in the case of a Smartlink URL:
A visitor goes on to click on the URL
The visitor is directed to the Smartlink server which detects information about the visitor and sends them to the best converting landing page + offer combination
A Smartlink utilizes the following parameters:
From which GEO (country) the visitor is coming?
Which device is used by the visitor?
What operating system is used by the device?
Which connection type user is using? Wi-Fi/3G/4G
Moreover, more
Based on this set of information, it'll direct the visitor to the best converting (Landing Page + Offer) for that segment.
The Smartlinks Network Algorithm will automatically determine the best (Lander + Offer) combination for your user. It sends them based on past data. Its optimized algorithm goes on to automatically redirect segments of traffic to the most profitable (Lander + Offer) combos.
The best thing for you is the fact that you don't need to know how it does its analysis.
In fact, it is constantly learning and becoming smarter over time as it gets to have more data. It kills the non-converting offers keeping the best ones in rotation.
So, when you set up a Smartlink, it can work out to be a consistent revenue stream for you. It allows you to monetize every segment of traffic.
It's a great tool that makes your life easy as an affiliate marketer. You don't have to use several offer links in different campaigns. You can create only one Smartlink and implement it in all your campaigns.
It automatically detects where your traffic is coming and goes on to show each user the best performing offer. So, Smartlink secures the maximum revenue for you.
How does a Smartlink work?
Normally, affiliates go on to choose one offer from a list of offers that they want to promote.
However, with a Smartlink, they can select several offers from a given list of offers.
The optimal amount of links that are contained in one Smartlink can be twenty in number. However, some affiliates can select many more.
Once the offers have been selected, the optimization process begins.
Firstly, the offers get checked for targeting requirements. The offers go through the selection and proceed to the next step, which is scanning for approved affiliates and offers. The offers also go through the capping limitation, which is how frequently a particular user gets to see the same offer.
Now, the offers that meet the conditions of the incoming traffic type follow the optimization algorithm. The affiliate software goes on to calculate each offer's distribution factor to distribute the offers accordingly.
Moreover, you can distribute the factors manually.
You also can choose not only directly offers, but also categories. When a new offer is added to a category, they are automatically placed into the Smartlink. When the traffic is sent to a Smartlink, the optimization algorithm will consider the targeting requirements.
For instance, for a user from Germany using an iPhone, the system remembers that the German visitors want to buy a higher class of items. So, they show an offer matching their requirements, assuming that the offer will get a conversion.
Benefits of Smartlinks for Affiliates
The use of Smartlinks offers quite a few benefits for affiliate marketers. Here, we list down the main ones for you.
Number #1: One Single URL
Well, you get one single URL for all your offers. So, there's a single Smartlink for mobile and desktop, as well as for all different countries out there and operating systems. When a user happens to click on it, they get diverted to the relevant offer based on their circumstances.
It means that you don't need to create many for people in different countries out there that are using different devices or different types of operating systems. This reduces your workload emphatically. It's also been proved that Smartlinks dish out 25% higher ROI when used.
Number #2: Smart Auto-Optimization
You don't need to take the extra efforts to test, test, and test. You can safely rely on the Smartlinks algorithms to carry out the optimization for you.
Number #3: Have the power to make you money
Smartlink comes with the power to make you money without taking a lot of effort into setting up campaigns. Smartlinks allow you to divert people to the most profitable offers based on various parameters, such as where they have been located, what device they are using, and many other variables. They allow you to get people to your offers more efficiently, thereby making more money as a result.
Number #4: It saves your Time
Well, you don't have to do the optimization. There's also no need to create additional landing pages. Plus, you don't have to search for GOOD offers regularly.
Number #5: You have the opportunity to target "Broadly" across traffic sources
Some traffic sources do not come with the option to target specific devices or carriers. Instead of going to the next traffic source, you can target broadly. Then you can redirect traffic to your Smartlink that your primary offer doesn't accept.
How to use Smartlink?
There are many ways to use Smartlinks.
Redirecting Remnant Traffic for Maximizing Profits
Remnant traffic is the unintended traffic that is sold to you that cannot be monetized with your current offer.
Suppose you want to purchase only US traffic from a traffic source. However, due to some unforeseen reasons, 20% of that traffic is coming from the UK.
Usually, affiliates follow either of these methods to deal with such a scenario:
Option #1: They mark it as a loss and go for a refund from the traffic source
Option #2: Some affiliates try to get their AM for recommending a converting offer from the UK, and then redirect it on Voluum.
It looks like Option #2 is a good one as compared to the first. However, it's time-consuming to create and optimize another Landing Page + Offer for this particular segment of traffic.
However, with Smartlinks, you can simply create Rules for redirecting remnant (In this case, UK Traffic) traffic to it.
The Smartlink Algorithm goes on to automatically detect the best Landing Page + Offer for showing to these people.
So, Smartlink allows you to make money on the traffic instead of wasting the offer that will not convert.
Tip: When you get lots of remnant traffic, it's good to message the traffic source and get a refund. You should attach some form of tracker stats to prove it.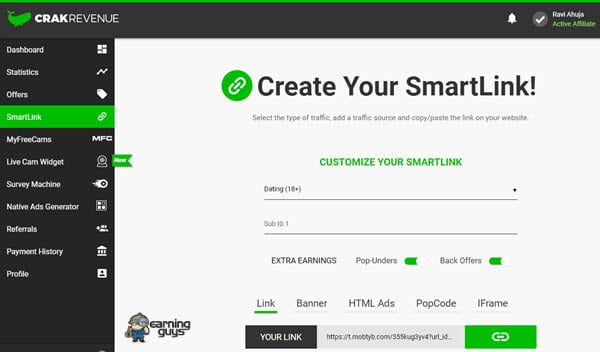 As a Safety Net in case of Capped Offers
There might be some offers that have limited caps (for example, 250 conversions/day).
In such cases, you can either:
You can get your AM and increase the cap
Employ Conversion Cap Rules to redirect the traffic to a Smartlink until the cap is reset on the next day
This will allow you to make money on your campaigns without switching off the campaign.
However, you need to be careful. In some cases, it's good just to turn off the campaign and wait for the cap reset.
Maximize Profits by using a Back Button + Smartlink
Back Button is a script that is used by most affiliates.
It works like this:
The visitor goes on to see your landing page. However, if they decide to leave, they can press the back button on their browser. A script will trigger that will redirect them to another URL of your choice. So, there's another chance to convert the user.
Now, with a Smartlink, you can maximize your profits.
Let's say; you are promoting a sweepstakes offer in which the visitor is not interested. They press the back button. However, your Smartlink then figures out the best landing page + offer and redirect them. They will see a different offer that has a better chance of converting.
Maybe it's an app install or a voucher-related offer.
They might be interested in such offers, and your chances of converting them might increase.
It's a profitable way of using Smartlinks.
Running Direct to a Smartlink
Some affiliates do not create landing pages and find the best offers. They run traffic straight to Smartlinks. They allow the algorithms to do all the heavy lifting. However, sometimes these offers and landing pages die out quickly. Plus, you do not have much control over them.
So, you see that a Smartlink assures that every click gets monetized, and none will get lost along the way because of incorrect Geo/device/operator filtering. Smartlinks yield a 25% increase in ROI.
All in all, Smartlinks optimize the monetization of the overall traffic. It can get you more conversions and also cut down on your workload. It proves a great promo tool for optimizing traffic.
We hope that the post has offered you a thorough insight into Smartlinks so that you can utilize it in your affiliate marketing efforts and reap profits.
What Next…
Now you know about Smartlinks and want to implement Smartlink in your affiliate campaign so here we have some post which will help you find affiliate networks as per your requirements.