You would have never imagined that the frenzy, excitement, madness, and enthusiasm for Sports could make you earn some BIG money.
Well, it can certainly be a reality for you with the BetAdvert Affiliate Program. It pays for sport and betting traffic from all around the world.
Today, we take a good look at the BetAdvert Sports Prediction Affiliate Program.
BetAdvert comes as an affiliate program that is being run by the paid sports predictions service BetFAQ.com.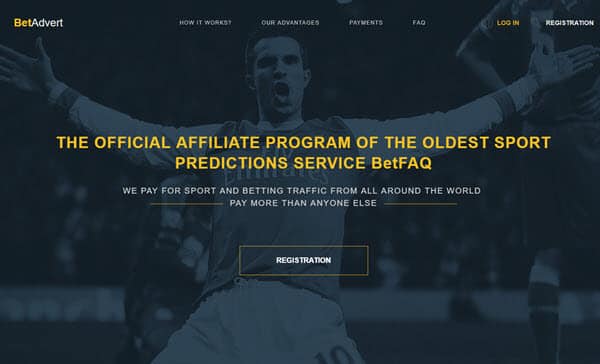 It offers a revenue share model that can pay you as much as 50% of every purchase that is made by your referred client.
The minimum sale on BetFAQ.com website is of 50 USD (1 premium prediction with a discount), while the maximum one comes out to be of 500 USD (full access for a month).
It means that you stand to earn $25 to $250 from one sale.
Moreover, successful affiliates at BetAdvert are earning from $3500 to $9000 per month.
Let's understand how you can earn with the BetAdvert affiliate program.
BetAdvert is the affiliate program of the oldest sports prediction service BetFAQ.
At BetFAQ, one can get betting tips to wager on various professional sports such as football, ice hockey, and basketball.
They do their analysis of the match by looking at the history between the teams and so forth and arrive at a prediction.
The site offers free tips.
However, the money you make comes from their premium predictions. When someone subscribes to these premium predictions and pay for it, you get a percentage of the revenue.
As a BetAdvert Affiliate, your earnings are "guaranteed" because you are paid regardless of whosoever (team) wins the game.
Getting to know the BetAdvert Affiliate Program
The working of BetAdvert Affiliate Program is actually very simple. All you have to do is to refer someone to BetFAQ. When that person pays for the premium prediction, you stand to earn as much as 50% commission on that sale.
The best thing is that this doesn't end here.
You are paid every time the person your refer goes on to make a purchase.
Moreover, BetFAQ excels in delivering great sports predictions.
Plus, their premium predictions are truly top notch and much above what users get to have for free through their site.
That's not all; their premium prediction plans are backed by 100% guarantee. In case, it turns out incorrect; customers will get another premium prediction for free.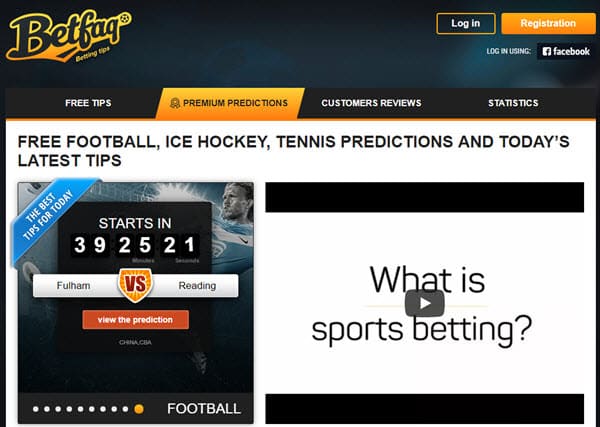 So, it should not come as a surprise for you to know that a customer who opts for their premium predictions (first order) is most likely to come back and make a further purchase.
It means that you get paid again and again for referring the customer to BetFAQ for the first time.
So, you get to pocket a lot of money simply by referring people to BetFAQ.
A single premium prediction at BetFAQ costs $50.
A pack of five premium predictions comes at $140.
A one-month premium subscription can be had for $500.
In all of these scenarios, BetAdvert offers a revenue share of 50%. It means that as a BetAdvert affiliate, you can pocket a net commission of $25 to $250 per transaction.
According to estimates done with BetFAQ, an average client sticks around for five months making four purchases that total up to $350.
This means for every client that you refer to BetFAQ; you stand to earn a total of $175.
Moreover, successful affiliates with BetAdvert earn $3500 to $9000 a month.
This is a good earning by any standards of an affiliate program.
It should be remembered that BetFAQ is not involved in any gambling behavior. It does not make any bets or accept any wagers itself.
This is the main reason why BetAdvert goes on to accept traffic from all around the world without restriction.
It is entirely up to the customers what they want to do with the tips and predictions gained at BetFAQ.
The Benefits of BetAdvert Affiliate Program
It's certainly the net commission that makes this affiliate program one of the most lucrative ones out there.
BetAdvert operates at a revenue share model with you at 50%. The net commission that you can pocket per transaction is of $25 to $250.
They offer a simple and convenient interface with detailed statistics.

You get a good range of promotional material – banner and landing pages – for attracting clients.
Moreover, you can work with BetAdvert even if you do not have a website of your own.
On an average, a client is active for five months making purchases worth $350. So, you can earn as much as $175 with one active partner.
Moreover, it accepts traffic from all around the globe including UK, Italy, Germany, France, Greece, Australia, Romania, Portugal, Spain, Nigeria, Finland, Serbia, Turkey, and the Czech Republic.
Plus, they don't hold payments or wait for minimums for payment. You can expect your money within five days. You can get your money within one to five days of a confirmed conversion.
About 70% of active clients are converted within the very first month of registration.
They accept traffic from any source except:
You can contact them at support@betadvert.com
You simply need to register with BetAdvert.
Procure your partner's link and do advertising on your website, social media channels, or drive traffic from another source.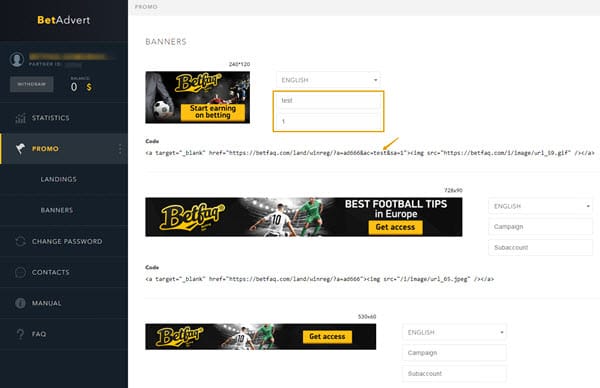 The referrals you sent to BetFAQ through your link will be tracked and credited to you.
Concluding
If you are good at getting sports or sports betting traffic, then it would be a good idea to register at BetAdvert.
They have a generous payment policy which means you can have more money in your pocket sooner. You get a lifetime value for every referral you send.
The interface is simple and convenient. They give full access to detailed statistics. You can create subaccounts for accurate tracking.
If this sounds interesting to you, then you should go for the BetAdvert Affiliate Program.
There's good money waiting to be made with the BetAdvert Affiliate Program.
Now, you have gained much insight into the BetAdvert Affiliate Program.
It's time for you to act!!!
If the post proved useful to you, please share it on Facebook, Twitter, and Google Plus. We welcome your comments and suggestions.