If you're in the real estate niche, here is a gem of a post for you wherein we have featured 10 Best Real Estate Affiliate Programs.
The good thing for you is that you can promote real estate products as an affiliate marketer. Moreover, the housing market is now at an all-time high. So, there is money to be made by promoting products in this industry.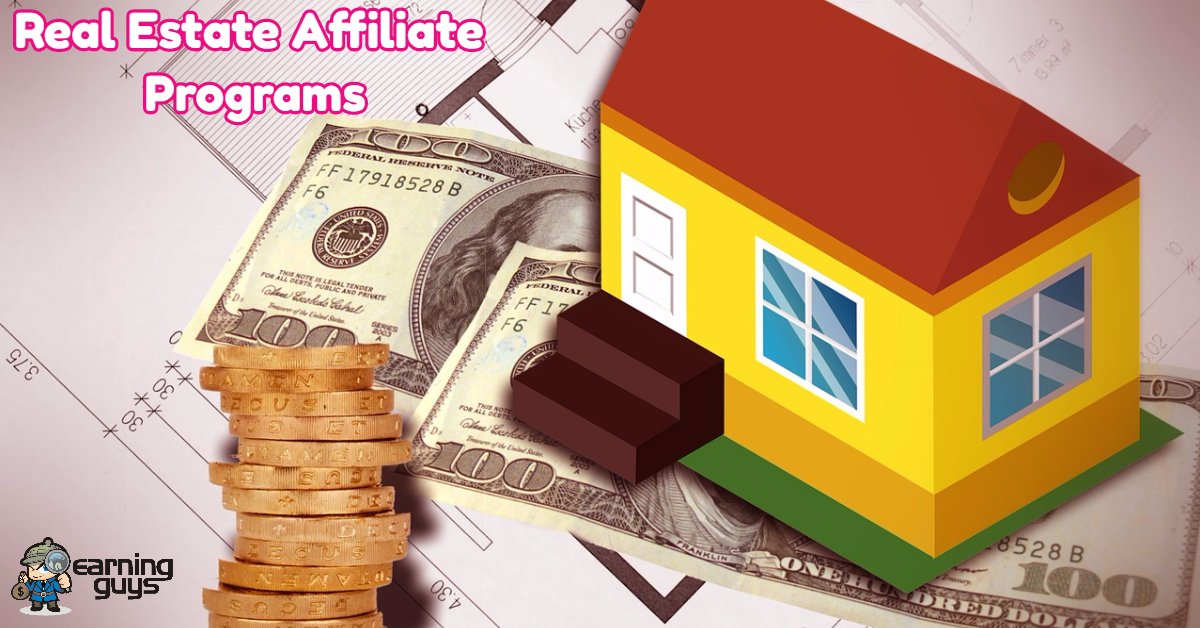 However, competition is very stiff in the real estate niche.
It means that if you want to earn money as an affiliate in this niche, you need to spend some time and do your research.
Herein, this post can come handy for you to explore 10 Best Real Estate Affiliate Programs. We must tell you that real estate affiliate programs have become very popular with affiliate marketers worldwide.
The good thing here for you is that you can offer rentals or sell homes without any certifications. Affiliate marketing allows you to do this stuff easily. All you require is a good website for promoting the niche.
Moreover, there is a massive rise in tech-savvy home buyers, which means that many people look for home information online before buying their next home.
What is a Real Estate Affiliate Program?
Real Estate Affiliate Programs can be understood as marketing strategies used by real estate companies. Allowing you to earn a huge commission when somebody goes on to buy their products or services through affiliate links placed on the affiliate's blog or website.
What you should know before promoting real estate affiliate programs
If you run a real estate related blog and want to promote real estate affiliate programs for increasing your online earnings, then you must be aware of these top things while promoting any international real estate affiliate programs:
You should know your target audience
Firstly, you should be aware of and know your target audience. You must figure out that do they want real estate properties. You must check whether they are looking for rental properties or for premium membership sites to learn. Once you are successful in figuring out your target audience, you can find and promote the suitable affiliate programs relevant to them.
Start building an email list
Coming up with an email list can give you a higher ROI. It is a well-known fact that for every $1 spent, you'll get an average of $40 (it can go up, which depends on your niche). So, the best way to increase your affiliate sales is to start growing an email list.
Check out your competitors
You should analyze your competitor websites and find out what they are promoting. You should find out how they create content (videos or reviews) to promote real estate affiliate programs. Tools like SEMRush are very useful for analyzing any competitor's site in the world.
You may like: 10 Best Travel Affiliate Programs
Now, we head over and showcase you the list of top ten real estate affiliate programs.
10 Best Real Estate Affiliate Programs
Here we go:
Real Estate Express is one of the top platforms for online real estate education. It was launched in 1996. Many real estate agents and brokers have become successful through their platform every year.
Its affiliate program allows you to easily earn money by sharing Real Estate Express referral links with your network.
Their affiliate program is free to sign up.
Once your account gets approved, you can promote Real Estate Express online courses for generating commission. When somebody uses your affiliate link for purchasing their courses around real estate license, you will be paid your commission.
You'll also get access to Manager Dashboard on Real Estate Express through which you can easily monitor your clicks, how many people enroll through your website, leads, as well as total sales, and so on.
Some important highlights of the Real Estate Express Affiliate Program:
You can earn up to 20% commission on every single sale. You get the commission when someone makes a purchase using your Real Estate Express Partner Affiliate Program Referral Links on your website
Cookie period: 100 days. It means that if anyone clicks and doesn't purchase immediately and converts within 100 days, you will still get paid.
It offers banners and logos that you can place on your website or social media sites for promoting their online courses (around real estate) for generating an affiliate commission
Payouts after every 15 days
The minimum payout threshold is $50
Moreover, you can use the Real Express website to learn about pre-licensing education required for passing the state and national real estate licensing exam for getting a real estate license.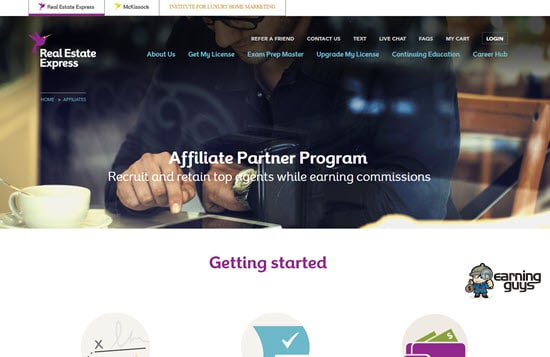 Buildium has one of the best affiliate programs for promoting property management related stuff. In fact, Buildium has been recognized for the 7th consecutive year on the Inc 5000 list of America's Fastest-Growing Private Companies.
With Buildium software, property managers, and real estate investors can become more efficient and scale their portfolio.
In fact, Buildium's property management software can do everything such as track budgets, pay vendors, manage rental listings, comprehensive tenant screening, and can even communicate with tenants, vendors, and owners.
Moreover, their affiliate program gives you access to all the marketing and tracking tools you need to earn commissions. Affiliates get to earn recurring monthly commissions on their real estate property management software.
Buildium allows you to sign up using ShareASale or Commission Junction. Once your account gets approved, you can sell their software with managed PPC campaigns or through your real estate based blogs.
Some important highlights of using Buildium
Buildium pays you for qualified leads. You can even earn 25% in recurring commissions for each monthly subscription coming through your website. So, Buildium turns out to be an excellent monthly recurring real estate affiliate program.
Excellent tracking
Easy to set up
It's completely free to sign up
Anyone can apply
Cookie: 60 days
Commission: 25%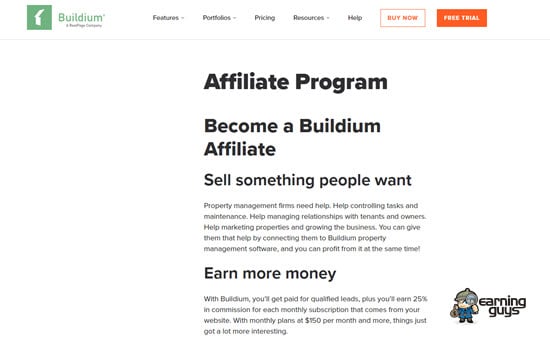 Foreclosure.com has been recognized as the largest provider of distressed properties in the U.S. They are known for delivering the most complete residential foreclosure property listing in a very easy to use format.
They are an expert in reporting the status of defaulted real estate. Their website, as well as plans, has one of the highest conversion rates in the industry.
They have streamlined their affiliate process, making it easy for you to start earning commissions. You simply have to share your affiliate link and receive a credit once the order gets placed using your cookie. They supply all the necessary tools to their affiliates, making it easy for them to start referring customers in just five minutes.
The Foreclosure affiliate system requires you to create an account as an affiliate. Once your account is activated, you get a unique referral link that you can use for promoting their products using its platform.
Highlights of the Foreclosure affiliate program
They offer 25% commission for every successful sale that you generate using your affiliate referral links
They give you access to property listings that have the highest conversion rates in the industry
Commission payout on a monthly basis to your PayPal account
The minimum payout is $100
The payouts are being paid on the 15th every month
Cookie duration: 6 months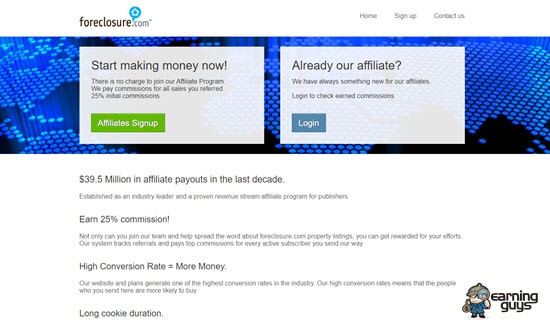 Commission: $20 per lead
Cookie: TBC
BoldLeads Affiliate Program allows you to earn some good money by selling properties or rentals through your blog. The platform offers automated, quality lead generation, as well as follow-up systems helping realtors across Canada and the US. You get $20 for every customer you refer to.
They have set up an easy commission structure that helps you keep track of your earnings.
How does it work?
Apply to the program
Once you get approved, you'll get a unique affiliate link that you can share on your website, blog, social media, videos – wherever.
Share your love of BoldLeads
When you share more, the more you can earn. There's no limit to how much you can earn, either per customer or overall as an affiliate
Get Paid
You'll earn $20 every month that your referee is a client
BoldLeads Advantage
Exclusive leads in your territory
No hands-on ad management
Lead nurturing that works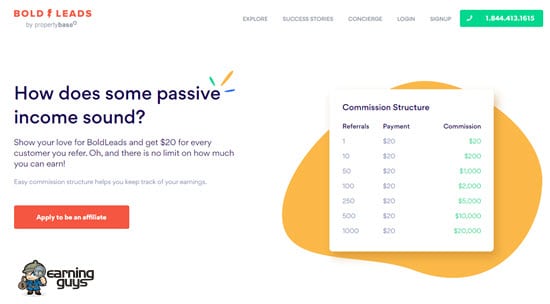 Vrbo is one of the best platforms for vacation rentals. In fact, it has listed over 2 million vacation rentals. It works like Airbnb. However, Vrbo exclusively targets travelers that want to have an entire property to their selves.
Vrbo Affiliate Program allows you to refer vacation rentals to your website audience. So, when someone uses your referral link, you will generate a commission. Moreover, it provides you with 3rd party tracking, real-time reporting, and monthly commission checks, thereby allowing you to become a successful real estate affiliate.
Some important highlights of the Vrbo Affiliate Program
Commission: 3% for everyone whom you successfully refer who rents a Vrbo listing
It offers an opportunity to earn $20 as an affiliate for every new listing that you refer to the Vrbo website
You get paid out every month
The commission is paid to you through PayPal every single month
You need to create an account on Commission Junction for becoming an affiliate so that you can refer to their products and earn money as an affiliate
Once your account gets approved, you can promote their products (real estate) through your website or social media campaigns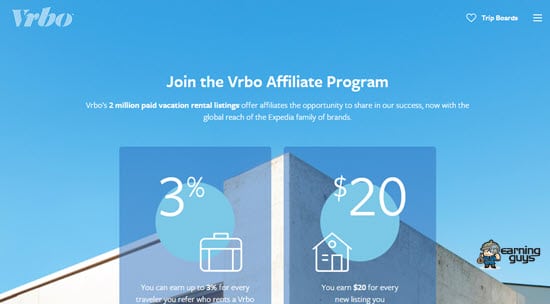 Commission: 30%
Cookie: 90 days
DealCheck has launched its affiliate program that offers an opportunity to earn extra income by referring new users to its platform.
DealCheck is one of the top investment property analysis platform helping investors to correctly analyze their properties. It was launched by Anton Ivanov in 2015 as a tool that is easy to use and comes with a cloud-based analysis platform.
Over 100,000 professionals are using their app to determine cash flow, analyze flips, as well as multi-family buildings and rental properties to find the best real estate deals.
Moreover, their affiliate program is free to join. It used to offer a 30% commission to their affiliates. However, now it is offering a 50% commission due to the COVID-19 pandemic.
DealCheck pays through PayPal at the beginning of each month. Registering to its affiliate program is free and simply takes a few minutes.
Here is how it works:
You need to access its affiliate dashboard for creating your affiliate account
You will get a unique referral link that will be used to track any users and paying customers that you refer to them
One can share this link on your blog, website, social media, or you can also simply email it to your friends and coworkers
When any user you referred pays for DealCheck, you'll get 30% commission on their ongoing subscription payments
It will send payment to your PayPal account at the beginning of each month
You can refer to as many users as you'd like. In fact, you can earn a lot of money with this program
In addition to the 30% base commission, you will also receive these bonus rewards once you reach your first 100 referrals
$100 cash bonus
A lifetime subscription to DealCheck Pro
So, you just need to refer new users to DealCheck.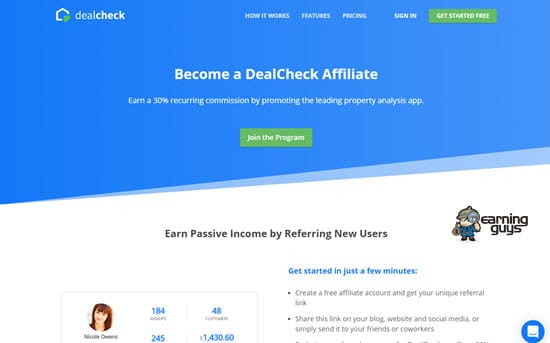 "All Things Real Estate" was launched in 2014. It offers all things for your marketing needs, such as open house products to yard signs to the listing, sold stickers, and so on.
They have worked out an easy to use the affiliate system. They offer a quick and easy signup form. The registration can be done in a few steps easily.
Once the registration is completed, you will become an affiliate automatically. So, you can get started right away. In fact, the "All Things Real Estate" affiliate program is completely free to sign up.
Commission: 15% on each successful referral
Cookie Duration: 30 days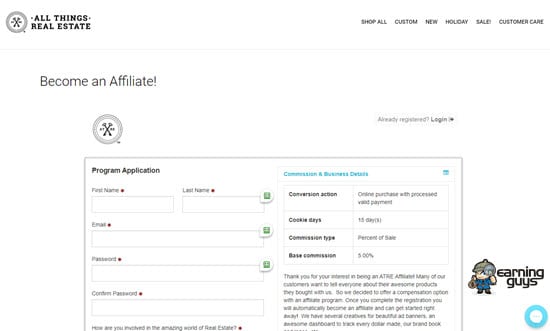 Real Estate Affiliates is one of the top real estate affiliate networks used by lots of marketers and real estate brokers to earn money by promoting high paying affiliate offers.
So, it turns out to be a top platform to profit from the growth in real estate crowdfunding. You need to join their affiliate network and generate commission for each sale using your referral link.
Its affiliate program allows you to generate a commission in basically three ways:
Cost Per Action (CPA): Here, your referrals need to complete an action such as become a lead, signing up to their email list, or purchase something, etc. to get paid
Cost per Lead (CPL): It is one of the easiest ways to boost your real estate affiliate commission. Here, you get paid when you send your referrals to their partner advertisers on a Cost per Lead basis.
Revenue Share: Here, you receive recurring commission for all transactions that your referrals enter with any of their partner advertisers.
Some important highlights of Real Estate Affiliates
Commission: up to 25% depending on the products you sell using their affiliate program
Cookie Duration: 60 days
Payments are being made via PayPal or Wire Transfer
You get paid after every 15 days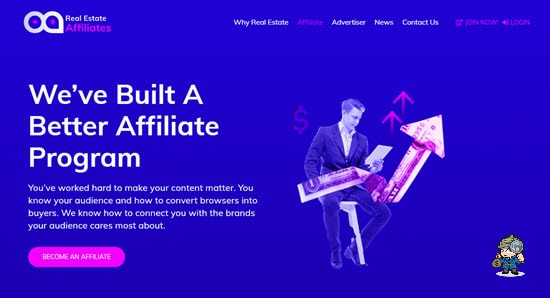 ShareASale is a highly reputed Pay per Sale Affiliate Network. It's known for its advanced, accurate, and efficient technology, as well as reliable network platform and ethical & transparent business model.
In fact, ShareASale has plenty of Real Estate Affiliate Programs.
ShareASale backs on its superior customer service and advanced affiliate marketing platform for advertisers and publishers.
ShareASale is running successfully for over 17 years now. They are regarded as a top CPS Affiliate Network. Its innovative ideas, as well as reliable business practices, have made it a dependable affiliate network.
Moreover, the network makes it easy for you to apply to different affiliate programs including real estate affiliate programs. They offer 40 different categories that have been filled with more than 4800 different merchants.
Their customer support is top-notch for both merchants and affiliates. It allows you to customize your affiliate links. You can come up with shortened URLs that are much attractive to users. It even allows you to create customized reports.
ShareASale has come up with a reliable payment system. The payments are being made on the 20th of each month; the affiliate earnings are directly paid to the affiliate's bank account. You can also receive a check or get paid via Payoneer.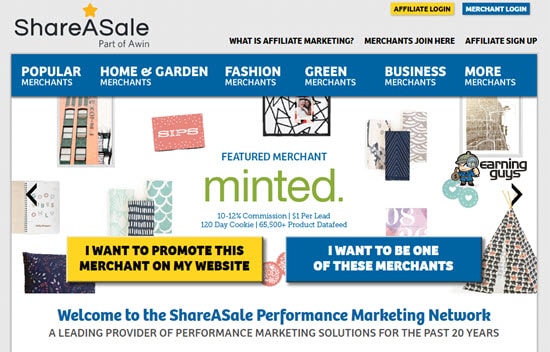 CJ.com or Commission Junction is recognized as a leading CPS Affiliate Network. In fact, CJ.com is one of the oldest and largest affiliate networks out there. It has witnessed huge growth in the affiliate marketing industry. The best thing with CJ.com is the fact that they offer plenty of Real Estate Affiliate Programs.
CJ.com backs on its advanced technology, thereby providing excellent earning opportunities to advertisers and publishers. Signing up is free and instant (publisher).
It has tons of merchants and different types of offers including real estate. You can find Pay per Sale deals, Pay per Lead, and Pay Per Call offers. You get tons of banners and marketing materials. They have set up a reliable payment system, CJ.com has become very popular with bloggers and small web publishers.
Payment Methods: Check, Direct Deposit
Minimum Payout Threshold: $50
Payment Terms: Net 20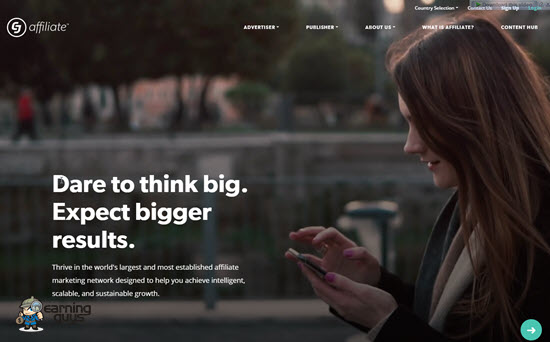 Well, that's all in this post on the best real estate affiliate programs. We hope that you would have found it useful. Thanks for visiting. Please share the post across popular social networking channels, including Facebook, LinkedIn, and Twitter.