Have you ever wondered why some affiliate marketers make only a couple of hundred dollars a month while some make thousands and even more? The answer is High Ticket Affiliate Programs.
How much you can earn through affiliate marketing is dependent on two factors:
What type of products are you promoting?
How many people are you able to sell to?
In this post, I am mainly going to talk about the former reason, i.e., the different types of affiliate programs out there and how you can make a living out of high-ticket digital marketing.
What is a High Ticket Digital Marketing Program?
Affiliate Marketing programs can mainly be categorized into 4 types i.e.
In high-ticket affiliate marketing programs, the affiliate is paid comparatively more than the other programs to promote popular, unique, and expensive products/services.
A high ticket program can go two ways: you are offered a hefty commission (like 40%-50% per sale) or a program that has a mix of other programs. For instance, you may receive a 20% commission but also get a recurring amount every month.
But there's a catch to these high-ticket digital marketing programs. These require a certain type of content and a certain level of audience to successfully promote the product.
20 High Ticket Affiliate Programs
If you have these, this post is going to be immensely helpful to you. Here, I have compiled a list of the top 20 High Ticket Affiliate Marketing Programs.
Judging by its popularity, it is only natural that SEMRush was on my list of the highest ticket affiliate programs. SEMRush is one of the best and most used tools for marketers worldwide. But that's not why I picked it.
SEMRush also has one of the most rewarding affiliate programs. Herein, you are asked to promote the software in exchange for a whopping $200 flat commission per monthly or annual subscription.
Their plans range from 119.95/per month to 449.95/per month, which means you can earn $200 per sale.
Not to mention, you'll get recurring income at the beginning of every month when people (who bought using your link) re-subscribe.
Other than this, you'll also get $10/per new trial and $0.10/for every new sign-up.
Their sign-up process is rather simple and quick; you'll become an affiliate member in just a few minutes.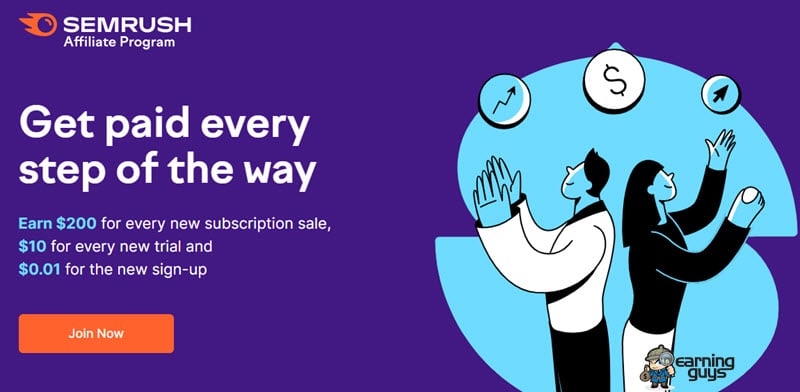 If your website/blog mainly caters to social media marketers, this program is perfect. Josue Pena is an Instagram coach widely known for helping budding, and top influencers manage their social presence.
He has an affiliate program wherein you are asked to promote his $1000 course for a 30% commission per sale, which means even if you make 2 people buy his course, you can earn up to $600 in passive income.
Though the course may look expensive, it's quite to promote because of 2 reasons:
The demand for social media marketing skills (especially Instagram) is at an all-time high.
Josue has a lot of testimonials from hundreds of his ex-students, which makes it all the more reliable and easy to sell.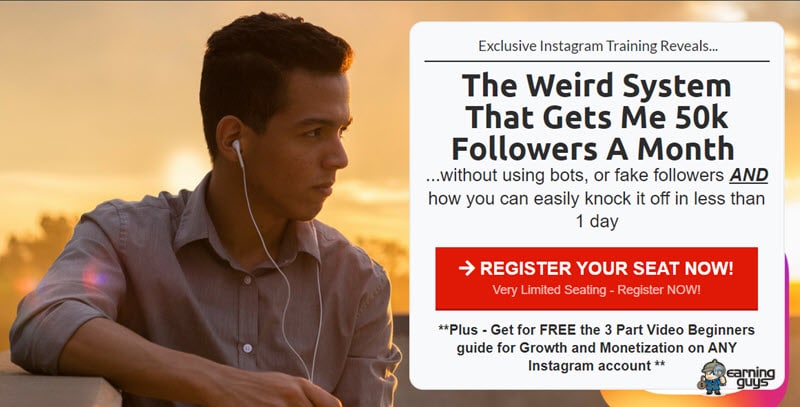 If you haven't been living under a rock, you already know what Shopify is, moreover how big it is.
Besides being the biggest eCommerce platform in the world, Shopify also has some of the best affiliate programs you could join.
Shopify has two affiliate networks,
An in-house affiliate program (managed by them internally, and they may close this program)
Via an affiliate marketing software called Impact.
If you join the in-house Shopify program, it offers 100% commission for all its plans except Shopify Plus. This means that every person who availed of a
Basic Shopify Plan ($29), you'll get $29 = $58
Normal Shopify Plan ($79), you'll make $79
Advanced Shopify Plan ($299), you'll get $299
But only for the first 2 months.
Get someone to buy a Shopify Plus subscription (designed for enterprises and organizations). You could make up to $2000 per customer.
However, if you join through Impact, Shopify gives $100 for every sale you make, regardless of the plan.
Making people buy a Shopify subscription isn't that considering it's a household name today. From global corporations to local businesses, Shopify is a great tool for everyone; hence it's a win-win.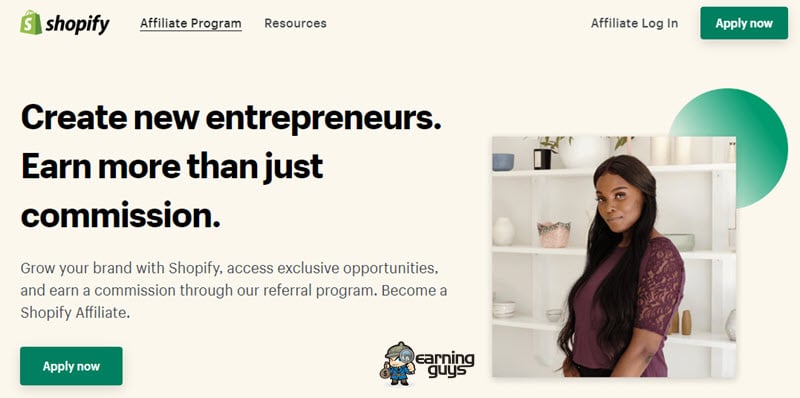 Legendary is a business course managed by David Sharpe, one of the leading marketing experts in the world. David helps individuals and companies build strong and profitable businesses online through his course.
Their high ticket affiliate marketing program works in two ways. First, there are basic and pro versions.
You can earn anywhere between 5% to 30% promoting the basic versions. Meanwhile, you can get a 30%-60% commission on all the Pro versions, which are priced at $2500 and above.
But here's the real reason why they made it on this list. Even if the users (you brought) just join their newsletter, all of them will be linked to you, and if in the future, they decide to purchase any products, you'll still get a commission.
But they don't just help you monetarily. Legendary Marketer's team also conducts a $7, 15-day challenge in which they walk you through the step-by-step process of launching your whole affiliate network. It's one of the greatest resources I've ever seen for learning and promoting affiliate marketing.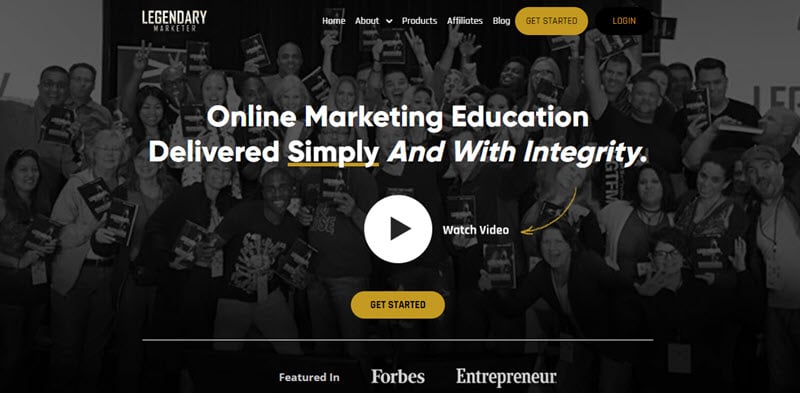 If you are in the digital marketing space, then, Leadpages. is one of the greatest affiliate products you can market.
Leadpages is the most used program for creating landing pages. It has a simple drag-and-drop editor that allows you to design stunning landing pages in minutes. Besides that, it also offers other marketing tools like email marketing, webinar creation, etc.
Leadpages has a high-end affiliate network that pays you based on how much your customer spends in a month. If he spends,
$0-$49 = 10%
$50-$2999 = 40%
$3000+ = 50%
Their plans and pricing start from $49/ per month for the basic plan and $99 for the pro plan.
With just a few client referrals every month, you can easily make a decent side income.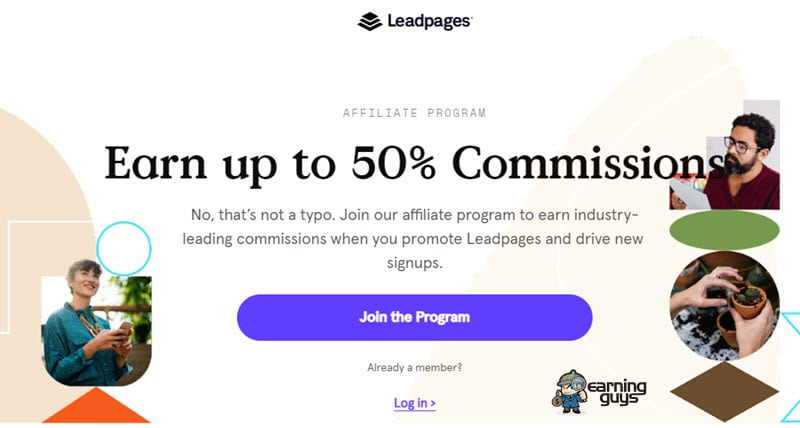 iSpring is a software development firm that creates tools to build educational content and online training.
iSpring Suite is their flagship product; for many, it is their go-to software for creating interactive online courses, video tutorials, and ebooks. Due to its easy-to-use interface, it has widely grown in the ed-tech industry.
If you belong within this niche, iSpring is worth a shot. iSpring further has one more product within their affiliate program called iSpring max.
iSpring suite costs around $770; meanwhile, iSpring max retails for $970. For every sale you bring, you get a 10% commission, i.e., $77 and $97, respectively.
One thing to note here is that iSpring pays its affiliates at the end of every quarter instead of monthly payments.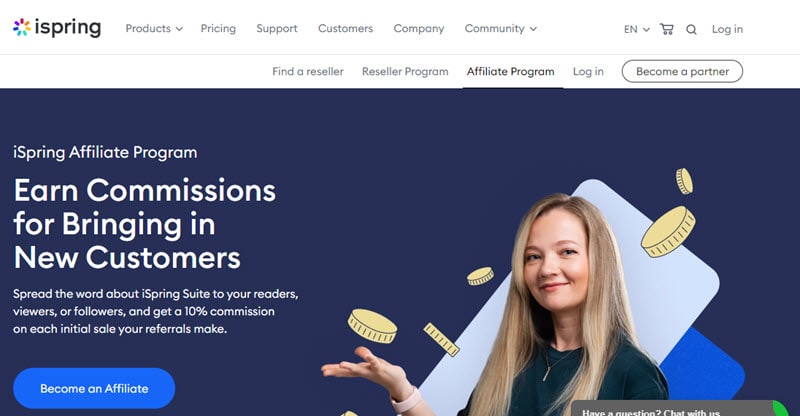 GetResponse is a leading software in the digital marketing niche. Using it, you can automate your marketing and streamline your email flow. This application aids you in the creation of mailing lists, newsletters, and landing pages, as well as other marketing tasks.
Their plans start from $15.58/ a month (Basic Plan) and go up to $97.58/ a month (Enterprise Plan). In addition, you may choose between two commission models with the GetResponse Affiliate Program.
Either you can avail a one-time payment of $100 per sale or a recurring commission of 33% of the purchase price each time your referral renews their license.
GetResponse further provides free training materials, sales copies, and a tracker to manage how much you have earned.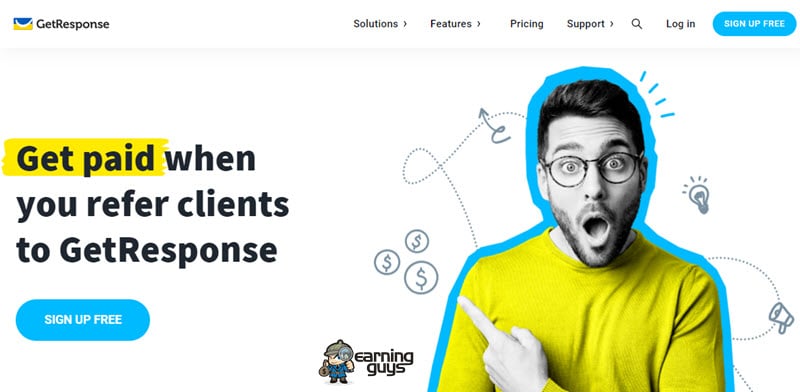 As you would've guessed from the name, ClickFunnel is a tool designed to help people build different kinds of funnels.
The reason why I included it in this list is simply because of the commission it offers under its affiliate program.
With their affiliate program, you may earn a whopping 40% commission on a range of low- and high-ticket commodities worth up to $1997. As a result, even a single sale can reward you with up to $800.
What makes this program even more worth it is the fact that at the time of joining, ClickFunnels offers a free training Bootcamp for their affiliates. It's called the affiliate Bootcamp and includes lectures from 30 of the world's most successful affiliate marketers.
So even if you are a newbie to the world of affiliate marketing, ClickFunnels' program will surely be worth it.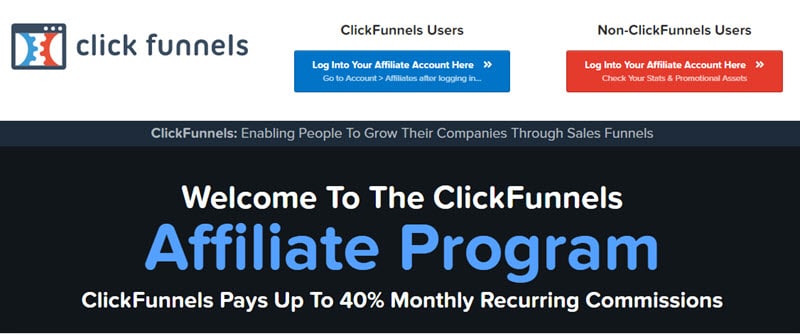 LiquidWeb is one of the leading web hosting companies in the world. The company offers a variety of hosting solutions, including Cloud servers, customized servers, reselling, virtual private servers (VPS), and much more.
LiquidWeb affiliate program is specially designed for business organizations and enterprises, which indicates that you can earn good money from their affiliate marketing program.
LiquidWeb offers two partner programs, i.e., a normal affiliate program and a refer-a-friend program.
Talking about the former, you can earn a whopping 150% on every customer you bring in. So, for instance, if someone buys a $29 (lowest priced) month plan, you'll get $150; if someone buys a $99 plan, you'll earn $248.
Not only that, LeadWeb gives you a 50% bonus if someone buys a prepaid plan.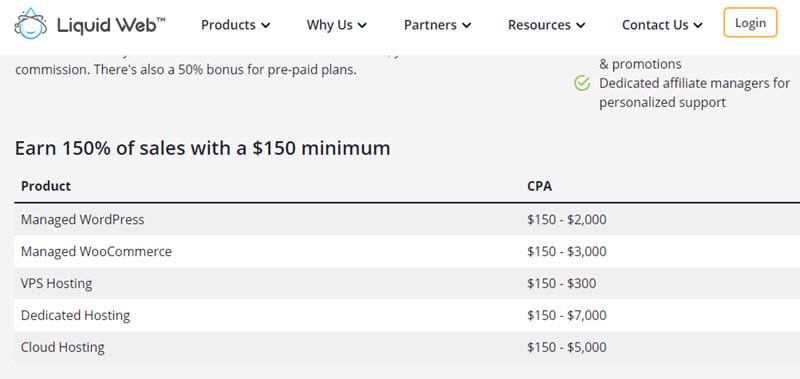 Hubspot is another widely popular CRM company. They offer tools and software that help businesses in areas of sales and marketing. Since their clients are some of the biggest businesses in the world, including LG, Reddit, Soundcloud, etc., it shouldn't be hard to sell their products.
Hubspot also has a generous affiliate program wherein you'll get a 15% commission on every sale you make.
I know 15% doesn't sound so generous, but considering that their pricing can go up to $3200/per month, 15% of which comes out to be approximately $480, it doesn't look so bad.
Additionally, Hubspot also gives you two options regarding your commission. Herein,
You can either choose to get a 100% flat payment in the first month itself.
Or, you can get 15% of that sale every month.
For instance, you sell a professional plan worth $890, so you have the option to get a payment of $890 within one month or to receive 133.5 (15%) every month for up to 1 year.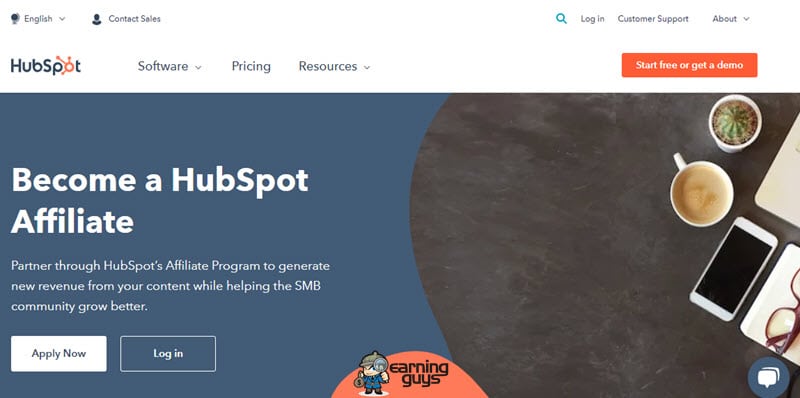 Kabbage is one of a platform that provides loans and business capital to small businesses.
Small company owners can apply for up to $250,000 in funding to support things like inventory purchases, recruiting, upgrade kits, and cash flow management.
Kabbge has made the whole process very user-friendly. Any business can apply for funding using their phones, wherein they have to enter all necessary business details. Then Kabbage will assess their company performance and inform them of the amount of working cash that can be arranged.
The Kabbage referral program may help you connect small companies with funding while also allowing you to earn $250 for each account you refer. You can easily cross the $1000 mark/ per month by getting 4 small businesses on board with Kabbage.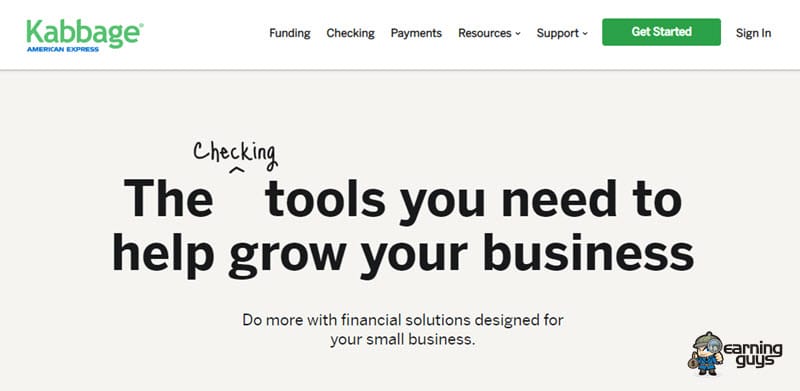 Villiers is a private chartering firm offering clients private jets and other luxury rentals. Their services encompass over 10,000 private jets to take you around 40000+ travel destinations.
Villiers' diversified services are what makes their affiliate program worth joining. Besides that, the program is one of the highest-paying programs.
You'll get a hefty $1000 for every flight booked using your link, but if and whenever that customer re-rents a flight, you'll get a 30% commission.
Although it may take a bit of affiliate expertise to get started, it is surely one of the highest ticket affiliate marketing programs.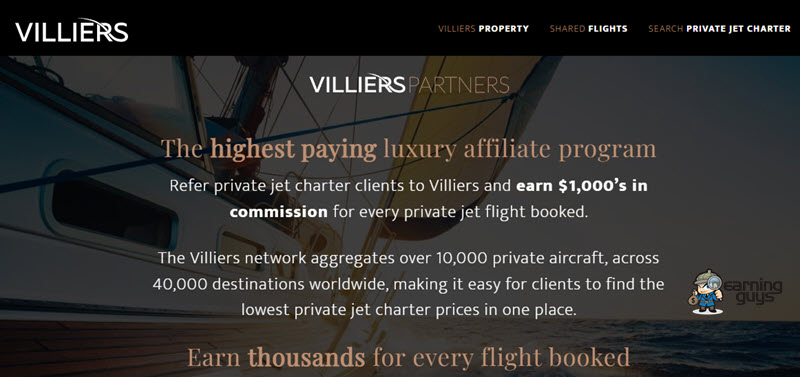 WP Engine is yet another managed WordPress hosting and support provider. Their services are designed to target Small business owners, agencies, and enterprises.
They also offer one of the greatest affiliate programs because you can earn commission advertising their hosting platform and their premium WordPress themes, StudioPress.
For WPEngine sales, they give a minimum commission of $200. On the other hand, StudioPress theme sales offer a flat commission rate of 35%. Moreover, WPEngine keeps introducing discounts, offers, and promotions, making promotion easier.
While WPEngine may not offer a hefty commission like some programs on this list, what makes it worth trying is its rising popularity. Slowly all businesses are shifting to the online space, meaning every day, thousands of businesses need hosting services, and that's where you (as an affiliate) can shine.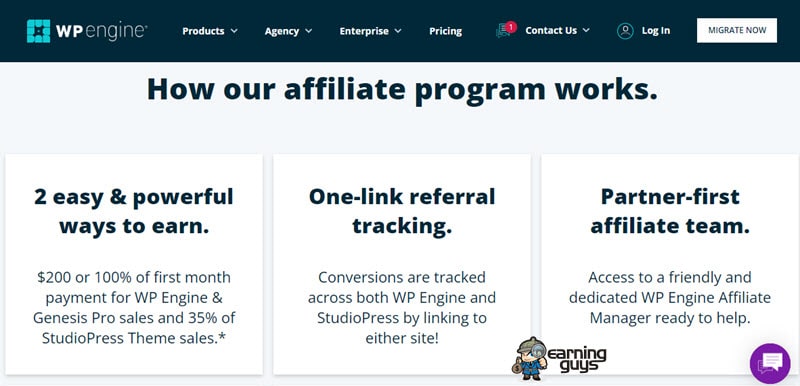 If you don't know, Teachable is a widely popular online education platform. Teachable enables experts/creators to share their knowledge by building and selling courses on their platform.
They have an affiliate program where you promote the platform to creators and earn a 30% commission.
The team at Teachable gives you basic training, several A/B testing sales funnels, and a brief overview of the target audience. This aids you in targeting the right audience and generating more conversions.
Moreover, they also have a recurring policy. Essentially, the creators you bring in will have to pay a minimal amount every month to keep their course listed. You'll keep getting a commission out of that fee until they stay on Teachable.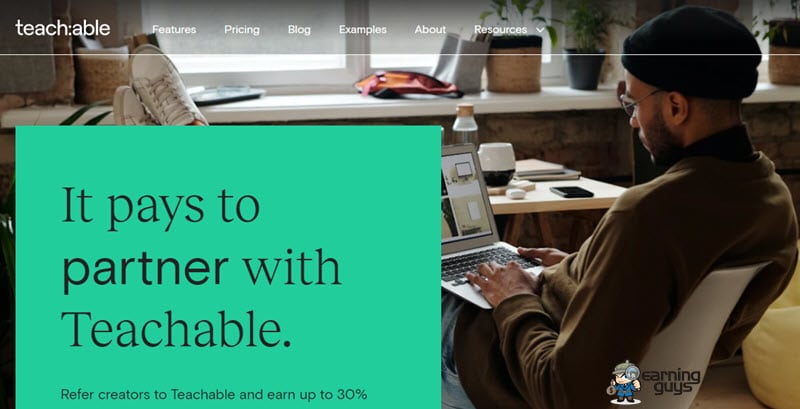 ConvertKit is a top email marketing company that offers many tools to help consumers structure, automate, and expand their email lists. As businesses realize the reach and Impact Email-marketing has on people, they cannot help but want to include it in their marketing efforts.
ConverKit's high-ticket affiliate program focuses on the company's corporate monthly subscription that covers a set of resources. Affiliates that join the program are eligible for a 30% commission on each subscription they bring in. Since the subscriptions are monthly-based, you will also get 30% recurring commissions for up to 24 months.
Besides this, when you sign up for the program, they provide you with training lessons, resources, funnels, and your personal dashboard to track your conversions effectively.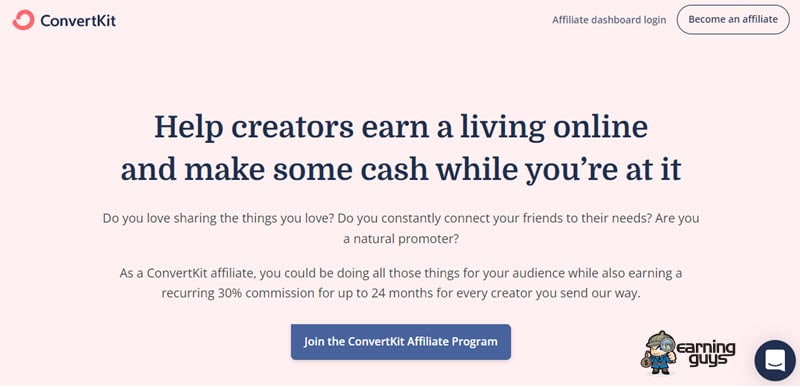 Fanfuel is prominent health, beauty, and wellness provider. They primarily sell health-care and wellness items, including probiotics, weight loss, and sleep aids which are also their most selling affiliate products.
This high-ticket affiliate program offers the chance to market these products at some of the finest rates available. The commission rate could hit 50% and promises both lifetime and recurring commissions.
In addition to all this, their network also provides you with a "returning clients" commission.
This means that every customer you bring is permanently linked to your Fanfuel profile. So you'll get credit if any consumer makes a transaction, even after years.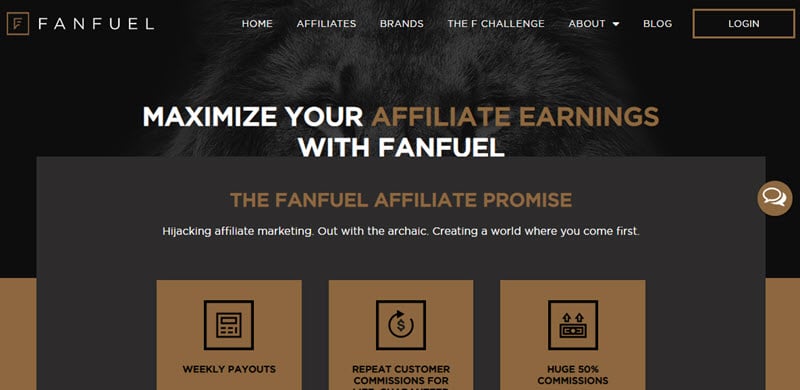 As you can tell by the name, Regal Assets deals in the asset management niche. They deal in crypto, precious metals, portfolios, etc.
If you are confident about your selling skills, this is one affiliate program you shouldn't miss. I say this because this is surely the most rewarding program on this list. Period.
You may earn up to $100 for each verified email you bring. Other than that, you'll get 3% of the total amount they invest.
Let's look at this figuratively, shall we? Suppose you bring a customer, and he invests a total of $10,000 in gold or Ethereum or both. On a $10K investment you'll make $100 + $300.
On top of that, they also give you an additional 1-2% if some brand (you brought) refers Regal Assets to other brands and they make a purchase.
So, you could make around 5% on every investment customers make.
NordVPN is a leading VPN provider across the globe. It is reliable, fast, and offers a ton of features (other than VPN) like Malware protection, ad blocker, data security, etc.
Not only does it have over 5500 servers across 59 countries, but it is also used by over 14 million people. Not to mention it is a very popular choice for affiliate marketers too.
NordVPN has a very generous high ticket program for its promoters. You can earn between 40% to 100% commission with each sale you make.
To further put that in perspective, an annual plan costs around $145. So you can make anywhere between $72.5 to a full $145, which excludes all other add-ons (like Additional Storage, NordPass, NordLocker) that can cost an additional $10 per month.
If a customer avails of these add-ons, your commission will also increase accordingly.
On top of that, you'll also get a 30% commission whenever someone renews their VPN plan.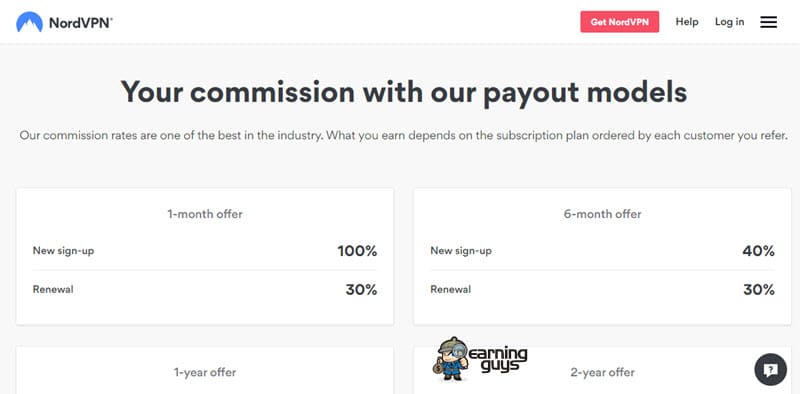 Plus500 is a large-scale trading platform offering instruments for a variety of trades, including cryptocurrency, indices, Forex market, etc.
Since its establishment, Plus500 has earned its name in the investing industry. It is currently used by millions of people across the globe.
They offer a very high ticket affiliate program wherein you'll be responsible for promoting their products to brokers and investors. They have a flat rate of $800 per sign-up you bring to the table.
If you are into the investing/education space, Plus500 can undoubtedly be the best affiliate program for you.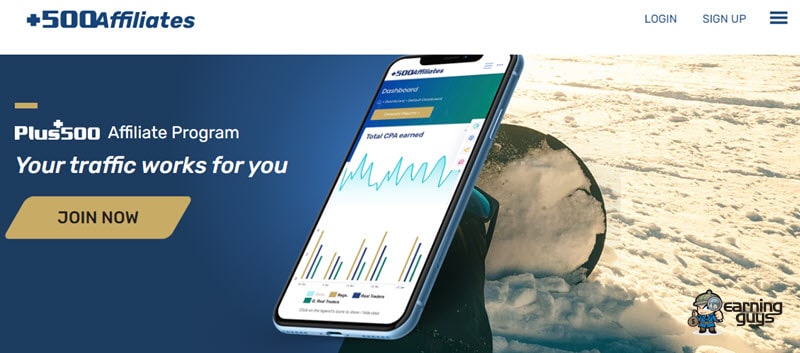 TripAdvisor is the No.1 travel company globally. Even if you are a beginner in the affiliate space, you can join their affiliate program and successfully promote it.
Their affiliate program works differently from most because you don't necessarily need to sell to make money here. You'll earn a 50% commission whenever a customer (linked to you) clicks through to a specified hotel partner.
If an affiliate sends 170 clicks, he can earn up to $60.
Currently, this affiliate program is only for hotels. Still, there's a strong possibility that it will start including flights and rental properties too.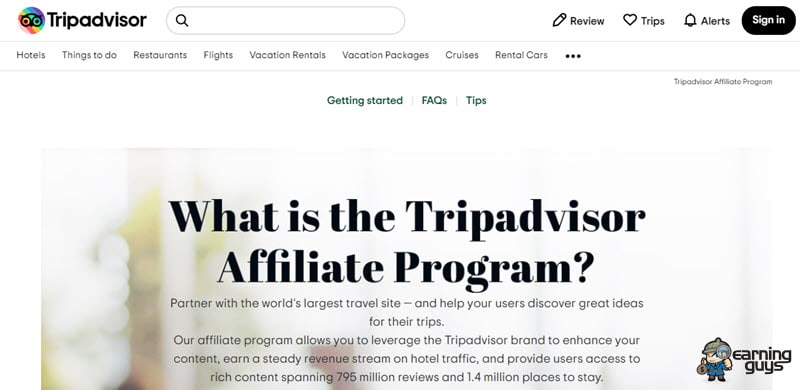 Conclusion:
So there you have it: the best high-ticket affiliate marketing programs. These 20 High Ticket Affiliate programs are absolutely free to join and don't necessarily need to be promoted on a website! Affiliate marketing is all about how creatively you can sell a product.
If you are wondering which one should you choose? Here's what you should do:
You can choose any program based on your experience and niche. However, if you choose a program that doesn't align with your interests, you won't be able to sustain it long (even if it pays a lot).
Here's the thing, although different programs offer different commission rates, they all have one thing in common, i.e., that the more you sell, the more you earn. So even if you choose a medium-paying but interesting affiliate program, you can still make good money, maybe even more than you would have on some other program.
Hope you liked this post on High Ticket Affiliate Programs, and do share this post on social sites.