Do you know what makes a successful copywriter?
Well, a successful copywriter knows the skills and formulas to compel, convince and convert customers.
However, things can become quite complex if you don't possess a clue where to start.
Here comes the role of online copywriting courses that can help you learn the trade tricks. A value-packed copywriting course can help you to get up and running to know the big-picture.
In this post, we have come up with a list of the 12 Best Online Copywriting Courses that can help you become a successful copywriter and get Copywriting Jobs.
Now, let's take a look at the need of taking up a copywriting course:
A copywriting course can help you to have a thorough understanding of marketing
It helps you to learn the techniques of creating a perfect copy
It helps to impart you the much-needed confidence so that you can create a compelling copy
We must tell you that you have come to the right place as we have compiled the list of best copywriting courses out there.
So, this post will help you to make an informed decision. Moreover, it will help you to kickstart your copywriting career as soon as possible.
Well, get ready as we share the top 12 copywriting courses out there.
12 Best Copywriting Courses
Here's the list for you:
The Udemy Copywriting Courses help you to take a step-by-step approach to drive sales. In fact, Udemy offers short-term courses too (for example, just five hours). You can learn persuasion methods, techniques of writing sales letters, and the skills of creating a strong copy.
With Udemy Copywriting Courses, you can hone your skills of creating a solid copy. As a result, you can realize your goal of converting eager visitors into customers. Here, you can learn straightforward copywriting methods as well as techniques for achieving that end goal.
Moreover, Udemy Copywriting Courses give you the much-needed foundation for copywriting. It teaches you how to improve your skills of creating a strong copy. Thus, you will not only learn but enjoy the Udemy Copywriting Courses.
There are plenty of copywriting courses on Udemy by various copywriting experts. You can choose any of the courses which you feel is best for you.
In fact, Udemy offers cheap courses that start at just $10. Here, you can learn all the basics of creating a strong and compelling copy.
Cost: Start at just $10
Duration: As short as one day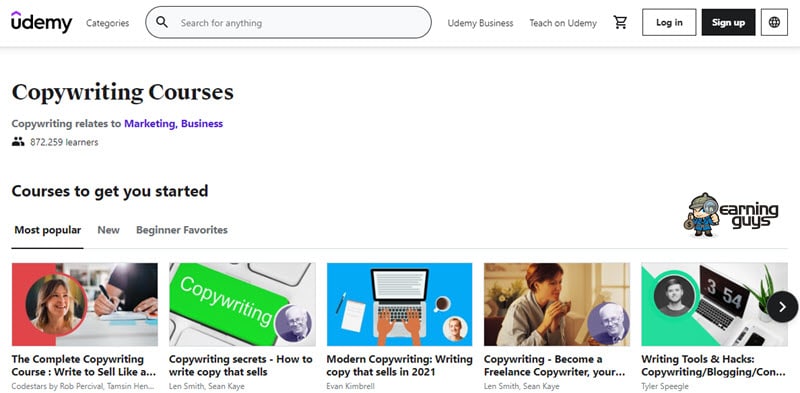 Coursera offers you some of the best copywriting courses where you can learn how to craft persuasive copy.
It offers paid plans that can unlock your access to a lot of courses. Moreover, Coursera also offers a "free plan" that gives you access to several copywriting and content marketing courses.
It offers copywriting courses that cater to the need of beginners, intermediate, and advanced copywriters.
Here, you can learn content marketing strategy, the skills of creating creative copy, search engine optimization, fundamentals of social media advertising, Facebook marketing, the techniques of launching your online business, digital media, marketing strategies, and lots of other copywriting courses.
Here, we share with you its top 10 copywriting courses:
The Strategy of Content Marketing: University of California, Davis
Creative Writing: Wesleyan University
Viral Marketing and How to Craft Contagious Content: University of Pennsylvania
Search Engine Optimization (SEO): University of California, Davis
Content Strategy for Professionals: Northwestern University
Marketing Digital: Universidade de São Paulo
Create a 1-Page Marketing Plan with Google Docs: Coursera Project Network
Fundamentals of Social Media Advertising: Facebook
Creative Writing: The Craft of Setting and Description: Wesleyan University
Building a Business Presence with Facebook Marketing: Coursera Project Network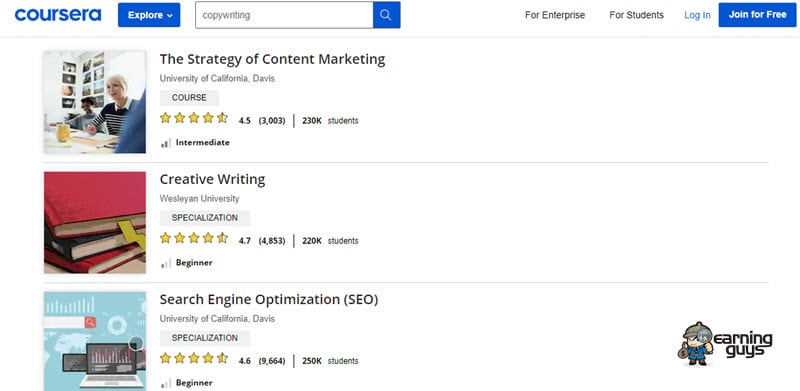 Skillshare offers you access to online copywriting classes with a free account. You can even pay $19/mo to get access to its 20,000+ courses. So, Skillshare has plenty of options as far as copywriting and marketing options are concerned.
Moreover, Skillshare even offers courses in different categories, including:
Advertising
Content Marketing
Content Strategy
Creative Writing
Digital Marketing
Email Marketing
Writing & Publishing
At Skillshare, there's always more to learn when you explore copywriting. Here, you can learn about a wide variety of topics such as:
How to become a copywriter
Website copywriting
What does a copywriter do?
Skillshare online copywriting classes are suitable for beginners and experienced writers who are interested in learning new skills.
With Skillshare online tutorials, you can take your writing to the next level. In fact, Skillshare online copywriting classes are managed by copywriting experts.
At Skillshare, you get specific online lessons in content marketing or copywriting that are suitable for beginners and expert writers.
Some of its most popular courses include:
Copywriting for Beginners
Copywriting Basics for Successful Sales
Social Media Copywriting Masterclass
Copywriting Basics for Beginners
Web Design and Copywriting
Copywriting Secrets
Copywriting Tips for Dynamic Writing
Copywriting for Creatives
Moreover, much more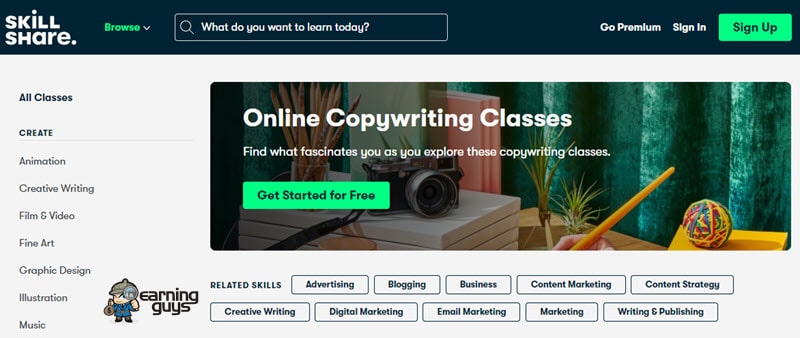 The American Writers & Artists Institute (AWAI) is another well-known resource for writer training. They've been around a long time and have developed a "solid" name for themselves. Its copywriting training program has been established by one of the most successful copywriters, Mark Ford.
At AWAI, you would be in direct communication with tutors who will run you through the course at your own pace. You will even receive a comprehensive critique from experts on two written assignments, which will help you to reach your full potential.
They have a lot of good content and copywriting courses. If you explore their site, you will find dozens and dozens of courses on becoming a better copywriter.
Their flagship course is:
The Accelerated Program for Six-Figure Copywriting
This copywriting course is suitable for general as well as new writers who want to learn about copywriting. It will connect you with a community of successful writers and marketers. It will pave your way for quickly becoming a great copywriter. The program includes six different levels; even expert copywriters can immensely benefit from this immensely popular course.
Cost: $497
Duration: Self-paced (Six Weeks or More)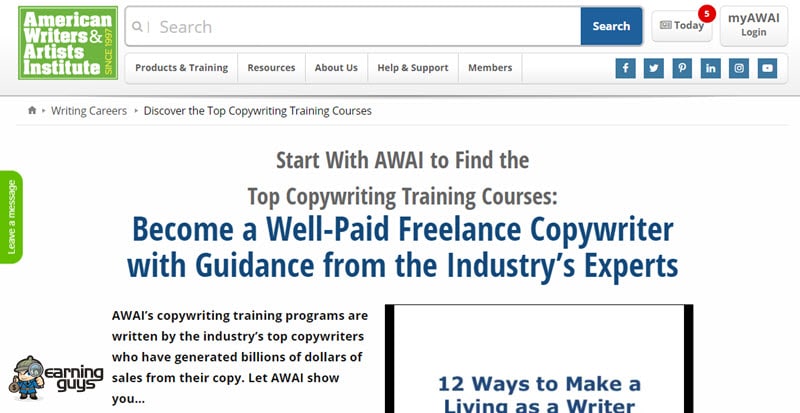 Eduonix offers free copywriting courses that contain some of the most important knowledge from expert writers in the copywriting industry.
Although most of its copywriting courses are of short duration (as low as four hours), they offer you an amazing introduction to the world of copywriting.
You get to know:
You will come to know how to understand an audience and write for them in a clear & straightforward manner.
Eduonix offers copywriting courses at different levels:
Beginners
Intermediate
Professional
All levels
Its video duration can be anywhere from:
0-2 Hours
3-6 Hours
7-16 Hours
17+ Hours
They even offer a lifetime membership.
Cost: Free
Average Duration: 4 Hours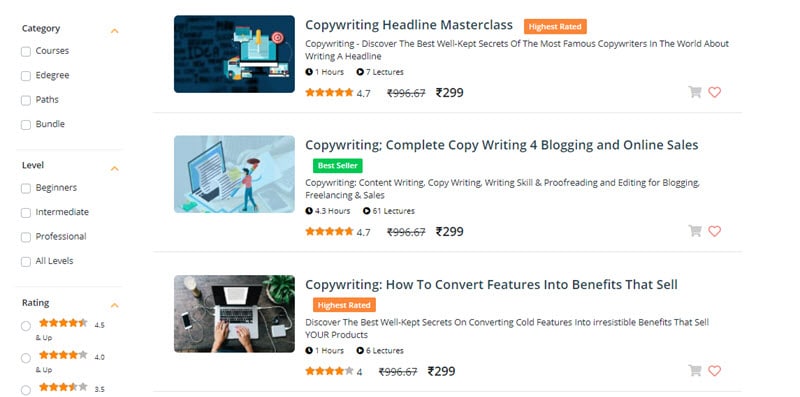 The Creative Copywriter offers some of the best courses in copywriting. So, you can sharpen your writing skills with Creative Copywriter online courses. They have spent years honing their copywriting knowledge.
Here, we need to mention its most popular copywriting course:
The Copywriting Kickstarter Course
This course is suitable for budding copywriters and takes them through the whole 'getting started' journey. You would get everything you need by the end of the course. This course powers you to take your freelance copywriting business into the world.
Moreover, you won't have to search the internet for 'how-to' blog posts. At the Creative Copywriter, you get in-depth material for honing your copywriting skills.
The course offers you the advantage of self-paced learning. You can take up the course from wherever you reside in the world; it offers you a graduation certificate.
Cost: $290
Here, you will learn everything you need to know about freelance copywriting from the ground up. It's a great value for money. You don't need to rush the course as it is self-paced and flexible.
It offers you free access to a community of like-minded budding copywriters. You can share your experiences and get lots of extra valuable content and feedback from the copywriting pros.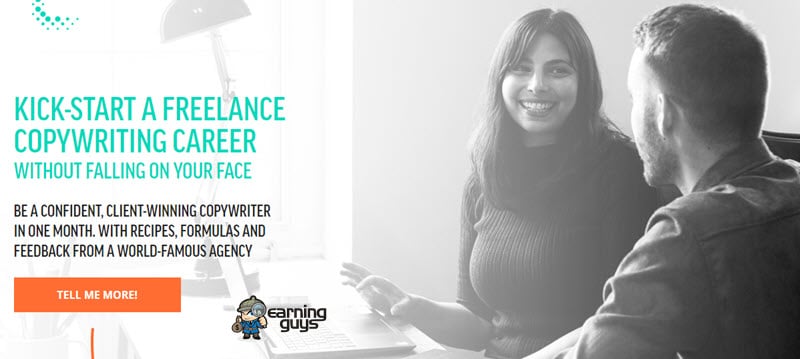 Malcolm Gladwell (writer at The New Yorker) is the guy behind MasterClass Writing Courses. He is a clear expert in professional writing.
Gladwell has created the MasterClass platform to offer copywriting courses. You can get access to the 24 lessons and associated workbooks that have been created by Gladwell. However, you need to pay $15/mo to avail of its All Access Membership for accessing the copywriting courses by Gladwell.
You can also learn screenwriting from Aaron Sorkin (investigative journalist) and lessons from fiction writer James Patterson.
So, with MasterClass, you get access to classes taught by industry experts to hone your copywriting skills. Moreover, MasterClass offers 100+ courses across 11 categories.
Here, you can learn the following copywriting skills:
Storytelling and Humor
Writing for Television
Writing for Young Audiences
Art of the Short Story
Creative Writing
Screenwriting
Writing Thrillers
Dramatic Writing
Writing Poetry
Mystery Writing
Fantasy and Science Fiction Writing
Writing for Social Change
You can get access to its membership to avail an incredible catalog of 100+ classes taught by the world's best writing experts.
Each class consists of 20 video lessons that are of 10 minutes in length (average duration). You also get an in-depth workbook and its dynamic community of members around the world.
Although the Success Works' Copywriting Certification Program isn't cheap, the price tag is rather inconsequential compared to the immense value it provides. This course is the only industry-endorsed online training program that certifies copywriters in the best SEO copywriting practices.
Once you take up with course, you end up being like real experts in SEO copywriting. This course teaches you how to optimize web pages with a copy for search engines to attract the right users' attention. Here, you get to learn heavy-duty copywriting skills. However, the overall environment is quite supportive where you can have fun.
Overall, this copywriting certification program provides excellent training to hone your copywriting skills.
As SEO is critical in the online world, this certification program does exceptionally well to pass on the information in an effective manner to its clients.
Each session is carefully planned, organized, and executed with key takeaways. As a result, the knowledge imparted is quite remarkable with a higher degree of service to the clients.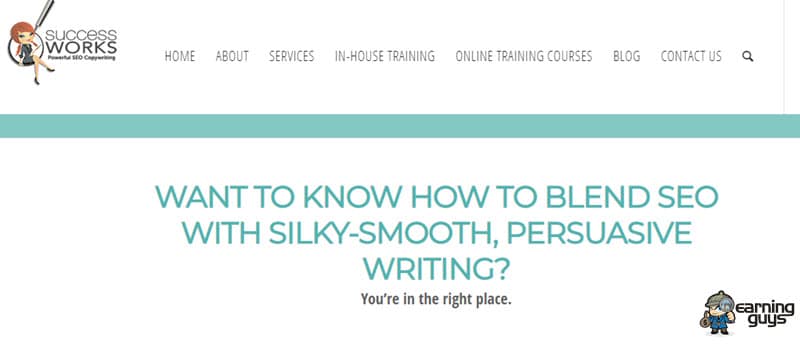 Kevin Rogers (former standup comic turned copywriter) is the man behind Copy Chief. Here, you get access to excellent copywriting courses.
Copy Chief is heavily community-focused and emphasized real feedback for real businesses. It offers a collection of mini-courses, workshops, and a plethora of video courses. There's also a job board, and it even offers live coaching.
Its courses are mainly suitable for business owners and solo copywriters who regard their freelancing as a business.
Here, you'll learn about sharpening your copywriting skills. You'll also improve specific assets like a landing page. Its courses are mainly designed for freelancers & business owners.
Cost: $149/mo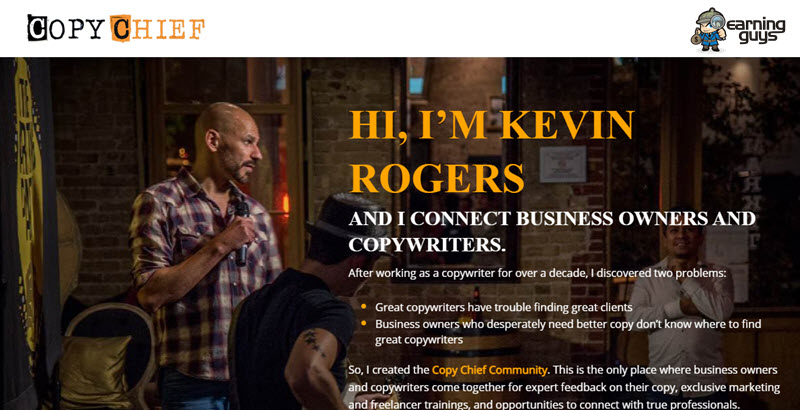 Copyblogger Pro offers multiple copywriting courses. It used to be the go-to site for writers in the 00s.
Its Pro Plan offers monthly workshops and seminars from recognizable names in the marketing space like Brennan Dunn.
Its courses offer lots of information, so you get to learn a lot to sharpen your copywriting skills. The coaching is offered via a regular Ask Me Anything (AMA) sort of thing. Its feedback is remarkable too.
The course is perfectly suitable for newer copywriters who are just getting started.
Cost: $495/year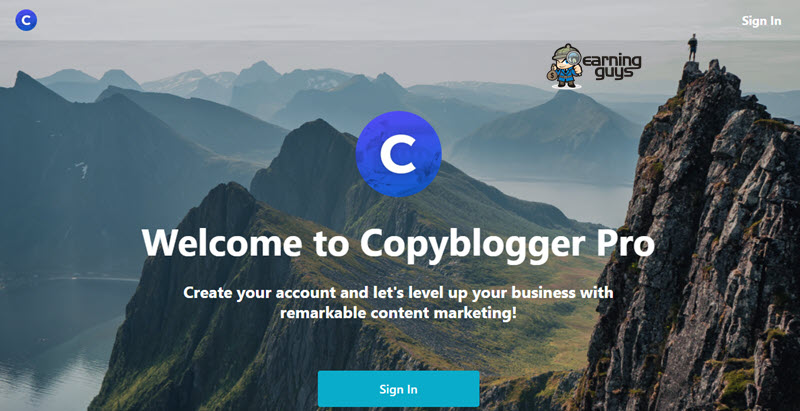 Neville Medhora is the man behind Copywriting Course. It was formerly known as Kopywriting Kourse.
The Copywriting Course includes 20+ video courses. It also offers weekly video group coaching. There's even a members' forum where Neville and other professional copywriters edit/rewrite students' copy.
The Copywriting Course isn't meant for beginners who are just getting started either as copywriters or freelance business owners.
The course is mainly designed for established business owners and freelancers that have established stable careers. Moreover, the course helps you to grow your existing business.
Cost: $97/mo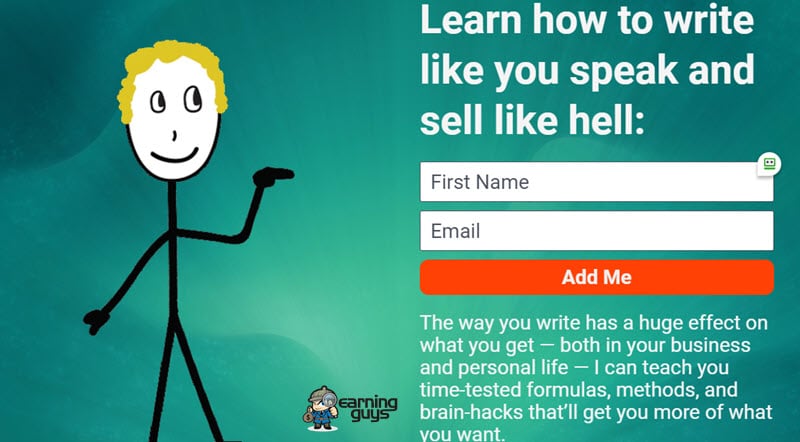 The IDM Award in Digital Copywriting has delved deep into the psychology of copywriting for the web.
Here, you can learn how to use emotional drivers to motivate people. It even teaches how to master the art of persuasion across all channels.
The IDM (Institute of Digital Marketing) has become a premier marketing institute in the UK. Its courses offer access to some of the most experienced tutors in the business of digital marketing.
By the end of the course, you would be able to understand and apply advanced copywriting techniques.
So, the course teaches you how to write engaging copies that easily persuade customers whatever the medium.
IDM is a prestigious name, so you can put your trust in its courses. In addition, you get to earn CPD points that can be used towards other qualifications.
Length: A two-day face-to-face session. (However, it is currently being delivered digitally)
Location: Central London & Edinburgh
Cost: £1200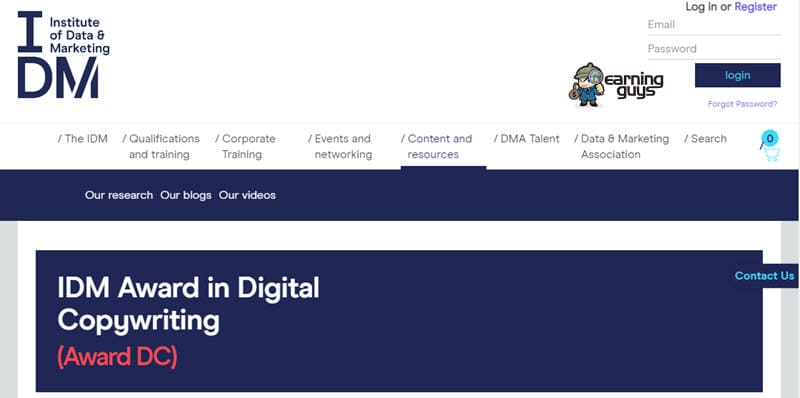 Well, now we have reached the end of this post on best copywriting courses. Now, you have ample choices up to your sleeves and can choose the best copywriting course according to your needs and budget.
Thanks for visiting us at EarningGuys.