Here, we showcase the 7 Best Online Proofreading Tools for Error-Free Writing. By using these Online Proofreading Tools, you can rectify spellings and grammar mistakes easily.
For a blogger or freelance writer, it is a must to develop quality content to attract readers. If you are a blogger, freelance writer, or editor, you must be aware of the above reality.
As a matter of fact, a piece of quality content should be error-free writing. It should not contain any spelling or grammar errors.
So, how do you ensure that your content is error-free and does not contain any spelling or grammar mistakes?
Well, there are online proofreading tools that you can use for error-free writing.
Although bloggers give much time to decide the topic, create drafts, and rewrite the final article, they don't give much time to proofread their articles.
It results in spoiling their content. What could have been a quality content result in poor content filled with spelling and grammar mistakes?
So, avoiding proofreading can prove costly to you.
Search engines devalue content that has spelling and grammar mistakes. Your rankings dip, and you lose readers.
Moreover, you have to understand that you cannot improve the quality of your articles without proofreading.
Herein lies the utility of Proofreading tools.
You are bound to make mistakes, especially when English is not your first language. However, you can correct your mistakes and improve the quality of your content by using Proofreading tools.
Some common mistakes in articles include passive voice, wrong usage of tenses, spelling mistakes, wrong use of prepositions, etc.
However, all these mistakes can be easily corrected by using a powerful proofreading tool.
To help you select the right proofreading tool for error-free writing, we have compiled a list of the 7 Best Online Proofreading Tools for correcting spelling and grammar mistakes.
The basic idea is to make your proofreading simple and effective so that you do not hate proofreading but employ it as a means of creating quality content for your readers. These proofreading tools help you to reduce the number of common English mistakes.
So, now let us explore these 7 Best Online Proofreading Tools for Error-Free Writing.
7 Best Free Online Proofreading Tools
Grammarly is a powerful and comprehensive proofreading tool. It functions as a multi-purpose tool and checks for any spelling or grammar mistakes. It can be installed as an extension in your web browsers such as Internet Explorer, Firefox, and Google Chrome. It also integrates with MS-Word and MS-Outlook.
As a matter of fact, Grammarly checks your text for more than 200 grammar rules. It not only corrects spellings, rectifies grammar mistakes but also suggests better words for replacement. Grammarly also comes with a plagiarism checker feature, as well.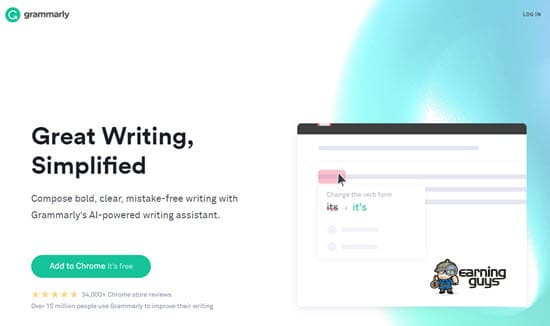 Ginger is the next proofreading tool on this list. It is a comprehensive tool featuring many powerful features. It takes care of "article errors" in your content by giving you suggestions for the correct use of the, a, an.
It can be installed as a Google Chrome Extension or MS-Office extension. It is also available for iPad, iPhone, and Android devices. Ginger provides a sentence re-phrase tool and suggests different ways of writing a sentence. It has inbuilt dictionaries and text-to-speech modules. It also offers a Personal English Trainer module with which you can use to improve your English language skills.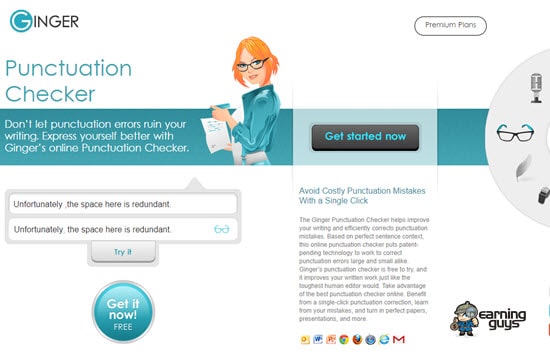 If you want to proofread your content by simply copy-pasting, PaperRater can be a good choice. PaperRater comes as a website-based tool. For checking your text, you have to go to the PaperRater website and paste the text.
It provides you with a report showing spelling mistakes, grammar mistakes, words and style suggestions, and plagiarism reports. It can proofread different documents, including resume, essay, thesis, speech, review, research paper, short story, business communication, and much more. It is a free tool.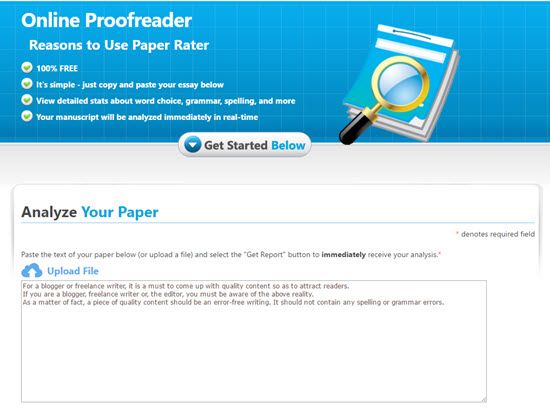 Wordrake is another top-notch writing assistant for professionals. It offers simple and straightforward in-line editing for professionals.
It's an ideal editor that allows you to seamlessly edit for clarity and brevity in Microsoft Word and Outlook.
With a single click, you can improve the professional writing aspects that matter most to you: clarity and brevity.
It's accurate, appropriate, and actionable, using thousands of algorithms to give you correct context-specific feedback and solutions.
So, Wordrake allows you to write with confidence. It helps you to get the proofreading done quickly and easily. You can install it in your text editor and click the "rake" button to get started.
It goes through the entire document and offers suggested edits live, allowing you to see the whole process. You can either make or reject those edits before you go on to submit your work.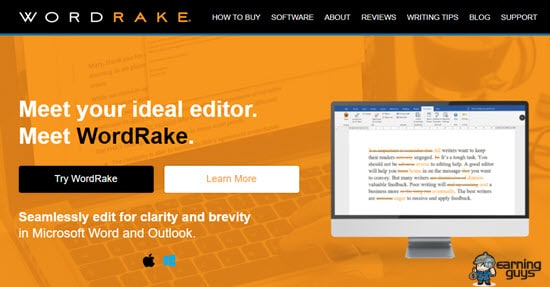 PolishMyWriting is another superb tool for proofreading your documents. You have to copy the article you want to proofread and paste it into the PolishMyWriting website. The tools check for spelling errors, advanced style checking, and grammar mistakes. The errors are displayed to you in three different colors.
Spelling mistakes are highlighted in red color, writing suggestions are shown in blue color, and grammatical mistakes are displayed in green. It also gives suggestions for active and passive writing. The results are shown quickly, which is another good feature of PolishMyWriting. It is also offered as a WordPress Plugin, and extensions are available for Chrome and Firefox.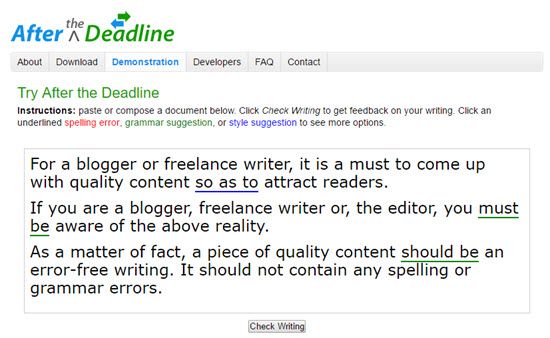 Google Docs is one of the most powerful and easy-to-use online proofreading tools on this list. It's not only free but also offers excellent features to edit your writing on the go.
It allows you to include Add-ons like Thesaurus, Lucidchart diagrams, and Template Gallery to make the editing process easier while writing.
Google Docs allows you to save the files even offline in case the connection is lost. It functions as a perfect writing assistant for all professionals who are into essay writing or copywriting.
Here, we have listed out some of the features of Google Docs for editing:
Google Docs offers 15GB of free space for all Gmail users
You can keep and save almost any type of file
It's safe and secure
You can share the way you want
So, with Google Docs, you can create impactful documents. It allows you to write, edit, and collaborate wherever you are. It's available free of charge.
It offers smart editing and styling tools, thereby allowing you to format your text and paragraphs easily. It will enable you to choose from hundreds of fonts and then add links, images, and drawings.
You can share with anyone and edit in real-time. It saves all your changes automatically as you type.
It works with Word. You can open it, edit, and save Microsoft Word files with the Chrome extension or app. You can even convert Word files to Google Docs, and vice versa. So, you don't have to worry about file formats again.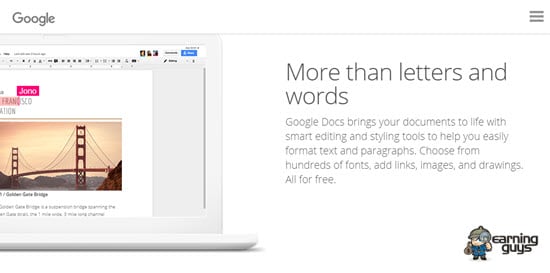 LanguageTool is one of the most powerful online grammar, style, and spell checkers available out there.
In fact, LanguageTool works as a multilingual grammar and style checker, which is being used by millions of people around the world.
You can get started with LanguageTool by creating your free account. It offers a distraction-free writing experience. It gives quality scores for your texts.
There's even a personal dictionary. Texts are being securely stored. You can use its "picky mode" for accessing even more suggestions.
LanguageTool also comes as a browser add-on that can be used to improve your text while typing an e-mail, a blog post, or even just a simple tweet. It allows you to use any language.
LanguageTool will automatically detect it and offer appropriate suggestions. Moreover, its browser add-on does not store any text to respect your privacy.
So, LanguageTool functions as an excellent writing assistant to deliver you error-free results.
It works with Windows and Mac.
LanguageTool Premium is available when you want to go well beyond grammar and spell checking. It can be used to get clear, precise, and stylistically correct writing. Its indeed a proofreading tool that takes your writing to the next level.
So, LanguageTool is available in both free and premium versions. It's equally suitable for beginners, individual users as well as for teams.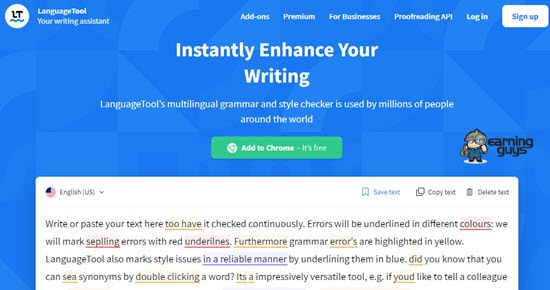 With Online Proofreading Tools' help, it has become simple to do spell and grammar checks on your text. I hope that the above presentation proves sufficient for you in selecting the Best Online Proofreading Tools for error-free writing according to your requirements.