Today we have featured 11 Best Freelance Writing Jobs Site for Beginners. This will make it easier for you to find freelance writing jobs. These are the best sites where you can find freelance writing jobs easily.
We have listed some of the best micro job sites where you can make $5 to $100 per task.
Here, we have featured 11 websites for getting freelance writing jobs online. These are the best places where you can get lots of opportunities for freelance writing jobs online.
So, let's get started.
It will make it easy for you to get your "first" freelance writing job. All you need is a "laptop" and "desire" to succeed in freelance writing.
You may also like: 10 Best Ways to Make Money Writing
There's little something for everyone who wants to get paid for writing. It's a fabulous way to make money from home. It offers a wonderful opportunity to make a high income by working part-time hours.
11 Freelance Writing Jobs Sites
Here's the list for you.
Fiverr is a bright little gem for freelance writers. Here, you can get paid $5 for doing anything (including writing) that you list on the site. However, you can also make more than $5 for an article.
It's easy to get started with Fiverr. You have to sign up with your name and email. You will receive a verification email that you have to respond to for getting started. Here, the jobs are called "gigs." You can choose gigs according to your areas of interest or according to the talents you possess. You have to complete your Fiverr profile by including a photo and a brief bio.
The Fiverr dashboard is very basic and can be mastered in just a couple of minutes. It offers the "To-Do" tab that lists out the gigs that you have to complete. There's a "Sales" tab for managing your gigs. Fiverr have a selection for "Revenue" that allows you to get paid. There's also an "Inbox" tab for site mail.
You need to post a "Gig" on Fiverr with whatever you feel represents your writing. You need to specify the "word" limit that you're willing to write for $5. Most importantly, you need to work diligently and "level" up.
So, you can make money on the level "one" and even more on the level "two." The "third" level has been reserved for Top Sellers.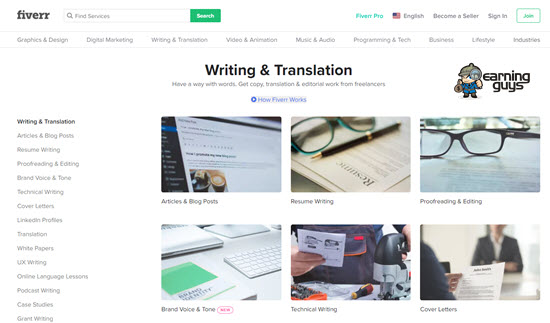 2. Upwork Freelance Writing Jobs
Upwork makes it easy for you to kick start your career as a freelance writer. In fact, there are plenty of writing jobs on Upwork.
Moreover, many freelancers are making $10,000, $25,000, $50,000, or even $100,000 or more a year on this platform. So, you can use the platform for bringing home full-time earnings.
You can start on Upwork by accepting lesser-paying jobs until you make your reputation. Once you have the experience, you can name your price and decide how many hours you want to work.
The platform allows you to work remotely with a computer and a hi-speed internet. So, you can work from home.
The benefit for freelancers is that they can find a job that suits them and work on their own terms. Moreover, there is no shortage of freelance writing projects on Upwork.
In fact, there are jobs on Upwork in almost every category. Best of all, you can be "picky" about which jobs you choose once you've established your reputation. So, Upwork allows you to become your own boss.
However, you should give your clients all the respect that they're due. At Upwork, you work in a capacity as a ghostwriter. All in all, you have something to offer as a freelance writer.
You can get one-time projects, limited projects, longer-term gigs, and everything in between. The "real" jobs come to you when you have gained experience and not when you're just starting.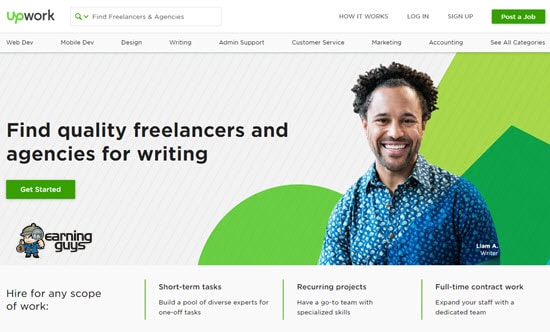 Freelancer is a freelance job board that offers hundreds of different job types for freelancers, including writing, programming, design, and so much more. Here, you can bid for writing projects. Some of these projects are available as one-time gigs, while others can provide you with work for months.
So, if you have writing skills, you can find a client at Freelancer.com. In fact, it has massive jobs for writers in the form of content writing, article rewriting, blog writing, and others. Freelancer has more than 25 million registered users that have completed over 12 million projects.
You can submit up to 8 proposals per month. However, it offers the opportunity to upgrade to a paid account. Payments are made through PayPal account. We suggest that you should do extensive research before accepting project bids. You get a wide variety of projects that are formatted as hourly and others as contests. The project fee is $3-5 or 3-5%, whichever is greater.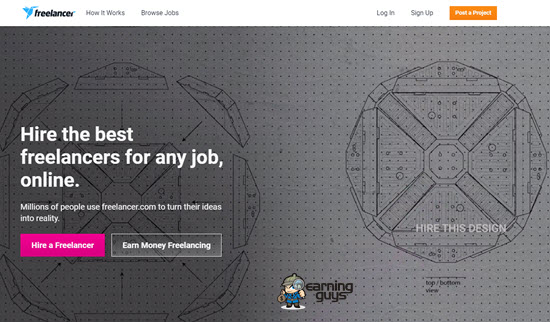 Guru is a freelancer platform that allows freelancers and employers to connect, collaborate, and get the work done flexibly and securely. It is privately held and headquartered in Pittsburgh.
Guru has more than 2 million registered members.
Freelancers get the opportunity to market their skills to a global audience. They can compete for project work at a minimal cost. Guru.com ensures that freelancers get paid for their work under the protection of SafePay.
Guru includes people from all across the world from the UK to Australia. It has been on the market for more than ten years. The platform is intuitive and easy to use. It offers three membership types:
Basic Account: $0
Basic+: $8.95/mo
Professional: $15.95/mo
However, the monthly fees & transaction commissions are quite high.
Pros:
Fun & intuitive interface
Time-tracking software
Highly skilled freelancers
Subscribed members can get massive service fee discounts
Cons:
Complicated billing system
No live chat
High monthly & transaction fees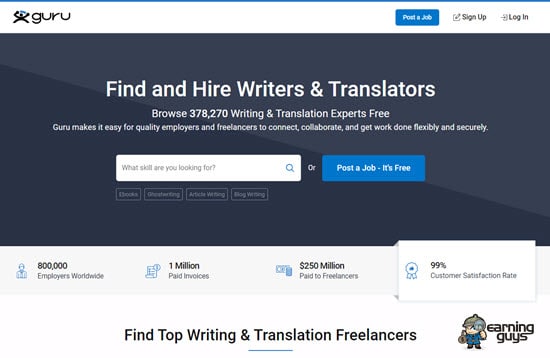 Flexjobs is a major career site that offers freelance working opportunities in writing and many other categories. The jobs you find here are very flexible and completely scam-free.
However, Flexjobs is not free. Membership subscriptions start at $14.95 per month. It's an excellent resource for finding work from home jobs. In fact, it's one of the most respected resources on the Internet for anyone seeking out for home-based jobs.
Sign up is very easy. You can dive right in and start browsing jobs. It's worth the cost as they carefully screen for scams and never display any advertisements on their site. Flexjobs offers more than 60 categories and sub-categories in jobs. Moreover, you get all the recent postings right there at the top.
To get a more detailed description of the job, just click on that job listing. You can also sort jobs by company name, location, newest jobs, and more. You can even browse the "Best Lists of Companies" that have been put together by Flexjobs.
Flexjobs allows you to create the resume that you can use when you apply to jobs through their site. You can take up to 50 different skills tests for free on their website for finding out your strengths and weaknesses in different areas. Moreover, if you score more than 70 percent on any one test, then you can get a job quickly!
Flexjobs Pros:
It has one of the biggest databases of home jobs
They have many sorting options
It makes it easy for you to seek out home jobs on your own
Zero scams guaranteed. All the jobs are very carefully screened
No ads on their site
Updated five days per week
You can take skills tests for showcasing to potential employers
Money-back guarantee
Flexjobs Cons:
It comes with a membership fee
Not all the jobs are work at home
Some of the jobs are publicly listed elsewhere on the web
Some of the jobs require extensive experience
All-in-all, at $14.95 a month, Flexjobs is undoubtedly worth you for finding work from home job.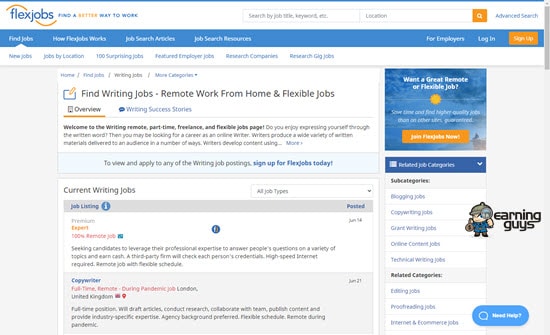 Twine is a marketplace for freelancers in the creative and digital sectors. They feature a global community of over 350,000 freelancers, including over 2,000 copywriters.
They match writers to clients using a detailed vetting process of over 10 different criteria, allowing both parties to get the best quality results at the best price possible.
After signing up and providing a short portfolio of work, you'll be verified on the platform and able to start pitching on writing jobs. Dedicated customer support is available throughout every step of the way to ensure you get your freelance writing career off to a great start.
Twine Pro costs just $7.49 per month and allows you to pitch on unlimited writing jobs.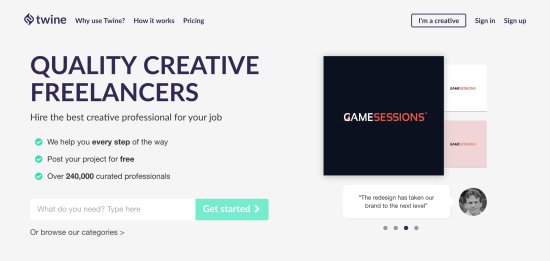 Problogger is a writer-focused job posting site that offers opportunities to freelancers for doing writing work, including blogs, social media, technical, or SEO.
Job categories available on Problogger include:
Blog & Article Writing
Editing & Proofreading
Ghostwriting
Copywriting
Marketing & Promotion
Design & Development
Moreover, much more
In fact, writing is the most popular remote job category on Problogger. Some examples of remote writing jobs available on Problogger include:
Recipe Writer
Marketing Ghost Blogger
Food Blogger
Journalist
Ghost Drafter
Blog Writer
Health Article Writer
Product Review Writer
Political Writer
Moreover, much more
The best thing with Problogger is that it's a free service for job seekers. However, Problogger charges $70 to businesses for posting a job opening. Job listings last for 30 days.
Most of the blogs on Problogger are of intermediate level. Most advertisers will like to see previous examples of your writing.
So, Problogger turns out to be a better place to look for work when you have some experience under your belt.
Having said this, Problogger offers a constant stream of new content writing jobs that are posted each day.
Problogger has recently added new features.
There's now a "Candidate Dashboard" that allows you to upload a resume. You can even save interesting jobs and keep a record of whatever you have applied. In fact, this new functionality is free.
You can even set up your profile on Problogger using its new "Premium Candidate Listing" service. However, it is chargeable at $3.75-$5 per month. It will allow clients to find YOU.
So, Problogger Job turns out to be one of the best places to hunt for new writing work.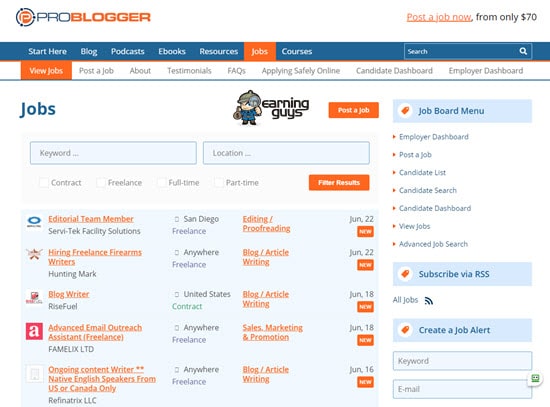 PeoplePerHour is a reliable freelance website that allows you to establish a side income by working as a writer. In fact, PeoplePerHour is known for freelancers that offer web-based services.
The main highlight of PeoplePerHour is its location-based targeting feature, which enables freelancers to address buyers in their area for local work.
Here, you get access to freelancers worldwide, as well as workers in your area. Plus, it also allows you to manage a freelancer and employer Account under one roof. Moreover, payments are secured via Escrow & PeoplePerHour Wallet System.
PeoplePerHour is running successfully since 2007 and offers employment opportunities to people across the globe. In fact, there are more than 330,000 freelancers on this platform. The range of jobs on offer includes the standard IT, multimedia, writing & design categories, and much more.
However, the site charges service fees. Their support is top-notch (via email) and usually takes just a few hours. There's also a forum and a phone line. They also charge a commission fee for every transaction (i.e. 3.5%).
Pros:
Buy & sell services under a single account
A large pool of competent freelancers
Find & hire local workers
Secure transactions by Escrow
Cons:
Annoying interface
Very high commission fees
Truelancer works with the mission to build a global community of trusted freelancers. Its 100% safe and reliable platform for freelancers to earn huge amount of money. Here, freelancers can search for jobs in different categories and can make money by working with clients from across the world.
Truelancer offers the opportunity for customers to find developers, designers, content writers, virtual assistants, mobile app developers, and many other professionals. Here, you can get projects in various categories, such as:
IT & Programming
Graphic Design
Content Writing
Data Entry
Finance
Sales & Marketing
Moreover, many more
At Truelancer, creating an account, finding work, or posting a project is free of cost.
It just takes a few minutes to complete your free Truelancer profile. You can sign up using your email account or by using your social accounts like Facebook, Google, or LinkedIn.
Fill your profile as this is the sole opportunity for showcasing yourself to the clients. You can start working at a low price. However, when your profile gets strong, you can raise your hourly rate.
Truelancer proves one of the best sites for getting genuine work from home jobs from proper authentic employers.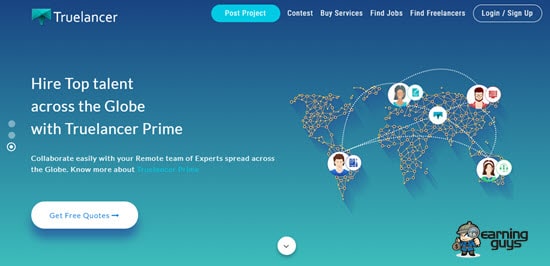 Freelance Writers Den comes as a paid membership site & community that has been developed for the sole purpose of helping freelance writers make more money. It was started in 2011 by Carol Tice, who himself is a six-figure freelance writer and runs a popular blog – Make a Living Writing.
The site has now grown into a thriving community of over 1200 writers. Its membership fee is $25.00 per month. It includes mini-courses on various aspects of freelance writing. There's also an informative forum where you can discuss anything related to freelance writing.
There's the "Resource Library" that can help you in your writing career. Den's job board features jobs that pay decent rates. Each month you get access to several live events that focus on topics related to freelance writing. There's even an organized collection of all the Den's podcasts and webinars.
So, Freelance Writers Den proves one of the best resources for freelance writers out there. Surely, you need to pay $25.00 per month, but it can be the best place to start your freelance writing career.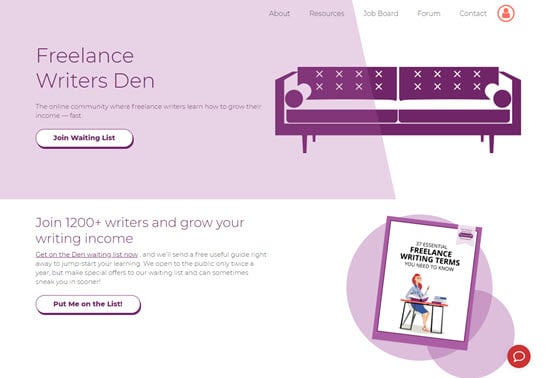 Mediabistro is the most veteran resource on this list. It has been around for over 20 years! It was initially founded around media-focused industry professionals that were based in New York City.
However, they have expanded and include a job board as well as extensive resources for media pros (such as writers, editors, designers, and more) in scores of metro areas.
Here, you can view job listings and apply to jobs for free. However, if you want more help, you can register for AvantGuild at $89 for a two-year membership.
As a member, you can access exclusive content such as pitch guides, business how-tos, editorial calendars, editor contact information for magazines, and much more.
At Mediabistro, you also get à la carte training courses on everything, including Fundamentals of PR as well as Social Media Marketing.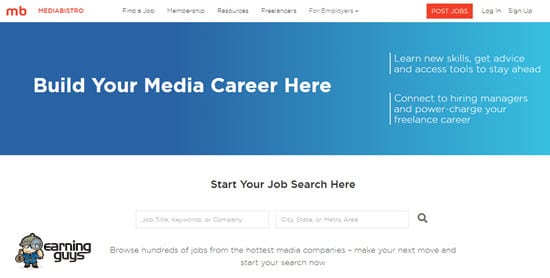 So, that's all we've got for you in this post on Best Freelance Writing Jobs Site for Beginners. These are the best places for freelance writing jobs.
You may like: About Ghostwriter & How to Find Ghostwriting Jobs?
However, if we've missed anything, please let us know. We hope that the post is immensely useful to you. Thanks for visiting. Please share the post across major social networking sites.