Digital Marketing is a constantly evolving space. So, you need to stay fresh and relevant. You need to update yourself with digital marketing trends. Well, the good thing for you is that there are lots of digital marketing certification and courses that are available online today.
Here, we have shared 20 Best Digital Marketing Certifications that can be used for sharpening your skills in digital marketing.
These are some of the best digital marketing certification programs that you can explore for improving your credibility and reputation in digital marketing.
We have compiled a list of digital marketing certifications that would look superb on your Resume & LinkedIn profile.
You may also like: 10 Best Affiliate Marketing Courses
20 Top Digital Marketing Certification
Let's begin:
Google Skillshop is a free online training program to master the Google tools and services you use at work, such as Google A/B Testing.
These courses have been designed and provided by Google's employees.
It includes:
Google Ads
Google AdMob
Google My Business
Google Marketing Platform
Authorized Buyers
Google for Education
Google Ad Manager
Moreover, many more
It was formerly known as Google Academy for Ads or AdWords Academy.
In fact, you get a lot with Google Skillshop including:
Certifications will allow you to enter the job market with high-end professional skills.
It will give you a lot of credibility because of Google Partners Program
Professional online training is provided by Google Staff
Keep updated with the latest Google tools and amazing sub-tools that are announced for like Google Marketing Platform
You get the opportunity for training so that you can become familiar with Google's tools. They allow you to answer some small exams. After that, you get ready to pass the final certification exams!
You can gain various Certifications such as:
Google Ads Certifications (You can become a Google partner by passing two of them plus the fundamentals one)
It includes:
Google Ads Search Certification
Google Ads Display Certification
Google Ads Video Certification
Shopping Ads Certification
Google Ads – Certification
Once you complete the training and pass their exam, you will get the certification that you can directly attach to your CV and LinkedIn Profile.
You can take the online training in the following tools:
Google Marketing Platform
Analytics Academy
YouTube
Google AdMob
Google My Business
Google Ad Manager
Google AdMob
Google for Education
Waze Academy
Authorized Buyers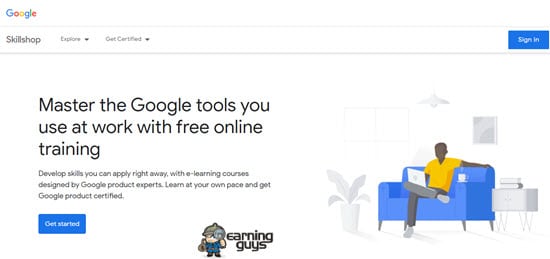 Hootsuite is a well known social media management platform. With Hootsuite, you get a lot of social media marketing training, including intro courses as well as advanced social media.
In fact, Hootsuite runs their Hootsuite Academy that provides useful social media training courses to set you up as the leading candidate for your dream job.
As far as the Hootsuite Social Media Marketing Certification program is concerned, it comprises of 15 lessons and assessments. You are tested in the concepts of social media marketing. You need to pass the 60-question online exam. Once you do this, your certification never expires. Moreover, you also receive a badge.
Plus, Hootsuite has much to offer to advanced social media users. It has partnered with the Newhouse School at Syracuse University to offer an Advanced Social Media Strategy Certification.
Cost: It offers three different types of Social Media Certifications such as –
Social Marketing Certification: $199
Advanced Social Advertising Courseware and Certification: $249
Advanced Social Media Strategy Certification: $999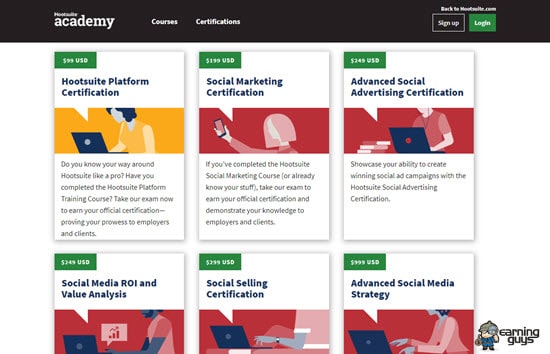 HubSpot Academy is where you get free tools and training for growing your business, and your career.
It offers you the opportunity to complete free certifications as well as add industry-recognized badges to your LinkedIn profile.
In fact, over 200,000+ professionals have already advanced their careers with HubSpot Academy.
Some of its most popular certification courses include:
HubSpot Marketing Software (17 lessons)
Inbound Sales (5 lessons)
Content Marketing (14 lessons)
Inbound Marketing (10 lessons)
Social Media Marketing Certification Course (9 lessons)
Each certification has been composed of on-demand classes that are taught by inbound experts. So, with HubSpot Academy Certification Courses, you can quickly get on track to your career success.
They offer globally recognized certifications, which you can add to your LinkedIn profile, which will prove to your future employer that you know your stuff.
The Certification Process is composed of three steps:
Complete all lessons – Watch videos and take simple quizzes to complete all lessons
Pass the Assessment – Pass the certification exam & complete practical exercises
Get HubSpot Academy Certified – Earn your Certificate
Here, we share with you some useful details of the HubSpot Content Marketing Certification Program. It comprises of 12 modules that keep you up-to-date with regards to the latest content marketing best practices & research. It's very useful for all those marketers who want to understand the impact of content marketing.
Fortunately, all the certifications and courses on offer are free, allowing you to take advantage of them. They are simply superb for instilling core digital marketing principles.
Cost: Free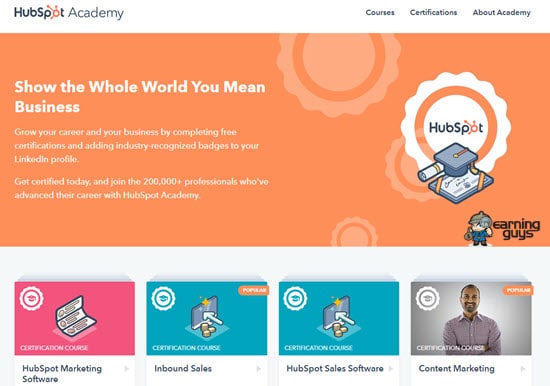 Google has come up with an online course platform known as Digital Garage, that offers free courses on different subjects related to career or business development.
At Google Digital Garage, digital marketing training has been covered in detail. In particular, you get the following online marketing courses:
Fundamentals in Digital Marketing
How to start an online business
How to promote your business with online advertising (Google Ads)
How to make sure that customers find you online
Mobile Marketing
How you can expand your business to other countries
YouTube Course (Includes certification)
How to promote a business using content marketing
Social Media Advertising
All the courses come with both videos as well as text material. The duration can be anywhere from 3 hours up to 40 hours.
In fact, the digital marketing fundamentals certification has been accredited by the Interactive Advertising Bureau Europe & the Open University.
The digital marketing courses have been specifically designed to give you a good idea of what is digital marketing. Moreover, the certification is globally recognized, which is a great way to boost your career.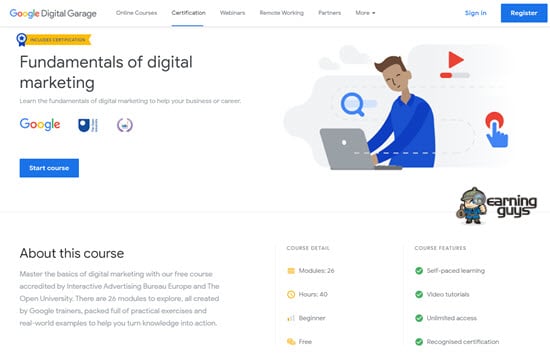 Facebook Blueprint Certification is one of the best digital marketing certifications out there. It has been acknowledged officially by Facebook.
The certification is beneficial for modern digital marketing professionals who want to stay updated on Facebook advertising and its best practices.
Facebook offers two certifications under the Blueprint Certification program:
Facebook Certified Planning Specialist
Facebook Certified Buying Specialist
You need to pass a test for every certification.
In fact, you have to pass the Facebook Advertising Core Competencies Test.
Facebook Certified Planning Specialist
For getting this certification, you need to complete and pass exams such as 310-101 and 322-101. Moreover, you need to get a score of 700 or higher in order to receive a digital badge. This exam is of 75 minutes.
Facebook Certified Buying Professional
To receive the certification in buying expertise, you need to complete and pass exams 310-101 and 321-101. You have to get a score of 700 or more for receiving the digital badge.
Price: $150 (for all exams)
Features: The validity of these certifications is for 12 months. Then, you have to give a re-certification test.
Procedure: You are required to take two stable online agent exams. You have to reach a score of 700 or above on both. There can be 50 to 60 questions on your exam. You need to answer them within 75 minutes.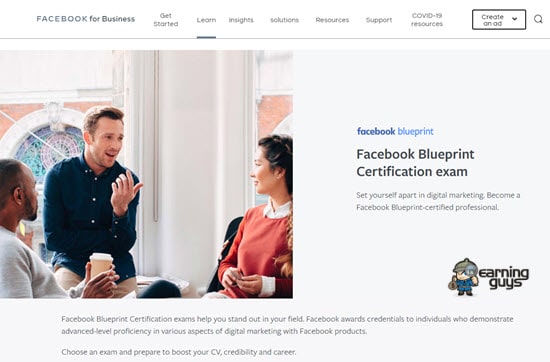 SEMRush Academy is one of the best places for free online digital marketing courses and exams.
Some of its most popular digital marketing courses include:
SEMRush SEO Toolkit Course (14 lessons/4 Hours)
Here, you can learn how to boost your SEO using SEMRush tools and get tips from SEO experts in a series of free video lessons.
Keyword Research Course with Greg Gifford (8 lessons/ 1 Hour)
Here, you can learn how to conduct keyword research from famous industry expert Greg Gifford in a series of video lessons.
SEMRush Overview Course (3 lessons/1 Hour)
Here, you can learn about SEMRush – the Analytics Reports & Project Tools. You can discover the benefits that integration with third-party services will bring. All this stuff has been covered in a series of video lessons.
Learning digital marketing becomes easy with SEMRush Academy:
Watch the lessons
Here, you can learn by watching short, digestible videos on digital marketing.
Read further
Explore additional useful materials for sharpening your skills.
Get practical tips
Here, you get actionable advice from digital marketing experts.
Check your knowledge
Take quizzes for judging how you've grasped the material.
One of the main advantages of SEMRush Academy is that it offers a globally recognized certificate. Here, you get free exams for testing your knowledge. You can check your strengths and find your weak areas.
Once you complete your chosen exam, you will be awarded an official certificate by SEMRush. The certificate will be a proof of your skills and immensely valuable addition to your CV as well as your LinkedIn profile!
It can be your best bet to become officially certified by an acclaimed company such as SEMRush. Moreover, over 200,000 users have already become certified digital marketers. With SEMRush Academy, you get the opportunity to become one of them today!
Some core advantages with SEMRush:
All-encompassing
The courses cover all the core areas of digital marketing. So, you get an opportunity to become an all-round specialist.
Created by Field Experts
Here, you're taught directly by leading digital marketing gurus that include names such as Greg Gifford, Ross Tavendale, and Bastian Grimm.
100% Free
All the courses and certification exams are 100% free. All you have to do to start learning is to become a registered SEMRush user.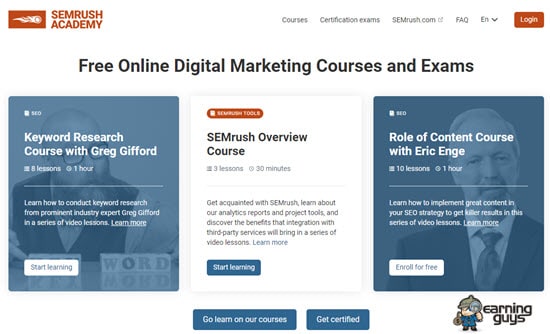 If you're looking out for an advanced digital marketing program, then here it is. Well, the Copyblogger Certified Content Marketer is an advanced digital marketing program with hard coursework. It includes passing a detailed review of your work through a member of the Copyblogger editorial team.
So, this program is meant explicitly for advanced content creators as well as a content marketing strategist who wants to sharpen their skills as a professional content marketer.
This program allows them to develop high-level content marketing skills. They can then market themselves as professional copywriters specializing in content marketing.
Once you complete the training course, you get certified and listed in the Certified Content Marketer Directory with the Copyblogger website.
However, the certification program opens for a limited time. You need to visit the certification training course website.
Cost: It costs $495 for the Certification program
Simplilearn Digital Marketing Certification offers you the opportunity to learn digital marketing from Silicon Valley experts.
Its digital marketing certification training courses are designed by expert authors. That combines high-quality training in SEO, PPC, and Social Media Marketing with practical advice ensuring professional success.
Some of its popular digital marketing courses include:
Advanced Search Engine Optimization (SEO) Certification Program
Advanced Social Media Certification Program
Advanced Email Marketing
Digital Marketing 101
Advanced Pay Per Click (PPC) Certification Program
Advanced Website Conversion Rate Optimization
Advanced Mobile Marketing
Moreover, much more
Plus, you can turbo-charge your learning with its custom-tailored digital marketing master's programs:
Digital Marketing Specialist (11 Courses)
Digital Marketing Associate (5 Courses)
Their Course Advisor is Brad Geddes, who is an expert in PPC Marketing. He is also the author of Advanced Google AdWords and the founder of Certified Knowledge.
They have partnered with global leaders and industry organizations, bringing you the very best training possible with the likes of:
Facebook Blueprint
Google Ads
Google Analytics
Hootsuite
HubSpot
Microsoft Bing Ads
OMCP (Online Marketing Certified Professional)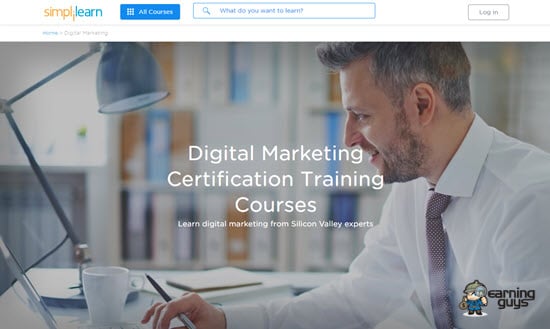 ClickMinded is one of the best places to learn digital marketing, a company created by Tommy Griffith. Tommy is a well-known SEO expert and SEO trainer. He has completed SEO assignments for companies such as PayPal and Airbnb.
They have come up with many online marketing courses covering various marketing channels. Its digital marketing course bundle includes everything you need to know about becoming a digital marketing professional.
Basically, there digital marketing courses cover seven topics:
Content Marketing
Email Marketing
Social Media Marketing
Paid Advertising
Search Engine Optimization
Google Analytics
Sales Funnels
The good thing with the ClickMinded course bundle is that each course is being taught by professionals who have much experience in the industry.
Moreover, registration is free. However, you need to pay $997 to gain full access to the bundle. Once you complete the course, you're rewarded with a certificate. They even offer a 14-day money-back guarantee.
However, the course is not meant for all individuals. The price is high for a freelancer or a solo professional. However, it's not a problem if you're working for a big company.
You can also register for their newsletter wherein you get access to high-quality content through their blog.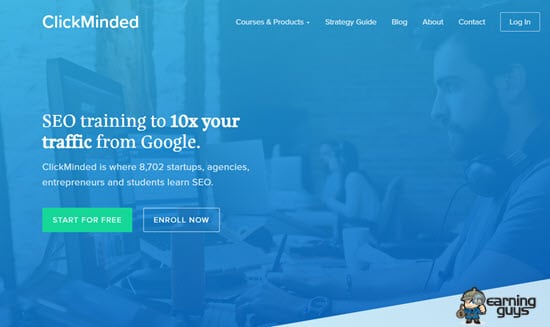 The AMA (American Marketing Association) Digital Marketing Certification covers varied subjects, including the likes of online advertising, analytics, email marketing, content marketing, SEO, social media marketing, and user experience.
All of its courses are being offered through LinkedIn Learning. These courses help you to sharpen your skills in the field of digital marketing.
It fact, these courses cover almost all the demanding skills in digital marketing, such as:
Email Marketing
Social and Community
User Interface and Experience
Metrics and Conversions
Online Advertising
SEO
Content Marketing
Price: Digital Marketing Certification costs $99 for AMA members. It costs $149 for non-AMA members. The cost of the exam has been put at $99 for AMA members and $299 for non-members. This certification has to be renewed every three years.
Procedure: You need to get a minimum score of 80% marks for passing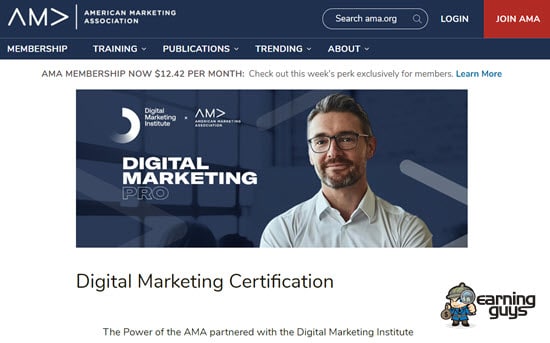 Udemy is another well-known place to head for digital marketing courses. It is one of the most popular online learning platforms for digital marketing, social media, email marketing, and more.
Some of its most popular digital marketing courses are:
The Complete Digital Marketing Course
Digital Marketing Masterclass
The Complete Guide to Retargeting
Ultimate Google Ads Training 2020
Mega Digital Marketing Course A-Z
Moreover, much more
The popular topics that are being covered include:
Digital Marketing
Google Ads
Social Media Marketing
Google Ads Certification
Marketing Strategy
Internet Marketing
Email Marketing
Google Analytics
Facebook Ads
Podcasting
Advertising Strategy
YouTube Marketing
Facebook Marketing
Landing Page Optimization
Moreover, more
Popular Instructors include:
Isaac Rudansky (Google Ads Certification)
Pouya Eti (Digital Marketing Expert)
Pavel Brecik (Google Analytics, Data Analytics)
Robin & Jesper (Business Strategy & Facebook Ads)
All courses have a 30-day money-back guarantee.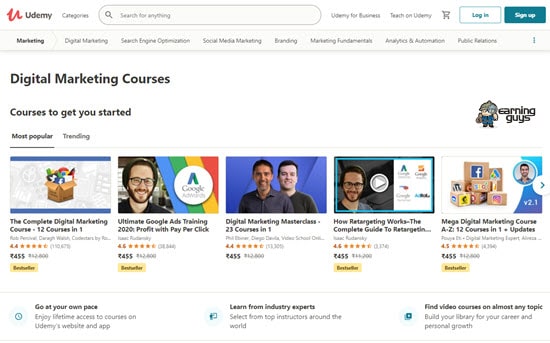 Digital Marketing Institute (based in Dublin, Ireland) has some of the best digital marketing certification programs for digital marketers of all skill levels.
Some of its most popular digital marketing certifications include:
The Digital & Social Selling Specialist
Certified Digital Marketing Professional
Certified Digital Marketing Leader
Certified Digital Marketing Manager
These courses range from 30 minutes (for a professional level program) to two years for the master's level certified digital marketing course.
However, we suggest that you should begin with the professional level certified digital marketing program that takes 30 hours to complete.
Once you complete these courses, you get the necessary digital marketing skills like SEO, Digital Advertising, Social Media Marketing, Email Marketing, and more.
As per the information gathered from the Digital Marketing Institute, 95% of graduates are currently employed.
Out of these, 80% are working at the Senior or Management Level.
Moreover, recent graduates are working with Google, Facebook, Nike, HubSpot, Coca Cola, and Twitter, to name a few.
Cost: It varies according to the course
Time Requirement: It varies from 2 Hours up to 2 years depending on the program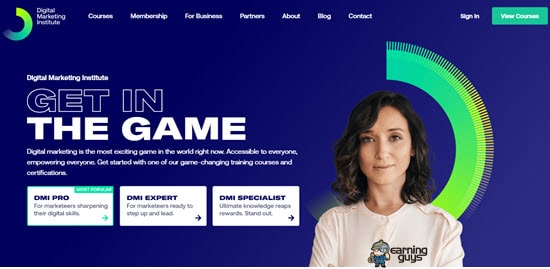 The Content Marketing Institute (CMI) is known among content marketers as one of the most respected resources for learning digital marketing.
It's CMI University offers top-notch online training and certification for content marketers. They continuously update their curriculum and cover a full spectrum of content marketing topics such as Planning, Channels, Process, Conversion, Audience, and Measurement.
Moreover, you can work at your own pace.
The program includes classes for experts covering seven topics/tracks. They do suggest a 'route' through their courses; however, you can take the seven courses in any order.
Once you complete the training and pass the exam, you will get certified. The good thing with CMI University is that the certification never expires. Moreover, you do not need to maintain your yearly subscription until you want to continue learning.
Their cost structure is as follows:
Individual $995.00/learner
Non-profit $695.00/learner
Alumni $595.00/learner
Group discounts are also available for three or more learners
You can even get Corporate and white label access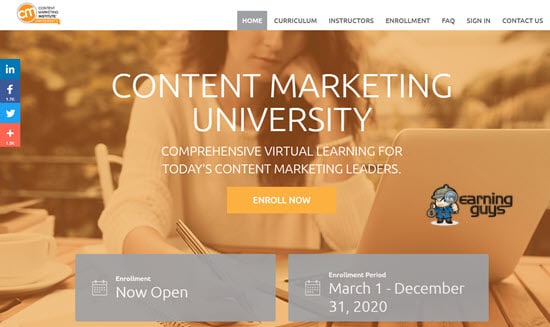 Twitter Flight School gives you the opportunity to make a lasting impression on Twitter's 330 million users.
There are two separate paths for digital marketers for gaining traction and start advertising on the platform.
The Marketing Leadership Program can be used for exploring more significant business opportunities on the social network.
It comprises of five 10-15 minutes courses. So, the entire program requires just approximately one hour to complete.
The Executive Leadership Course is meant for all those who want to enhance their personal brand and takes just 10 minutes.
Twitter Flight School follows best practices and makes use of real-life scenarios from businesses. Thereby helping digital marketers to integrate the social platform into their work better.
You simply have to log in with your Twitter account for gaining access to the two individual courses.
Cost: Free
Time Requirement: 10 minutes for the Executive Leadership Course and 60 minutes for the Marketing Leadership Program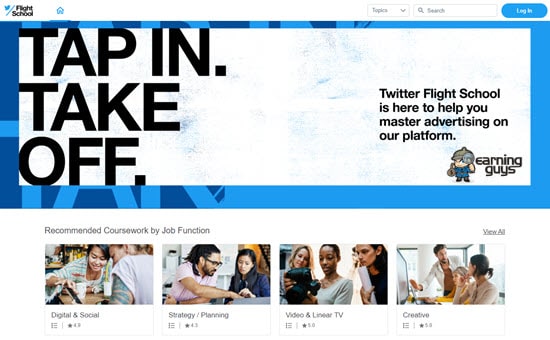 upGrad Digital Marketing Courses cover a wide array of subjects, including the likes of digital marketing, social media marketing, analytics, CRM, email marketing, SEO, and SEM.
A digital marketing certificate from upGrad can prove to be a big stepping stone for building a successful career in digital marketing. Its digital marketing courses allow you to learn and master the entire landscape of digital marketing and digital channels.
You can learn all the fundamental concepts of online marketing. You come to know what strategies work best for businesses. You also learn how to identify the target audience. You come to understand how to leverage social media platforms for enhancing brand image, and so much more.
Its digital marketing certificate would surely increase your credibility before a potential employer. Moreover, upGrad digital marketing courses are exclusively designed for working professionals.
It means that you can keep your job and up-skill simultaneously. Its courses are being taught by industry leaders in digital marketing. Plus, they also offer placement assistance.
Each course is unique. The duration can be anywhere between 5-7 months. The courses have been divided into modules that comprise of theory, case studies, and industry assignments. They offer strong hand-holding with dedicated support helping you to master digital marketing.
One of its most popular courses is:
PG Certification in Digital Marketing & Communication (5 months)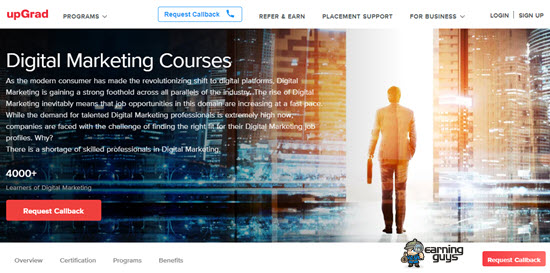 Coursera Digital Marketing Specialization offers you the opportunity to learn the latest in digital marketing that is taught by industry experts.
You will learn the following skills:
Digital Marketing
Pricing Strategies
Marketing Mix
Product Strategies
Marketing Analytics
Data Analysis
Search Engine Optimization
Social Media Marketing
Moreover, much more
The specialization allows you to explore several aspects of the new digital marketing environment. Once you complete the digital marketing specialization, you will get a clear understanding of the foundations of the latest digital marketing landscape.
This specialization comes as a part of the University Of Illinois Masters Of Business Administration Degree Program.
Once you finish the course and complete the hands-on project, you will be rewarded with a Certificate that you can share across professional networks and even with your prospective employers.
In fact, there are seven courses in this specialization:
Course #1: Marketing in a Digital World
Course #2: Digital Analytics for Marketing Professionals: Marketing Analytics in Theory
Course #3: Digital Analytics for Marketing Professionals: Marketing Analytics in Practice
Course #4: Digital Media and Marketing Principles
Course #5: Digital Media and Marketing Strategies
Course #6: Marketing in an Analog World
Course #7: Digital Marketing Capstone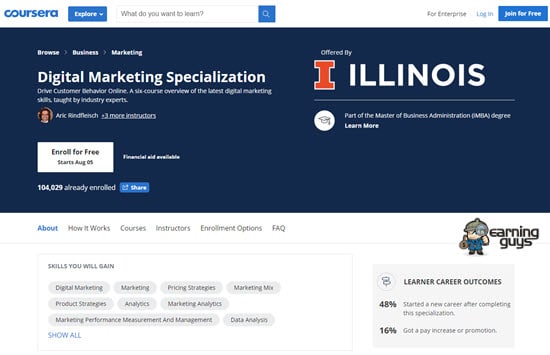 The self-paced and online Duke Digital Media & Marketing Certificate has been developed for professionals who want to develop their existing digital marketing skills or want to build a new career in digital marketing.
This program can be accessed anytime from any computer that has an internet connection. Students can follow the course schedule and set their own pace.
It's a 12-month program. You get to learn from industry-known authors, speakers as well as consultants. Students can follow the real-time curriculum online. They can watch streaming video lessons. They get to learn valuable and actionable skills that are necessary to remain competitive online.
Duke Digital Media & Marketing Certificate Program consists of 350 hours of online instruction and study time. It covers modules like search engine optimization (SEO), content marketing, social media, mobile marketing, email marketing, conversion optimization, web analytics, and display advertising.
Once students complete these modules, they get qualified for an Online Marketing Certified Professional (OMCP) designation. However, other requirements should also be met.
Cost: $3,195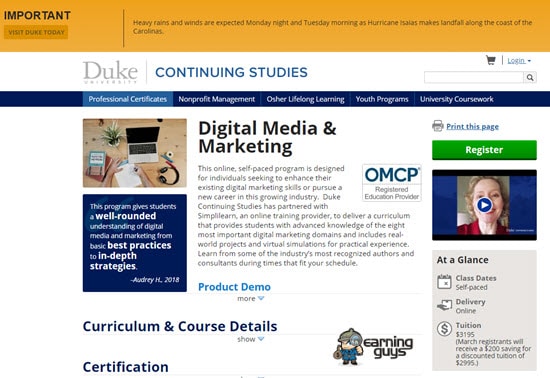 Being a part of Cornell University's online learning endeavor, eCornell has come up with a top-notch online professional & executive development program in the world.
Its marketing program has been developed by the faculty from Cornell's Johnson Graduate School of Management.
They offer top-level online and professional development programs, which can be compared with the best in the world.
The Certificate offers you an overview of the digital marketing landscape, including everything you need to know for succeeding.
Once you complete the course, you can create an integrated digital marketing plan to suit your company's goals & resources.
Cost: $3600 (Tuition for the Certificate Program)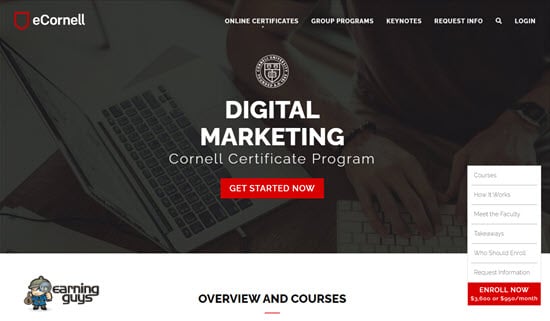 YouTube happens to be the world's second-largest search engine. YouTube caters to over 3 billion searches a month. In fact, 100 hours of video are uploaded every minute on YouTube.
As video has become a preferred content medium, it is important to come up with a well-defined video content strategy. So, YouTube can be a great place to start. A certification from the platform can bring you instant credibility.
The YouTube Certified Courses will help you to learn how to create a YouTube Channel, How to grow it, How to optimize it, as well as How to monetize it.
The certification lasts (validity) for one and a half years or 18 months from the date you pass the certification. They also offer company certifications. So, your organization can become a YouTube Certified Company. For becoming a company certified on YouTube, your organization should be a managed partner in good standing.
Moreover, the Certified Program is committed to educating all creators and users on the platform. Tutorials offer you the know-how of the latest best practices together with advanced industry-level knowledge.
It offers three separate courses, such as:
Channel Growth
Content Ownership
Asset Monetization
However, certifications are available only for qualified YouTube & Google Advertising Partners. Once you fulfill the eligibility requirements, you get accepted into YouTube Certified, and then you can go ahead and complete the program.
Cost: Free
Time Requirement: Varies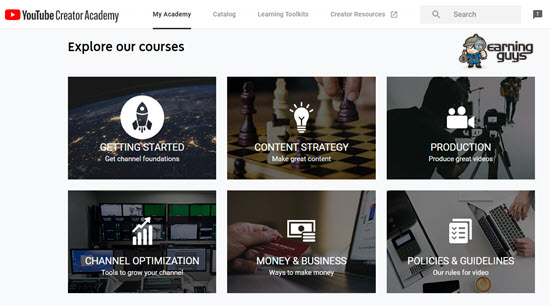 GetResponse is a well-known Email Marketing Software Company. They have helped millions of small businesses, marketers, and brands to get better results online using landing pages, marketing automation, and webinars.
They have come up with four certificate courses for expanding your digital marketing expertise.
Content Marketing Certification
It's a dynamic course wherein you learn how to create a content marketing program. You also learn how to use various marketing channels to attract new proposals. You come to know how to distribute content best. All in all, you learn how to become a better content marketer.
Email Marketing Certification
Here, you will learn how to use the power of email subscriptions. You come to know how to craft marketing messages. You even learn how to build a list of engaged contacts and begin to understand how to convert clicks into sales.
Marketing Automation Certification
Here, you will come to know how to automate your campaigns. You learn how to set up automation workflows. You even learn when to use automation to get the best return on investment.
Landing Page & Conversion Optimization Certification
Here, you will learn how to design mobile-friendly landing pages. You will learn how to sharpen your copywriting skills. You will also come to know about tools & tactics for analyzing your landing page performance.
Cost: $199/course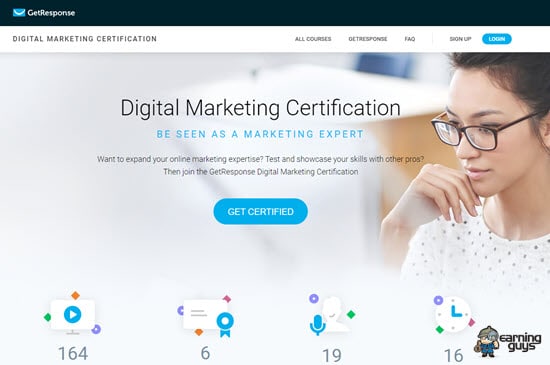 Well, now we have completed the listing on the best digital marketing certification courses. We have listed some of the best digital marketing courses that are available online.
We have listed both free and paid courses. You can choose one or more of these courses according to your unique career goals. We hope that this listing will prove useful to you. Thanks for visiting. Please share the post across popular social networking platforms.